Shefaro Salukis


Please contact Sherry Faye Rodarmor, Shefaro Borzoi and Boer Goats, Shefaro Sighthounds, Sherry Rodarmor, (210) 626-3156, 891 Hume Road, San Antonio, Texas 78264, email
shefaro@peoplepc.com
for information and an application for these wonderful Shefaro Sighthounds Saluki Puppies for Sale.
Shefaro Sighthounds developed over the years from Borzoi only to include Ibizan Hounds, Salukis and Greyhounds, in that order. After finding it a logistical nightmare to fly with a male Borzoi (Rodrigo) in a giant sky kennel to the World Dog Show in Rio, Sherry Rodarmor, Sherry Faye Rodarmor, Shefaro, started looking for one smaller sighthound breed for travel and to enjoy around the ranch. While searching for Salukis on a puppies for sale internet website, I came across Ibizan Hounds and so Lily came to Shefaro. After acquiring Lily, I was contacted by Terri Parker, Karista, who needed to place some of her Salukis and Sunny came to Shefaro. Having fallen in love with the breed, I subsequently purchased Alegria and Honore. Then Lauren came to Shefaro and what a delight she has been. She was bred to the sensational
Shefaro Borzoi boy, Sunny
, and produced fabulous and colorful kids. You can see Fenix and Edy at
http://www.shefaro.biz/lurecoursingwithfriends
There is a link below to the lovely pups by Shefaro's handsome Sunny and Shefaro's beautiful Alegria. Two young Shefaro kids are available and are featured on their own webpages
http://www.shefaro.biz/anillo
and
http://www.shefaro.biz/francisco
Sherry Rodarmor, Sherry Faye Rodarmor, Shefaro Borzoi and Boer Goats, Shefaro Sighthounds, Shefaro Salukis has beautiful Saluki puppies for sale.
The puppies were born June 20, 2009, out of the beautiful Alegria, sired by handsome Sunny.
DAM: Alegria - click the picture for her page, pictures, pedigree and the Alegria Story.
SIRE: Sunny, bred by Terri Parker, Karista, lives at Shefaro, San Antonio,TX - click the picture for his page, pictures and pedigree.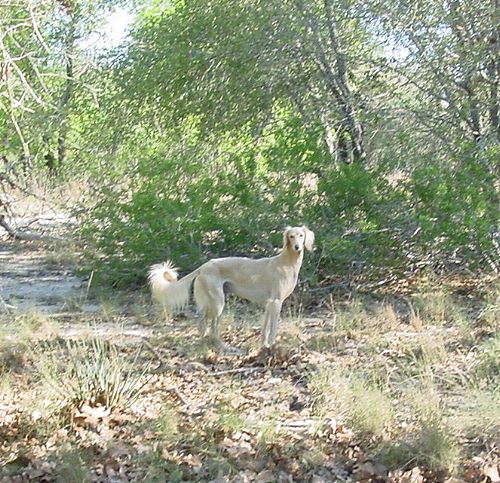 Sunny's handsome litter brother, Cosmo, bred by Terri Parker, Karista, resides at Gentle Giants Rescue and Adoption, Norco, CA. Click the picture for Cosmo's story.
Alegria is a wonderful mother. She free whelped the pups while I watched and took pictures. She's an excellent mother, taking wonderful care of her puppies and producing plenty of milk.
Here are the puppies being born the evening of June 20, 2009. Alegria started around 8pm and was finished in about three and a half hours. The first born was the grizzle/cream girl.
June 20, 2009
8:46 PM grizzle girl is born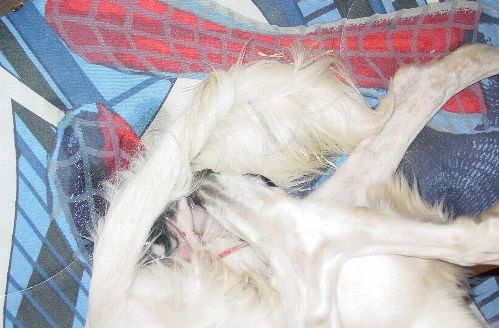 Alegria cleans her up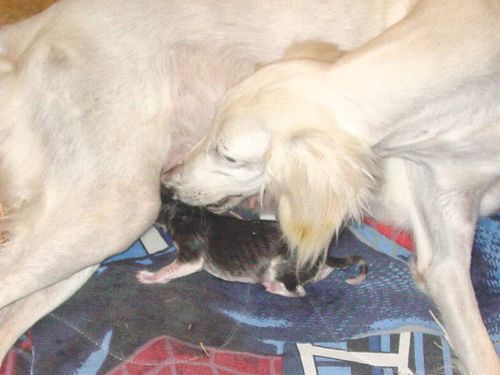 9:01 PM first born grizzle girl, second born cream boy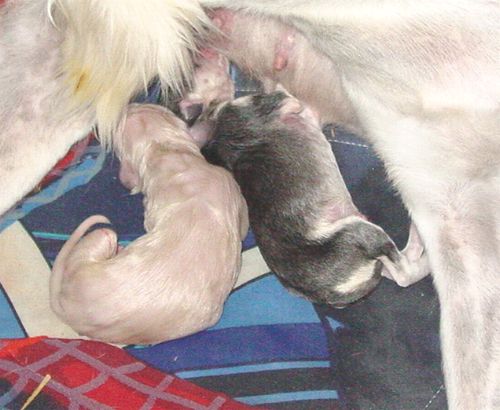 9:09 PM and then there were three - another girl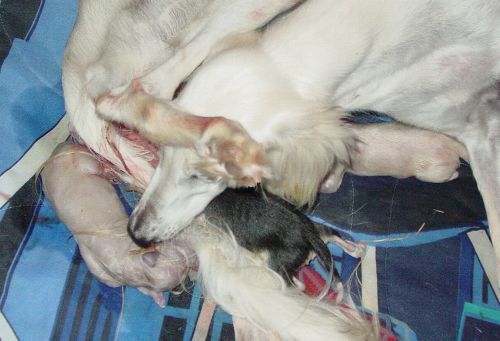 9:37 PM fourth pup was born - a girl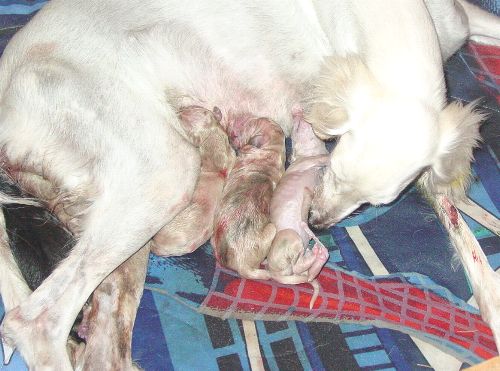 10:46 PM four pups born and Alegria takes time to sleep.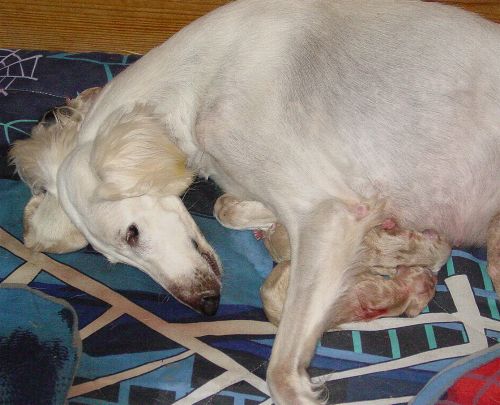 11:05 PM Second boy, second to last born.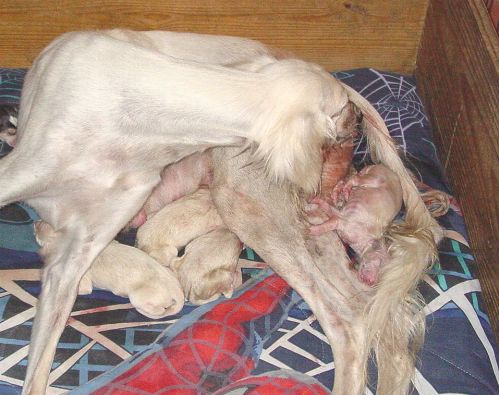 11:26 PM last born, cream girl, above her is the first born grizzle/cream girl.
June 21, 2009 Alegria and pups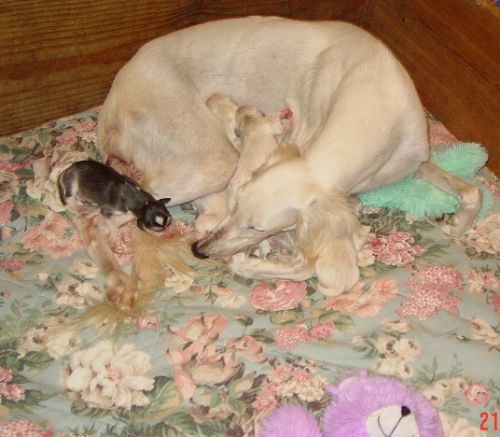 The boys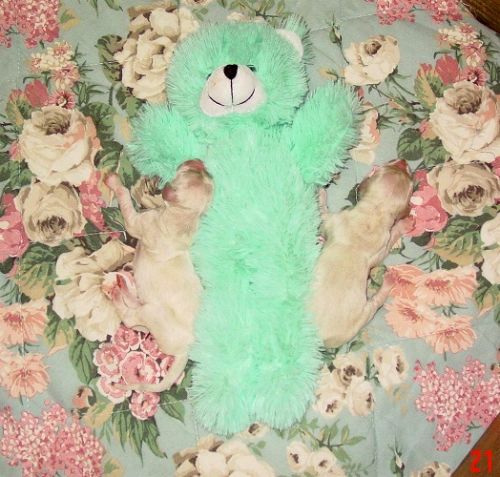 Only time will tell if the boys remain alike enough to become a brace at Shefaro.
The girls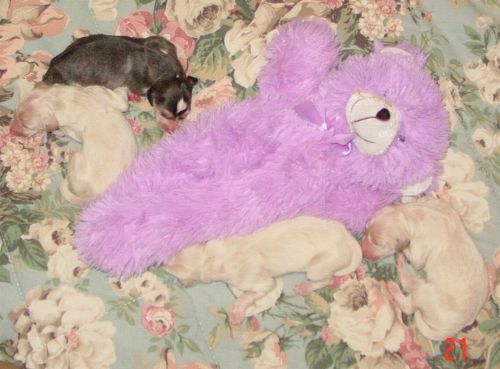 June 22, 2009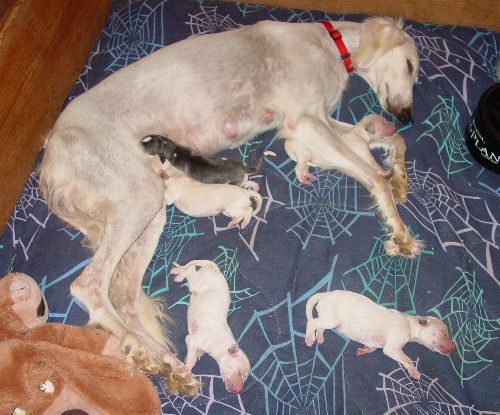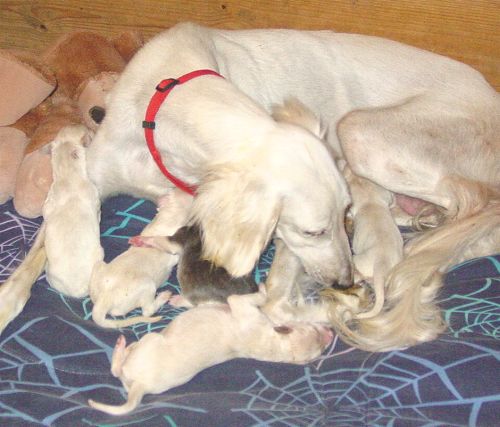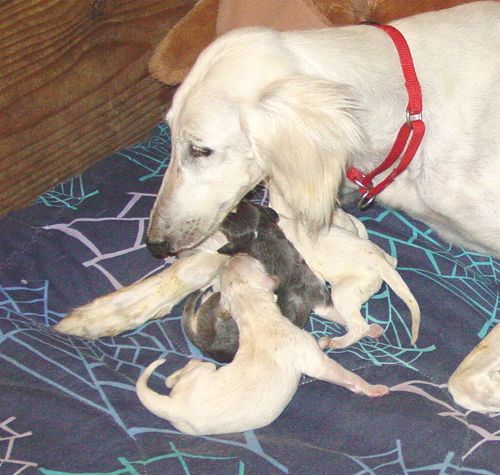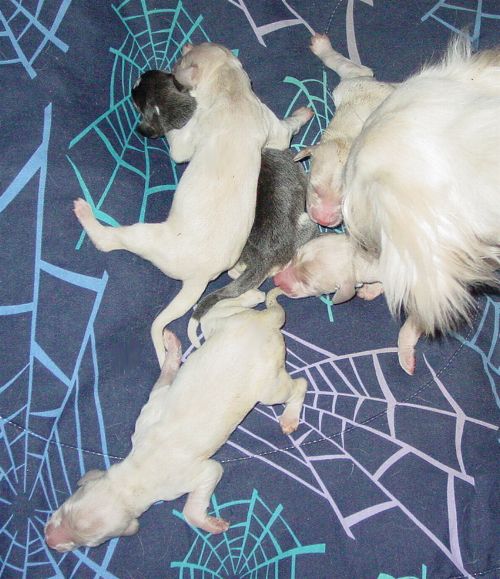 June 24, 2009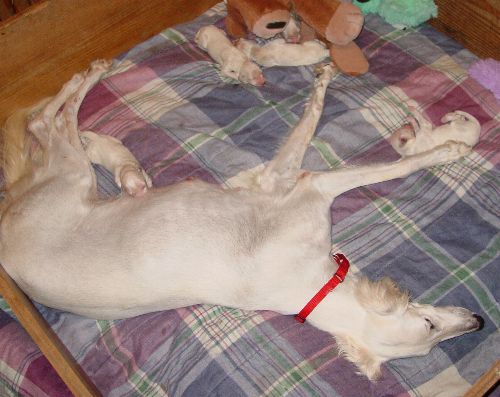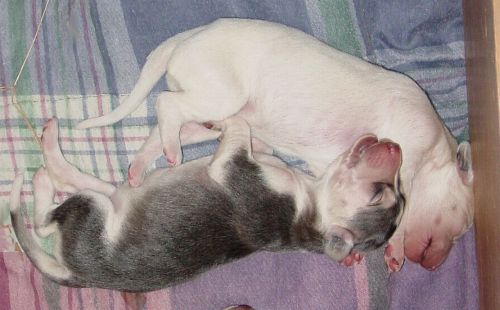 June 28, 2009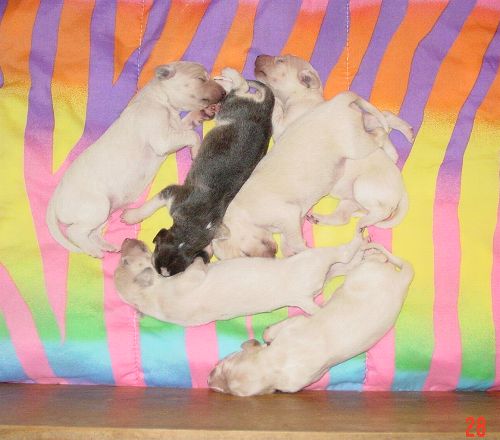 Lovely Alegria has a smile on her face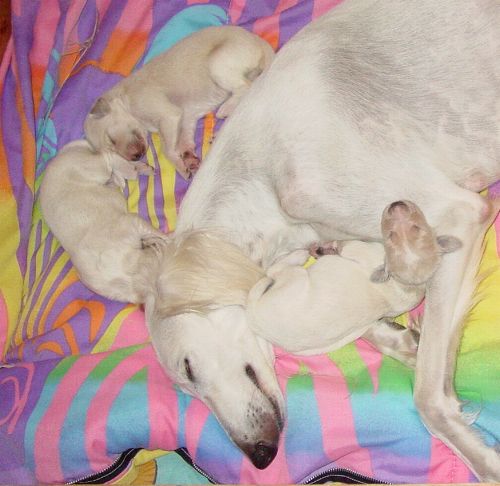 Diamond girl, so named for the Diamond on her head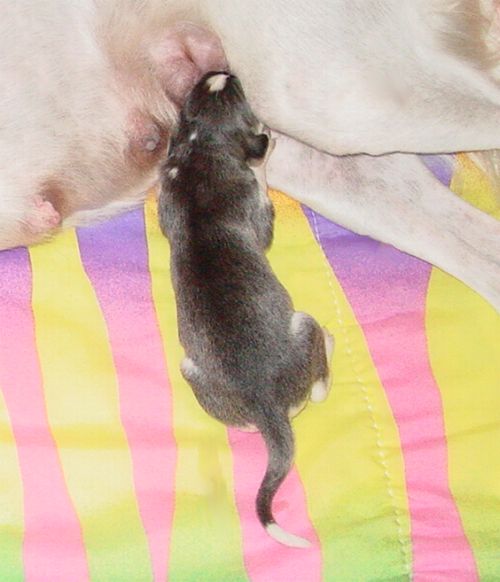 June 30, 2009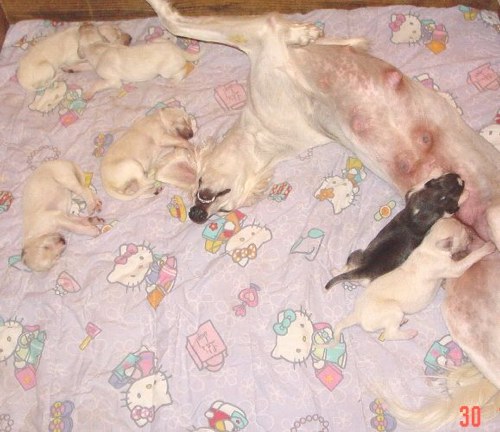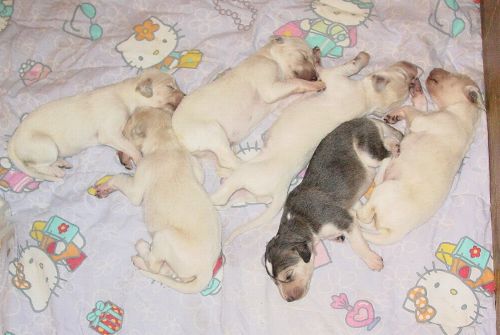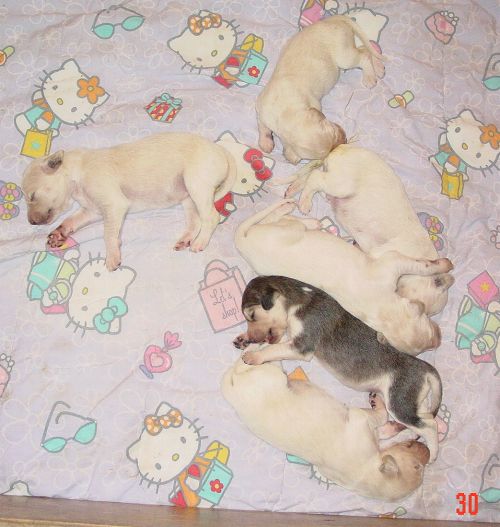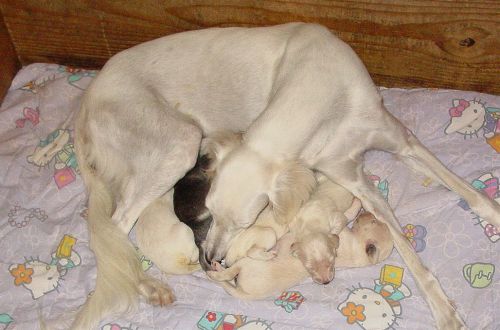 July 4, 2009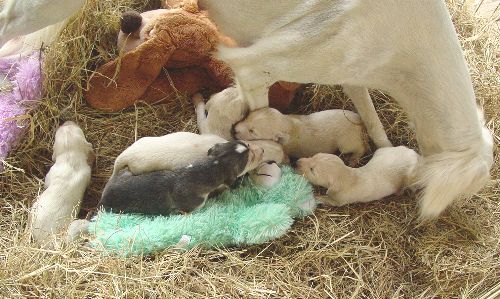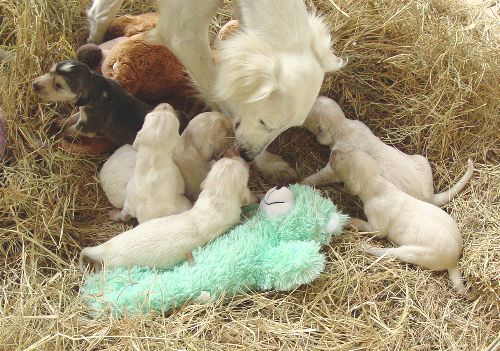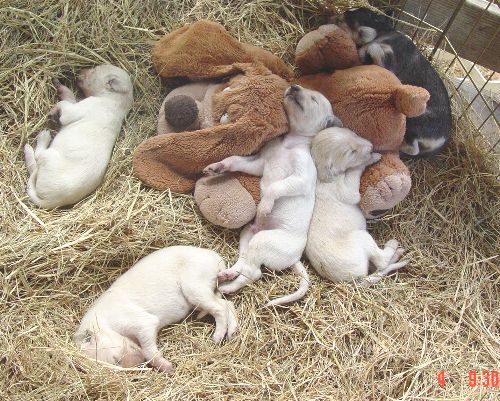 July 12, 2009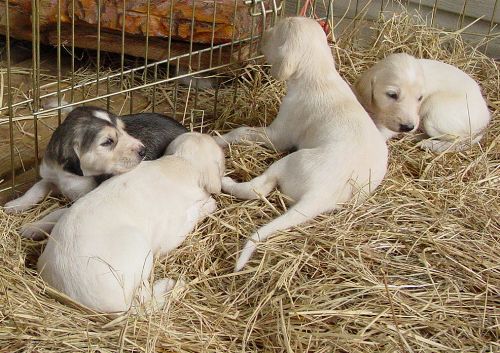 July 13, 2009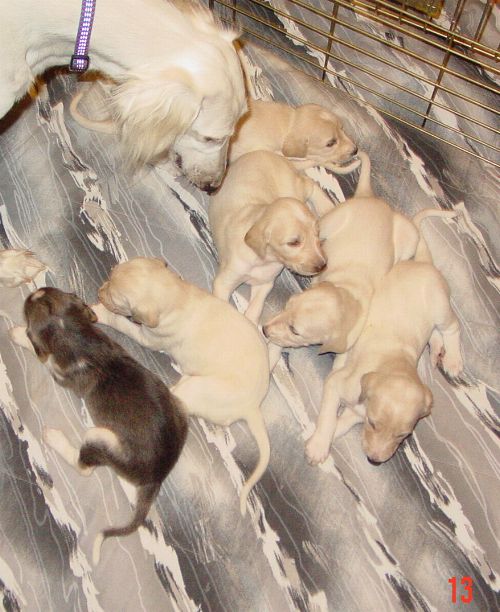 Diamond Girl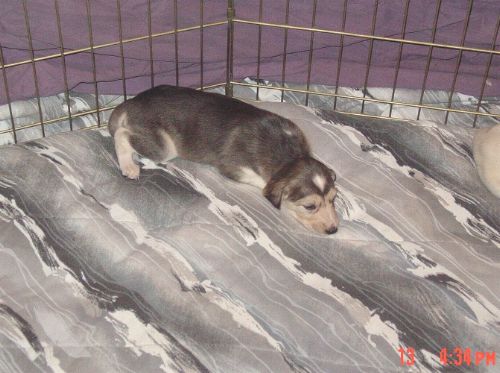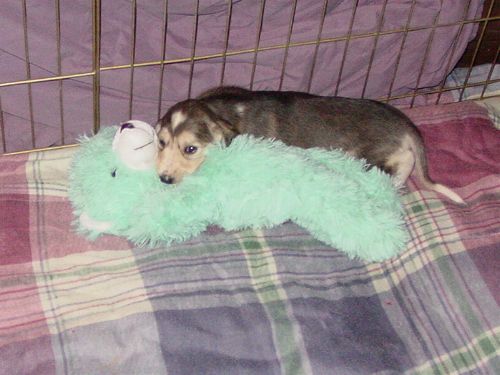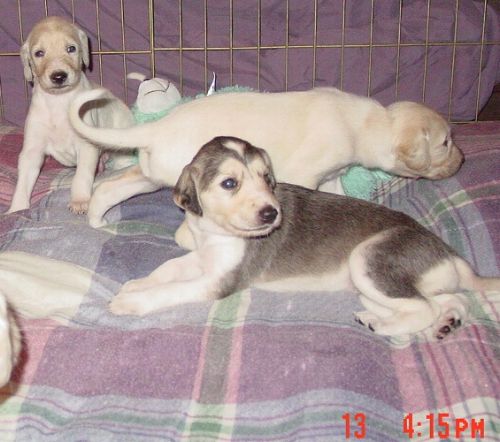 Five pups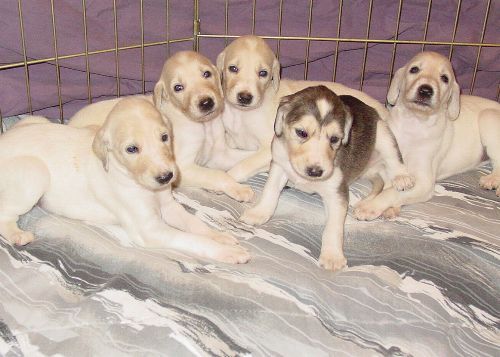 Four blondes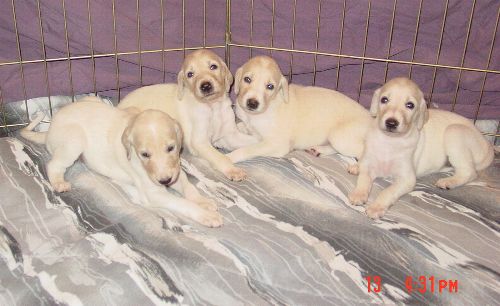 Two blondes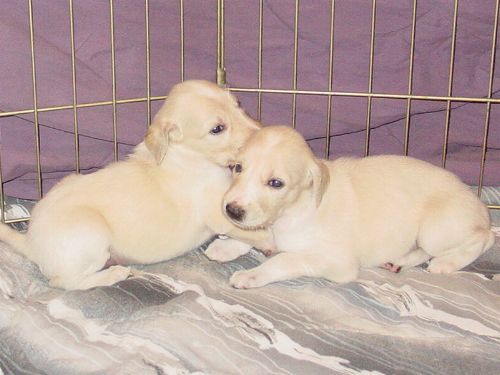 July 20, 2009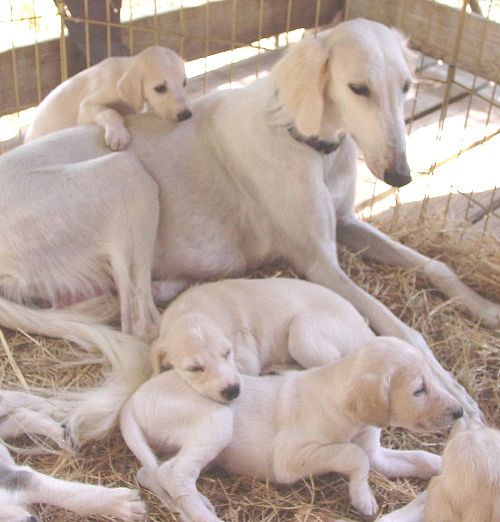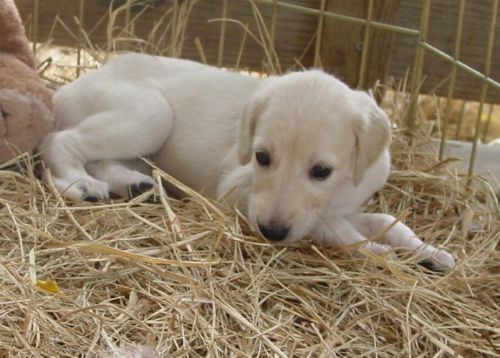 July 22, 2009 Diamond Girl
July 24, 2009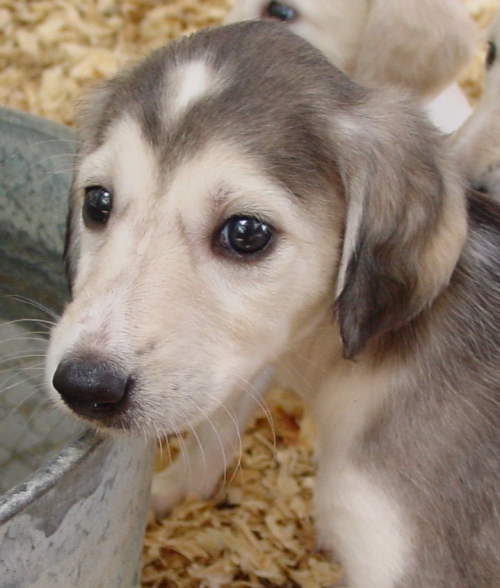 Reflections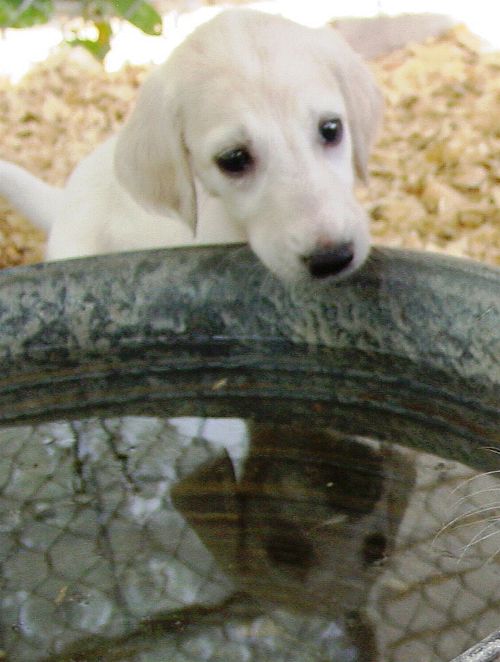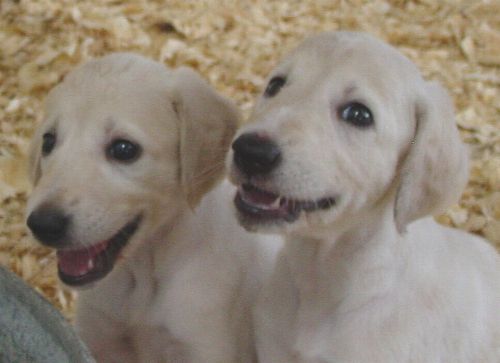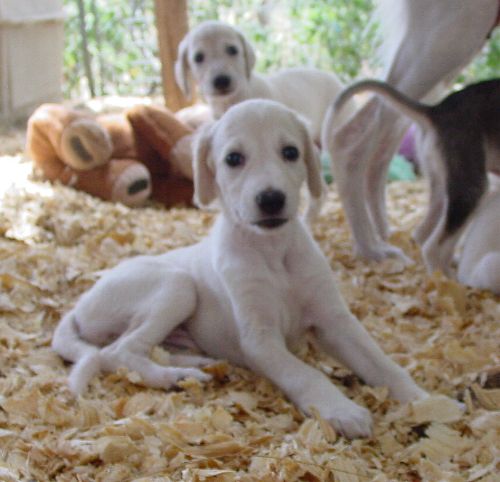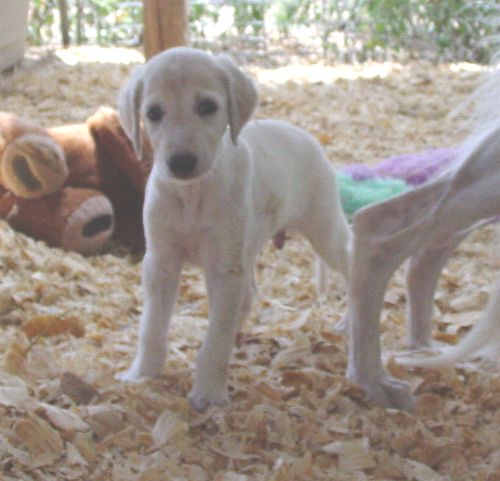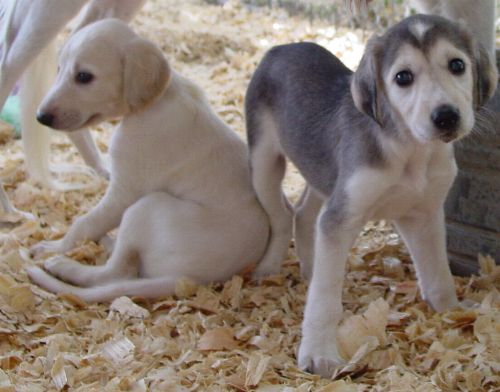 August 2, 2009 - pups had their first vaccinations (Intervet Progard 5)
August 4, 2009
Prelude to lure coursing practice, we played with the feather boa.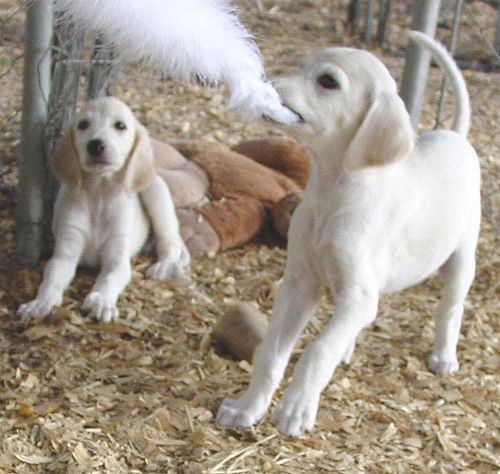 Pretty sister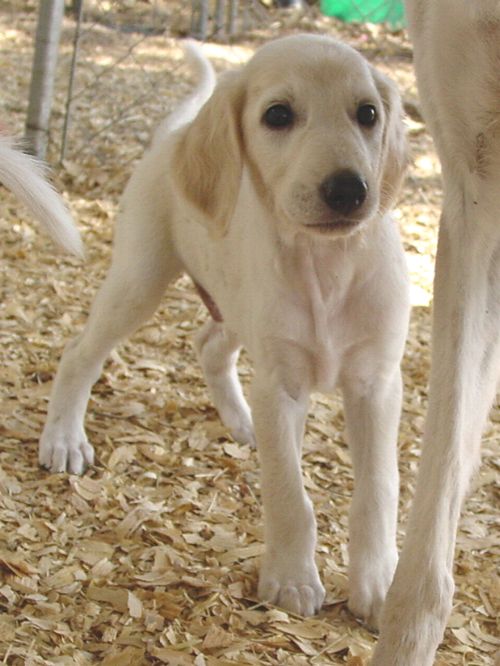 Sisters having fun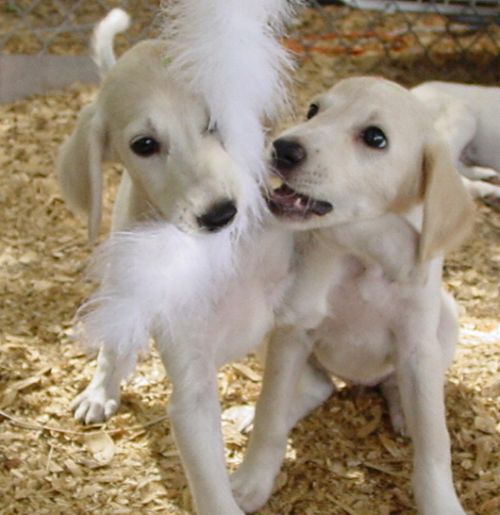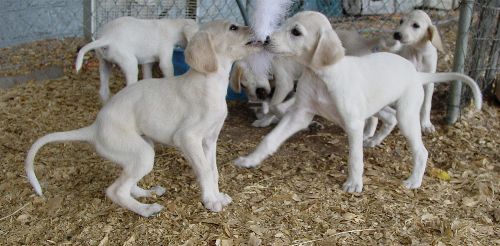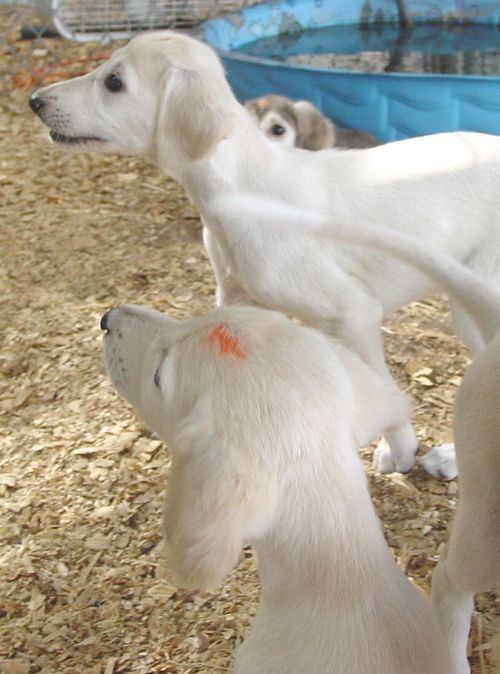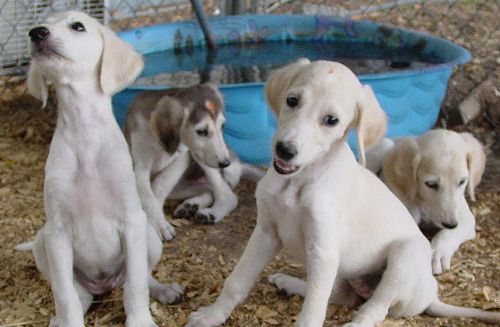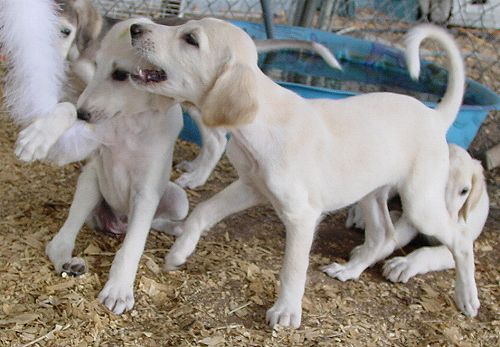 Diamond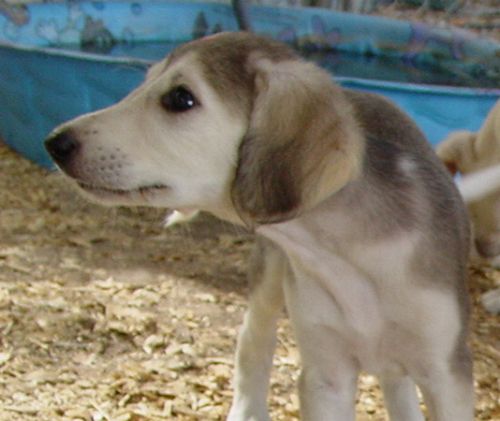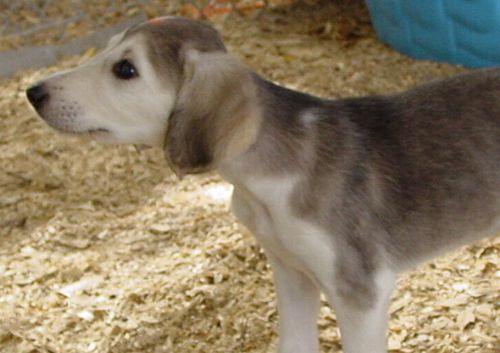 Sisters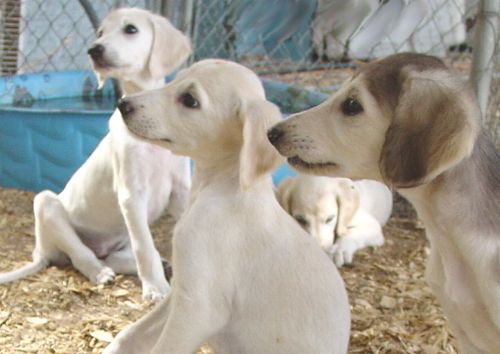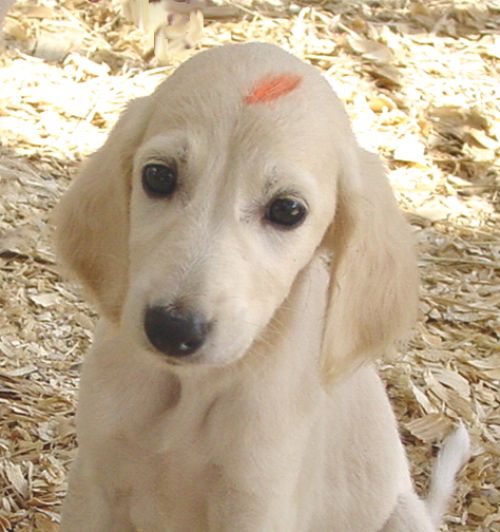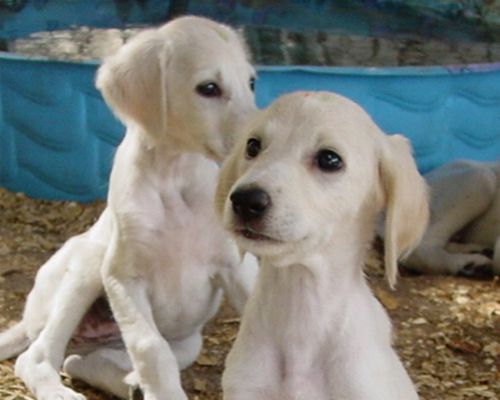 August 7, 2009
The baby pool is fun.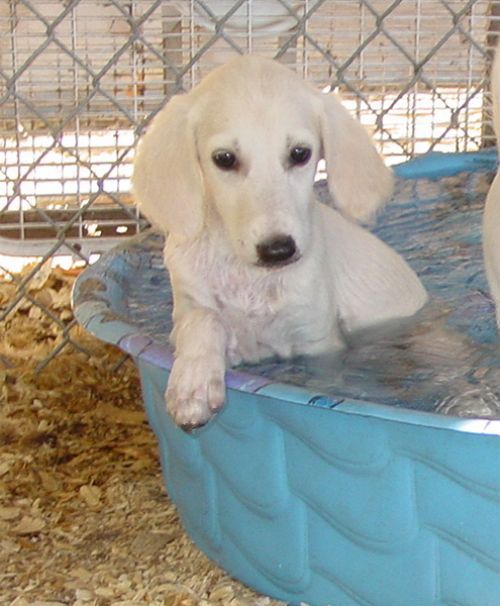 Sharing is good.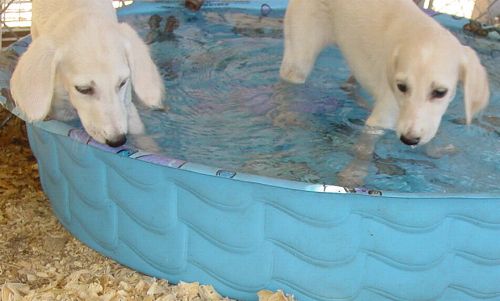 Ahhhhhhh this is nice.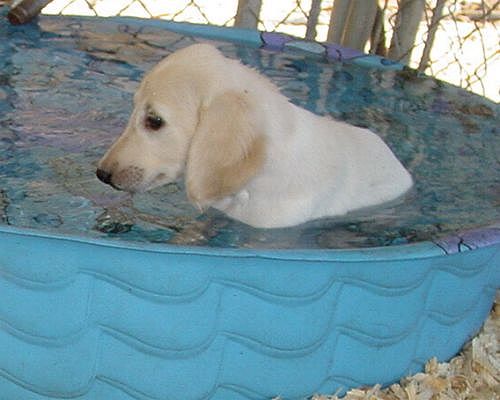 Diamond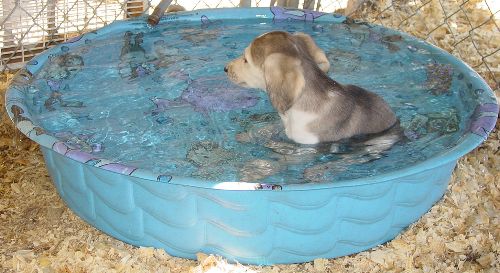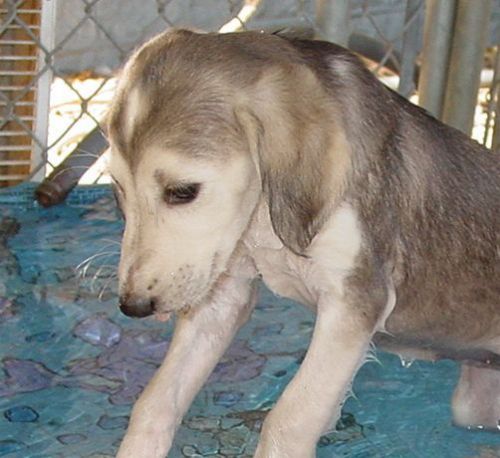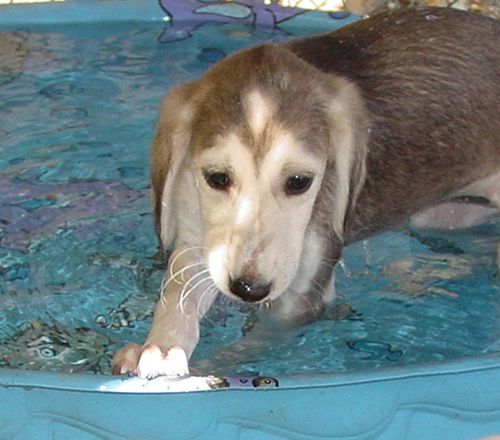 August 10, 2009 sisters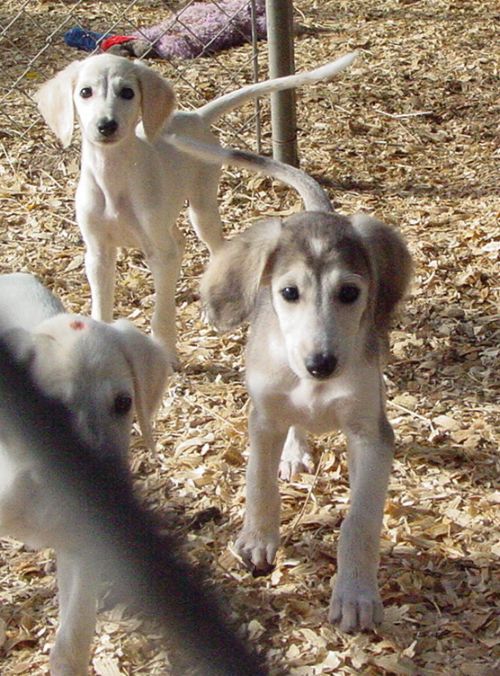 Handsome boy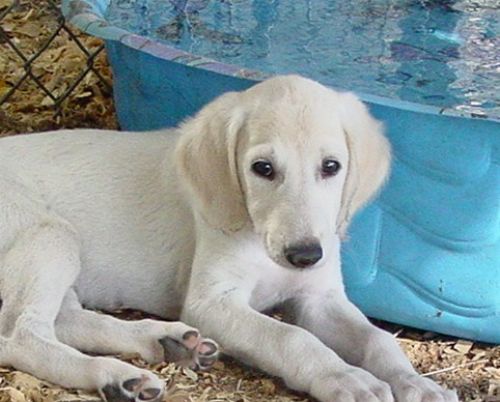 Pretty girl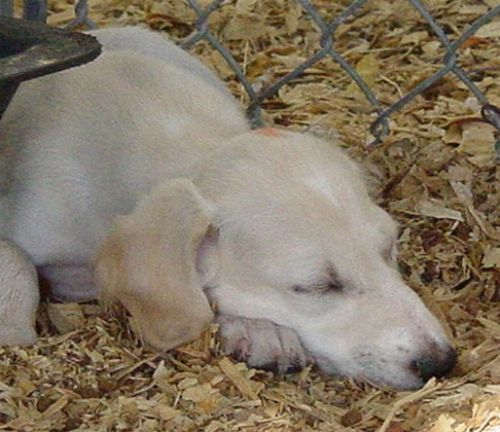 September 7, 2009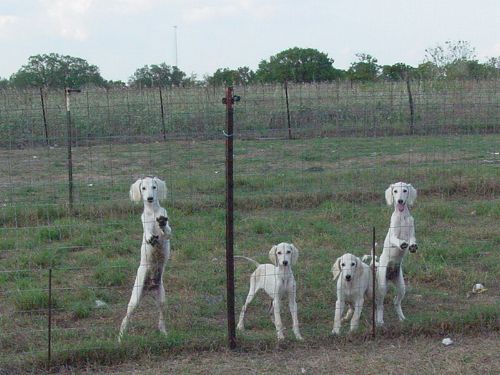 September 8, 2009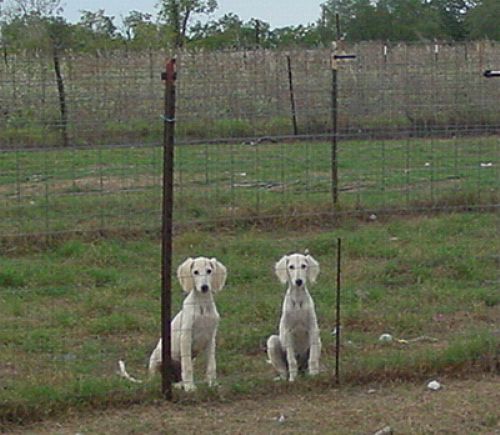 September 19, 2009
Ready to come out and play.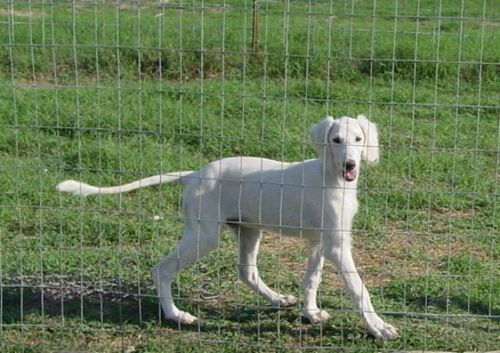 playing Shefaro Park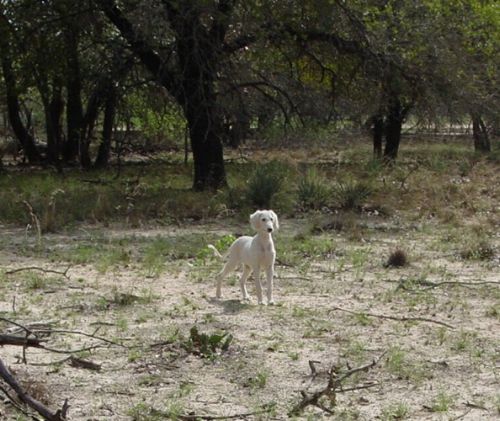 with siblings Shefaro Park
Novmber 14, 2009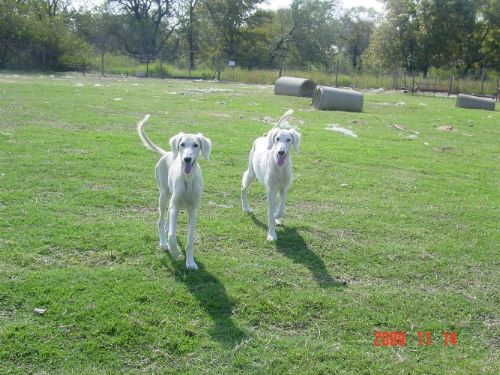 Anillo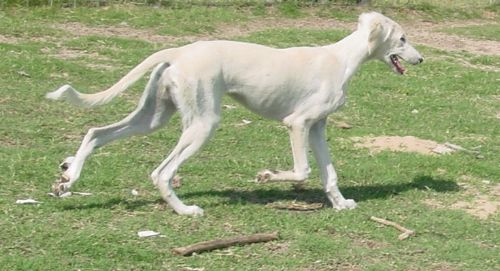 Palomino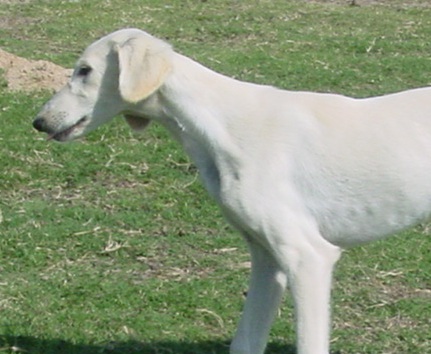 Shefaro Saluki Anillo and Shefaro Saluki Francisco have their own websites and can be seen by clicking the Shefaro links below:
Their beautiful sister Yasmin, lives in Portugal and is winning there in the show rings.
In the meantime, Francisco has his junior courser title and will continue his lure coursing career.
Welcome to my world!
Shefaro is the home of Multi International (FCI, UCI), World, American (AKC, UKC, IABCA), Mexican, Costa Rican, Bahamian, Puerto Rican, Dominican, Cuban, Guatemalan, Peruvian, Venezuelan, Columbian, South American, Champions of the Americas, Caribbean, Bermudian, Canadian conformation, obedience (Specialty HIT), rally, agility, lure coursing, Best in Show, Best Brace in Show, Best Bred By In Show, Best in Field lure coursers, High In Trial Obedience and Agility champions, Top Producers, Top Ten, National Specialty and group winning champions, Breed Specialty winning champions, service and therapy dogs, and wonderful companions where temperament comes first. The pride of Shefaro - Service and Therapy dogs - can be seen at
www.shefaro.com/serviceandtherapy
My life with sheep and goats has been enhanced by the wonderful working livestock guard dog breeds I have come to know and love.
www.shefaro.com/LGD