Eagle

Shefaro's first Top Ten conformation dog - (Fenix's sire, Zapata's brother)
International, American, Mexican, Bahamian, Bermudian, States Kennel Club champion, 1988 Top Ten CH. SHEFARO CHERTA'S AGUILA (Cherta x Gent) (National Group Winner) Best Brace in Show winner with son Fenix.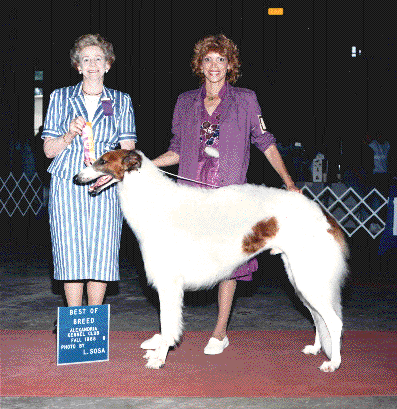 One of many bests of breed won at Alexandria Kennel Club show June 5, 1988 - above - Winning Hound Group First at Hobbs, New Mexico shows the same year when Eagle made the Top Ten.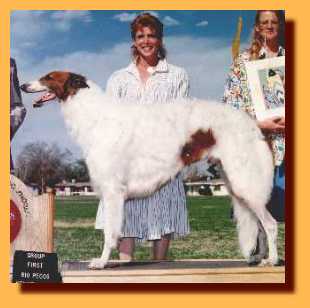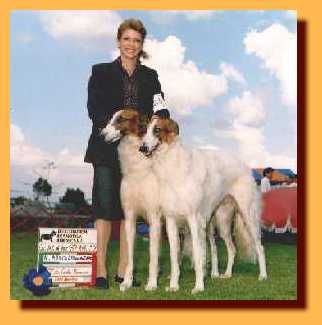 Eagle has also reproduced himself in his son, Fenix, and in beautiful daughter Sable, Shefaro Wahlesruhe Aguilita (Little Eagle) co-bred with Ann Logan of Bryan, Texas. Sable has her Daddy's lovely disposition, white body with red head, dark eyes, scissors bite and complete dentition. She has carried on in Eagle's name in the whelping box, producing Multi International and American Champion Shefaro's Alejandra and Shefaro's Anasazi (11 points including two 4-point majors).
Sable's other Shefaro elders, Tessa (Best Ten and Over Veteran Bitch 1996 BCOA National Specialty) and Reyna (Best Ten and Over Veteran Bitch 1997 BCOA National Specialty) and Eagle are all in Borzoi Heaven with dam, Cherta, and sire, Gent. When they passed on, none was under 11-1/2 years of age. Thank God for longevity at Shefaro. They leave us all to soon as it is..
The brace from heaven: