Darnilo

The Danish Connection
American Champion Lhaghana Darnilo of Zarina, CD, RN, CGC
(Danish Import)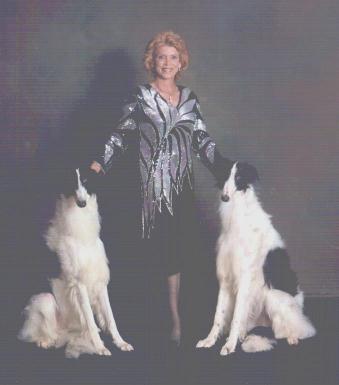 Born March 28, 1999, Dario and Darnilo were imported from Denmark, May 2000. I would like to thank their breeder, Christian Jensen, for sending me these beautiful boys, as well as friends, Terje Ellingsen and Irma Fertl, without whose help, the boys would never have arrived. Both boys are a delight to live with and have assimilated well at Shefaro. Except for being black and white, instead of my trademark red and white, you wouldn't know they weren't born here.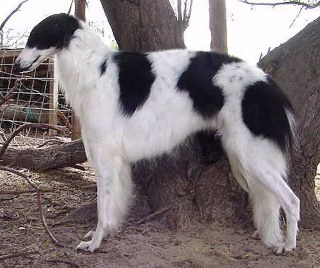 Fort Bend Kennel Club shows - Darnilo with Sherry, left, and New Champion Shefaro Marino's Fabiana with Chicki Runnquist of Sweden. Chicki was visiting Nov 2000 while bringing new pups Guillermo and Gloriosa to Shefaro.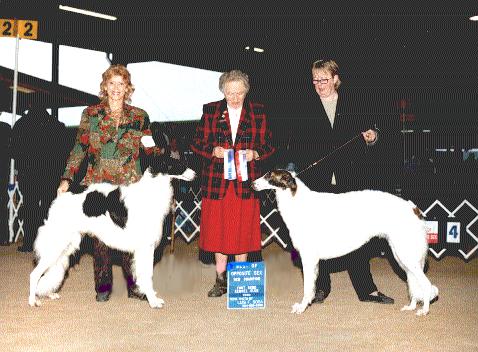 AMERICAN CHAMPION DARNILO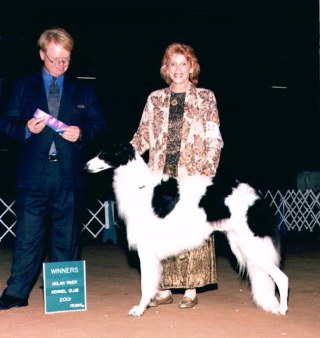 Time flies when you're having a good time. Darnilo is pictured May 4, 2001, with his lovely daughter, Paloma (atop the hay bale), two days before her trip to Denmark and her new home and family.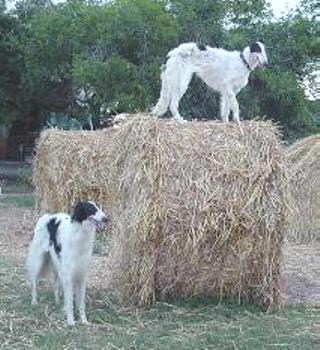 Our new friend, Rick Clarkson, came down from Canada on September 6, 2002 and got the kids playing. Left to right - Anasazi, Darnilo, Rolando, Tuxedo - Rick and wife, Adele, came to Shefaro to take home Darnilo x Fabiana's daughter, Belle. Belle can be seen on mama, Fabiana's web page.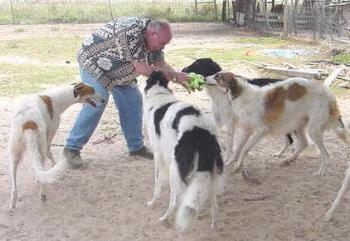 Rick's wife, Adele, got into the act. Left to right - Darnilo, Rolando, Tuxedo, Rodrigo, Vida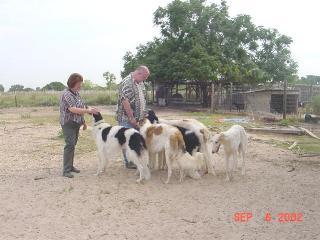 Guillermo, Darnilo, Tuxedo, Vida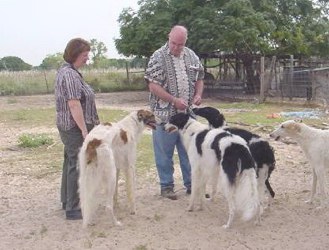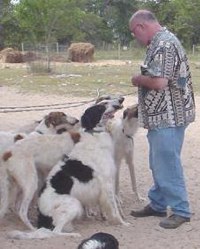 Left to Right, September 6, 2002, Guillermo, Gloriosa, Cheval, Darnilo,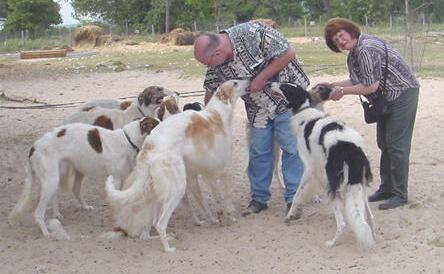 November 12, 2002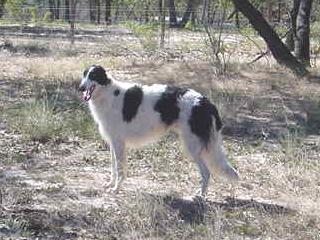 Darnilo and Dario's pedigree thanks to Sue Vasick.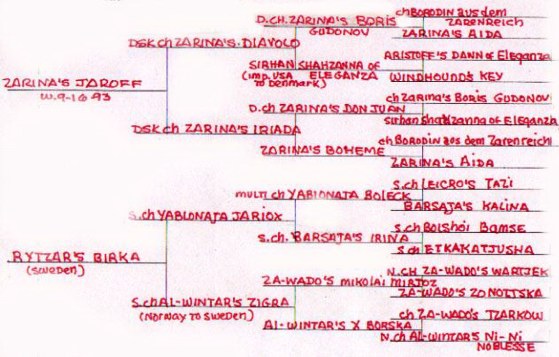 Darnilo enjoys a Happy Fourth of July in Shefaro Park.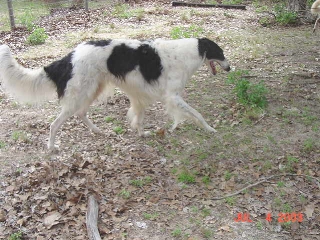 What a lovely coat for a S. Texas ranch dog!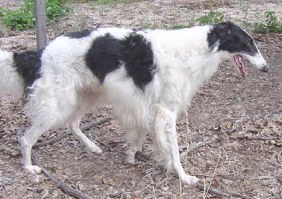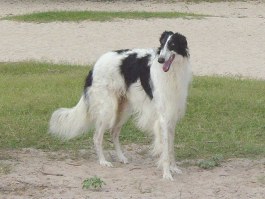 Darnilo
and Son, Rodrigo August 31, 2003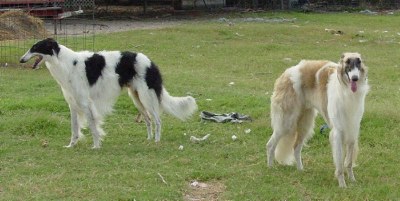 Darnilo and Rodrigo October 11, 2003
The boys and I enjoyed a photo shoot in
Shefaro Park. Father and son American Champions Darnilo (R) and Rodrigo
(L) are Shefaro's stud force. They are not at public stud. Darnilo, will
pursue bedience titles with a professional trainer. While Shefaro Borzoi
have won CD's with me showing, I will not do Darnilo justice. He loves
the work and deserves to go High in Trial. Rodrigo is a great show dog who
finished his Championship with back to back to back (4-5-5 point) majors.
Breeder owner handled, Rodrigo won best of breed over champions from bred
by and went on to a Hound Group Third at the prestigious Reliant Park
Cluster, Houston, Texas. Rodrigo and I will pursue international titles
starting November. I am extremely proud of these wonderful boys. They
are truly clown hounds and a joy to live with.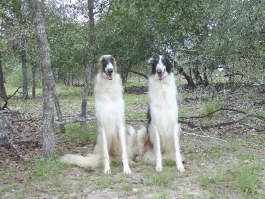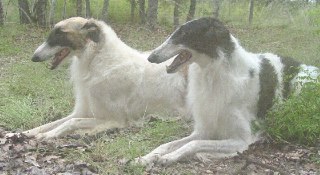 Darnilo meets the next generation. Pictured with Darnilo on October 11, 2003, are his grandkids, Maestro and Rodriga. They are sired by Flash out of Rodrigo's litter sister, Tatiana.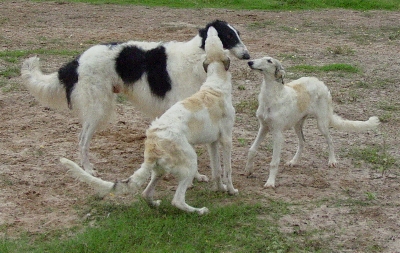 January 25, 2004 - Darnilo in Shefaro Park - How about this San Antonio "winter" weather!!!!!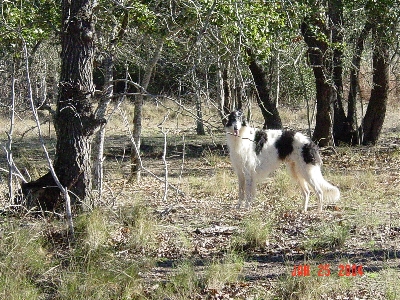 January 28, 2004 Darnilo and Vida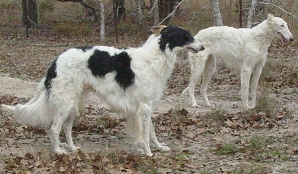 Father and son, Darnilo and Venado 01/28/04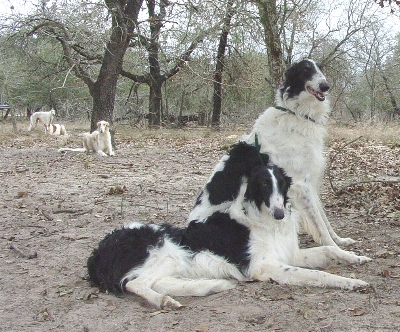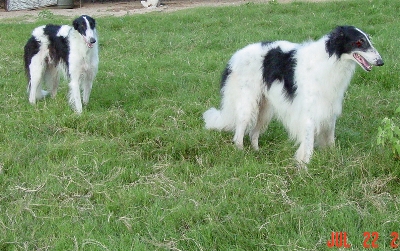 Darnilo is now in training at the Parchman Ranch. I trained Borzoi under Anne Parchman when she taught obedience in San Antonio. Now that she's living out of town, she has taken Darnilo on. He is an excellent obedience prospect and I would not do him justice. While a good trainer, I fall apart in the obedience ring. I know the Borzoi is in control and the Borzoi knows that I know he is in control. Darnilo is so adept at obedience and enjoys it so much that I felt I would give him a chance at getting his obedience championship with High in Trial. He started Summer Obedience Camp on July 23, 2004. He looks as wonderful practicing obedience as he did in the show ring. I am extremely proud of Darnilo.
He is a great dog and a great producer.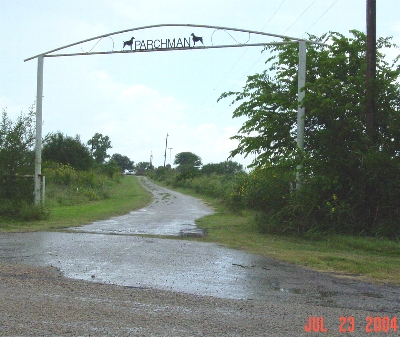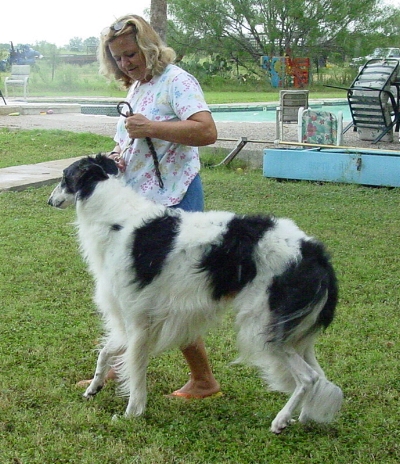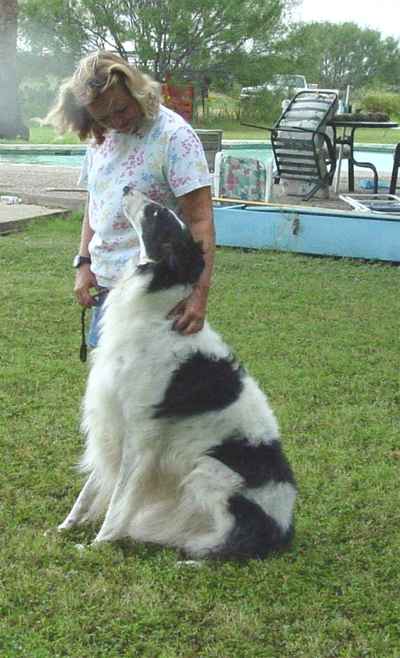 Anne has a beautiful training facility.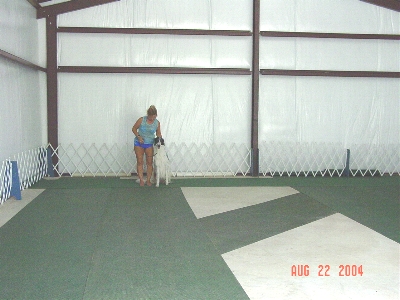 What a difference a month makes. Starting out indoors.
Heeling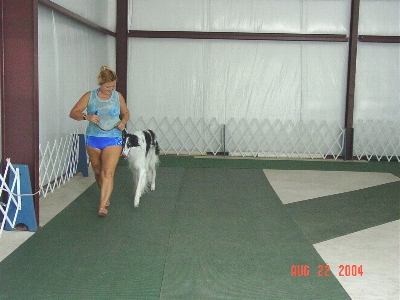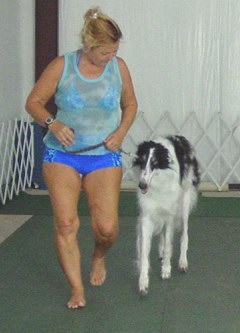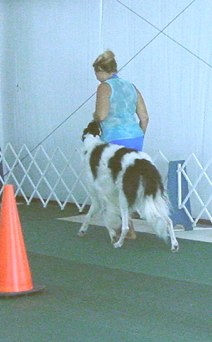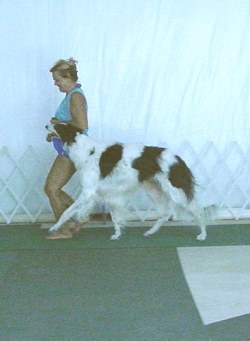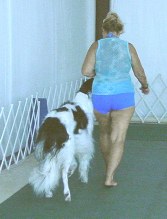 Figure 8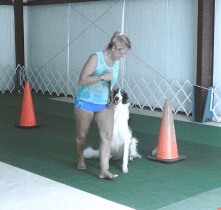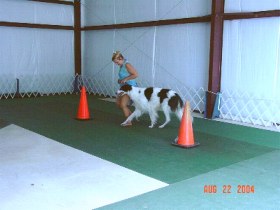 Practicing recall.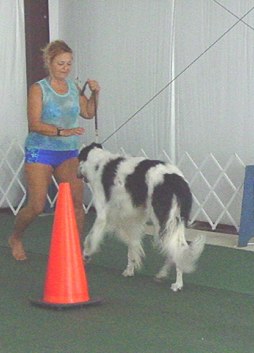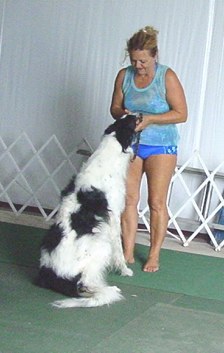 Long sit.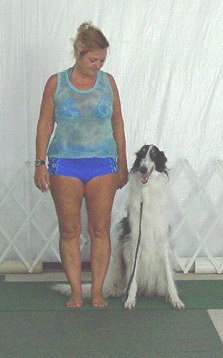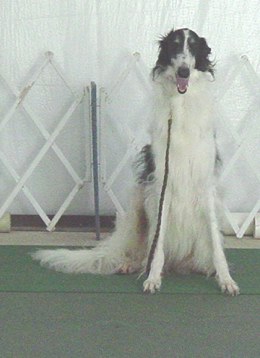 Receiving the down command then long 4 minute down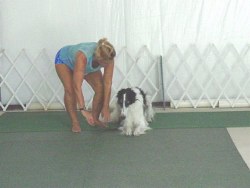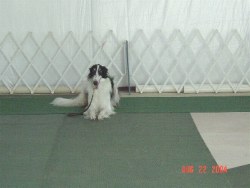 Return to dog.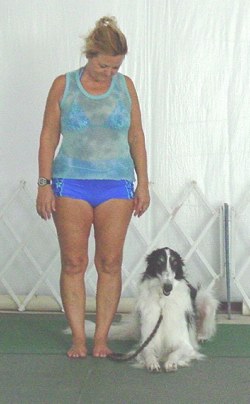 Anne works with praise and Darnilo loves it.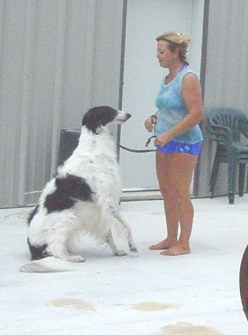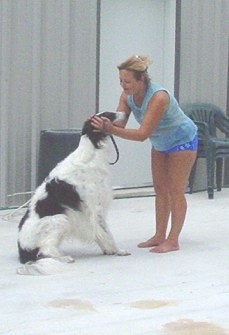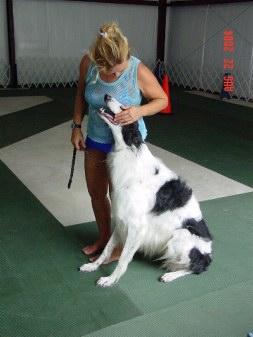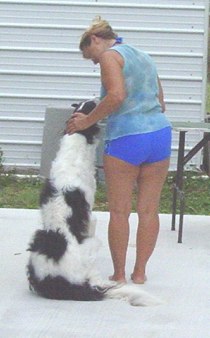 September 12, 2004 - OHA Fun match, Darnilo scores 191! I hope that's a sign of things to come when Anne shows him for his CD.
Pictured waiting to start the exercises.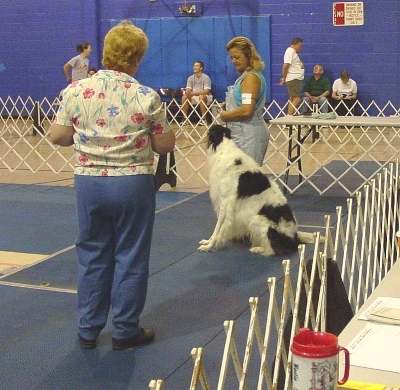 Recall.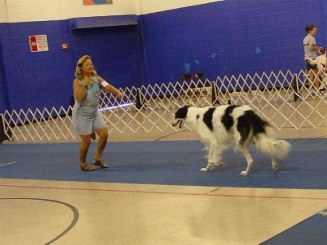 Figure 8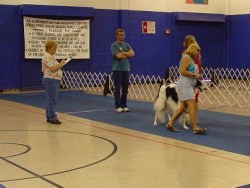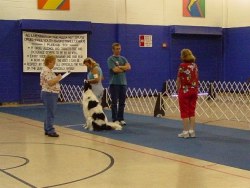 At home until there are more shows with obedience competition, Darnilo is practicing long sits (and downs)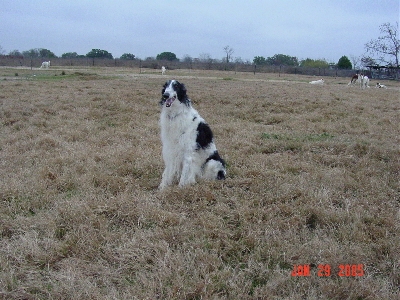 March 3, 2005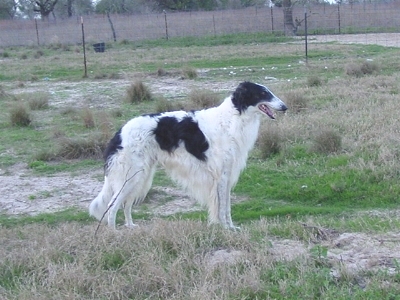 Darnilo finishes his CD. Pictured with our good friend, Anne Parchman, obedience trainer extraordinaire!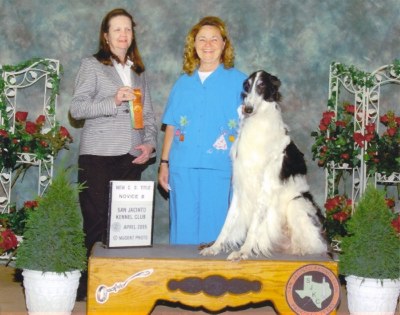 Obedience Champion - Ch. Darnilo CD, RN, CGC, is pictured with his obedience trainer/handler, Anne Parchman. First Rally fun match with me, Darnilo scores 94! 6/12/05. Second Rally in October, he won a 97 out of 100! Darnilo's an RN (Rally Novice) winner.