Elia

Junior World and Mexican (World) Champion Shefaro Oksana's Elia
Born June 1, 1998, out of Shefaro Tallen Oksana Cesar x Multi Int, American and World Ch. Shosta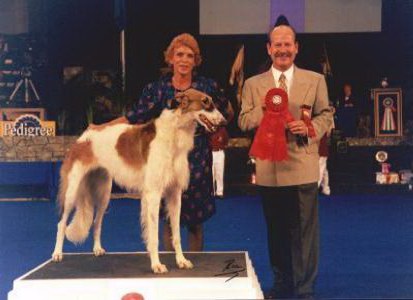 Elia is pictured at almost 12 months of age after winning the Junior World Dog Show Championship and second place in the Junior Sighthound Group in Mexico City, June 2-7, 1999. She is the daughter of World Champion, Shosta, bred to Shefaro's Oksana, and a granddaughter of Reyna. Elia blew coat just before we left for the competition, but her beautiful body and floating movement, as well as a gorgeous head with scissors bite and complete dentition, carried her through to the Best Junior World champion in competition with the male Junior winner.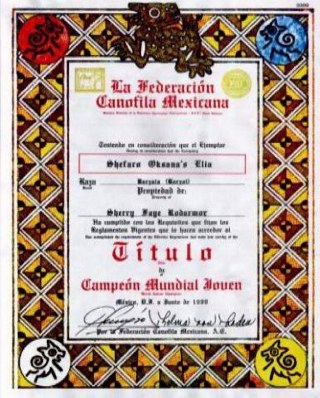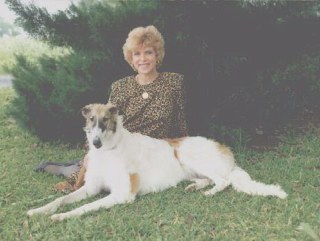 Elia and Sherry November, 1999.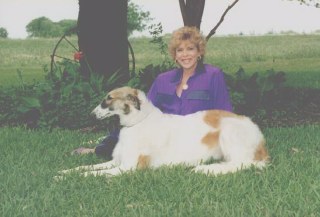 Elia is pictured with brother Khan and sister Diva at Shefaro 1998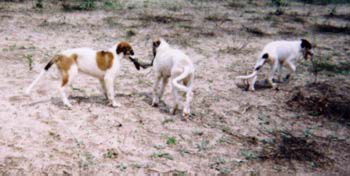 a very young Elia at Shefaro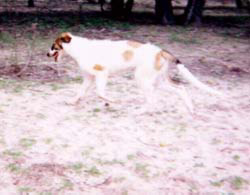 Sister Diva and Elia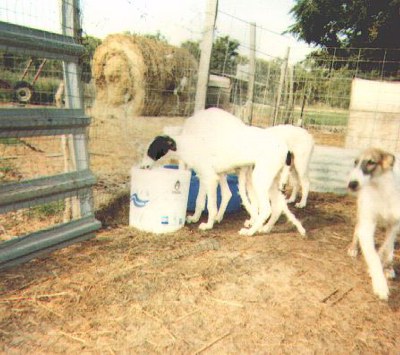 She's pictured below on July 16, 2002, at Shefaro Park.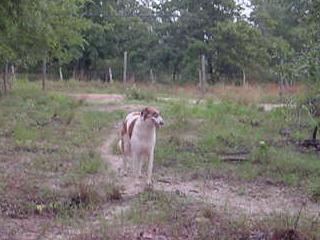 Elia has matured beautifully and is a great dam at Shefaro having produced such wonderful dogs as Ch. Shefaro Elia's
Guillermo
(pictured) and Ch. Shefaro Amadeo's Rodrigo.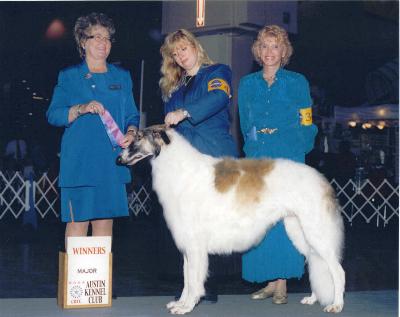 Shirl's Girls!
Borzoi Elia (left) and Stoli (right) live with Lab Poppy and Mom Shirl Barnes in Nebraska. Shirl's girls eat very well and have a wonderful life.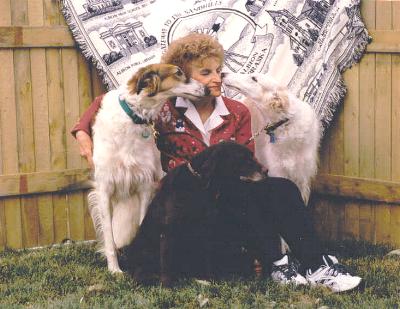 Email from Shirl, April 11, 2003
Subject: another Elia story
I sent a thank you gift to a friend, from Harry & David's, and it never arrived. I was humiliated, since I am sure my friend thought I was just ignoring the gesture of kindness. I called H & D's, shreiked at them (not really, I was "polite") and they promised to expedite and re-ship my gift item ASAP and also, for my embarrassment, they sent me a box of their very expensive and vey special individual petite cheesecakes, all various scrumptious chocolate sorts of decadent things. Shall I go on? How far? To the day they arrived, and I had one - then the next day I had another (there are a dozen in the box) and then the next thing I know Elia is lying on her large pillow, with this lovely gold foil wrapped around her paws, and little crinkle white goodie papers scattered around, and, guess what, CHOCOLATE stains on her legs!!! Incidentally, ALL of the $35.00 cheesecakes were gone. Well, I guess I won't have to worry about the calories!!! I NEVER give my dogs chocolates because of all I have read about how dreadful they can be to some dogs. After just getting over the plastic bag scare, now I can be worried about chocolate dog syndrome or whatever it is! Perhaps I will just move the fridge and cupboards out into the yard , where Epicurean Elia cannot have access to ANYTHING edible!!! She is a total riot! I actually scolded her this time - "Elia, BAD girl"....and she looked devastated, wounded, terribly hurt.....until she saw a smidge of chocolate on her pillow and immediately dove down onto it lest it get away from her!!! What a girl she is, and how I do love her! Stoli was looking on with amazement "Gee, what did YOU do?", and Poppy ignored the entire episode and munched on one of her old bones, oblivious to it all in her sweetness. This is my life? hahahaha......S.
Shirl's girls live in a beautiful house surrounded by the new fence that was put up, so the girls would have a special play yard in winter when it is difficult to take them for walks. Pictured January 2005.