Maximus

Shefaro's Maximus the Great
Todd Baker
Oklahoma
This is how it all began. American Champion Shefaro Marino's Fabiana was OUTCROSSED to American Champion Bokhara Shefaro El Dorado. The result was a litter of puppies all looking exactly like generations of Shefaro Borzoi before them, unrelated except for Shefaro. Pups were born November 12, 2001, four boys, three girls.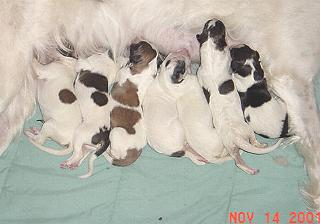 Left to right: Vitaly (F), Rolando (M), Dontae (M), Anastasia (F),
Yola (F), Nadya (F), Maximus (M)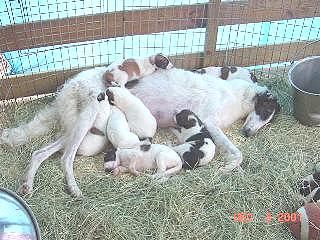 December 30, 2001 posing on the grooming table.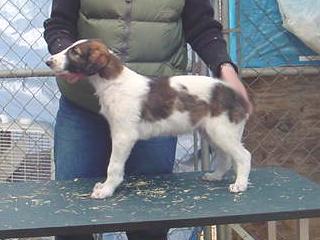 Vitaly, Maximus, Mikhail, Tatiana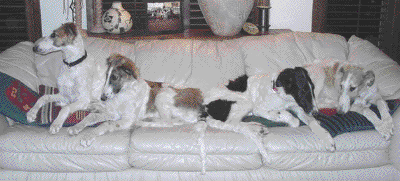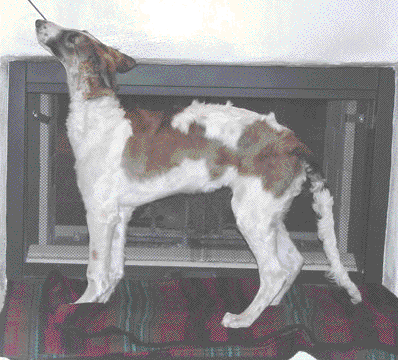 Maximus is back at Shefaro and has been shown by friend, Amanda Gibney. His littermates are Dontae and Rolando.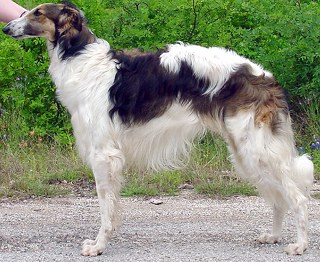 Max was shown by Amanda Gibney at the Big Spring Kennel Club show, April 26 and 26, 2003. He won Winners Dog Saturday and WD and Best of Winners Sunday for one point each day. (TWO POINTS) Max won his first point under Judge Bob Smith. Amanda and Max went on to Lousiana where he won another two points. (FOUR POINTS) He's gone on to win the points three out of four shows. After that they went to Biloxi, Miss. where he won BOB for another point and Corpus Christi, TX, for another point (SIX POINTS)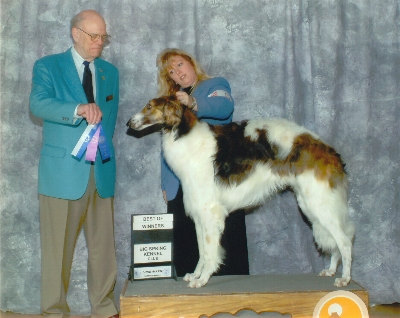 Maximus showing at Houston July 2003. Litter brother Dontae is behind him.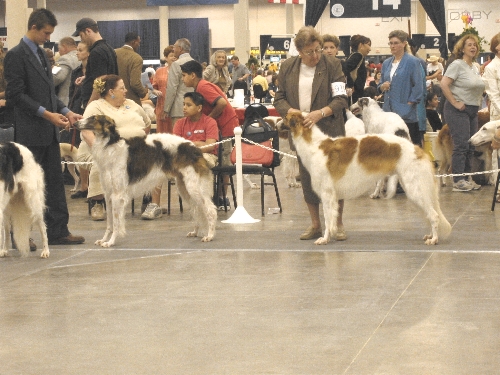 Max blew coat due to the Texas weather. Here we are outside playing show dog. He will resume his show career after his coat comes back.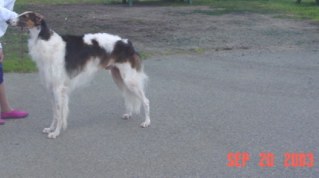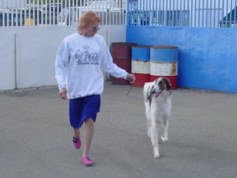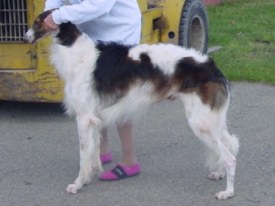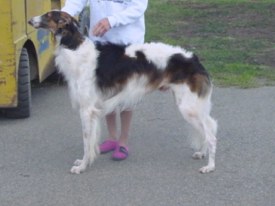 ----- Original Message ----- From: carla faught To: shefaro Sent: Thursday, October 09, 2003 7:34 AM Subject: sending Max
Hello Sherry,
I am sending Max with Dena to Elgin to be picked up by Amanda and she will bring him to you when she comes to your house on Friday. Dena had to make a trip to Elgin one last time, so it is best to go ahead and send him to you now. I don't think I would be able to get him to you at a later time in the year. We have decided that we will not use him for breeding to the girls that we have, so you may want to use him there. I will mail his papers to be fully transferred to you right away. I know that he will be happy with you as he loves all of the dogs there. I will talk with you soon.
Thank you,
Carla
As of November 25, 2003, Max has six points. He was returned to me without registration, so I chose to sell him as a pet with no papers. Max carries his paternal grand aunt's undershot bite gene and will not be shown or bred. He will be spending the holidays in his new home in Oklahoma with Todd Baker. Max is a dream come true for Todd and vice versa. Max will live in a single dog home where he will be the center of Todd's life.