Magdalena

Shefaro Princesa's Magdalena
Shefaro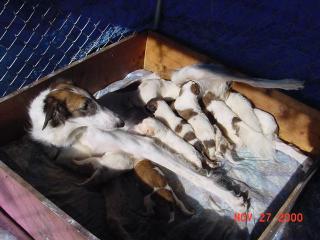 A daughter of Shefaro Marino's Princesa, Magdalena was born November 10, 2000. She is sired by Bokhara Shefaro El Dorado. Magdalena is a litter sister of Shefaro Princesa's Tesoro, Blondie, Mariachi, Cheval also featured on this web page.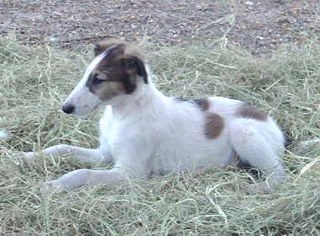 Maggie with friend, Emily, at Odessa, Texas.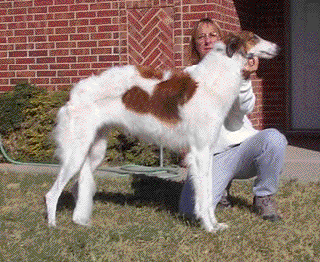 Maggie at Shefaro December 2001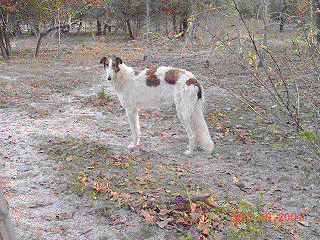 Maggie meets Amadeo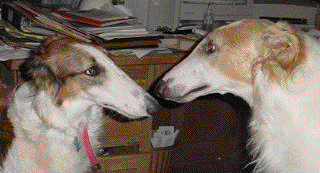 Maggie at Shefaro January 2002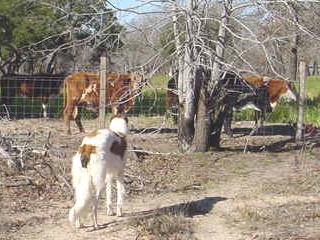 Maggie - May 24, 2002 and August 11, 2002. This is her favorite pose!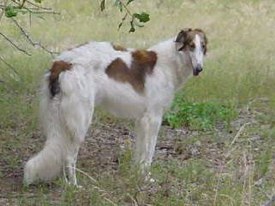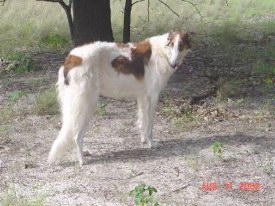 Shefaro Borzoi are dogs first! They run on five acres and play atop five foot tall round bales of hay. They are athletic and therefore sound of mind and body. It's a dog's life at Shefaro. Top left - Guillermo Top Right - his siter, Gloriosa On the ground - Magdalena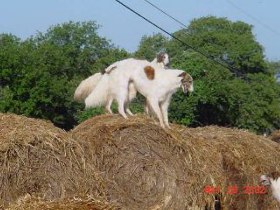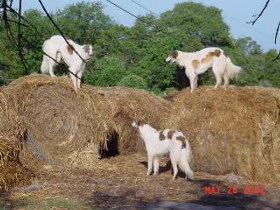 Friend Dody and her daughter came out to visit Cheval and friends June 15, 2002. Left to right - Casanova, Cheval, Z's Guillermo, Magdalena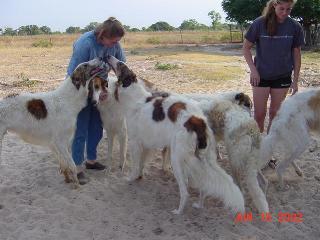 Maggie with child. She is bred to Lazlo.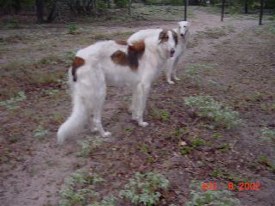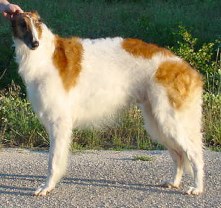 HAPPY BIRTHDAY TO ME!!!! Maggie had a litter of nine puppies - six boys and three girls, sired by Lazlo, on August 25, 2002.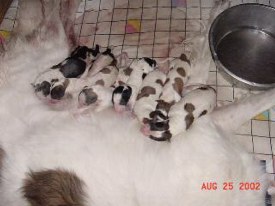 The Final Nine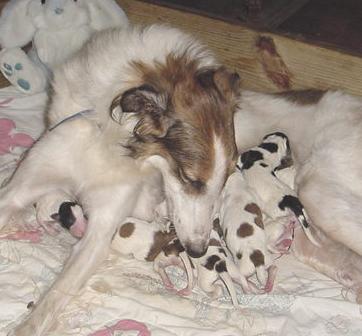 August 26, 2002 - six boys, Legend, Legacy, Niko, Nikolai, Rico and Little Lazlo - three girls, Lolita, Arrow and Tess.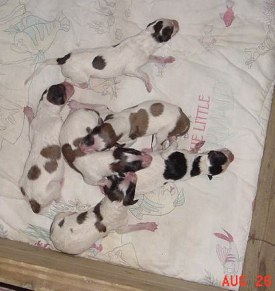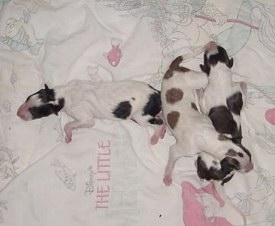 The babes today - August 27, 2002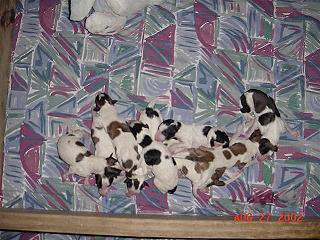 Mother and children.
The Boys August 28, 2002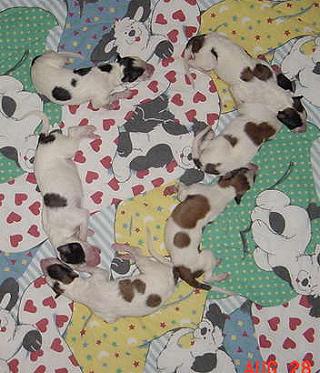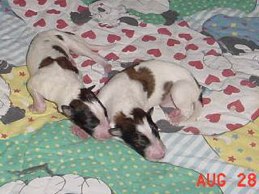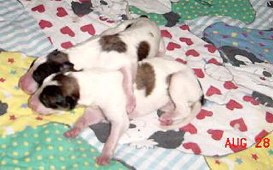 Baby boys and their new Mom, Alice Womble, pictured August 31, 2002.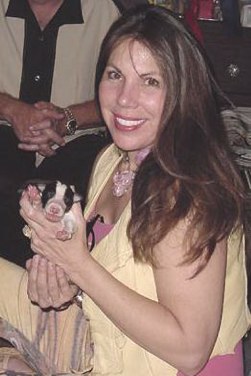 and Dad, Dr. Mike Freeman of Hempstead, Texas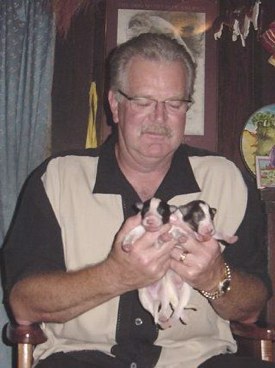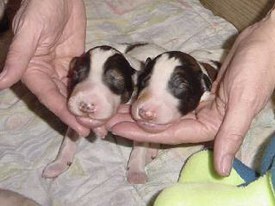 More boys.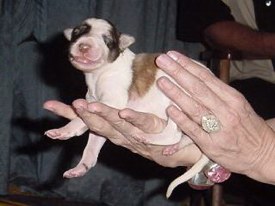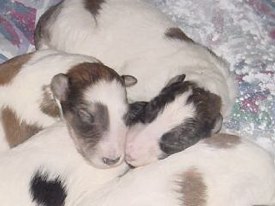 Boys and girls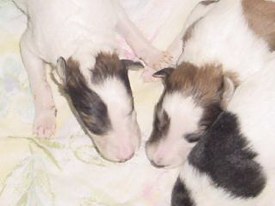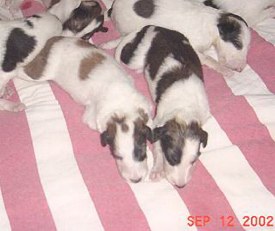 Mother and babies Sept. 5, 2002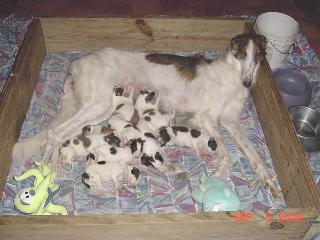 September 9, 2002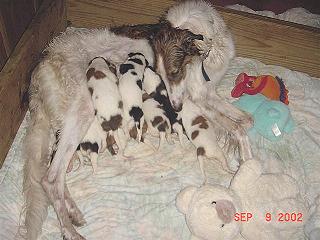 Bonnie's Bitzer's "Tess" is lives in New Mexico.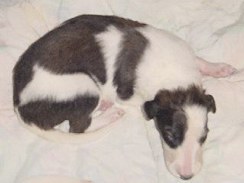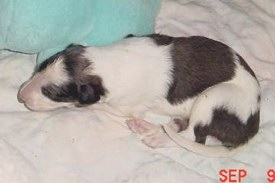 Mother and Alice's boy. September 13, 2002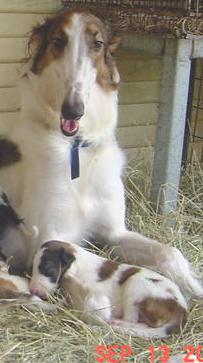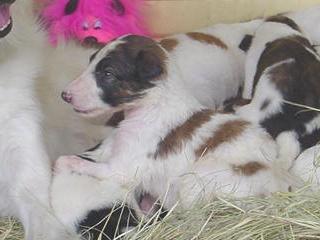 Baby boy Little Lazlo walking, September 16, 2002
Baby girl, Arrow, September 16, 2002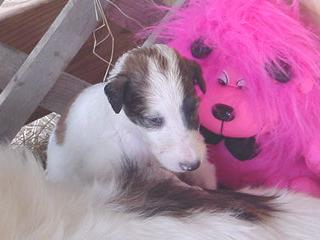 September 16, 2002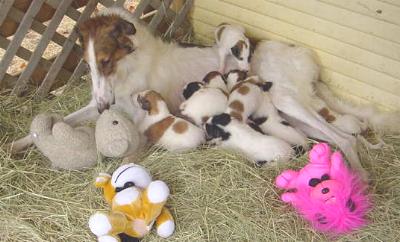 September 27, 2002 - Lolita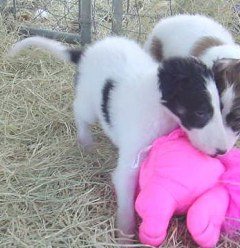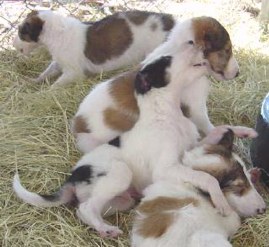 Alice's other boy.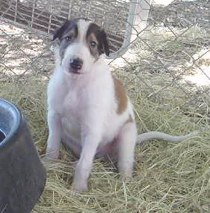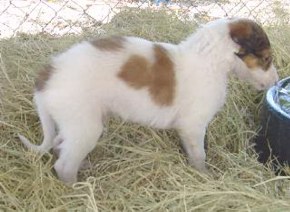 Father Lazlo and Baby Son, Little Lazlo.
Baby Maggie - Baby Daughter
Shefaro's Flirtacious Arrow left for her new home. She lives with Dr. Nate Fullerton and Trish Kilty of Lake Mills, Wisconsin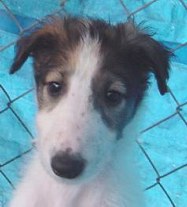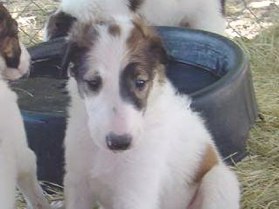 Little Lazlo, Alice's Boy, Lolita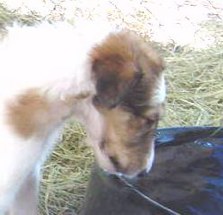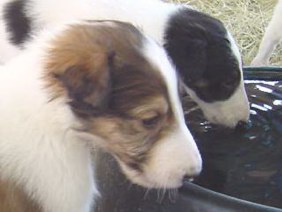 Maggie and Mariska Mia October 31, 2002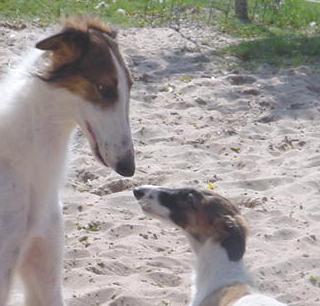 October 28, 2002 Niko leaves home with Lauren and her Fiance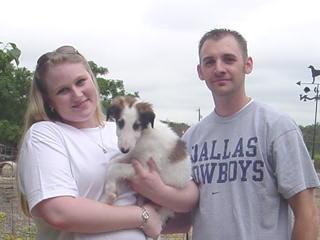 Alice leaves home with Lolita, Legend and Legacy 10/29/02 They are going to live with Dr. Mike Freeman and Alice on their wonderful Horsegate Ranch, Hempstead, Texas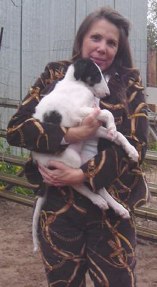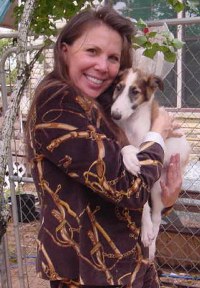 Nicholas, Carmen Osuna's boy, left Shefaro for his new home with Carmen and her mother Cynthia in Florida.
Bonnie Bitzer drove in from New Mexico to pick up Tess. It was love at first kiss for both.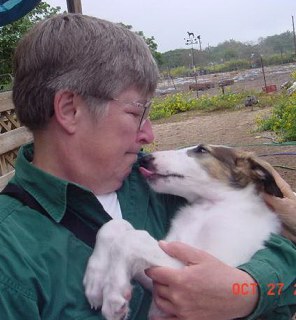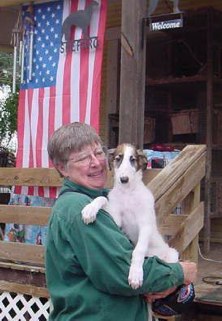 Pictured October 29, 2002 - Little Rico and Little Lazlo left Shefaro on December 5, 2002, for life on Sue and Kurt Carrara's llama ranch in Oregon.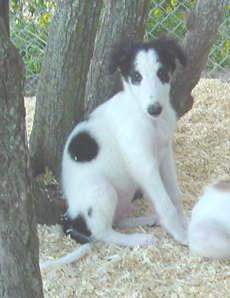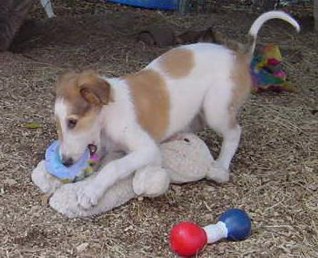 Rico and Little Lazlo are growing up. November 20, 2002. Here they are at my farmer's hayfield playing hide and seek.
Now you see us - now you don't.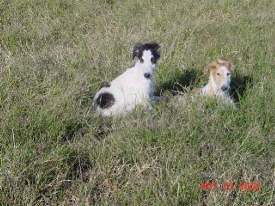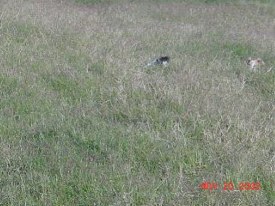 Rico and Little Lazlo are now Sherman and Dimitri and they have grown up beautifully. They live with Sue Carrara on her llama ranch and are very spoiled, handsome boys.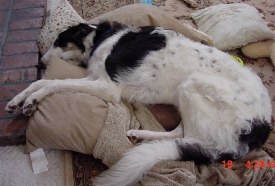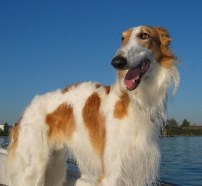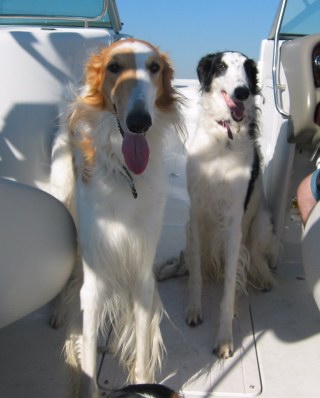 Cheval (L), Tatiana, Rodrigo, Maggie, Casanova, Katy (front)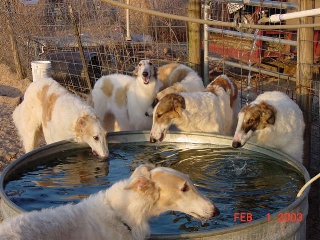 February 10, 2003 - Mother, Princesa, and daughter, Maggie.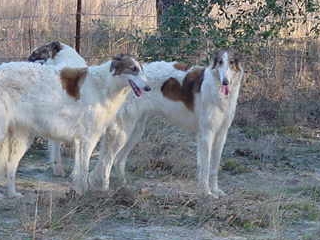 Since the puppies, Maggie's really bodying up.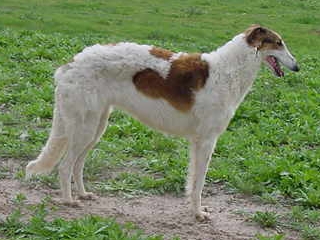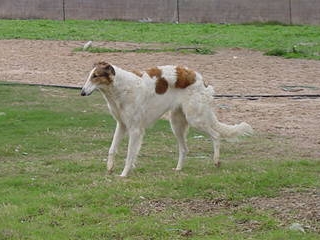 Cesario, Maggie, Katy, Flash March 23, 2003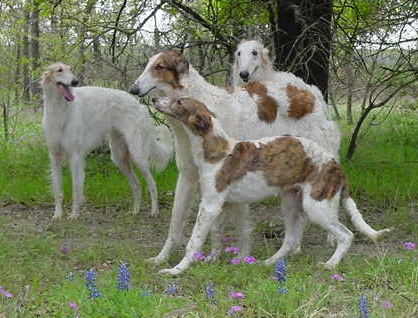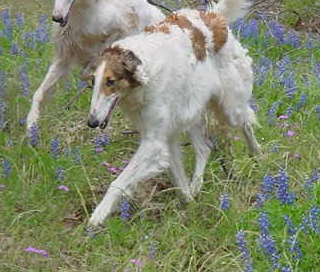 Flash and Maggie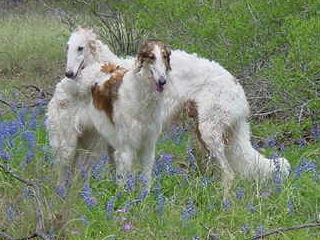 Flash and Maggie had a litter born May 19, 2003. There are seven girls and four boys. There are three tri colored girls and one tri colored boy. The rest are various shades and degrees of white and red.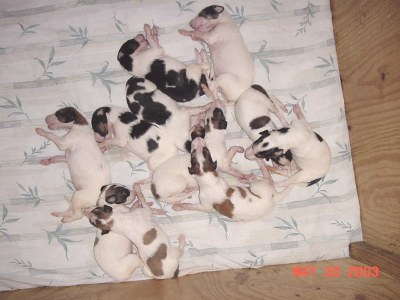 Two of the tri girls and the tri boy (L) May 30, (R) June 14, 2003 what a difference two weeks make.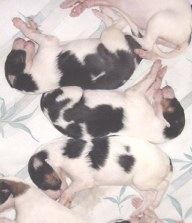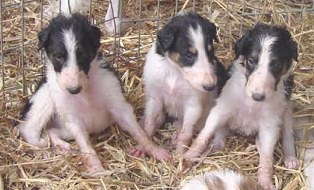 What a difference a month makes. Maggie and pups June 5, 2003 and...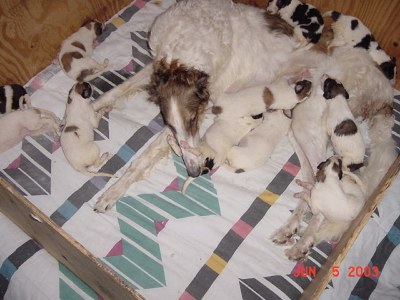 Maggie and pups July 4, 2003.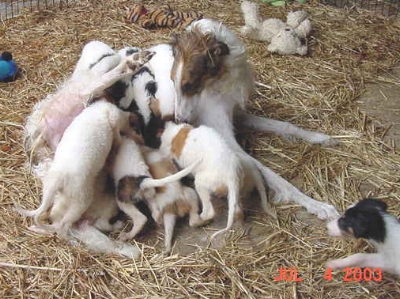 Bolero and Bijou.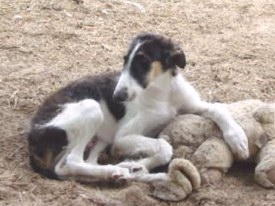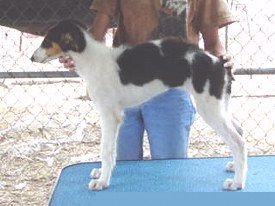 September 7, 2003 Diva out with the sheep.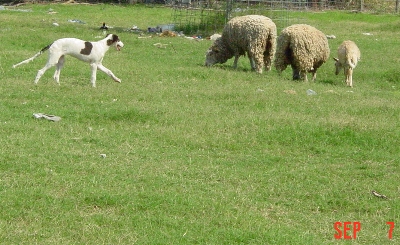 Olivia at the hayfield September 14, 2003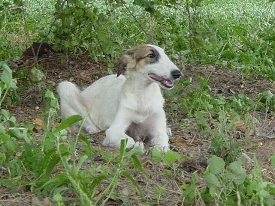 September 29, 2003 Diva and Olivia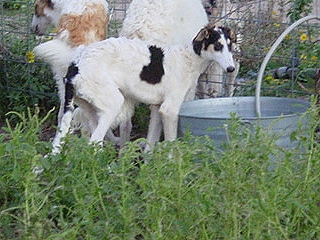 Olivia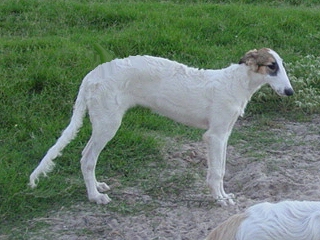 Nikolai December 5, 2005