Anasazi

American Champion Shefaro's Anasazi aka "Chicki"
Shefaro Borzoi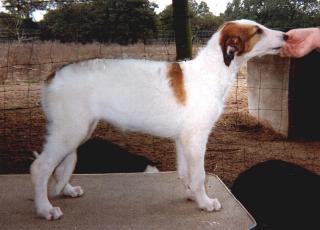 Anasazi is the daughter of World Champion, Shosta, bred to Sable, and a granddaughter of Reyna and Eagle, she is a litter sister to World, American, International, Mexican, Costa Rican and Latin American Champion Shefaro's
Alejandra
. She entered the show rings starting March of 2001 and finished the year with 11 points, including two back to back 4-point majors.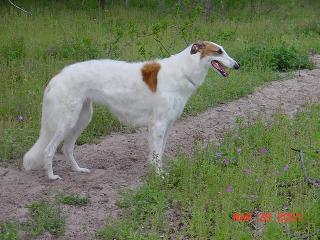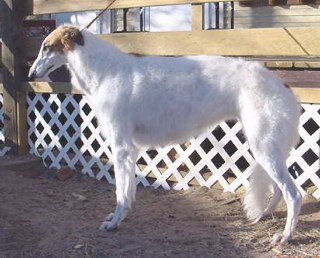 Chicki is pictured winning her 11th point at Lubbock, Texas, September 29, 2001, under Judge Barbara Camp.
March 21, 2002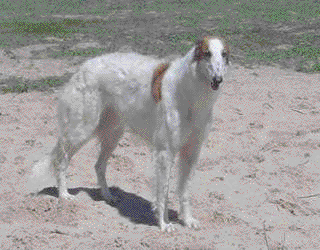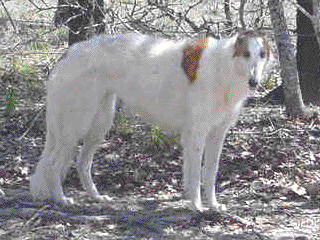 May 5, 2002 - Anasazi finished her American Championship by going Best of Breed over a Top Ten "special." Anasazi is a littermate to American, Multi Int and World Ch. Shefaro's Alejandra. They are sired by American, Multi Int. and World Ch. Shosta out of Sable. Sable is an Eagle (Top Ten 1988) daughter and half sister to Fenix (Top Ten 1991).
Anasazi is Shefaro's third champion so far in 2002:
Ch. Shefaro Alejandro's Amadeo
Ch. Shefaro's Guardian of Delights, CD
Ch. Shefaro's Anasazi
and Ch. Shefaro Alejandro's Mariska is in the Top Ten again (2002)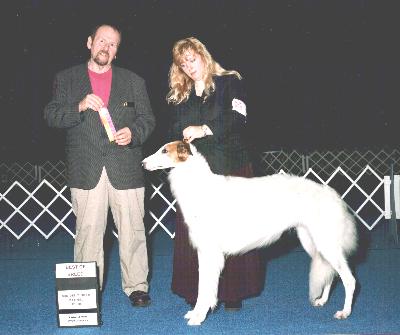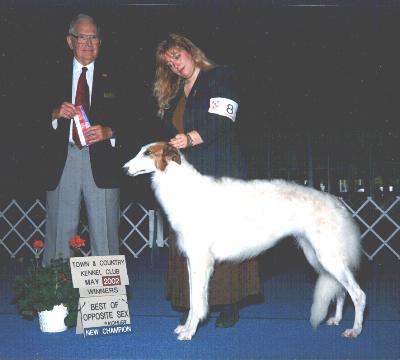 Rick and Adele Clarkson, came to visit from Canada on September 6, 2002. Rick took the kids into the field for a game of fetch with a green and blue octopus. L to R - Isabella, Rodrigo, Casanova, Guillermo, Tuxedo, Anasazi
Left to right - Anasazi, Darnilo, Rolando, Tuxedo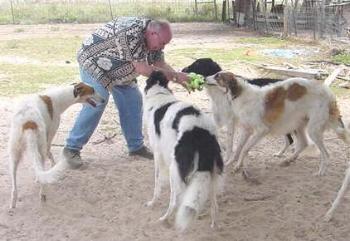 November 12, 2002 "Chicki" and Rolando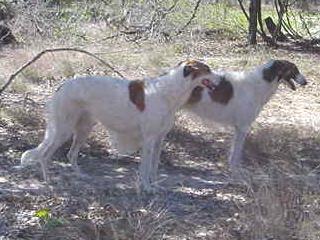 December 4, 2002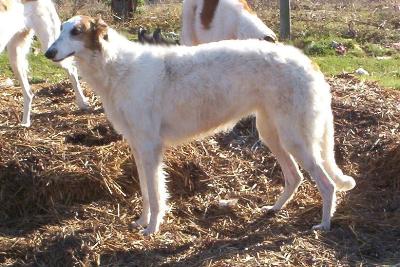 January 26, 2003 with Casanova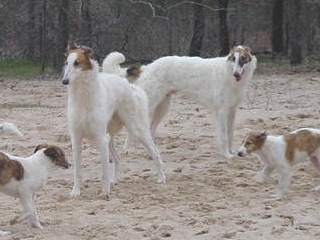 Anasazi, Leonida, Cesario - January 26, 2003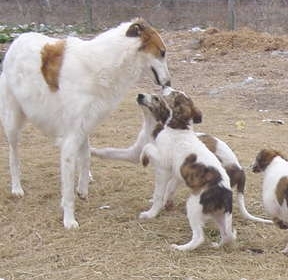 Chicki x Darnilo bred on September 2, 2003. This is Chicki's first litter.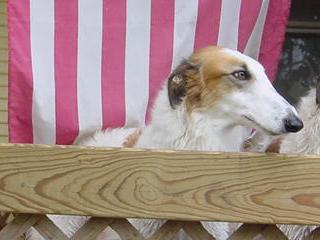 October 14, 2003. Chicki and family together in the field at Shefaro. Left to right front row - Princesa, Lazlo, Chicki. Back - Darnilo, Vida
November 3, 2003, the babies were born. Three girls and three boys.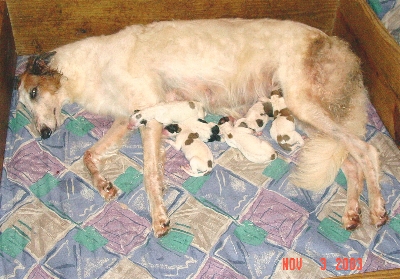 November 5, 2003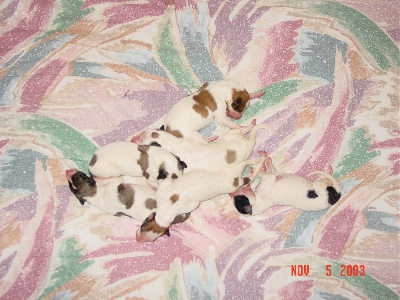 November 6, 2003
The boys - The girls
November 7 baby boy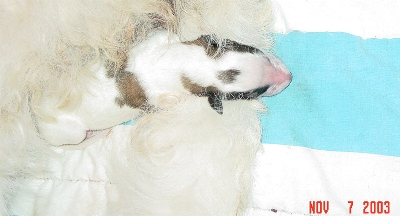 November 7, 2003 black and white puppy girl.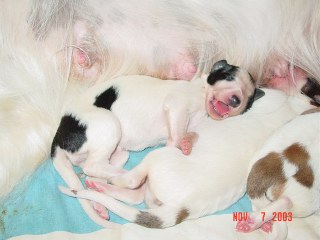 The pups Nov. 8, 2003
November 21, 2003 Chicki and daughter.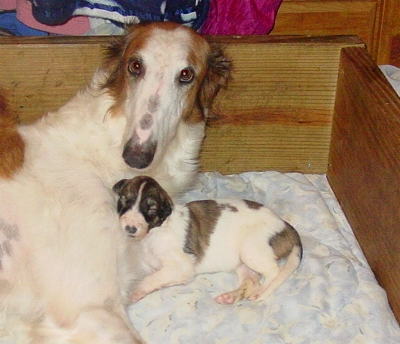 Girl, boy, girl December 1, 2003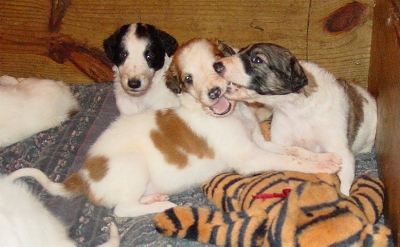 Paloma, Chicki, Tesoro, Tigra - August 15, 2004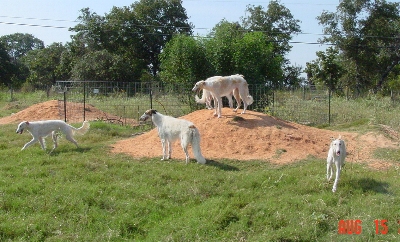 Mother and daughter, Meesha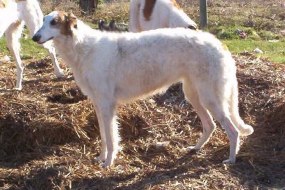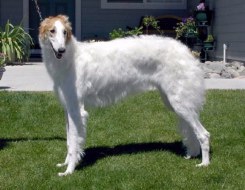 Mother, Chicki - Daughter Meesha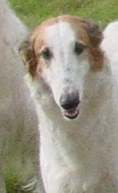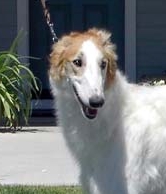 Chicki's son Basil lives in New Mexico with Mary Logan.
Shefaro's Principe Encantador
----- Original Message -----
From: Mary Logan
To: shefaro
Sent: Wednesday, January 12, 2005 1:42 PM
Subject: Basil update
Hello!
Sorry I have been out of touch for so long, the holidays were frenetic and then right after New Year I caught a cold that drained what little resources I had left. I'm still in the recovery process but feeling much better.
Basil is well and wonderful. Santa brought him a new comfy bed which he really likes. At this moment he is snoozing on it while Jillie lies next to him gnawing on his beef bone; he is very good about sharing!
We had to make a trip up to Colorado before Christmas to bring my mother-in-law down to Carlsbad. We borrowed a Ford Excursion for the trip and Basil had the whole rear section of the vehicle to lounge in, complete with mattress and blanket. He behaved very well and enjoyed himself a great deal, as you can see by the two photos from Utah! He especially enjoyed playing in whatever snow we came across, and certainly wasn't bothered by the extreme cold we encountered at times.
You can just barely make him out in the "Basil the Cowdog" picture, but he is the white dot beside the horse and rider, faithfully keeping position behind the herd. I have never before heard of a Borzoi cowdog, but at the rate he is going, he will make a good one!
Hope your holidays were pleasant and that you and all your critters are doing well.
Take care,
Mary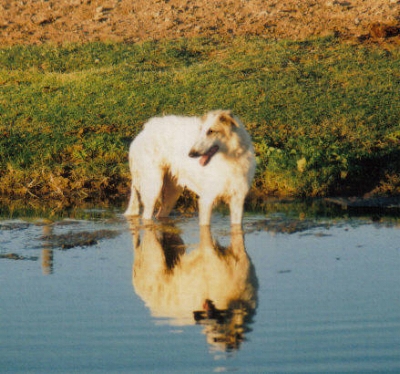 Here's another picture of Basil. He and Jill were just about to hike out over
White Sands National Monument.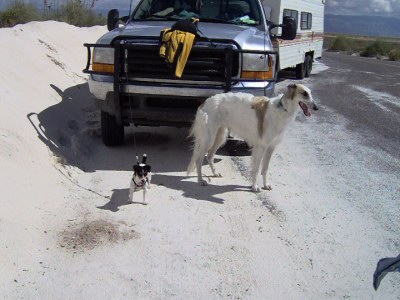 Alejandra and Chicki - sisters, November 12, 2004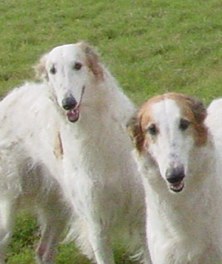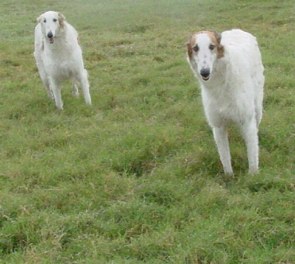 Chicki in Shefaro Park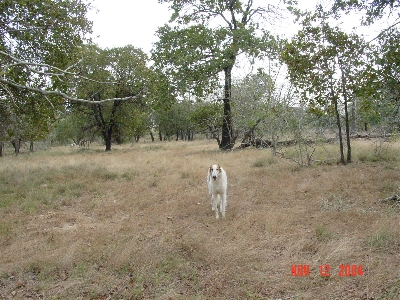 Chicki and sister, Alejandra in Shefaro Park November 26, 2004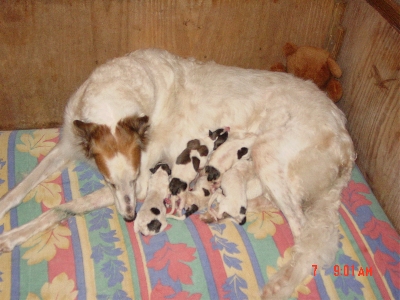 January 1, 2007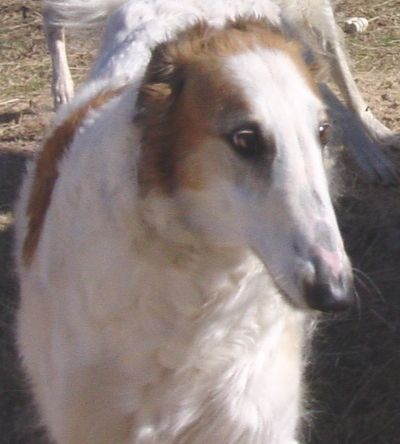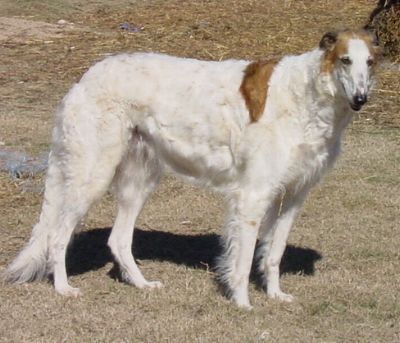 October 4, 2008