Allegra

American SBOS and International High In Trial Obedience
Champion Shefaro's Allegra, CD, JC, CDX CGC, UD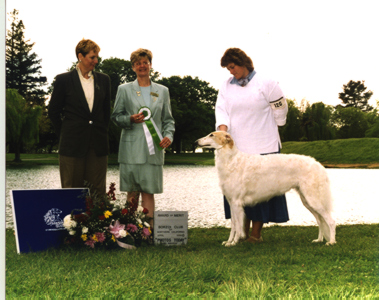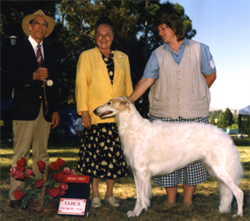 Alle was High in Trial Obedience Borzoi at the 1996 Borzoi Club of America National Specialty Show over an entry of 37. Her sire is Cesar and dam is Raisa. She is owner handled by Holly Bourne, Borllies Borzoi, San Francisco, California. Alle finished her Junior Courser (JC )Title Sept/98.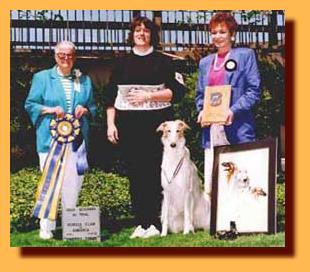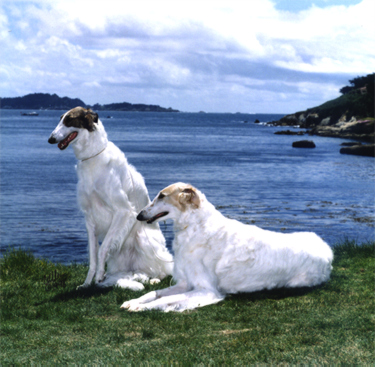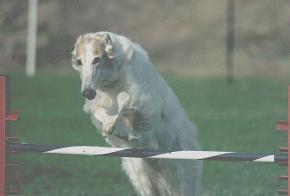 Not to be outdone by cousin Mariska (AOM at The Garden, Westminister Kennel Club Show, New York City), Allegra won Best of Breed at the Golden Gate Kennel Club Show, Cow Palace, San Francisco, California. February 2002
Congratulations to Holly Bourne on Allegra's win.
Congratulations to Dr. Gregory Gomori for Mariska's win.
Golden Gate Kennel Club - Saturday 02/02/2002
BORZOIS. Best of Breed
| | | |
| --- | --- | --- |
| | 23 | CH SHEFARO BORLLIES' ALLEGRA CDX JC. HM 51877505. 05-10-94 |
| | | By Ch Shefaro Reyna Emperador FNX - Ch Shefaro Rreyna's Raisa. Bitch. |
| | | Owner: Holly Bourne., Woodside, CA 940624160. Breeder: Timothy L Allen & Sherry Rodarmor. |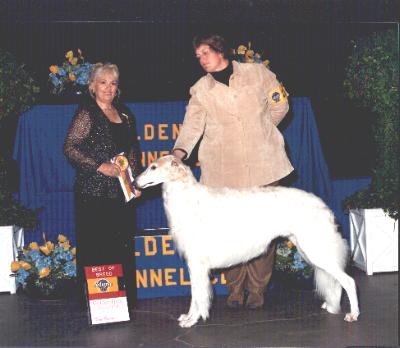 Allegra is pictured winning Best of Opposite Sex at the Borzoi Club of Northern California Spring Specialty Show. She was beaten for breed by a veteran dog. Allegra will be shown at the Borzoi Club of America National Specialty 2003, in Veterans classes. Way to go Allegra and Holly. I am extremely proud of Allegra - Cesar's best daughter.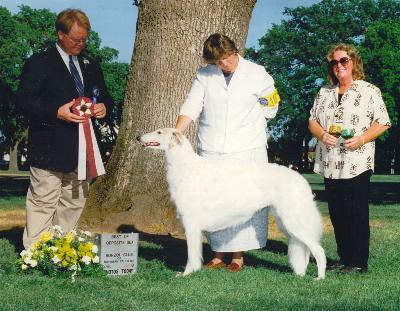 Beauty and brains!!!! scanned from the American Kennel Club Gazette magazine, September, 2002, coverage of the Western Sighthound Specialty, held at Lompoc, California.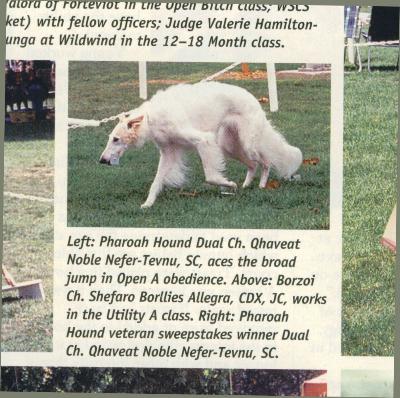 Allegra won the first leg of three required toward her UD title at the Fremont Dog training club. Hayward Ca. Sunday, September 29, 2002. She was also highest scoring hound.
She finished her UD title on July 20, 2003 by going highest scoring hound with a 186-1/2.