Belle

Shefaro's Northern Belle FCh

Rick and Adele Clarkson, Canada
Mama Fabiana waiting on July 18th in her new whelping box built with love by Grandma Shefaro!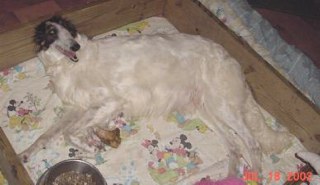 July 21, 2002, Fabiana and her first and second born baby girls, Mariska Mia and Hermana.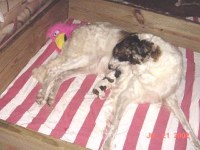 July 21, 2002, Fabiana and her third and fourth born baby girls, Vencedora and Belle.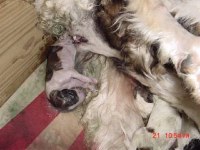 July 22, 2002. Four healthy and beautiful baby girls were born last night. These girls are as classic Shefaro as it gets.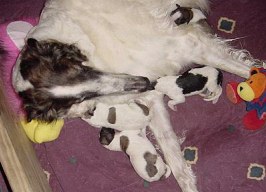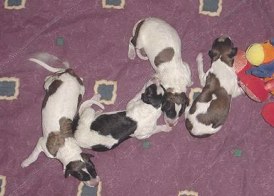 The Girls August 12, 2002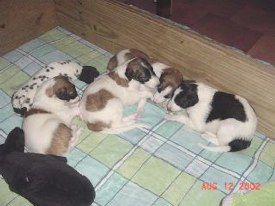 The Girls August 15, 2002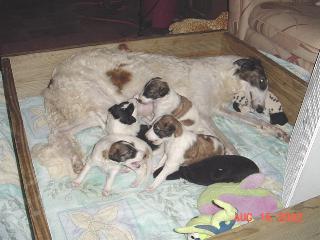 August 18, 2002 - l to r Mariska Mia, Vencedora, Belle, Hermana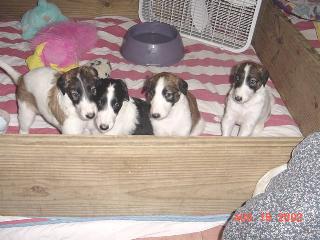 Mother and babies August 25, 2002 - how fast they grow in just a little over a month!!!
with sister, Mariska Mia, August 25, 2002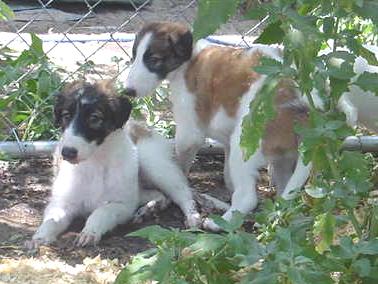 and after another month.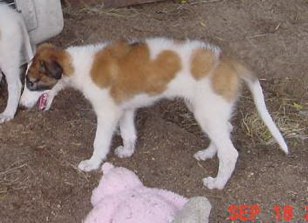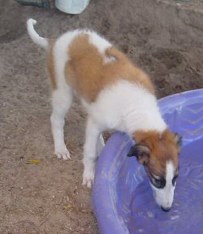 Playing with sister, Mariska Mia, October 10, 2002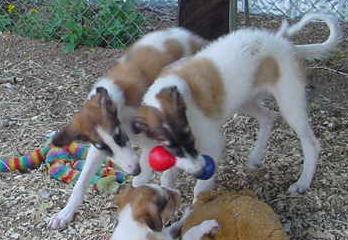 Belle shares her life with Boer Goats, Peacocks, etc. - October 5, 2002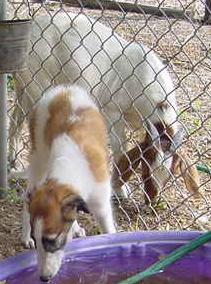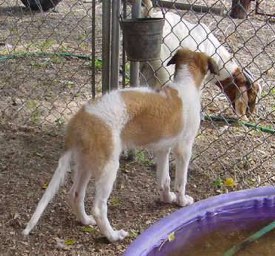 Belle left for her new home in Canada on October 15, 2002 These are her parting shots at the airport. She has moved into her new home and has taken over as if she always lived there reports Rick Clarkson.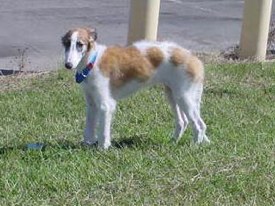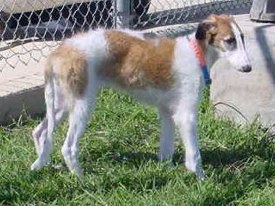 October 18, 2002, fax from Rick and Adele:
Good morning. We've been very busy since we got home putting in some extra fencing to keep Belle safe on the property. The airplane arrived in Seattle at 756pm and I got Belle at 820pm. It was another twenty-five minutes before we got to the motel. Belle and Juno met at the motel on a grassy area just outside the room. It took Belle a while to get steady on her legs. Awake at 5am out for a walk, She did well on the leash. In for her breakfast and a nap. We left Seattle about 930am with a few pit stops. She is running around here now like she owns the place and has always been here. The two girls are getting along really well and playing together keeping us happy and busy. Belle likes running around with one of Juno's lambskin slipper pieces dangling from her mouth. She is a very good dog. Thank you. Rick and Adele Clarkson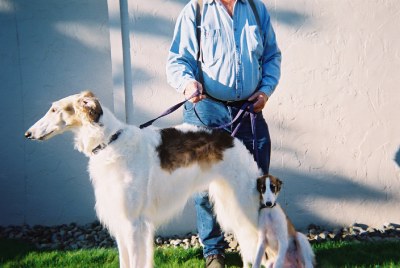 Belle at home October 20, 2002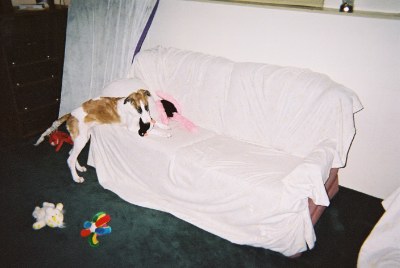 Playing tug of war with Juno October 24, 2002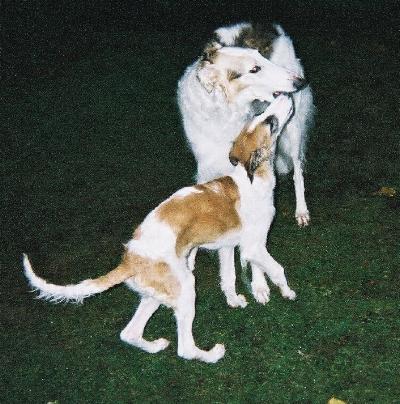 November 6, 2002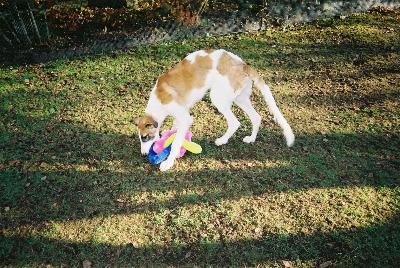 November 21, 2002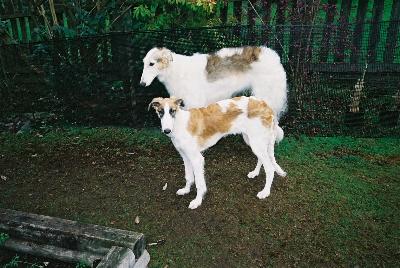 Juno and Belle enjoy Rick's attention.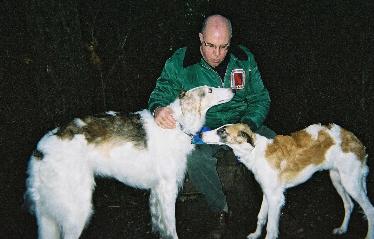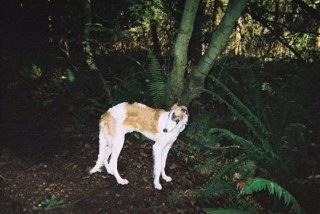 Belle update: January 12, 2003
Sherry, We just received the Canadian registration document for Belle. Training
classes have not started yet but we are getting her used to stacking.
Her first entry will most likely be for February but we will get back to
you on the exact date. The way the shows here are structured the dog
must be entered in a regular category on the same day as the puppy
sweepstakes are taking place. She is really starting to run fast and on
some runs even keeps right up with Juno and powers herself forward to
try and overtake her when they go flat out. Rick and Adele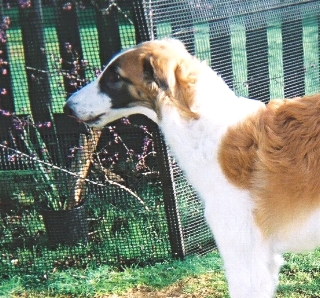 February 2003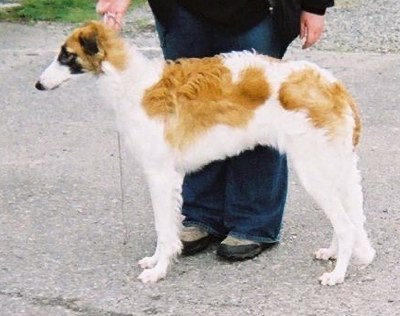 Belle and Juno - July 1, 2003
It appears Belle will be an avid courser.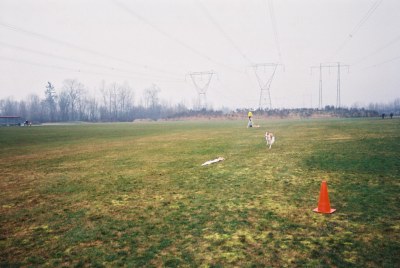 ----- Original Message -----
From: "adele clarkson"
To: <shefaro@ev1.net>
Sent: Sunday, November 09, 2003 5:50 PM
Subject: Belle
Hi Sherry!
...She did not point at the last show but did get a first one day but lost out to the larger dogs in the next round. The judges say she has to fill out and get more coat and then she will get the points easily because she has a beautiful head and front and moves very well in the ring. So we will not be putting her into any more shows until next year. She even got compliments from the competition - owners and handlers. Rick and Adele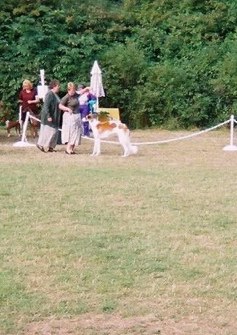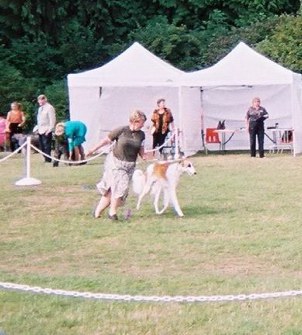 Belle is getting prettier with time. January 2005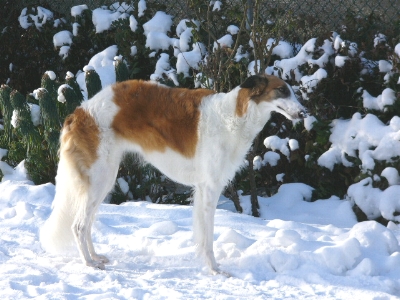 Belle was shown as a puppy (against adults) and didn't win so her owners decided that she was not show quality. They said they were coursing her, but I've never seen or heard any more about that. Then there was agility, but that also went who knows where. I asked them to let me show her, they declined. She's a very pretty and correct Borzoi who will finish out her life on the couch. She could have been a champion, but they had no faith in her. This is another reason I now prefer companion homes only.
I haven't heard about Belle for years and happily received this in my email inbox on February 29, 2008
Canadian Top10 Lure coursing Borzoi
Place ment Call Name Registered Name Owner # Trials Point Average Total Points Dogs Defeated BIF 1st 2nd 3rd 4th NBQ
1. Tri Ch Tovaritch Boronova FCh Lexi & Greg Hancock 9 23.7% 213 49 4 4 1
2. Bitsey Ch Toparitch Barishnya FCh Lexi & Greg Hancock 7 23.1% 162 37 4 4 2 1
3. Belle Shefaro's Northern Belle FCh Richard & Adele Clarkson 12 9.9% 119 25 5 4 2
4. Bronte Zagiew Stepowy Goniec Linda Falkener 7 14.4% 101 32 1 1 1 3
5. Zena Ch Tovaritch Afrosenia FCh Lexi & Greg Hancock 7 7.6% 53 18 4 1 1
6. Tika Tovaritch Anuczika At Weerob Robert & Wendy Rossetti 5 5.0% 25 15 1 1
7. Z.V. Zywoil Stepowy Goniec Linda Falkener 5 3.2% 16 8 1
8. Helinka Helinka Vom Solring Hus Lexi & Greg Hancock 9 0.9% 8 18 2 4
9. Zoro Wind N'Satin Drop Zone Daniel Gauvin 1 4.0% 4 1