Cajun

American Champion Ragin' Cajun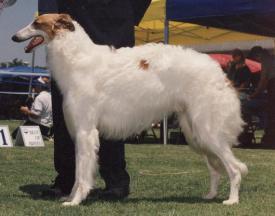 Cajun is the first of a three puppy litter to finish
their championships. Much credit to their Dam,
Shefaro's Obobtor Marina (bred by Sherry
Faye Rodarmor, Shefaro Borzoi) and to their Sire,
Ch. Fire Island Parisien Sunrise (bred by Cecilia
Barnett and Rick LaPierre)
Cajun looks typically Shefaro - see Eagle and Fenix.
"Cajun" is out of a Shefaro bitch, Marina and is a littermate to Marino (owned by Dianna Jaeger) and "Rocky" (owned by Holly Bourne, owner of Allegra). All three finished easily, making Marina a Top Producer.