AKC and UKC Ch. Shefaro Hidden Meadow's Lola Rouge

I am proud to say that Lola has been bred to Best in Field lure courser,
KB's Einstein, SC
, who is strong, healthy, has a great temperament, is a great lure coursing dog, and comes from the top racing bloodlines in the country, with no health issues. He and Lola combine the best of both worlds -
Show and Racing
. Their puppies should have "hybrid vigor" producing strong, healthy Greyhound pups with great minds and stable temperaments. Lola is a show girl. Einstein is a lure coursing boy with Best in Field under his belt. His son, Fenix, is the number one National Live Coursing Association Greyhound. Results will be posted.

Lola was born July 4, 2006 sired by Ch. Martigras Beau Geste out of Ch. Brasspur Call Me Scarlet HM, bred by Mary Jane Peterson. She is very happy at Shefaro with all of her new sighthound and livestock guard dog friends.

Dam: Ch. Brasspur Call me Scarlet HM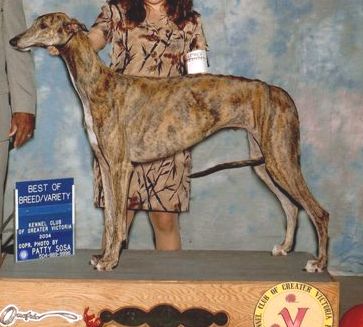 Sire: Ch. Martigras Beau Geste aka Jester
at 11 months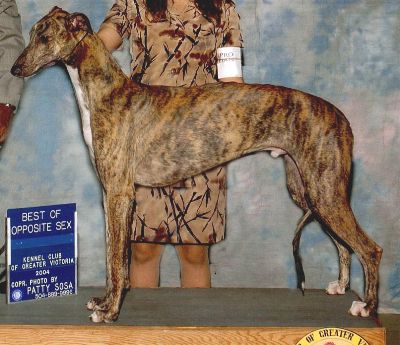 at 4 years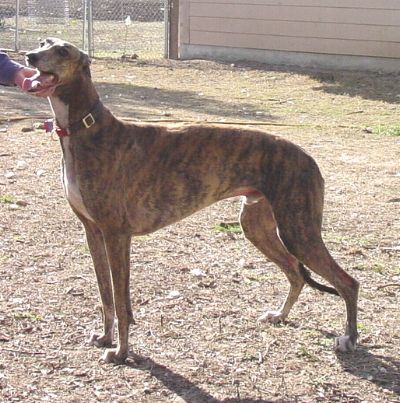 Posing with Mary Jane.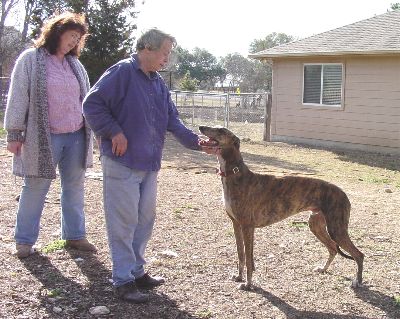 Playing with Dad Jester (left), sister Libby (center) at Mary Jane's before departing for Shefaro on February 5, 2007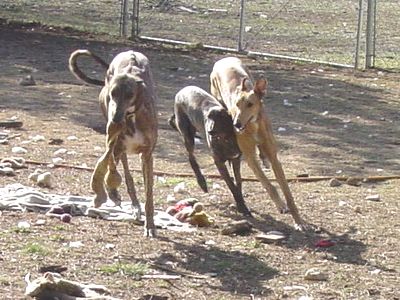 Lola and Jester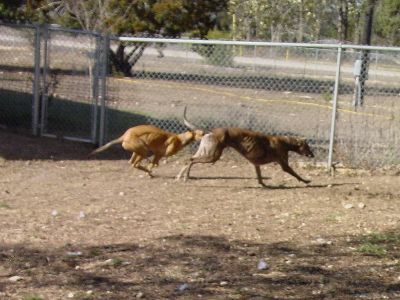 After a romp, she rested.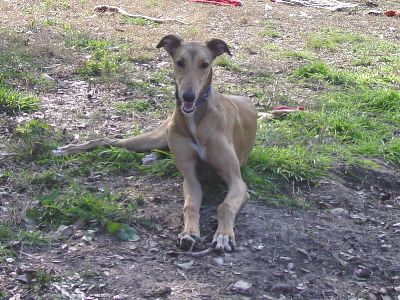 What a beautiful face.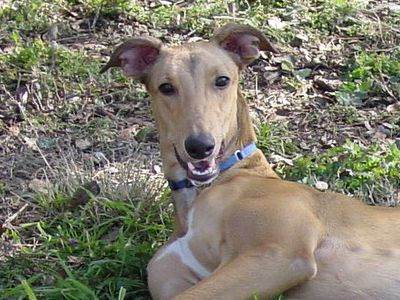 She's just gorgeous standing naturally.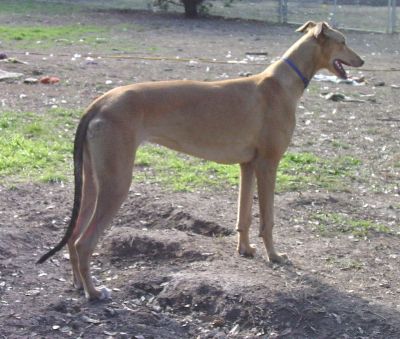 Playing show girl/taking bait.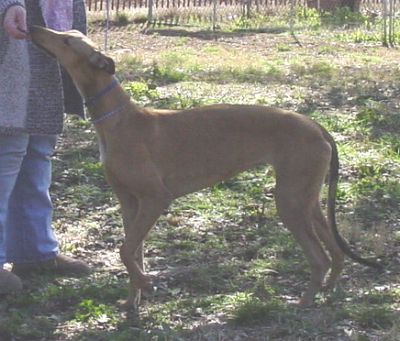 She's a natural and so correct!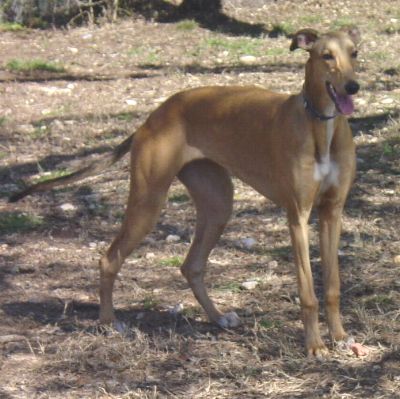 Lola and Libby playing with Stephanie.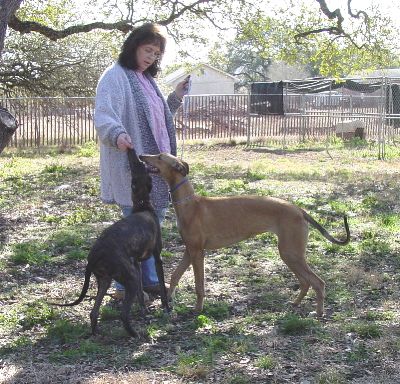 Playing show girl.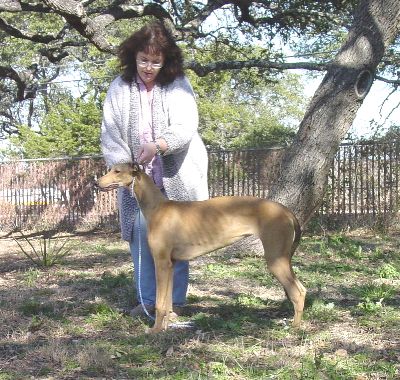 Riding in the back seat on the way home from Mary Jane's.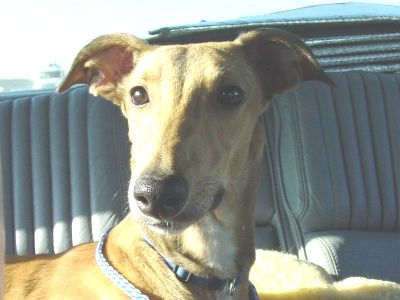 Lola Rouge at Shefaro. February 7, 2007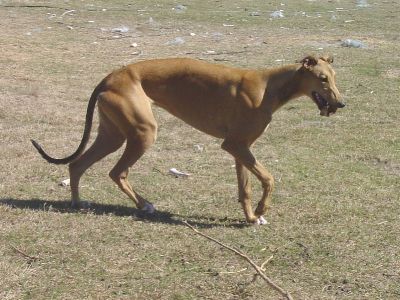 She has lots of friends at Shefaro. Here she is with Borzoi boy, Manu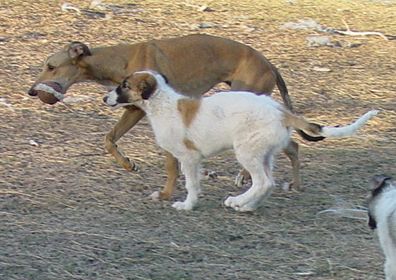 with Borzoi boy, Lorenzo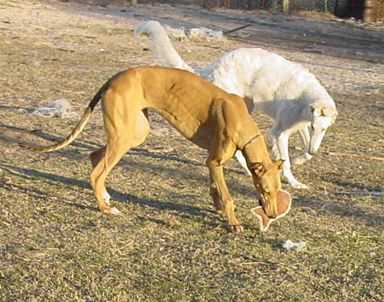 She plays fetch only if I get it after she drops it. Feb. 13, 2006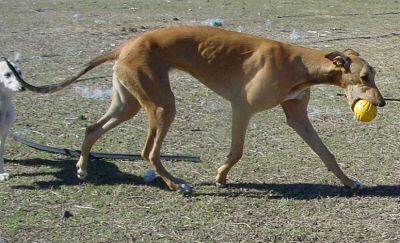 Greyhound perfection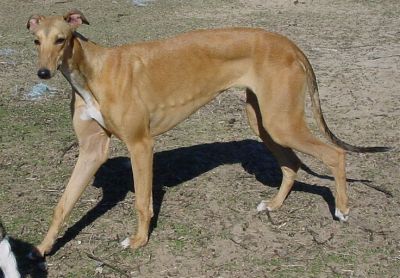 Just as pretty as it gets.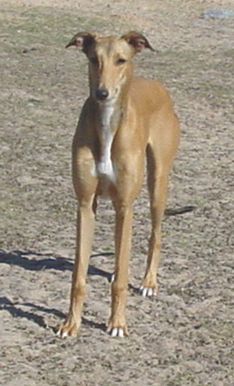 Come and get it! February 14, 2007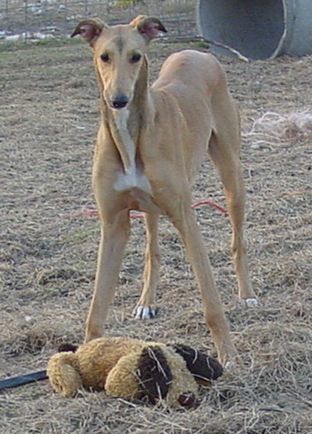 They came and got it - three way tug with Spirit and Caribe.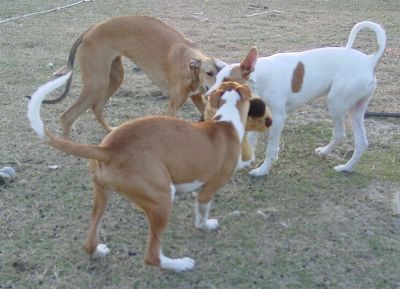 And the race is on. Lola Rouge with Saluki friend Alegria.
From the farm to the show ring, Lola Rouge does it all. Pictured in the show ring at the United Kennel Club shows, February 24-25, 2007. She is lacking two competition wins for her UKC Championship.
Stacked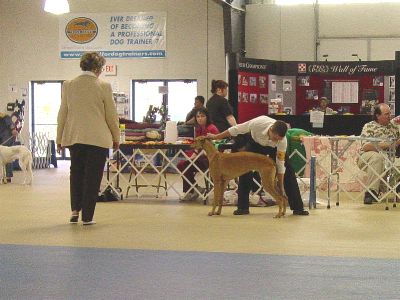 Going around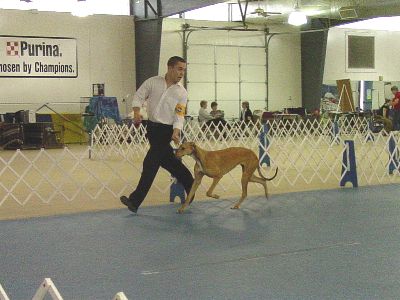 Down and back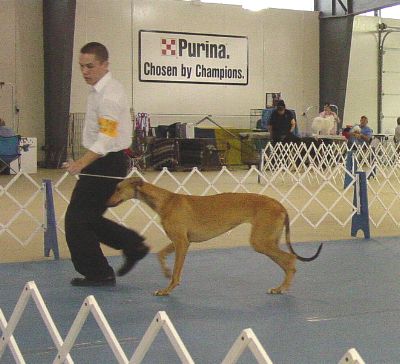 Beautiful side gait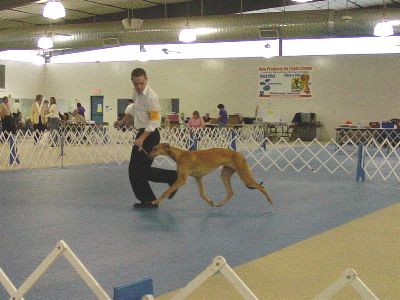 Back to being a farm girl. March 14, 2007
Freckles, Alegria, Lola Rouge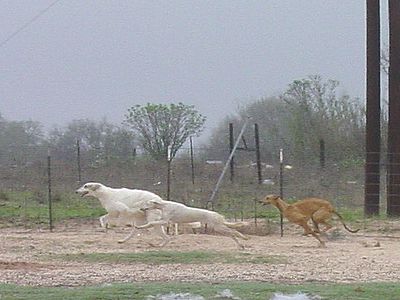 Freckles, Alegria, Lola Rouge, Caribe, Spirit, Lorenzo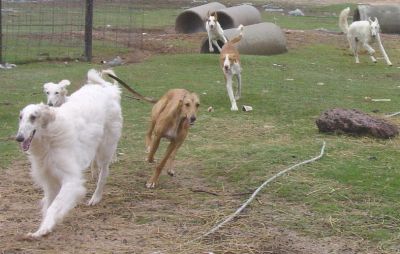 March 31, 2007 enjoying the field with her Borzoi friend, Mia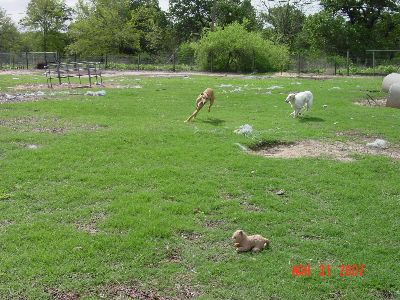 April 7, 2007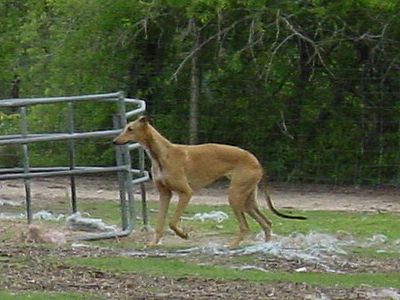 Showing interest in a low flying bird.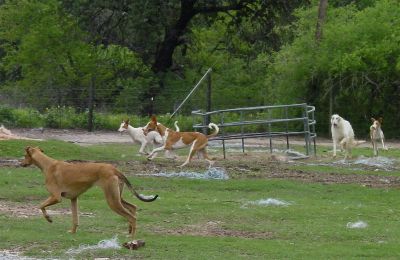 Lola Rouge on the grooming table May 5, 2007
Elegance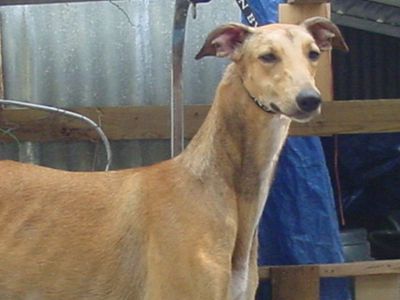 She can really cover ground - May 6, 2007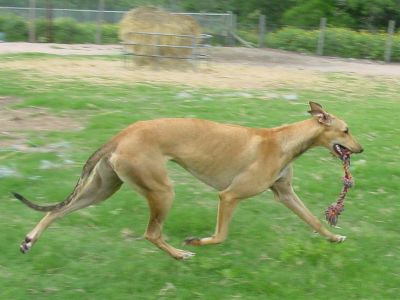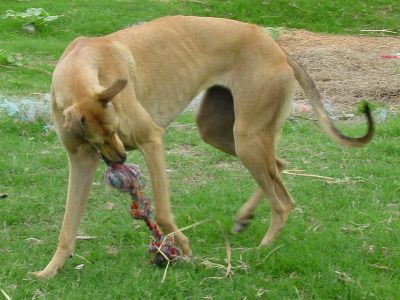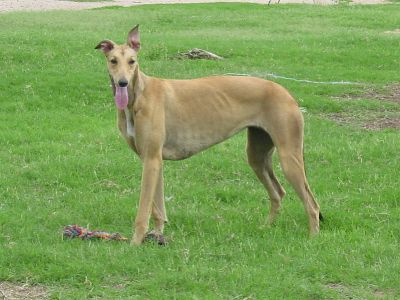 Shefaro sighthounds at play May 6, 2007
Caribe, Spirit, Lola Rouge, Honore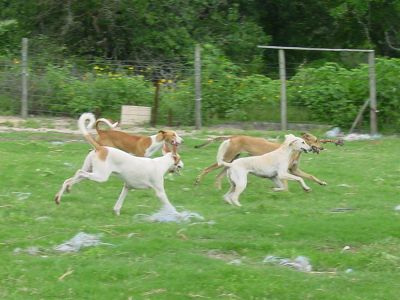 June 1, 2007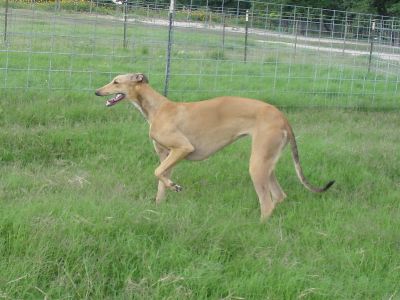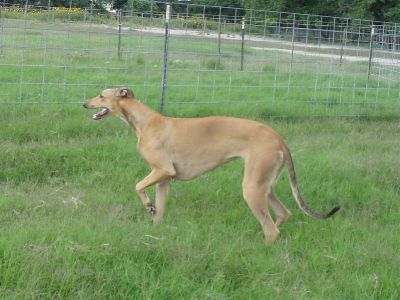 July 1, 2007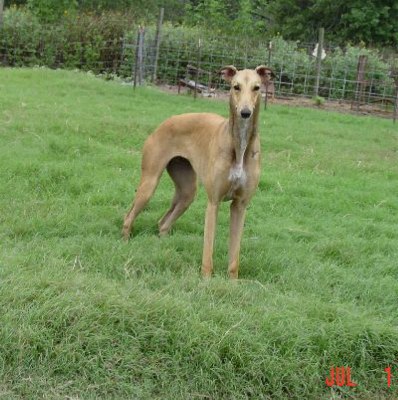 Looking good - July 27, 2007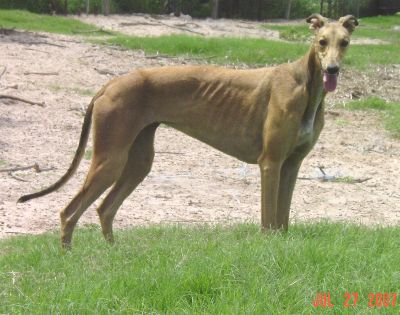 August 1, 2007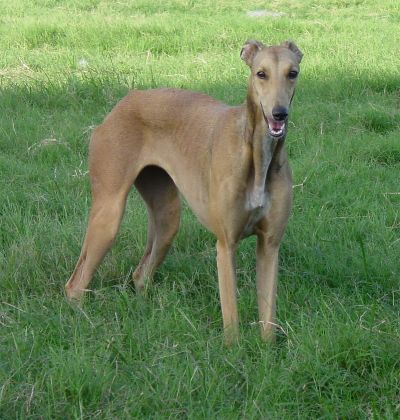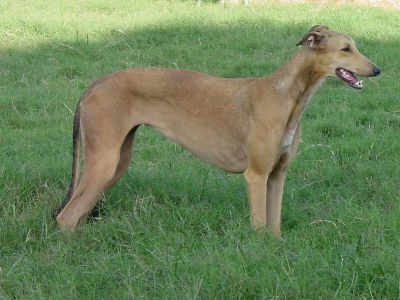 August 3, 2007 playing with Caribe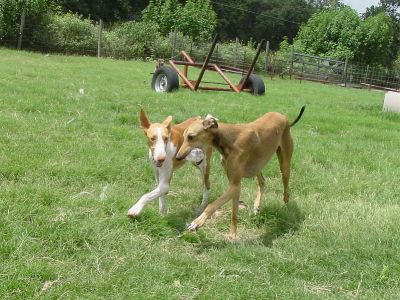 Here I come, Mom!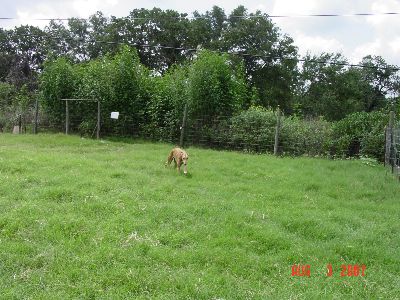 August 17, 2007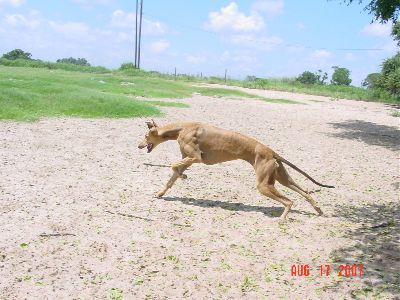 August 21, 2007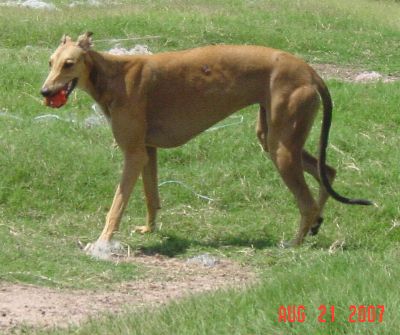 September 2, 2007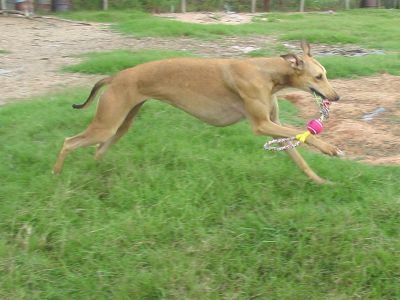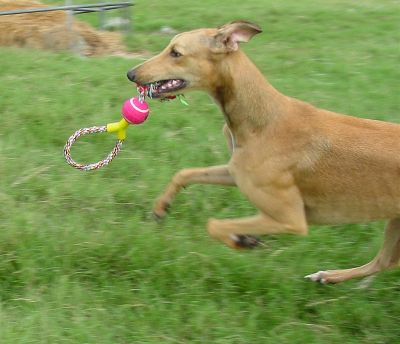 Caribe, Spirit, Lola Rouge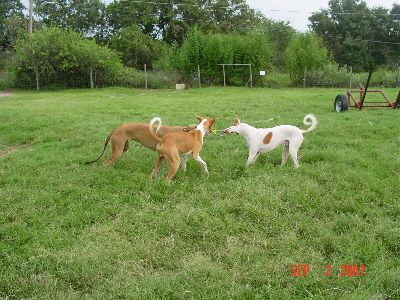 Caribe, Spirit, Lola Rouge, Manu, Alegria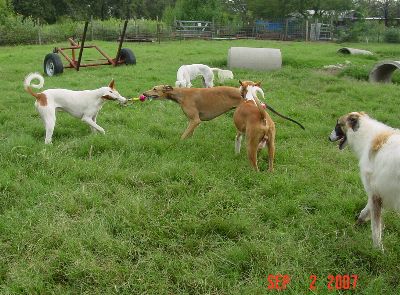 September 12, 2007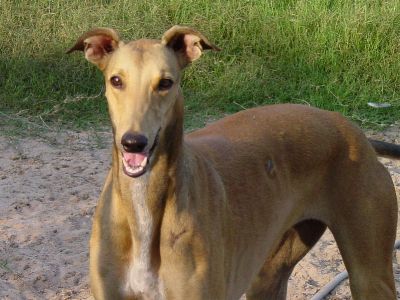 September 20, 2007 running with Honore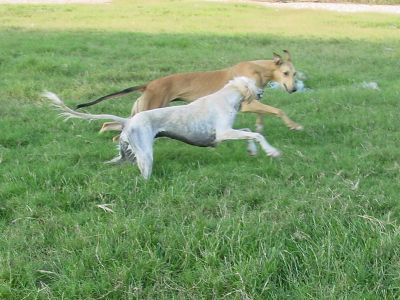 Lola bringing up the rear with Honore and Layla in front.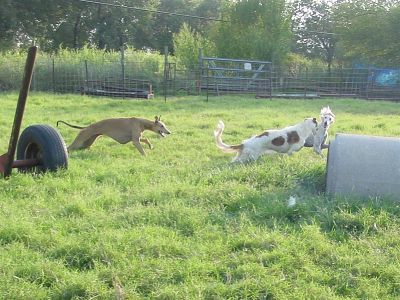 October 6, 2007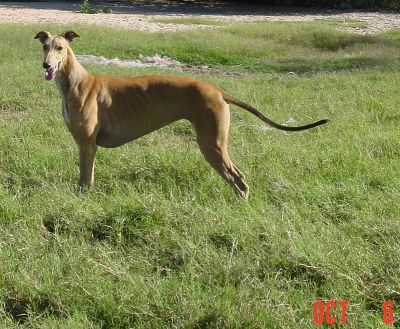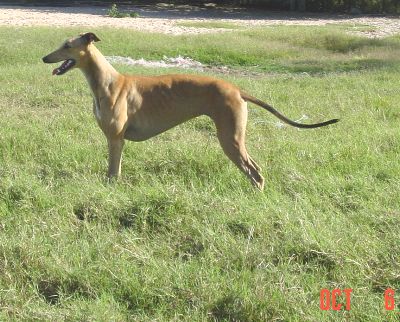 October 12, 2007 found us at lure coursing practice. Lola took off like a bat out of he** and then decided she'd had enough half way through the course. Some dogs, while avid "chasers," do not necessarily take to chasing the artificial lure. I will try her again at another practice.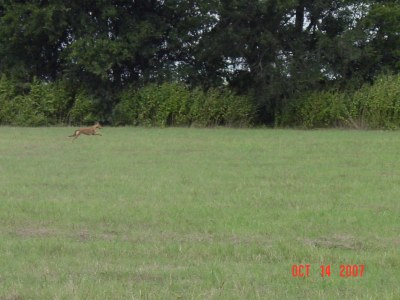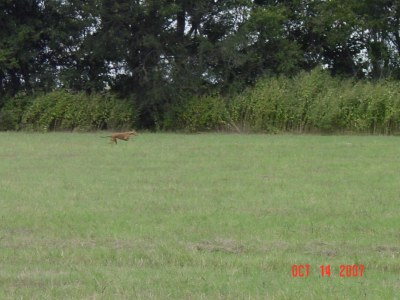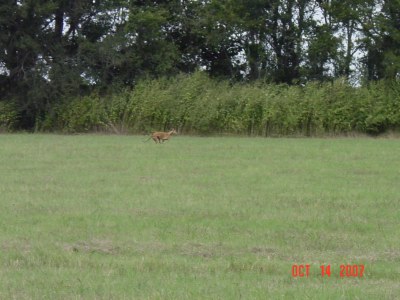 December 8, 2007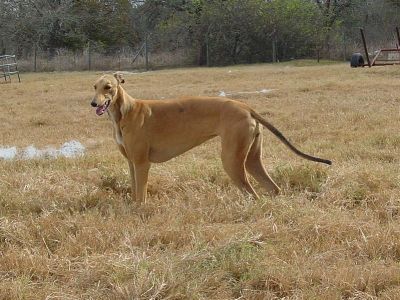 Lola and friends watching me in Shefaro park with the goats.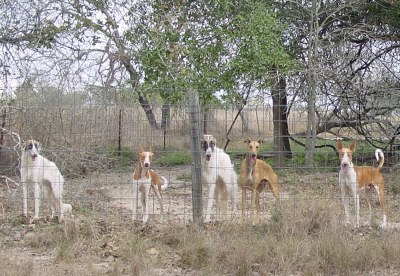 December 16, 2007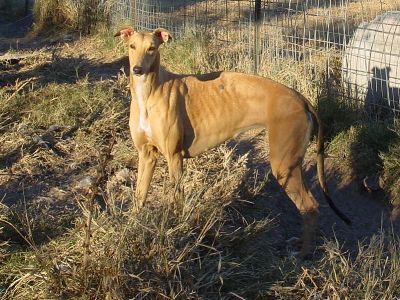 She's showing UKC this week - Jan 25, 26, 27.
Will post how it went after the weekend.
December 29, 2007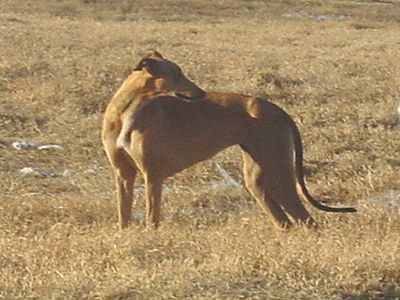 Lola and Alegria
From farm girl to show girl - second competition win at UKC. She needs one more for her UKC Championship.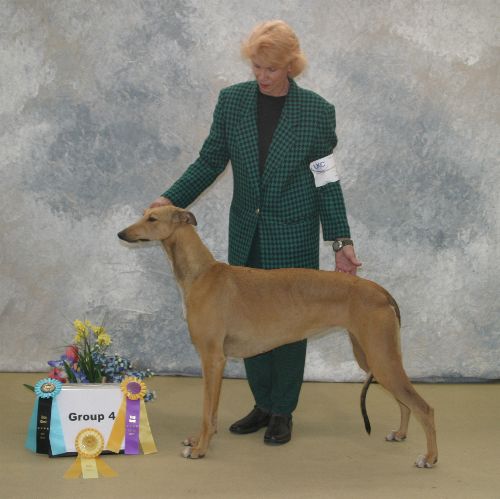 February 7, 2008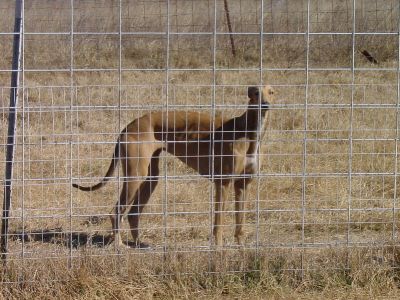 February 15, 2008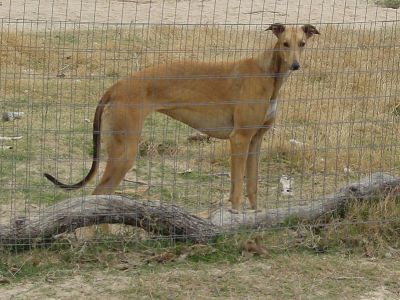 Lola loves to play February 17, 2008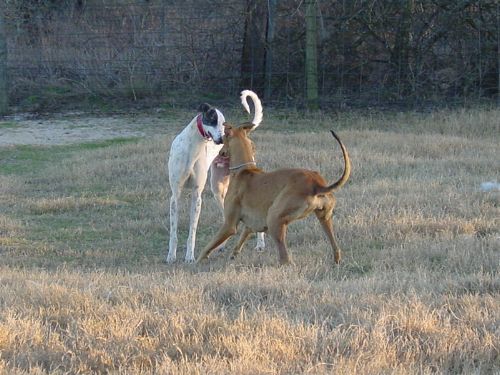 February 19, 2008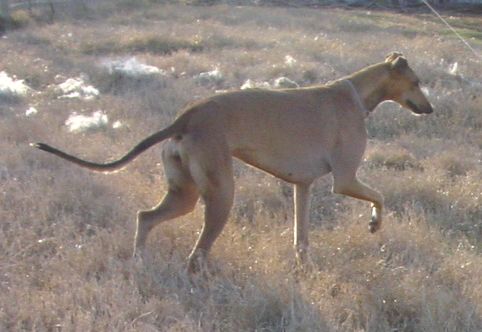 Lola and Einstein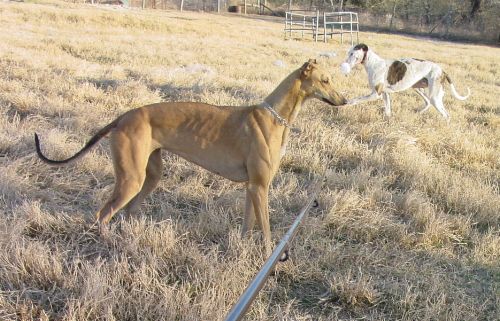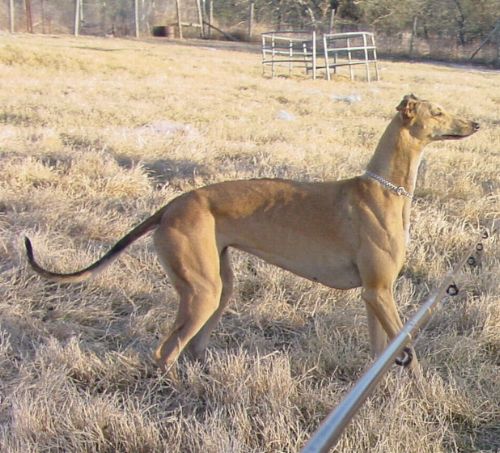 February 27, 2008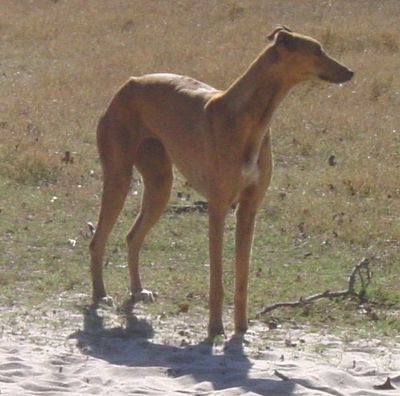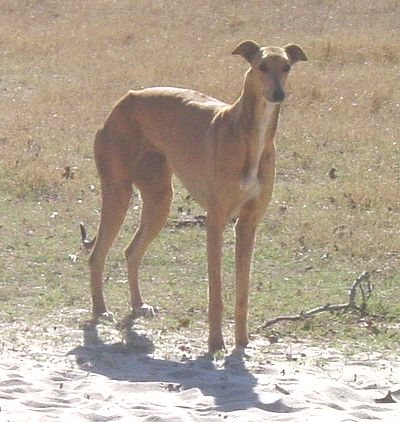 March 1, 2008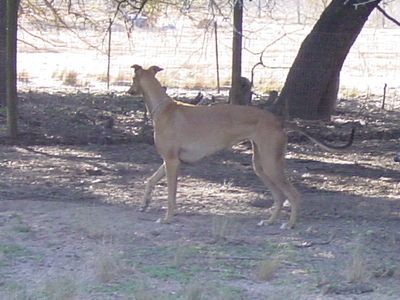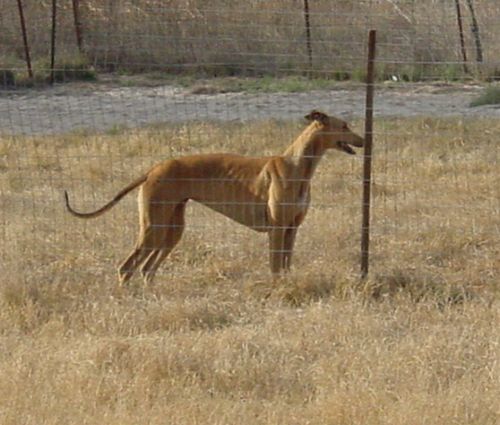 She is a very pretty girl who likes to show, but has no interest in lure coursing. Pictured with her friend Einstein. Lola remains available because of her connection to show breeders. Einstein is not for sale.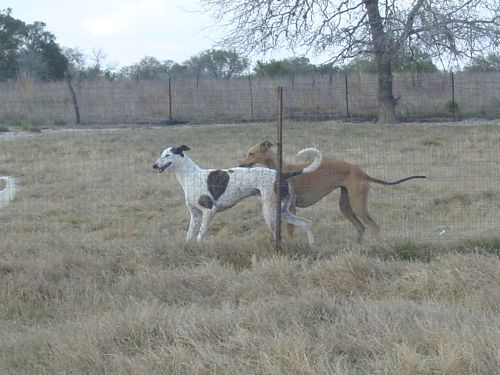 March 2, 2008 Lola and Einstein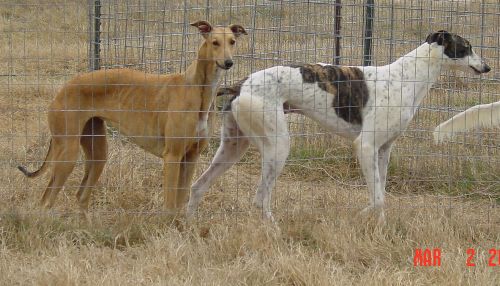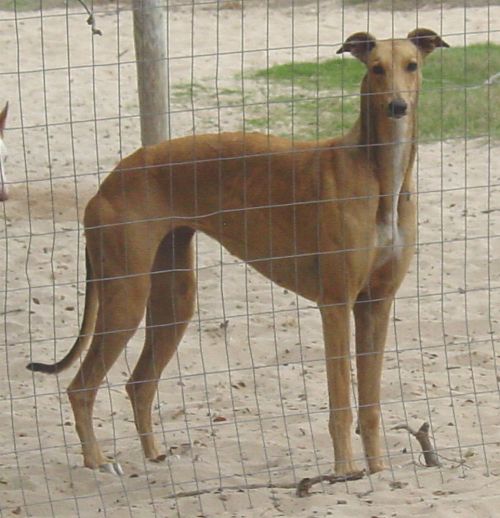 March 9, 2008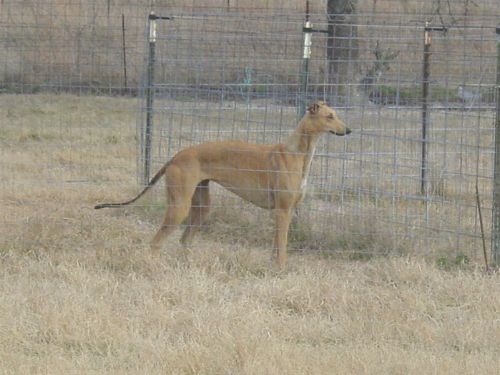 March 18, 2008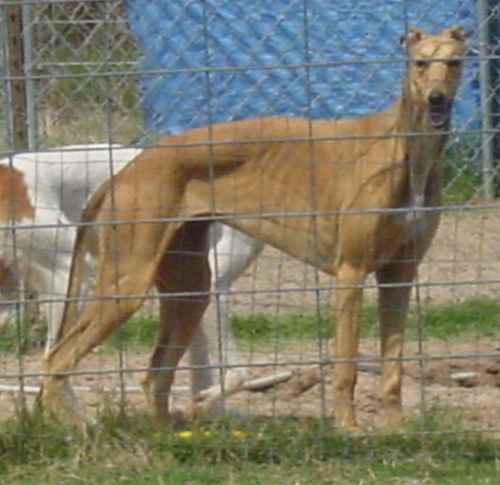 In Shefaro Park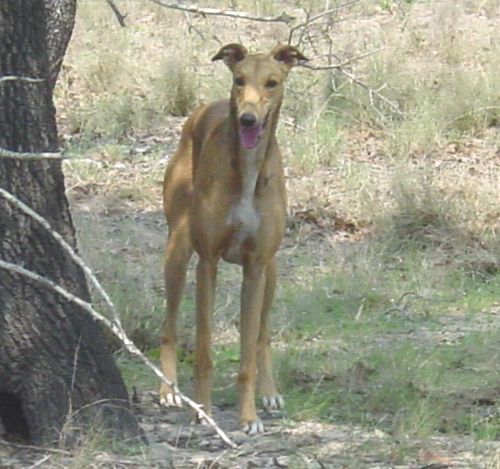 March 19, 2008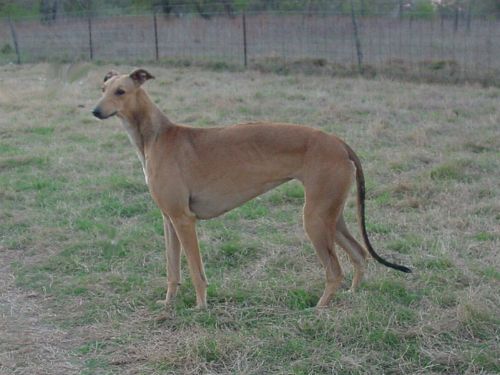 April 3, 2008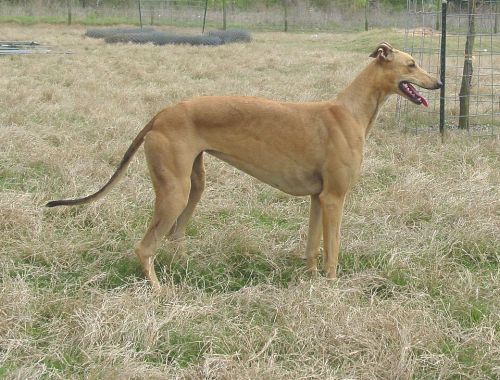 April 6, 2008
Lola and Einstein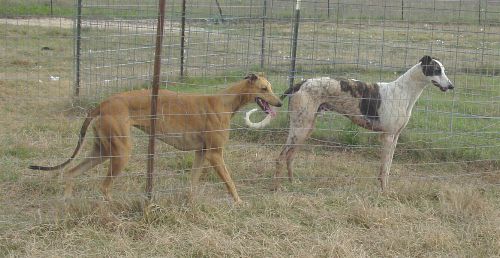 April 13, 2008 Lola at Cleburne. She looks pretty watching the action, but she's not interested in lure coursing herself.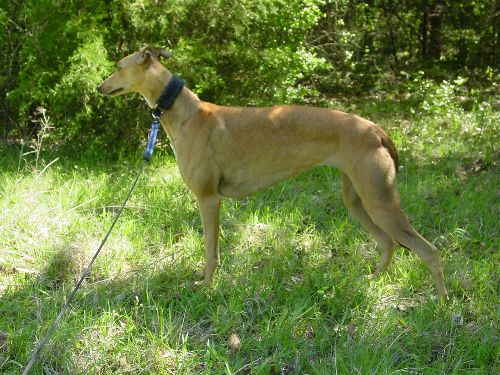 April 19, 2008 she loves the turquoise Diva pillow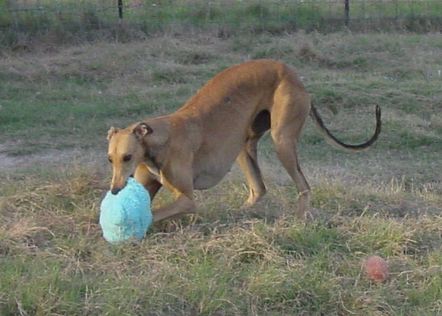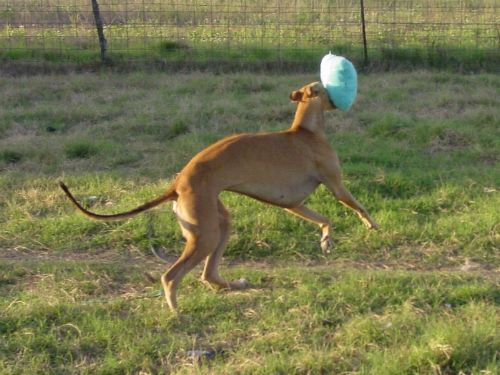 April 30, 2008 Lola Rouge in Shefaro Park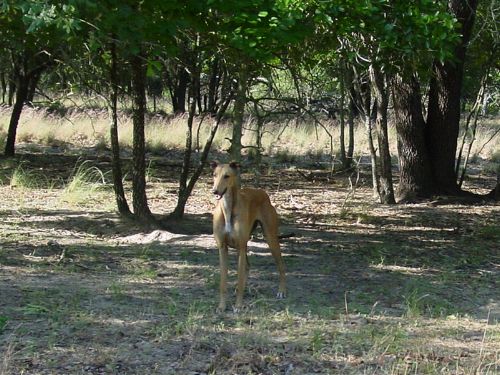 with friends Honore and Alegria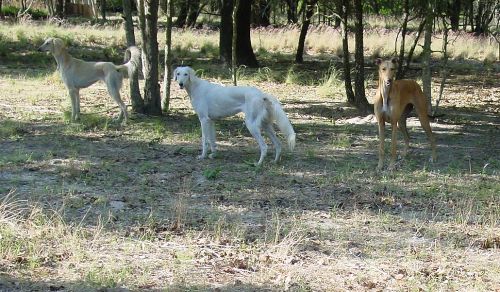 coming in from Shefaro Park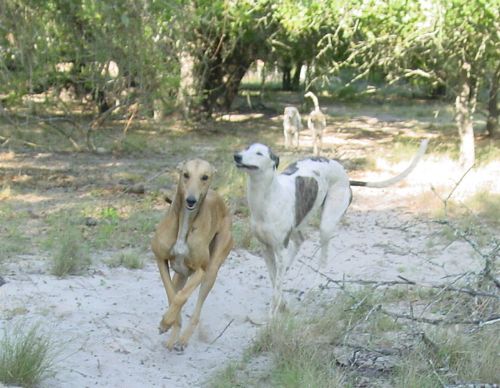 July 4, 2008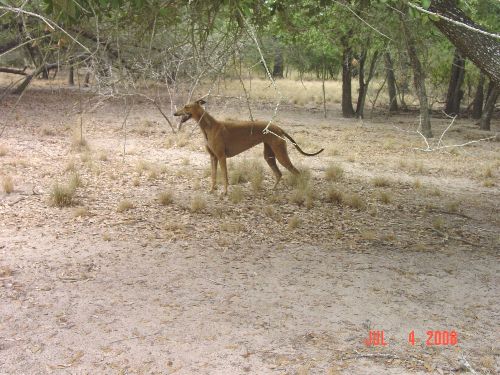 July 17, 2008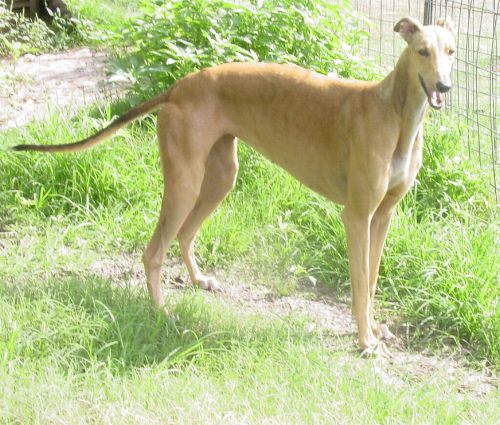 July 18, 2008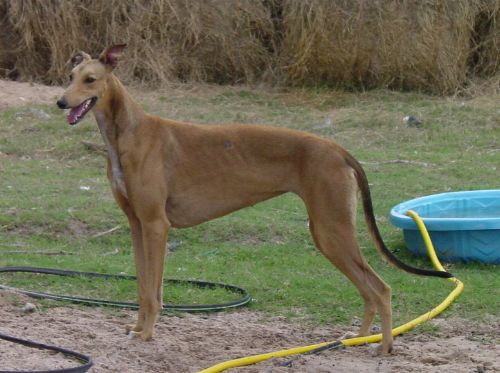 July 24, 2008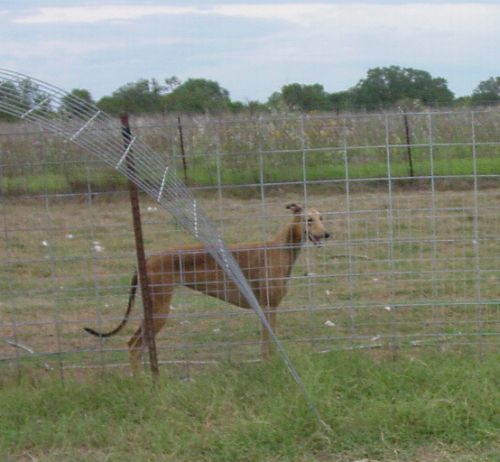 November 2, 2008 running in Shefaro pasture with Einstein.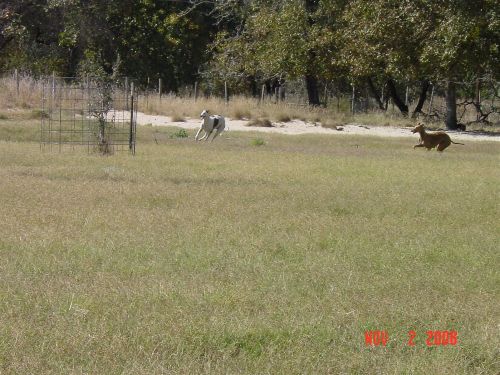 and in Shefaro Park with friends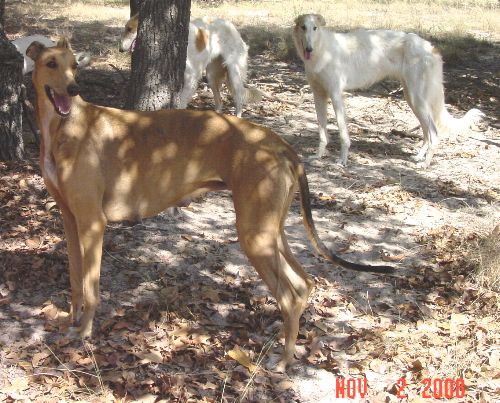 November 6, 2008 her pups are eight weeks and she looks GREAT! Maternity took no toll on Lola. In fact, it was beneficial. She has matured beautifully.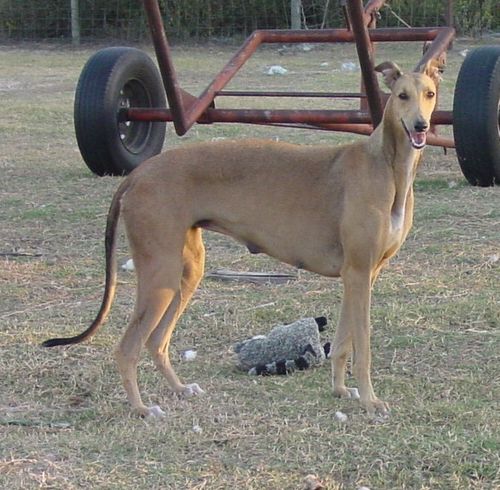 Einstein x Lola's boy Fenix.
National Open Field Coursing Association three day Grand National Shefaro Greyhound Fenix, results - High Score Greyhound, Fenix, second overall (tied with Saluki). February 2011