ADOPTED GREYHOUNDS on this page


We always reply to inquiries about adopting our Greyhounds.

TEST

PLEASE DONATE TO OUR RESCUE TO HELP MORE GREYHOUNDS FIND WONDERFUL HOMES.

CLICK THE DONATE BUTTON BELOW. ANY AMOUNT IS APPRECIATED.



DO NOT CLICK THE THUMBNAIL PICTURES. SCROLL DOWN THE PAGE TO SEE ADOPTED GREYHOUNDS OR VISIT ADOPTED GREYHOUNDS CONTINUED TO SEE THE ACTUAL PICTURES OF THE ADOPTED GREYHOUNDS.

.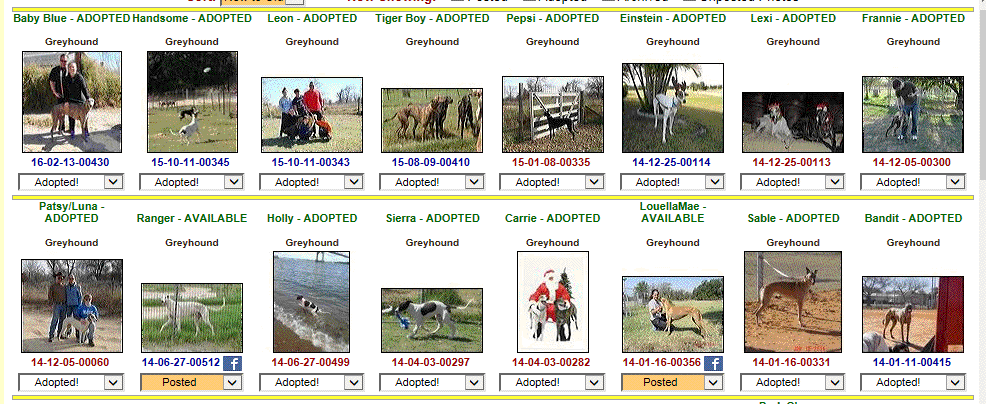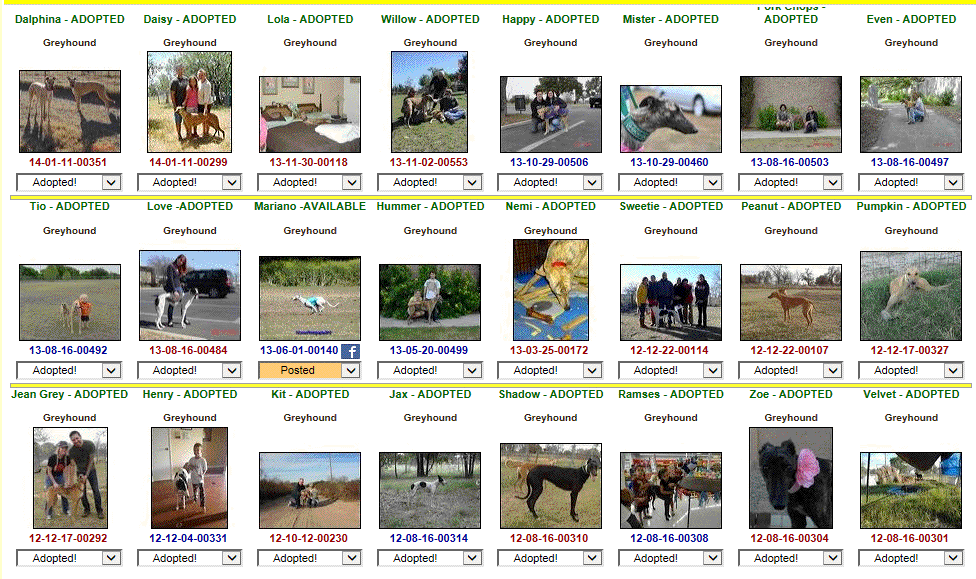 Luna (white) and is right at home with her Greyhound girlfriends, Willow (brindle) and Foxie.(red fawn)

January 7, 2015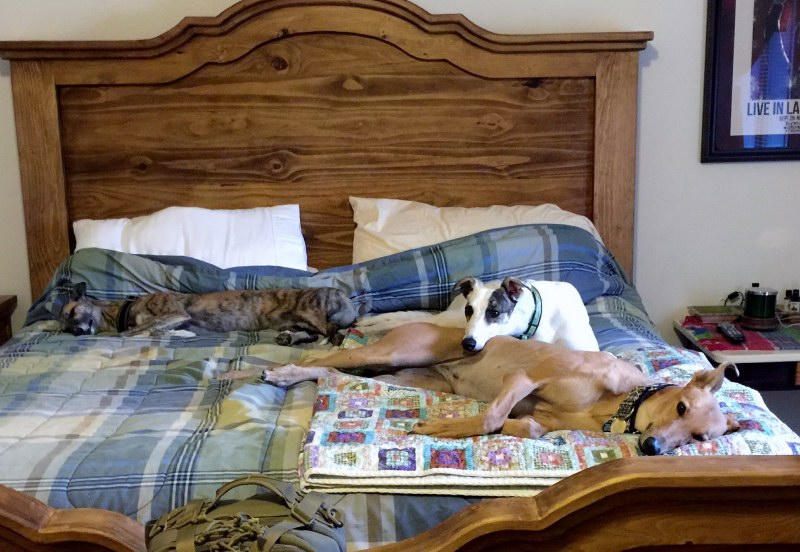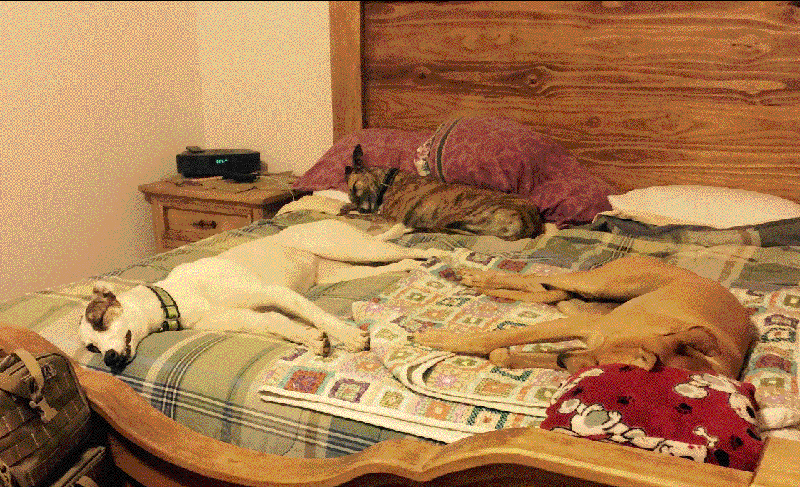 January 4, 2015 Patsy is now Luna and left for her new home.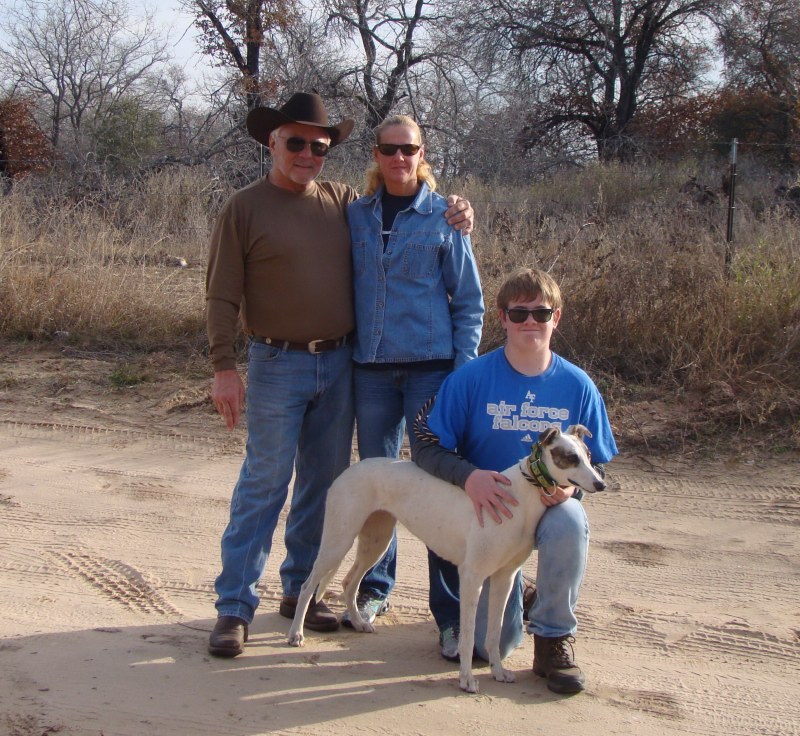 December 3, 2014 - Patsy is a happy girl with her tail always wagging. She's young, happy and adopted.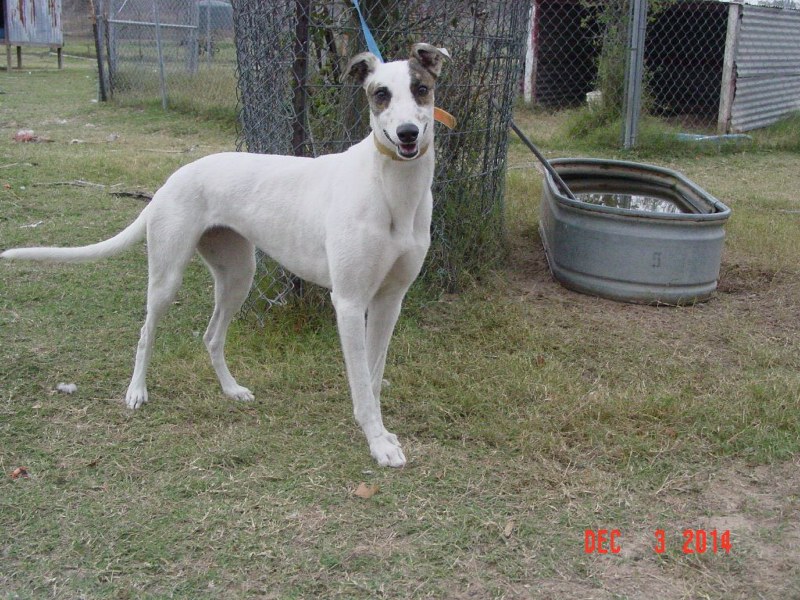 December 25, 2014 - Merry Christmas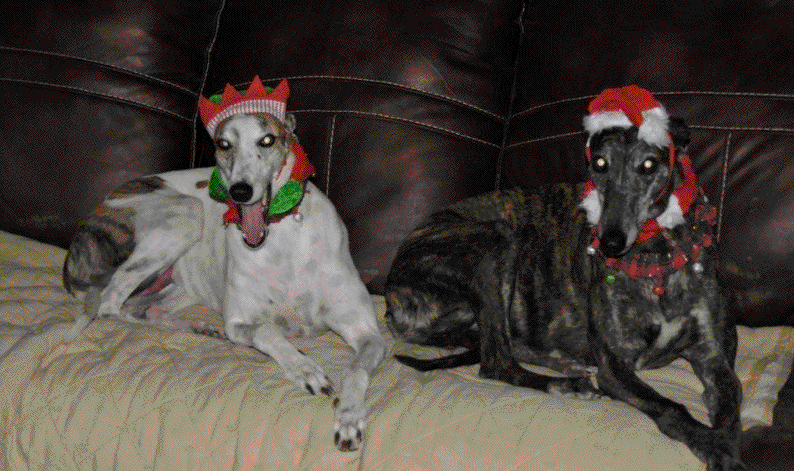 Einstein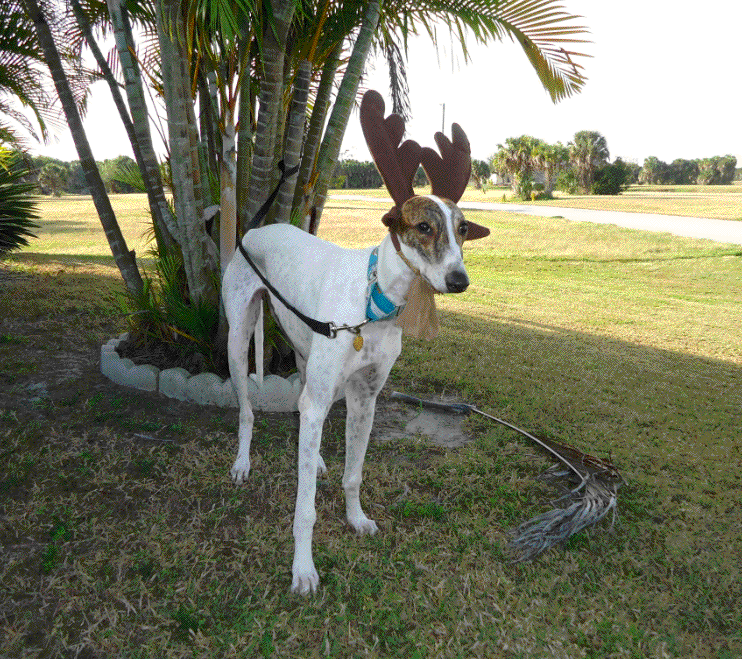 December 24, 2014 - Holly at the front window of Teri's shop.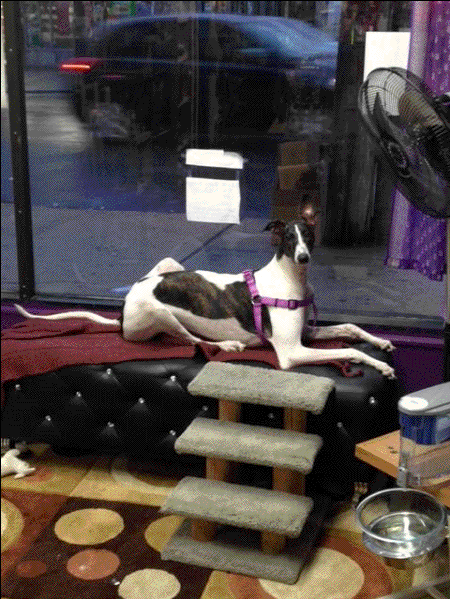 At the park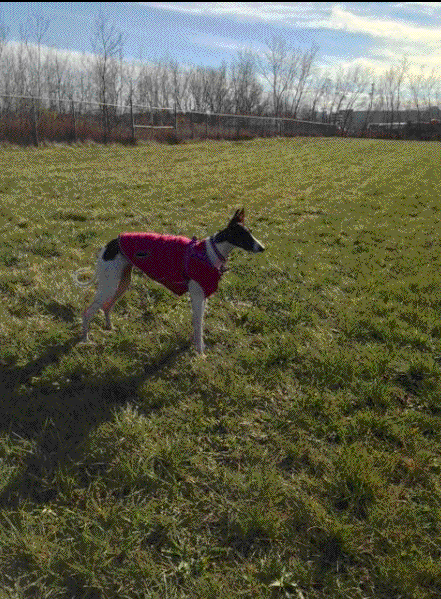 December 19, 2014 Lara came to pick up Frannie and Happy JD after she and Andrew returned from San Francisco.


December 19, 2014 Bandit and his Sphynx kitty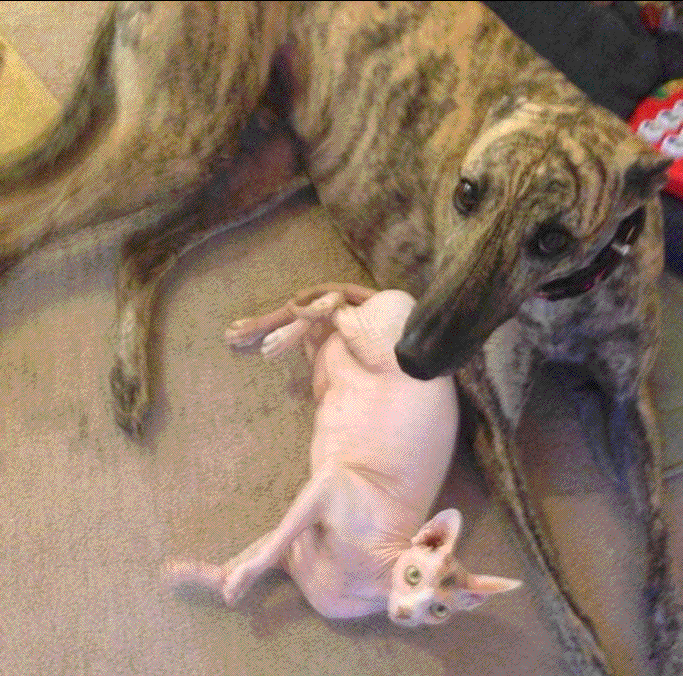 November 5, 2014

From the floor to the bed, Greyson has a wonderful life.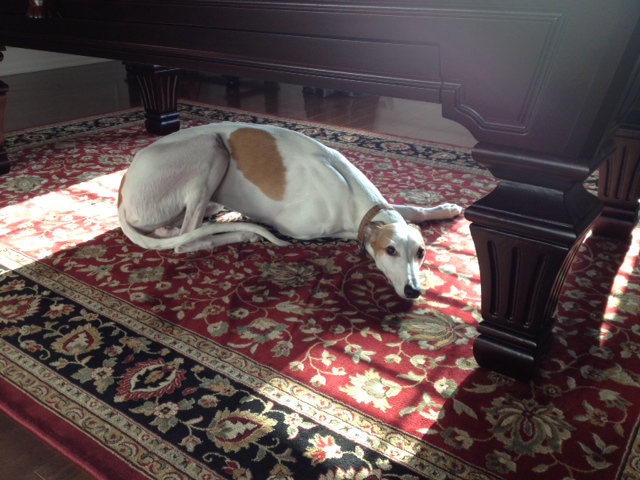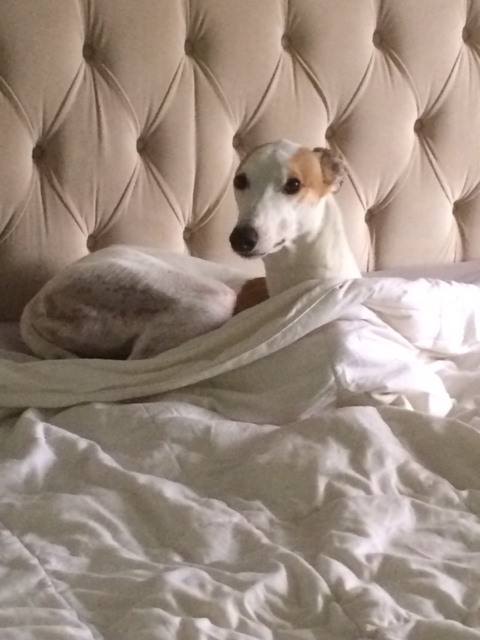 October 23, 2014 Lola, Lexi and Carrie at Duane's in El Paso, TX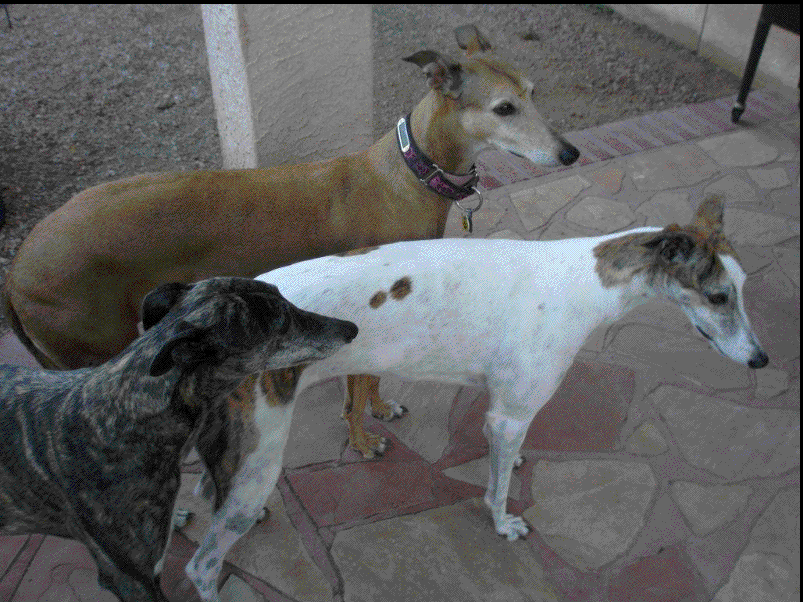 Lexi and Lola


October 10, 2014 - not to be outdone by Frannie and Happy, here are retired girls Lexi and Carrie hanging out in the garage while Dad is working there.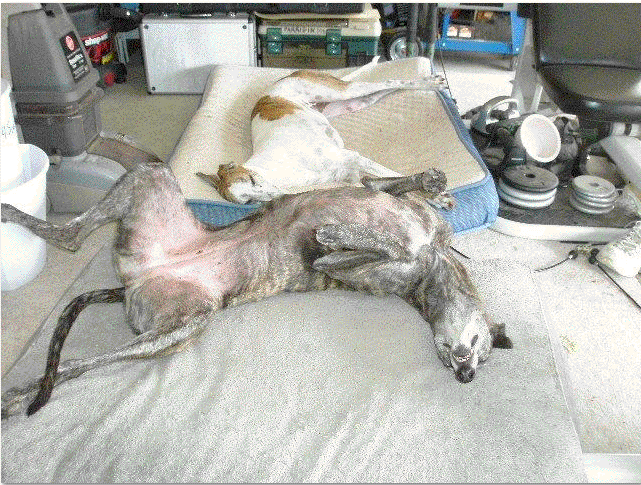 October 10, 2014

Frannie and Happy (JT) Dilley have the life!


September 12, 2014 - Bandit update

Hey,
I just wanted to update on how Bandit is doing. My husband got home from his deployment and they took to each other very well. We have been in Phoenix now for about 3 months and he did wonderful adjusting! We could not be more happy with him and he love snuggling with our pug and gets along great with our cat! He is such a loving dog! We take him to the dog park here frequently and he gets along with every dog he meets. He is so laid back. Thank you guys so much for all that you do for these rescue dogs. Rachel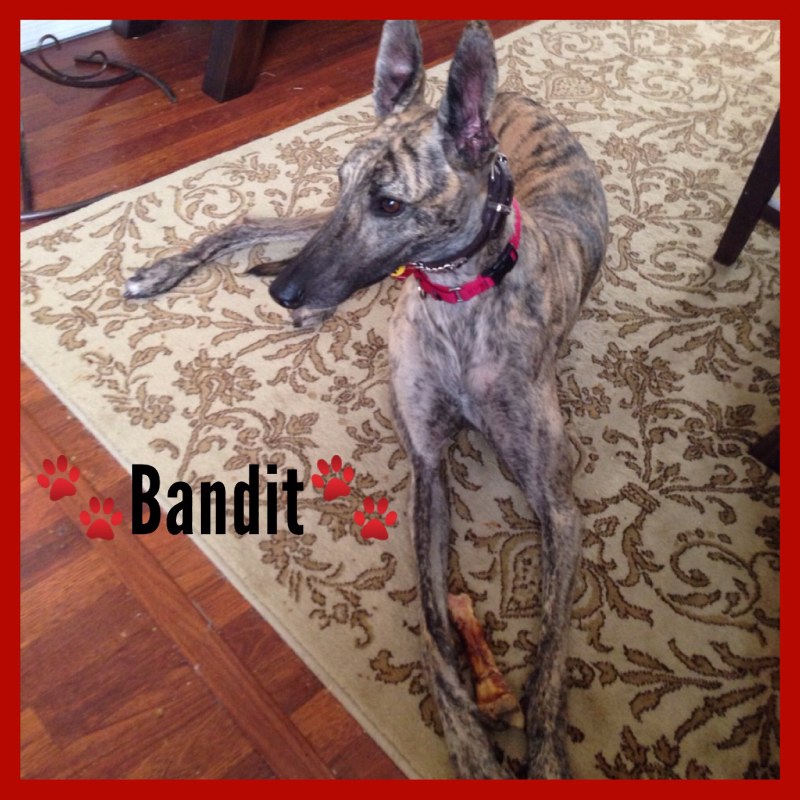 September 5, 2014 - Willow and Black Beauty share the bed at Laurie's house after a two mile jog/walk.

Black Beauty was spayed and is there for some conditioning for the Fall lure coursing season..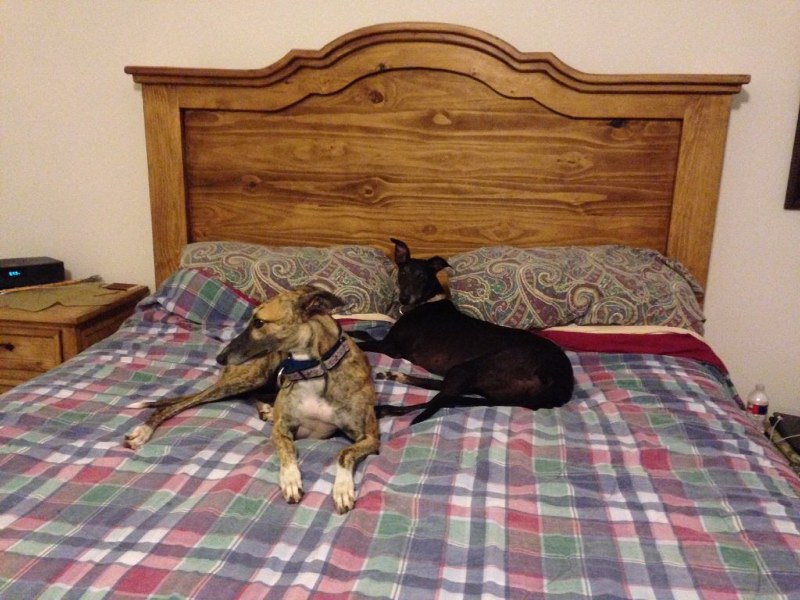 August 30, 2014

Sable at the dog park in San Diego where her new mom took her.


August 25, 2014 Just in case Nate thought he would have the loveseat, good luck says Ibis and Gear.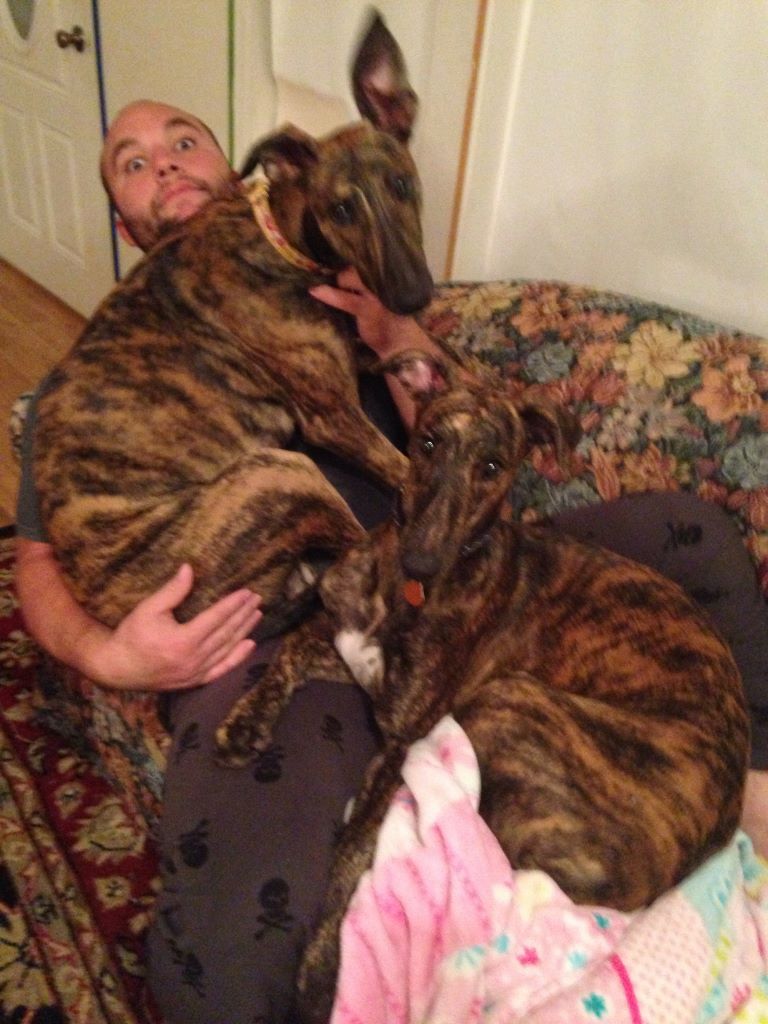 August 24, 2014

Porkchops was picked up by his adopter, Michael. Porkchops had been here for about a month while Michael had major surgery.

Porkchops was very happy to be back with his Dad and vice versa/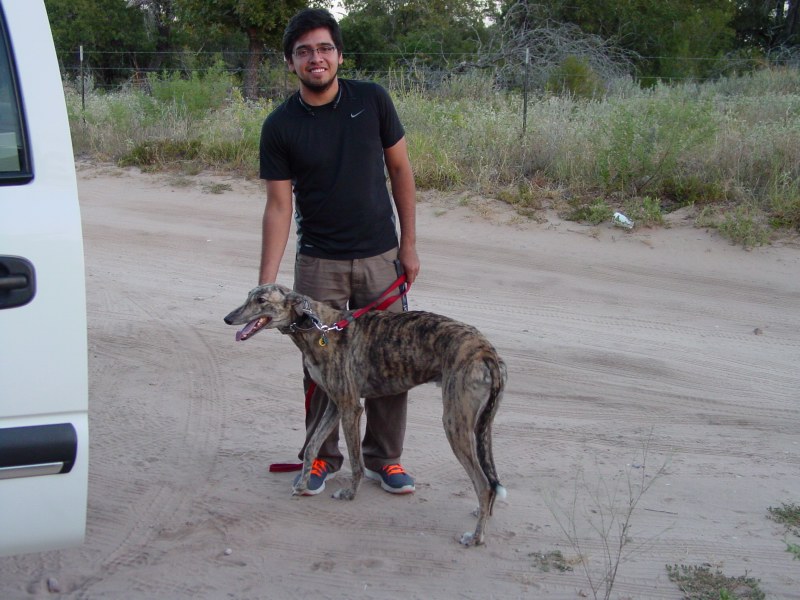 August 19, 2014

Left to right - Bexata Willow and Bexata Foxie and their friend IG Bullitt Hanzelka watching their boy, Nate, bring groceries in fron the truck.

Click the picture for a youtube video of Bexata Willow playing with a squeaky toy.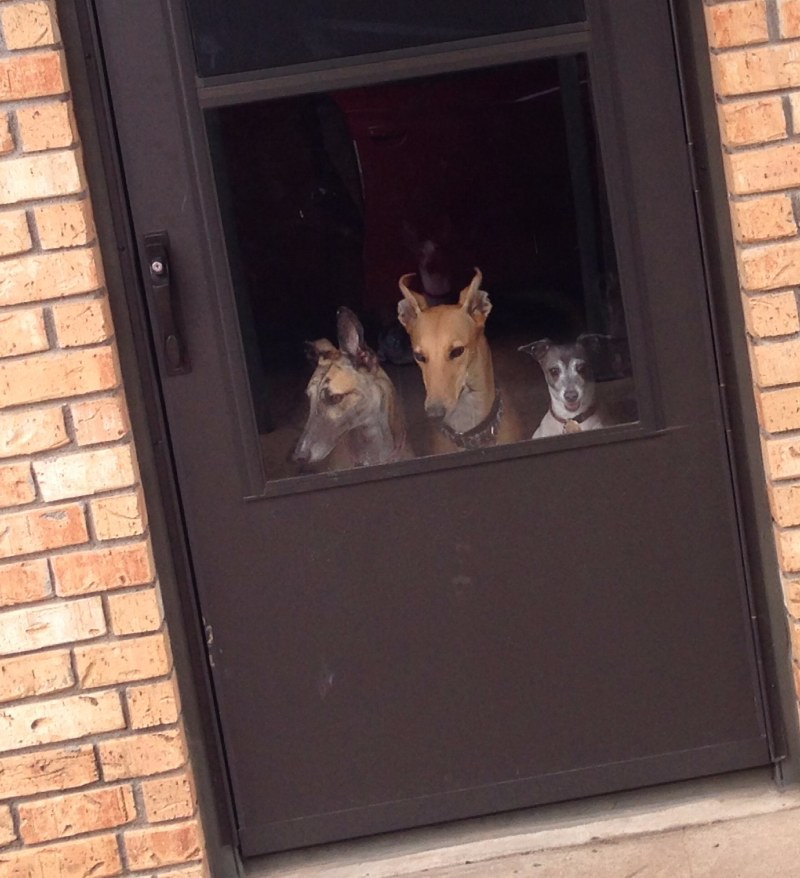 August 17, 2014, the Parrigin girls on a Sunday afternoon.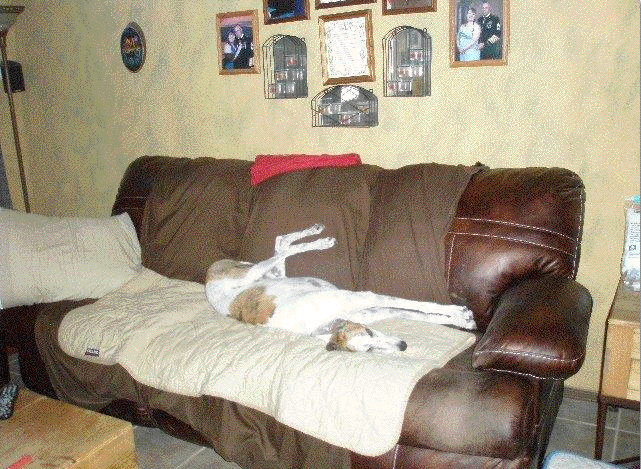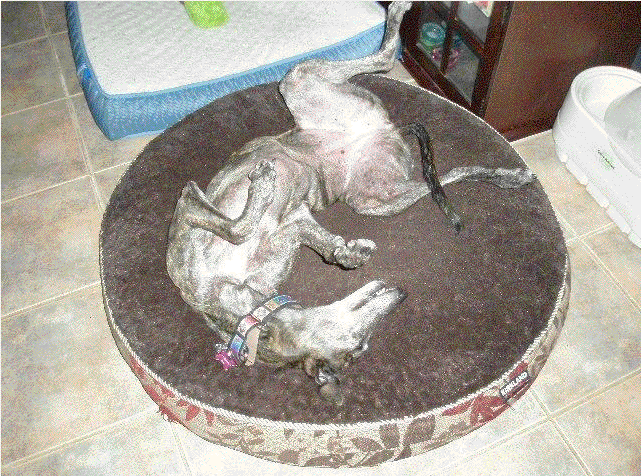 Tuxedo
Gorgeous face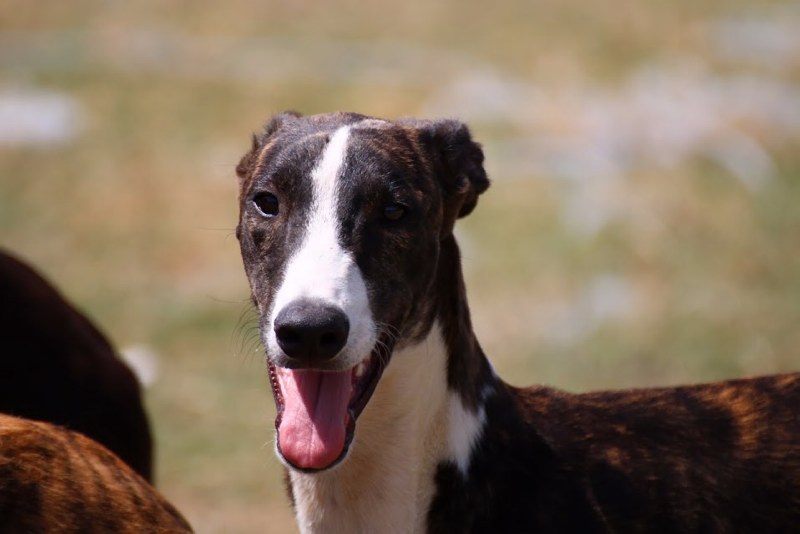 Mariano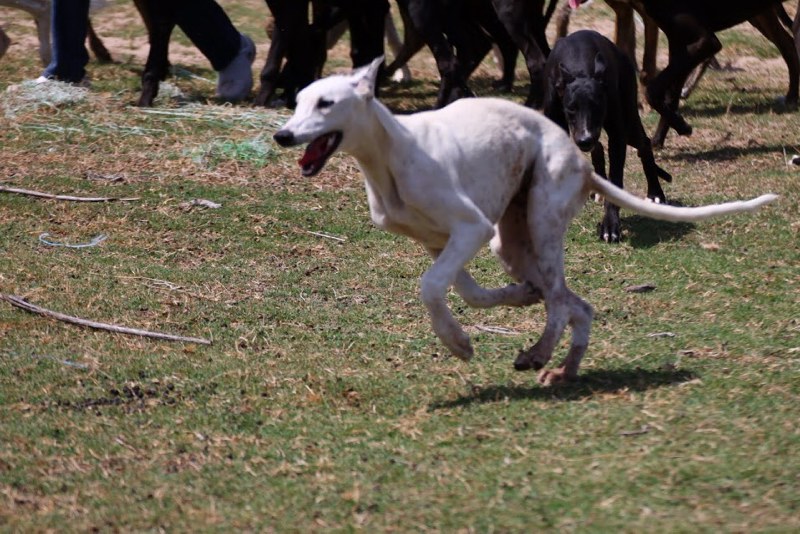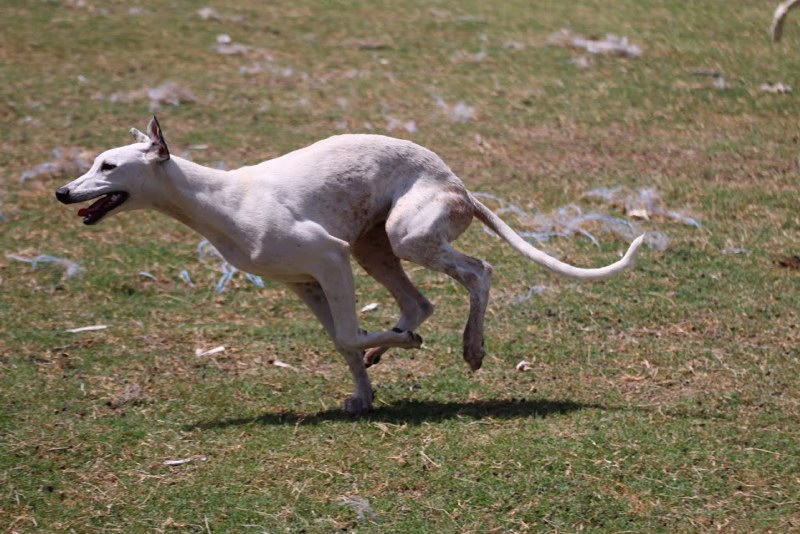 August 16, 2014

Lexi and Carrie enjoy each other's company. Lexi went to live with SGM retired, Duane, and his wife Denise, and Carrie joined them a couple of weeks ago.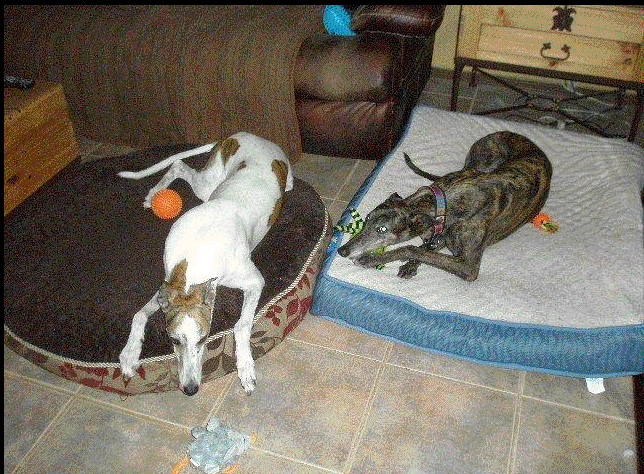 Carrie and friends before Carrie left for El Paso.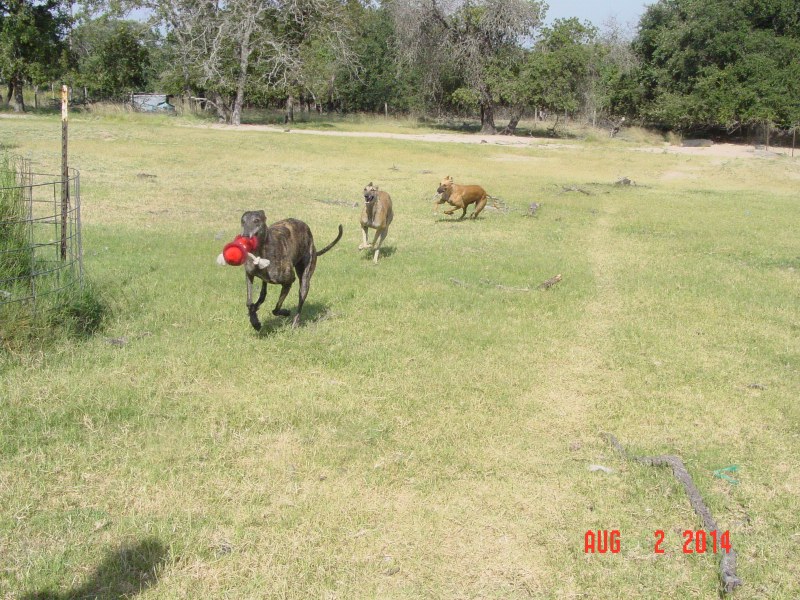 Nate, Foxie, Willow and Laurie going on a 5K walk run for charity.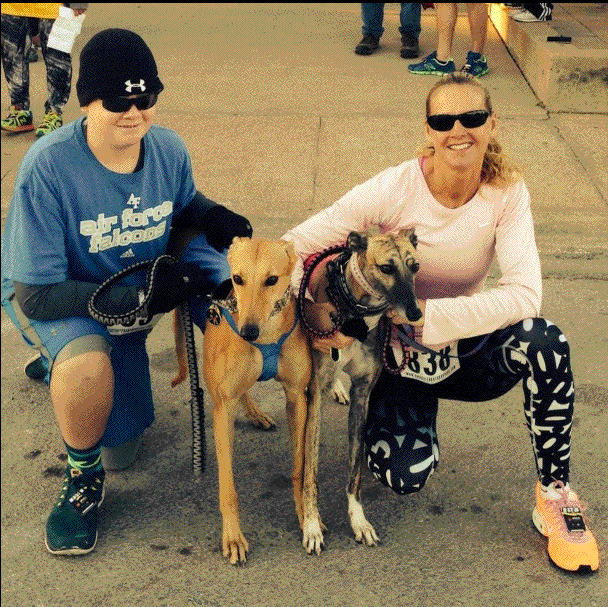 August 10, 2014 Baby Claire and her Greyhound girl, Dancy (Dancy's Dreams martingale collars)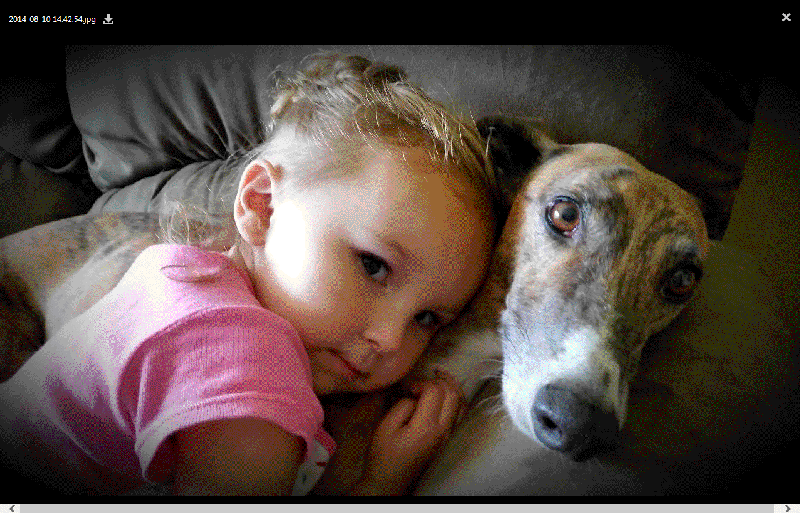 August 4, 2014 Sable on the couch at her new home. From the farm to the couch!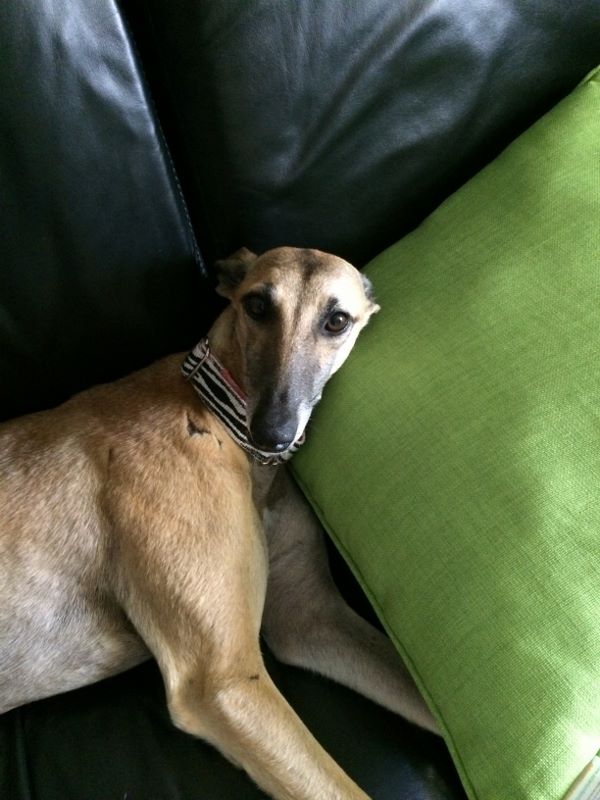 August 3, 2014, Dancy Jones on a Sunday afternoon.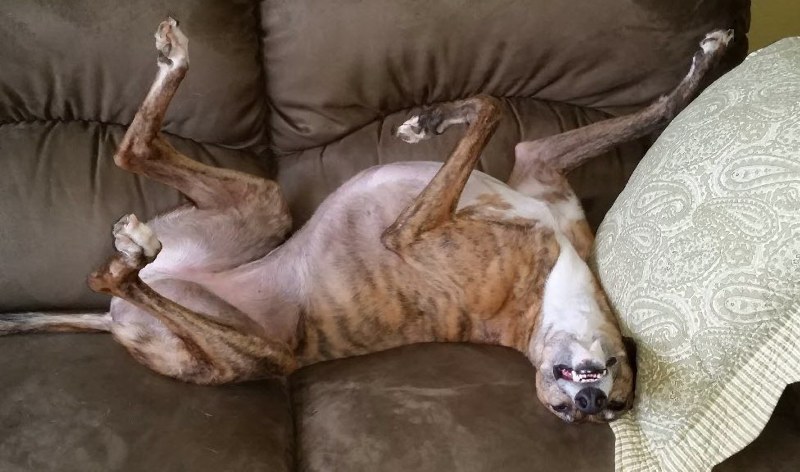 August 2, 2014

Sable was adopted by Catherine from El Paso. What a lovely time they will have.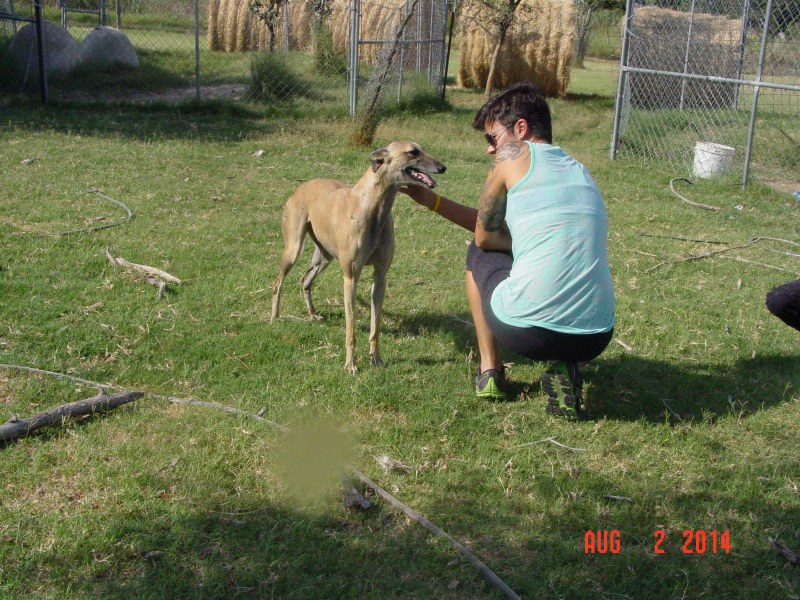 She loves to play fetch, too.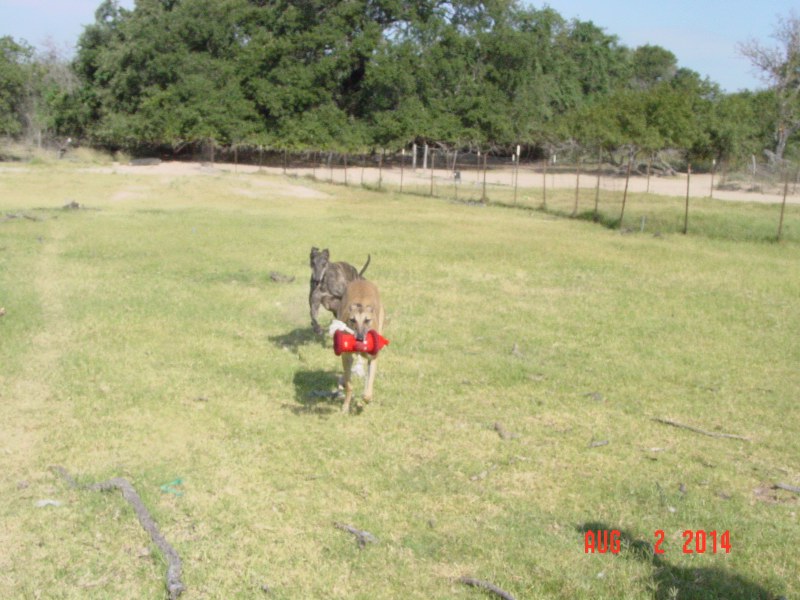 Bye by Sable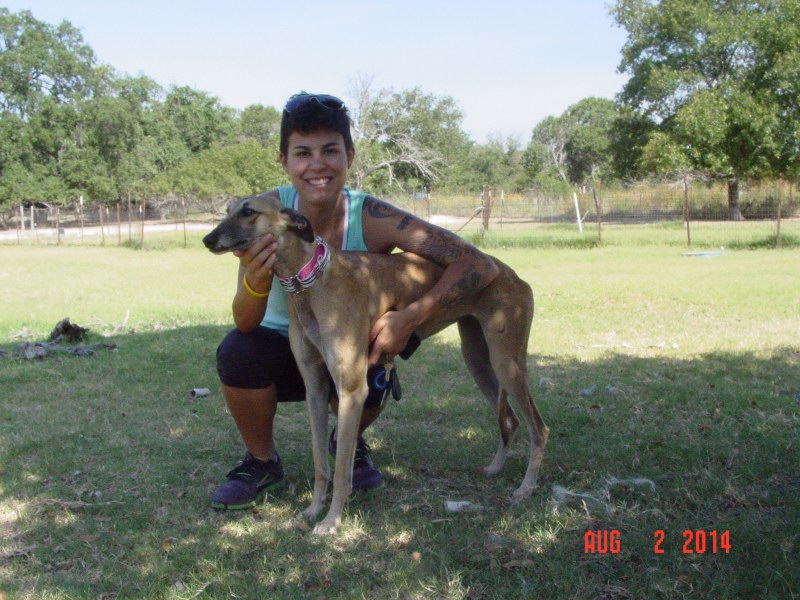 Sable is adopted. You can see what a sweet girl and kind heart she is with Bandit's adopter's son.

July 28, 2014 Princess Dalphina (Field Champion Bexata Dalphina 72F, Senior Courser)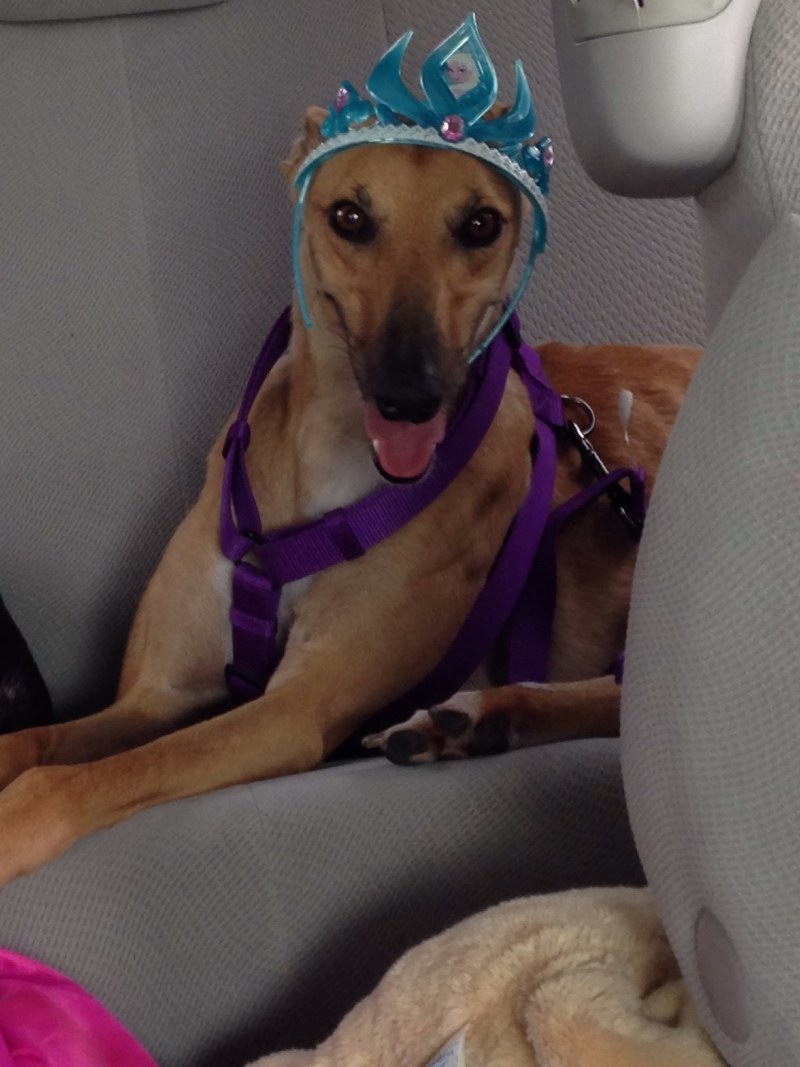 July 25, 2014 Gear and Abigail

Gear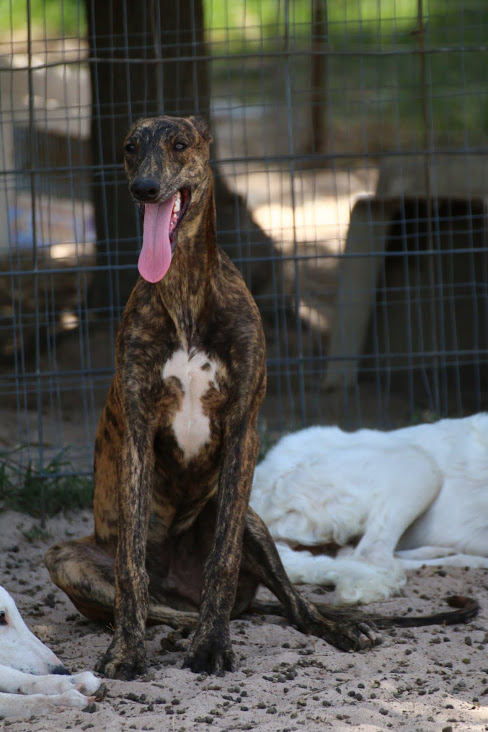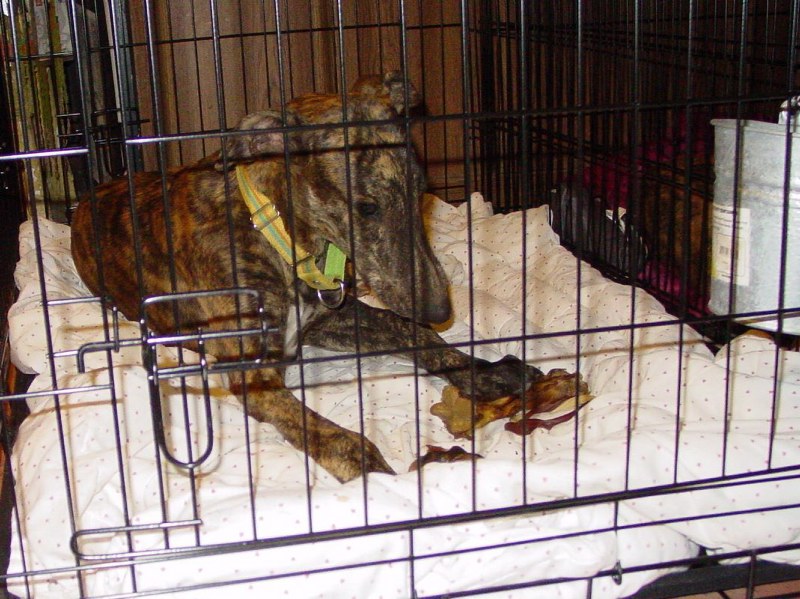 Isis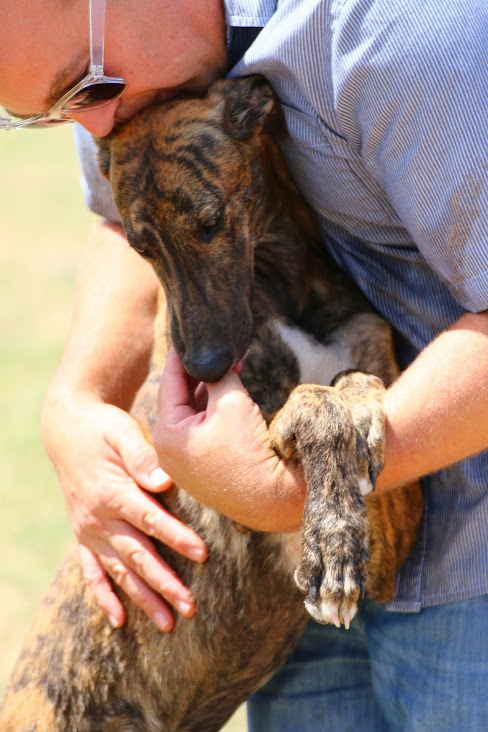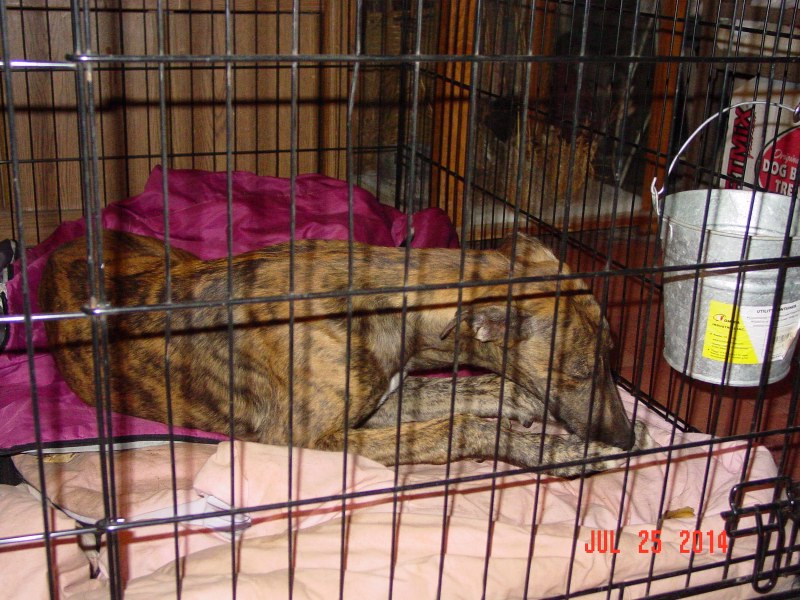 July 23, 2014 Duane's girl Lexi enjoying some sun in El Paso, TX


July 19, 2014 Holly having fun. She goes in the water behind the trees and comes out for a great fun run on the grass. Her mom is the best taking her to all these great places.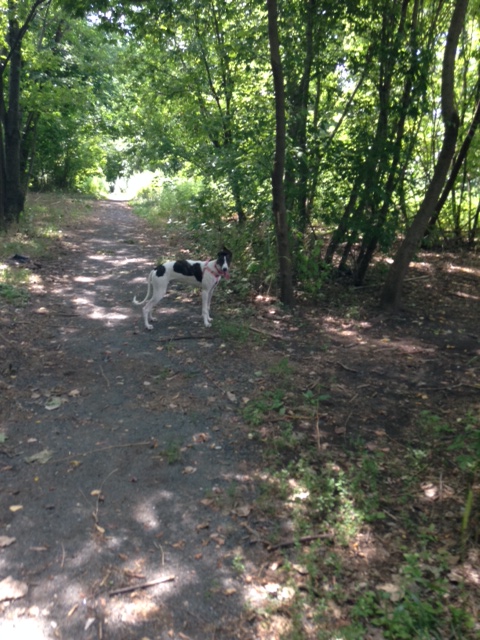 July 14, 2014 Foxie and Willow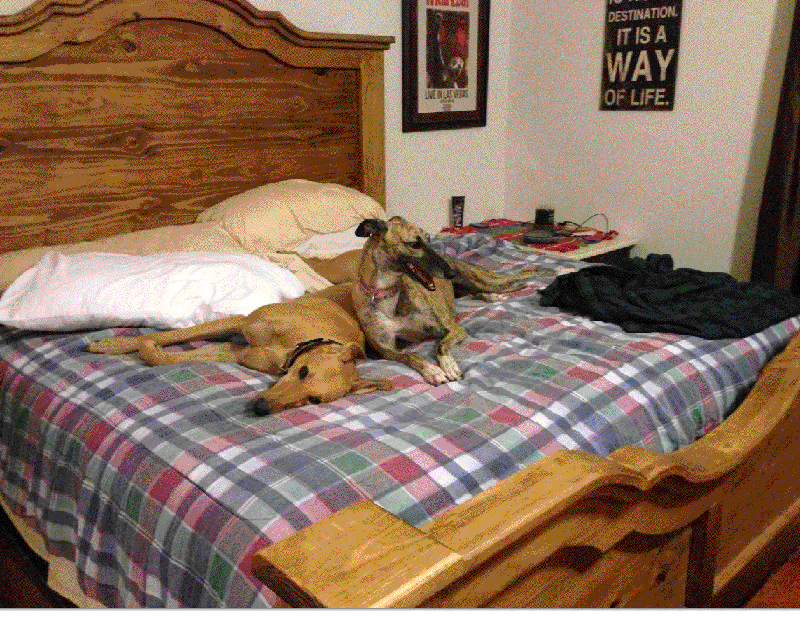 July 14, 2014 Einstein


July 3, 2014

Lexi took over Duane's bed when he got up - not that she doesn't share it anyway!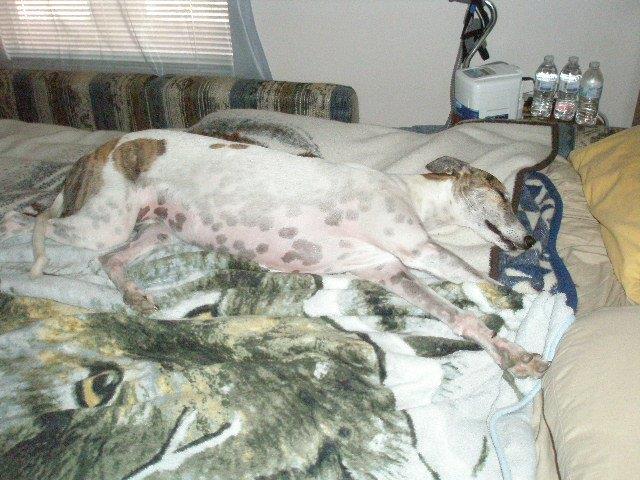 June 28, 2014 Michael and Pork Chops came to visit


June 28, 2014 Dalphina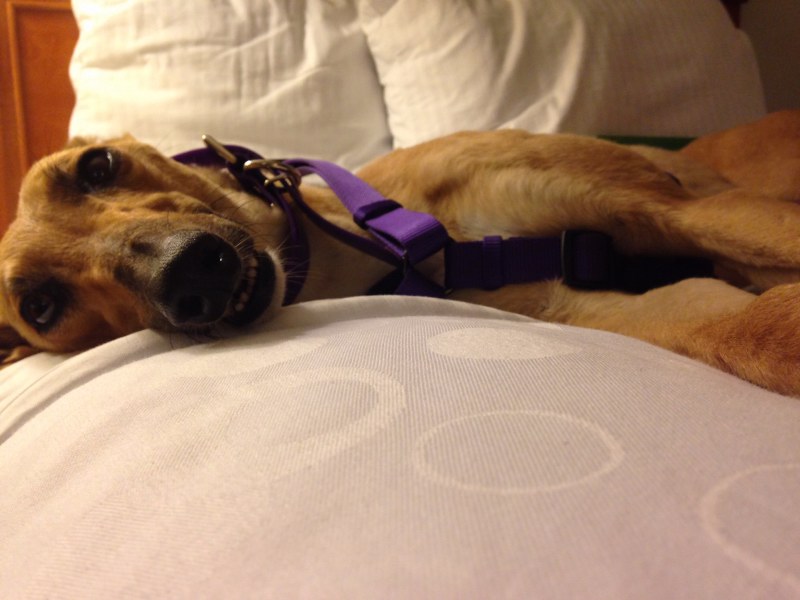 June 26, 2014

Holly has the life!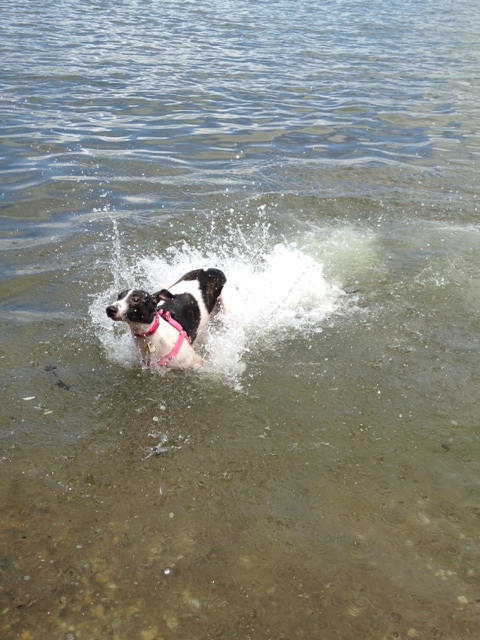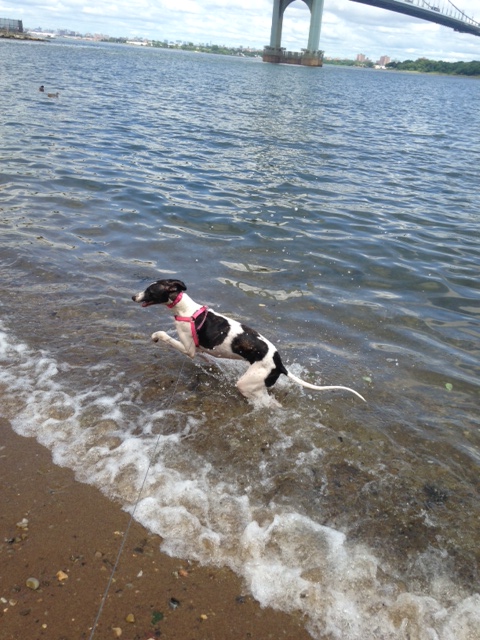 at the park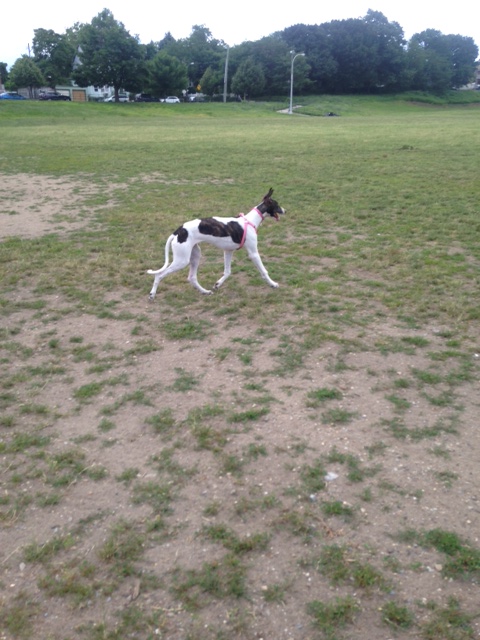 June 25, 2014 - Willow could not be touched when she first arrived, but look at her now thanks to Laurie's love and care and perseverence. Of course, she can have any bed she wants, including Laurie's, but she chose to snuggle down into an IG bed. Silly Willow! And she's one heck of a lure courser, too.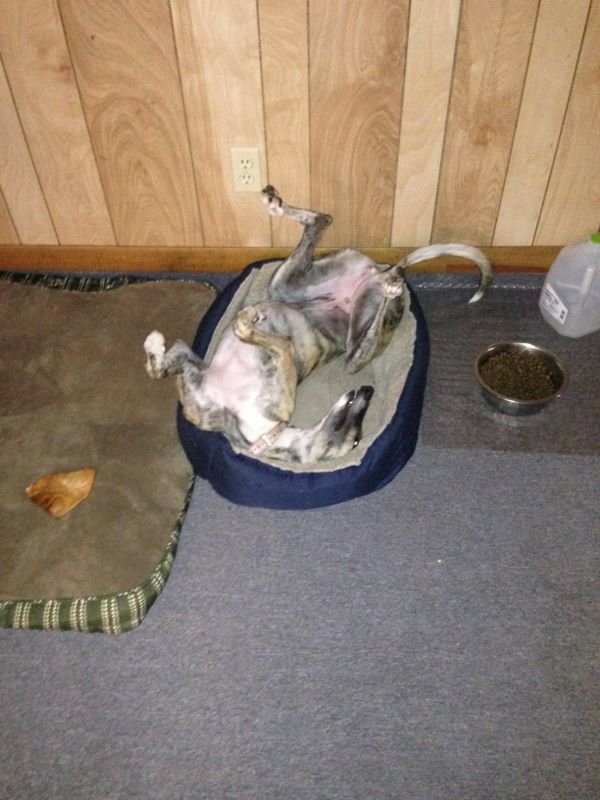 June 24, 2014 Kyle's boy Tiger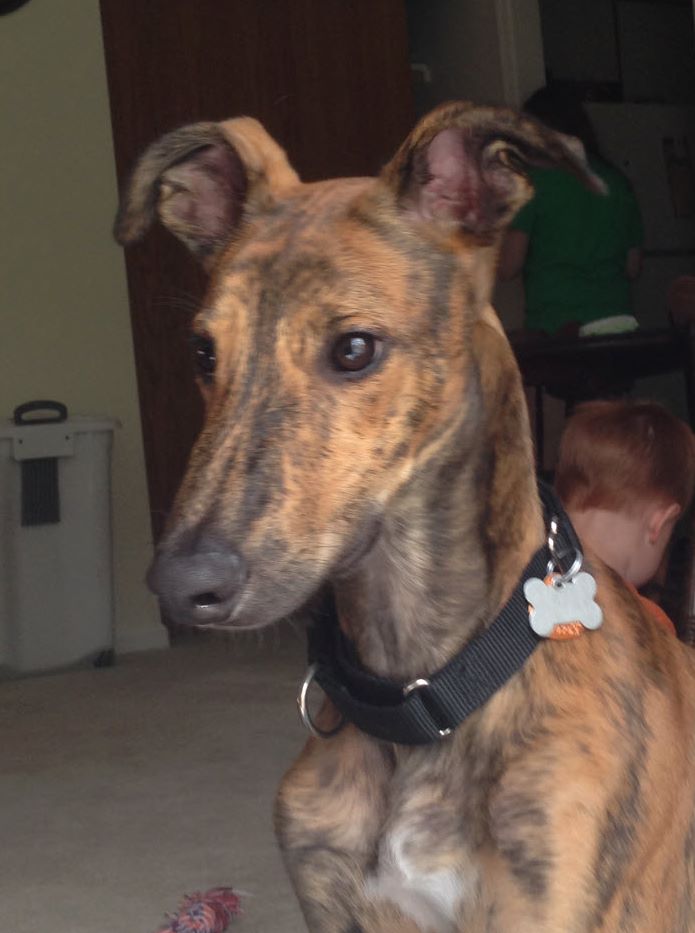 June 21, 2014 It's a dog's life for Einstein pictured napping with his Dad in Florida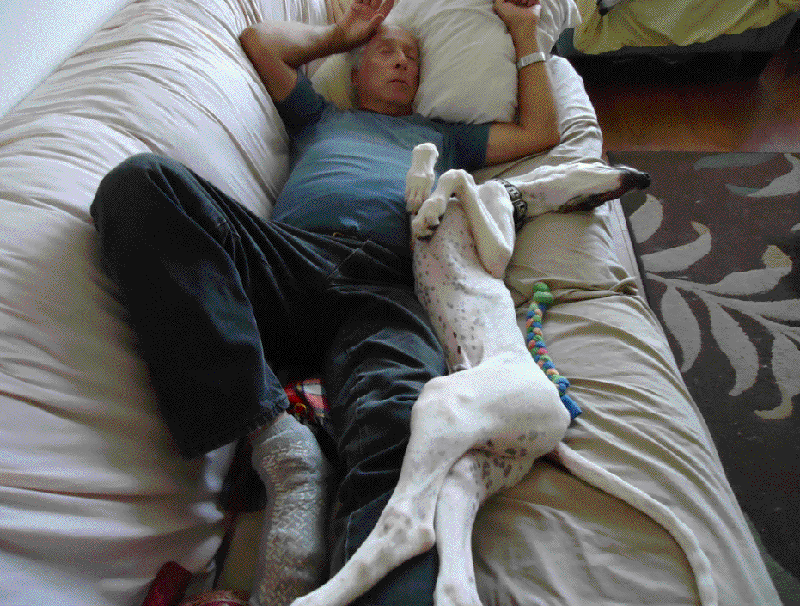 June 20, 2014 Dalphina swimming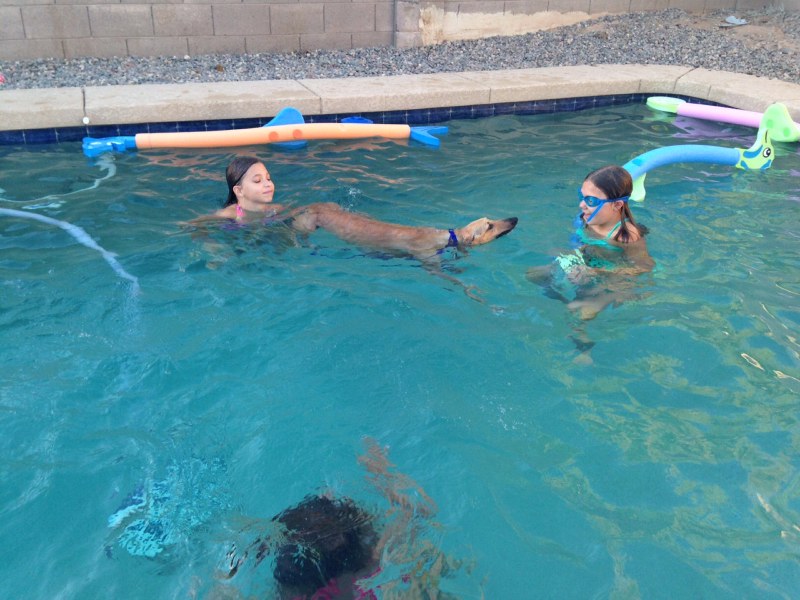 Zoe swimming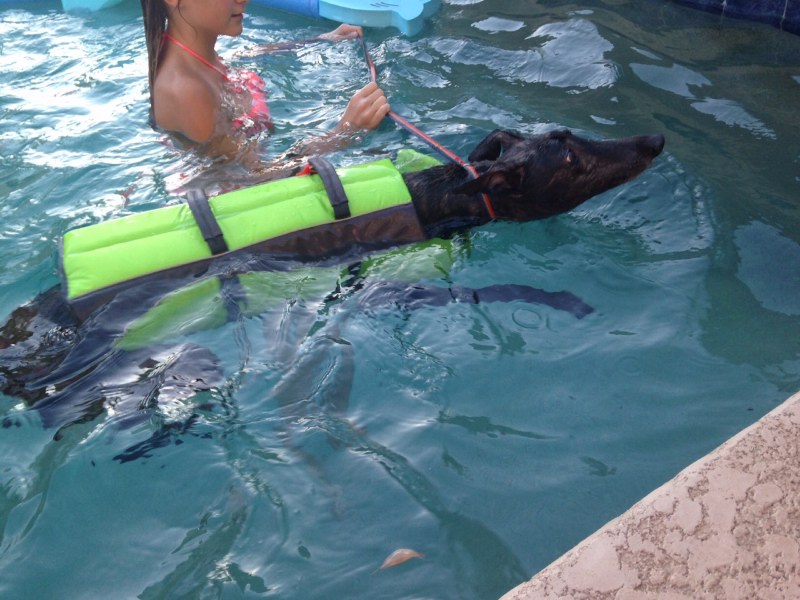 Velvet swimming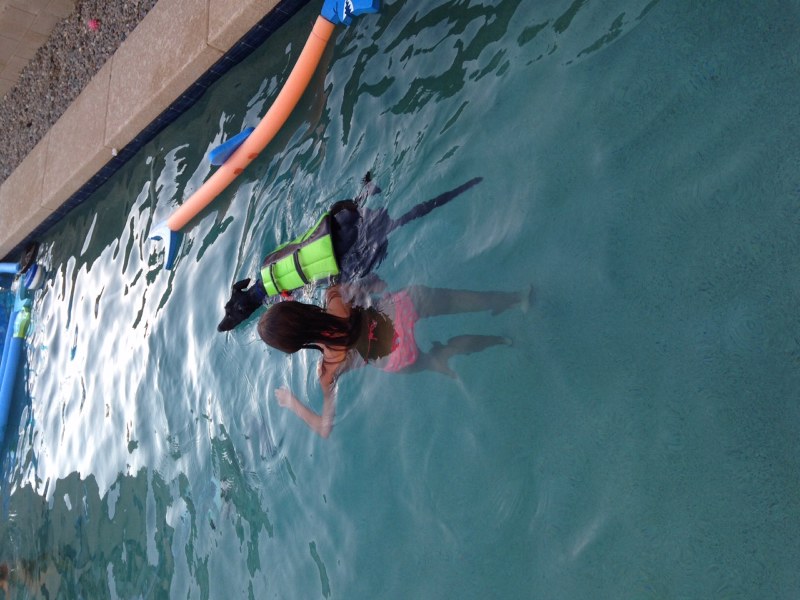 June 20, 2014

Hello, (from Penny's mom)
We have settled in to our home in California. Penny and our other rescue dog, Pippa, are fabulous friends and love being with one another. Penny chases Pippa and Pippa loves it. Pippa will get up on her hind legs to kiss her and basically wrap her front paws around Penny's neck, like she is hugging her. They have lots of toys and enjoy playing tug-a-war together with them. They are soooo cute together. We walk them around our neighbor every day, but we also have hiking trails within walking distance that they enjoy going to and playing in the creek.... Rachel loves, loves, loves Penny and just doesn't ever seem to get enough of her cuteness. Penny still sleeps with her most of the time.
Enjoy the pictures.
Take care.
April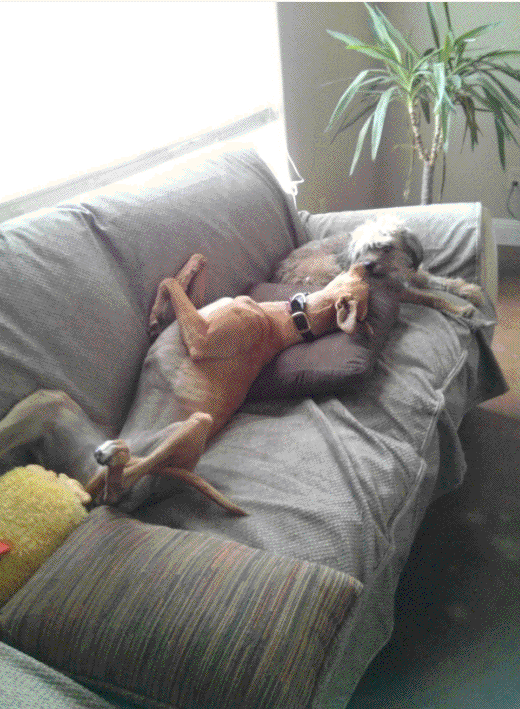 June 18, 2014 it's a dogs' life at Duane's. After back surgery, nurses Lola and Lexi are helping him recoup and sleep in.


June 17, 2014 Lola at Duane's - look at that bed!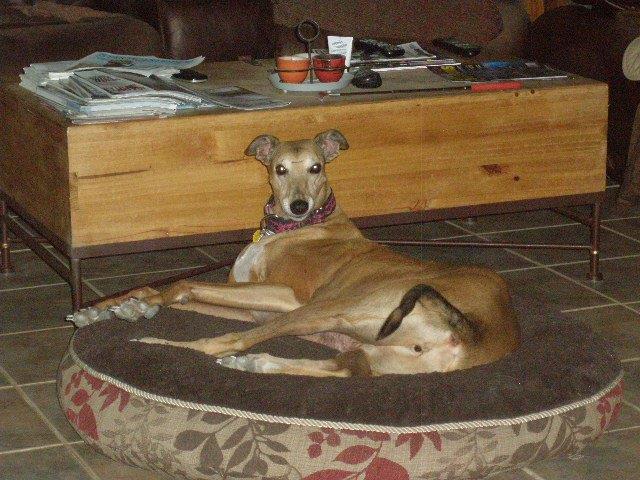 June 17, 2014



June 16, 2014

It's a dog's life at Kelly's. Velvet enjoys the new couch!

Bexata Velvet, SC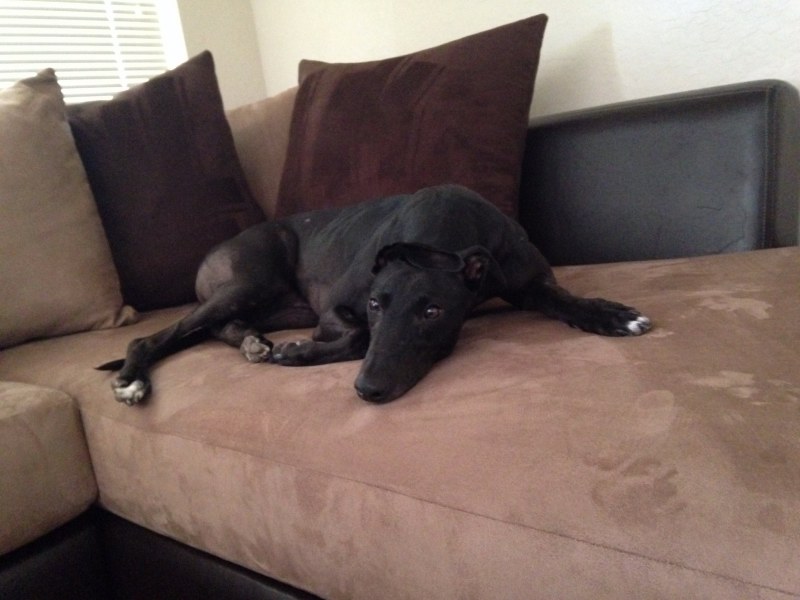 June 10, 2014

Einstein, Lucy the Greyhounds and family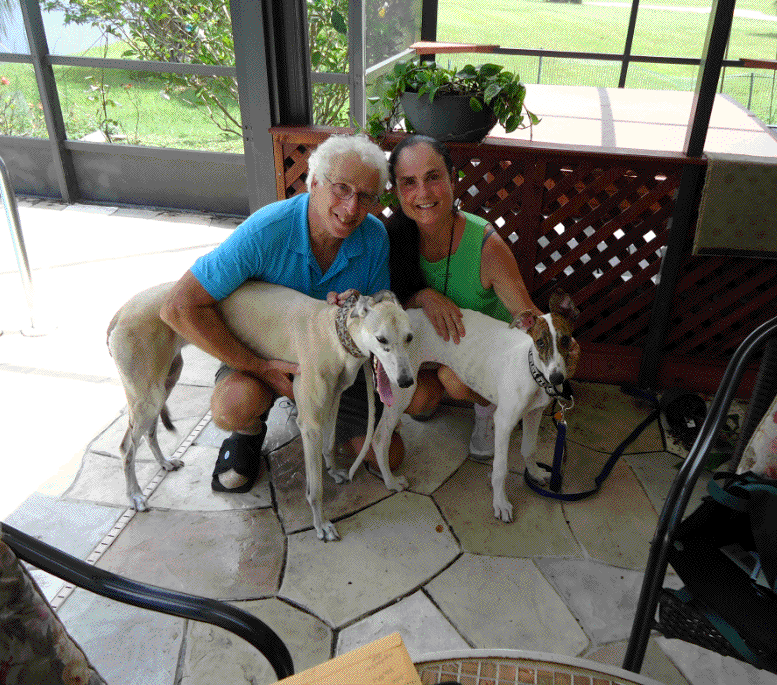 June 8, 2014 Einstein poses with his new mom, while his new friend, Greyhound Lucy, looks on.


June 7, 2014 Holly is enjoying the water. Mom, Terri, walks four miles with her and back after a good swim.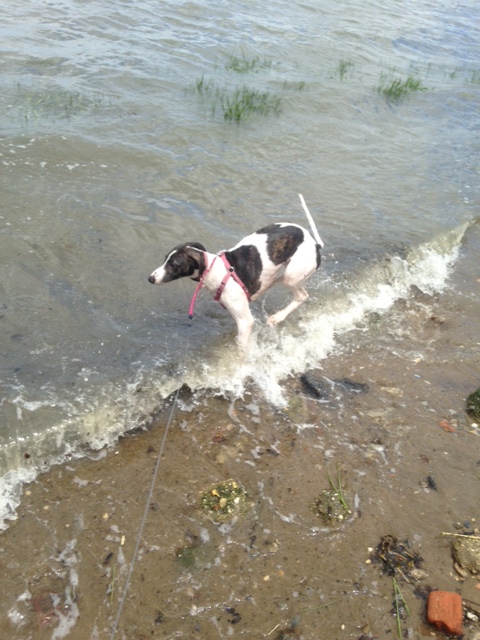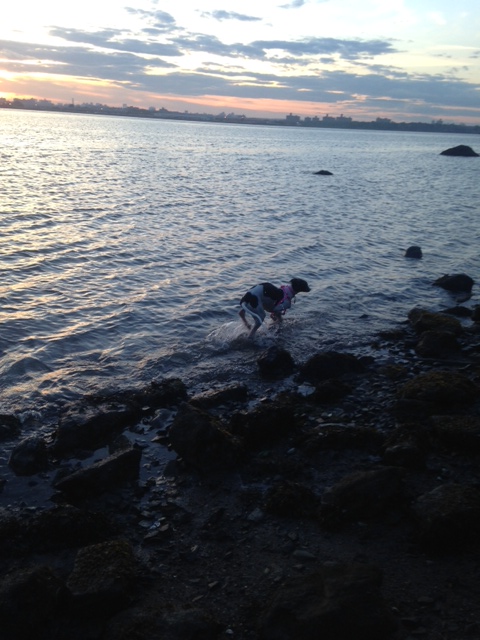 June 3, 2014, Dalphina's in her new home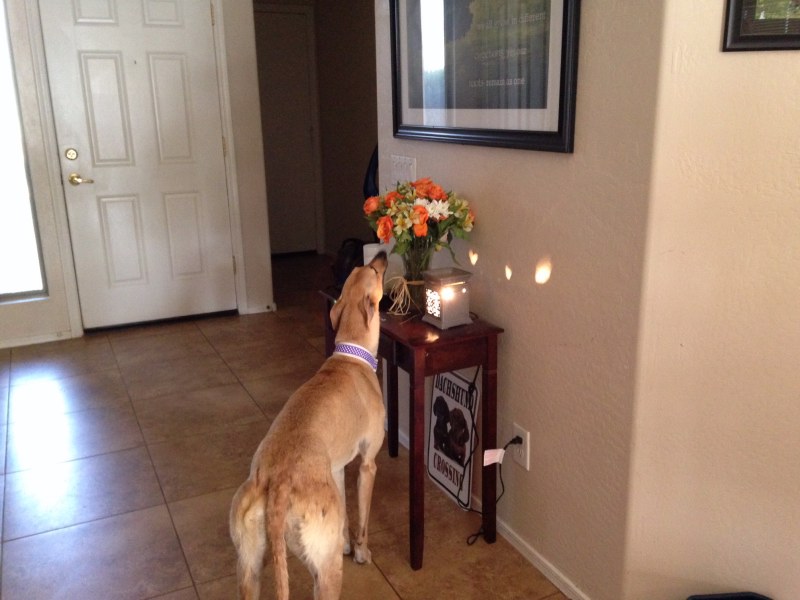 Zoey lounging on her bed.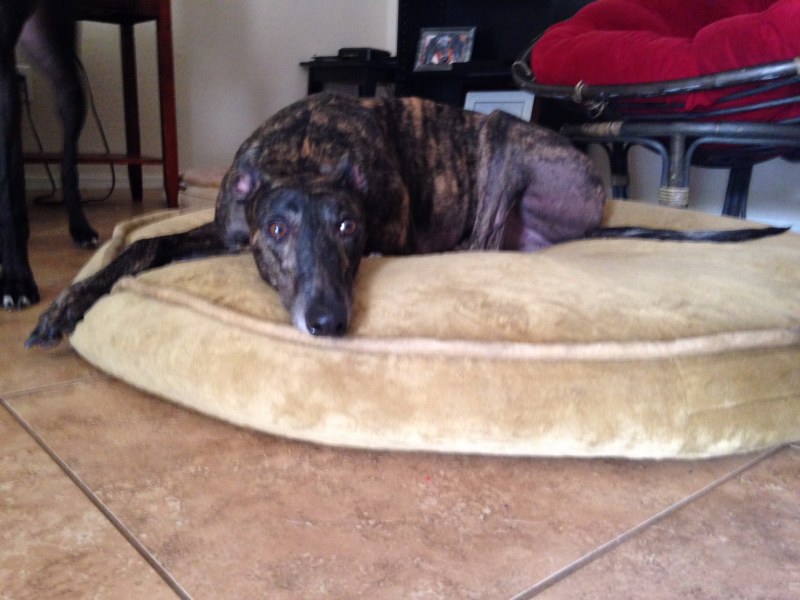 Velvet checks out Dalphina.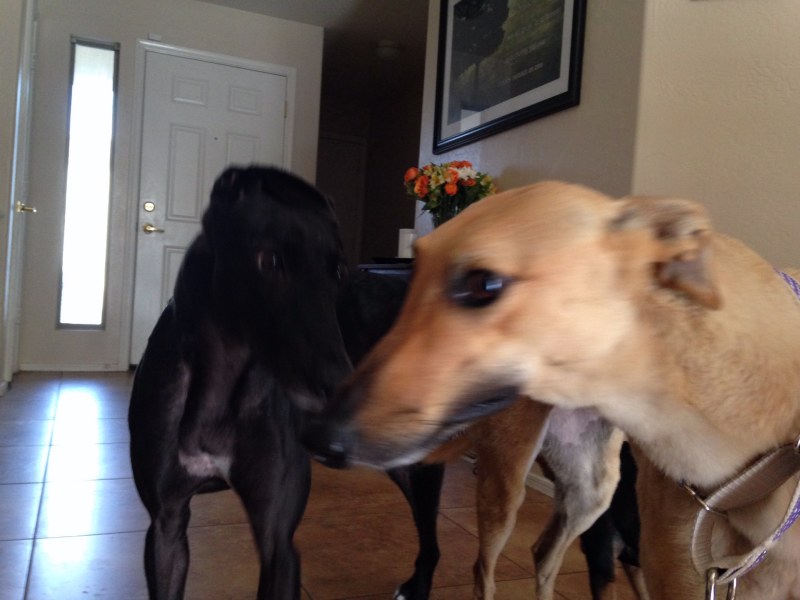 June 2, 2014 Dalphina leaves for her new home. Dalphina is a Field Champion in lure coursing having finished in two weekends. She also loves people, is a tail wagger and a very happy girl. Hopefully, she will continue her lure coursing career in her new home.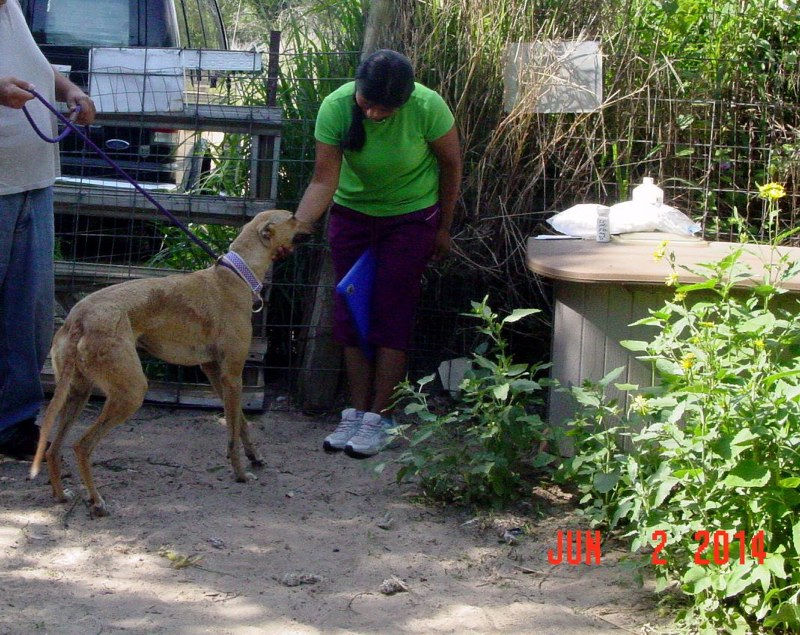 turning around to say goodbye!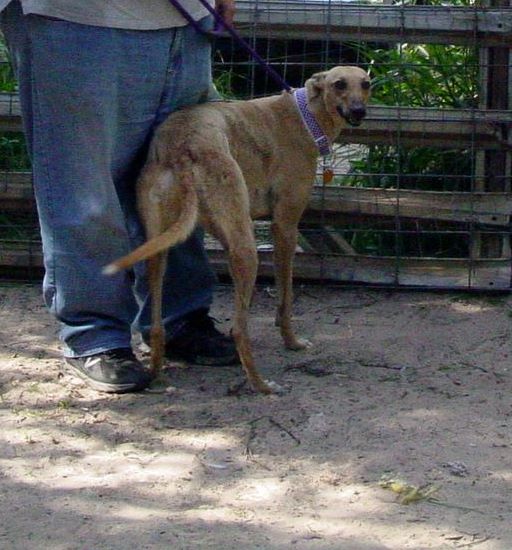 Bexata Velvet is depicted on the winning design t-shirt her adopted family's daughter did for school. Heaven is eleven and quite talented.


May 30, 2014 Einstein is adopted

Einstein

Mister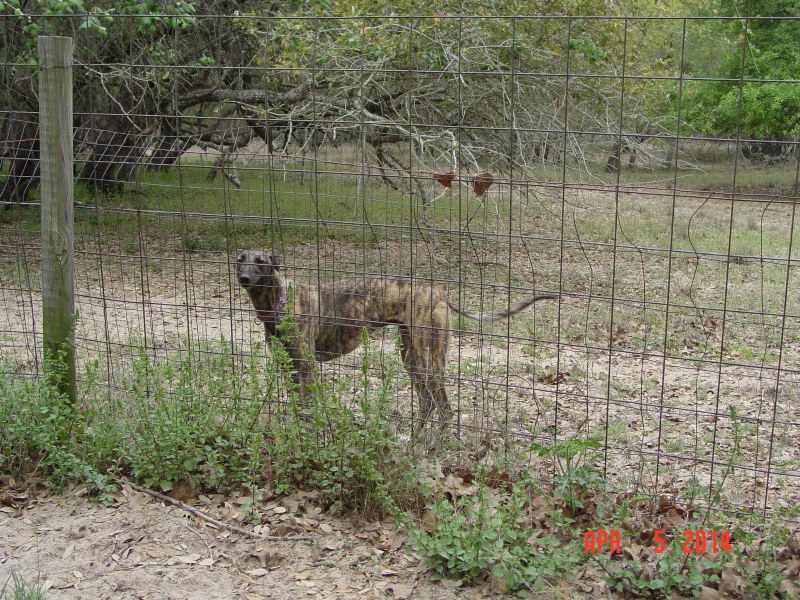 May 24, 2014, Field Champion Dalphina is adopted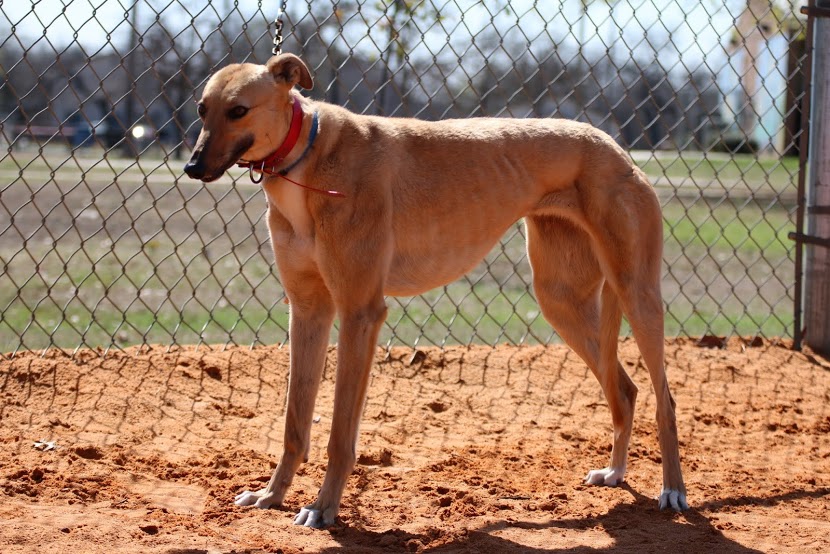 May 17, 2014 Bandit update

The first picture is more recent. He's made himself comfortable enjoying the luxury of being allow on the couch! And the second pic is a week or so after we brought him home playing with the pug in the yard! I thought you might enjoy seeing some pictures of him. I must get some of him and the cat interacting for your website. It's amazing how well he has adapted to living with a cat, smaller dog, baby and toddler. We just love him so much! I hope you got the shirt in the mail. If I get anymore good pics I will send them.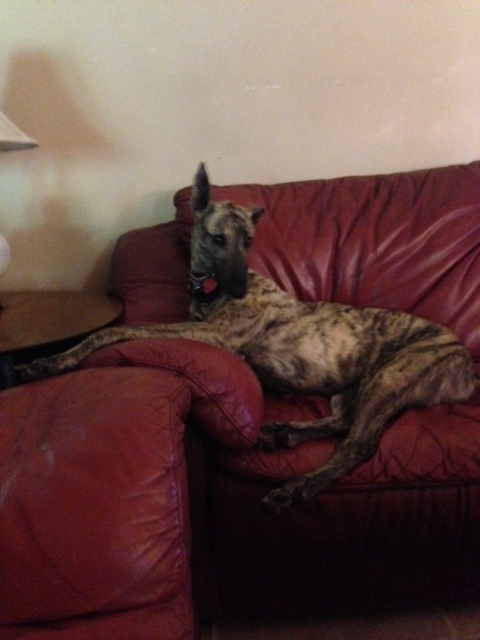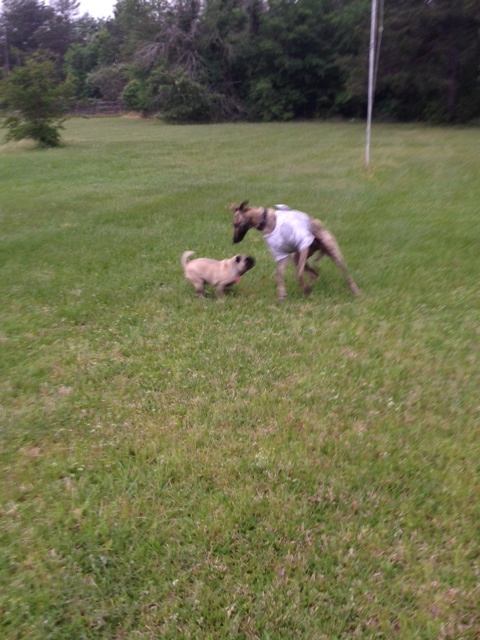 May 14, 2014 Pork Chops

Sherry, Porkchops loves to sleep on the my bed more than his. I already took him to the dog park and he socializes extremely well with other dogs. My family absolutely loves this dog and he's been just a great dog with us. Michael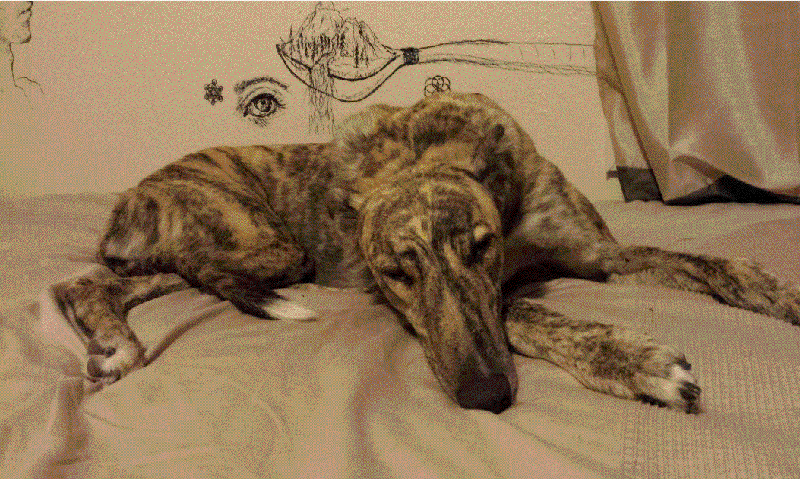 May 10, 2014 Chloe is now Sierra and pictured with her new moms, Kay and Carol, and little dog family.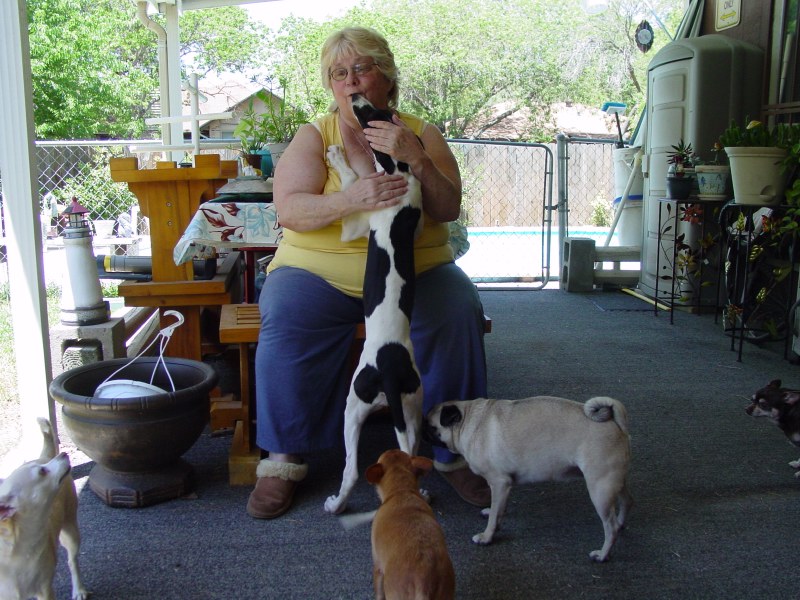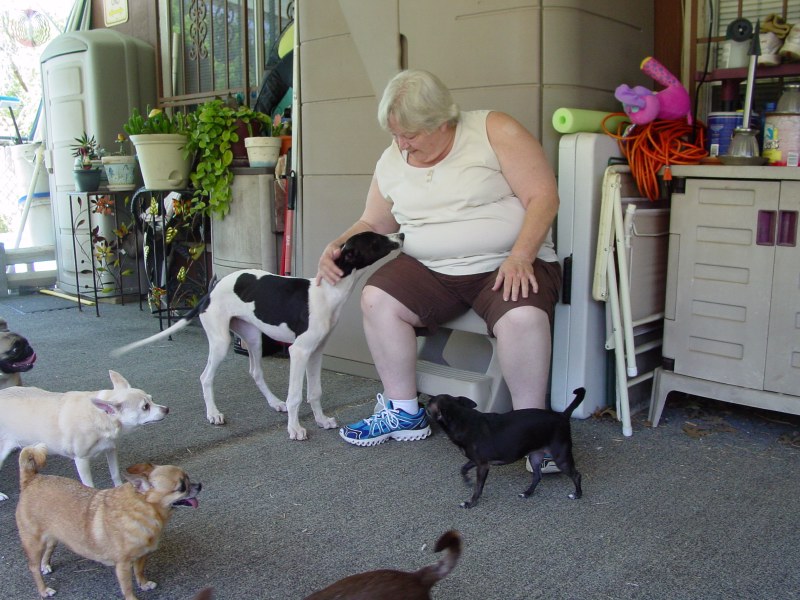 May 8, 2014 Pork Chops was adopted by Michael, pictured with Michael (left) and his brother, Luis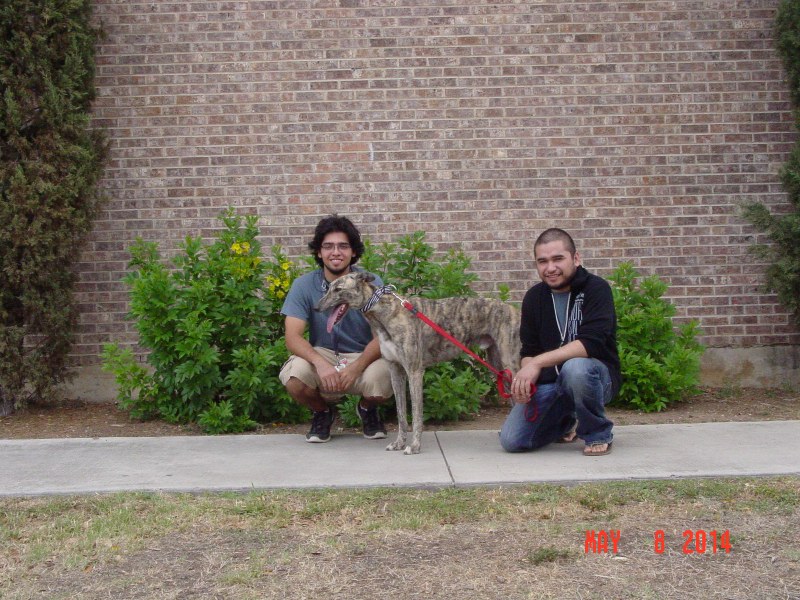 Pork Chops is already teaching Michael well (holding up the bowl of fresh water for Pork Chops)

Michael's going to be a great dad for Pork Chops!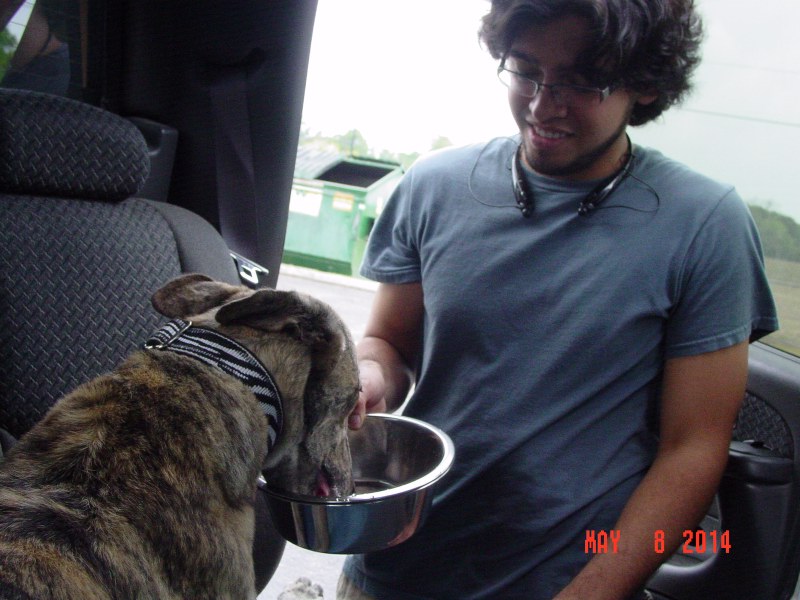 Pictured September 29, 2013 before they were all adopted - Tio, Pork Chops and Lola have all found new homes as of May 8, 2014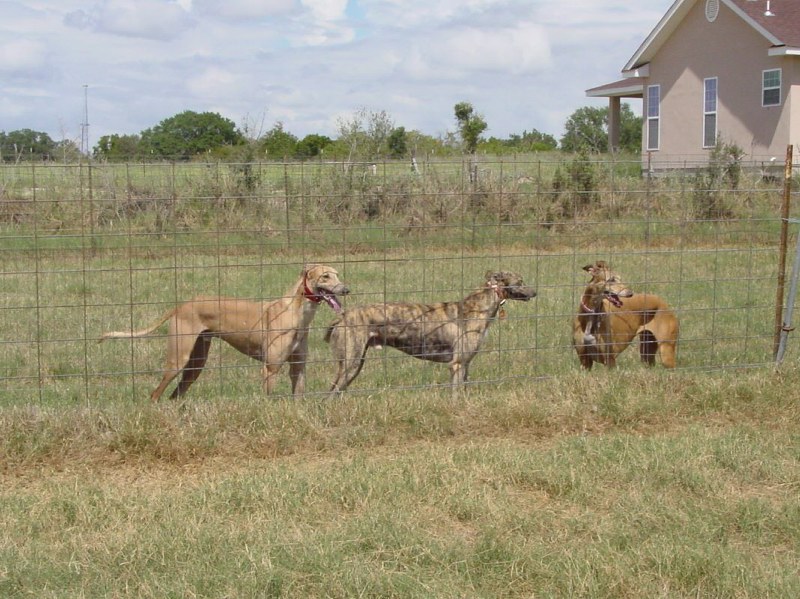 April 24, 2014 Tio was adopted by Lindsay and Rhian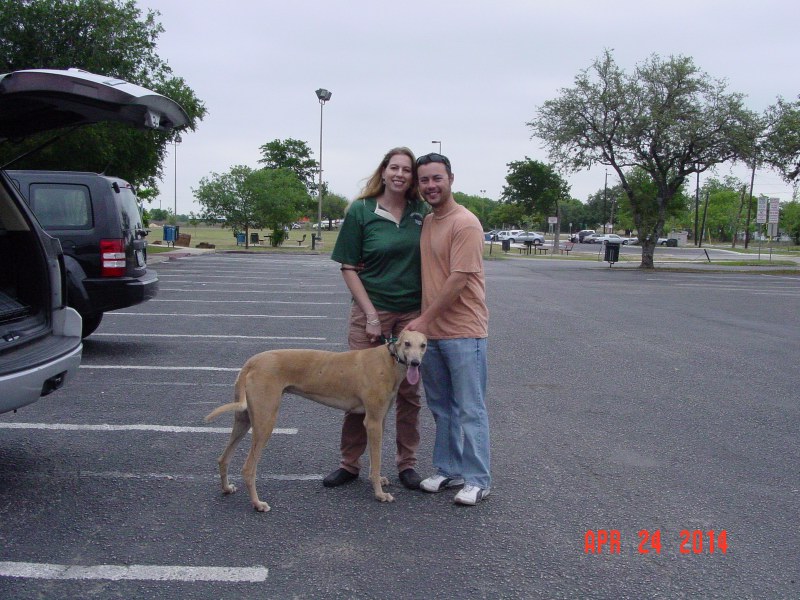 April 24, 2014

Bandit was adopted by Rachel and Finn

Thank you guys! We made it home awhile ago and so far he is getting along great with our pug and has met the cat and didn't act very interested in her at all. He did great in the car! My son is named Finn!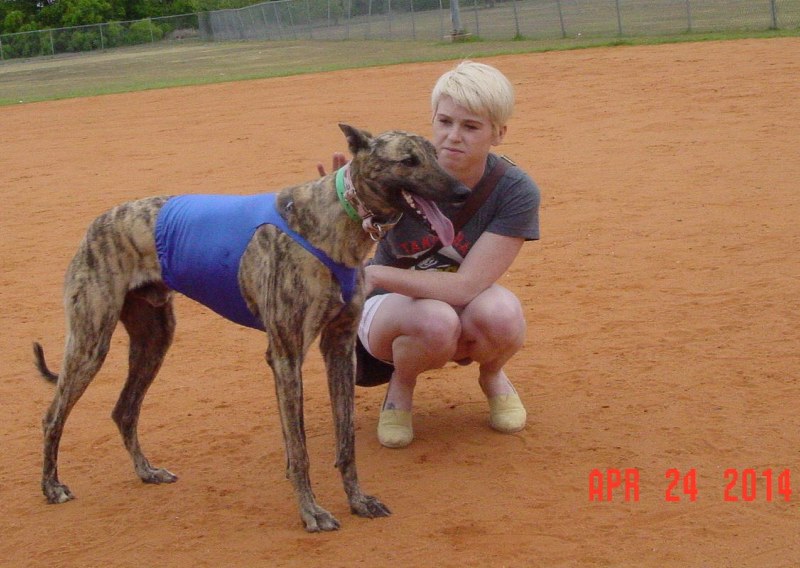 Finn and Bandit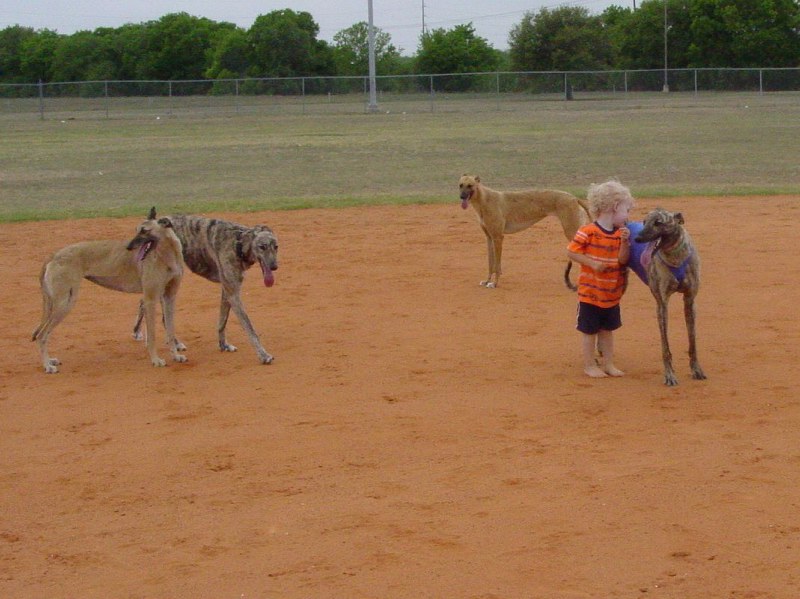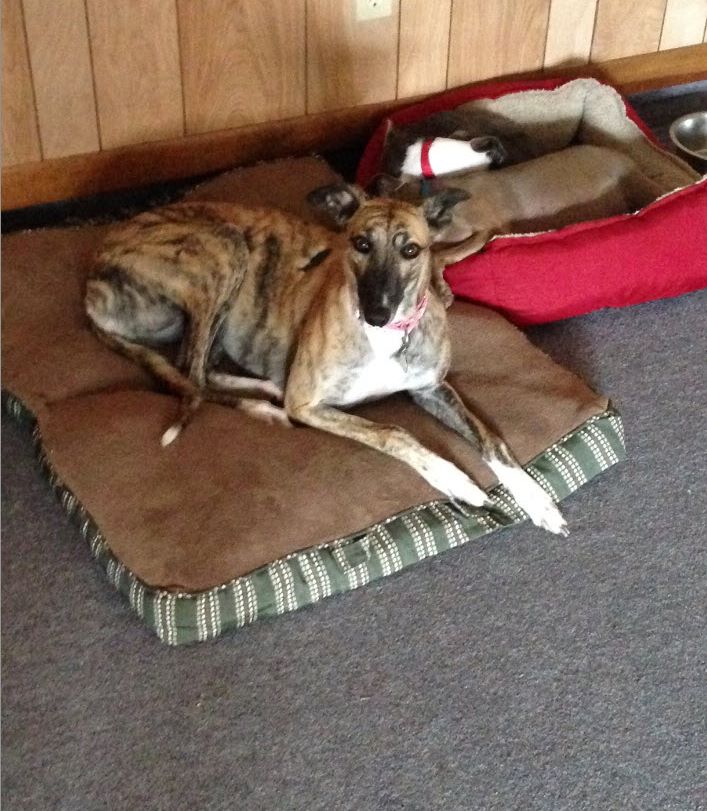 April 8, 2014

Sherry,
Did I tell you that my sweet girl Dancy has taken this new little rescue girl from the shelter under her wing? They are the cutest thing ever. The little one, Cricket, sleeps in the crease of Dancy's leg. Second picture is Derry our IG Dancy and little Cricket her buddy.
Kisses from Dancy
Laura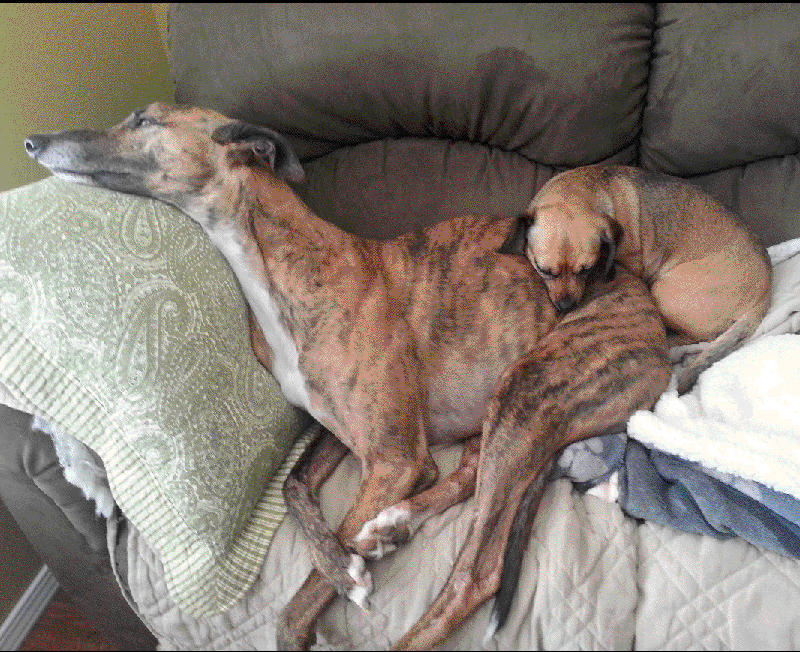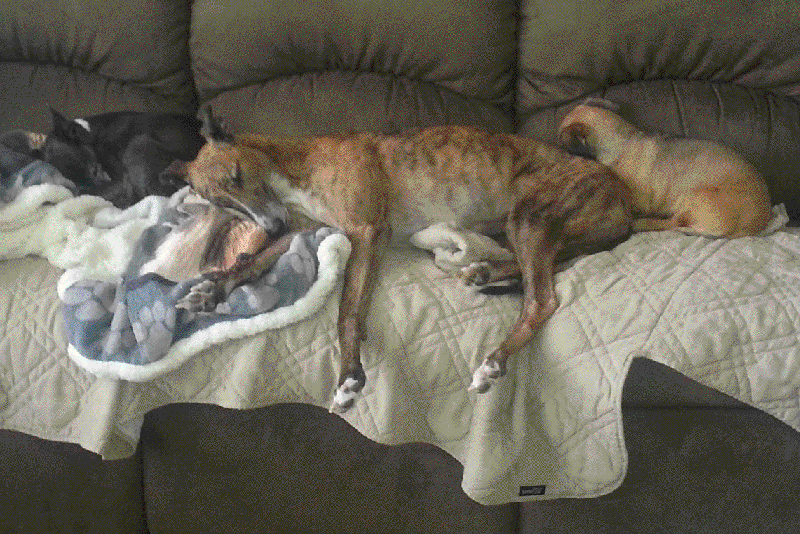 April 6, 2014 Katie's girl Molly enjoys her bed and toys at home

Sherry,
Just wanted to send a quick hello. Molly is doing wonderfully. I wanted to send a few photos to you because Molly was feeling photogenic. The outside photo is of her trying to track down a critter she spotted from a distance with her trademark "one ear up." The other two are of Molly being a happy, lazy dog with her little "dollies." She's so cute, she just isn't comfortable unless she has her little stuffed friends next to her. The cats are really starting to warm up to her so who knows, maybe they'll be next to snuggle up to her on the doggie bed. I hope things are well for you!! Take care!
--Katie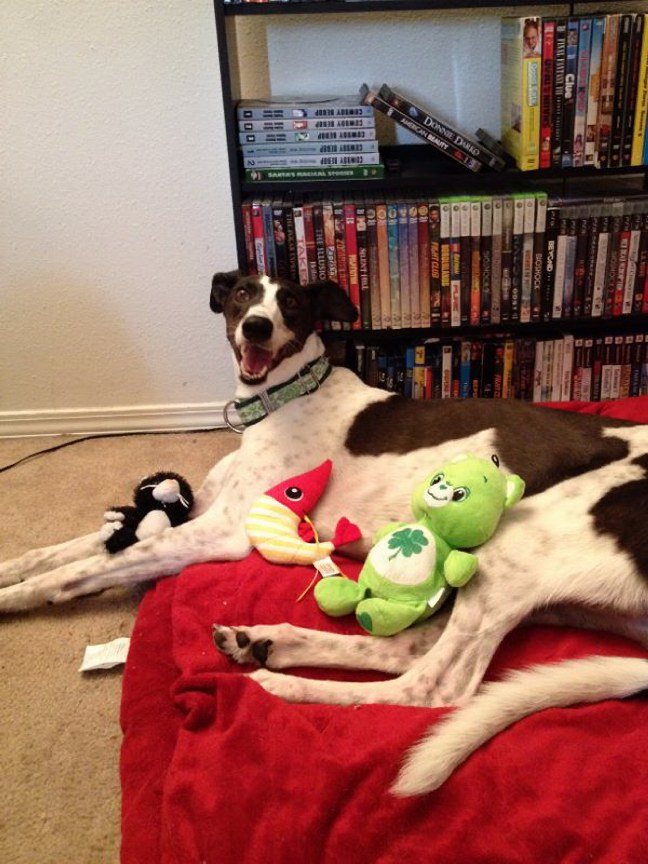 March 2, 2014 Dancy under covers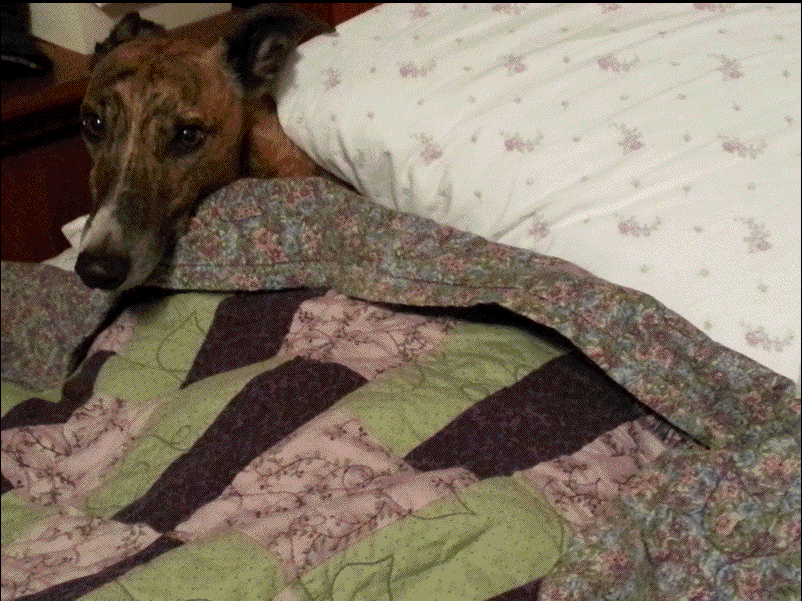 March 2, 2014

Haven't spoke to you in a while. Our puppy is adjusting well. I found him like this earlier today.
Happy


February 20, 2014 Hummer came out with his adopting family, Natalie and Tyler, for lure coursing practice. He looks wonderful and it was a joy to see him again. He is a former rescue Greyhound as well, retired from the track due to an injury. Looking good!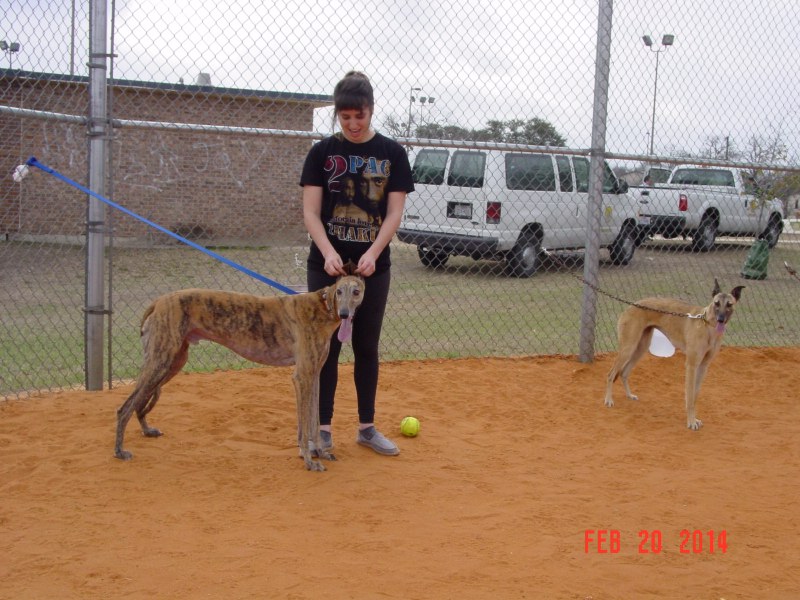 Tyler helped pull up the pulleys and all the kids followed him, Hummer and some of his adoptable friends. Check out the lure coursing page and available Greyhounds pages to see more.


February 20, 2014 Lexi at Duane's doing what she does best! Now that's one secure, happy, well adjusted and secure (former) rescue Greyhound.


February 17, 2014 Laurie and Greyhound Willow lounging on the couch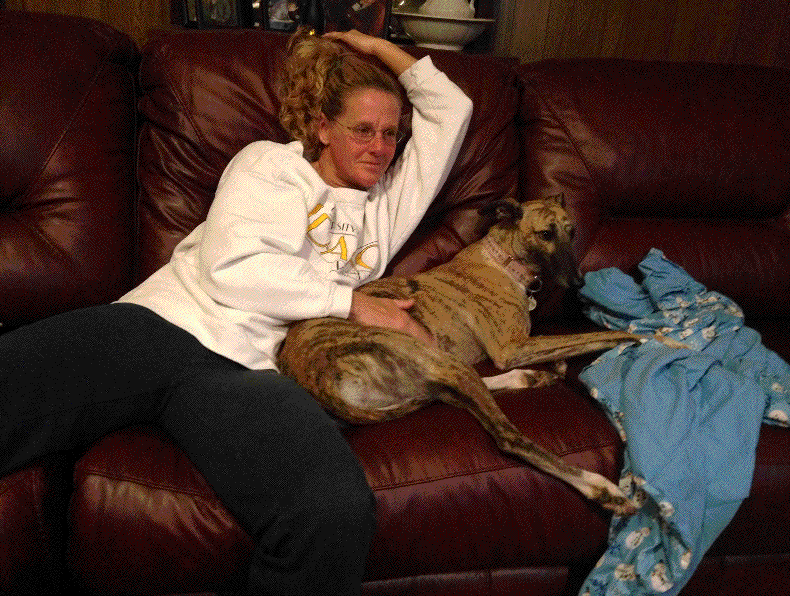 February 17, 2014, Francis and his boy.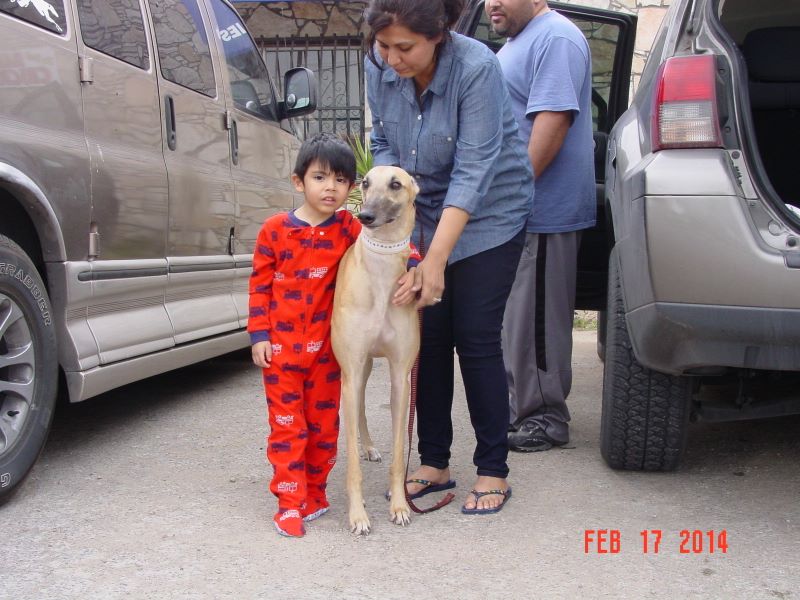 February 11, 2014,

Classic Sascha Tobias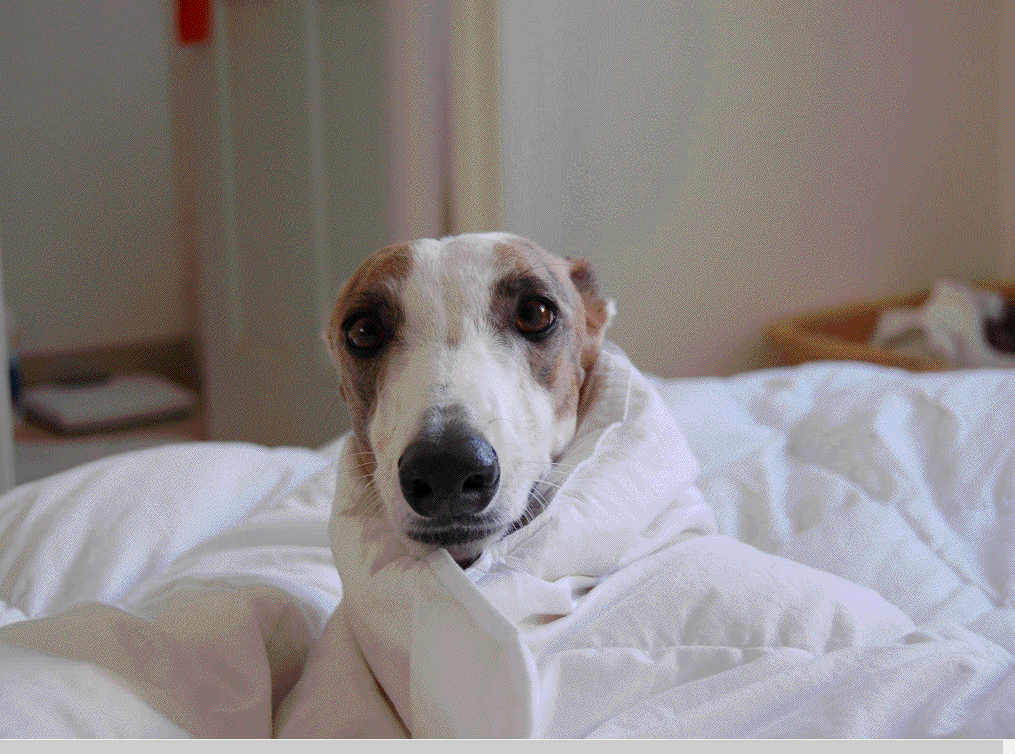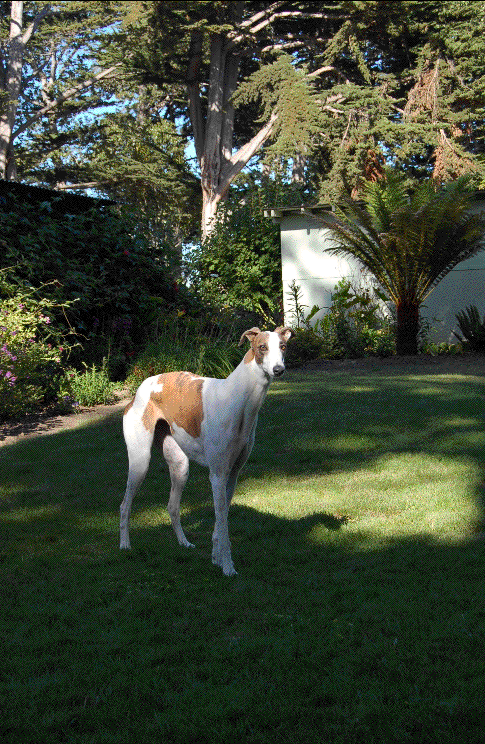 Sascha was adopted (pictures way down on the page) Here she is doing what adopted Greyhounds do best - bedwarmers.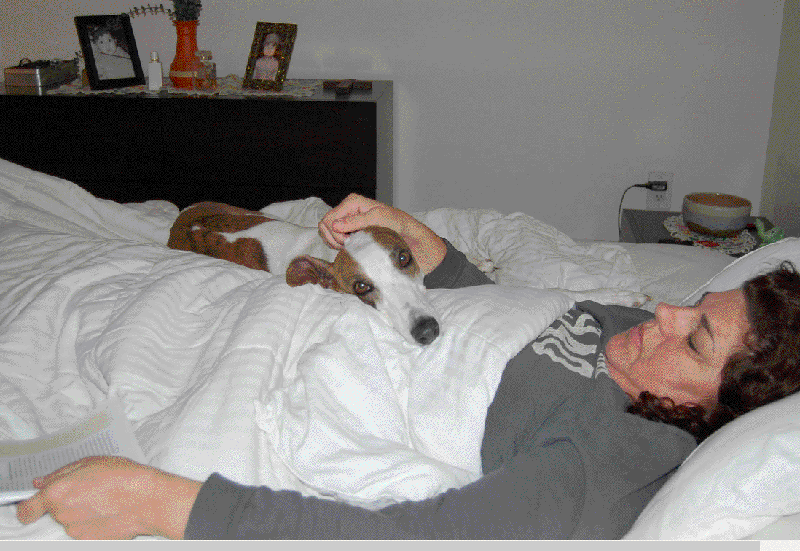 Enjoying bedtime after mom gets up.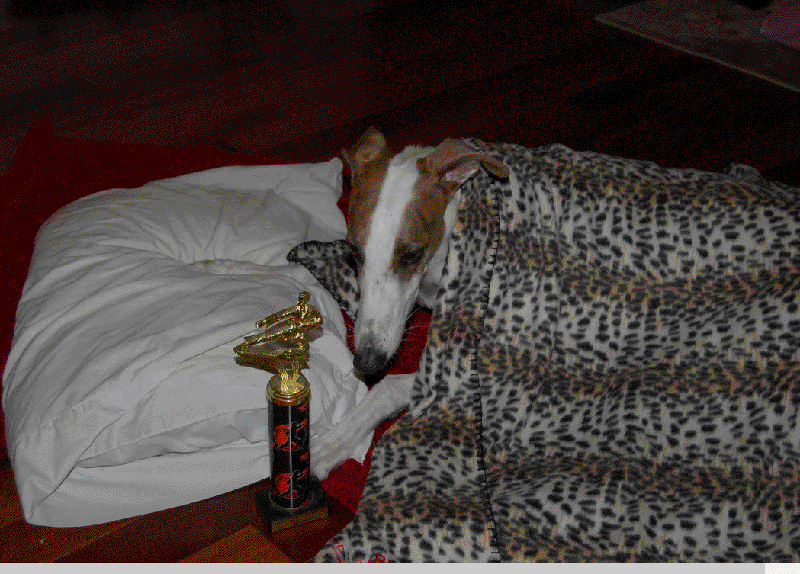 February 10, 2014 Lola is a couch warmer!


February 9, 2014 - Willow and Foxie Hanzelka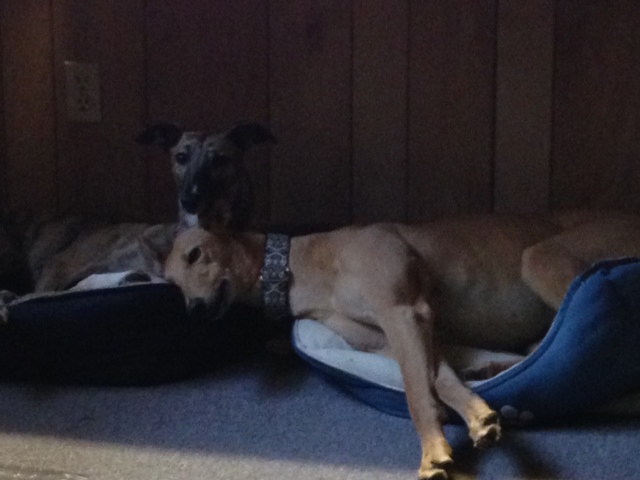 February 3, 2014
Sherry, It will be 2 years in April since she became a member of our family.
Kitty is doing well. She is a spoiled love greyhound. Take care, Rosemary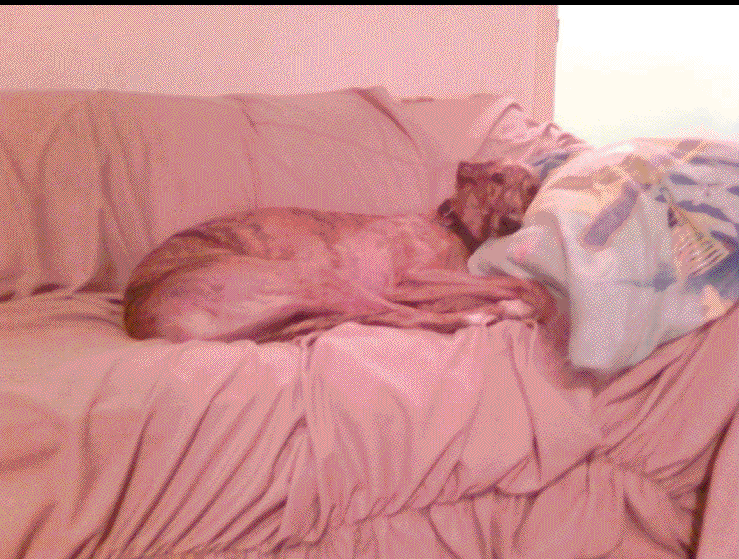 Happy in his new home!

He is warming up to us. I think he's comfortable because he's started laying around the house instead of in his kennel.
Just a couple photos I have now. We got him a sweatshirt for the cold walks. He won't get up on the couch by himself but once he's up there he will lounge. I've been laying him on the beanbag chair to get his sweatshirt on and off. Last night I caught him laying on it on his own.
We are working on the stairs with him, but he hasn't been interested. We have seen a lot more of his personality in the last few days. I'll keep you updated and send better pics later.
Thanks!
Andy & Lara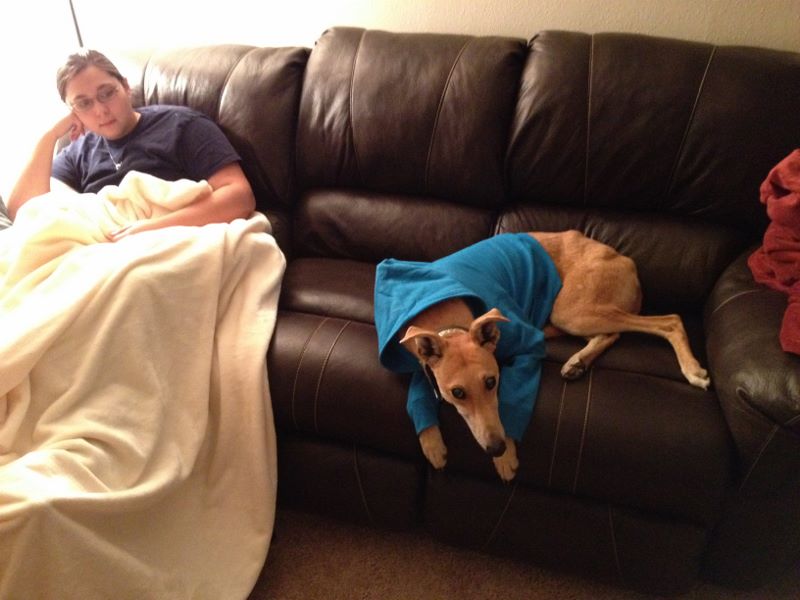 January 13, 2013 Lady Love is adopted. She's going to jog and enter events with her new mom, Katie.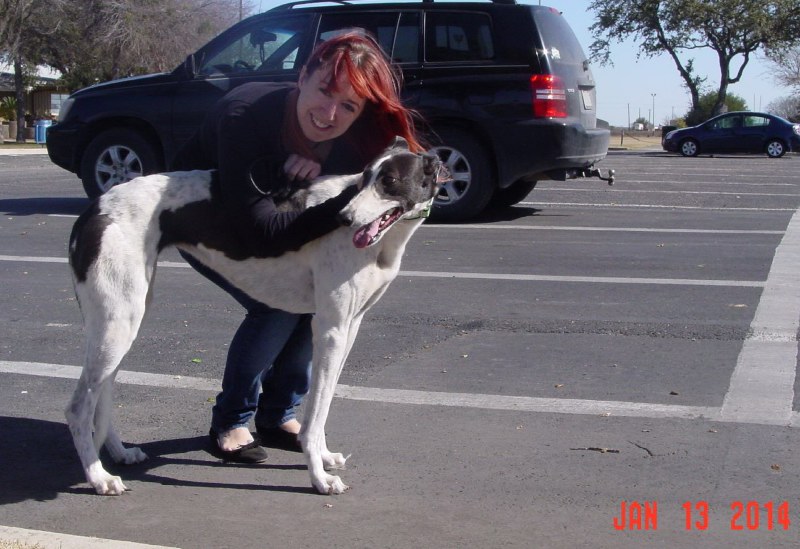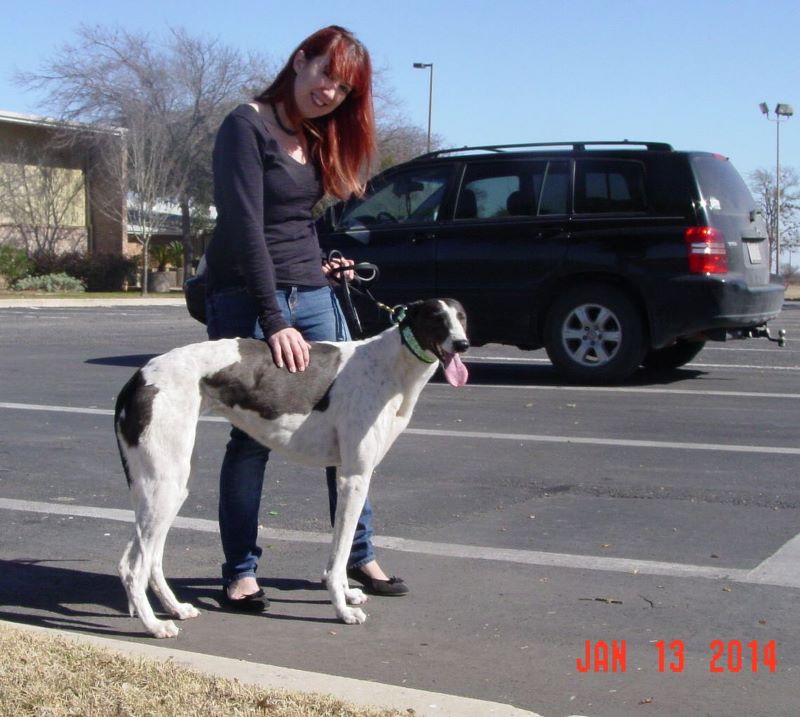 Here she was at Bexata before leaving with Katie.

Love is a beautiful white/black girl who will be three September 20, 2013.
She loves lure coursing, too. At the rest stop coming to Bexata.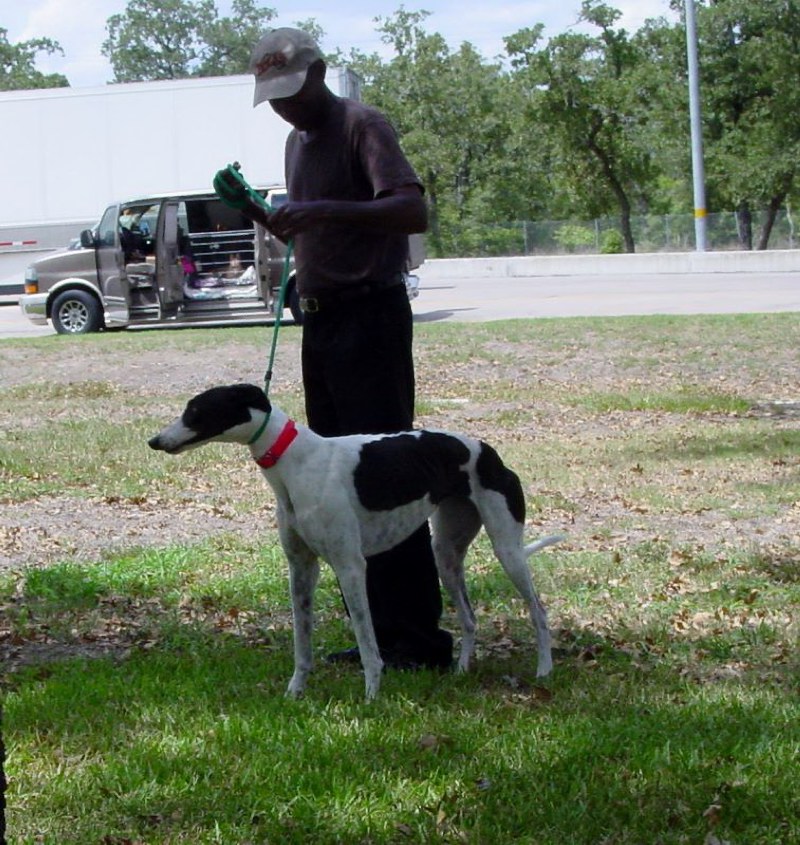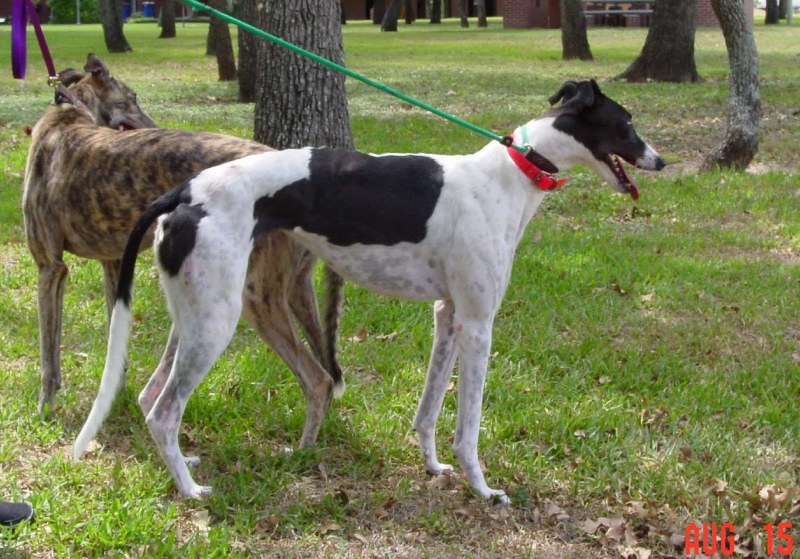 Beauty Lady Love is a great lure coursing Greyhound and a very sweet girl.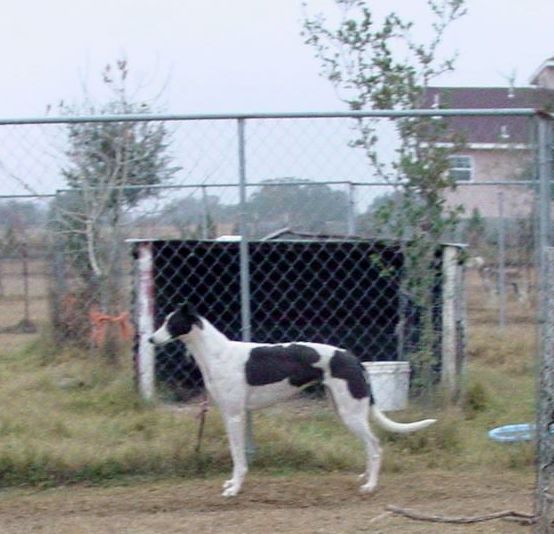 August 16, 2013 at Bexata
Enjoying the baby pool
Splish Splash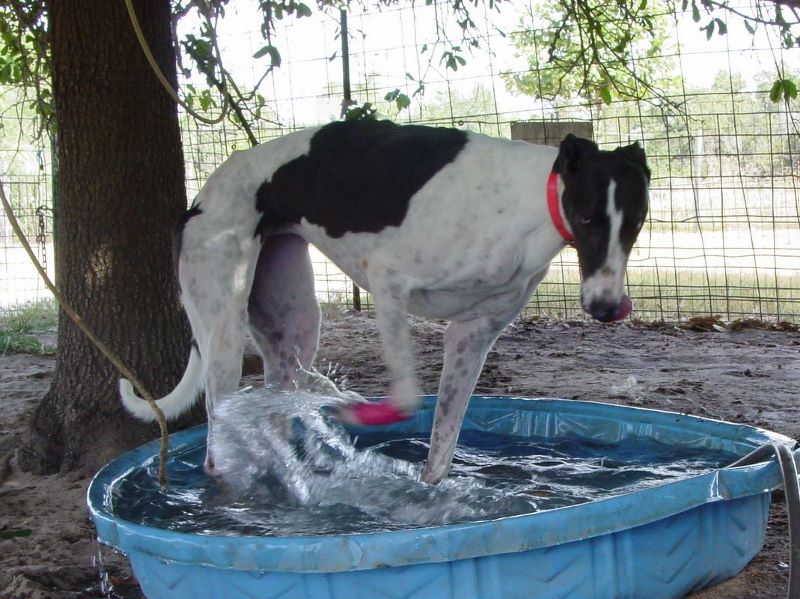 Are there birds up there?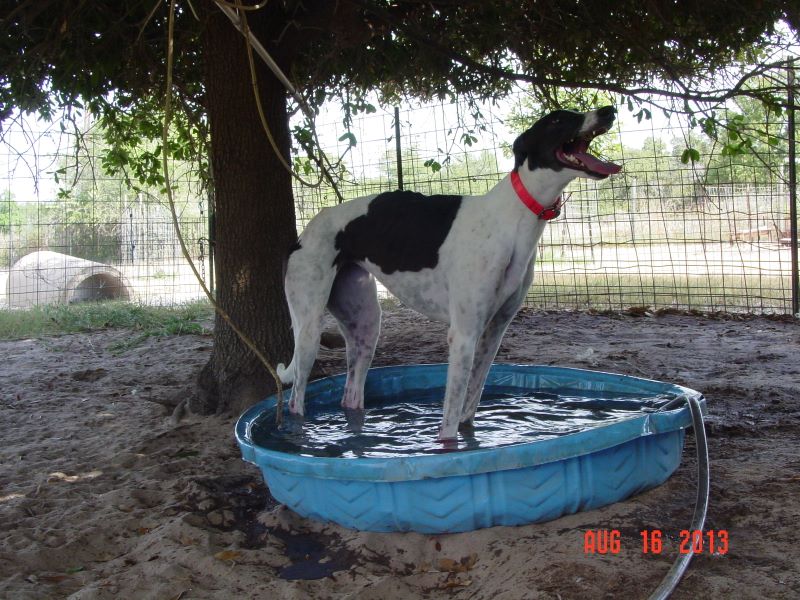 Bandit
Very handsome boy.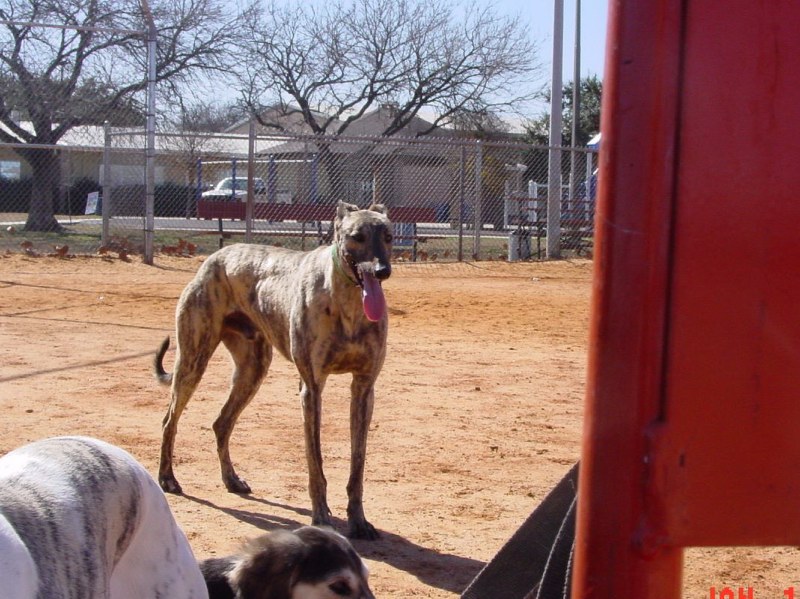 Happy went to lure coursing practice today January 6, 2014, and met his new family Andrew and Lara

Hopefully they will be one big happy family. If it's up to Happy, they willl be.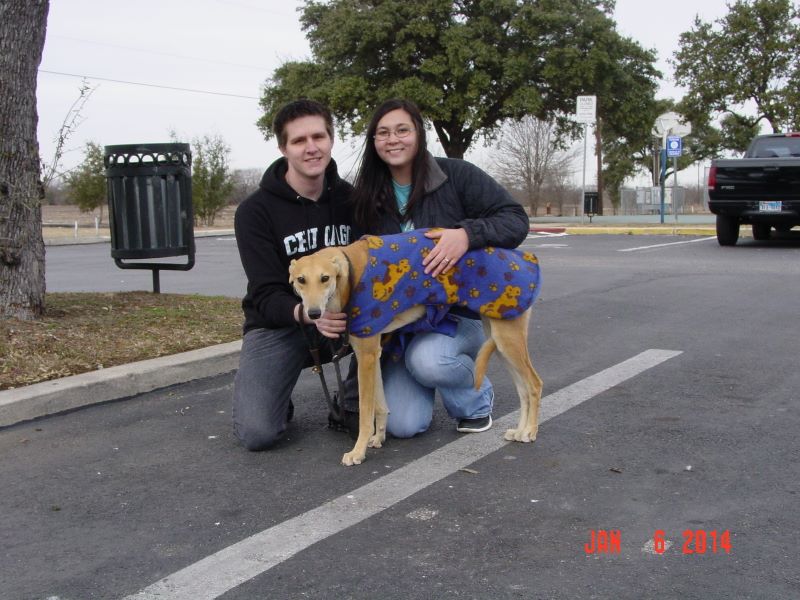 Happy at Bexata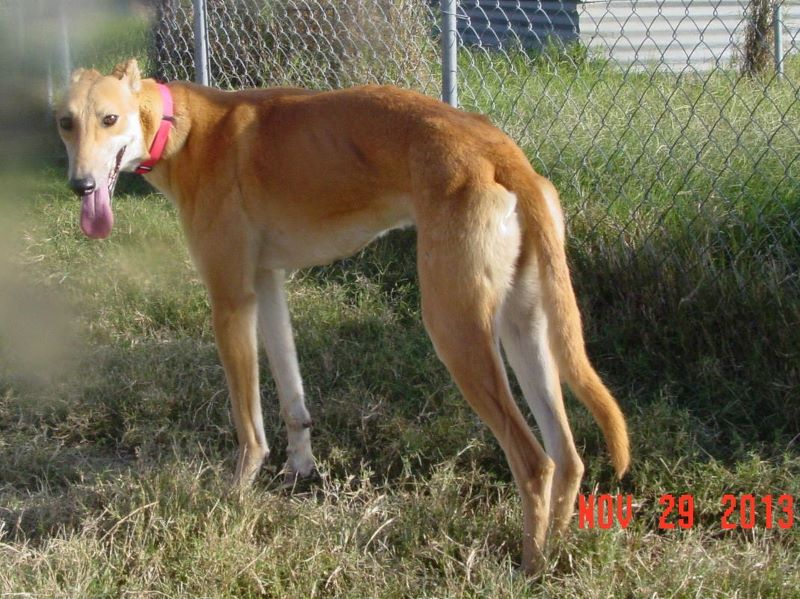 Happy's in the blue coat.at the practice field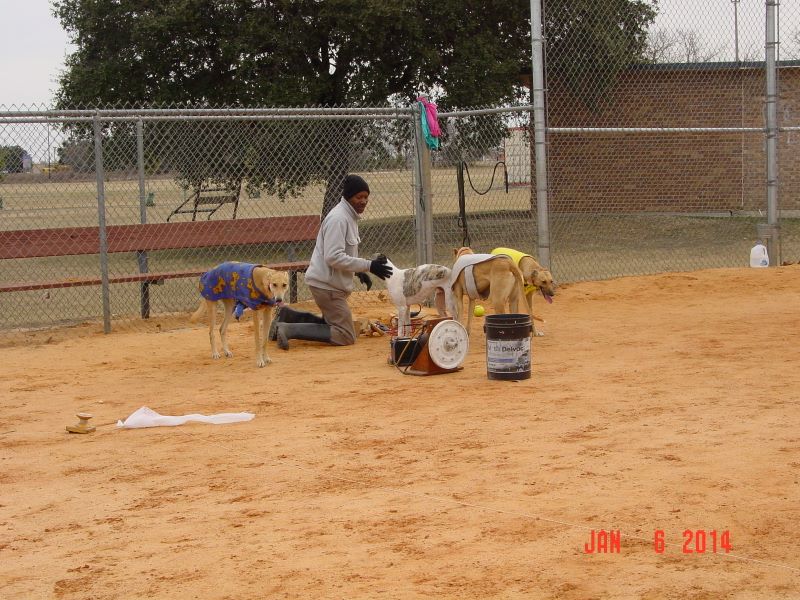 Angel's "Bori" in Mexico with his house mates. January 3, 2014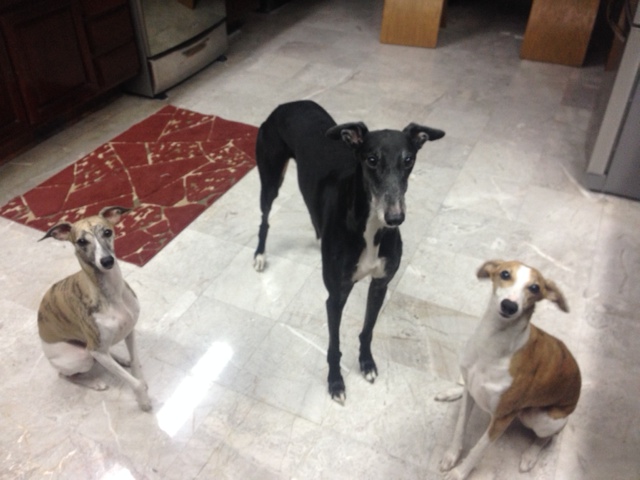 Bori at Christmas


Kato a year later - December 29, 2013
Hi, Sherry!
Happy Holidays! We can't believe it's been a year since we came and got Kato (Buddy)! He now has a little brother, a one year-old Siberian Husky. He's pure white. They are constantly playing with each other.
I've attached some pictures. One is Kato and his newest brother, Atlas, hanging out in the living room. Another is Kato in his typical legs-in-the-air relaxed position. The third is Kato, Atlas and their "little" big brother getting a little training from our youngest daughter, Michaela.
We hope all is well with you.
Regards,
Charles and Nancyl – and family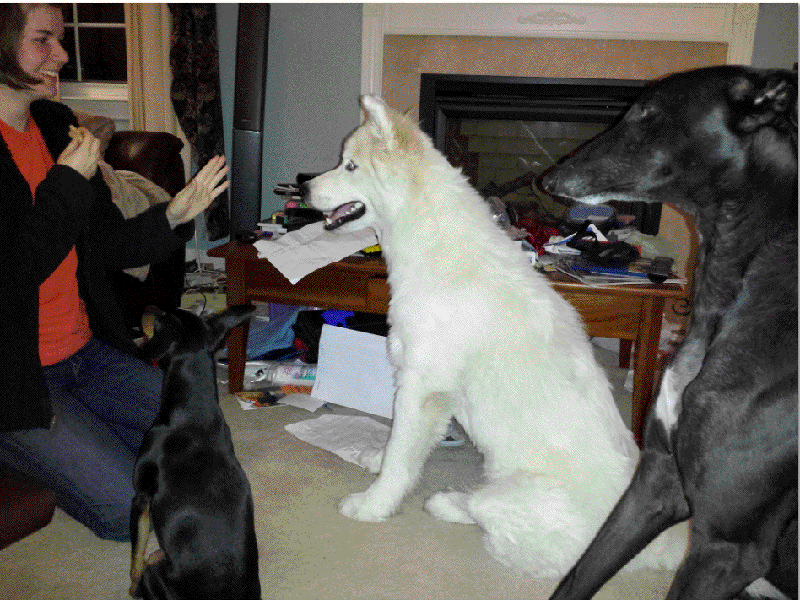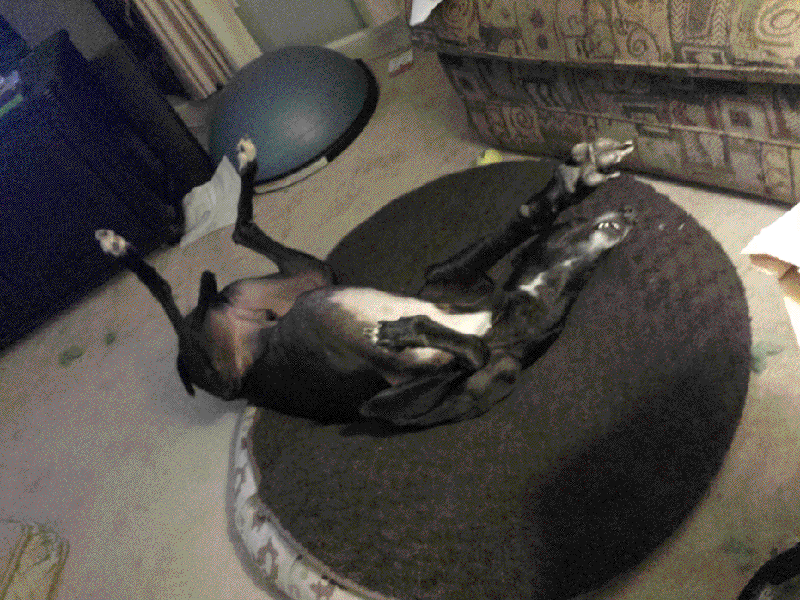 Lola and Lexi's first Christmas with the Parrigin family.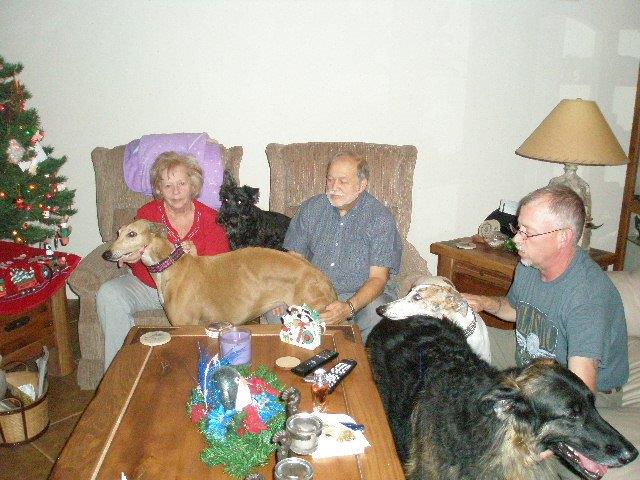 Merry Christmas - Lola watching tv on the couch on Dad and Nelphew in Arizona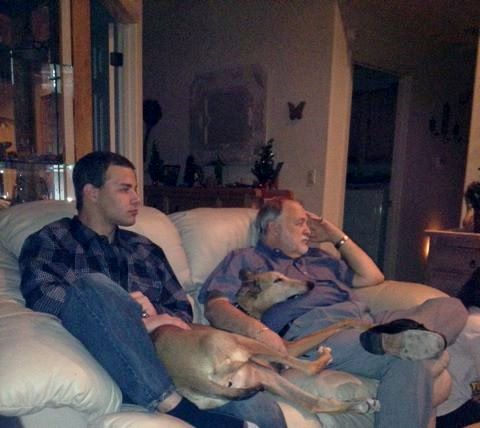 Merry Christmas from Lexi in El Paso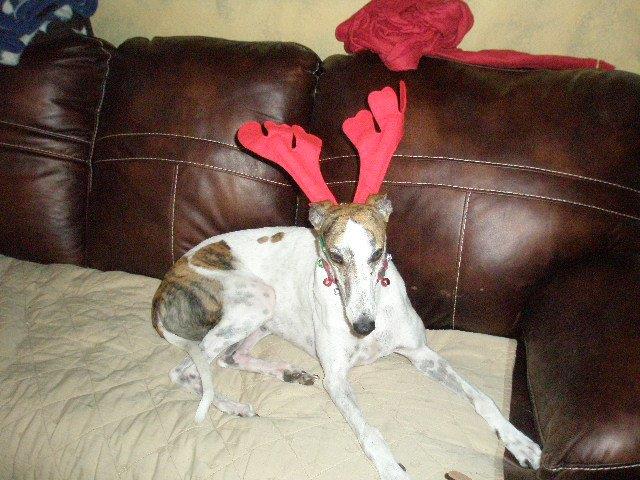 Lola and Lexi on Dad's bed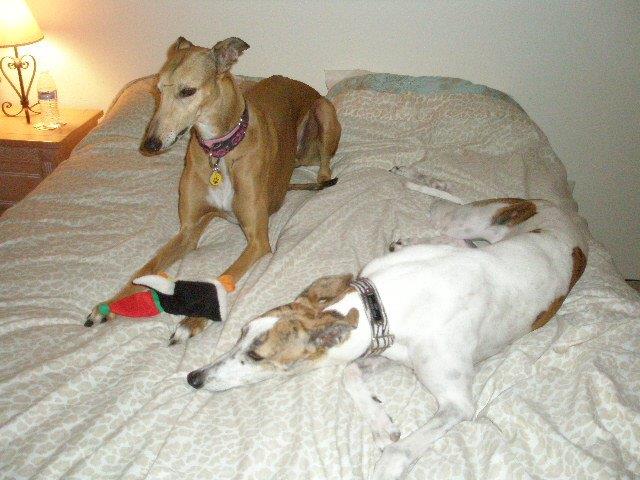 This is the perfect life for a retired Greyhound.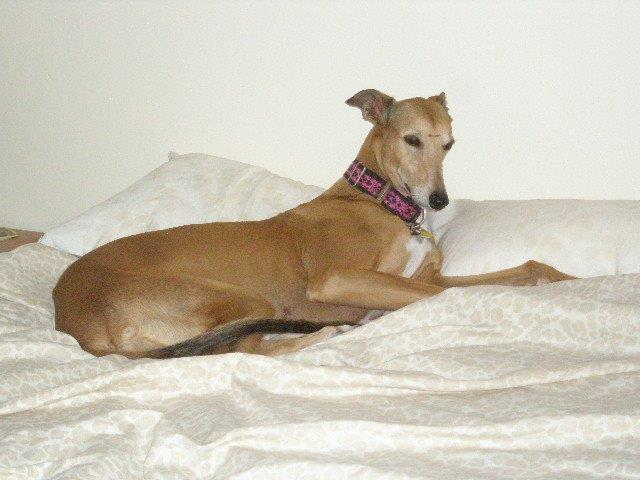 and a rescue Greyhound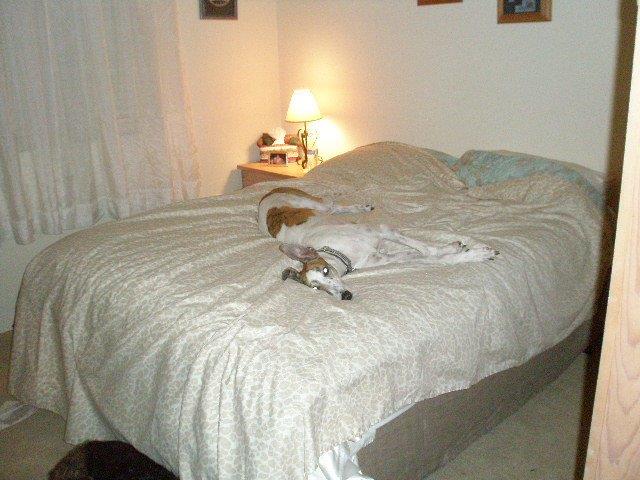 Dancy Jones and friends - Merry Christmas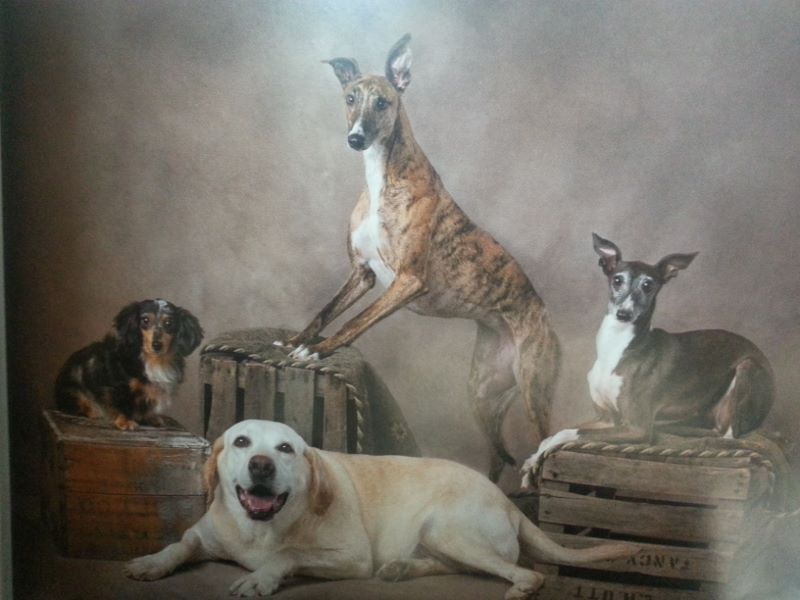 December 19, 2013 early Christmas pictures from the Ramirez family and their Greyhound, Francis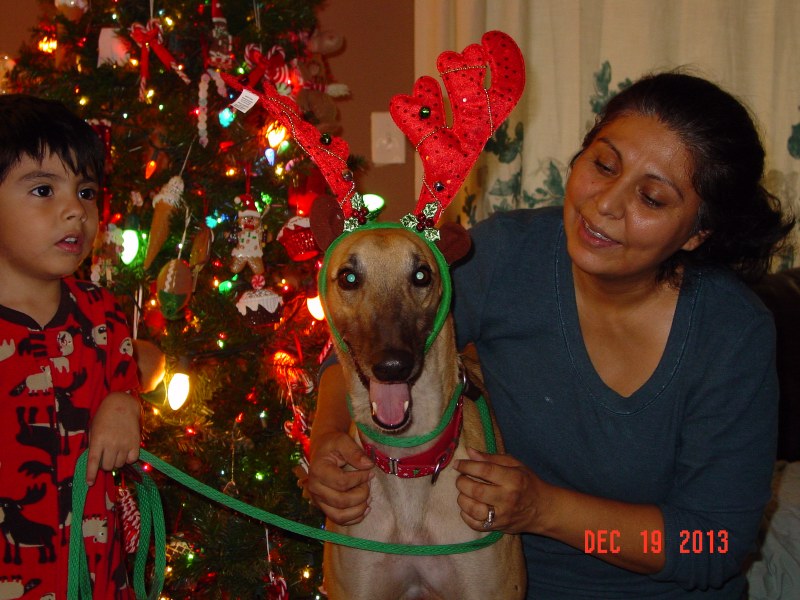 November 23, 2013 Lola with her new mom and dad in her new home in Arizona. They loved their son's adopted Greyhound Lexi so much, that their son adopted Lola for them. What a lovely anniversary present and a Happy Thanksgiving for all. She sleeps on the bed with them , hangs out in her new dad's office and gives happy good morning greetings to all. She also sleeps with mom until mom gets up while dad makes breakfast!!!! What a life! .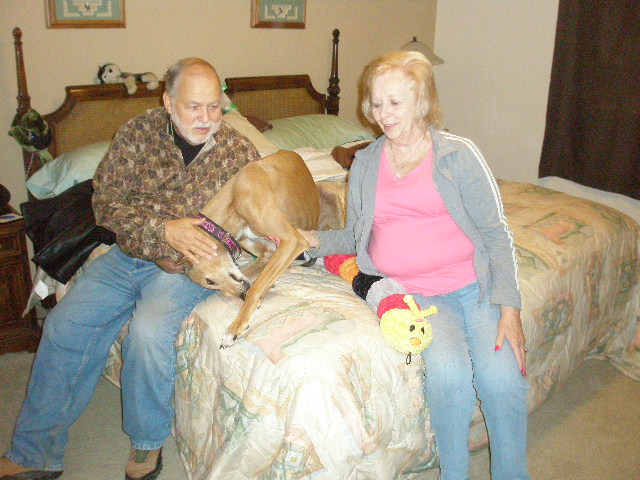 Lola was a gift from their son for their 50th wedding anniversary. She has taken over!


November 16, 2013 right at home with Lexi (Beata adopted GH) and Jasmine, Lola has made herself right at home.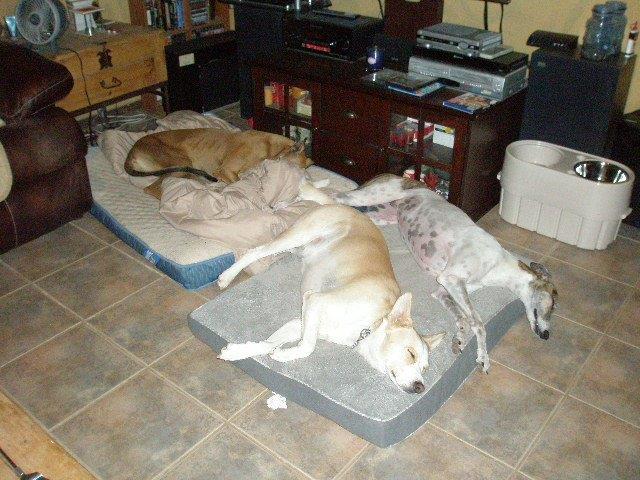 Greyhound girls never forget each other. Lola and Lexi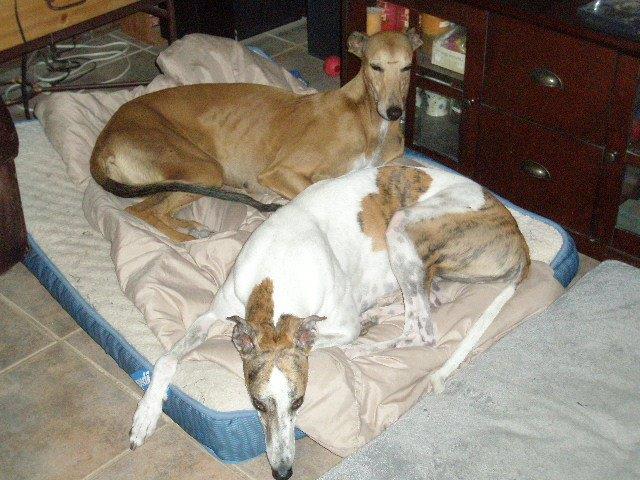 When the other kids go out to play, Lola stays in bed. She has to get accustomed to their schedule.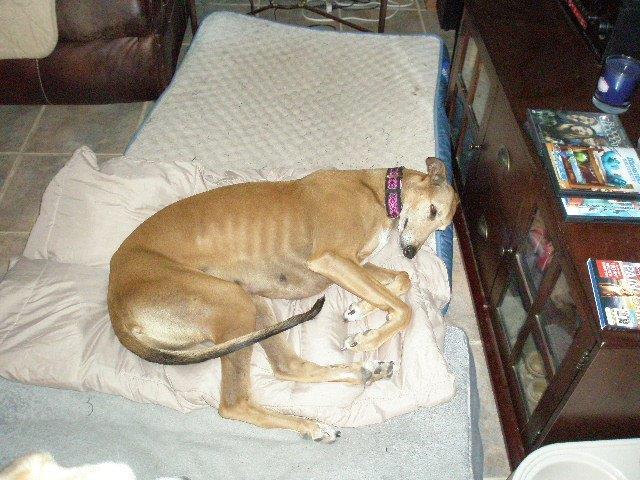 November 18, 2013 Sweetie was a best in field lure courser in Texas and now hunts hares in Mexico. She LOVES it! She was not fast enough to make it to the race track and she was never injured, so there is a joy for her chasing the lure or a real rabbit. There is no reason a Greyhound cannot enjoy what it was bred to do just because it's "retired" from racing. On the other hand, they make great couch warmers, too!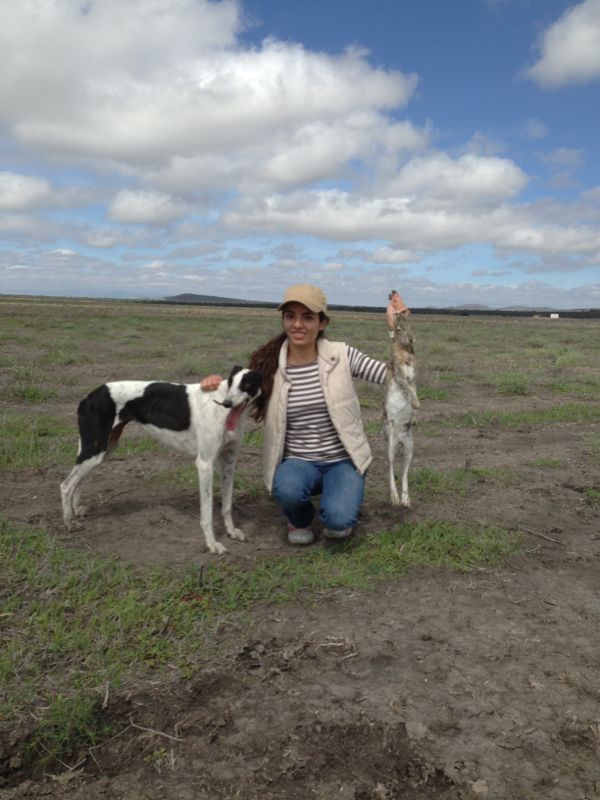 November 14, 2013 Willow has moved in and is sharing a dog bed with the family IG Bullitt.


November 9, 2013, Lola is a spayed, retired UKC and AKC champion. She is long since retired and now has her own home in AZ where she will be one on one with a retired couple, sharing the house only with a Scottie. She leaves Nov.15 and she will have the life she loves - in the house, on the couch, walks on lead with adoring adopters.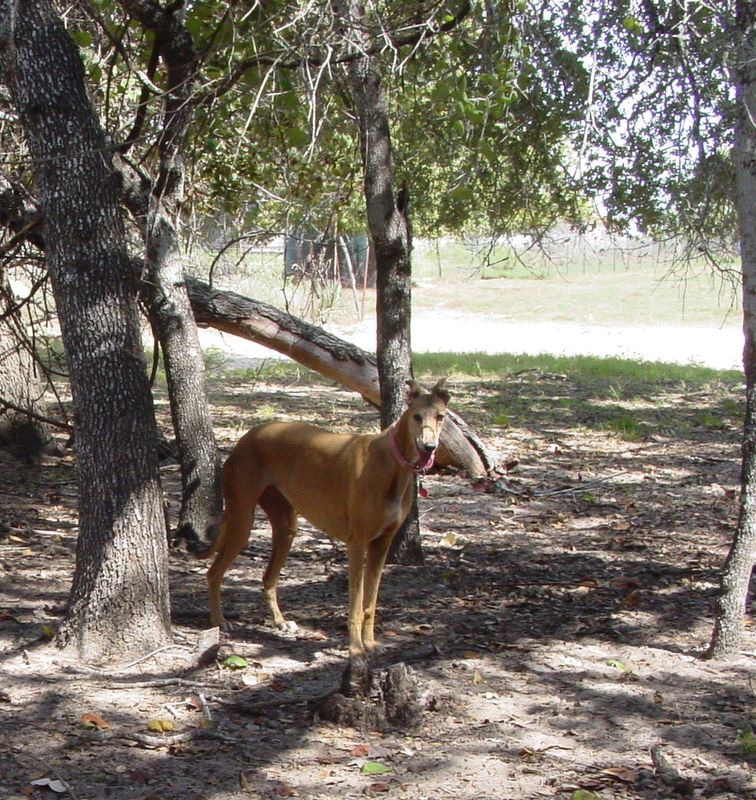 On her way to her new retirement home, she took over the wheel for a bit. <G>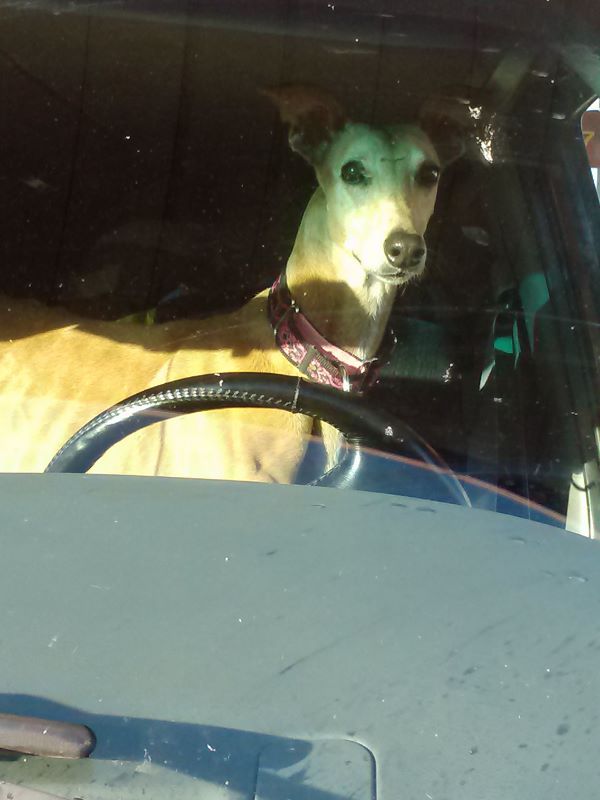 November 8, 2013 Hilo Charter (formerly Henry) is pictured with his favorite toy.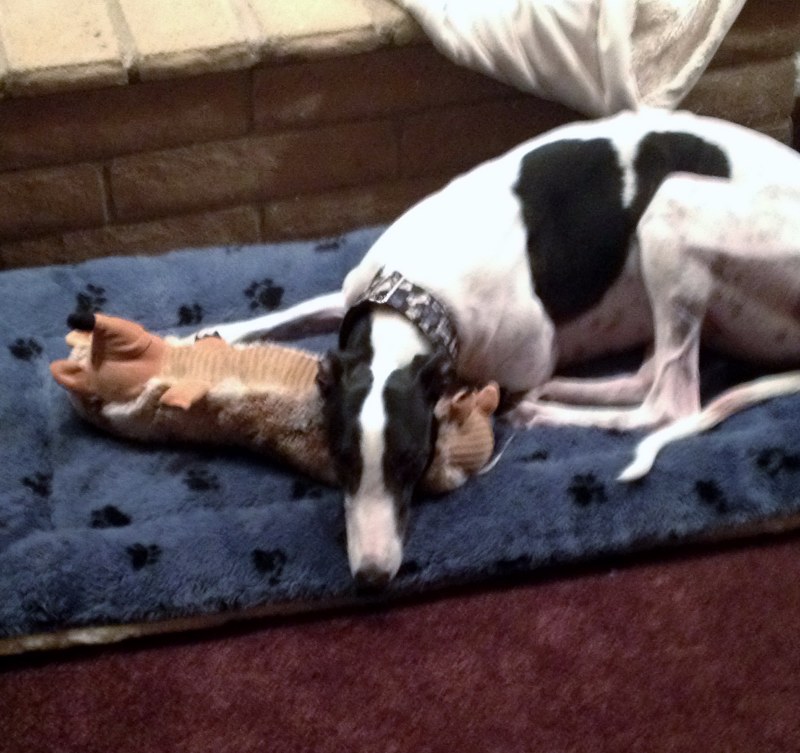 November 3, 2013 Nate and Foxie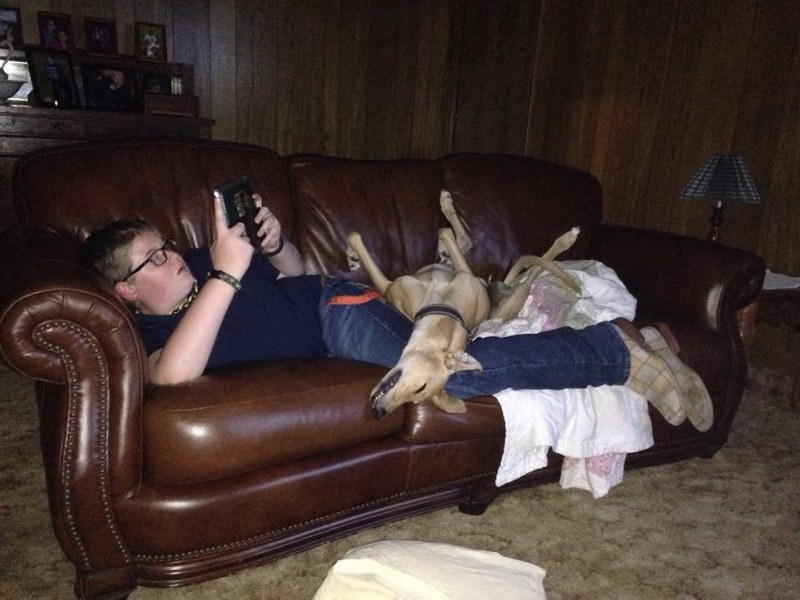 November 2, 2013 the Hanzelka family came out to meet Sissy, aka Willow and she's at home with them now. Here she is when she was available for adoption at Bexata with her buddy Happy who is still available for adoption. Pictures at her new home will be uploaded.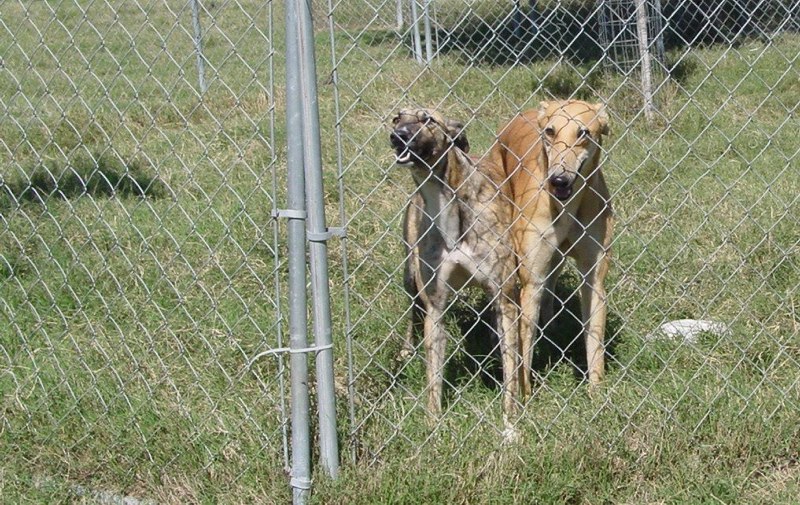 October 26, 2013 . Velvet found Rubys bed (dachshund) It is a cat sized bed. Gotta love the Greyhound rescues.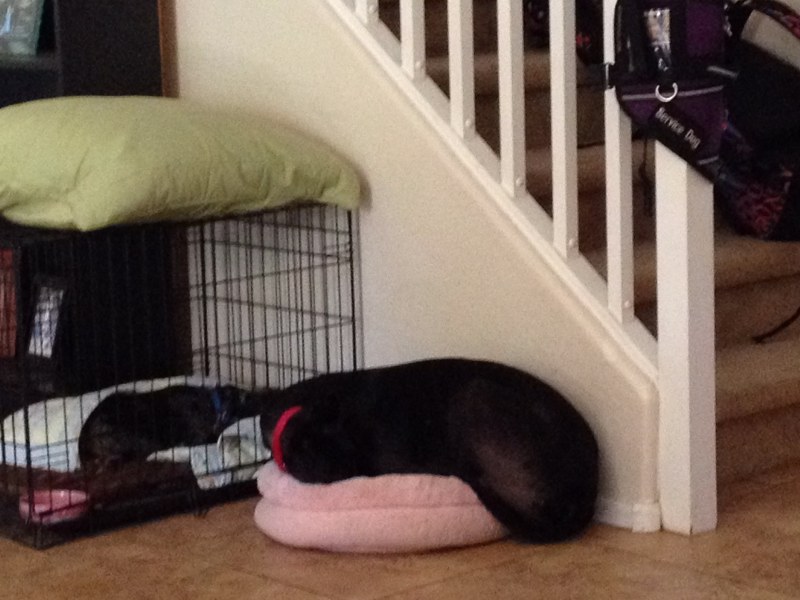 October 4, 2013
Hello,
It's been awhile since we gave you an update, so I just wanted to send you a note and say that Nemi is doing great! She is so super sweet and has made a lot of friends in our house, between the kids and the cats and our IG Tabouli. I'm attaching a few pictures of her. One grinning on the couch, and two with Tabouli.
Mary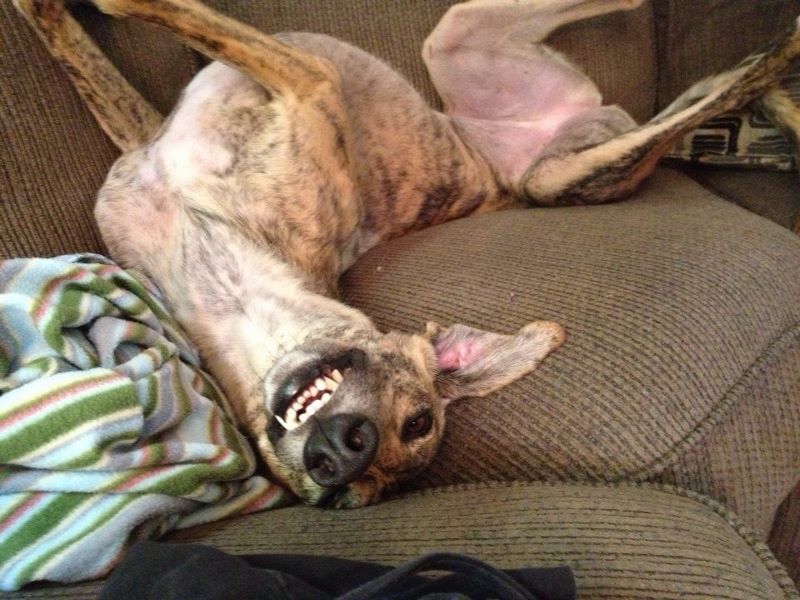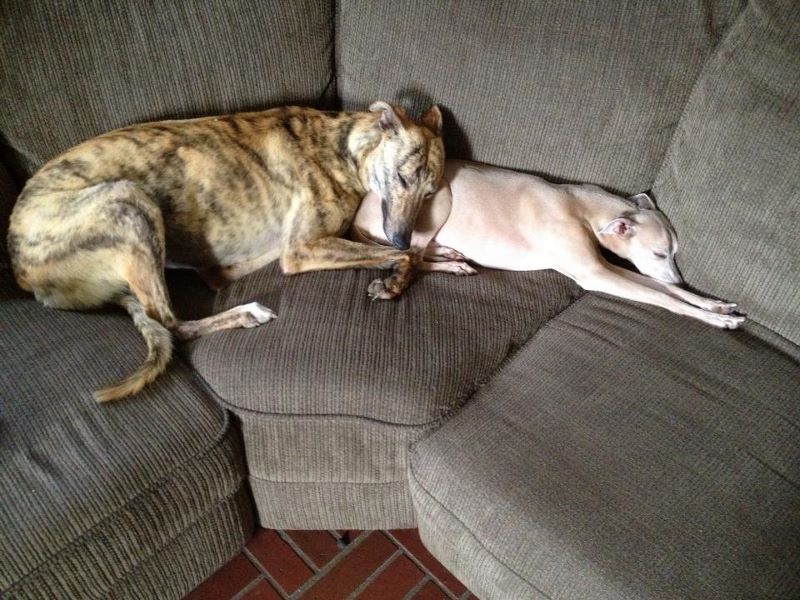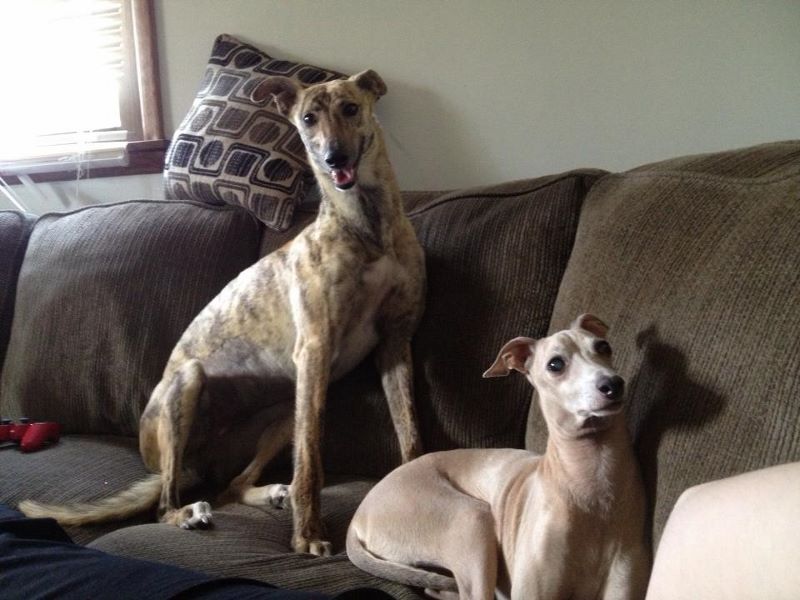 Penny was adopted back in July and is picured with her best girlfriend, Rachel, September 22, 2013 - a match made in heaven, Penny goes walking with April and jogging with Rachel. She has a wonderful life.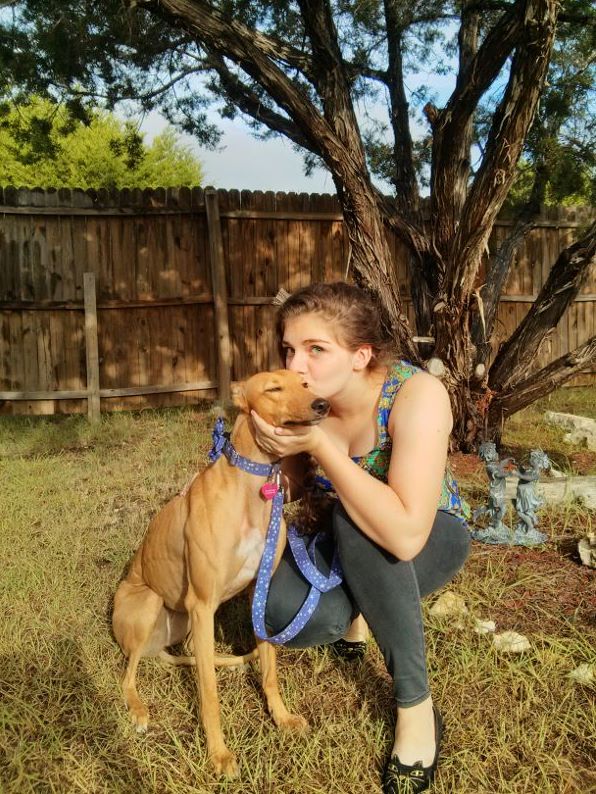 Even came to Bexata in August and was adopted September 6, 2013. He really is a handsome and good natured boy. Here he is with his new dad, Kevin, and below that pictures of hm when he first came to Bexata.

September 6, 2013, Even now called Danny, went to live with Kim and Kevin. Pork Chops - on the right is still available.

Kim and Danny walk every day in that beautiful park in the heart of San Antonio.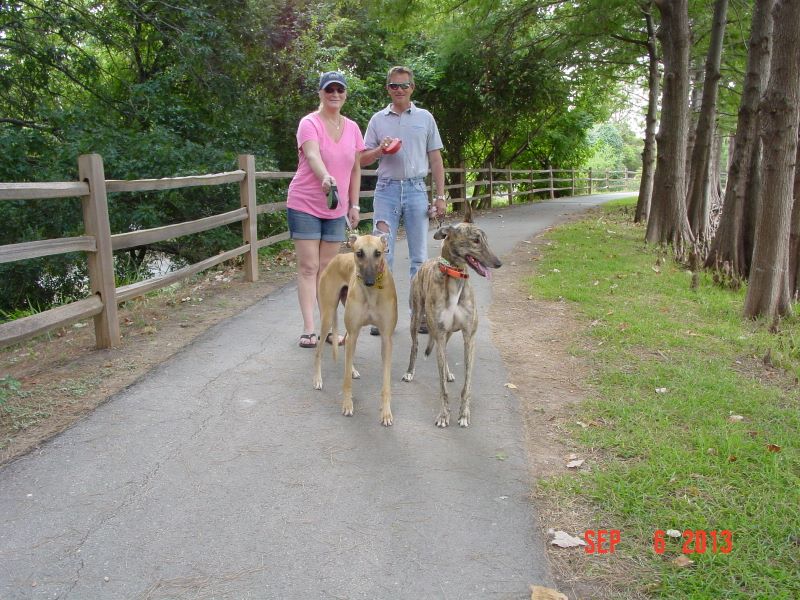 Danny and his new dad, Kevin


Danny is happily living in his new home which he shares with two cats. September 13, 2013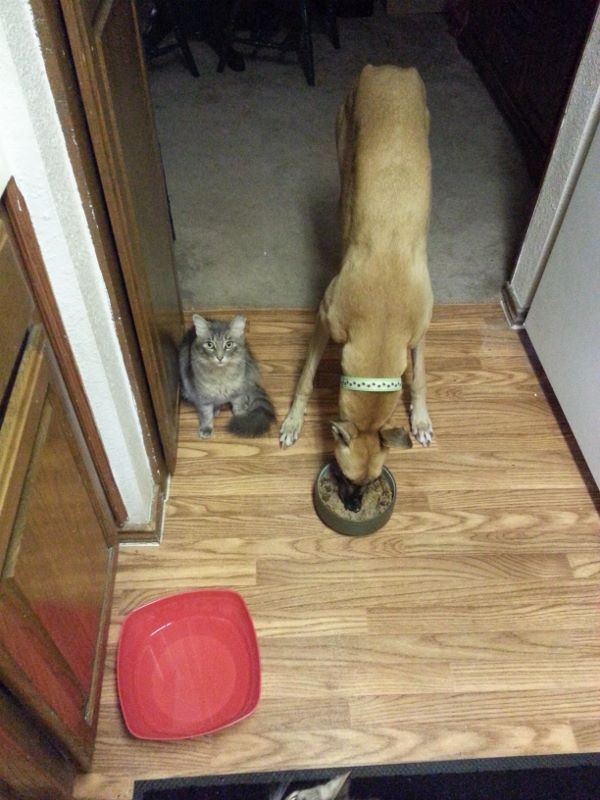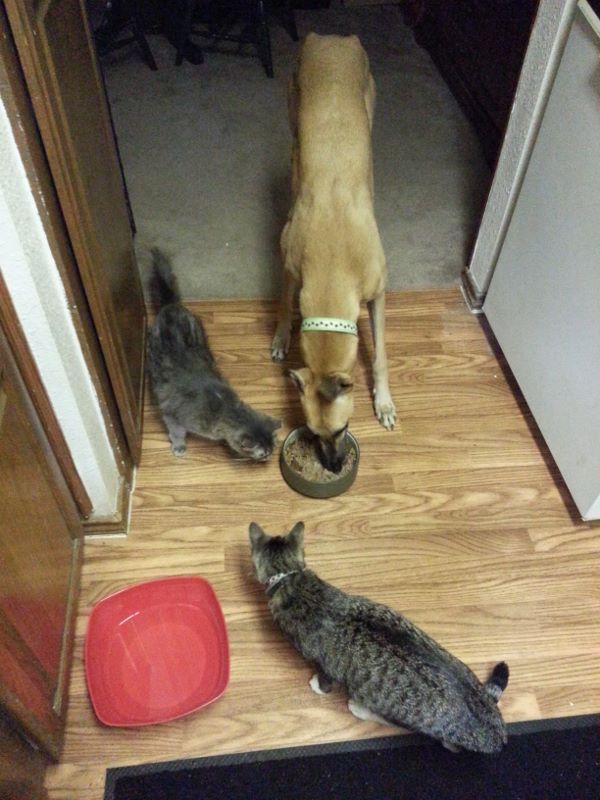 August 15, 2013
Even is now Danny! A handsome and good natured red boy born 12/25/2010 - neutered and in his new home.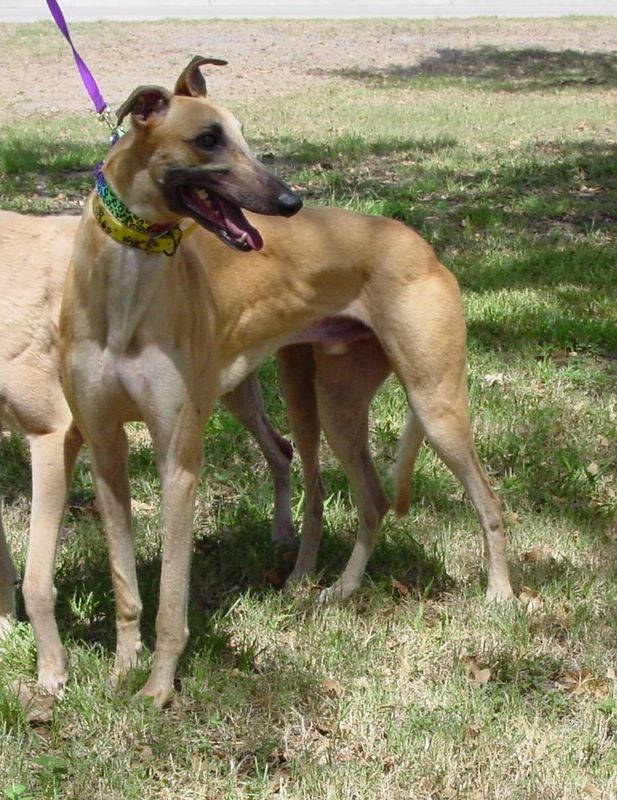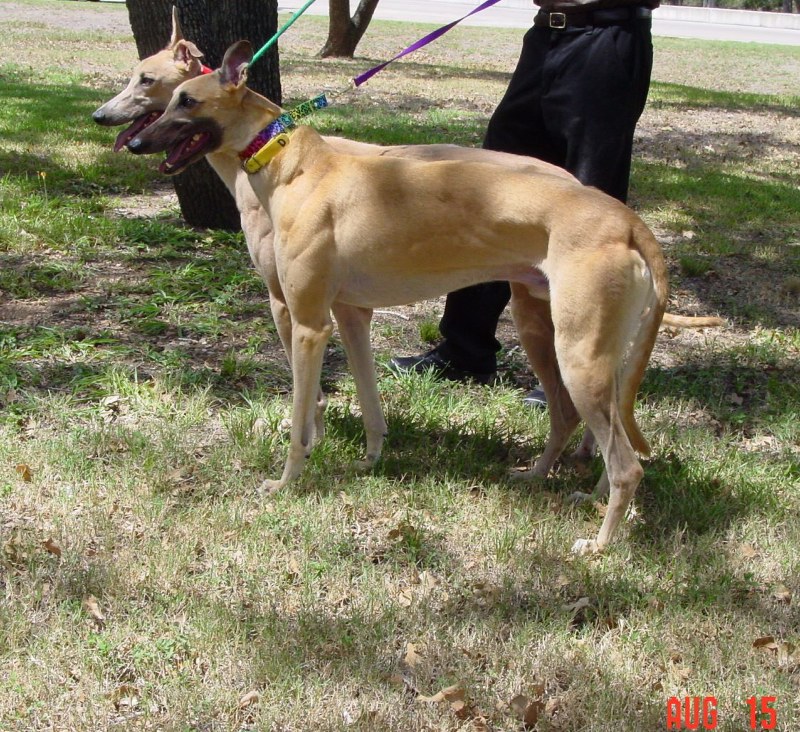 August 16, 2013 at Bexata - the big baby pool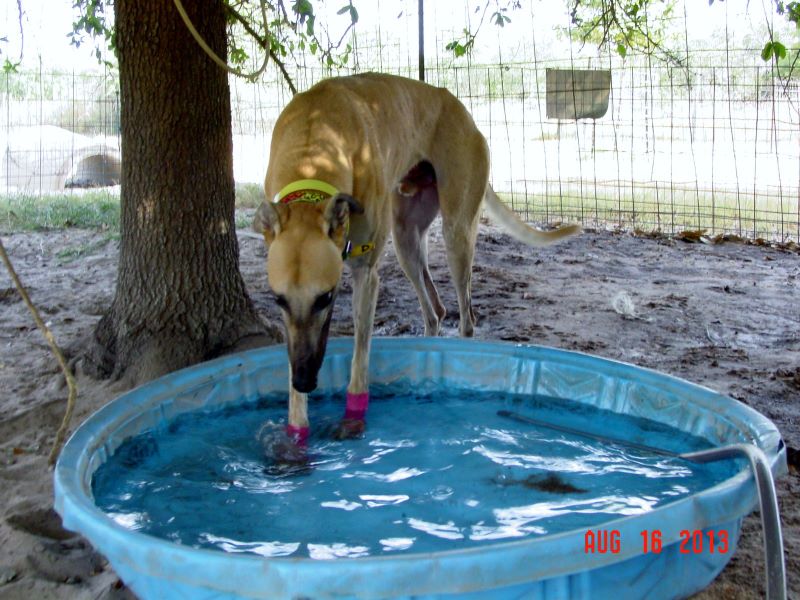 Ahhhhh, this is good!!!!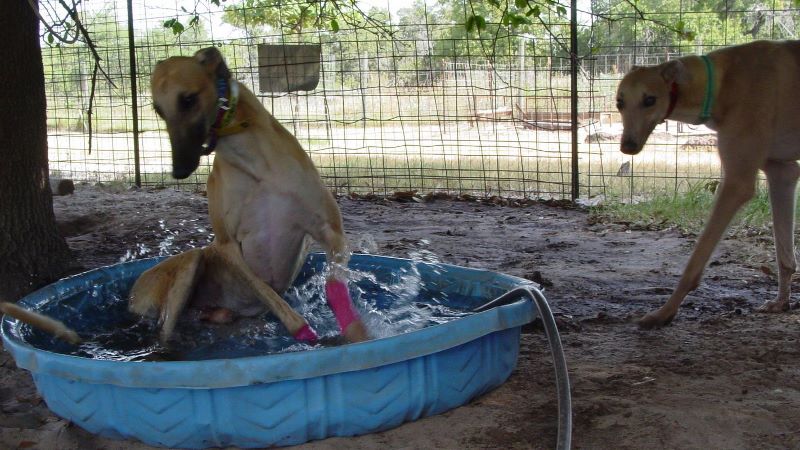 Kato is pictured 08/11/13 enjoying the surf on a family vacation.

He is pictured on the page below on 12/24/12 when he was leaving with his new family.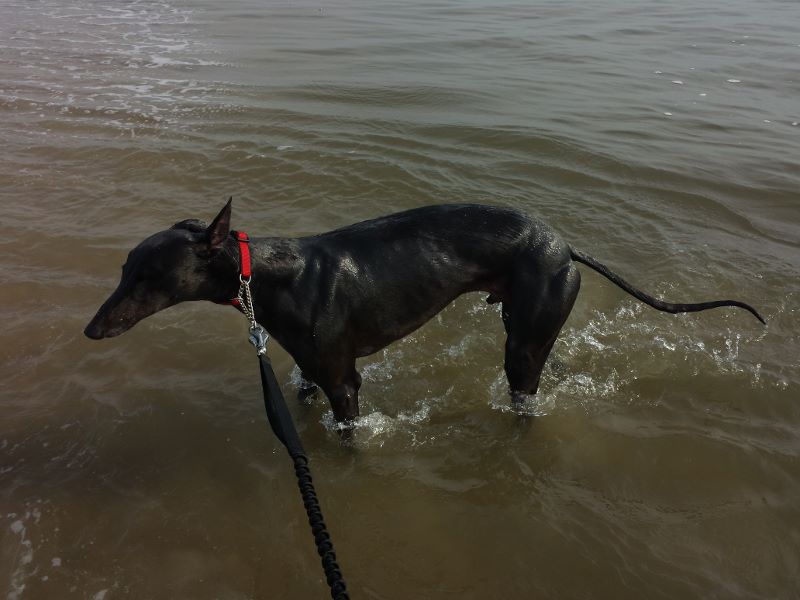 August 7, 2013 Henry, now called Hilo, and his new boy, Dmitri. It was love at first site!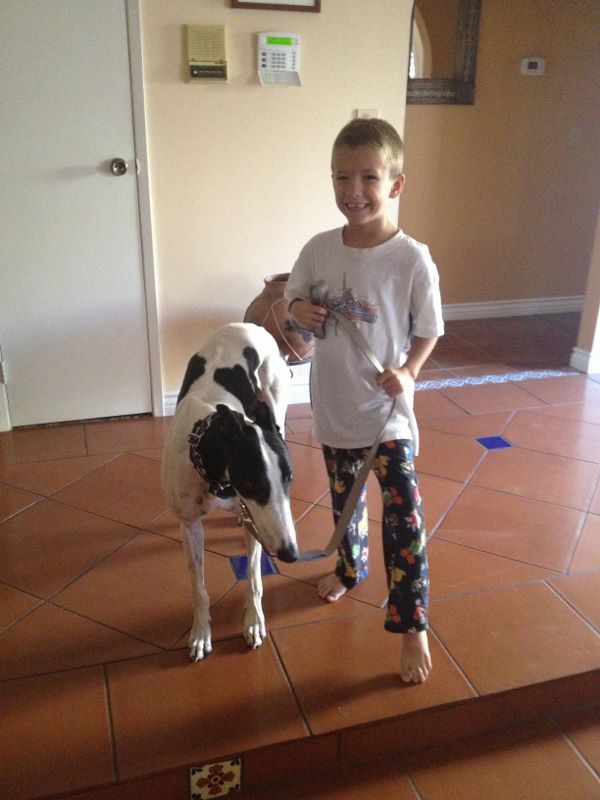 August 2, 2013 Hummer is adopted by Natalie and Tyler. Hummer likes to lean on his new mom.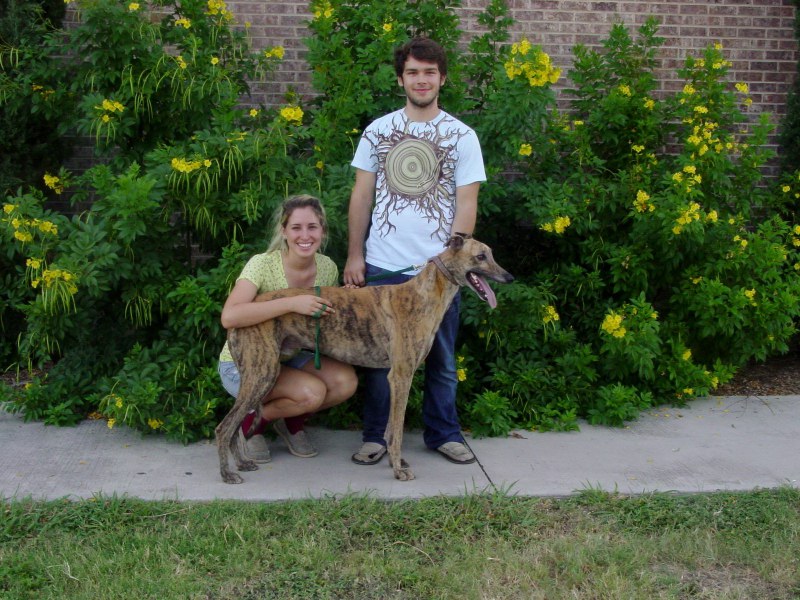 Hummer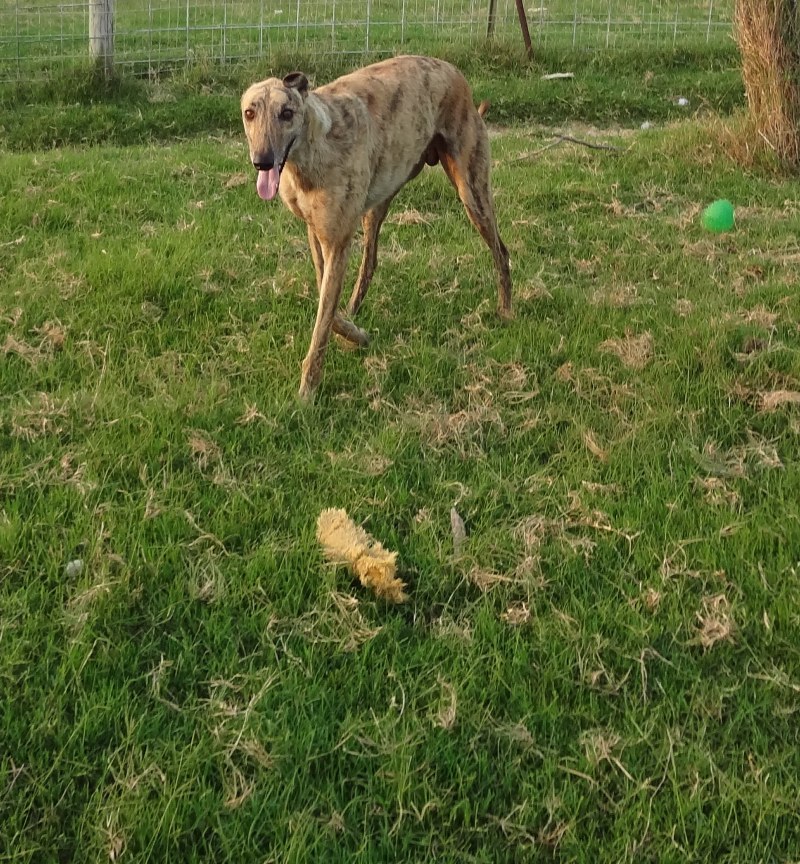 He's enjoying the pasture.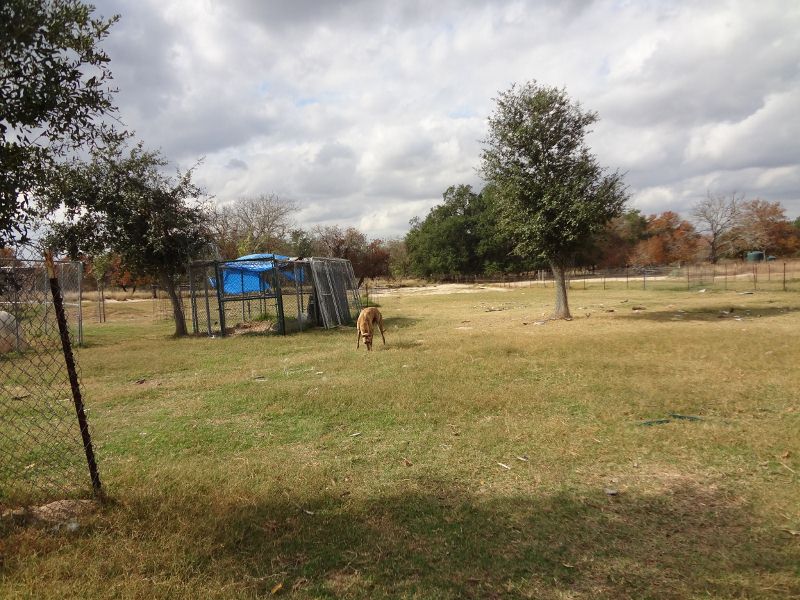 but had to stop and pose for the camera.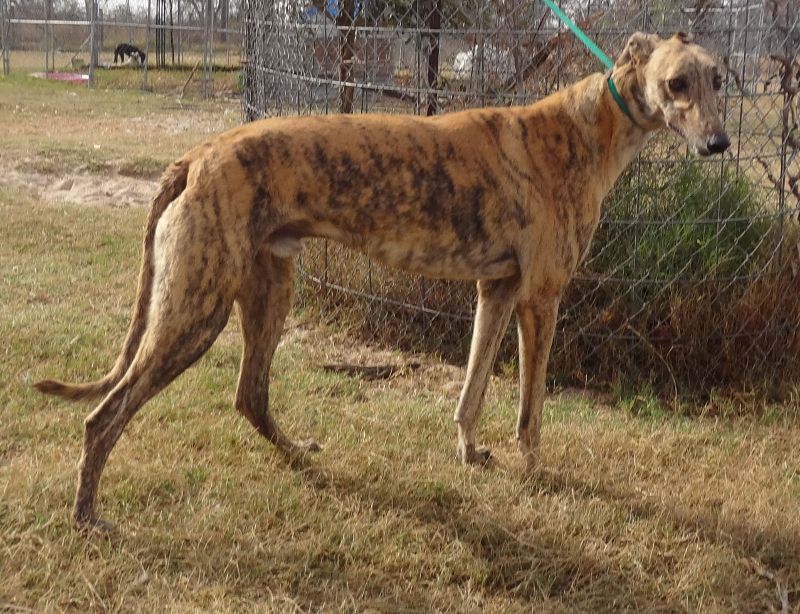 Hummer and Henry are both adopted.

July 25, 2013

Henry is adopted - He's calm and takes it easy at the park, but...
let him out on the lure coursing field and he's on fire. Photo by Dawn Curran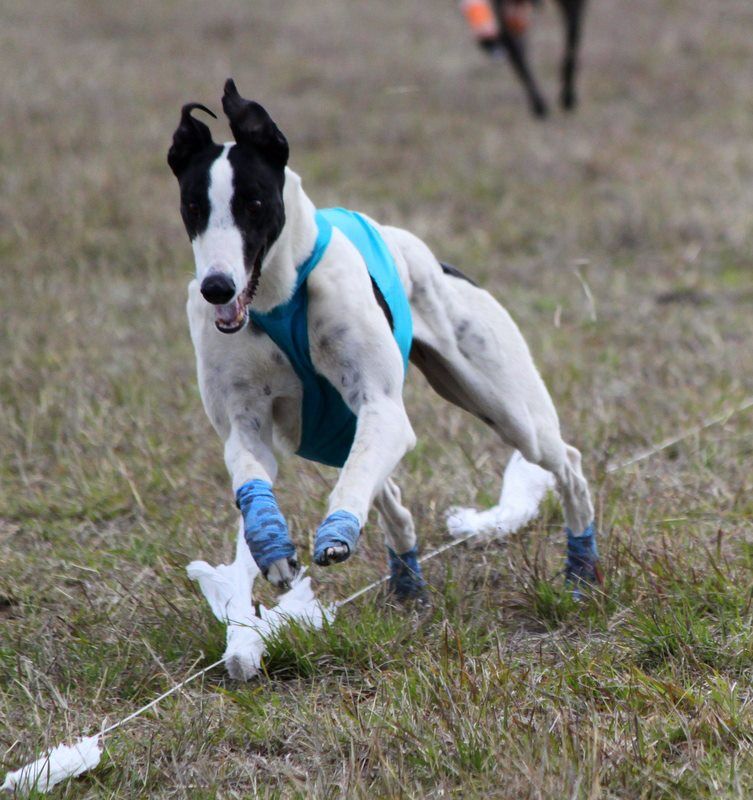 Photo by Dawn Curran - Henry is adopted by Stephanie. Blacky is now Ramses adopted by Nick and Jackie.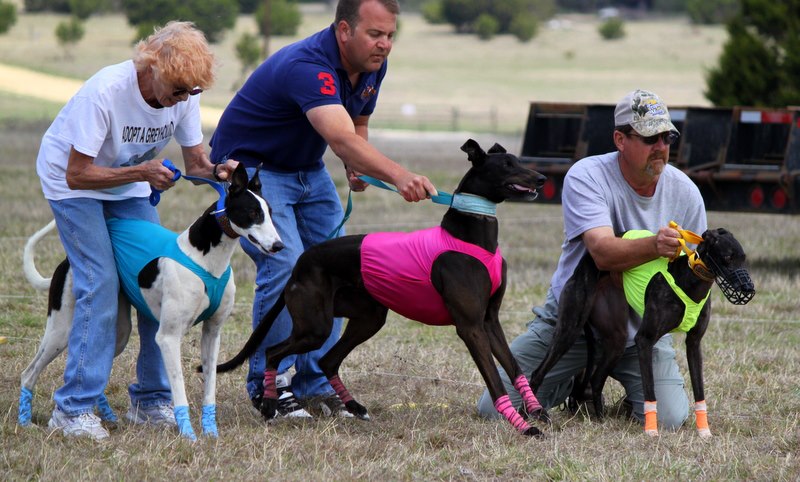 July 12, 2013, Peanut was adopted out to Rachel and April. Her new name is Penny and she loves sleeping in bed with Rachel or going places with her new moms.


Peanut is a young Greyhound girl who is easy to live with. She also loves lure coursing and would be a great jogging partner. She's not a big girl (46 pounds when spayed). Here she is on the lure coursing field.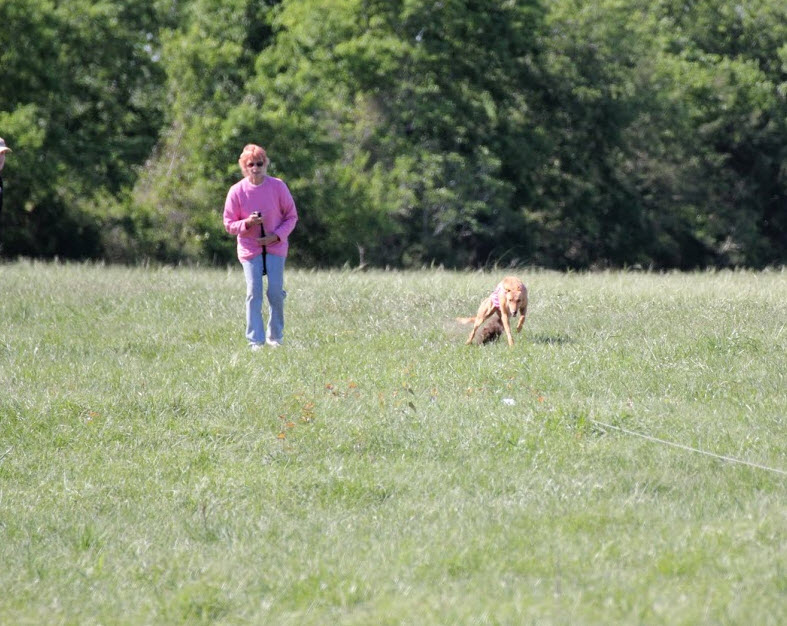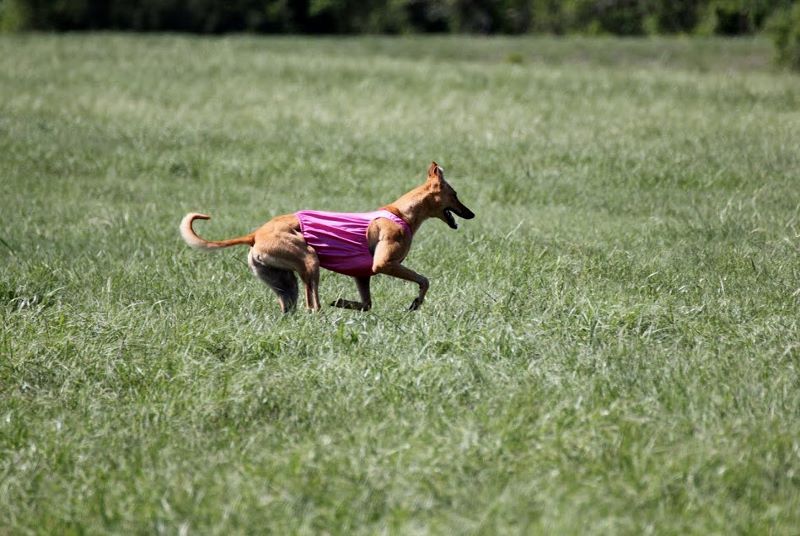 Peanut is now Penny - her lure coursing pictures are above.
Peanut (right) is very sweet and people friendly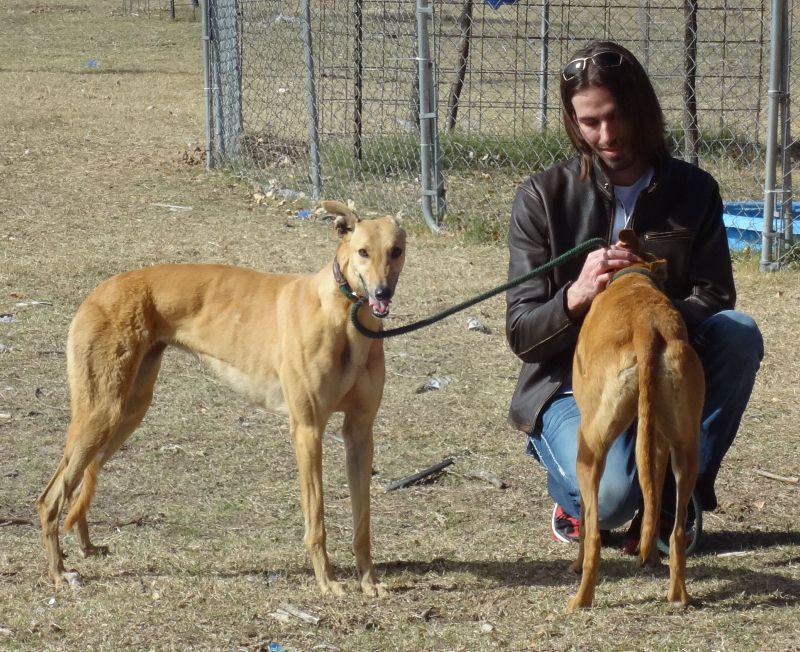 Henry (left) adopted, Sweetie (right) adopted
Henry and Sweetie - tennis ball this time.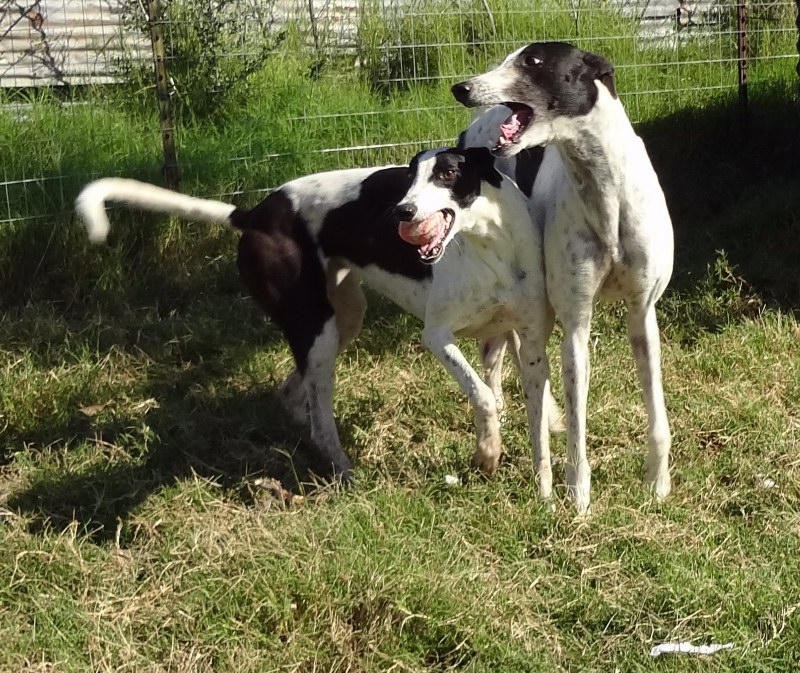 Kitty (left) is adopted. Henry is adopted.
Mariano - Born Feb. 11, 2011 has his Senior Courser title and has been adopted by a great Greyhound guy where Mariano will play with another Greyhound and go for walks with his new Dad.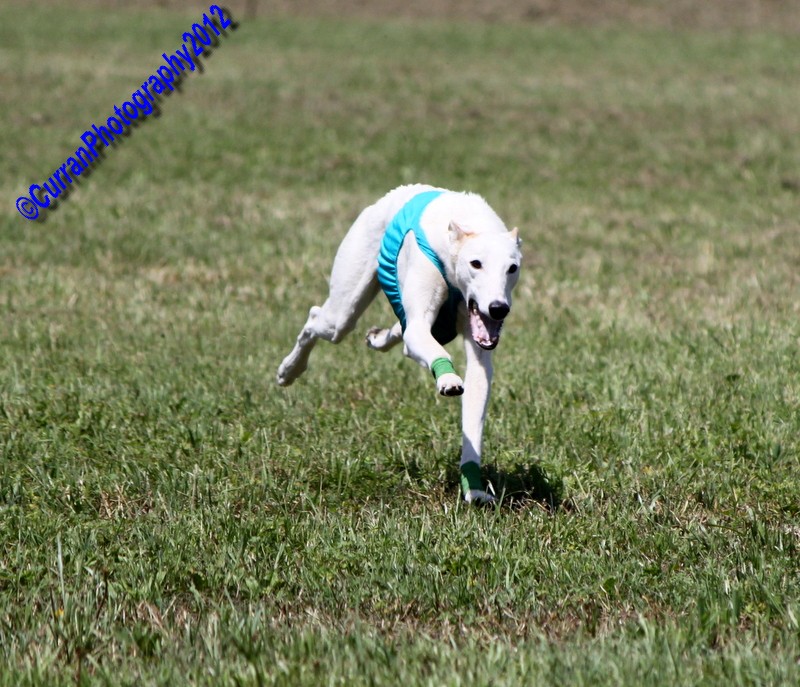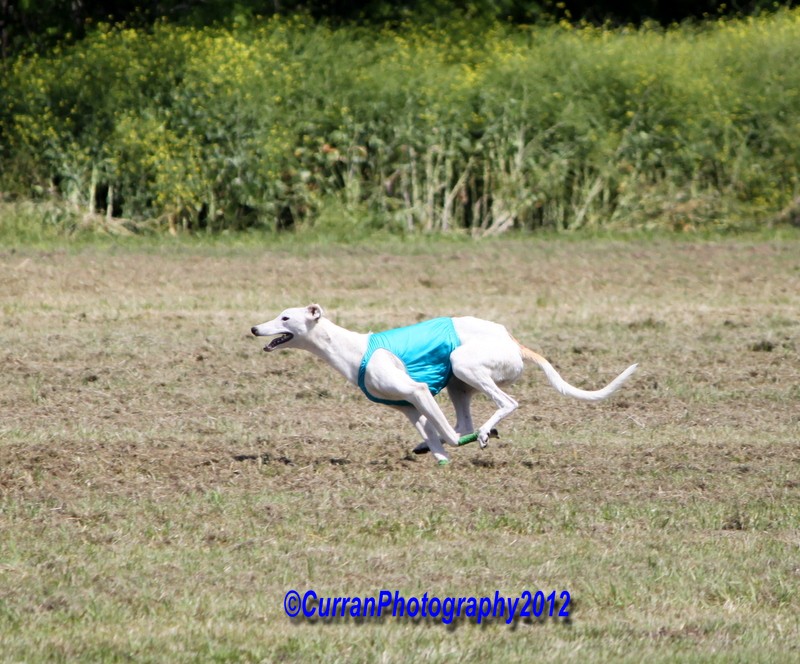 Blacky is adopted - his name is now Ramses Chea. Pictures in his new home with his new friends and family will follow. He is an all around great people dog and loves other dogs, too. Additionally, Ramses is a great lure courser and has a major from March 2-3, 2013 and minor points toward his field championship. He already has his Senior Courser title.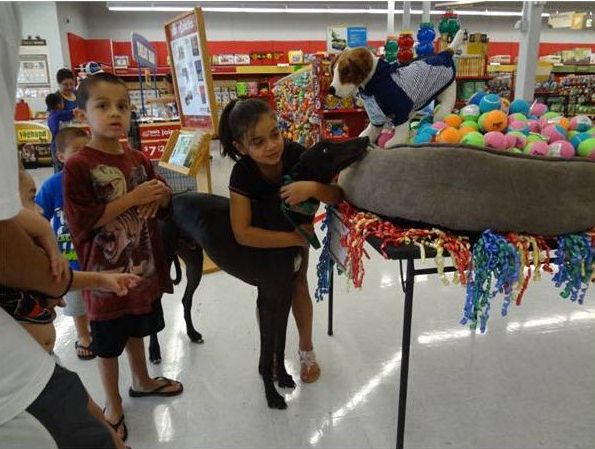 Photos by Dawn Curran. Henry left, Blacky middle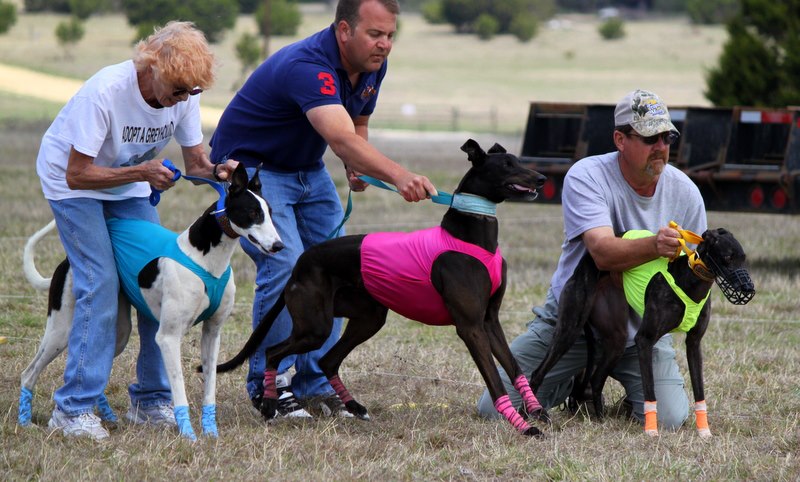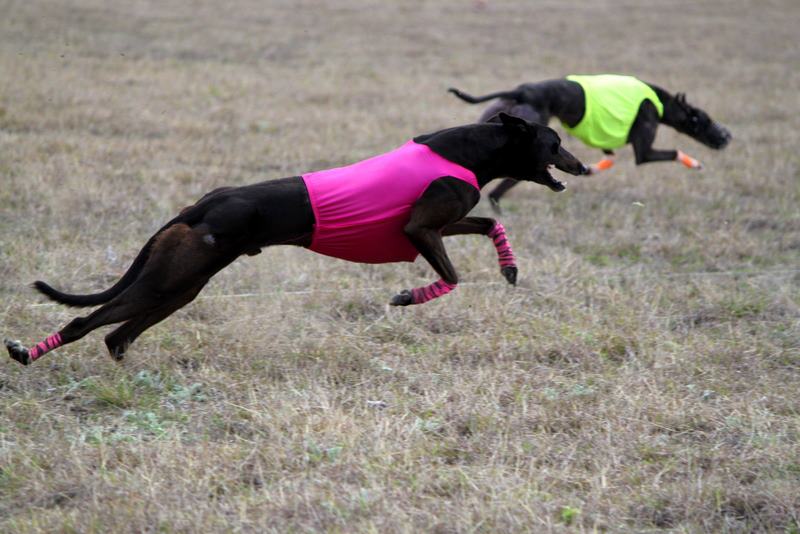 Velvet in Arizona where it's a dog's life.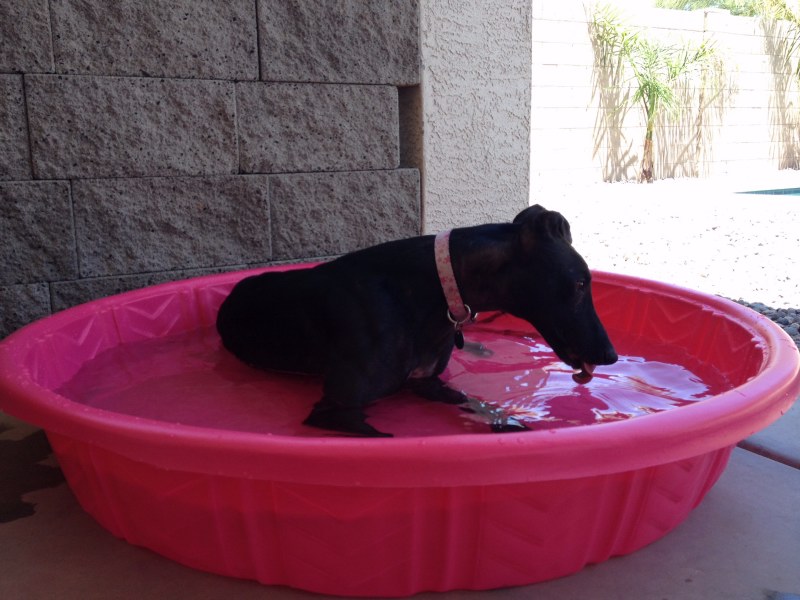 Cookie is now called Nemi (Letera) by her new family. She was born 11/15/2011 and will be leaving for her new home after her spay.

Cookie at Bexata - eeny meeny miney mo - which bone shall she choose?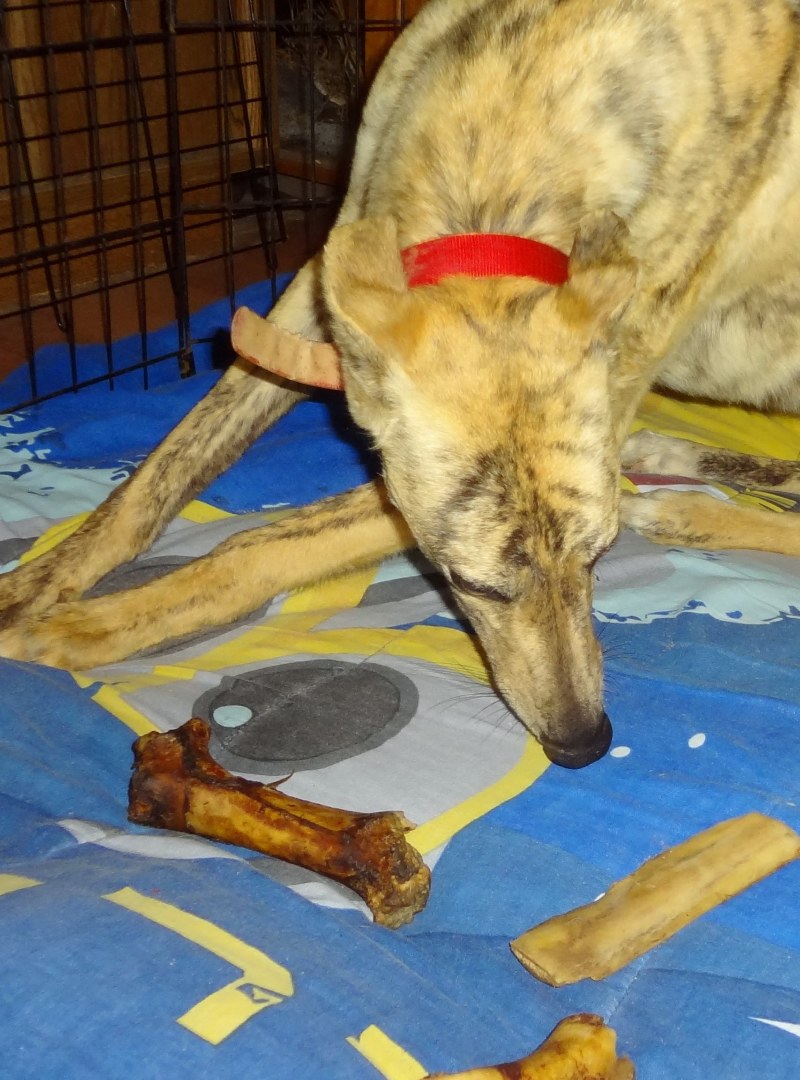 Cookie has a great face - outside in the baby pool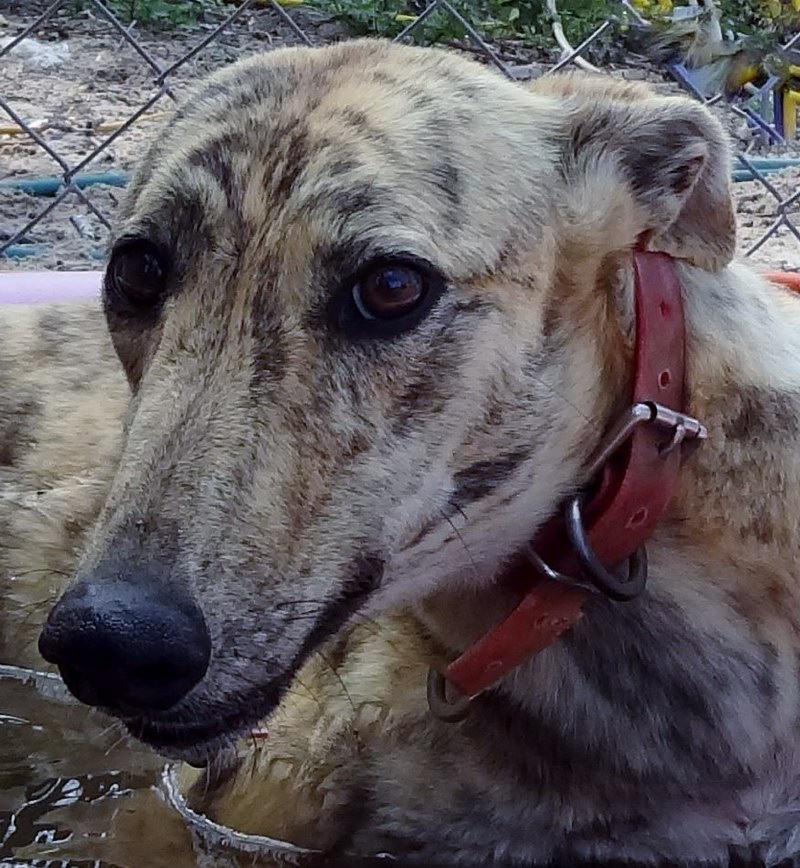 Back inside relaxing on the comforters.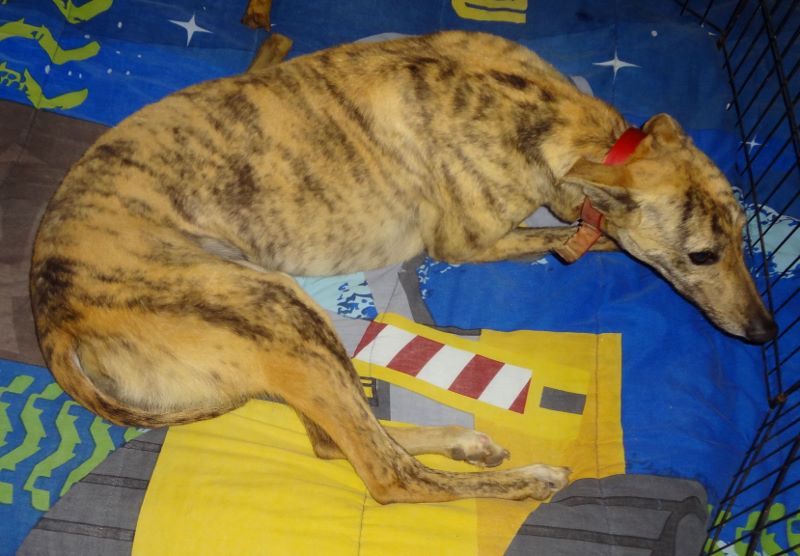 Bexata's Life is Beautiful, SC - Zoe QC's - qualifies - at lure coursing. At Bexata, we adopt Greyhounds for all reasons - couch potato, jogging partner, lure coursing - whatever you enjoy doing with your Greyhound!
Zoe is No. 2 Lure Coursing Greyhound in the country.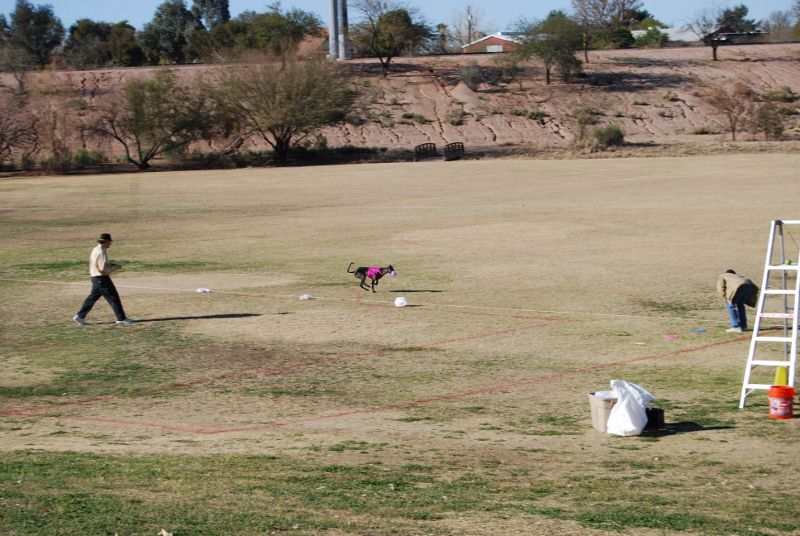 New Senior Courser, Zoe, zonked out after two days of lure coursing. She is now Bexata Zoe, SC. March 3, 2013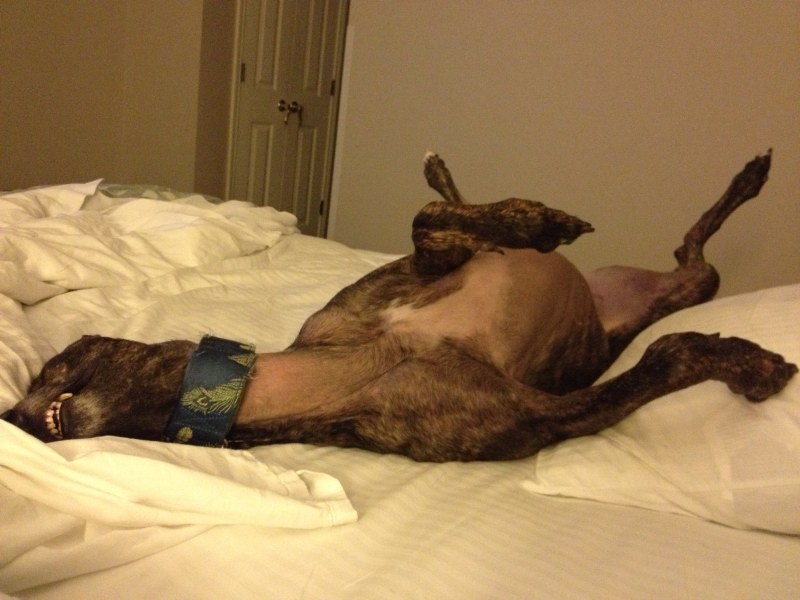 On another day, it's play in the pond at the dog park.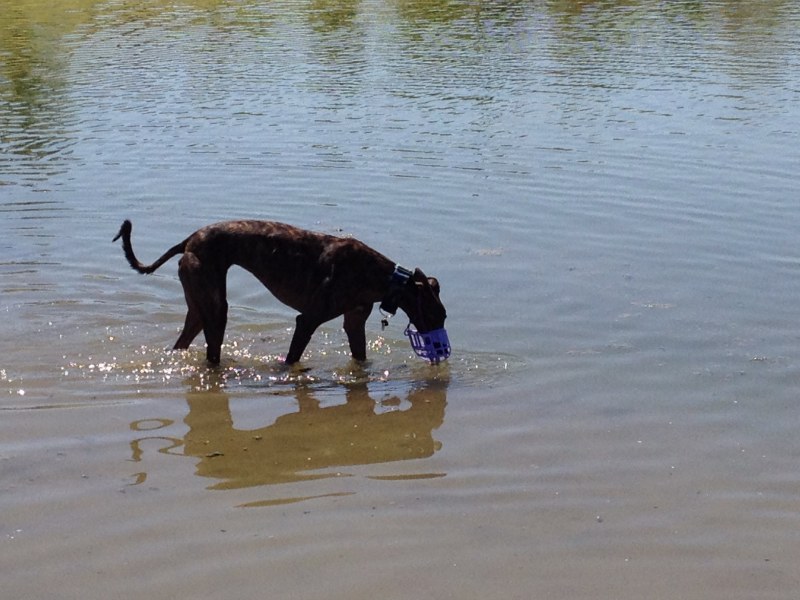 Congratulations Kelly on Zoe's Senior Courser title - it's official!!!!


Pretty Velvet is going to live with her sister, Zoe, in Arizona.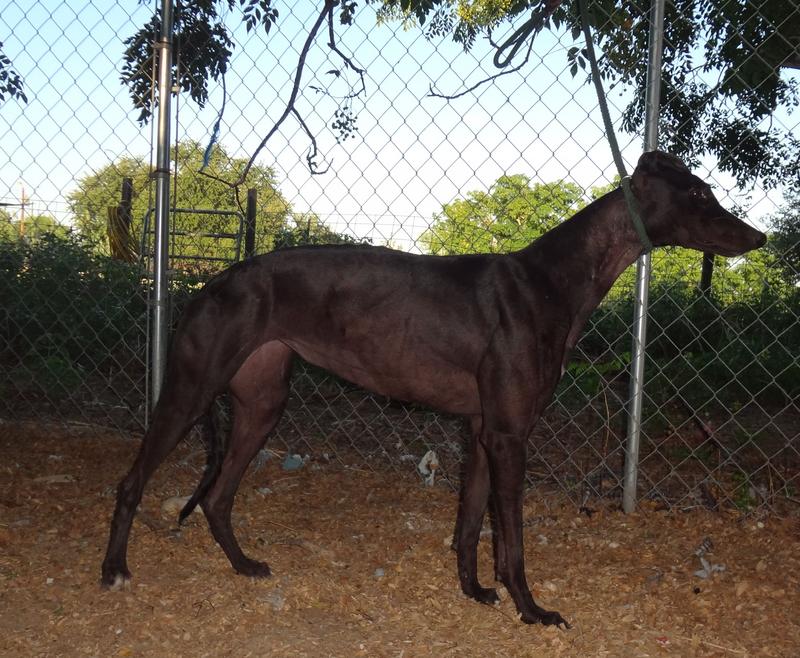 .

Zoe said "yikes, my sister's coming?"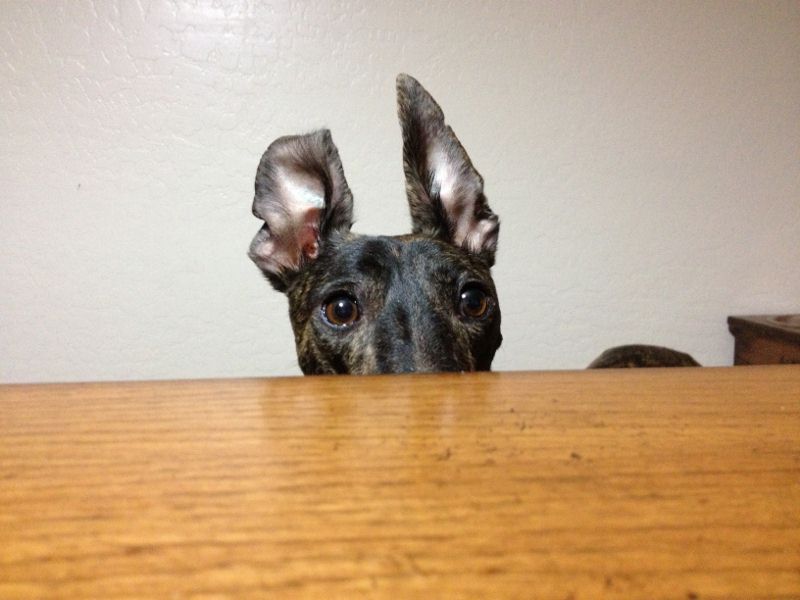 Sister Velvet is now with sister Zoe. Zoe's out lure coursing while Velvet's hanging out on the couch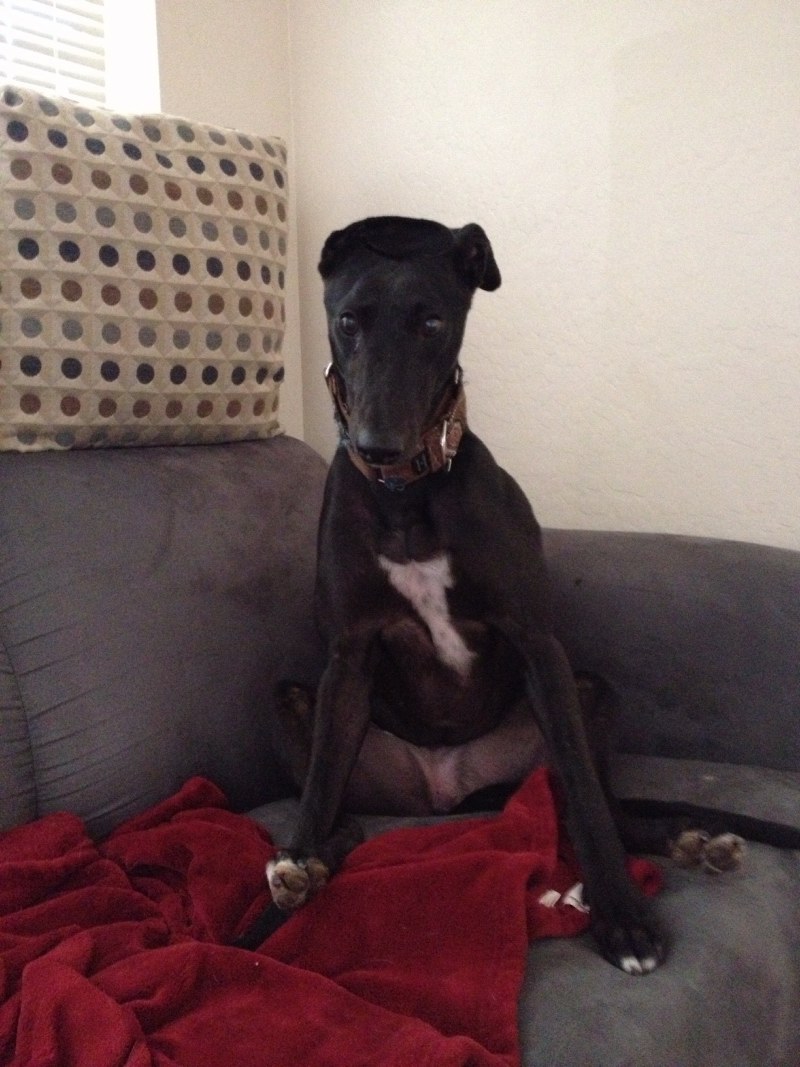 Mom's tea is good!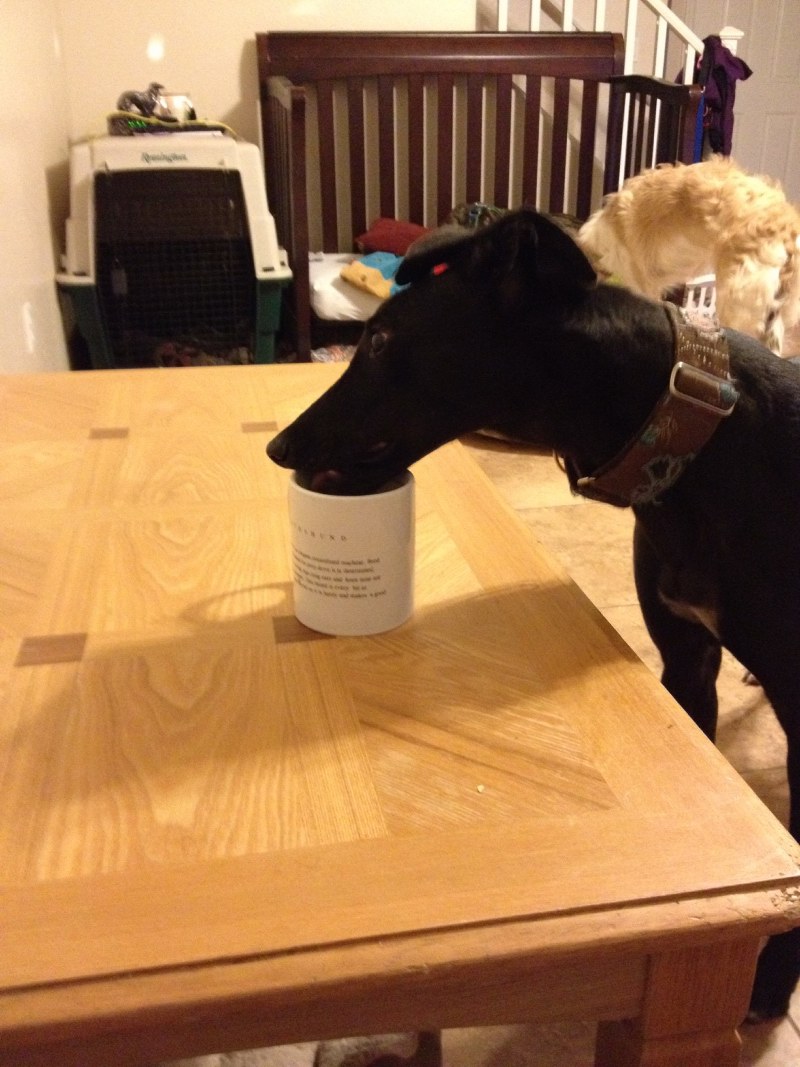 Mom's head makes a great pillow, too.


Sisters Velvet and Zoe at home in Arizona


Zoe and Velvet sharing the bed.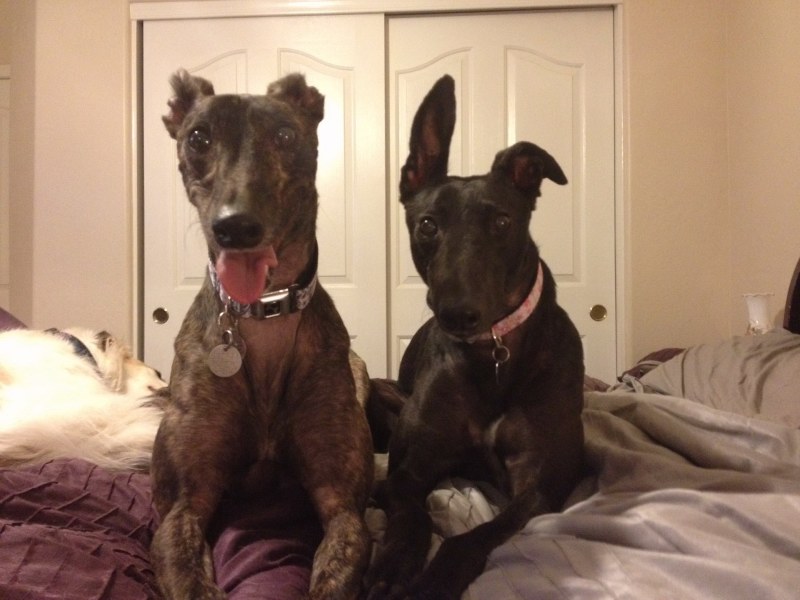 Pumpkin is now Kyla and is very happy, relaxed and self confident in her new home.Kyla aka pumpkin feels at home. Here she is after a hard day of doing nothing. Loves being outside during the day with Bob. Spends very little time in her kennel and sleeps in our room at night. We could not be happier with any other dog. She has captured our hearts and rules the house.
maggie
.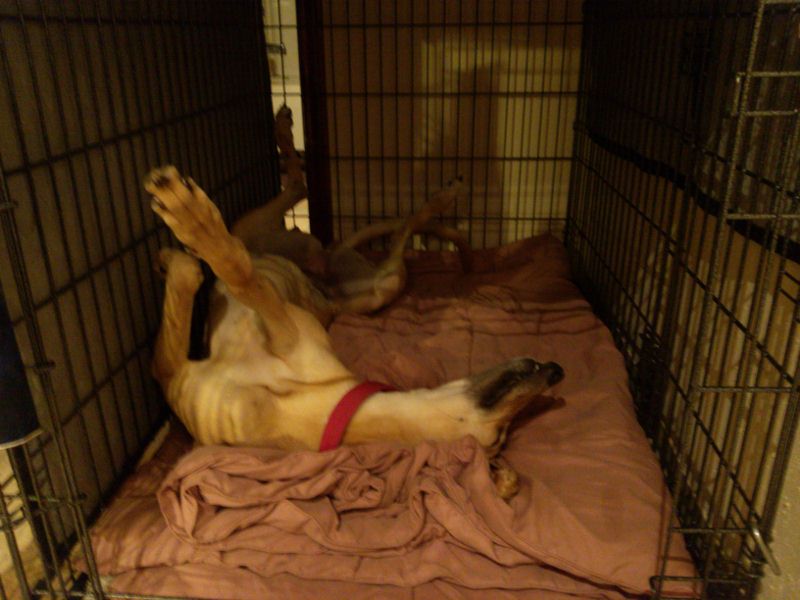 Pumpkin at Bexata loves to play fetch with tennis balls.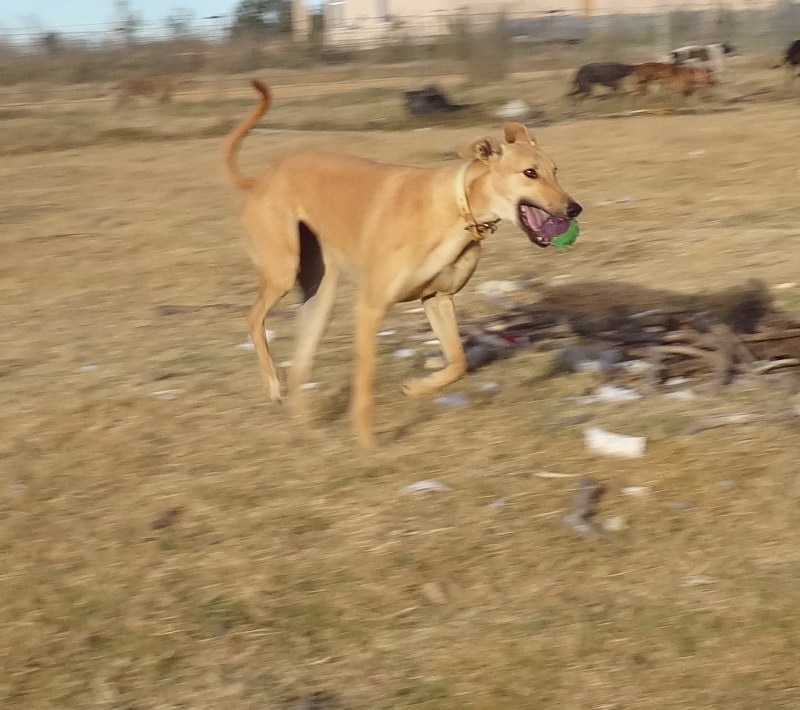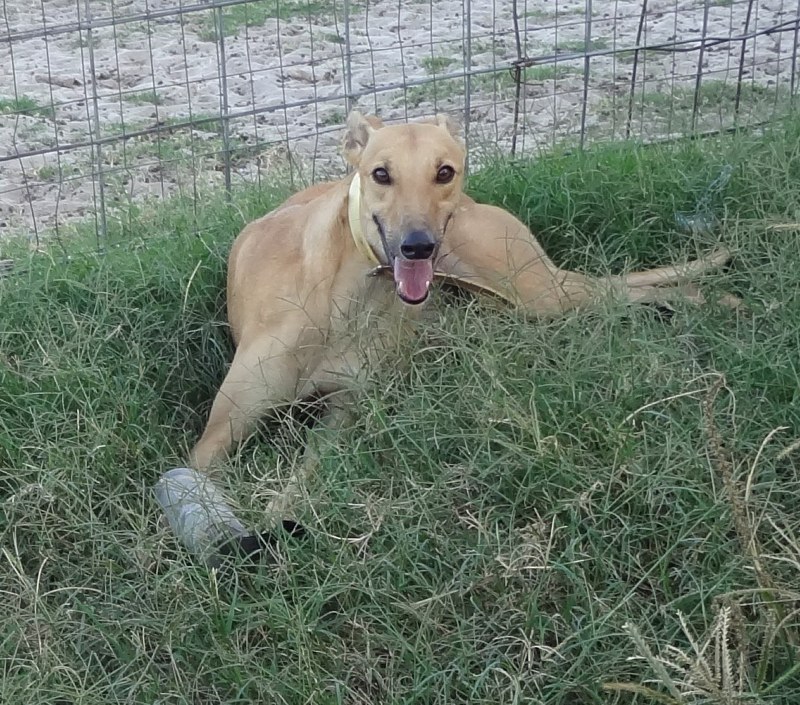 Kitty Huber left for her new home in New Mexico. Her new family came to pick her up.


Kitty at Bexata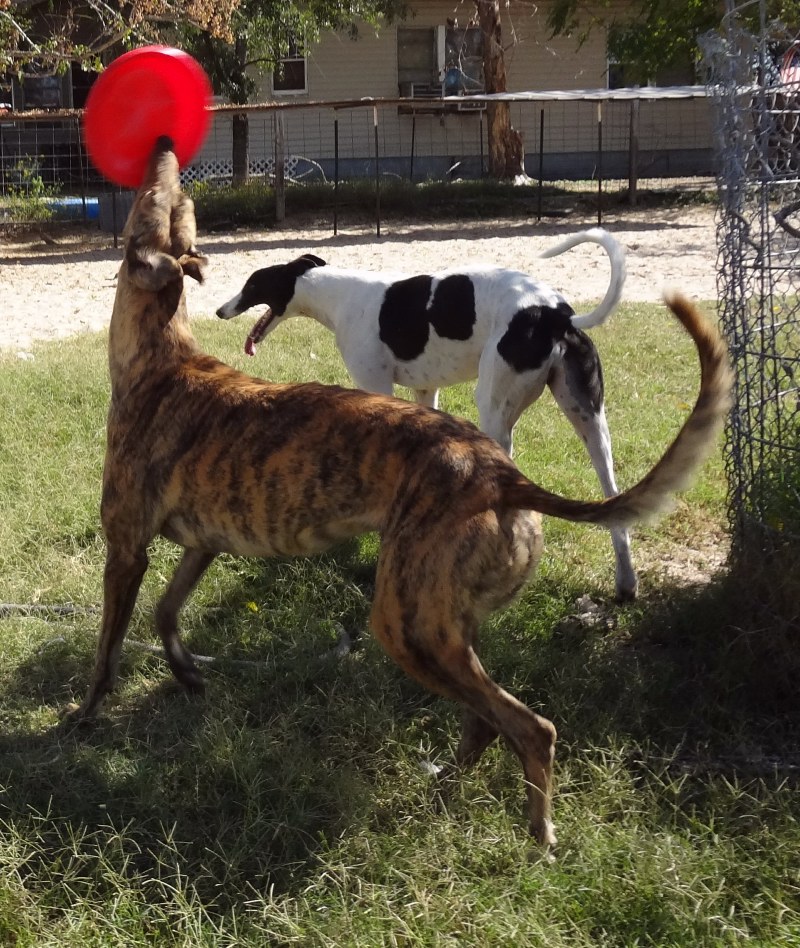 Sweetie left for her new home in Mexico December 28, 2012 Sweetie loves to play ball and frisbee and fetch with anything you throw for her.

She has a wonderful new life and family.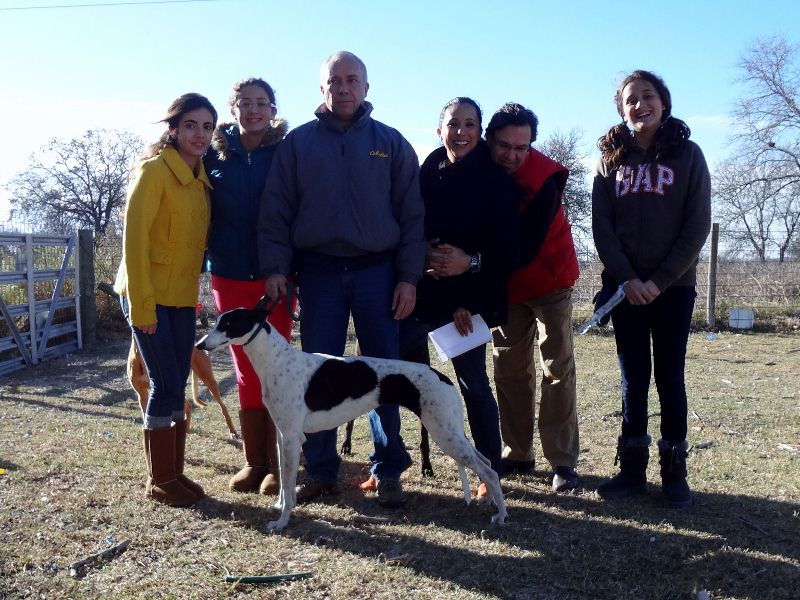 Sweetie at Bexata

I tossed this stick out of the way and she thought I was throwing it for her.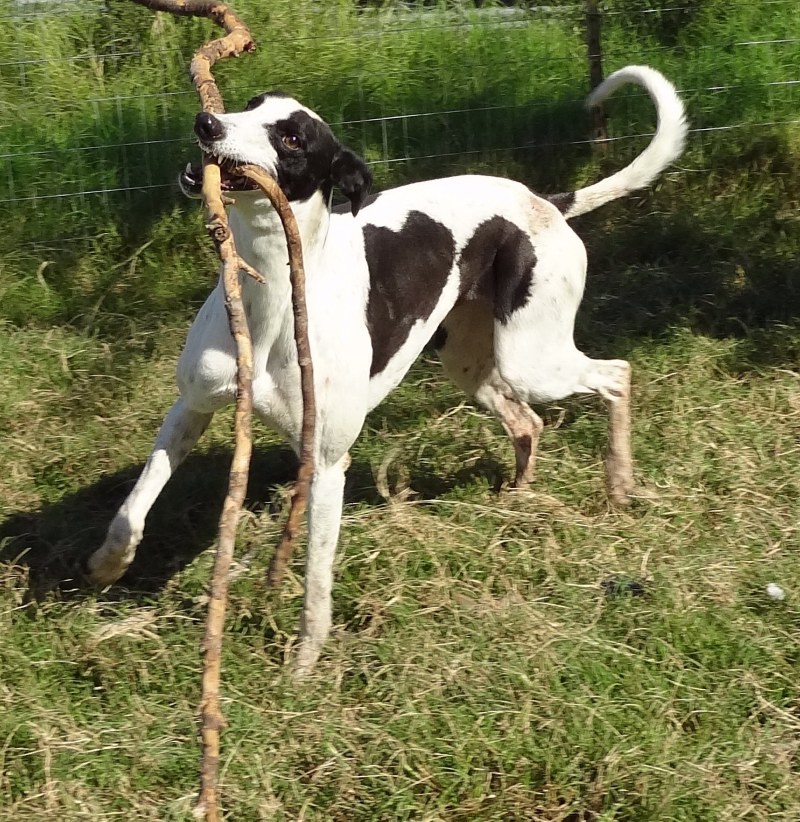 Bambi went to live in Boerne, TX, after her spay.
Bambi aka AHK Short Shot was adopted by Neil Campbell on January 20, 2011 fawn is a lovely color on Greyhounds. Please visit the available Greyhounds page to see more like Bambi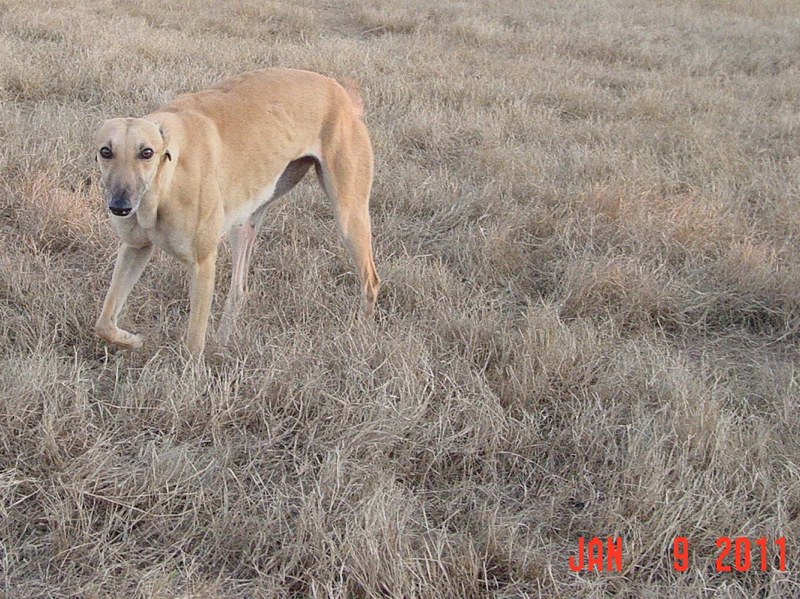 Leonardo, Esmeralda and their two wonderful, well behaved boys, adopted Chips Ahoy. After passing the application process with flying colors, although it was love at first sight, they met with Chips Ahoy a second time and took her home. That was September 3 and here's Chips' first night and day in her new home. A very happy story about Chips and her new family.
----- Forwarded Message -----
From: Leonardo
To: 'Sanctuary Email' <sanctuaryemail@yahoo.com>
Sent: Sunday, September 4, 2011 12:06 PM
Subject: RE: Chips Ahoy
Thank you for the information and the picture chips looks awesome.
We had a busy day yesterday, we wet to get the buckets and change the food for the correct one then show chips her new home inside and out. We had family and friends come over to meet Chips, she was so well behave and every one loved her. When it was time to go to bed she did not want to (LOL we learn the whining sounds that you had mention) she did a little of the whining and we let her sleep with us, since it was her first night.
She eat with us last night and this morning also ( when we all set at the table to eat she comes over ( like she wants to set also with us), so we pet her for a little then she goes and starts to eat as we are also eating its real nice.( she its when we are eating)
This morning we took her out side and she, seem so happy she was running and playing with us, then she wet to the rr out side (peed) and then when she wated to come in side she wet to the door and we all came inside.
We are so happy she is adapting real good with us.
Here is a picture of her in our living room
First picture is Chips meeting her new family for the first time at Petco. Second picture is ready to go home with her new family after their second meeting; Third, on her own bed.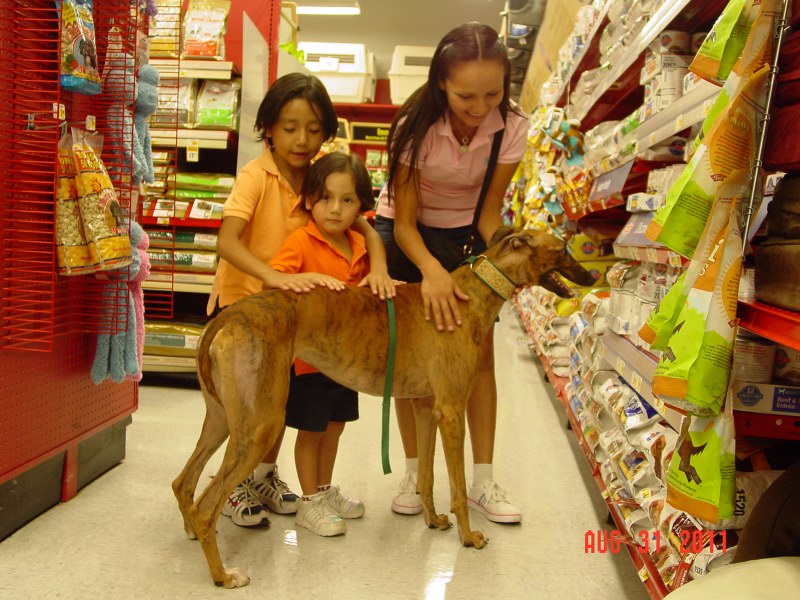 Leaving with her new family, Chips rode up front with the other kids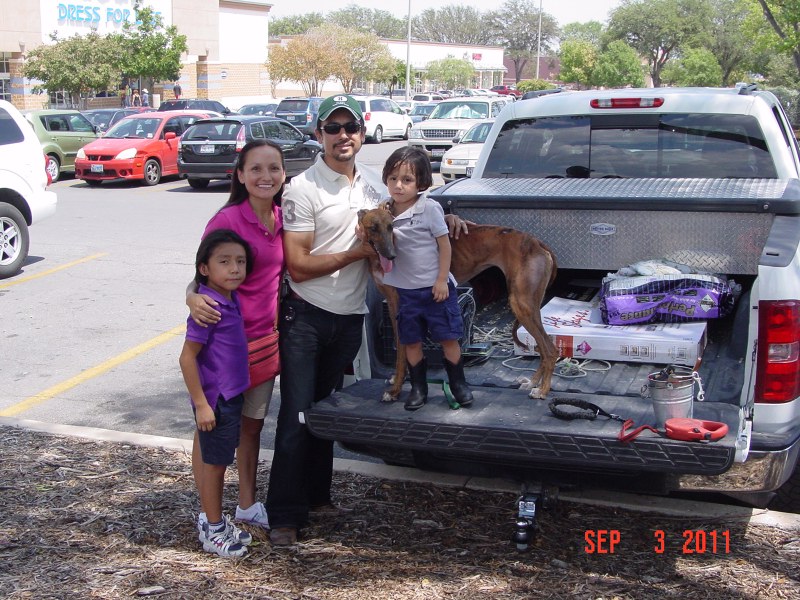 Pictured on her own big bed, don't let Chips fool you, she sleeps with her boys Eises and Tony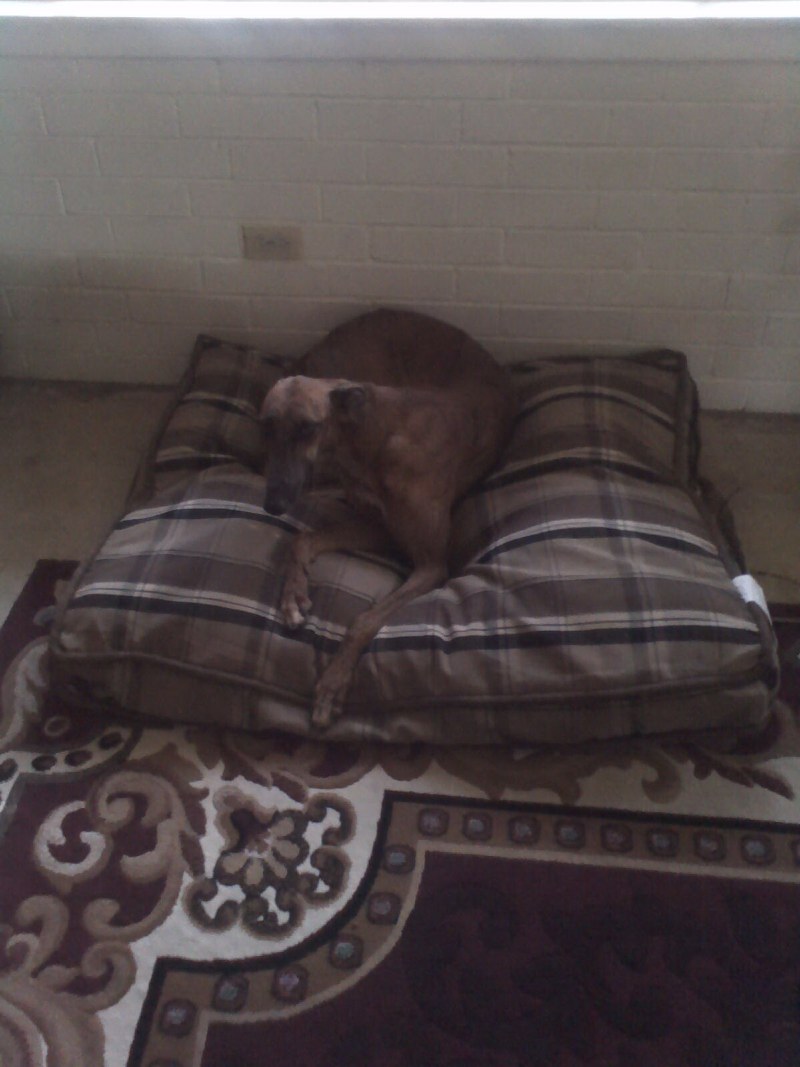 Chips' friend, Nugget, met her new family today. She'll have five kids and a Border Collie named Freddie, to keep her occupied. Her new name is "Rosie" and she has a happy home with her kids.
Ella is a rescue Borzoi that came from a home where she was purchased by a girl's mother as a birthday present. The owner thought Ella was too big and ugly and dumped her on Craigslist. Bexata obtained her from a third party who rescued her from her original owner. She was spayed and lives now with Heather in Colorado where they do marathons together. Ella is a lovely Borzoi girl with a sweet temperament and is her happy, forever home. Ella's happy ending!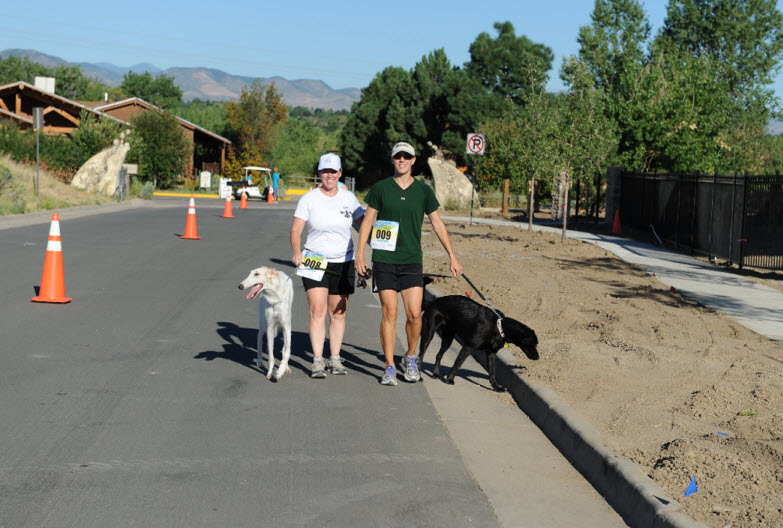 "Janie" now named Giselle by her new family, has been adopted.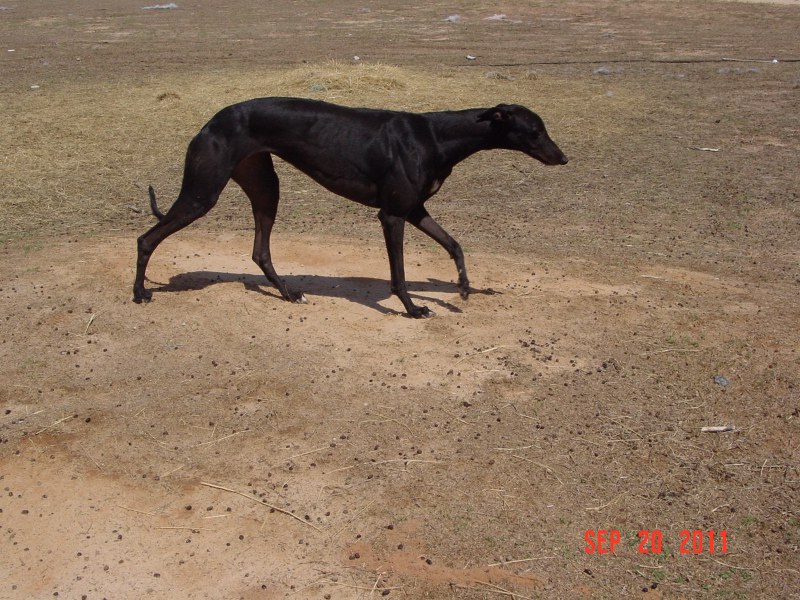 Giselle and her friend, "Jake." Here they are together on October 16, 2011, before Giselle leaves for her new home. He is a young brindle male pictured on the right. Jake is on his way to his new home in S. Carolina where he will hunt rabbits with his new teenage boy and family.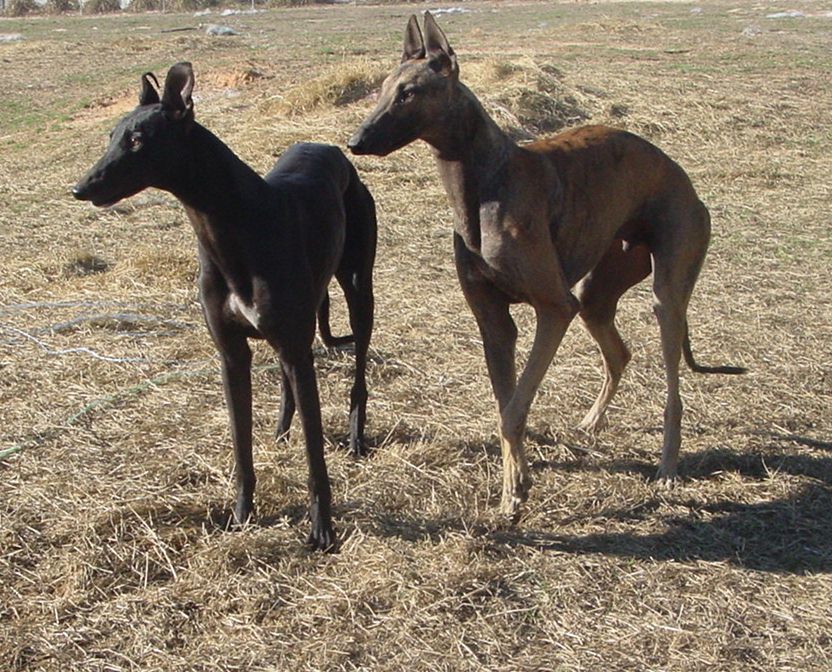 Giselle is pictured with her transporter, Patrick, who is taking her to her new adopting home in Maine.
Giselle arrived safely Nov. 2, 2011 and loves her new little girl Ariel.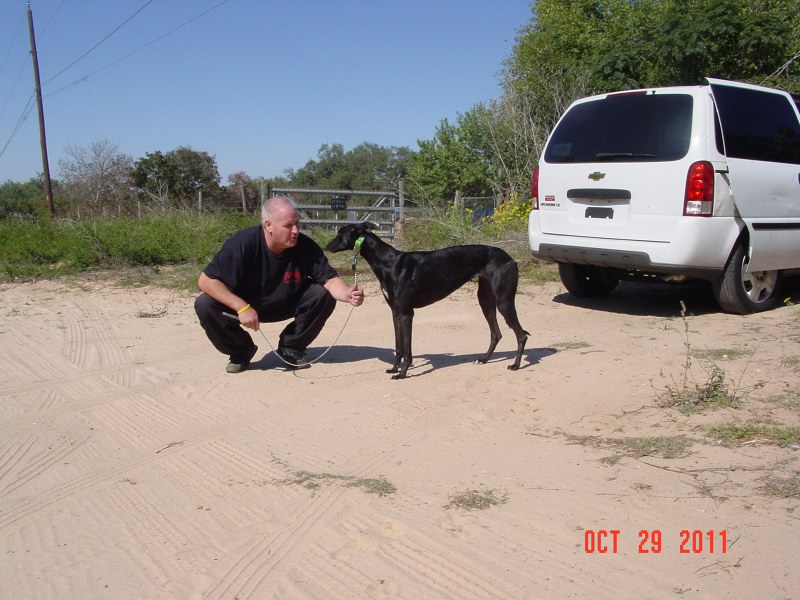 Rowdy is on his way to South Carolina with Josh (right)
Buddy also found a new home (pictured with Steve (left)
BUDDY was adopted today. December 23, 2011 - pictured below with his new dad, Mike* - scroll down. Pictured here with Josh and Steve who came to adopt Rowdy. ROWDY is adopted and left for South Carolina on November 28, 2011 - born July 28, 2010 - male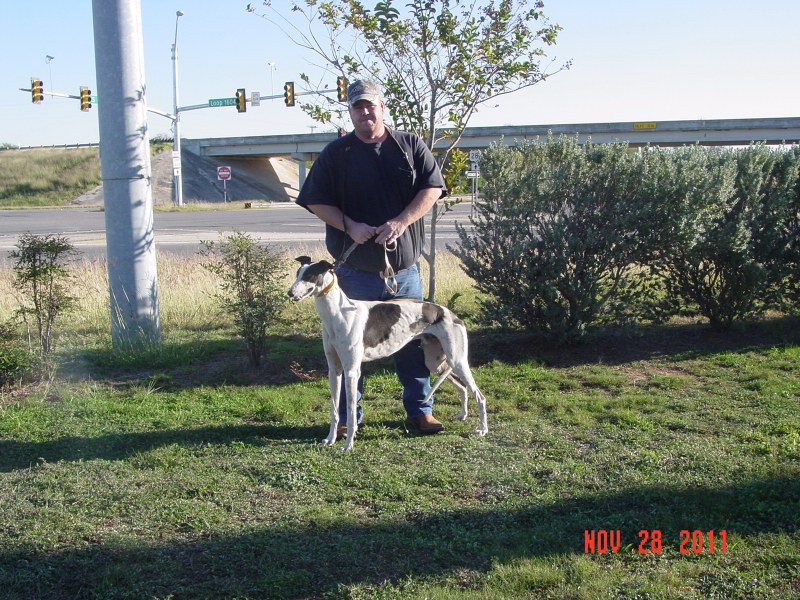 December 23, 2011 Buddy and his new Dad Mike.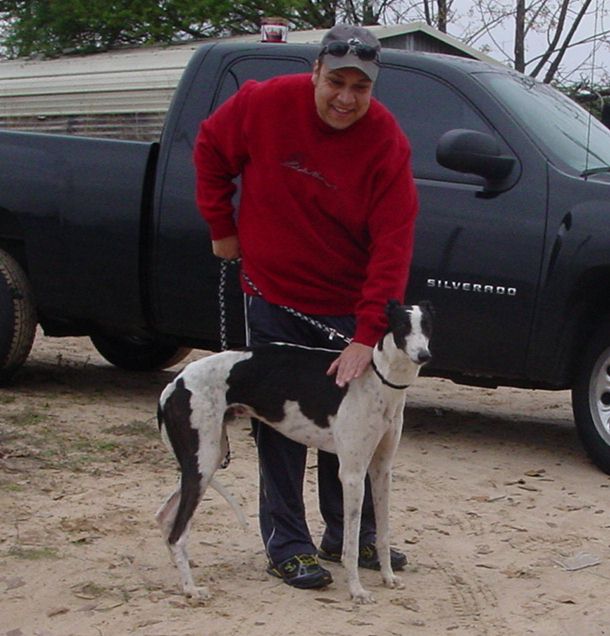 With Mike and friends at a dog park.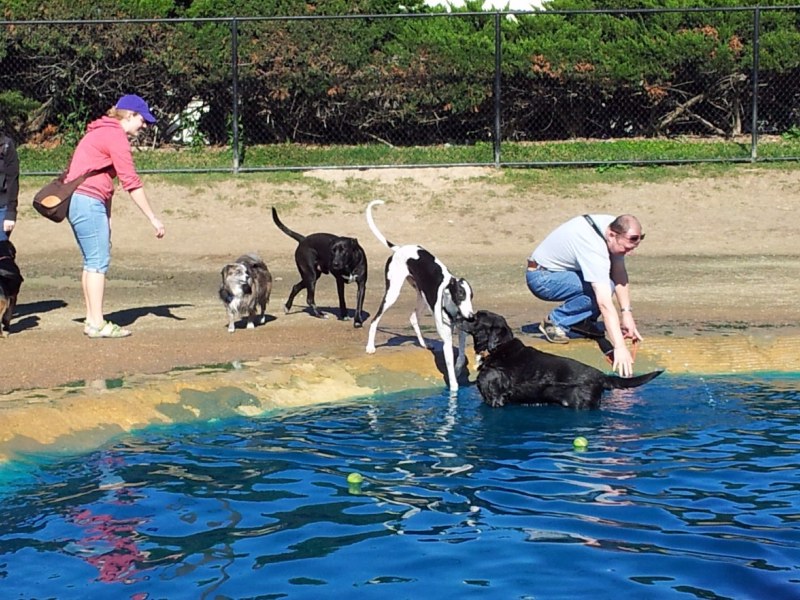 Dancy Jones is pictured with her baby. Dancy was adopted out by Bexata Animal Sanctuary and has a wonderful life.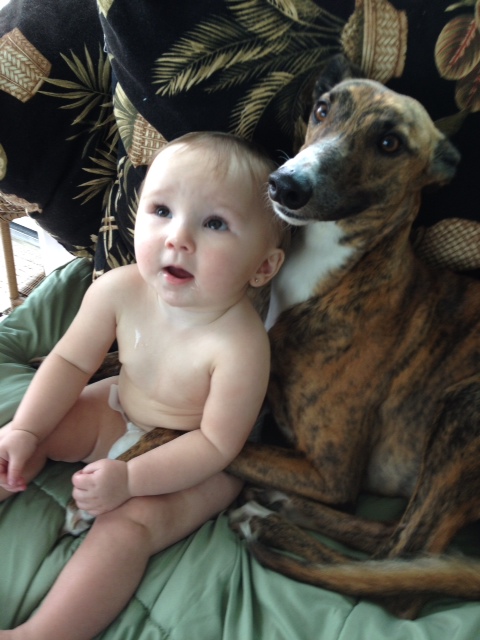 Dancy ones is living the good life
Dolly is now known as Emily and lives happily in Arizona. Dolly was a great lure courser and is now a great pal, friend, companion, family member for the Voelker faily in Arizona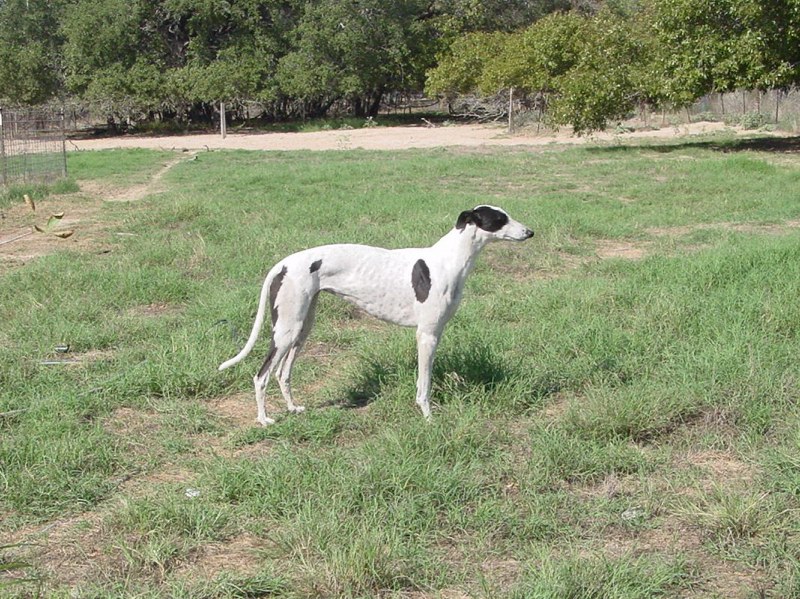 She was adopted out by Bexata Animal Sanctuary, Inc..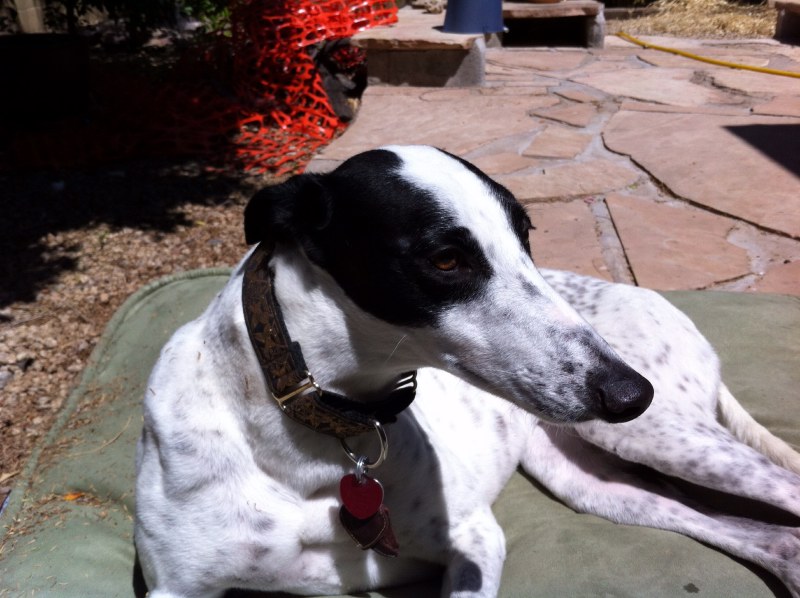 Here she is camping with her Greyhound friend, Tanya.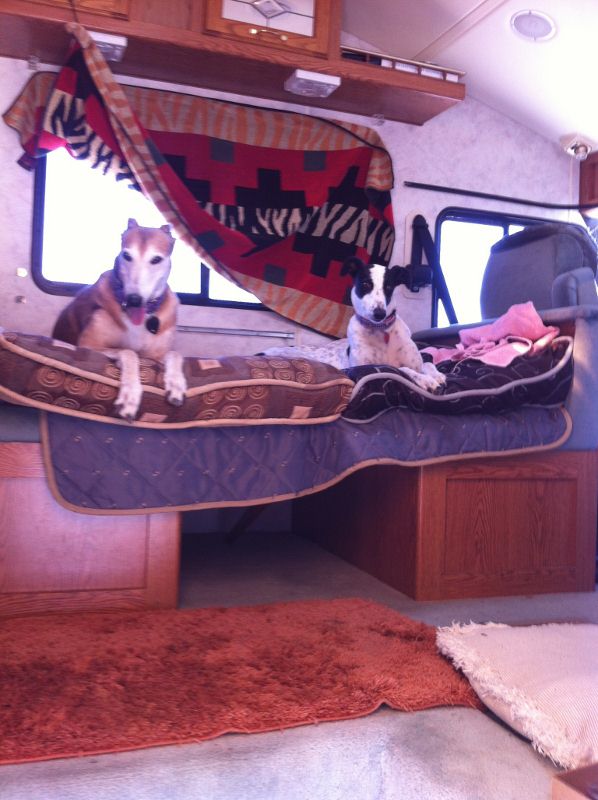 Sweetie Pie went to live with Dolly in Arizona - Sweetie Pie was a Best in Field lure courser. At Bexata, we do lure coursing as a means of having fun and more socialization for the Greyhounds. They are adopted out if a great family comes along.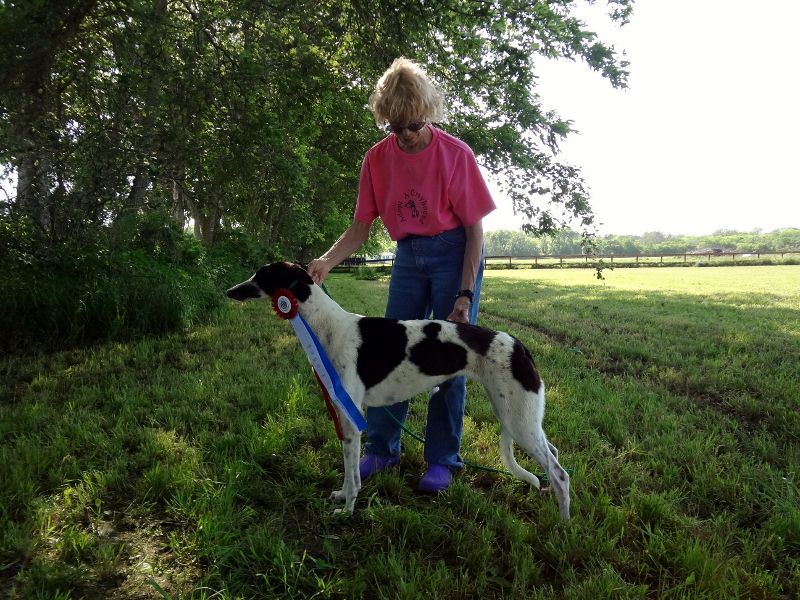 On February 17, 2012, Charles and Kym drove in from El Paso to meet Blue and Rosie. The two girls put on such a show, it was impossible to choose, so Blue and Rosie both went home with Charles and Kym. Charles is Army. God bless their family for their service to our country.
BLUE (left) ROSE (right)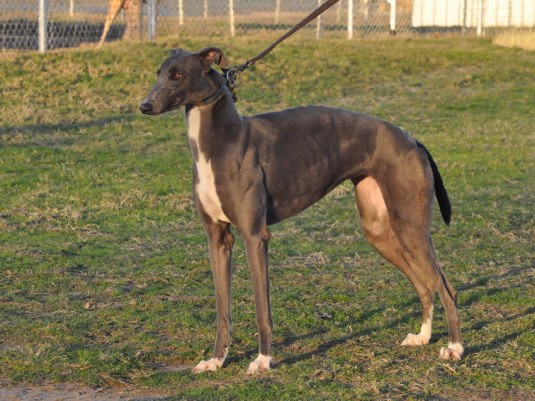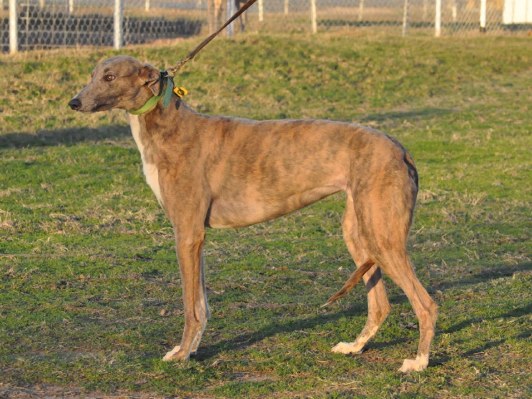 Charles, Blue, Rose aka Snuffles and Kym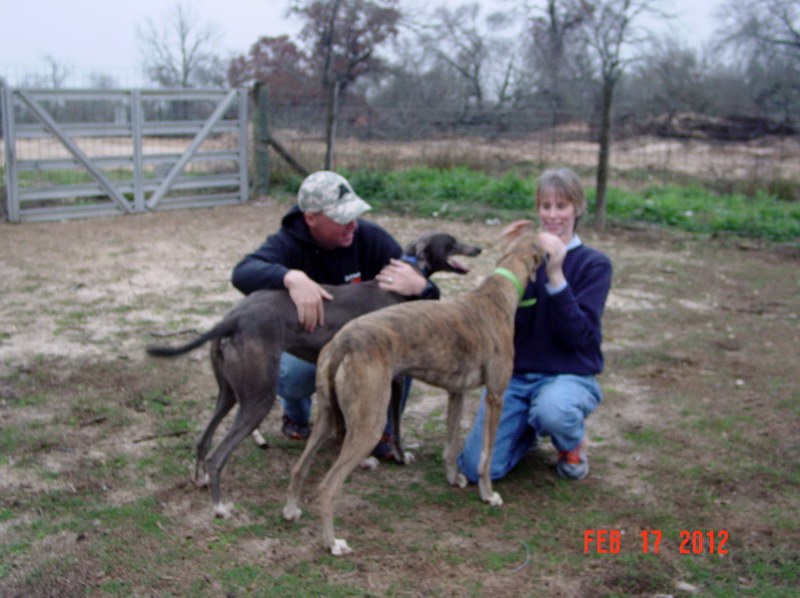 Email from Charles March 24, 2021 Blue passed away and is permanently at his parent's home in Colorado. She had a wonderful life. She was probably already at least two years of age when she was adopted and passed away March 2021.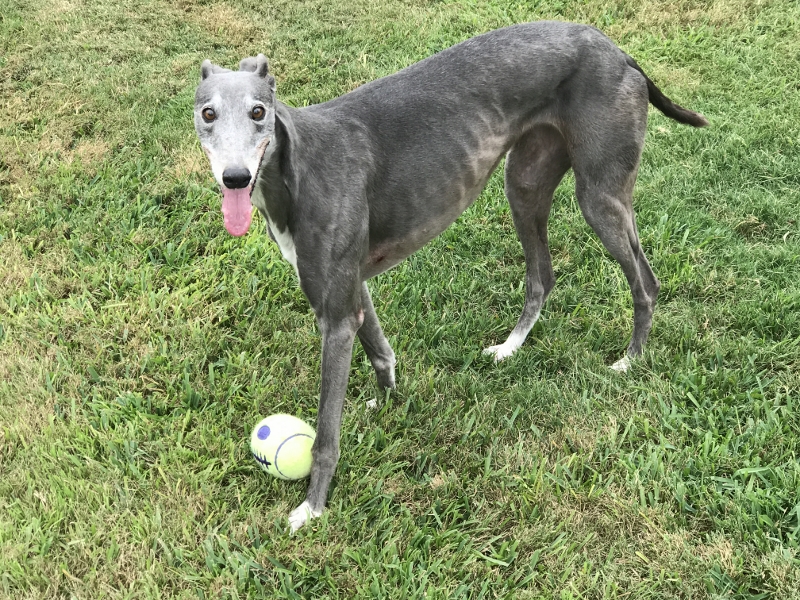 Julie is a beautiful white and red brindle girl who lives in Beverly Hills, California.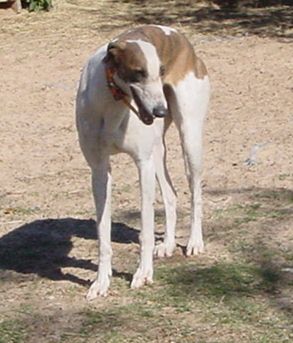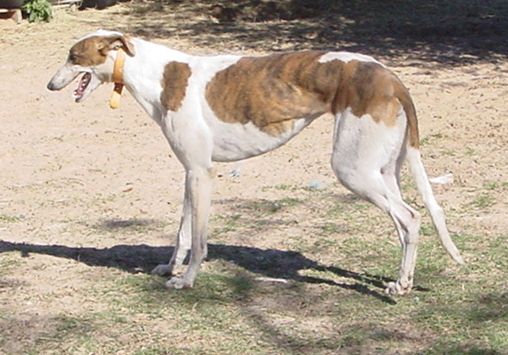 Julie is now called Sascha - pictured with her little girl and at the beach.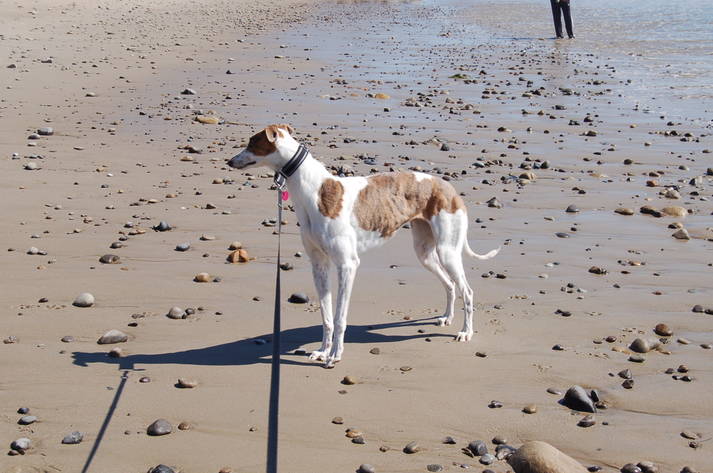 Kitty is in her new home near Corpus Christi, TX
Her new mom emails:
Good Morning!
Howard went to Tractor Supply last night and purchased to bowls that attach to the cage. Kitty ate and drank out of them.
She was thrilled to see me this morning. I am a early riser. She has been beside me while I do Facebook and drink my coffee.
Have a wonderful day and I will send another e-mail later today.
Rosemary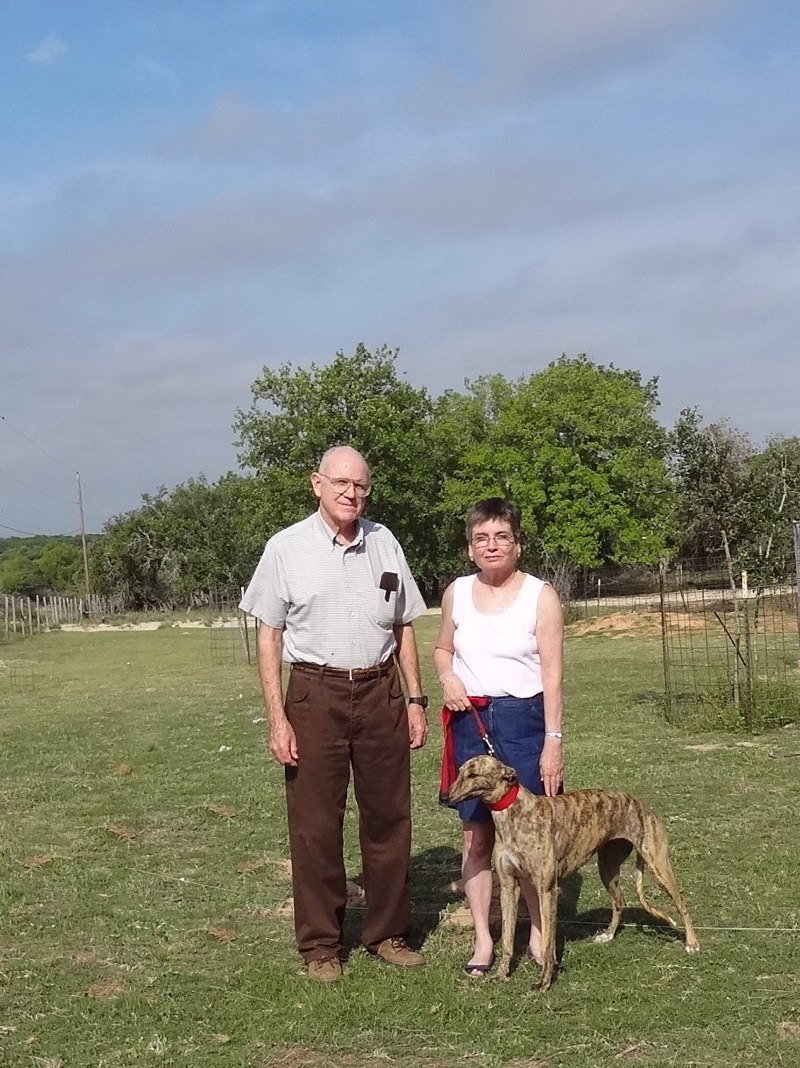 From: Angel Silva
To: Sanctuary Email <sanctuaryemail@yahoo.com>
Sent: Monday, November 12, 2012 1:25 PM
Subject: Hi!!!!
Hello sherry!! How have you been? Everything here is great, starting to have a nice weather... In the past few weeks it was so warm.... Bori... Well he is a baby!!!! Such a great boy... He is so smart, so playful, and I see he is so happy... I am very happy as well.. I saw you have new rescue dogs, so amazing!! Wish I could have them all!!! Hehehe, I realized that greyhounds are the most special breed ever... And I am so happy to have Bori in the family, it has been a blessing... And I wanted to take some time to write to you and tell you thank you again.. He has brought so much joy to me, to everyone he meets!! And of course to Nina and Cuco... The 3 of them play so much, and when I take them to the park they run and have fun.... Anyways... I hope you are doing good, and that everything is great with you... Take care!!!!! Kisses from Bori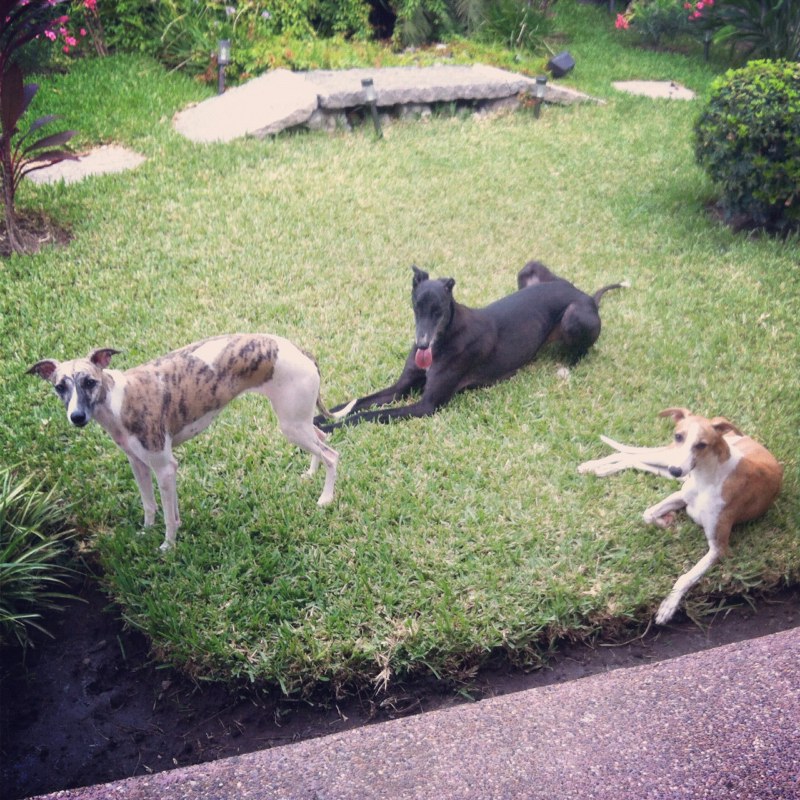 Dancy's new bed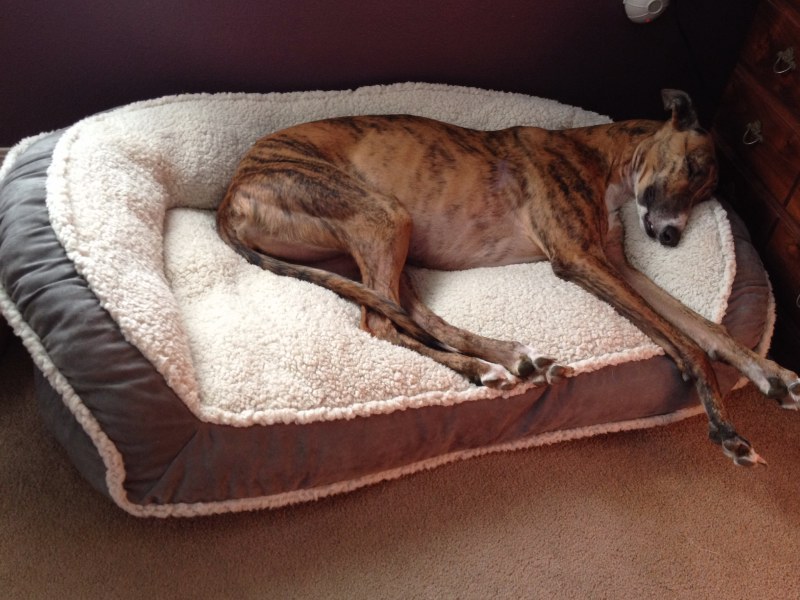 Lady Red is now Jean Grey and in her new home
Here she is with her new mom and dad December 15, 2012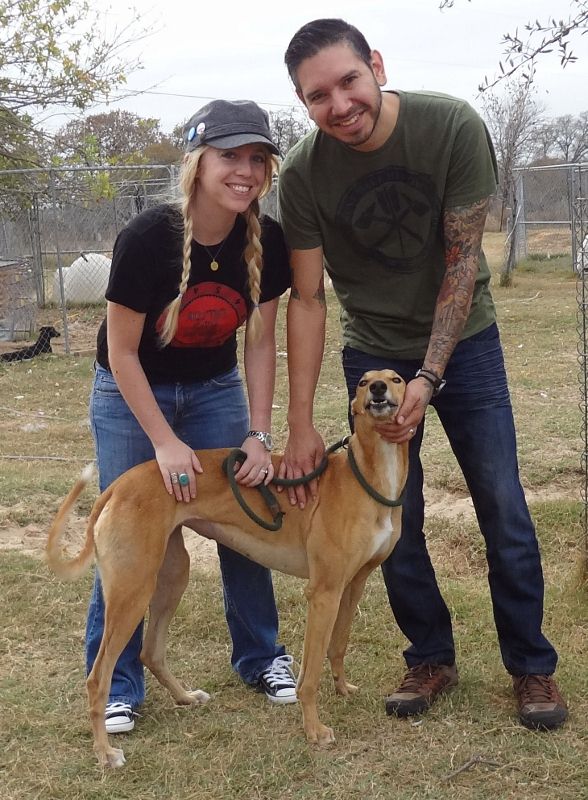 .
Handsome left with his new family December 15, 2012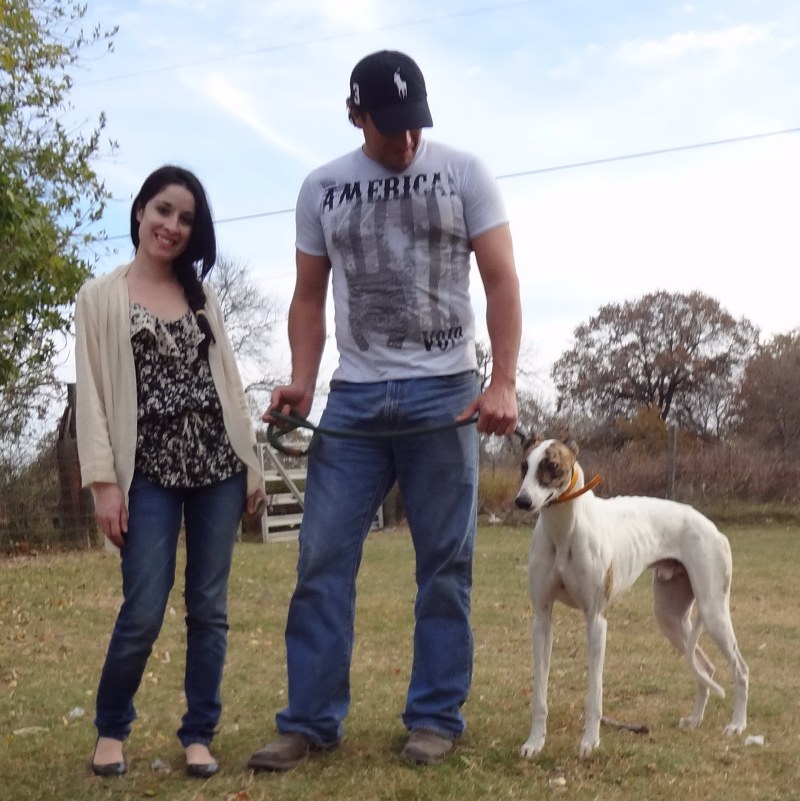 Buddy (now Kato) left with his new family who drove all the way to Bexata from Fairfax, VA, to pick him up and have him home for the holidays. Merry Christmas to Kato! 12/24/12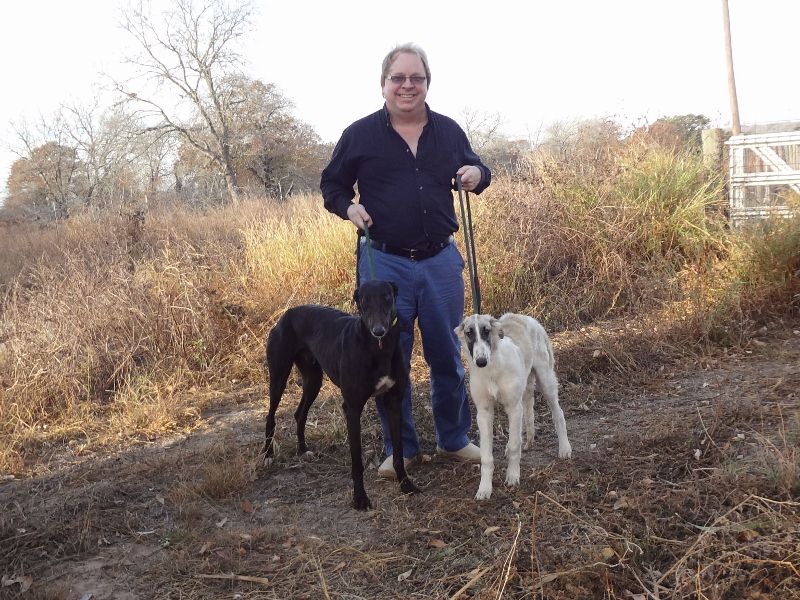 Shadow is a lovely young female. She's happy all the time and LOVES people.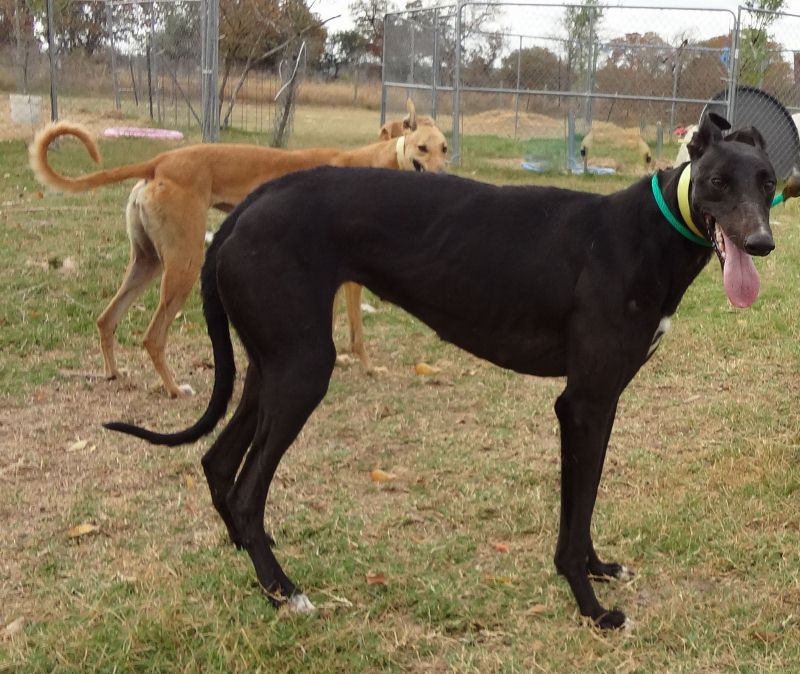 Zoe was Tigress and now lives in Arizona. Pictured sitting on her little girl's lap on their way to lure coursing practice.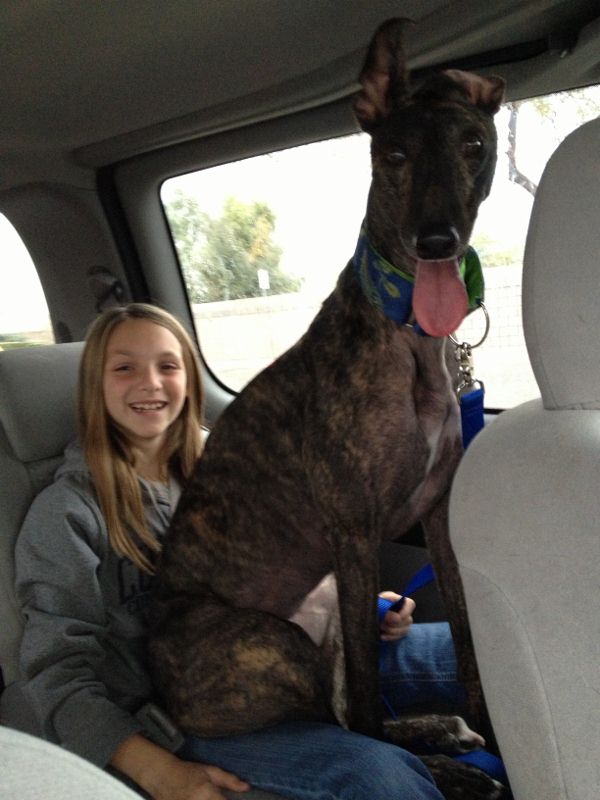 March of 2012 Lexi (was Sissy) and Bunny in my wooded acreage.
Both were adopted. Bunny is pictured with her kitty, Sage, and Sissy is pictured with her new dad, Duane.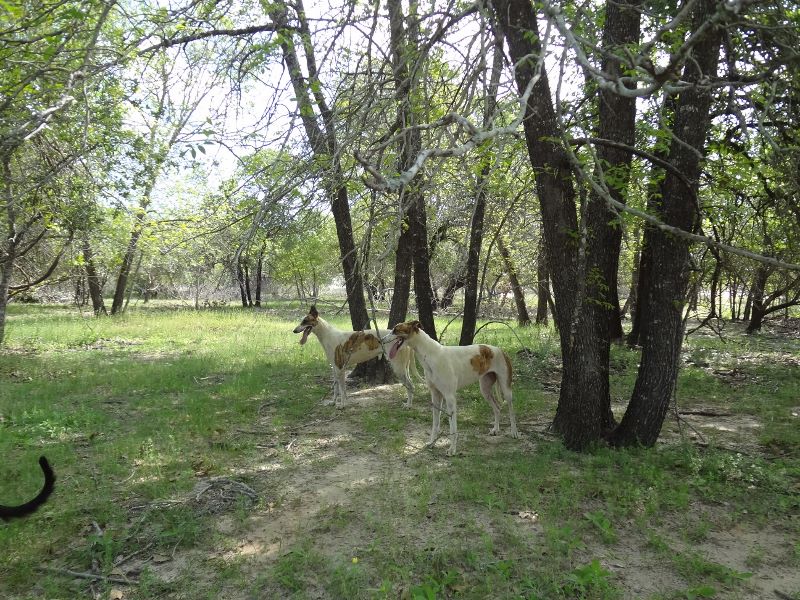 Bunny and Sage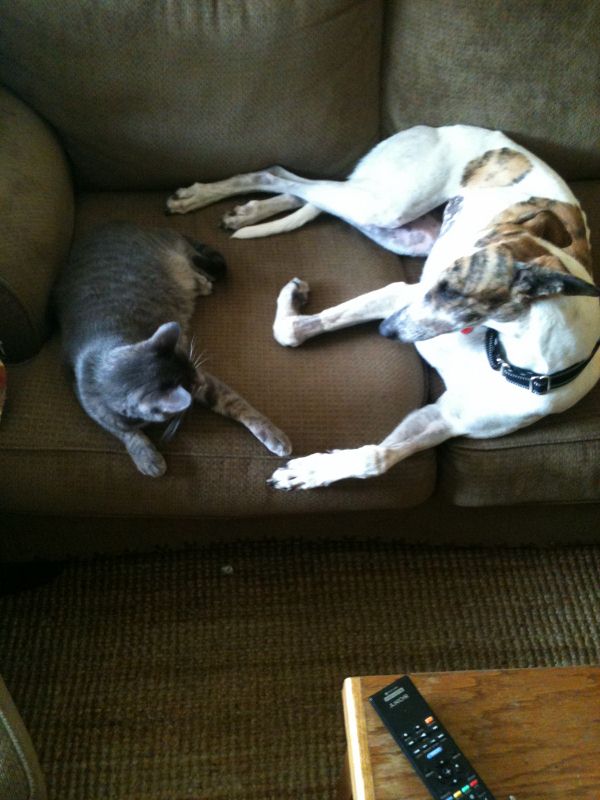 Lexi and her dad, Duane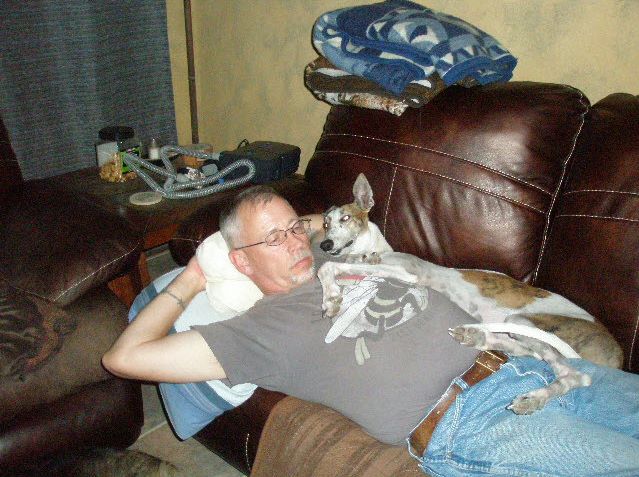 For information about ther available sighthounds and working livestock guard dogs, please email Bexata Animal Sanctuary, Inc.
sanctuaryemail@yahoo.com