Adopted Greyhounds, Continued

Due to the amount of Greyhounds that have been adopted from Bexata, we have had to move ADOPTED GREYHOUNDS to a third page. Click the link to see more.
ADOPTED GREYHOUNDS CONT.

ADOPTED GREYHOUNDS

We always reply to inquiries about adopting our Greyhounds.

PLEASE DONATE TO OUR RESCUE TO HELP MORE GREYHOUNDS FIND WONDERFUL HOMES.

CLICK THE DONATE BUTTON BELOW. ANY AMOUNT IS APPRECIATED.


Pretty Phoebe Clark - Greyhounds love leather couches.
February 10, 2019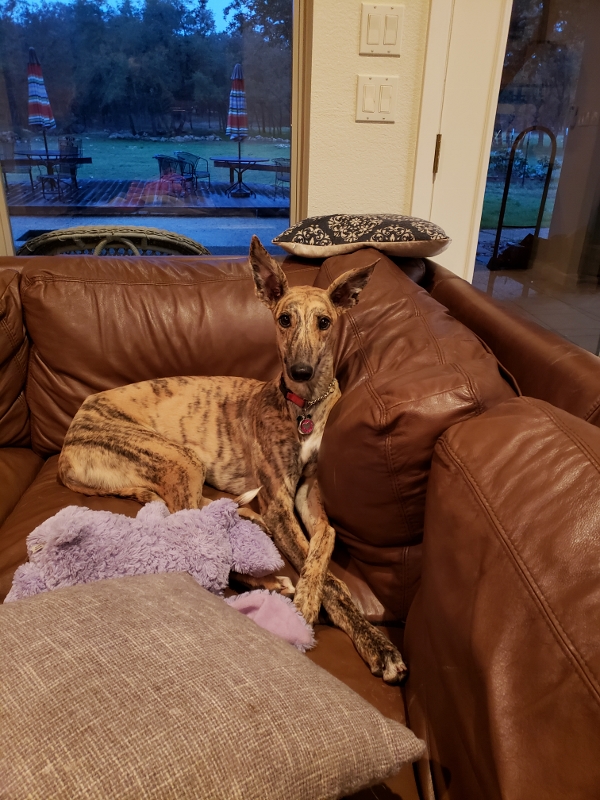 Pretty Ellie February 2, 2019
Ellie is doing great. Checking in and sending some photos. I hope everything is going great at your place. Most of the photos on the brown little couch, because itís her favorite place and she thinks itís her bed. She doing great on walking and loves the dog park. I need to get a video of her running. She looks good. She is so sweet and we love her. Amanda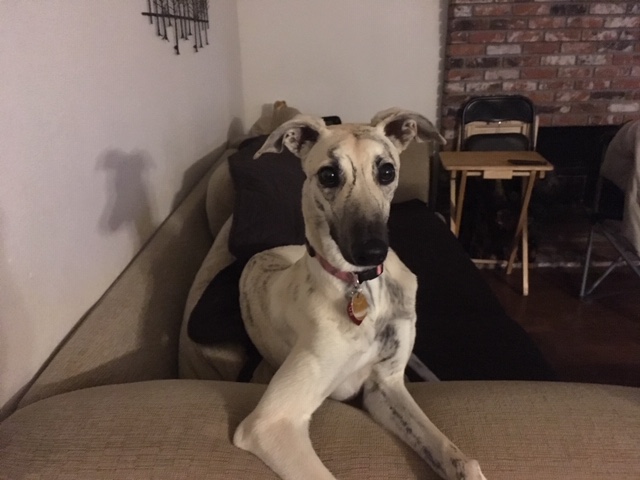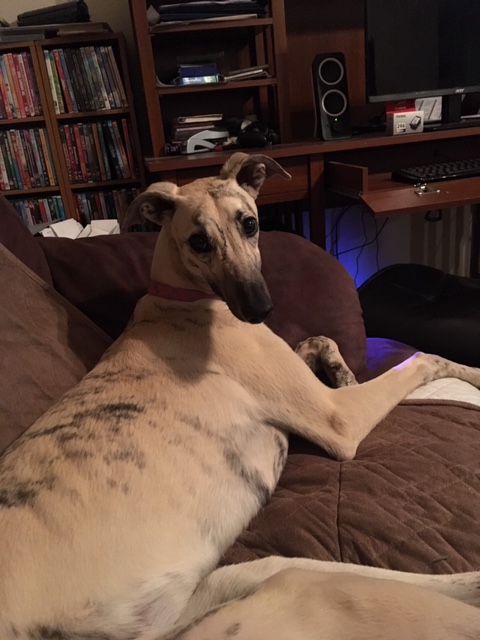 Hi Five for her Birthday Biscuit. The beautiful Zelda dob 1/31/2017
February 1, 2019 Amanda and her dad came to pick up Amanda's boy, Fury.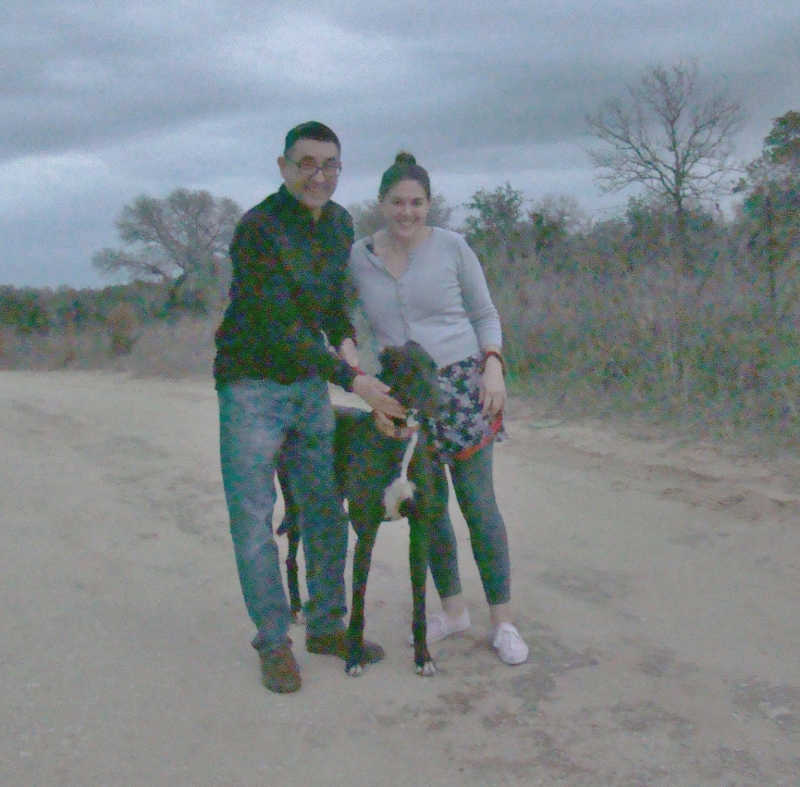 Fury spotted a rabbit across the pasture.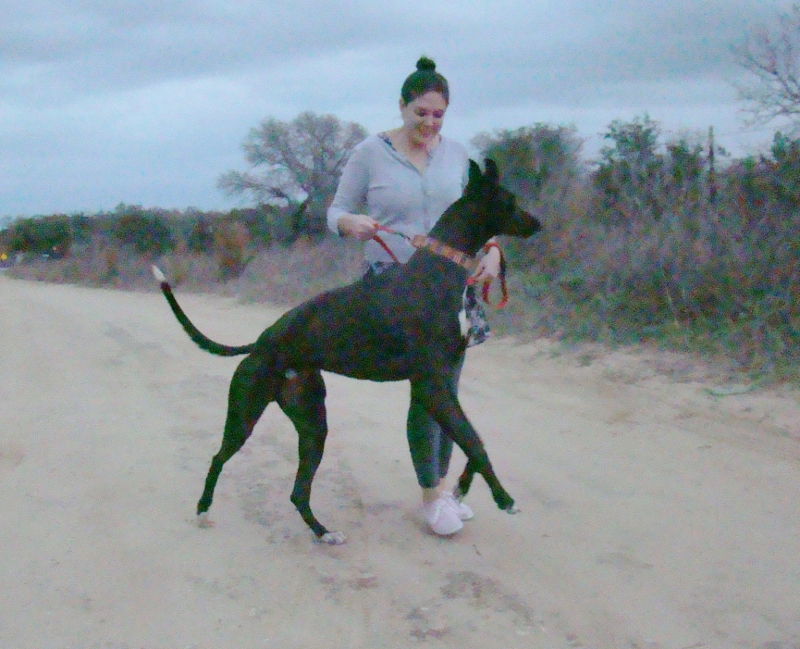 January 31, 2019
HAPPY BIRTHDAY LOGAN - laying on the couch that has become his toy and will now be replaced.
January 30, 2019
Beth and TBB - "to love and be loved in return"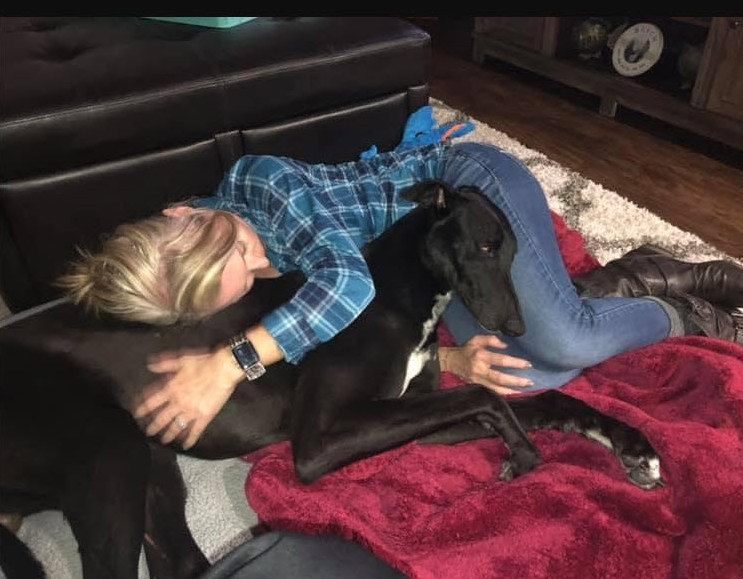 January 29, 2019 Phoebe Clark at six months old.
When Phoebe isn't out playing, she's in bed with her best girl, Emerson.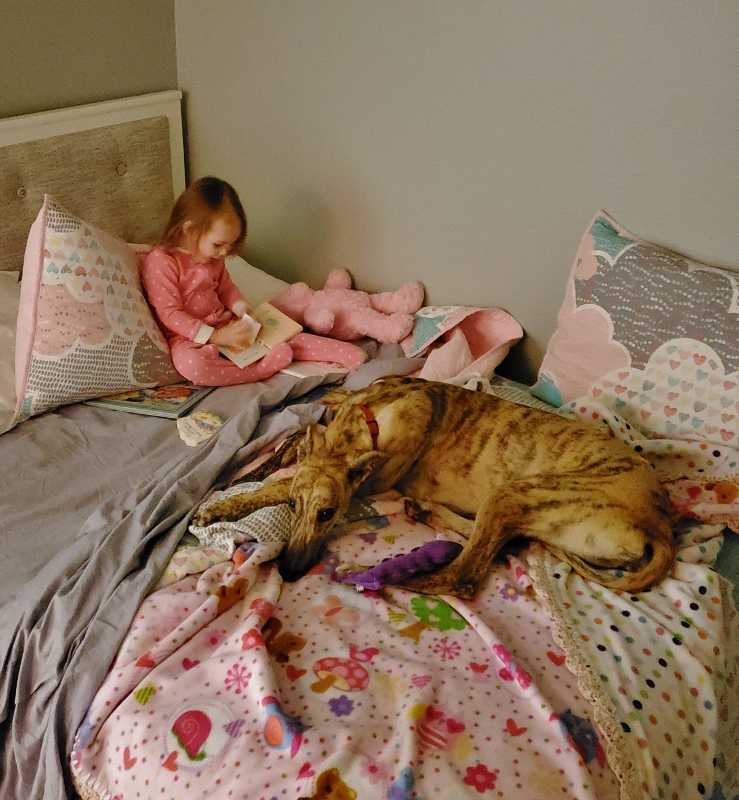 January 28, 2019
Zelda in her full body pajamas and Daddy's bed. Not too spoiled, is she!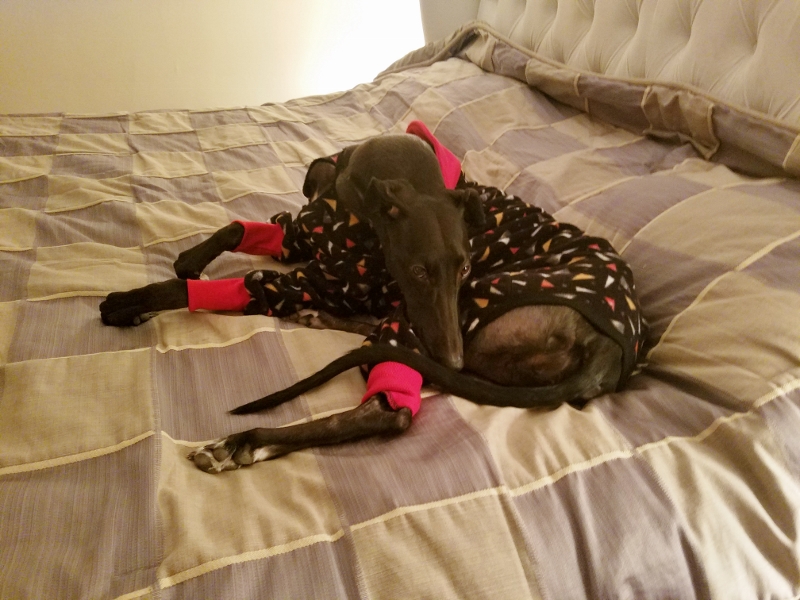 January 23, 2019
Emerson still loves to read to Phoebe at bed time.
January 22, 2019 TBB (Tobias Blue Biscuits) and his mom, Beth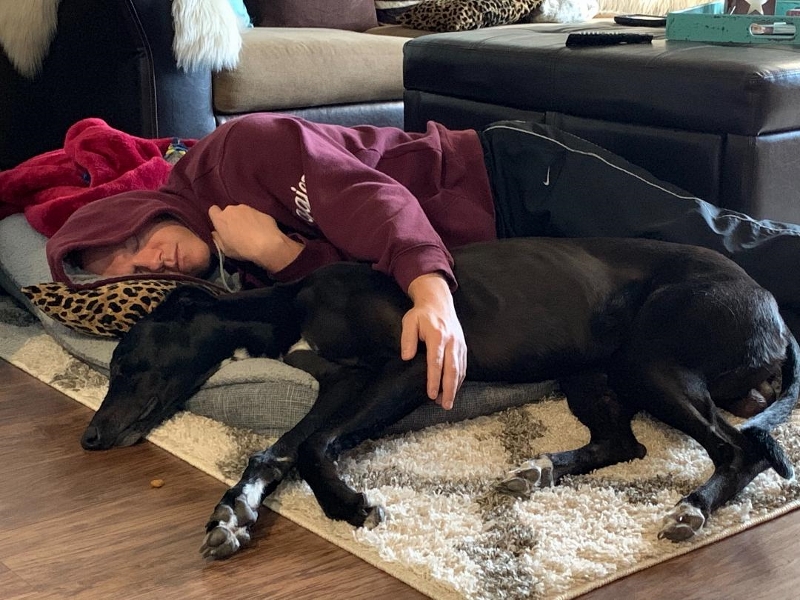 Laurie's girl Luna waking from a nap. January 21, 2019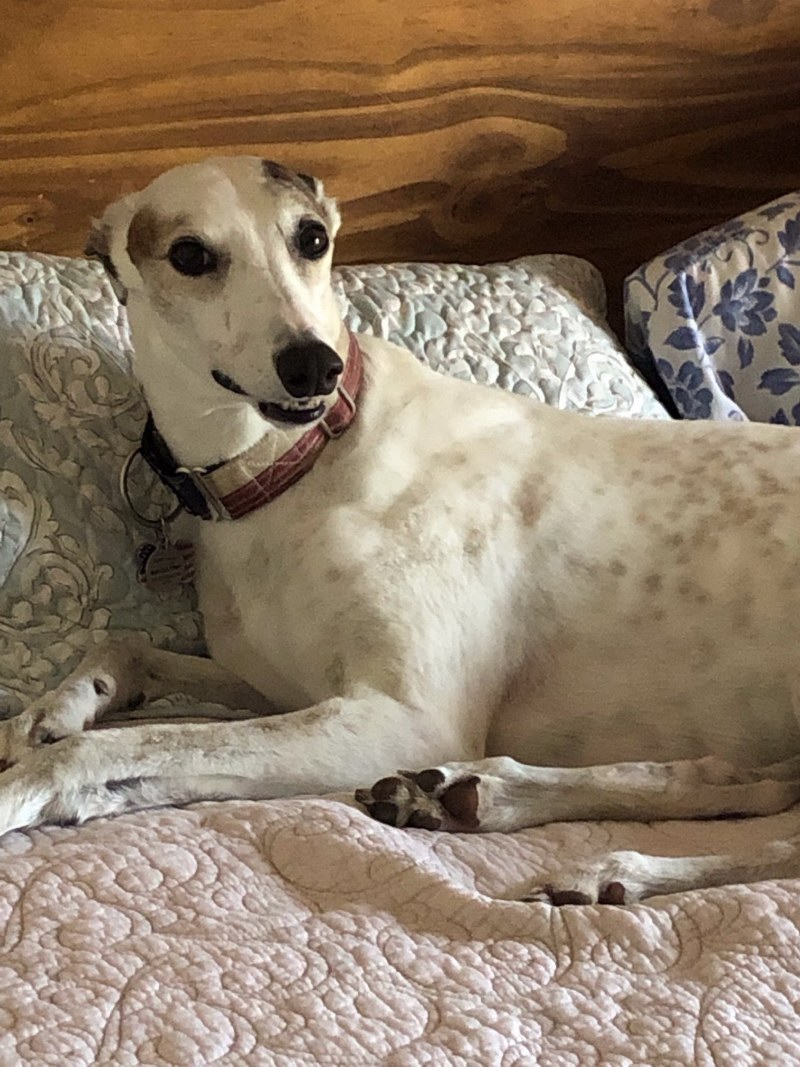 January 20, 2019
Blue Biscuits is now Tobias and has settled in his new home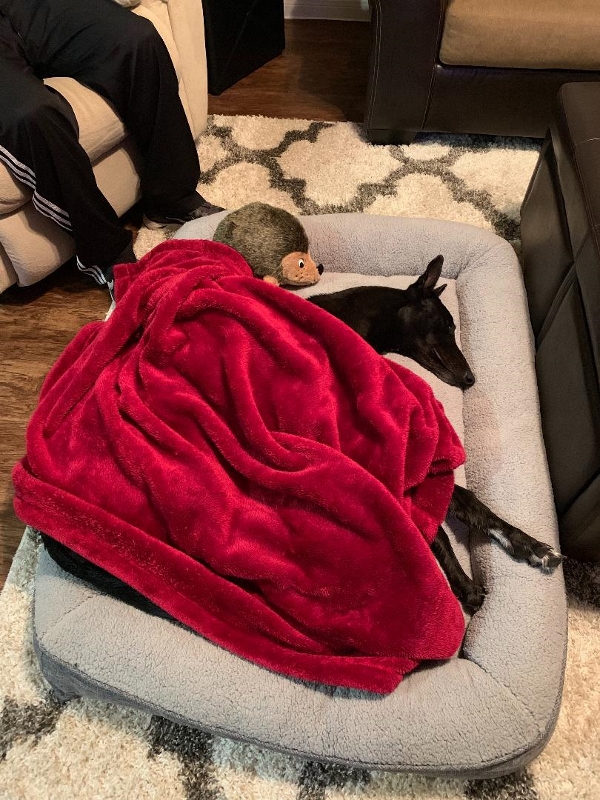 January 19, 2019 Beth and Ty came from San Angelo to take Blue Biscuits home.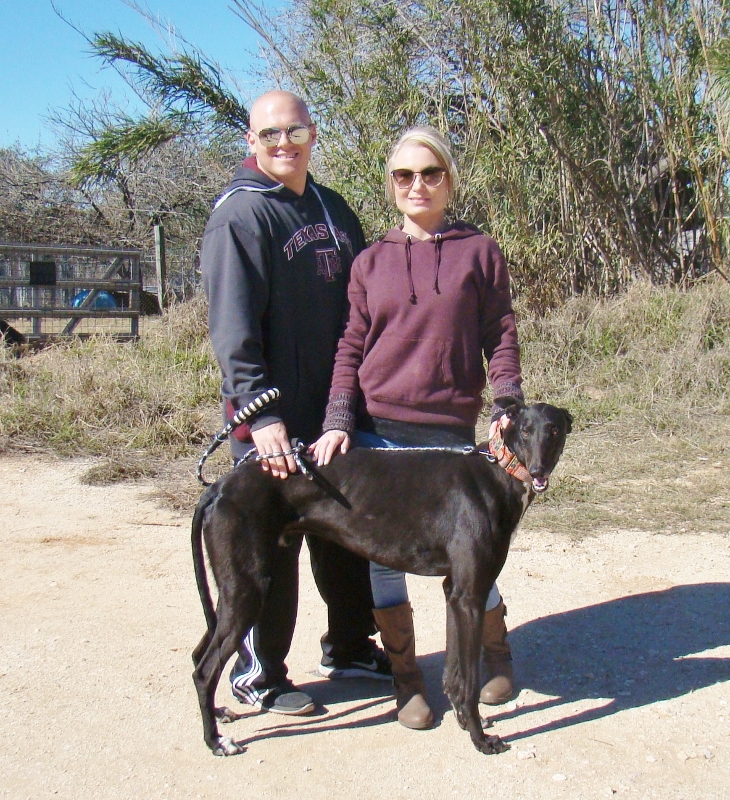 January 13, 2019 Steven came with his family. He took Stripes home and she's taken over the bed! Stripes is Steven't first dog, although he was caretaker of the family dogs when he lived at home.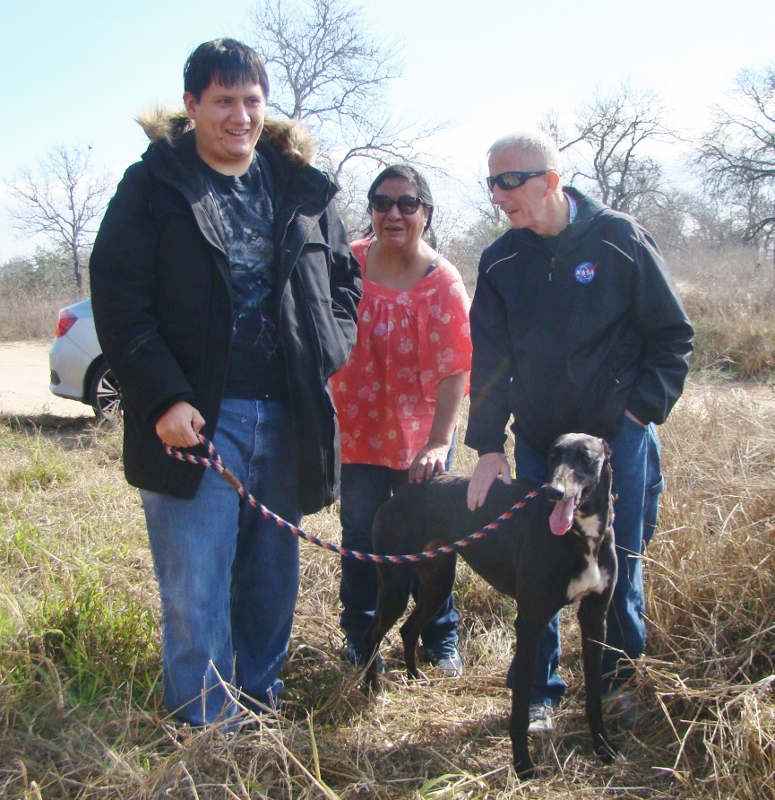 January 13, 2019, Amanda came out with her Greyhound and they chose Fury. Fury's on the left.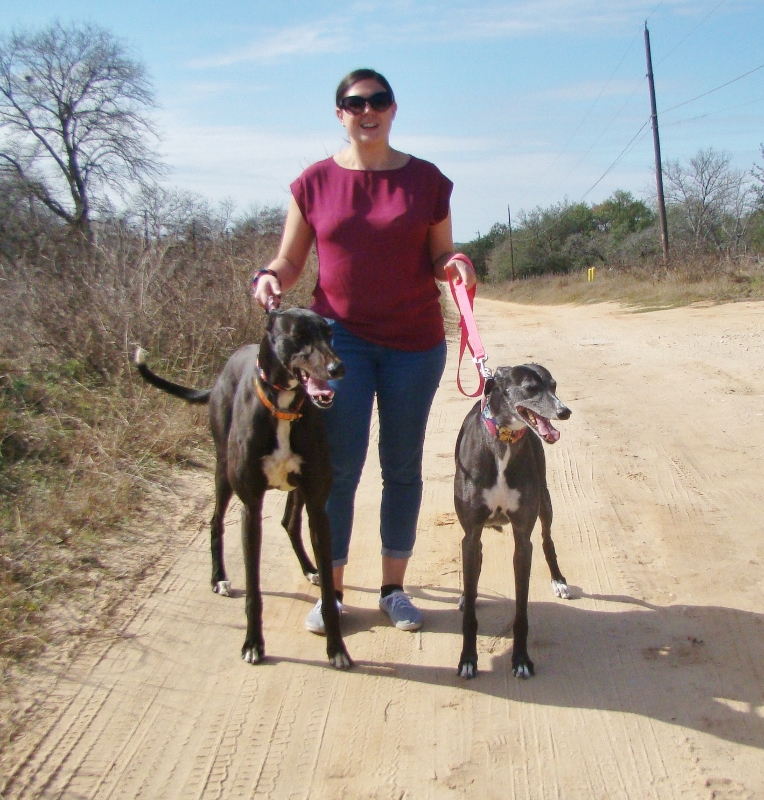 The Saenz family and Fury.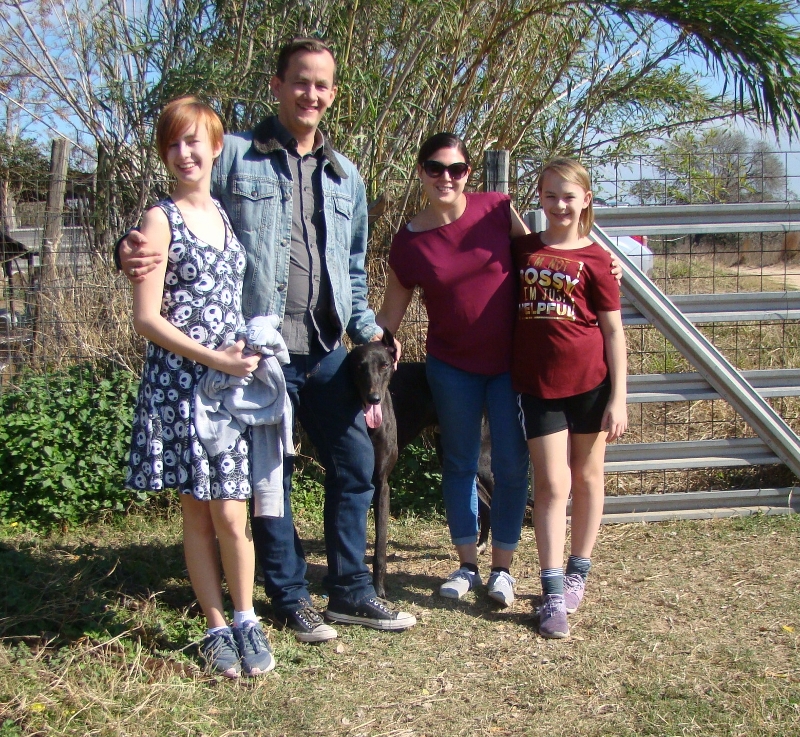 December 30, 2018 - Greyson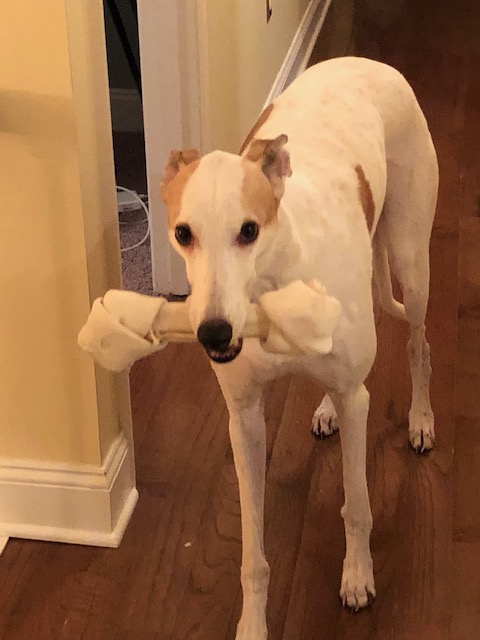 November 29, 2018
Whitney's Pepper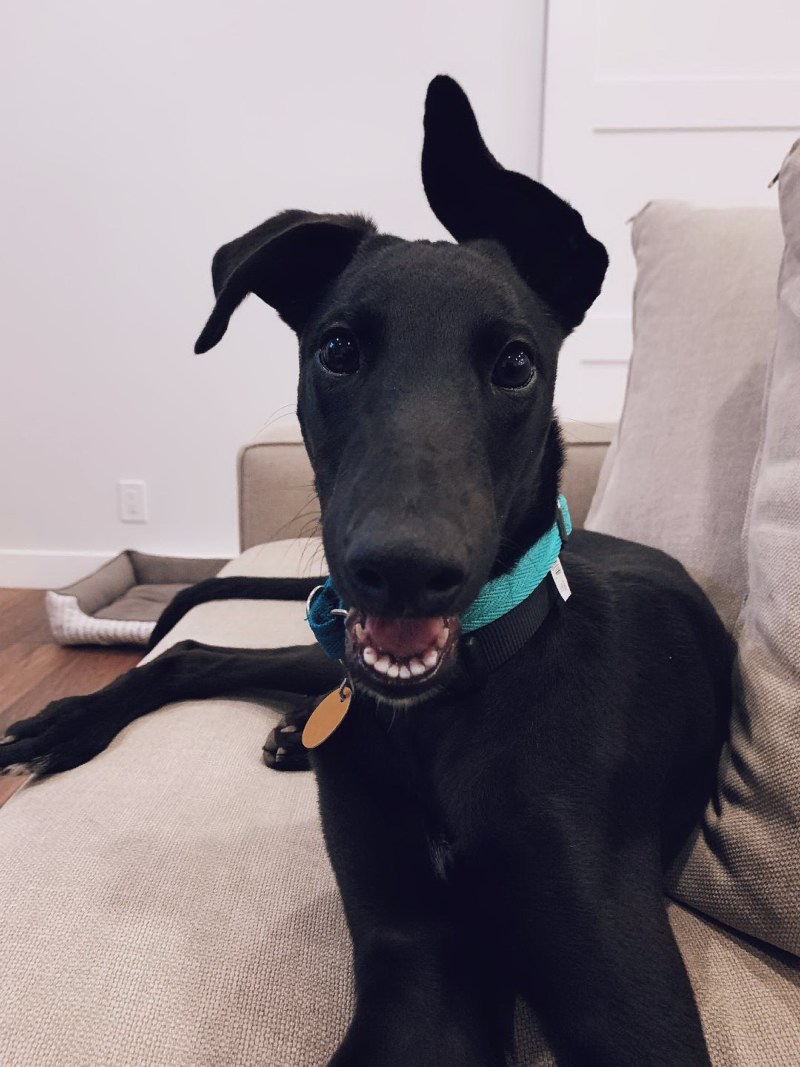 November 26, 2018 Presley, Shenzi and Tank share the same bed, although they each have their own.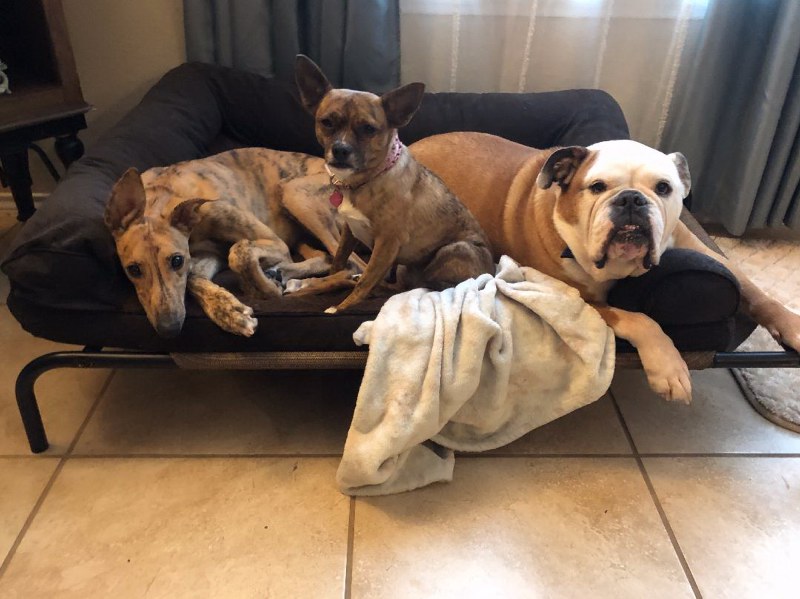 November 20, 2018 Phoebe loves "her" leather couch!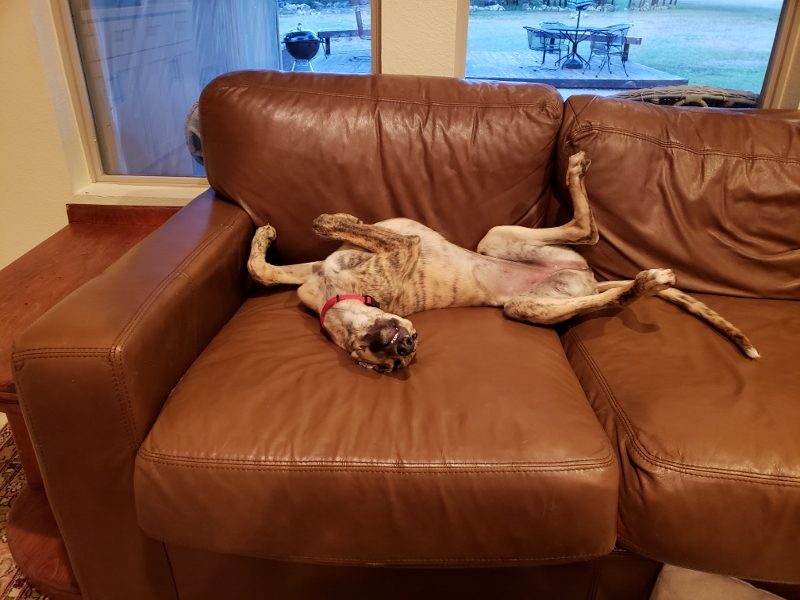 November 18, 2018
Logan in Puerto Rico learning to countersurf.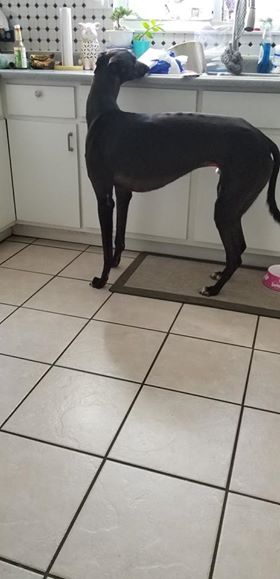 Logan, McKallister and Billie Joe
Bille Joe was found with his litter and Socorro adopted him. He's the little brindle boy. Talk about a happy ending!
November 9, 2018 all the puppies are adopted with the last two, Pepper and Vanilla, leaving for their new homes Monday.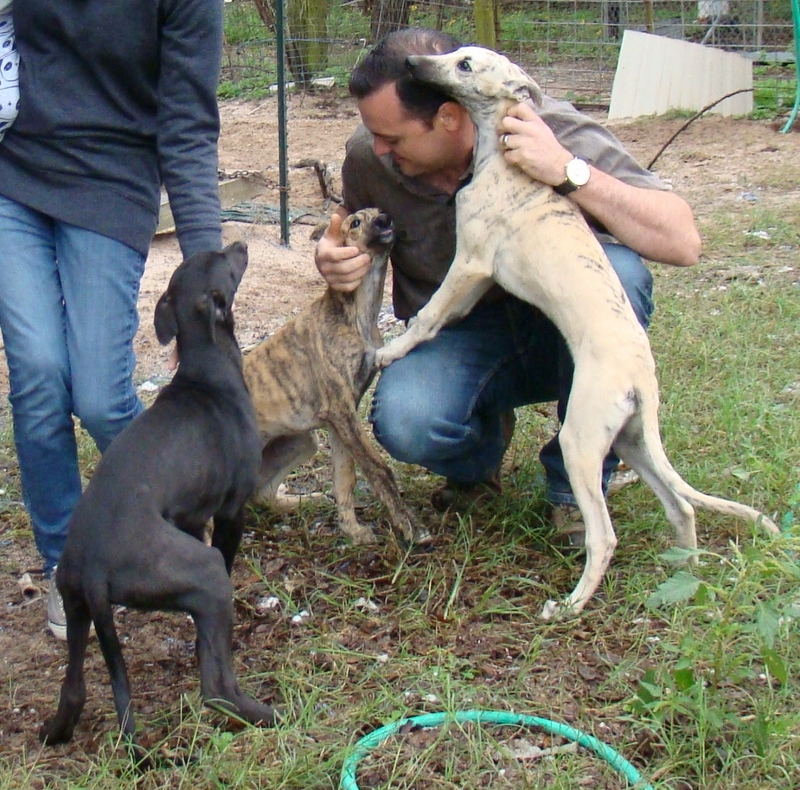 November 4, 2018 Emerson and Phoebe share bed time stories (read by mom) before bed time.
Phoebe's a wonderful addition to the household.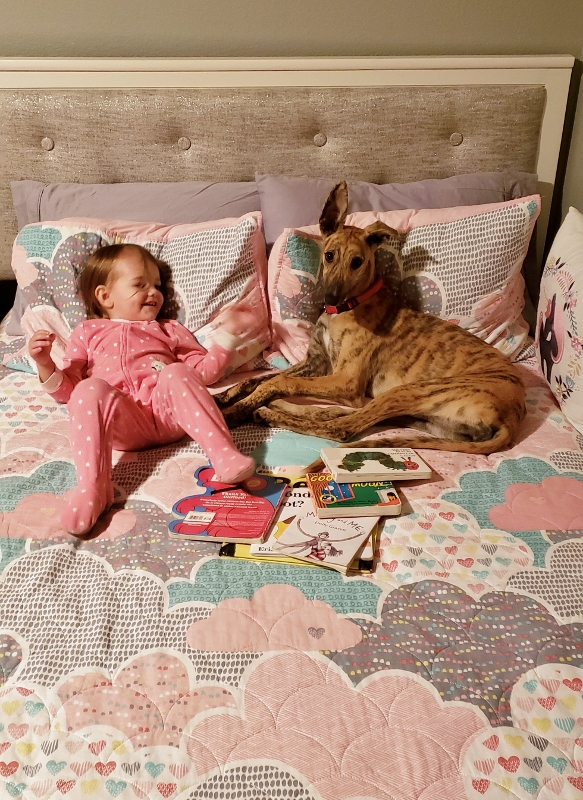 October 31, 2018 after an hour walk with her Dad, Paul, Zelda crashed out on the bed.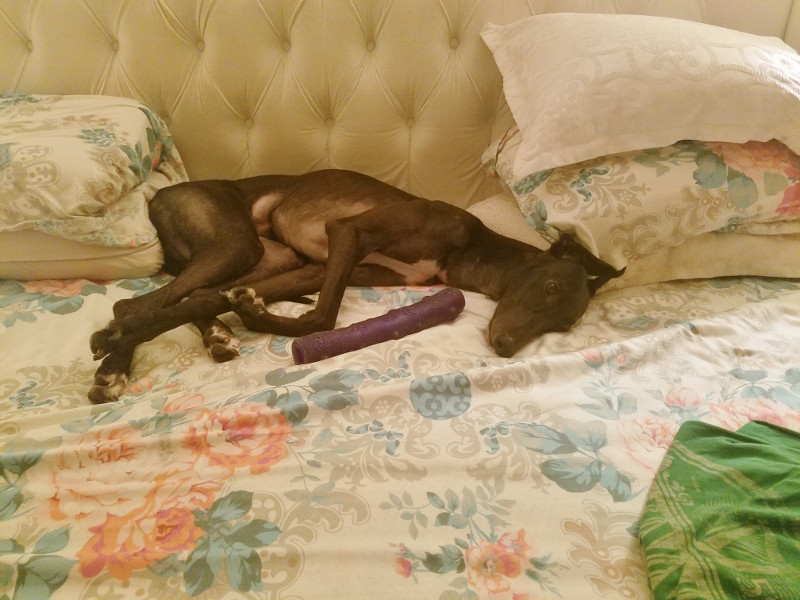 Happy Halloween from Superman Alfredo Grizzard!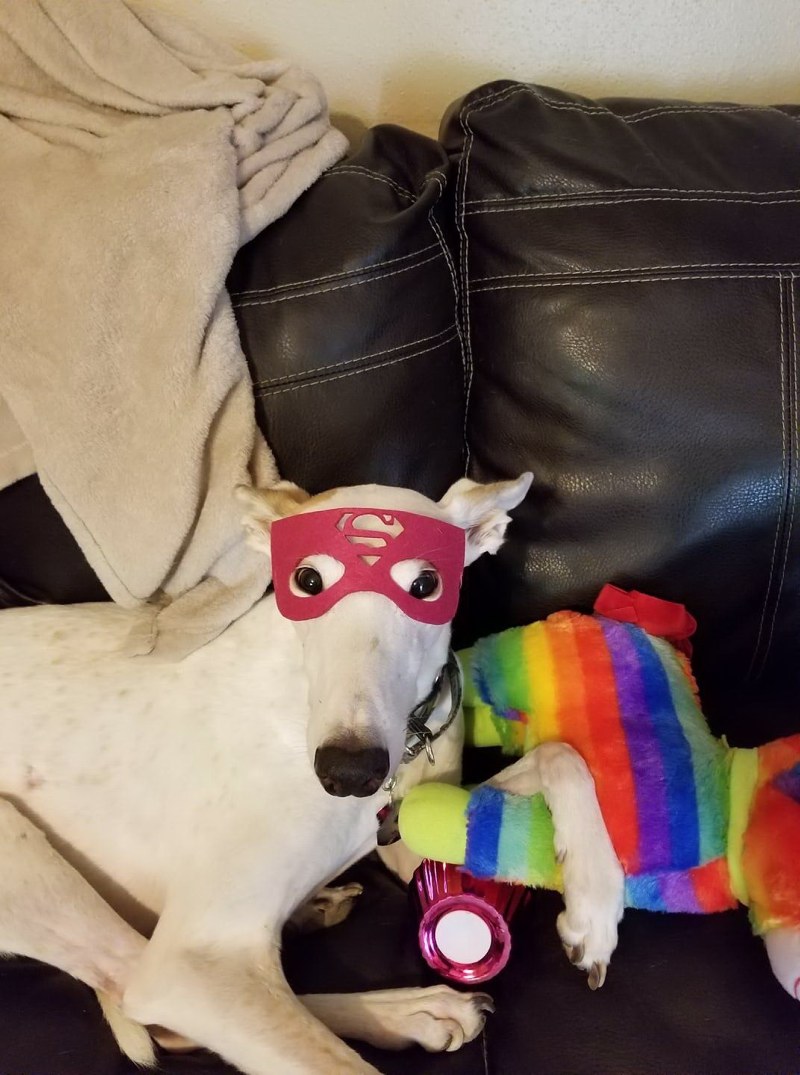 After a night of trick or treating, Alfredo and his best girl, Midnight, rest.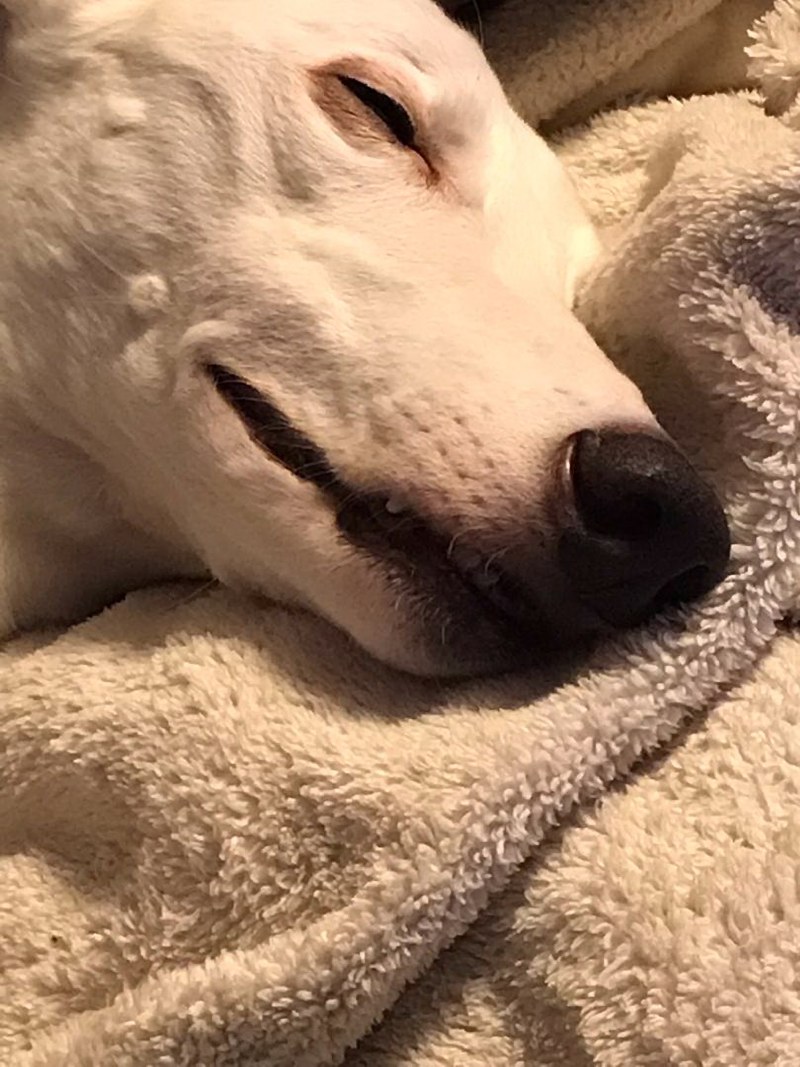 Bexata Midnight Grizzard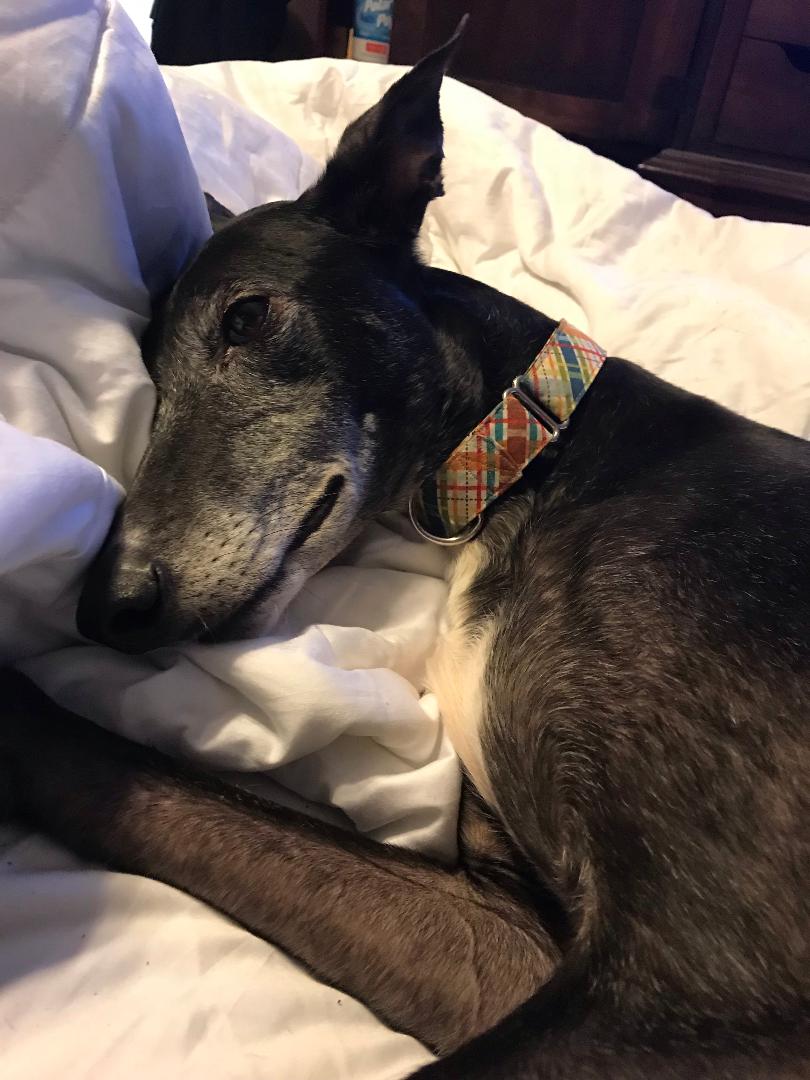 October 25, 2018 Phoebe went home with the Clark family. Here she is following her best boy Andy.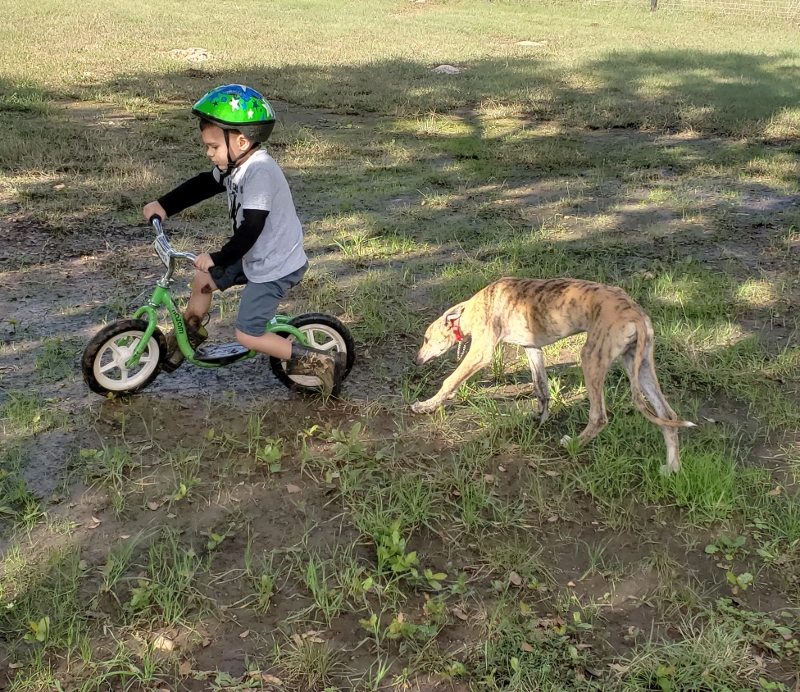 October 19, 2018
...this was everyone snuggling in bed this morning...ALL refusing to get up to potty and pretending they couldnít hear me haha!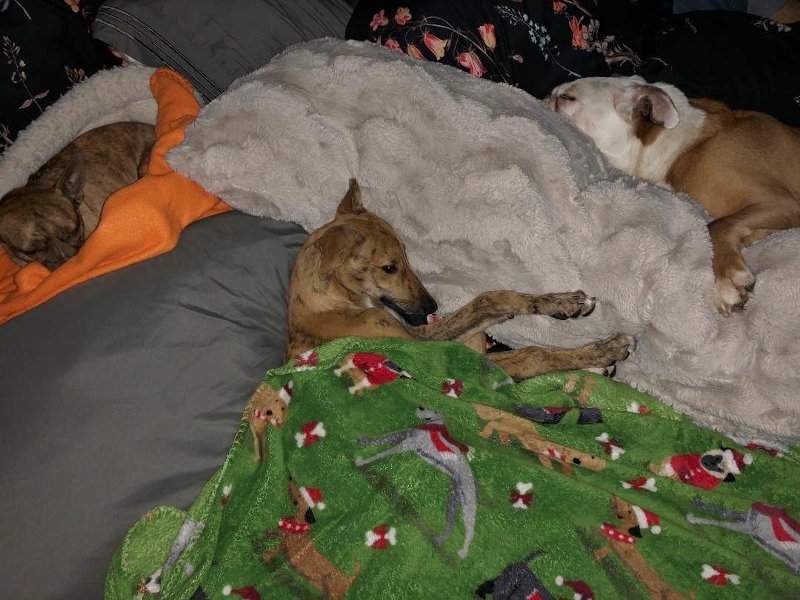 October 12, 2018 Presley and Tank share a bed by choice.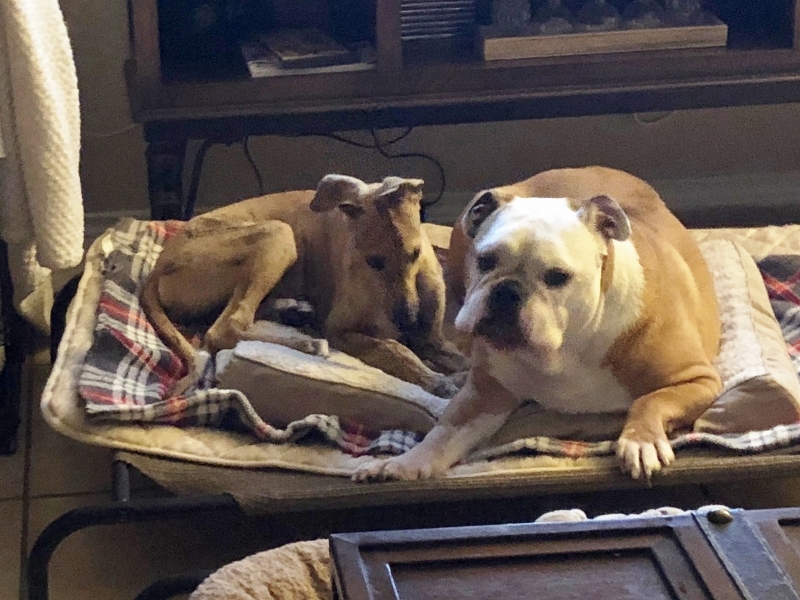 September 15, 2018
Greyson Stimmel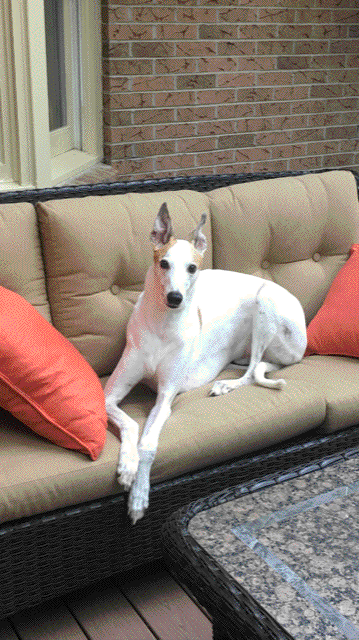 Amanda and Justin's kids Cookie and Avalanche doing what Greyhounds do best!
September 15, 2018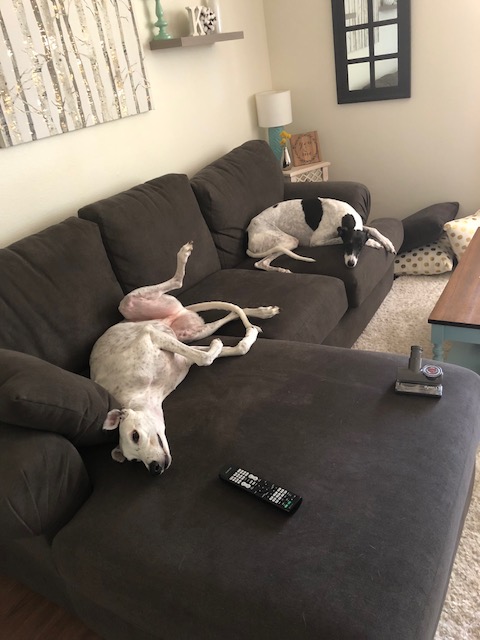 Pretty Cookie King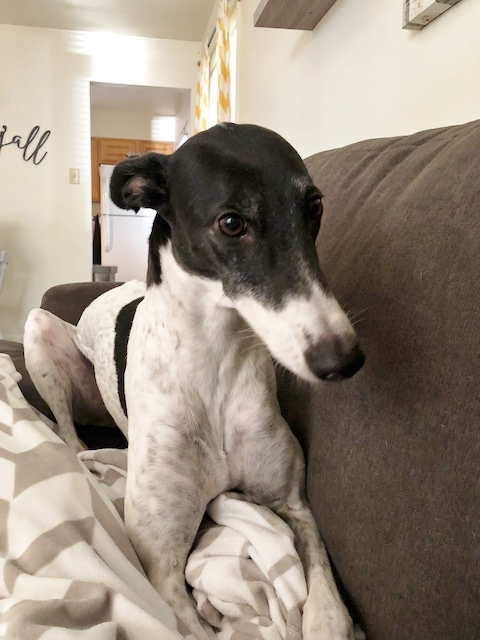 Aren't they beautiful.
and Handsome is as handsome as ever.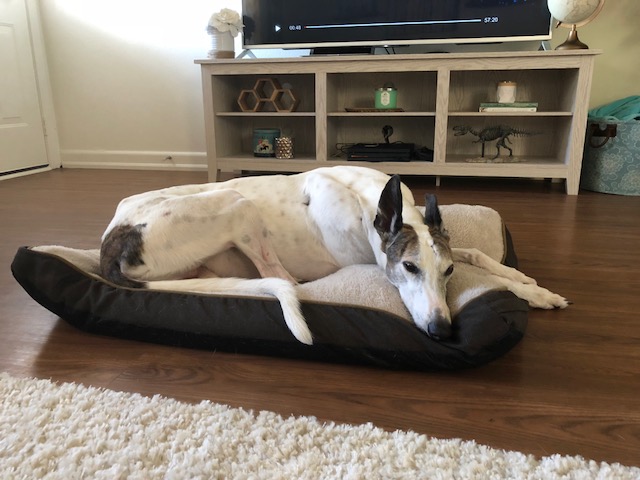 September 9, 2018
Olive and Walter together on the bed. Doing great!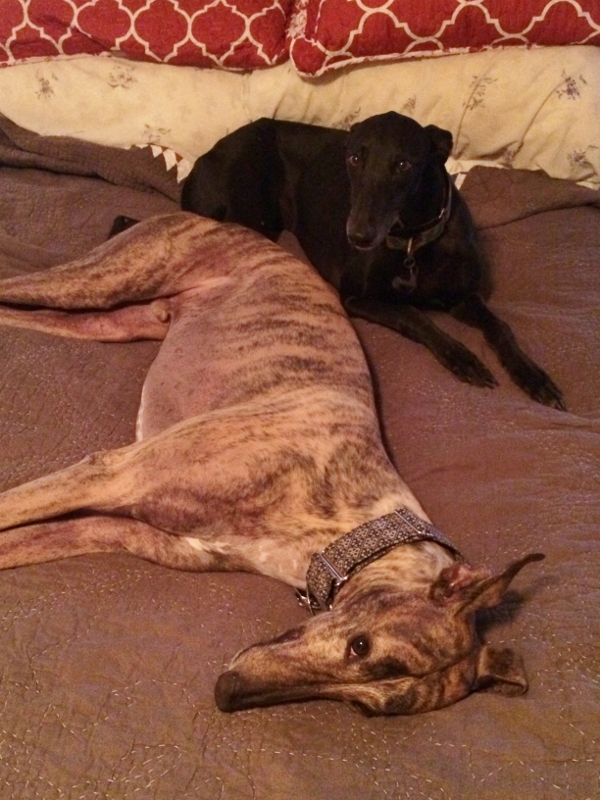 September 1, 2018
Gwenna reads a book to Olive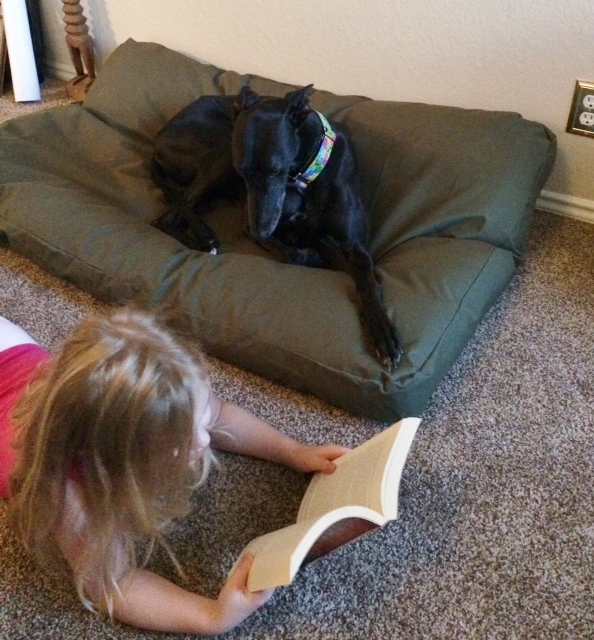 August 26, 2018 Olive, formerly Blackish, is enjoying her new bed in her new house.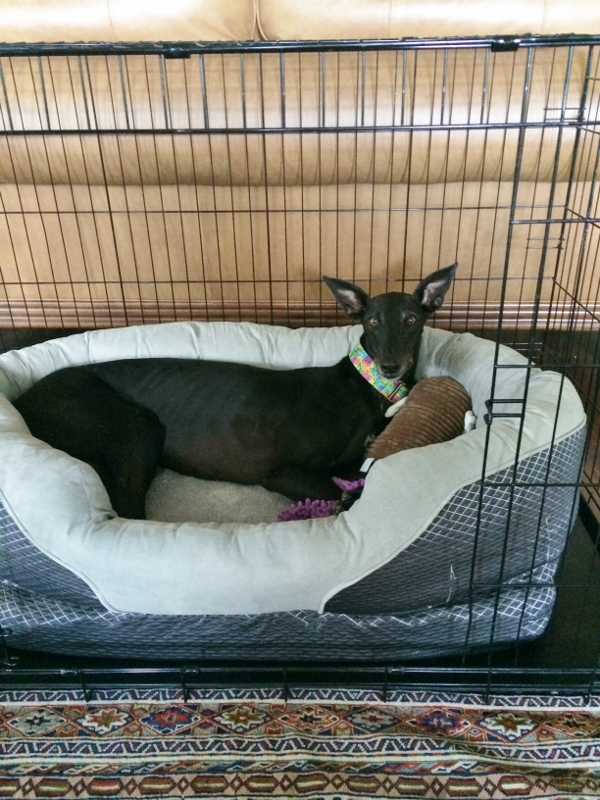 Blackish is now Olive Marsh and happily hanging out with her new family August 26, 2018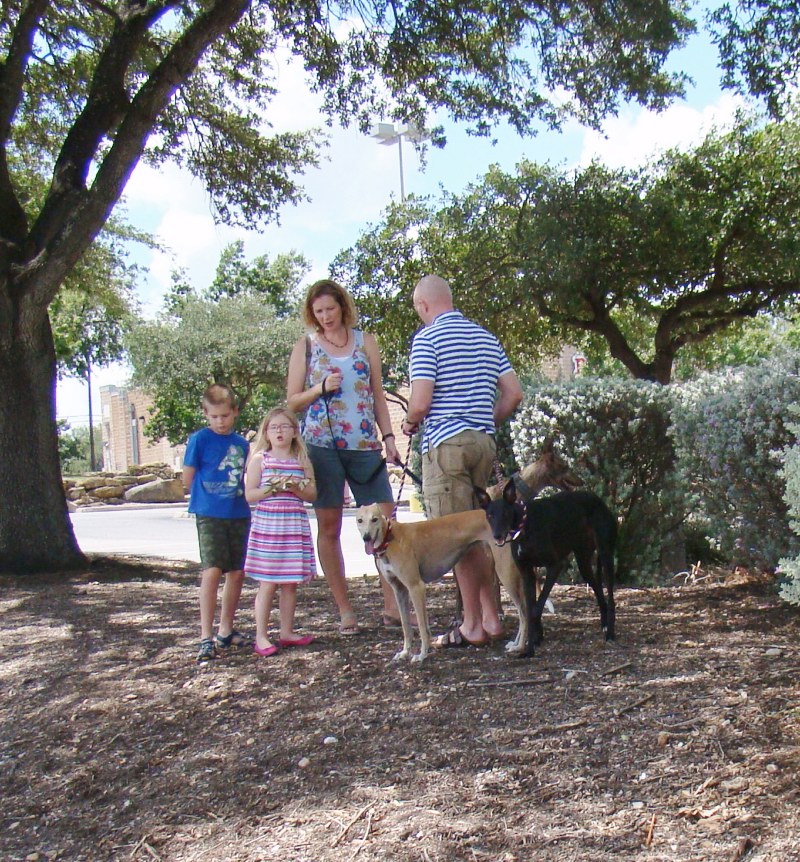 Olive with her new family. The big brindle, Walter is the Marsh family GH. The chose Olive (formerly Blackish) to become a new family member.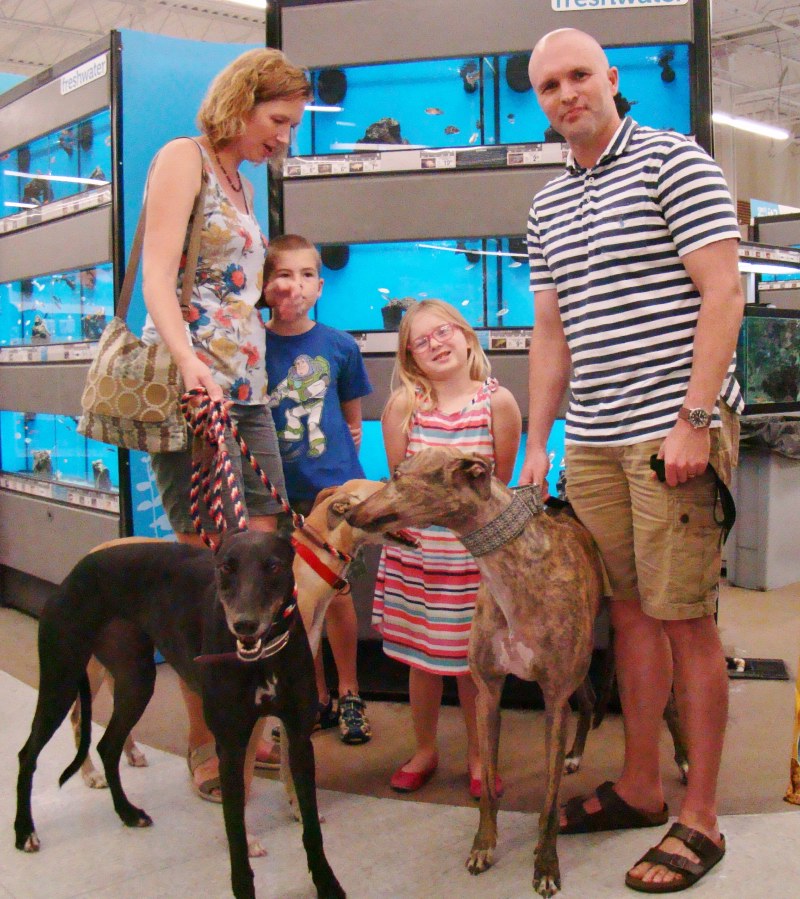 August 2018
At the music festival with her family, Misty enjoys the music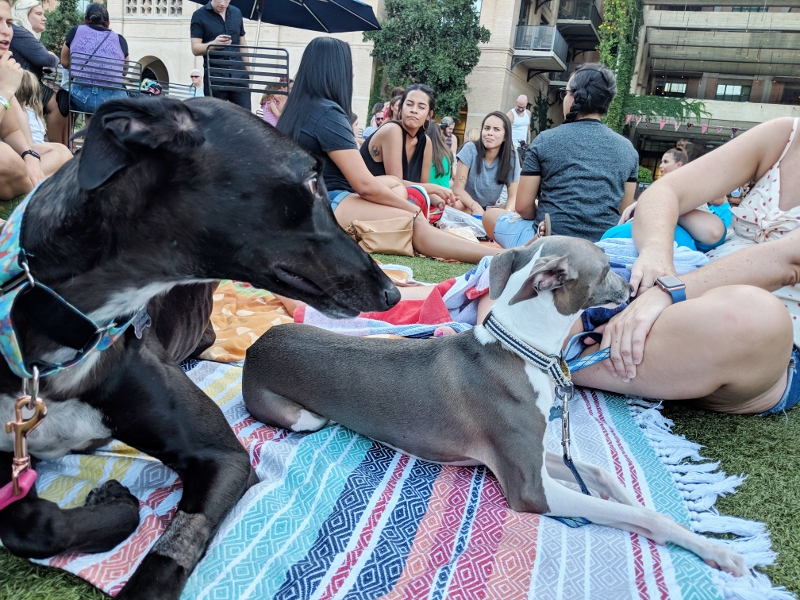 August 8, 2018
Winnie
Misty at home with her buddy, Zeppo. August 7, 2018 he's crashing in her kennel althoug he has one of his own.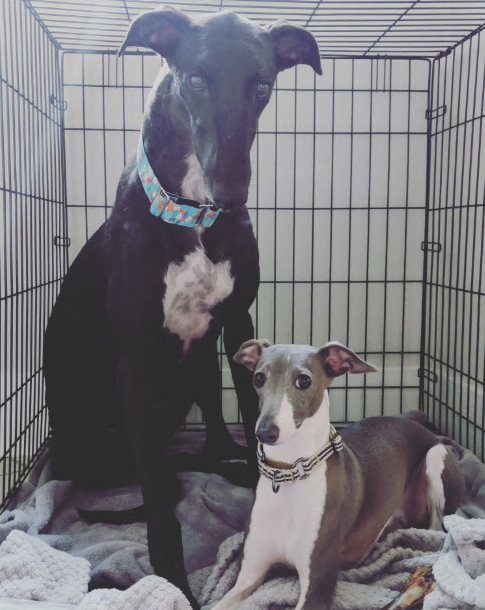 July 28, 2018
The lovely (black girl) Misty was adopted by the Koger family and their IG, Zeppo.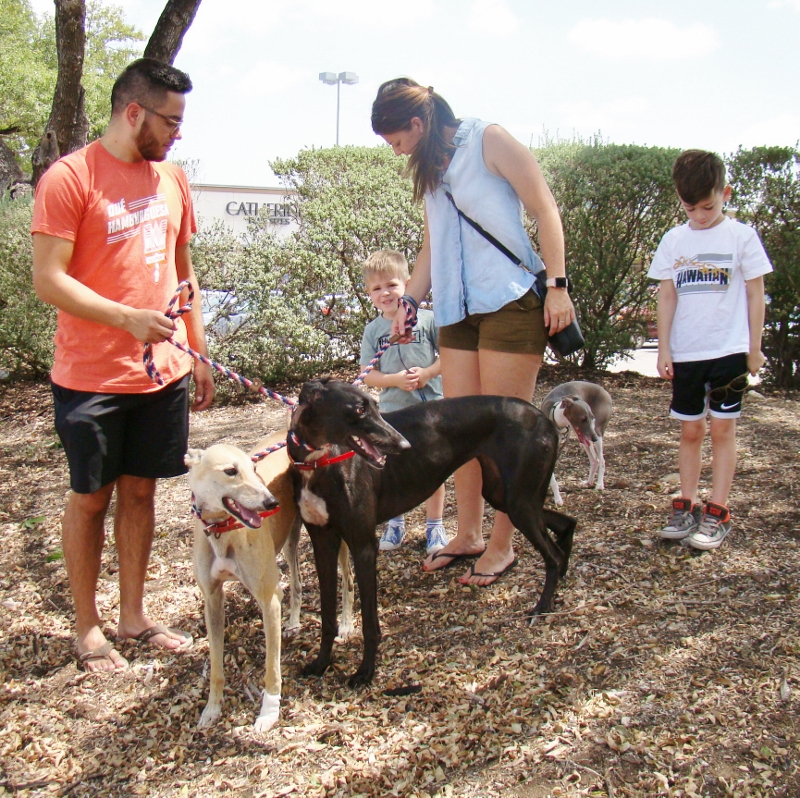 July 2, 2018
Ernie aka Einstein rides with his buddy Lucy, and dad, Sonny, in their Greyhound Bus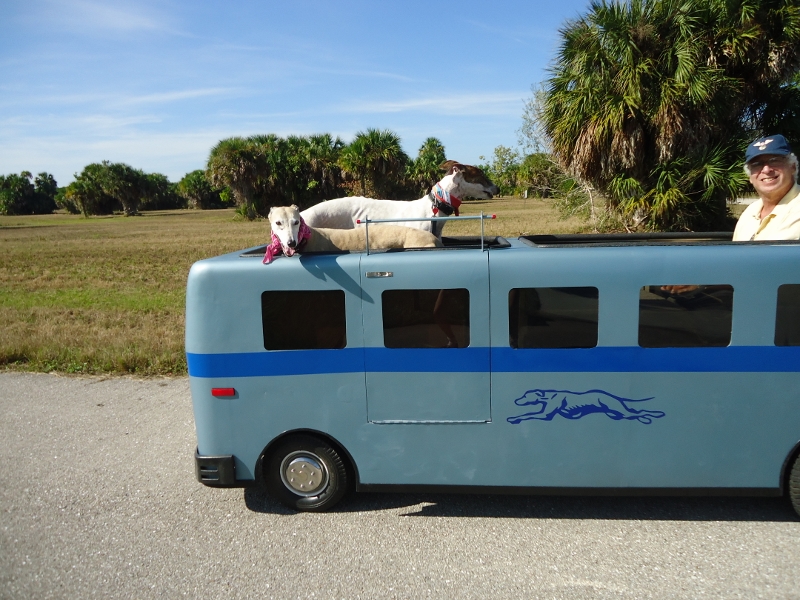 June 27, 2018
At home enjoying the couch when she's not on the bed or in the baby pool.
Miss Daisy has it made and is adored by Becky and vice versa.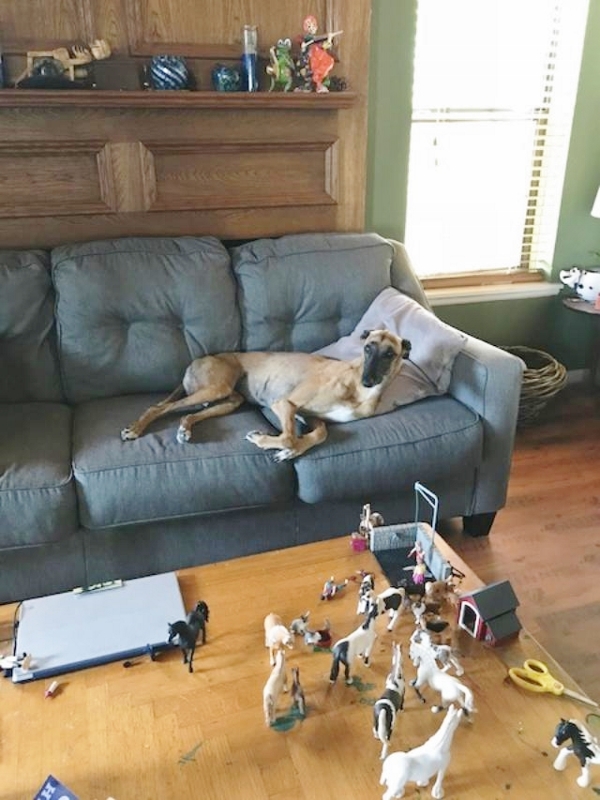 April 29, 2018 Daisy Woloshen and her mom, Becky.
at Petco
with Rebecca at Home Depot. She takes everything in stride.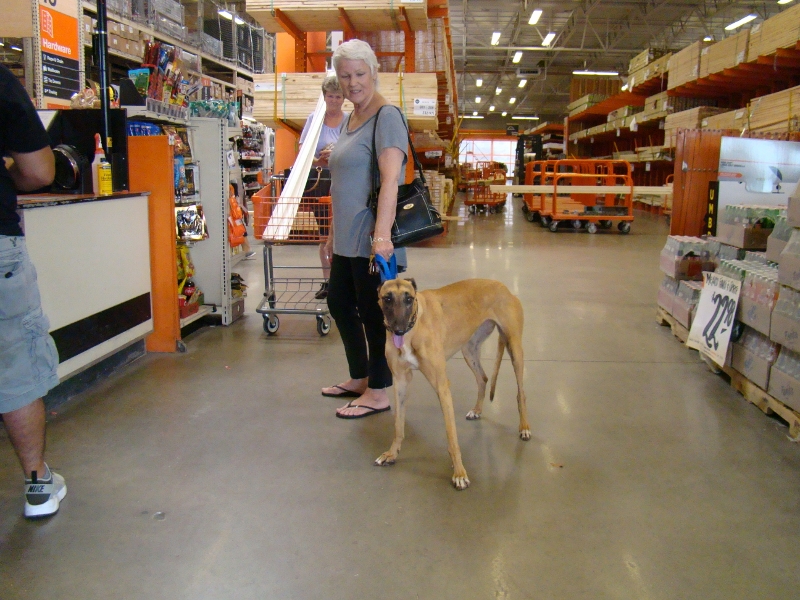 At home she has her own bed and likes upside down on Rebecca's or...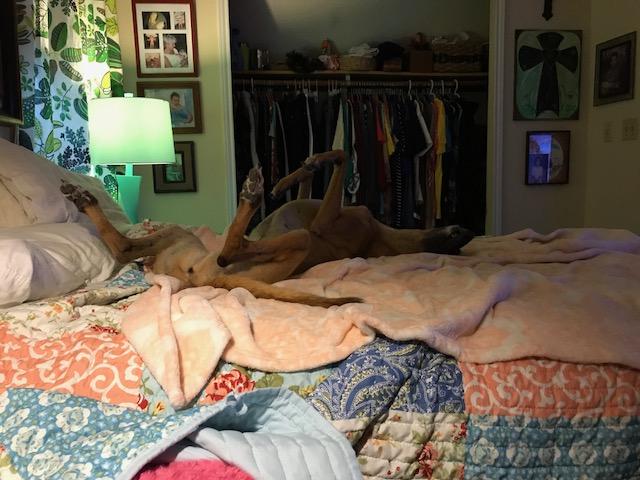 sideways on her own.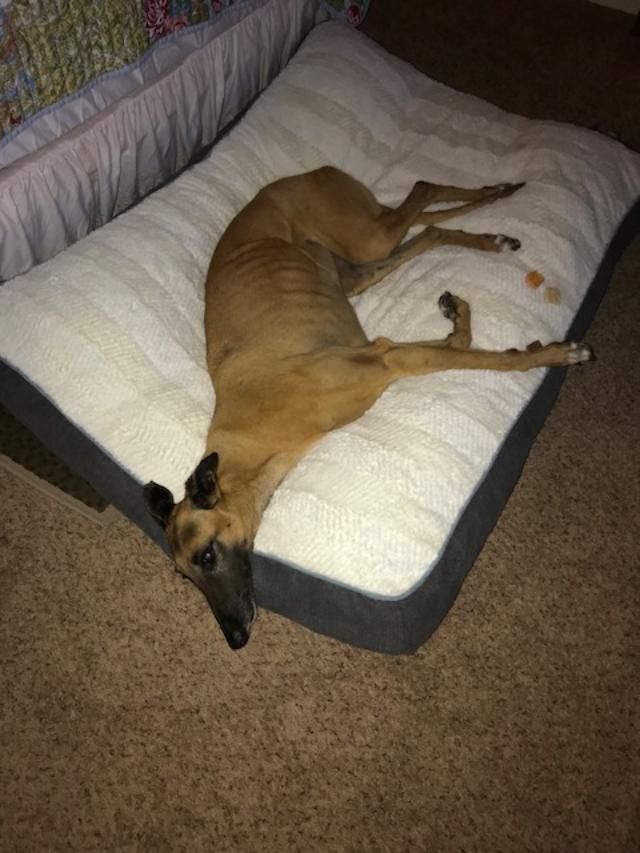 Sockie's Logan in Puerto Rico - favorite position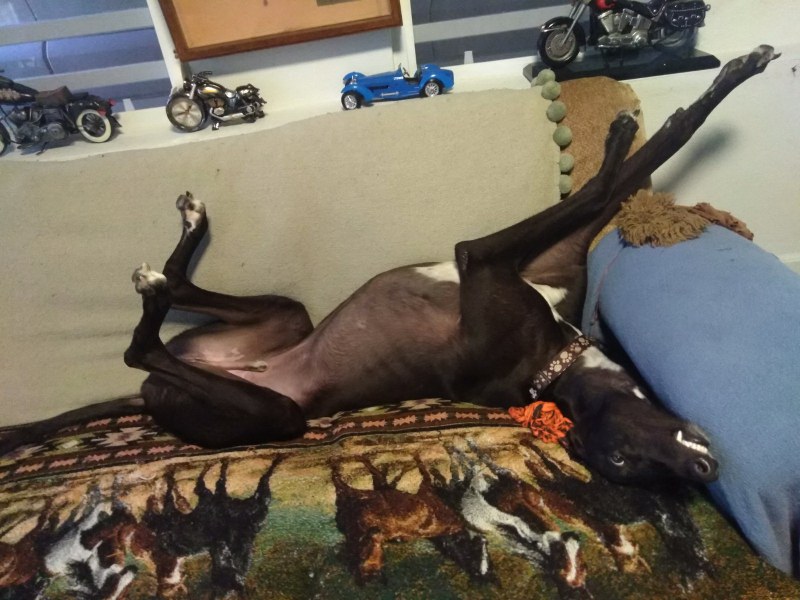 Happy Birthday Zelda January 31, 2018
She has her own Furbo so daddy can talk to her and throw treats to her while she's home and he's at work.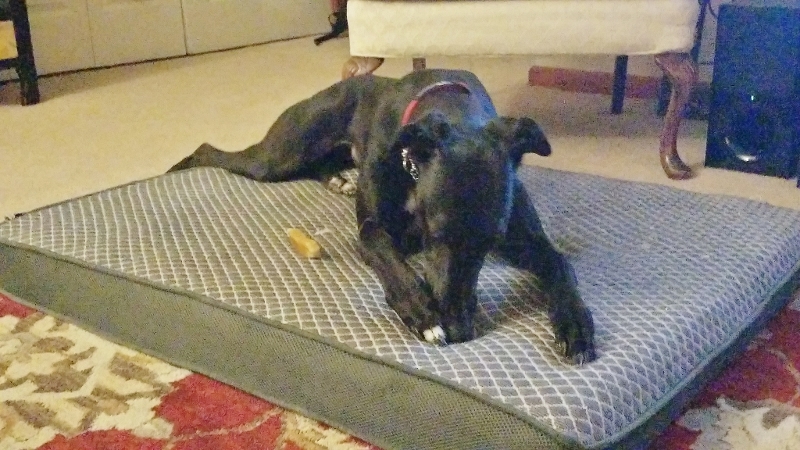 February 2, 2018 a year and 2 days and
Logan is waiting for his breakfast!
January 7, 2018
Paul's Zelda in her PJ's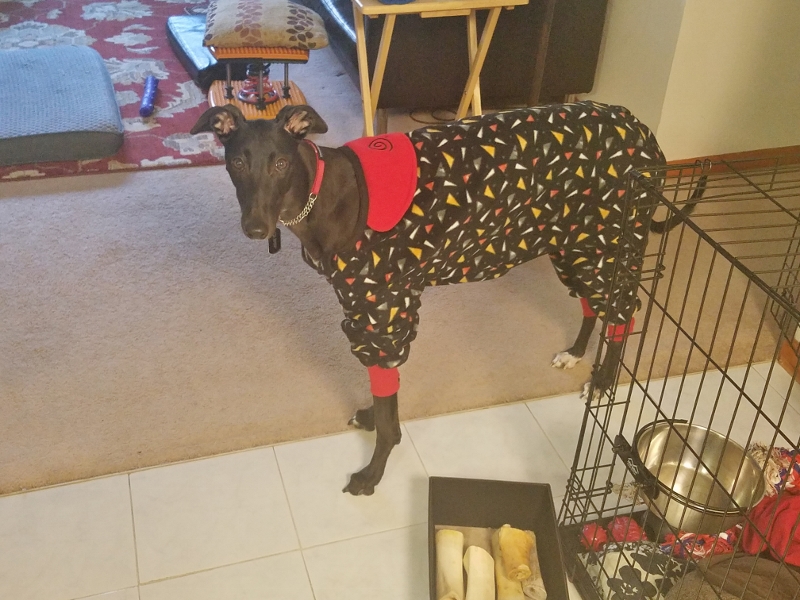 Churra, Kahlo and Cheto
Bexata Greyhounds and their Yorkie friend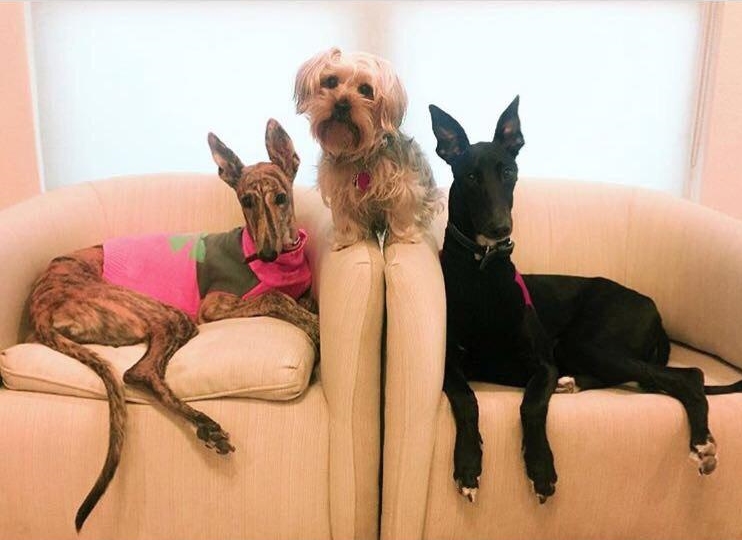 December 23, 2017
Retired Champion, Lola, and her adopted mom at Christmas
Luna and Rosie Hanzelka December 22, 2017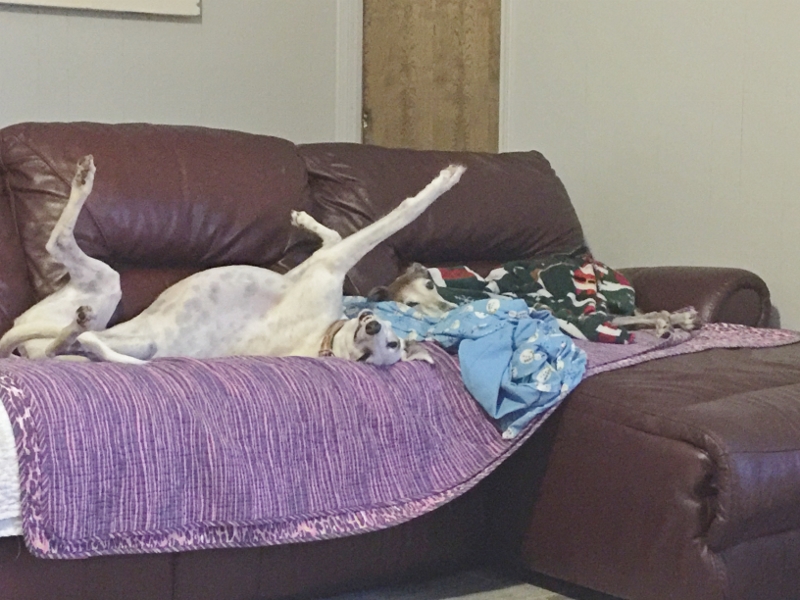 December 11, 2017, the handsome Greyson Stimmel and his Christmas Tree.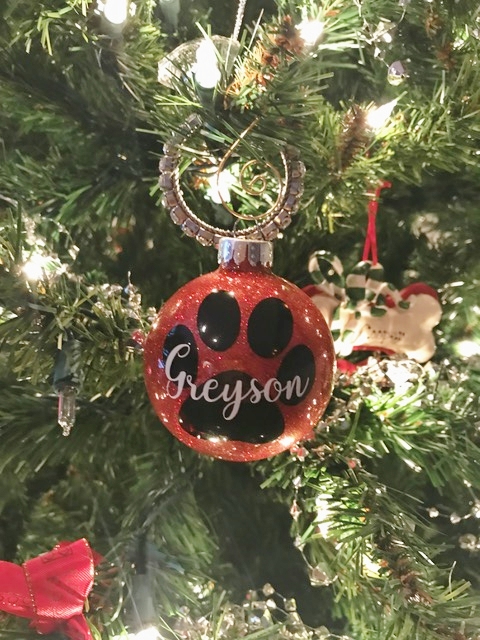 November 22, 2017 Happy Thanksgiving from the Davis Family - their Bexata boys
Leon and Baby Blue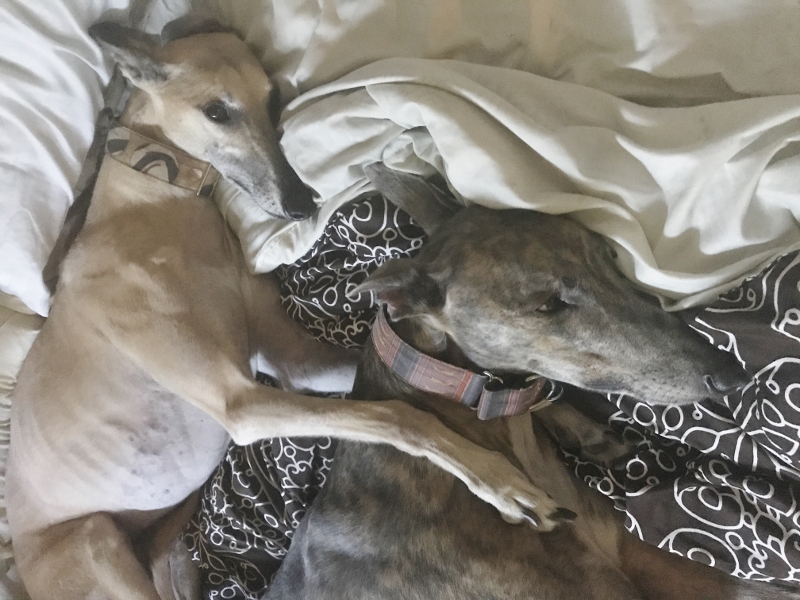 September 20, 2017 thhis is ow Laurie's adopted Bexata Greyhound girls spend their day.
left to right Field Ch. Foxie, Rosie, Luna, BIF Field Ch. Willow
September 18, 2017 Zelda is Paul's very content and secure Greyhound girl.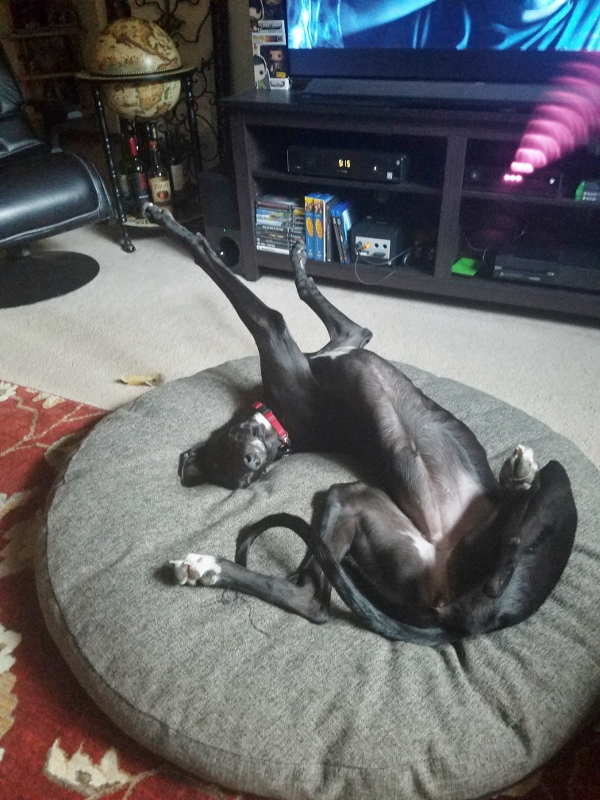 Zelda, when she's not sleeping - just absolutely ADORABLE!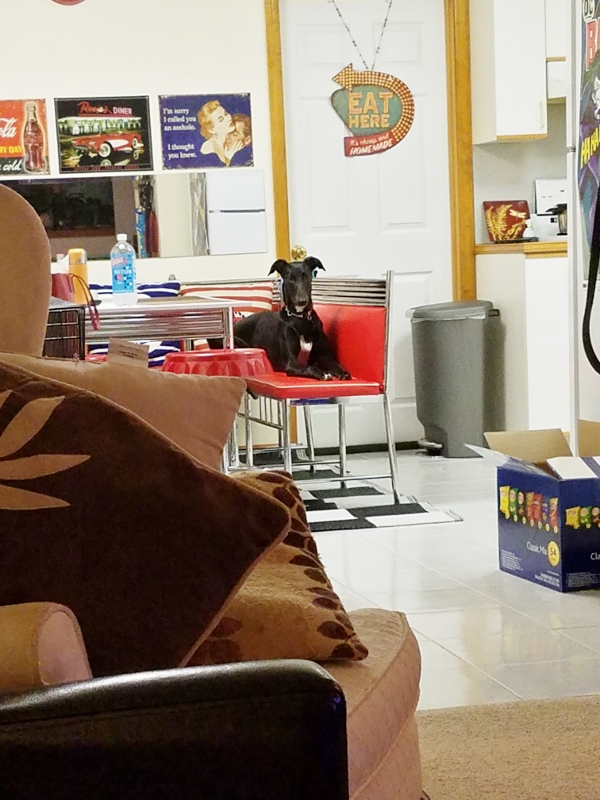 September 2, 2017
Bexata Greyhound Ally sharing the bed with dad.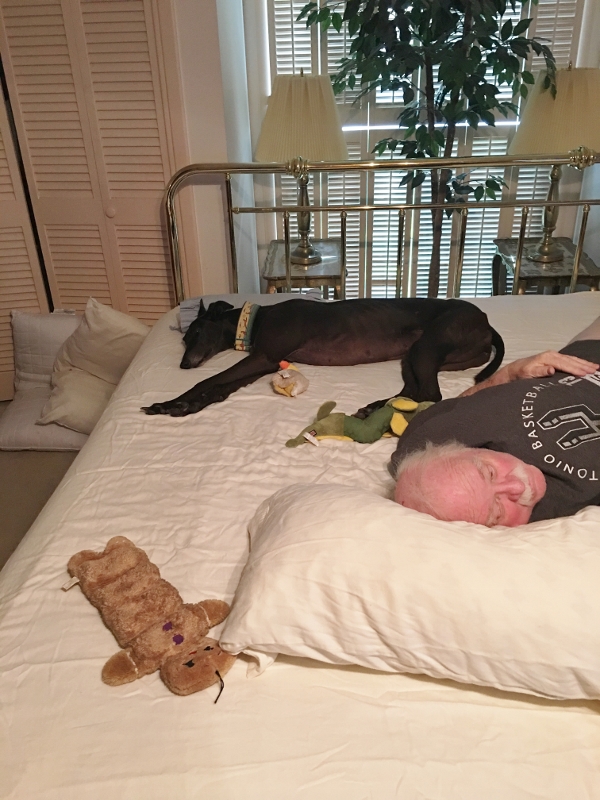 September 1, 2017 the lovely Ally was adopted - Cindy took her home from Bexata and (above), she moved right in and shares a bed with hubby. From farm dog to bed potato! Gotta love the Greyhounds.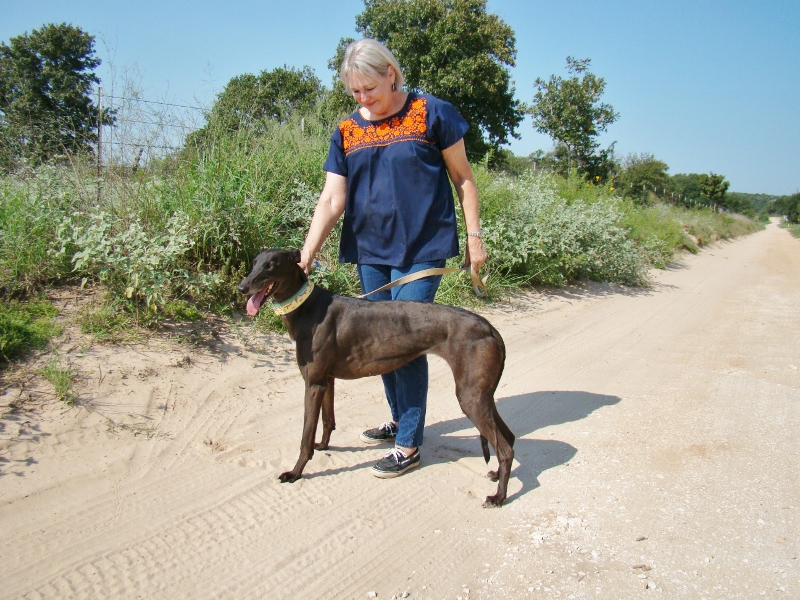 August 31, 2017
Bexata Greyhound Logan and his best friend Bull Terrier MacKallister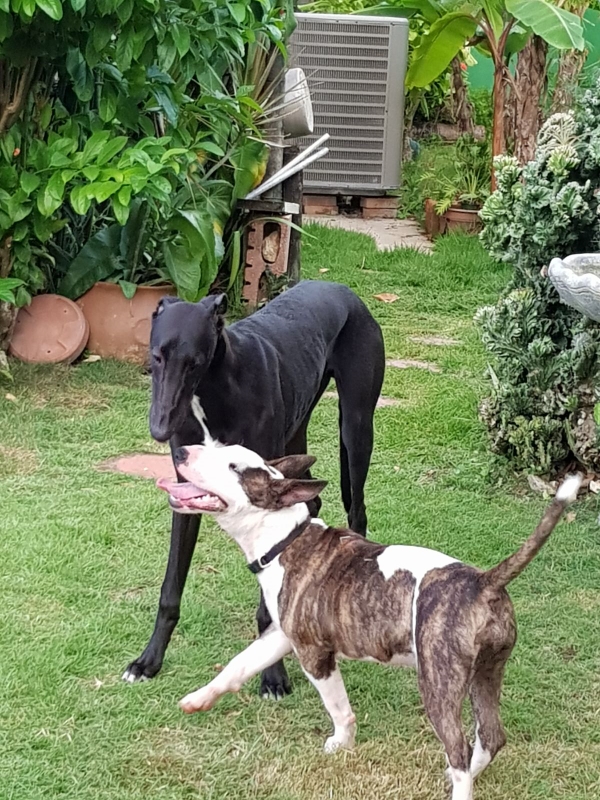 August 29, 2017
Pele (formerly Petey the Rescue Whippet) and his dad Scott on hking trails in AZ.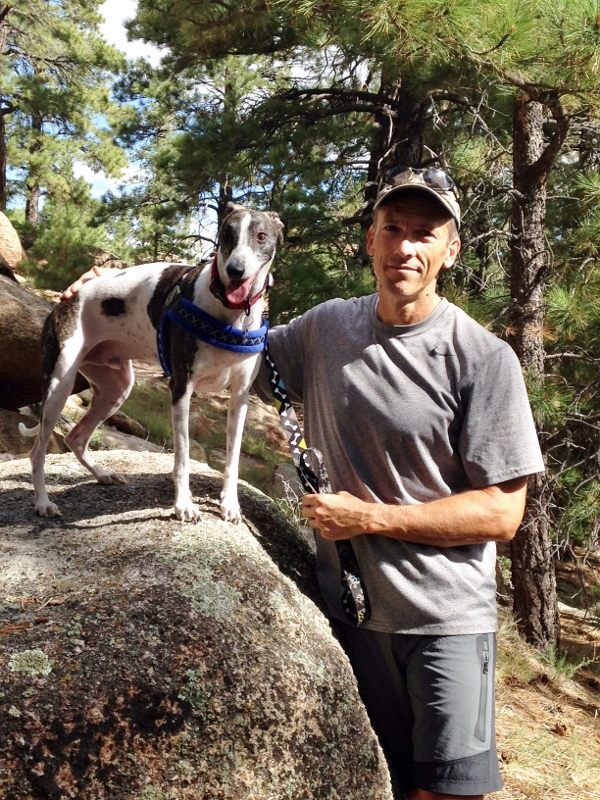 July 11, 2017
Sable was adopted a few years ago and has a wonderful life.
Here she is at the beach.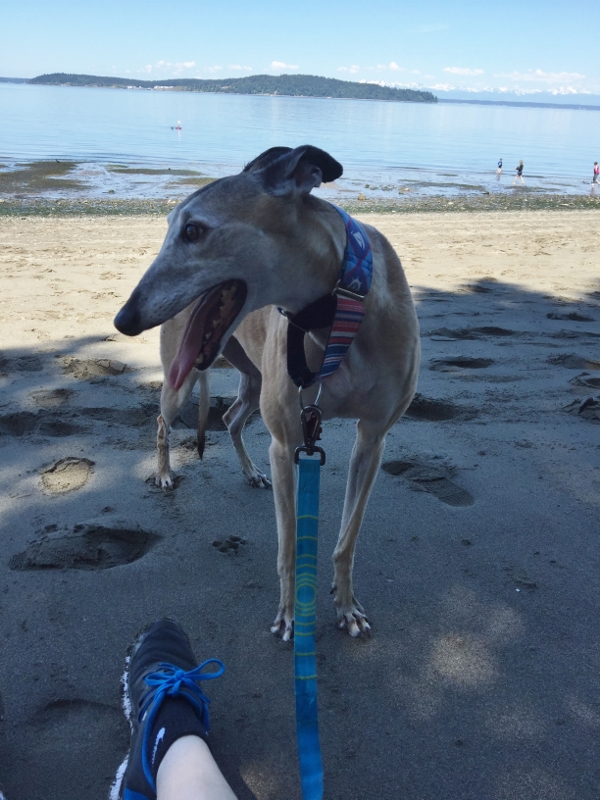 July 7, 2017
Winnie Kendra - His mom, Michele, says he sleeps 26 hours of a 24 hour day!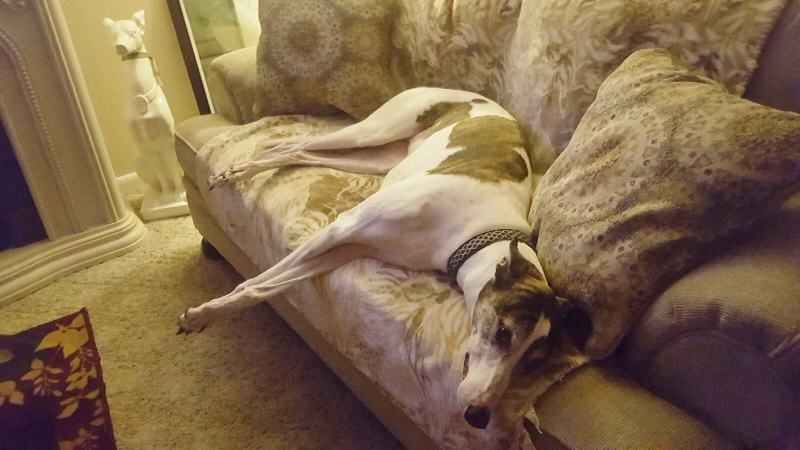 July 6, 2017
Terri's girls GH Holly, and her best friend, Ivy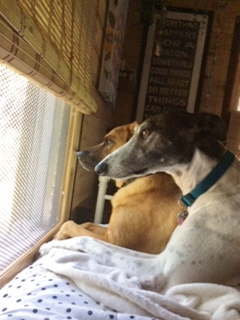 Midnight and Alfredo (Mariano) Grizzard July 5, 2017
They have been so good with our foster daughter! Alfredo is really super patient with her; probably because she also feeds him her leftover food! We have been calling Midnight Momma because she will often go and check in on her when we put her down for the night. I will hear the door open and check the monitor and there's Momma Midnight making sure everything is good for the night.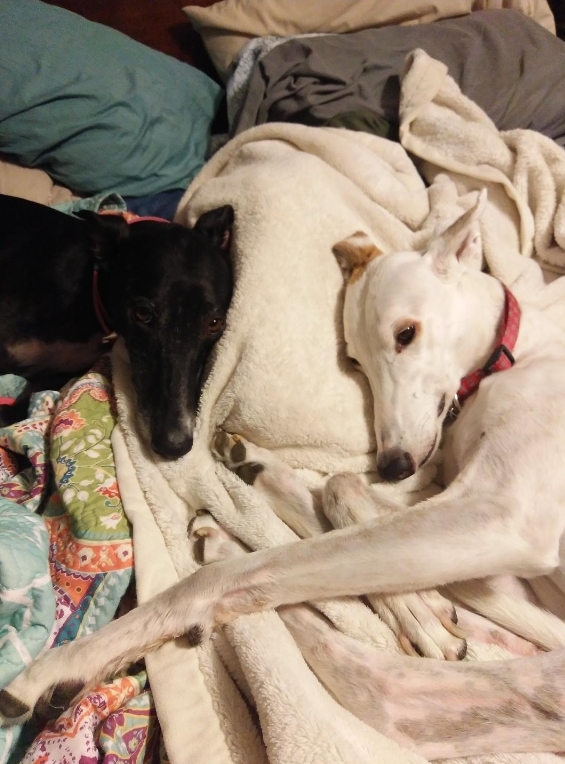 June 17, 2017 Greyhound Logan and his friend MacKallister. Logan makes a great pillow!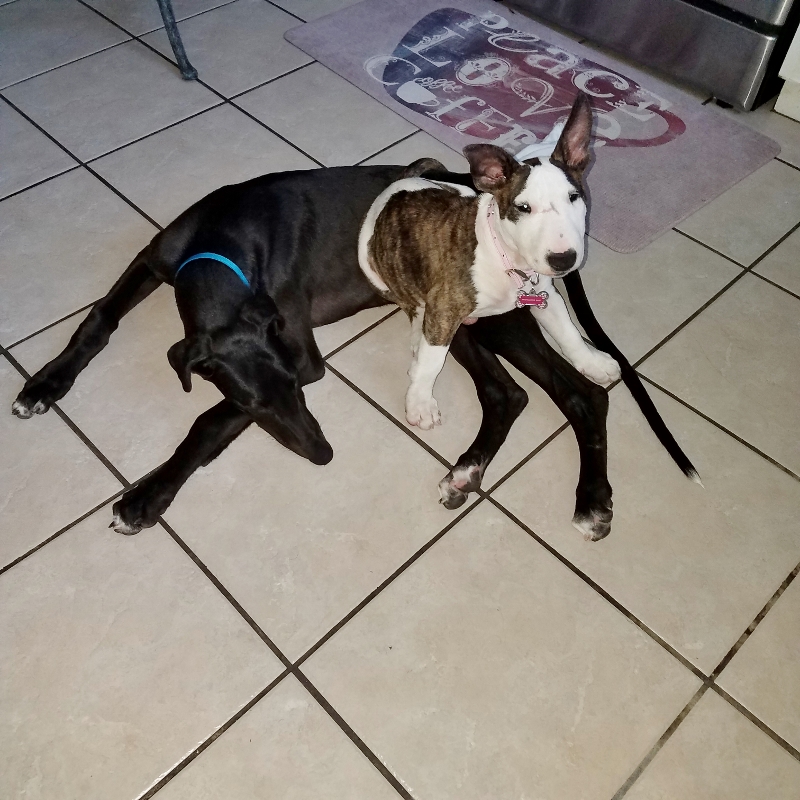 June 17, 2017 Cookie King enjoying the baby pool (top)
Avalanche, Handsome, Cookie King below.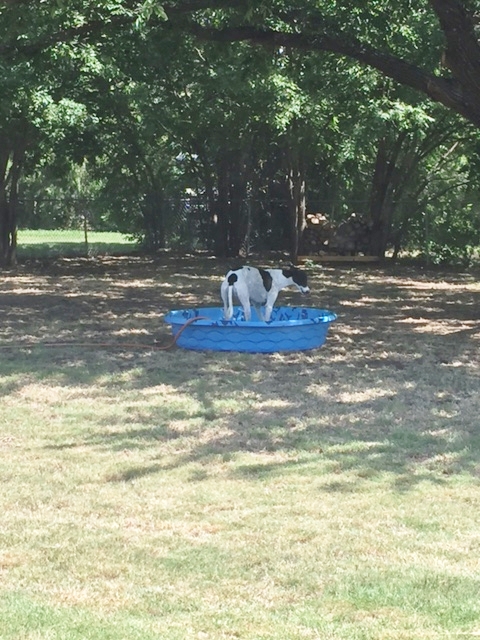 May 21, 2017, Lola at her adopters' in Arizona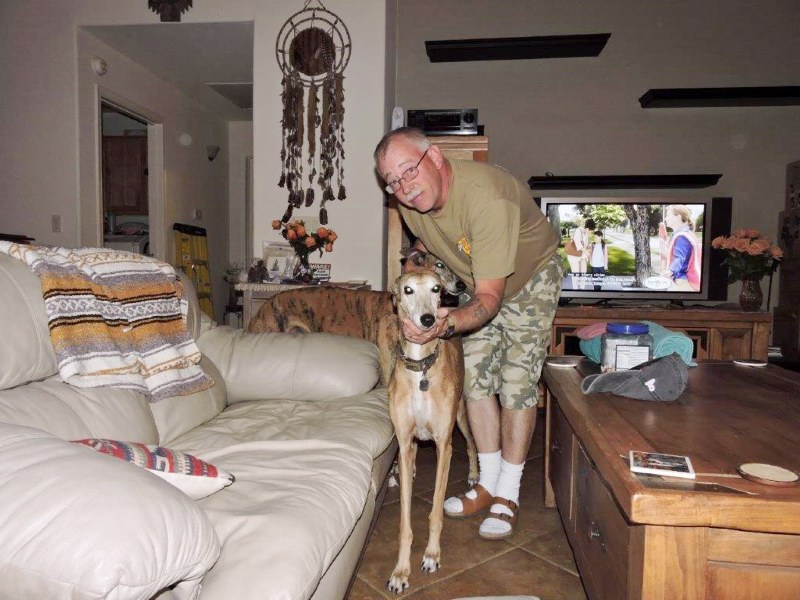 May 5, 2017 Tiger Boy Lohmeier living the life with his toy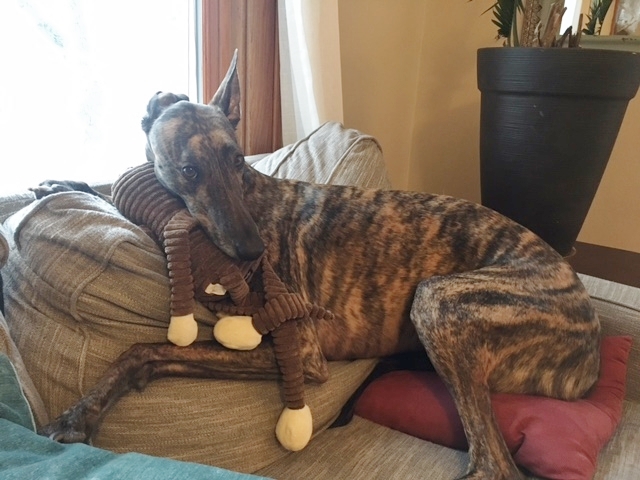 and his kitty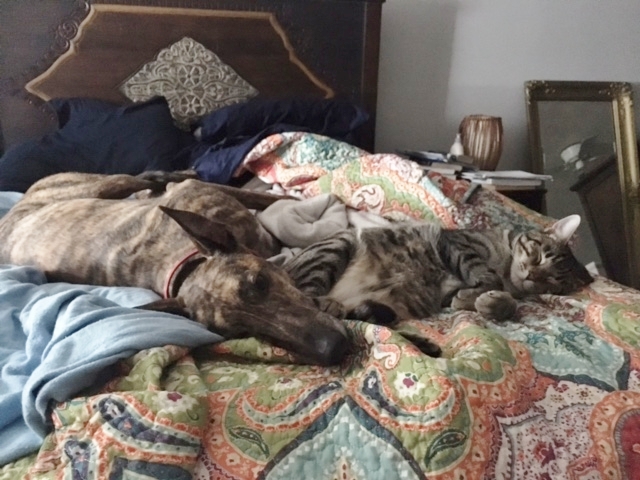 April 21, 2017 Tuxedo
with his new dad, Ricky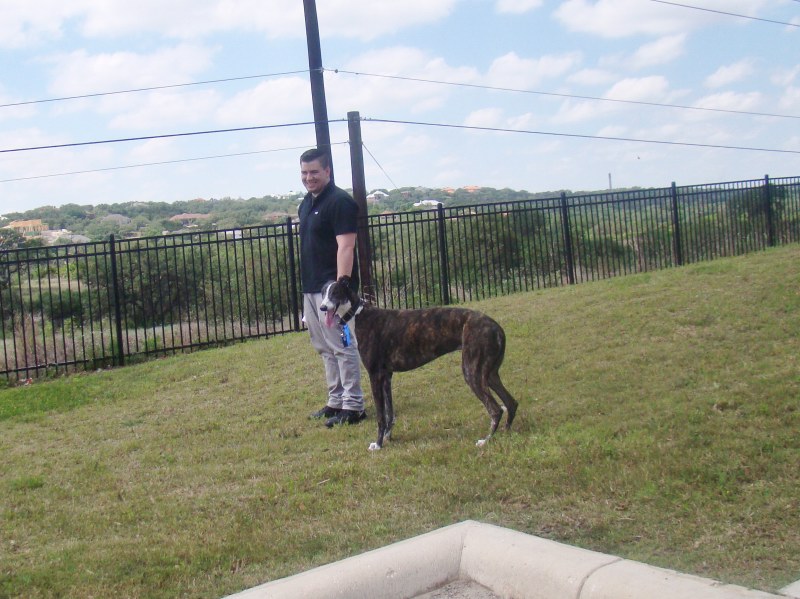 Making himself at home after a walk - the crate is Tuxedo's choice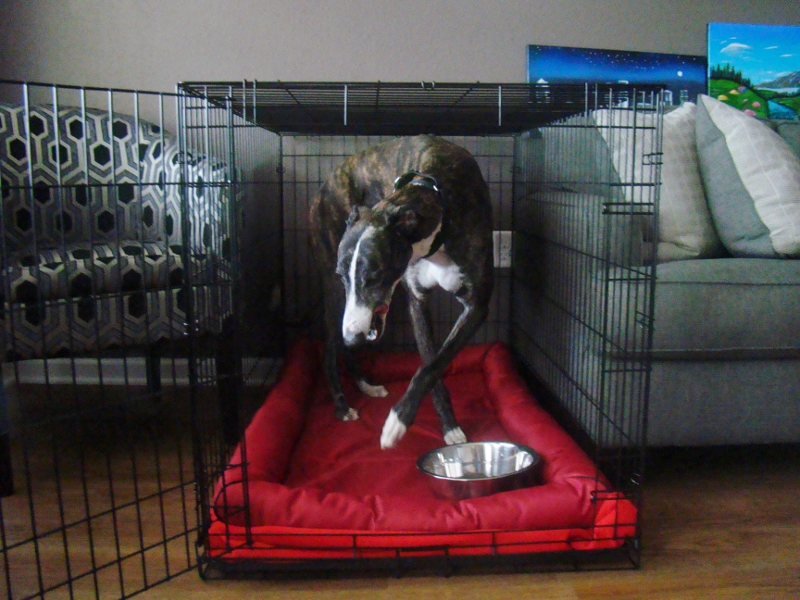 March 8, 2017 Greyson Stimmel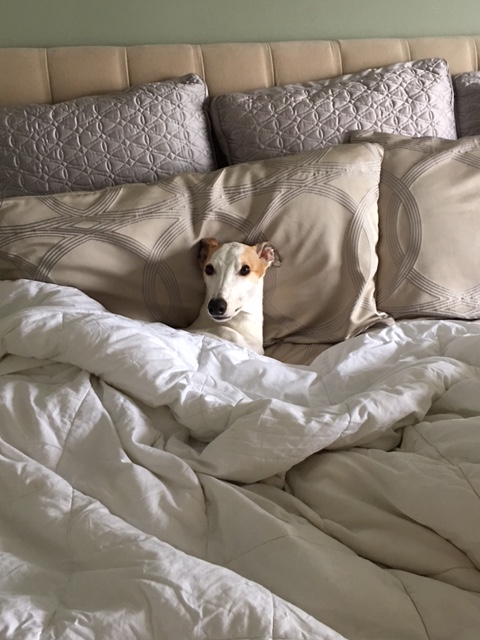 February 22, 2017 Amanda and Justin (who already adopted Avalanche and Handsome) came out and took Cookie home
This is where Amanda learned that if you don't want Cookie to play with your loofa, don't leave the bathroom door open.
February 14, 2017
Pele is the only Whippet we have rescued and rehomed at Bexata.
He was taken in as a very sick little baby, nursed back to health with the help of Team Petey, and adopted out to the Charter family who already have a Bexata rescue Greyhound, Hilo.
January 27, 2017
Lola at home in Arizona. Perfect place for a retired Greyhound.
January 22, 2017 Alex walks with the two girls, Blacky Girl and Shadow, and took Shadow home. You can see how the meeting with the Greyhounds and the adoption went on the
Available Greyhounds
page.
Shadow is now Desilu.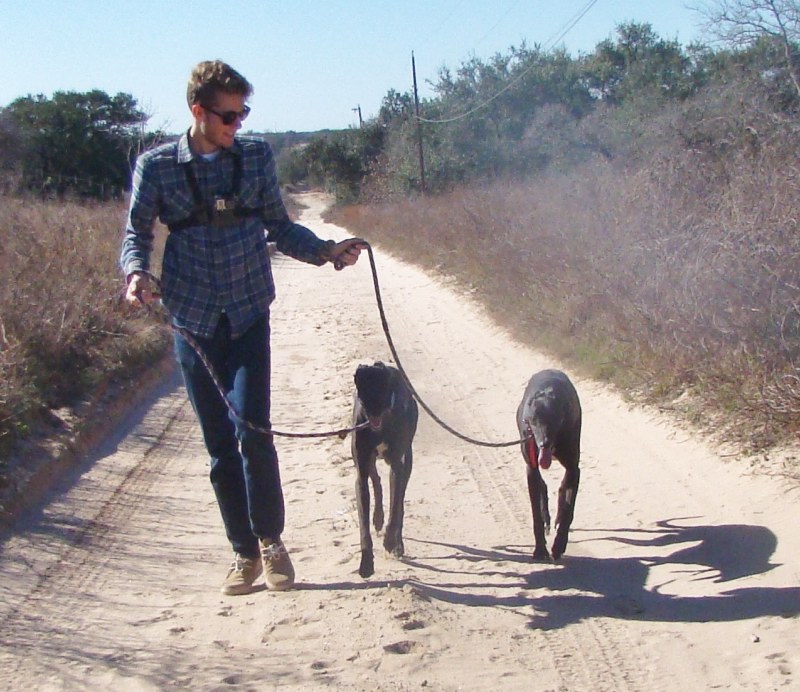 January 2017
Leon and his Dad, Brian. This adoption was a miracle, having occurred last year. Leon never liked anyone until the Davis family came. I am so proud of his transition from when he originally arrived at Bexata, through lure coursing, through adoption and becoming a Davis family member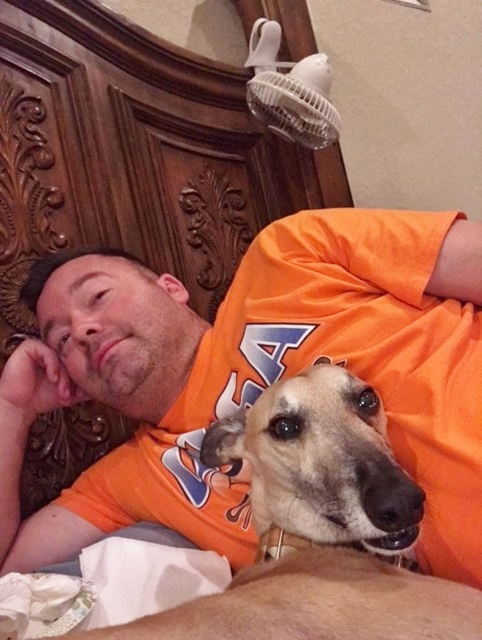 January 2017 Baby Blue Davis in his winter sweater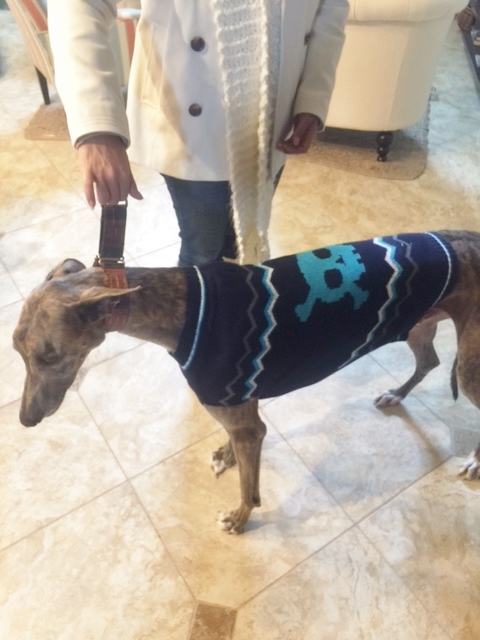 January 7, 2017
Justin says goodbye to his boys Avalanche and Handsome, as he is deployed.
Praying for Justin's safe return.
January 3, 2017
Black Beauty on the left. Pepsi on the right.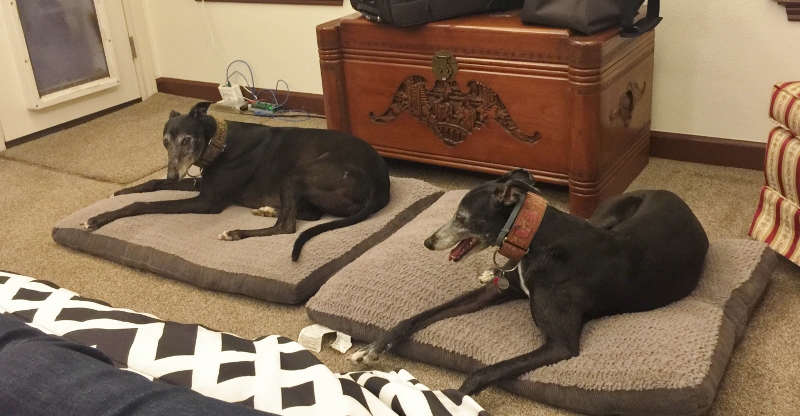 January 2, 2017 first adoption of 2017. Brian came out with his friend Faye and his formerly adopted Greyhound, Pepsi, to meet Louella Mae (red fawn) and Black Beauty. Pepsi's best Greyhound buddy, Trace, passed away at fourteen and Pepsi was mourning. Brian felt she needed a friend, so they brought her out and they took Black Beauty home. They aren't, but they sure do look like sisters. Black Beauty is a retired stellar lure courser having multiple Bests in Field, including at the AKC National Lure Coursing Championship. She is now retired and will grace a couch, bed and doggy beds and just live the life with her new friend, Pepsi, the Greyhound, and her new dad, Brian.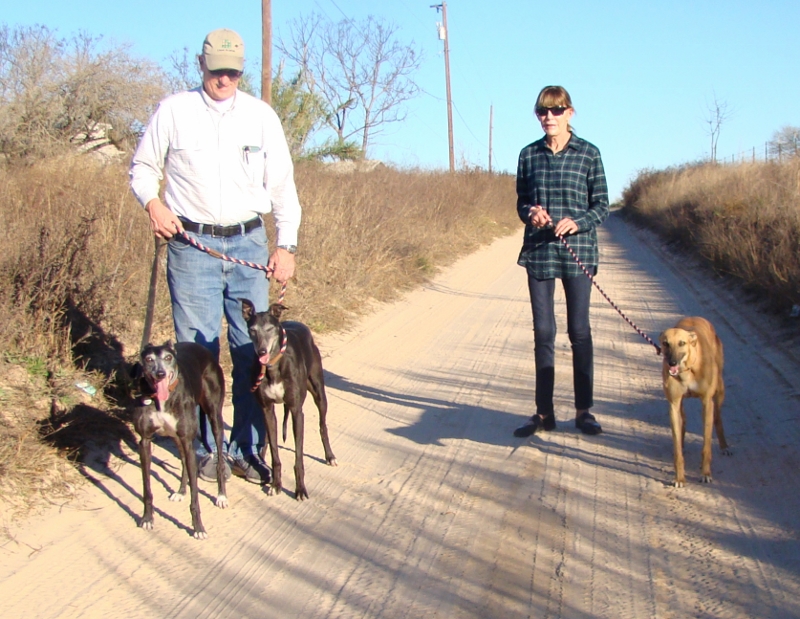 December 25, 2016 Merry Christmas from Field Champion Daisy (and her buddy, Winston) McKay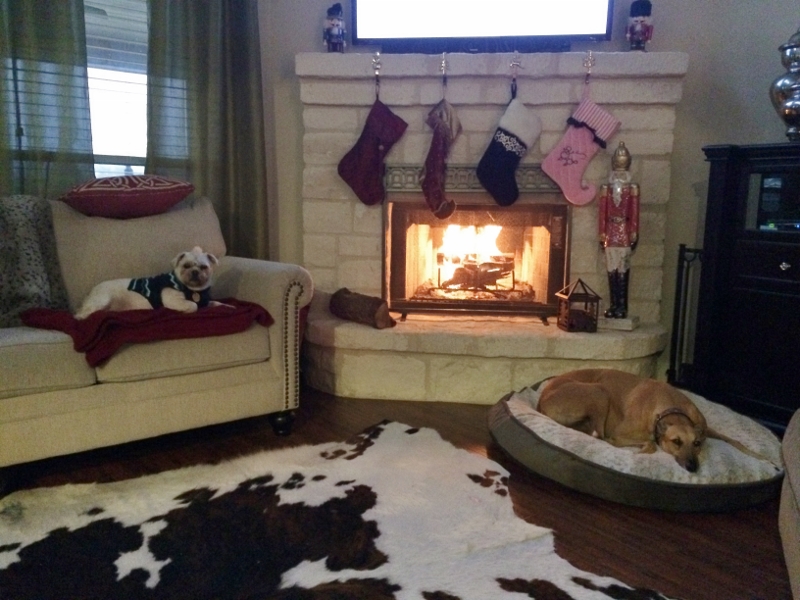 December 25, 2016
Merry Christmas Amanda and Justin's Field Champion Handsome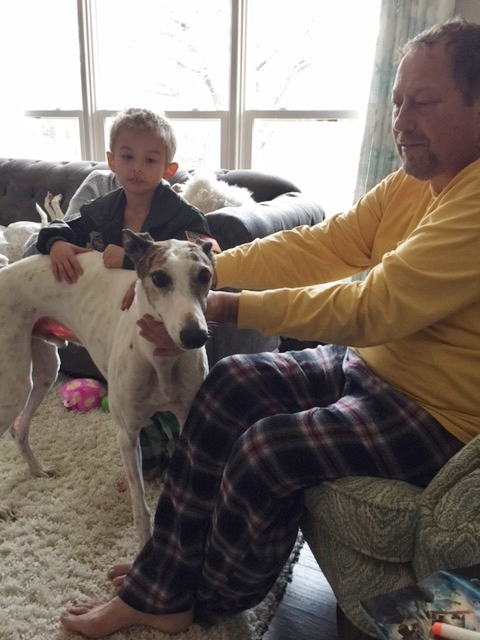 December 25, 2016
The Paragin kids got their new Christmas toys
Carrie first with hers
Tiger with two (he took Lexi's, too)
So Lexi just takes a nap on the bed.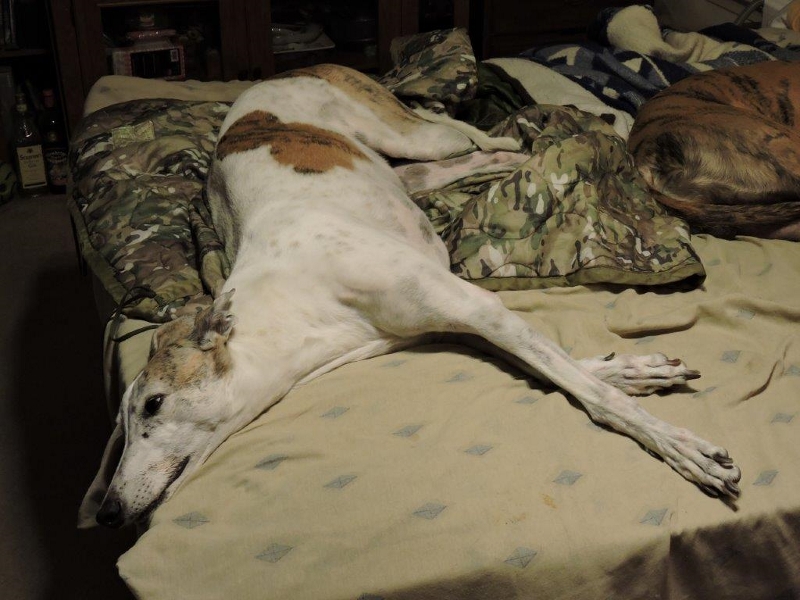 December 23, 2016
Alfredo is back to visit while Amy and Preson visit family out of town for Christmas.
Here he is reunited with his buddy, Midnight, who will go home with him when their family returns from holiday.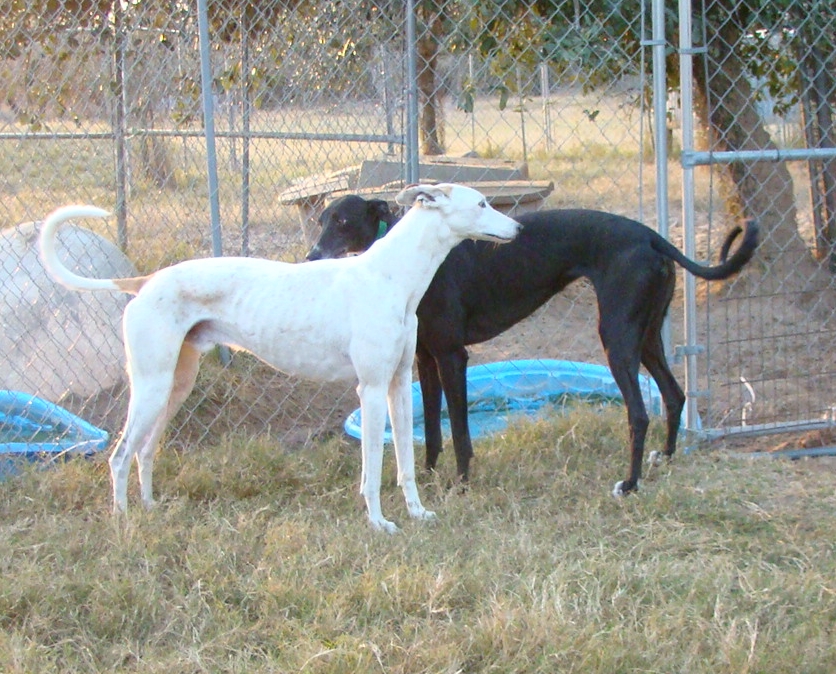 December 22, 2016
Alfredo (formerly Mariano) is enjoying the high life at his new home!
He's Amy and Preston's boy now.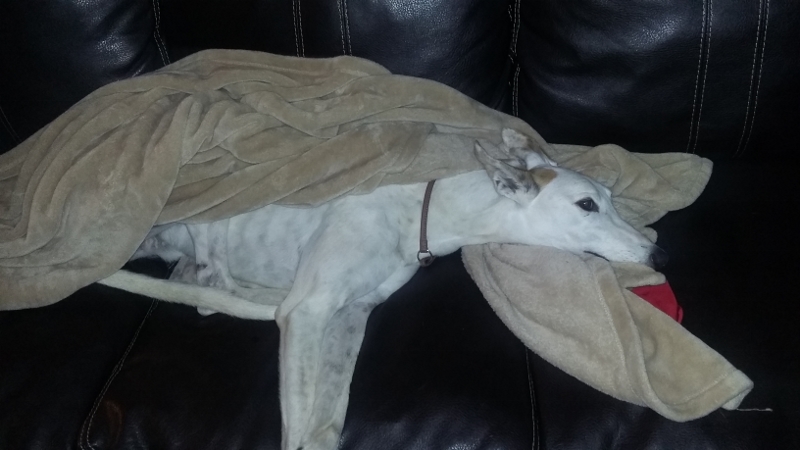 December 14, 2016
Retired show champion Velvet, at Bexata, meets retired racer, Maggie, and they went home together.
Maggie is an eleven year old girl looking for a pal.
John came up from McAllen with Maggie to meet Velvet and, as they say, the rest is history.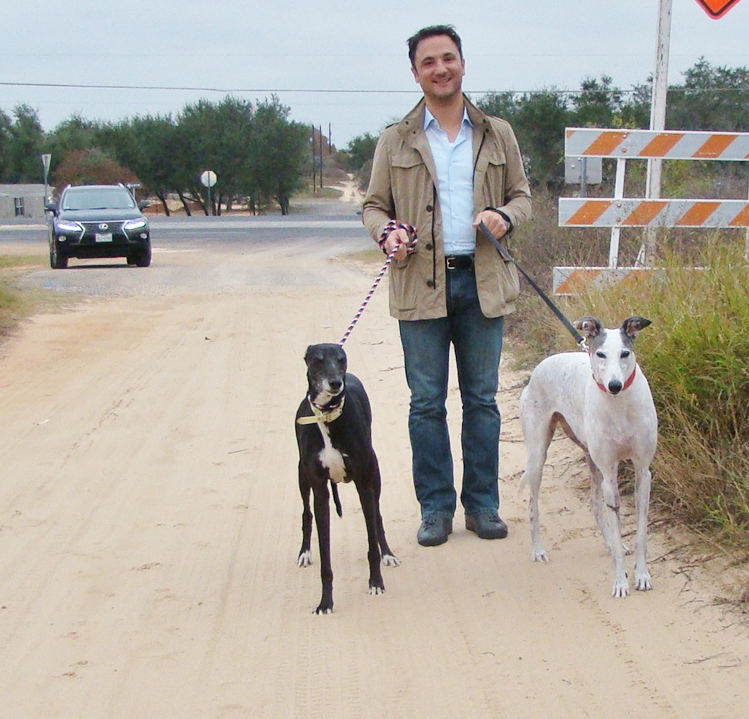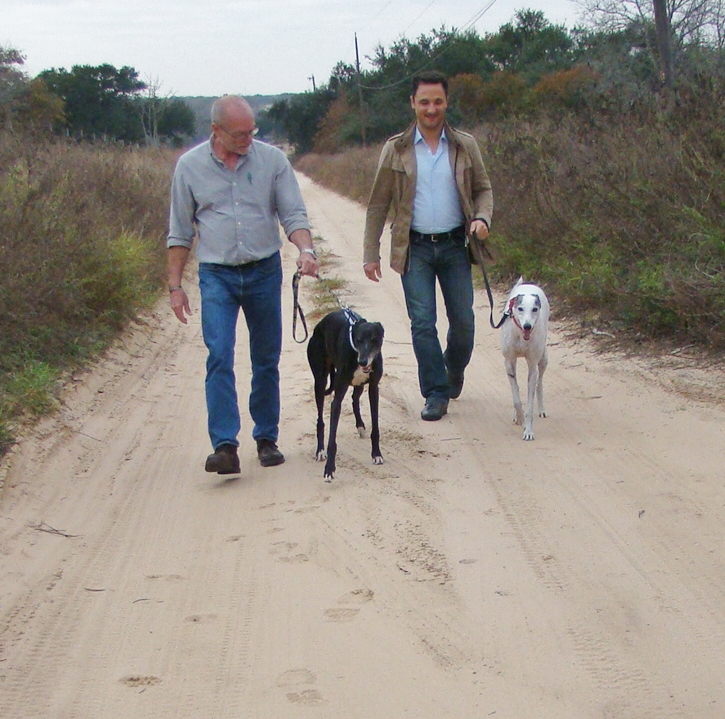 December 11, 2016 Lola, who lives in Arizona, had a visit from Duane's boy, Tiger, adopted and living in El Paso. This is Christmas with Greyhounds at the Parrigin households father and son!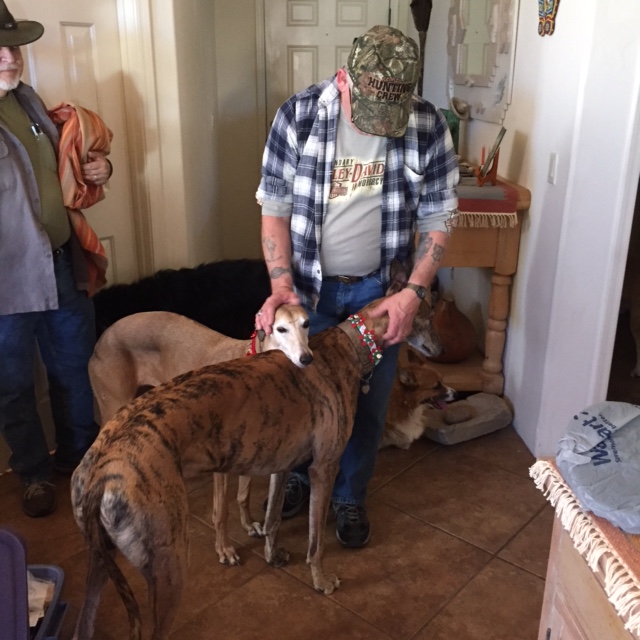 December 10, 2016, Mariano (now Alfredo) went home with Preson and Amy.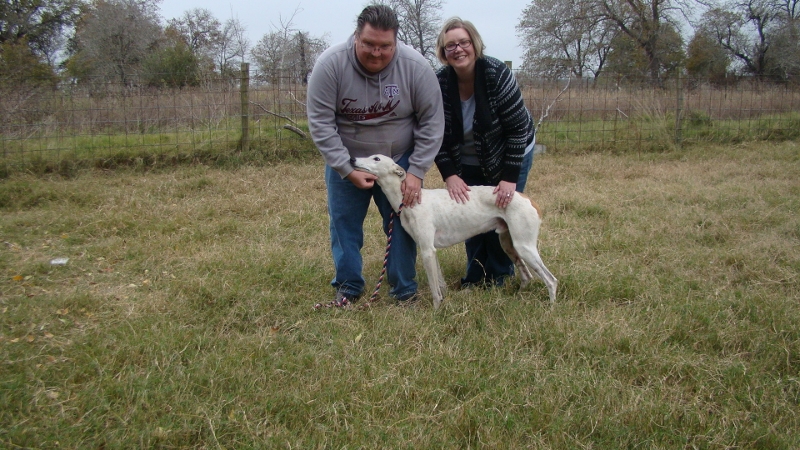 Mariano - now Alfredo leaving Bexata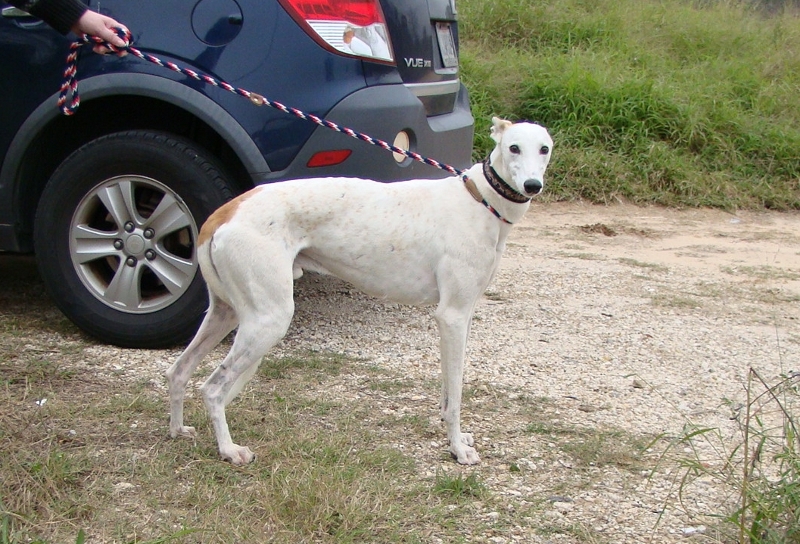 December 8, 2016 Carrie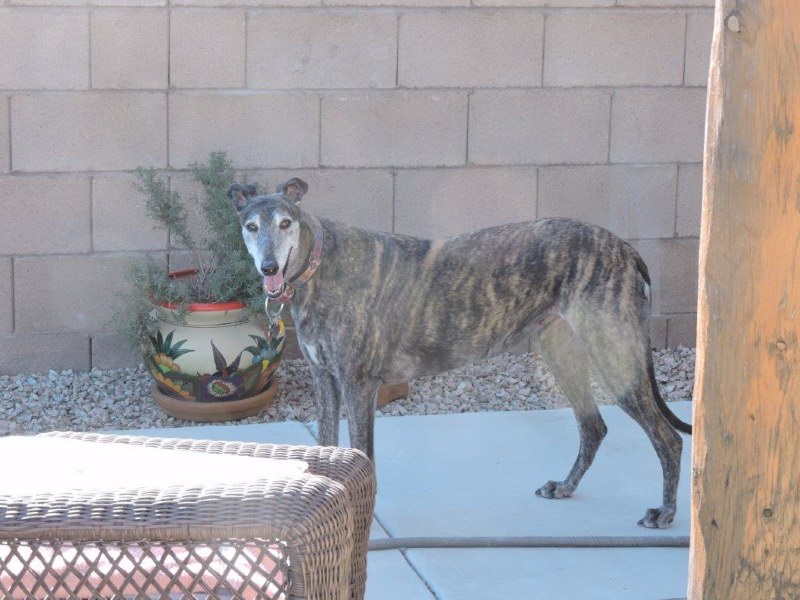 Carrie, Lexi and Lola with friend Jasmine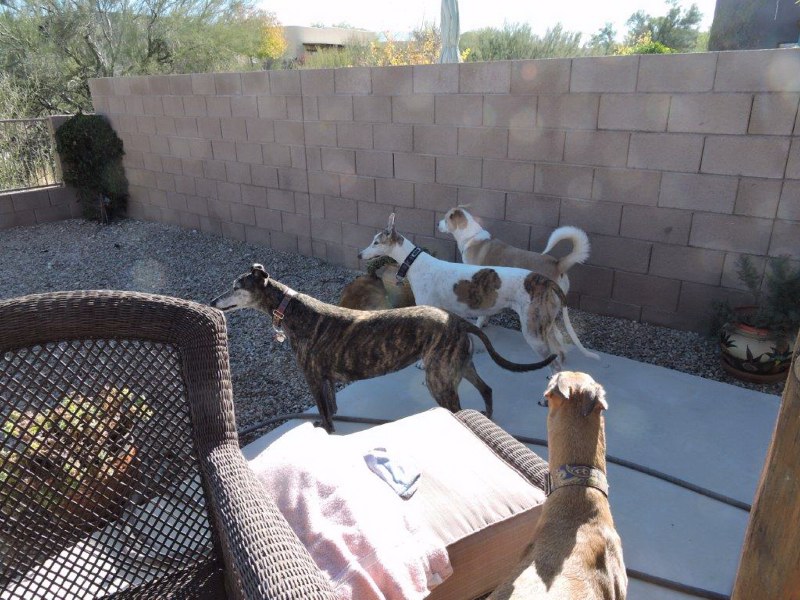 Lexi back inside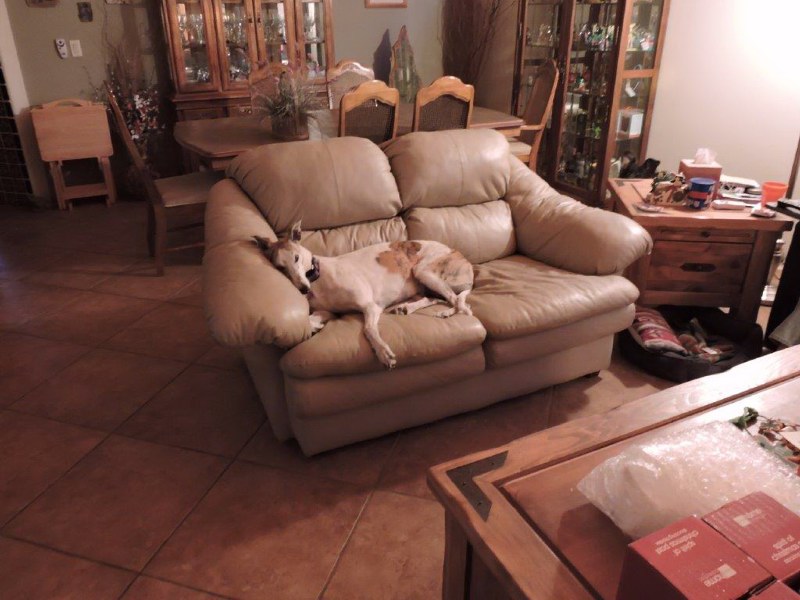 November 26, 2016 Sasha Tobias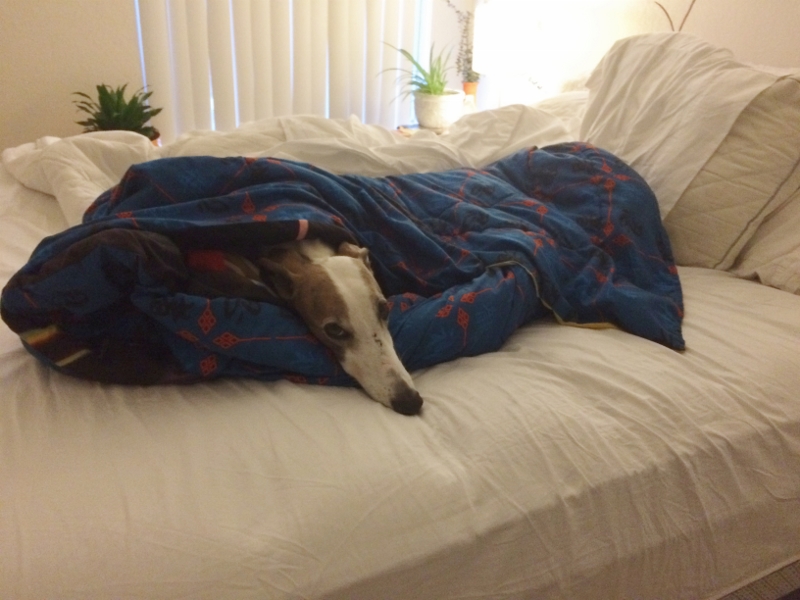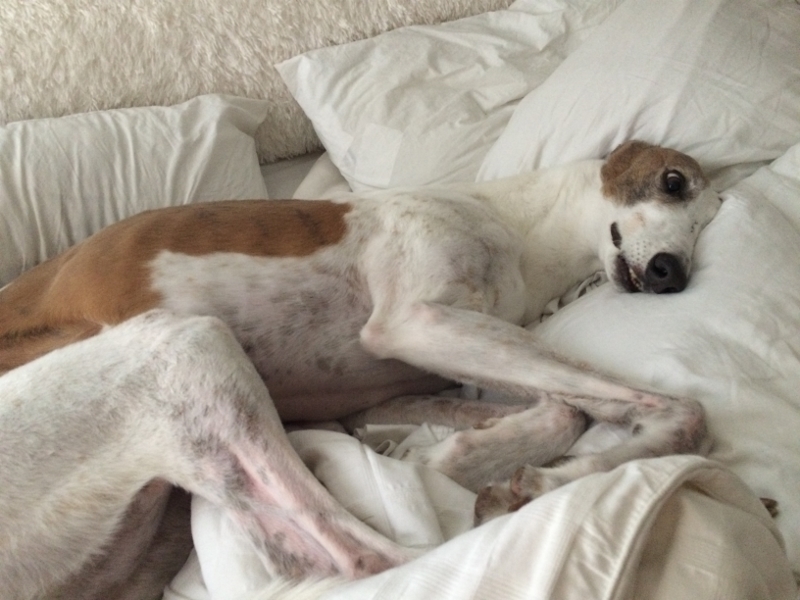 November 17, 2016 Daisy McKay loves her new bed.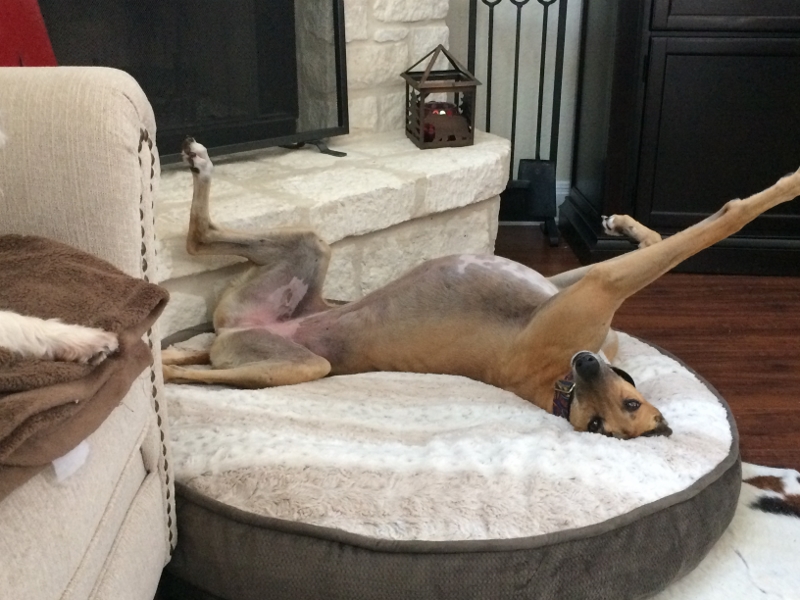 November 12, 2016 - Greyson Stimmel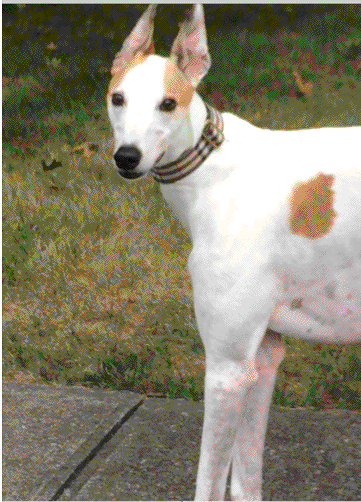 November 11, 2012 Rebel and his best GH friend, Gage, home from the groomer to their freshly washed futons. Thank you Darrell for giving Rebel such a wonderful home. I am proud of the work done at Bexata to have Rebel go from "deer in the headlights" to a wonderful home companion. Darrell also got the boys their own "dog" transportation, a Dodge Caravan. What a great GH Dad!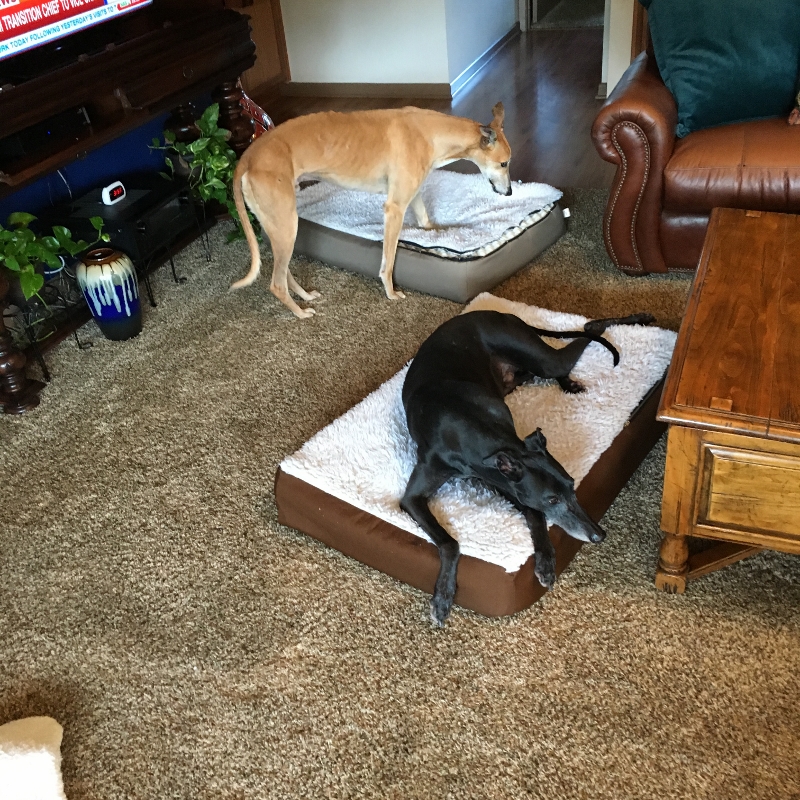 Rebel and Gage's transportation.
November 5, 2016
Rebel with his new Dad, Darryl, is on his way home to meet his new Greyhound brother, Gage.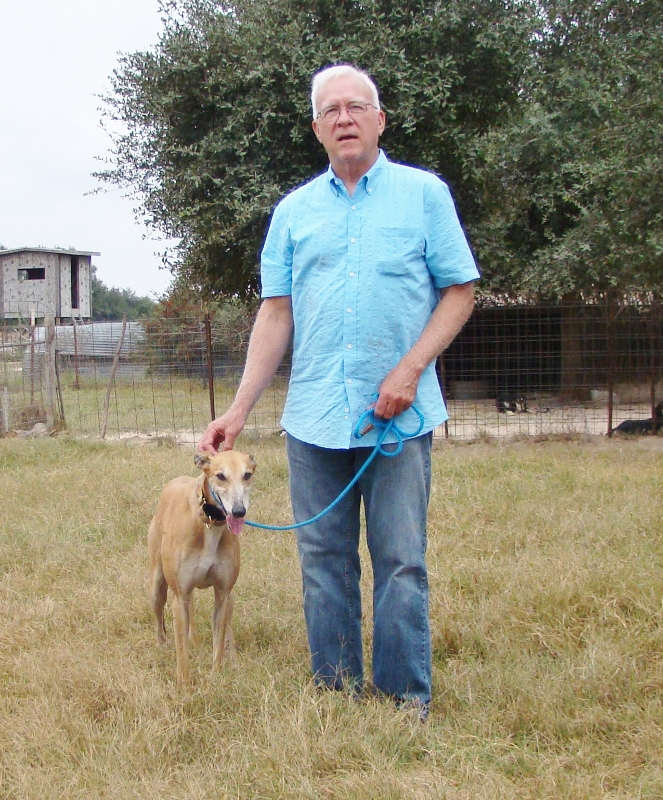 Rebel and Darryl - buddies smiling - Rebel is a rock solid, museular Greyhound who will enjoy Darryl's acrea backyard with his new Greyhound brother, Gage.
Pillows, pillows and more pillows, Come on Dad!
October 12, 2016
Luna and Foxie doing what they do best!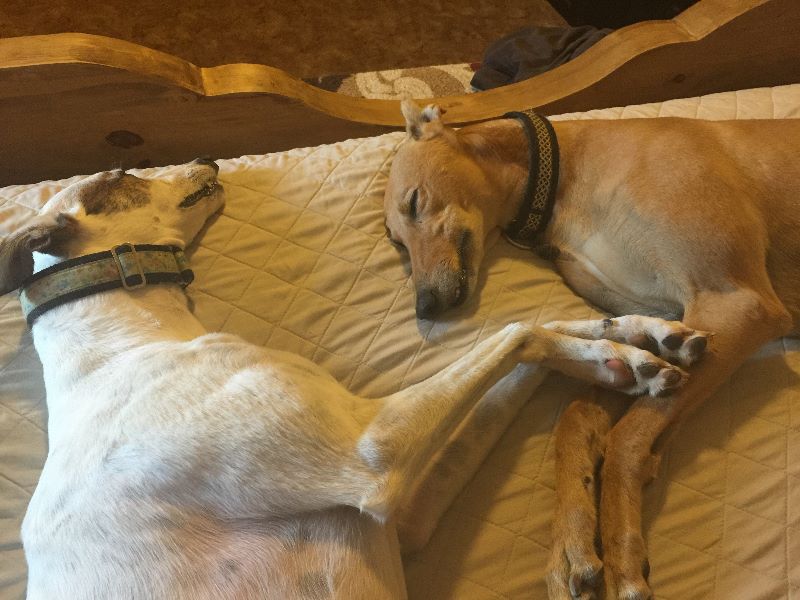 October 10, 2016
Rescue Greyhound Hilo and his rescue Whippet buddy Pele.
Thanks Stephanie!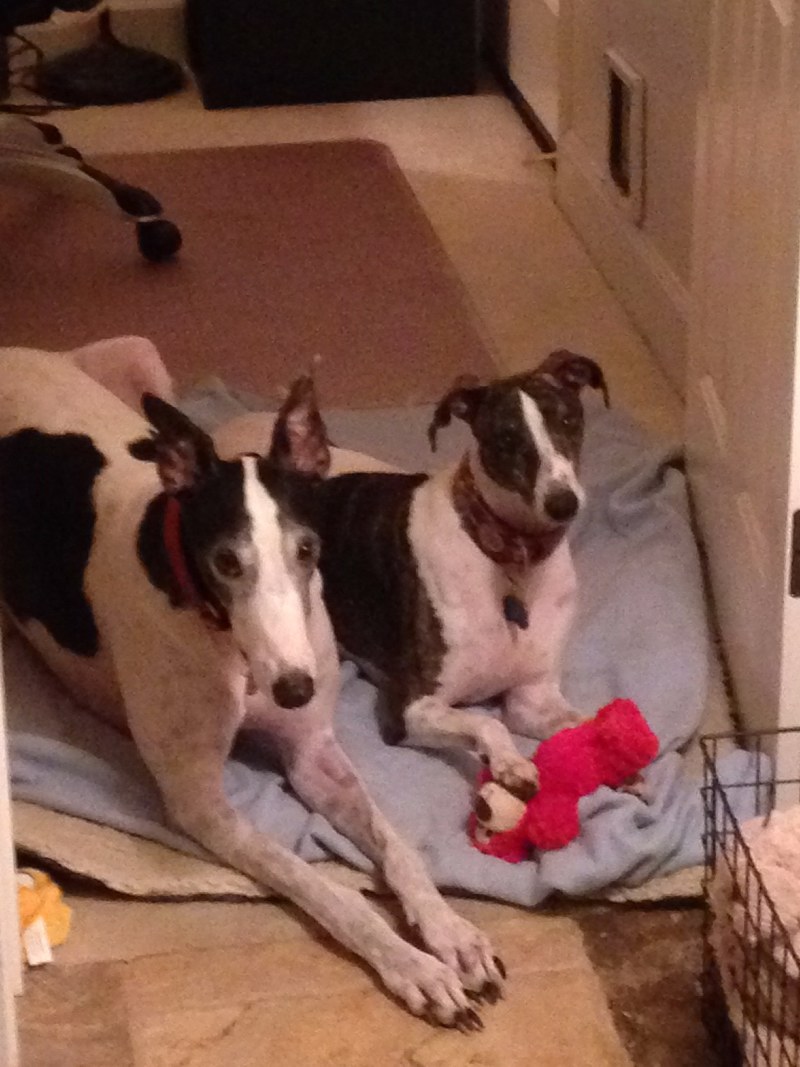 October 9, 2016 Tiger and his buddy Shadow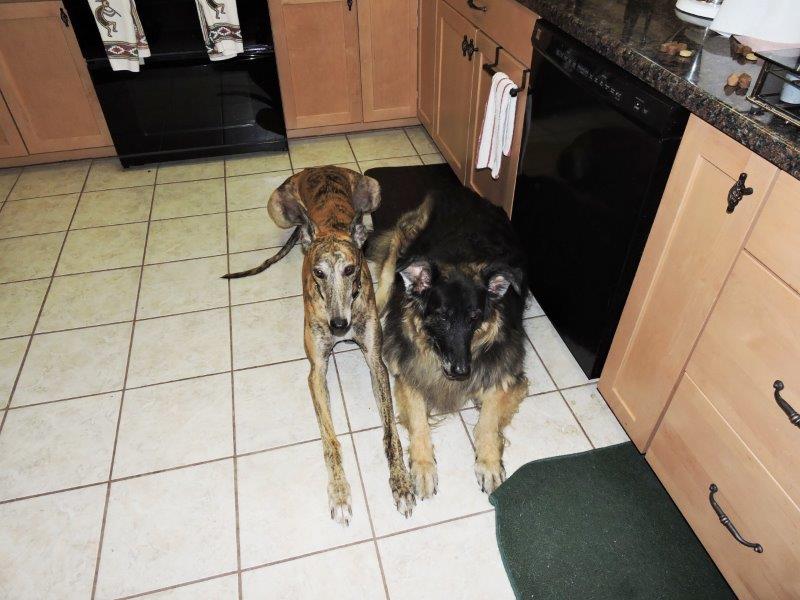 October 3, 2016, Daisy at home with her family. What a life!
Winston on the left, likes his new friend, Daisy.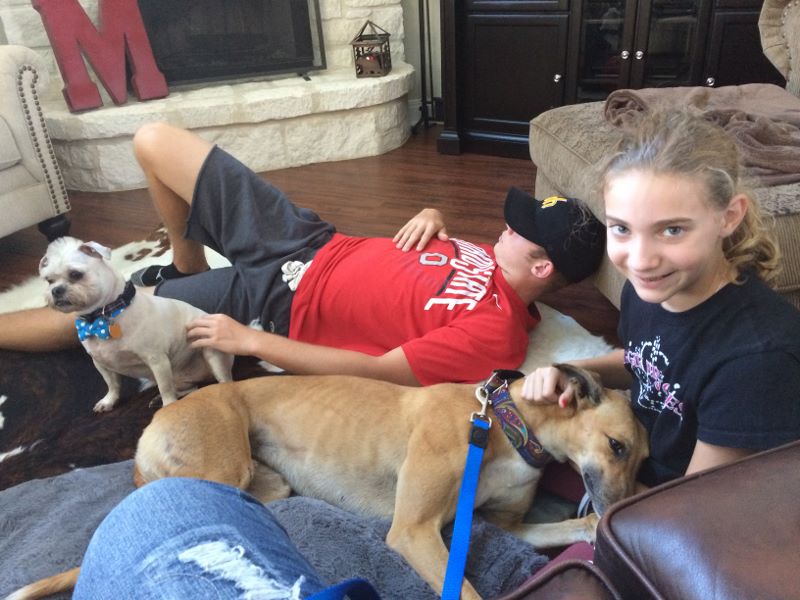 October 2, 2016, Daisy went home with the McKay family.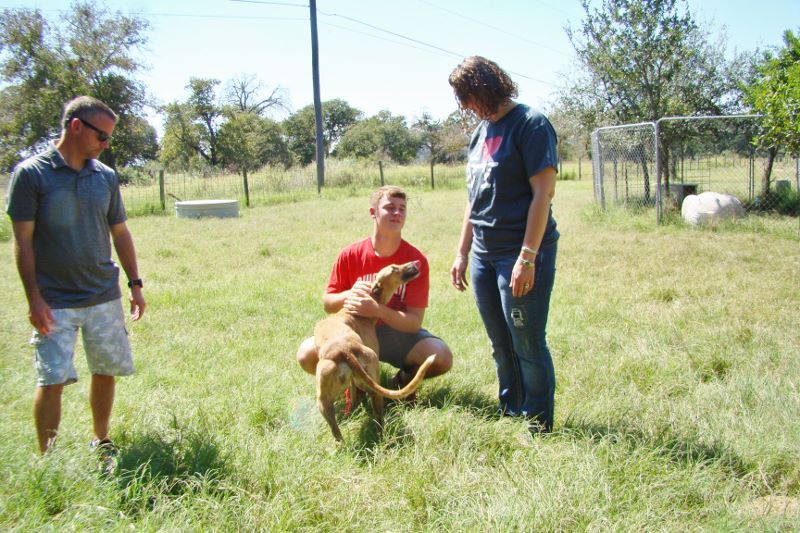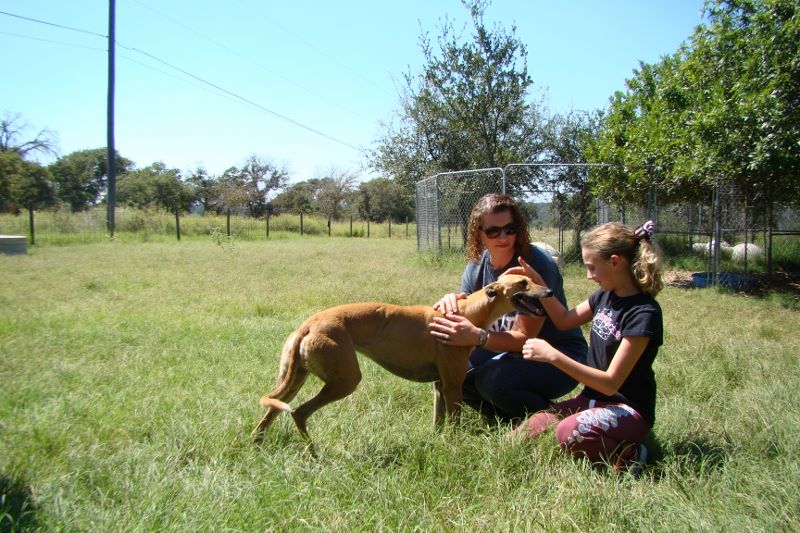 and home she went with the McKay family.
HAPPY HALLOWEEN!
Oktoberfest in North Texas October 1, 2016
Bexata Avalanche, SC and FCh Bexata Handsome, SC
HANDSOME WON FIRST PLACE AS THE OKTOBERFEST MAN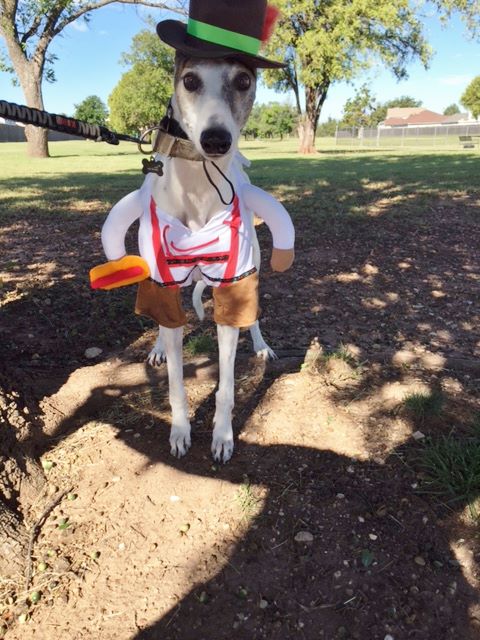 AVALANCHE WON third AS A PEACOCK
THANK YOU AMANDA FOR TAKING THE BOYS AND SHARING THEIR ADVENTURES!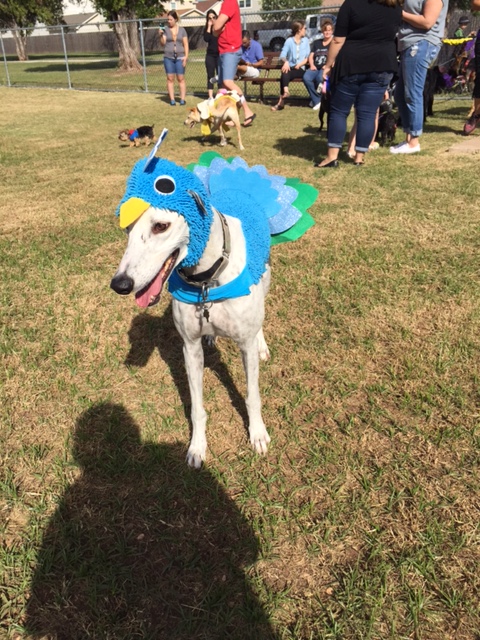 September 19, 2016
Steve and Tuxedo.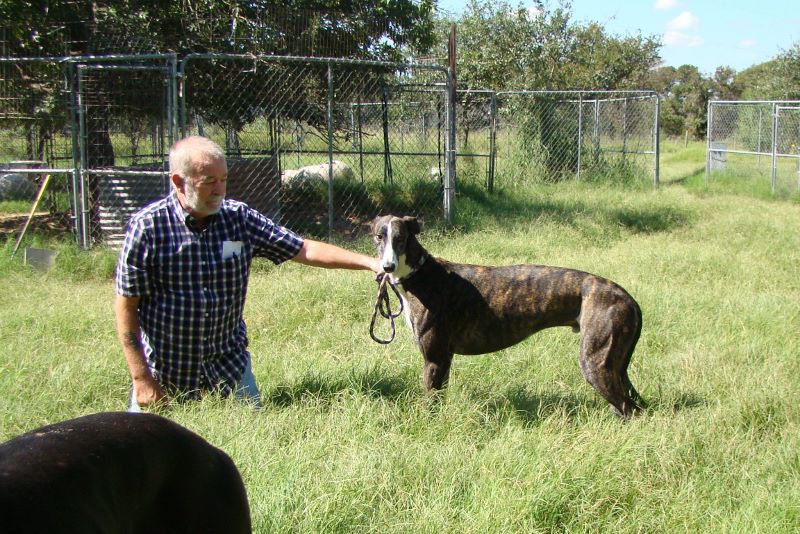 September 3, 2016 Carrie and Tiger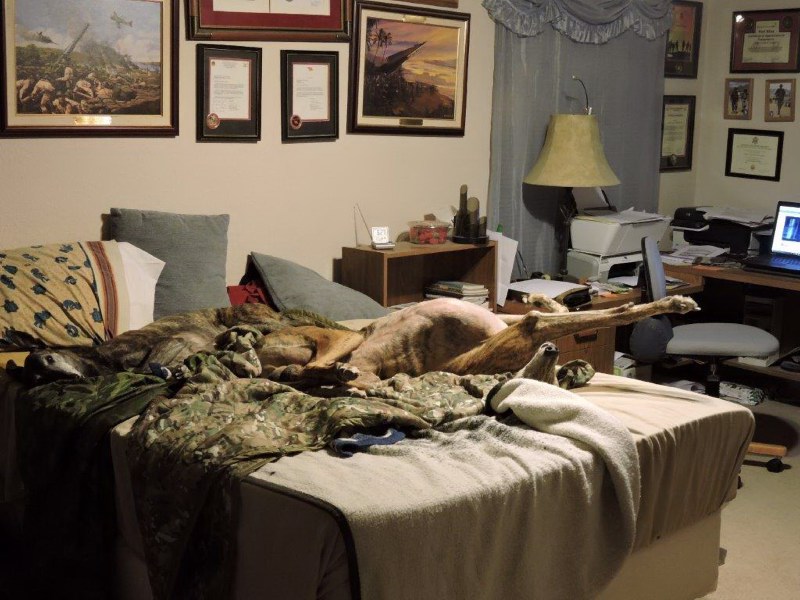 August 18, 2016, Gear and his mom Savannah watching tv.
He's her 93 pound lap dog.
August 6, 2016 Tiger at home in El Paso, TX in front of tnew patio/dog door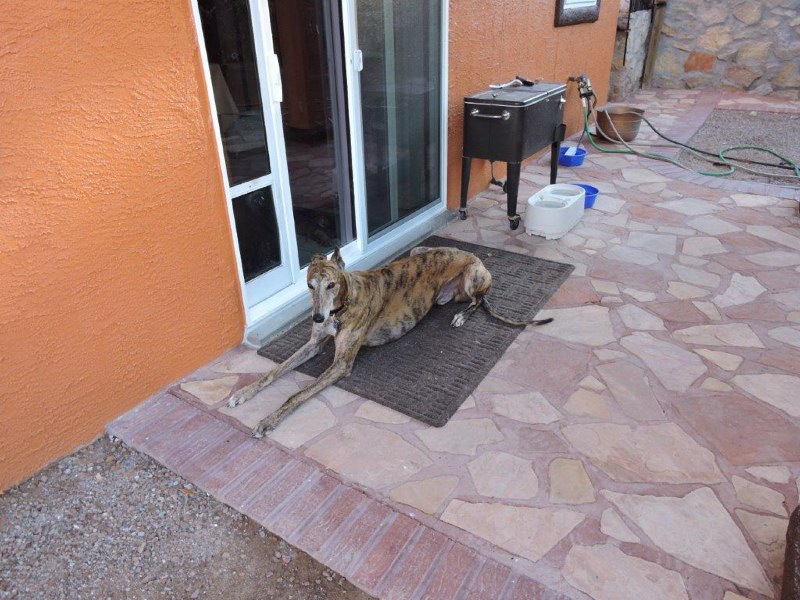 August 4, 2015 Adopted Borzoi girls at home with their rescue Dachsunds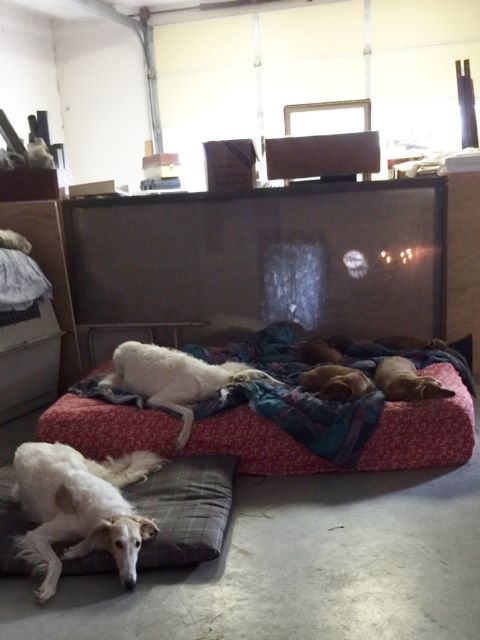 July 30, 2016
You can't have just one!
Cheto and Tigress going home with Cesar and Cristina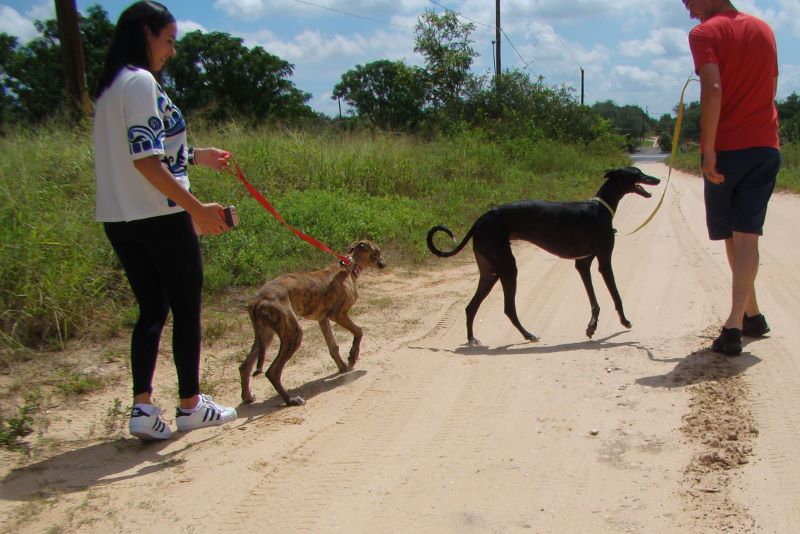 July 29, 2016 at home in Florida with the Goodman family.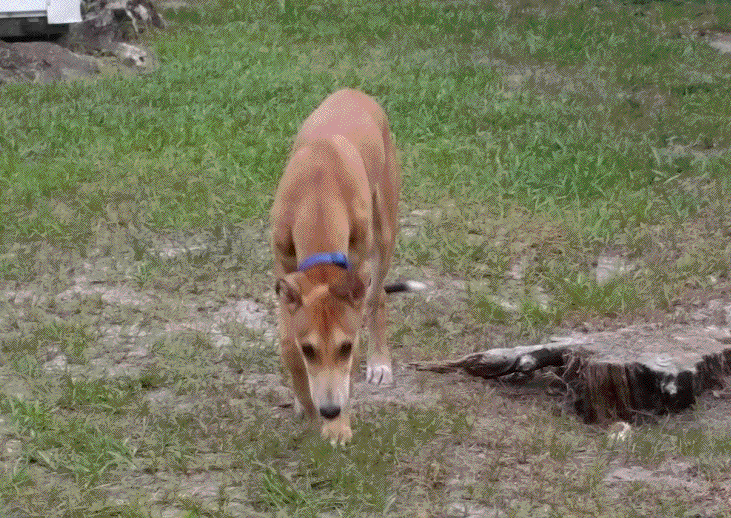 Happy Birthday Lola! She turned 10 today - born July 4, 2006

at her home in Arizona with her dad having her birthday ice cream.

May 14, 2016 Lola enjoying the love seat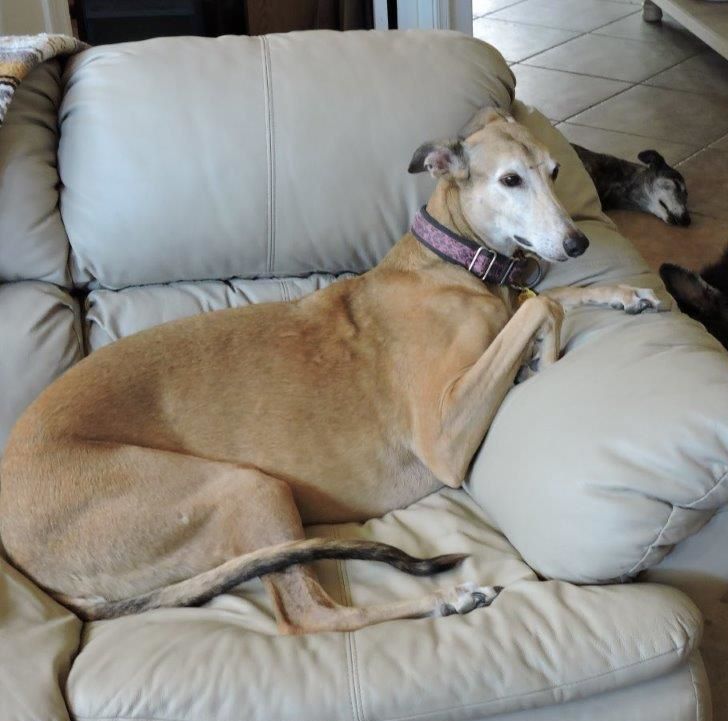 Carrie on the love seat.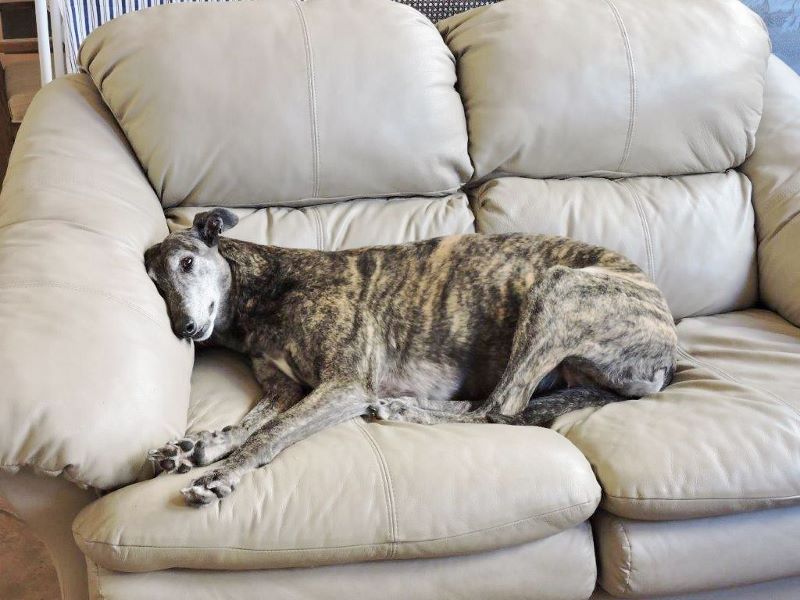 Lexi on the love seat.
Evidently, they take turns.
Carrie enjoying Duane's bed at his mom's house. Lola lives with mom.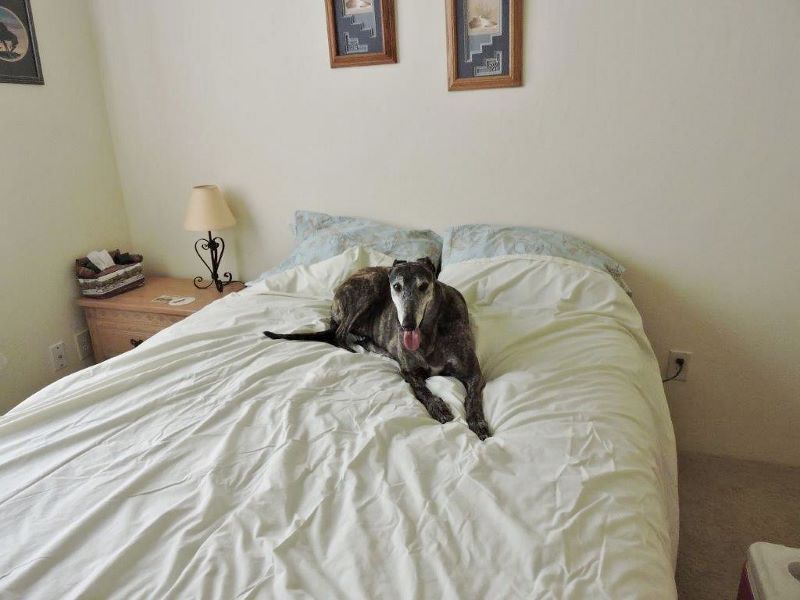 May 9, 2016 Hilo Bexata Greyhound and Pele Bexata Whippet (our only Whippet rescue so far) at mom Stephanie's.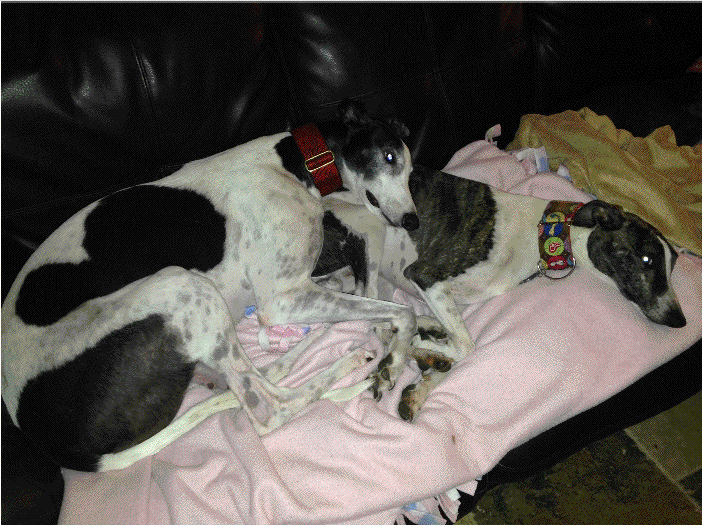 May 8, 2016, Carrie (in pool) and Lexi in the yard after a morning walk with Duane.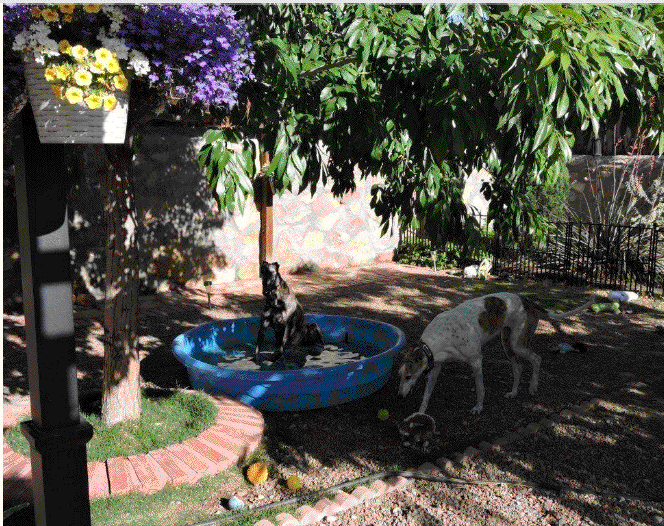 April 30, 2016
Handsome's first camping trip to Amanda's family in Arkansas. Didn't take him long to settle in..
April 30, 2016
Happy Handsome King in bed! He is a lure coursing Field Champion and he loves his bed time.
April 24, 2016, Daisy Bond and her Visla girlfriend- doing great!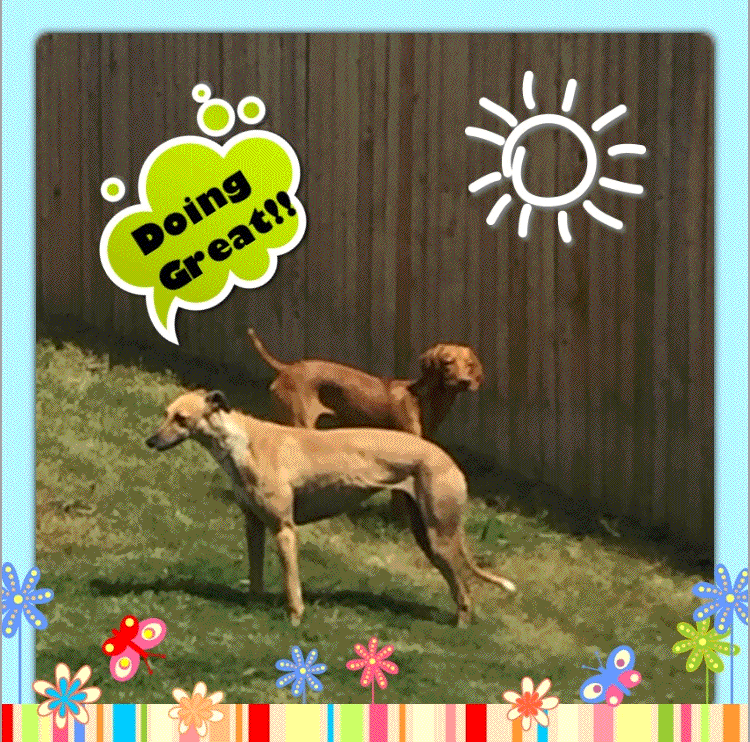 April 23, 2016
A portrait of Rosie by Laurie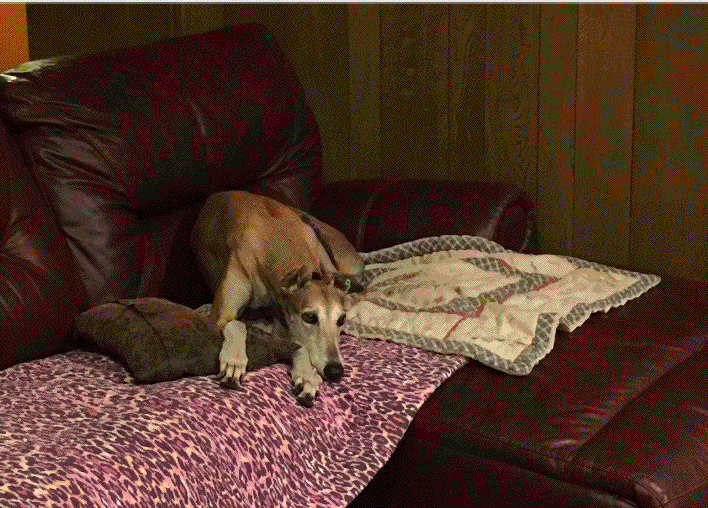 April 4, 2015, Baby Blue and Leon enjoying their new baby pool after dad Brian took them for a long walk.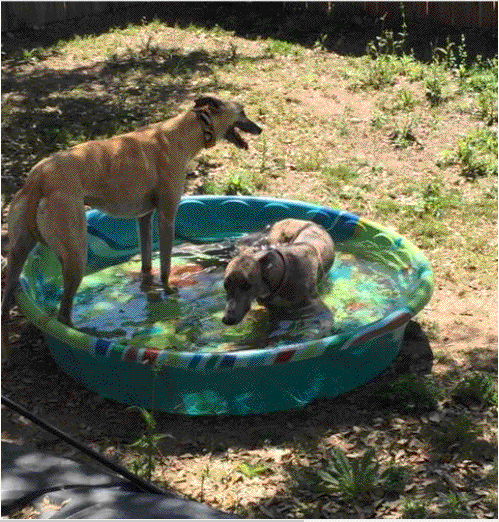 April 4, 2016 Handsome and Avalanche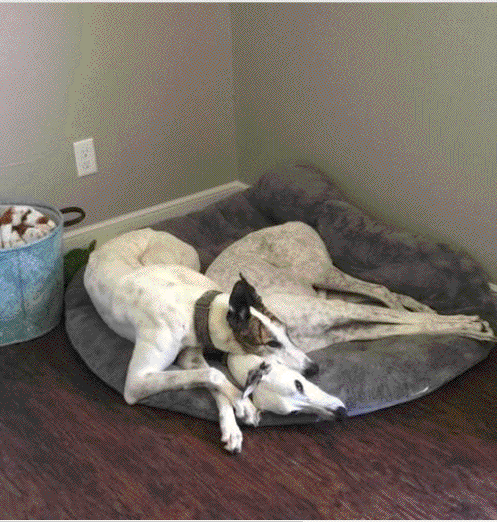 Laurie took Foxie to school and the children just LOVED her. Foxie couldn't get enough hugs and kisses. She's not only a wonderful lure coursing Greyhound and companion, but she has the patience of a saint and might make a good therapy dog.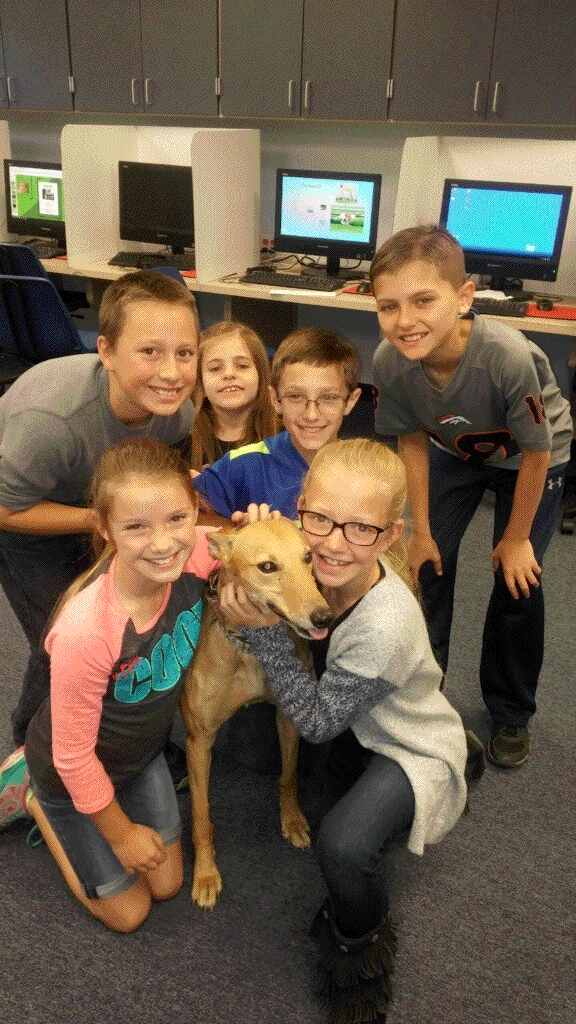 March 12, 2016, Amanda took Handsome to the park.
March 7, 2016 - Handsome has been adopted and is living with the Kings and their other Greyhound Avalanche. Handsome is an avid lure courser and has his field championship. Avalanche is working on his. They run hard and sleep hard.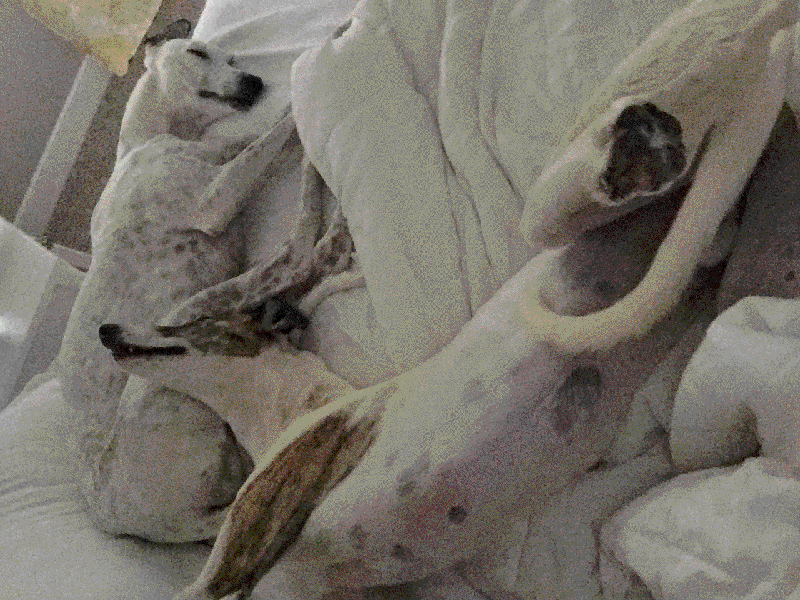 Handsome when he was at Bexata.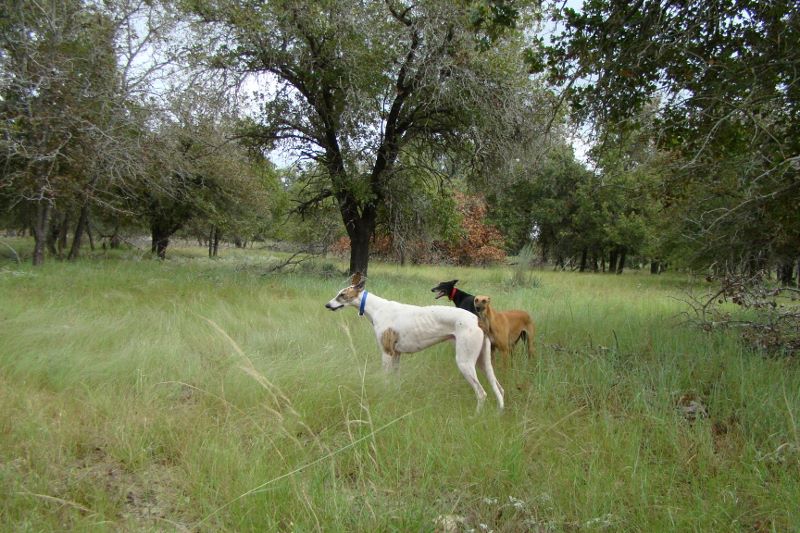 June 28, 2015 Handsome and his frisbee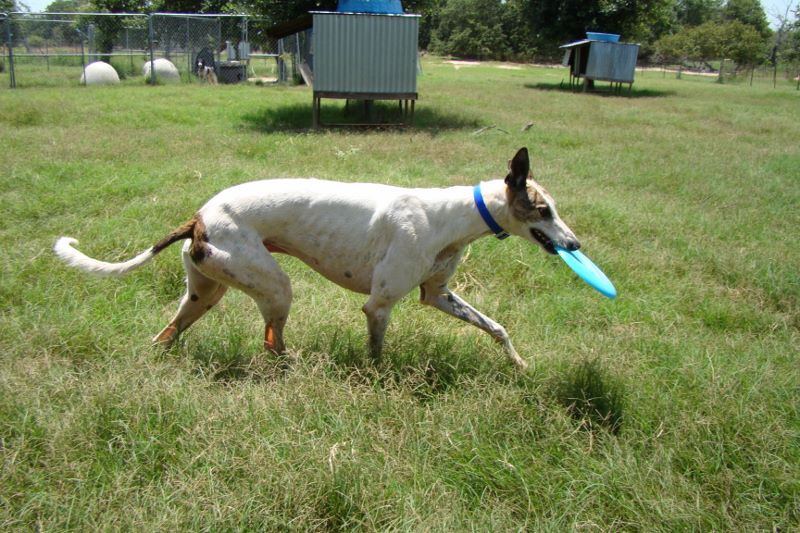 February 19, 2016 - Petey the rescue Whippet and Hilo the rescue Greyhound in Reno, NV
Petey came to Bexata in the Spring of 2015 as a very sick little puppy boy. Through God's good graces and Team Petey, he grew up to be a healthy, handsome young Whippet boy who was adopted by the Charter family (already had adopted Greyhound "Henry" renamed Hilo)
Petey and Hilo
Hilo, Petey and Arianna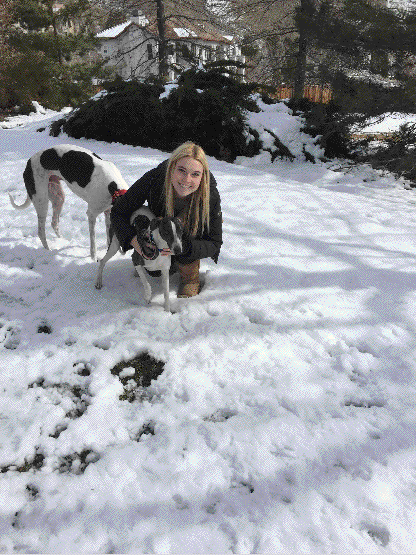 February 10, 2016
FRIENDS REUNITED - Baby Blue and Leon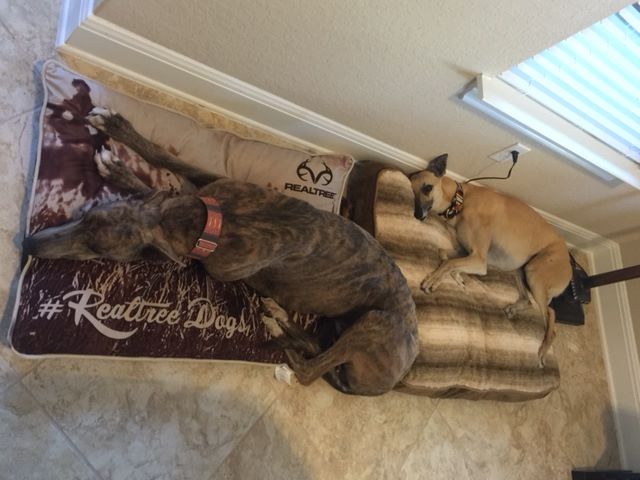 February 10, 2016
There goes Baby Blue with Brian and Lila, going to join Leon who they previously adopted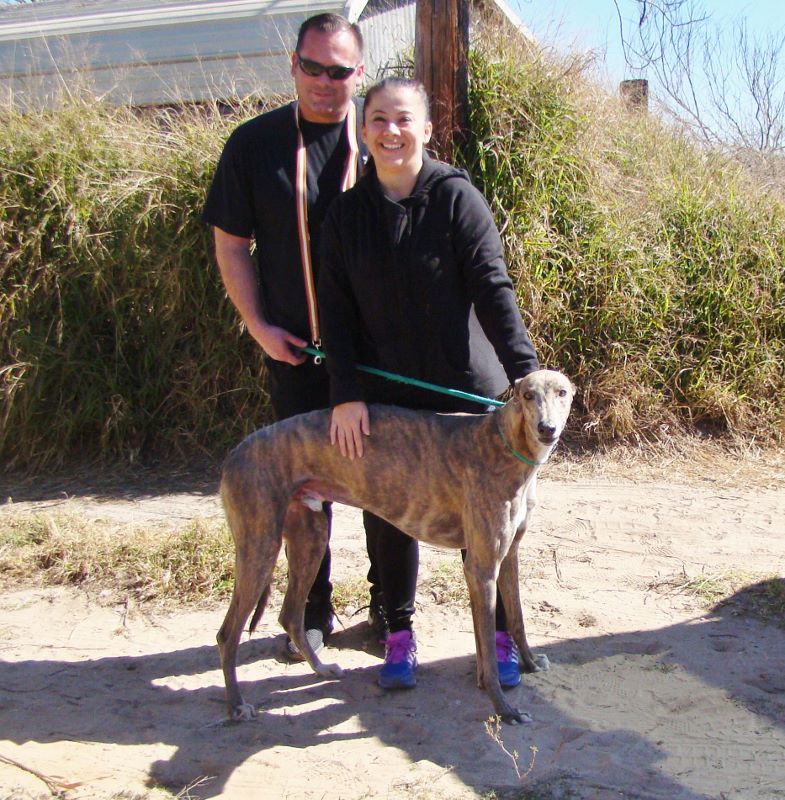 Baby Blue with Mama Lila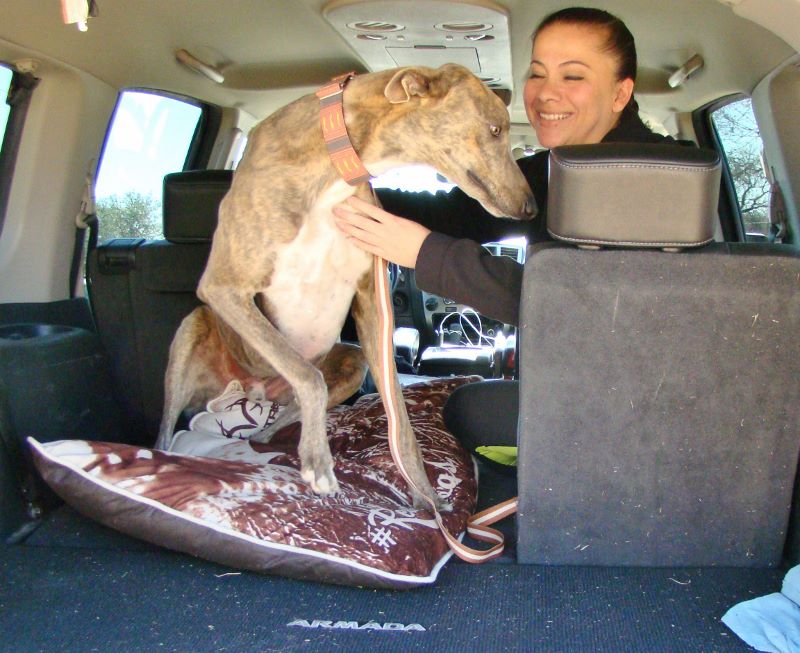 February 8, 2016 - Rosie (Hanzelka) former show girl, rescued,
spayed and adopted.
February 6, 2016
Baby Grace Manning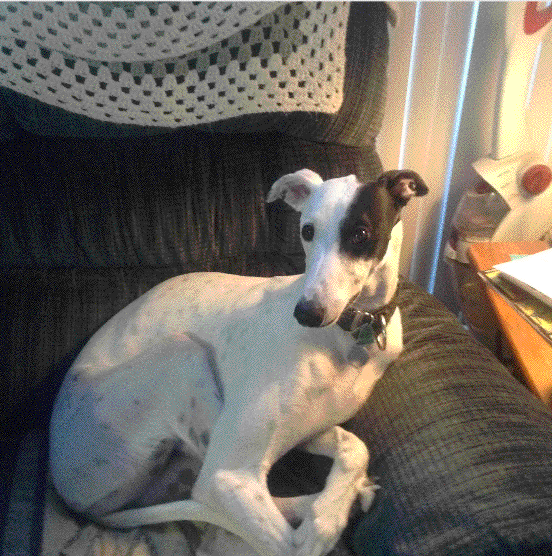 February 2, 2015
Winnie Kendra LOVES his new fireplace
He loves his toys!
He loves to steal dad and mom's shoes.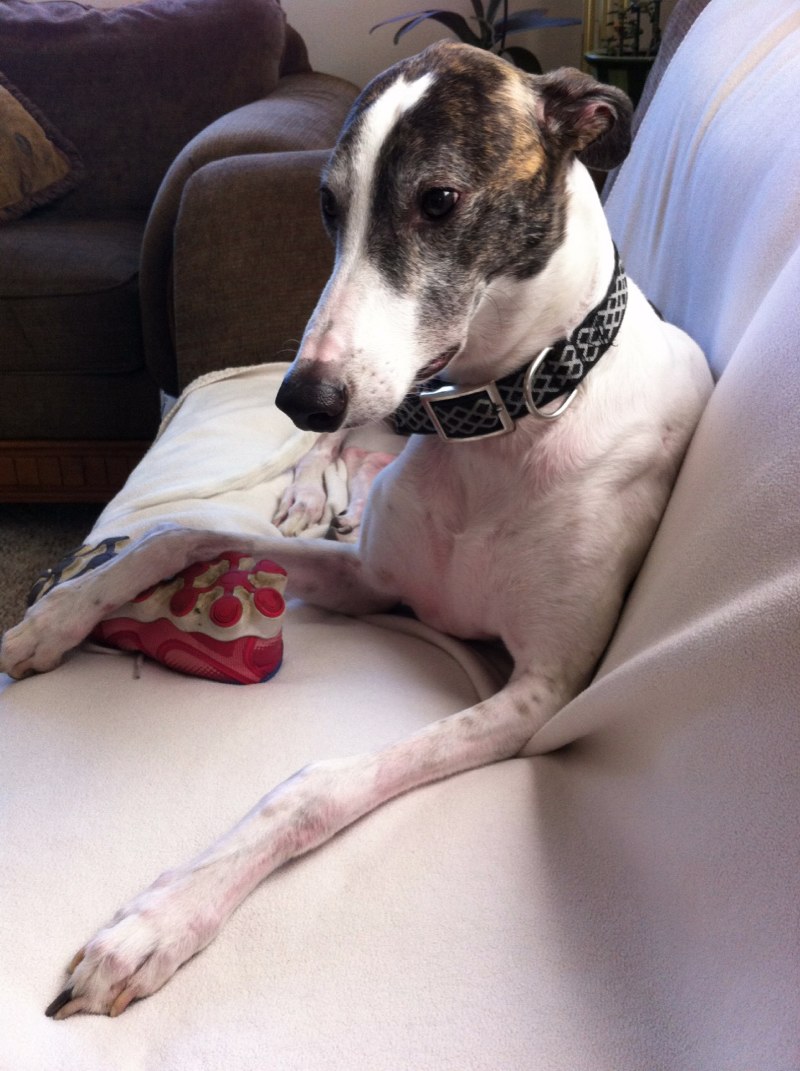 He also loves his swimming hole!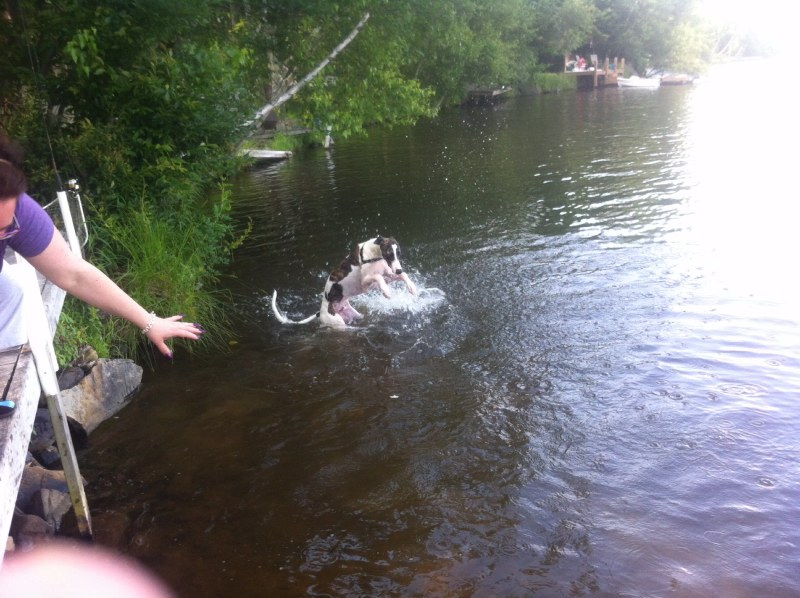 He's an Eagles fan .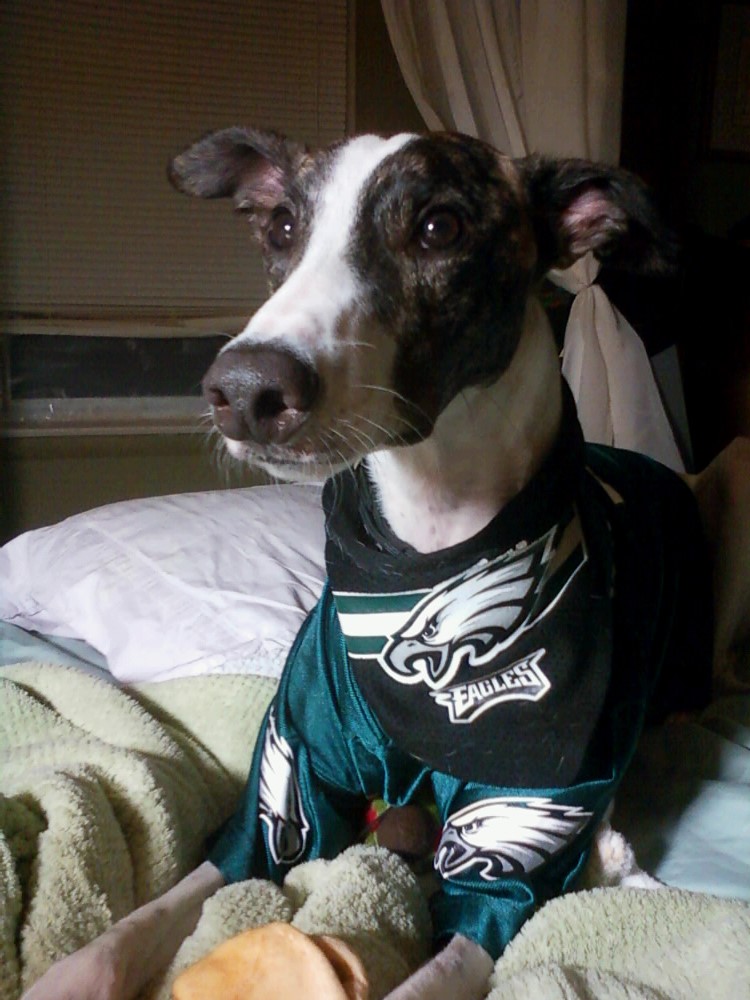 Winnie's first birthday.
January 30, 2016
Life for Bexata rescue Greyhounds at Hanzelka's
That's a king size bed!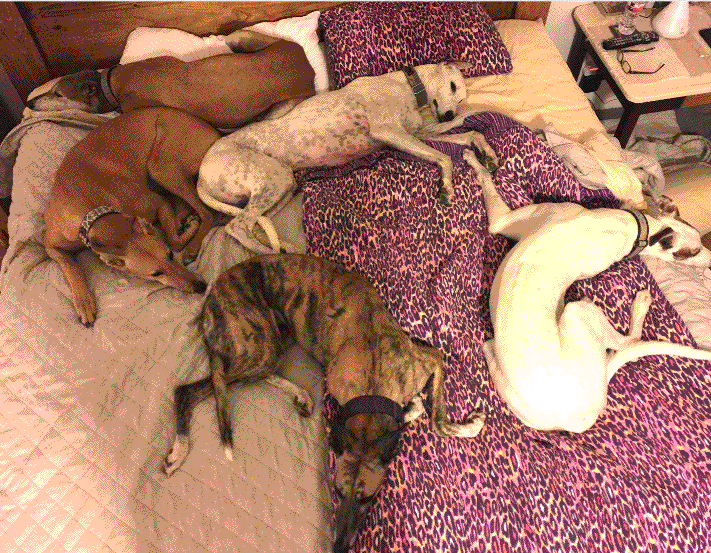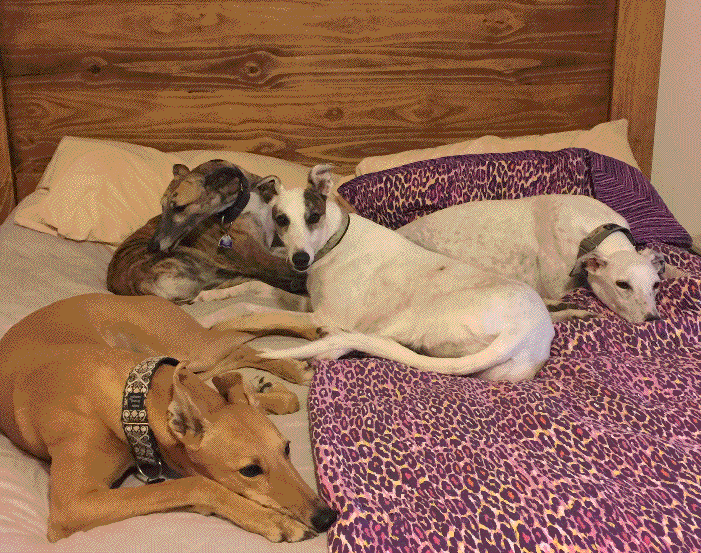 January 27, 2016 Brian and family recently adopted Leon.
Brian came back for Baby Blue (left)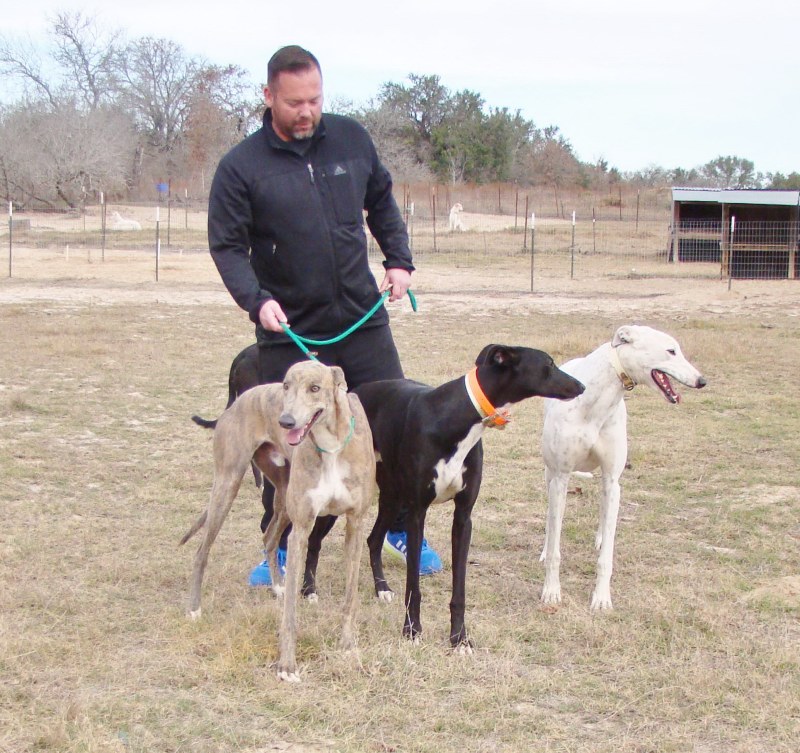 January 26, 2016
Bexata Greyhound Lexi and hairy friend, Saffir, chase the laser light at the Parrigin home in El Paso.
Bexata Greyhound Carrie just kind of watches them from the bottom left of the picture.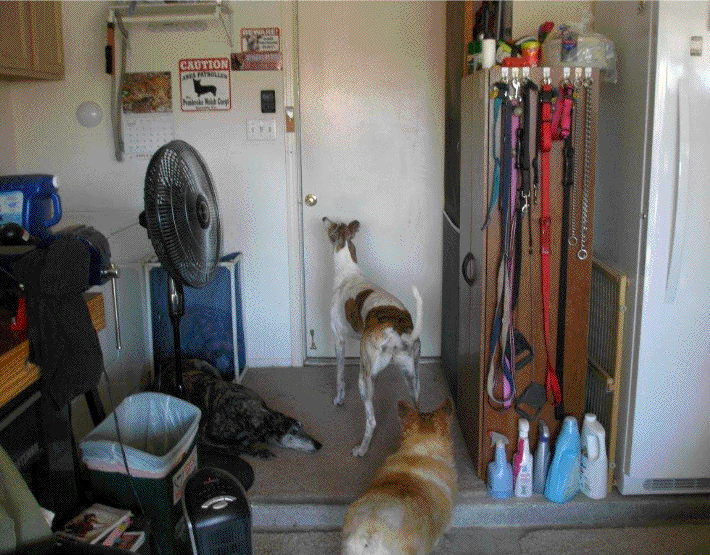 January 21, 2016 - Happy days for Leon!
Just wanted to update you on Leon, he is doing awesome eating, drinking and really enjoying his walks. Today's walk ended with a short jog with me. After his morning walks Lila takes him in the back yard so he can drink, go potty and just hang out a little while she reads. First couple days he would walk close to her as to say pet me please, today he is putting his face in front of her book lol like here I am. So I am sending you a couple update photos also.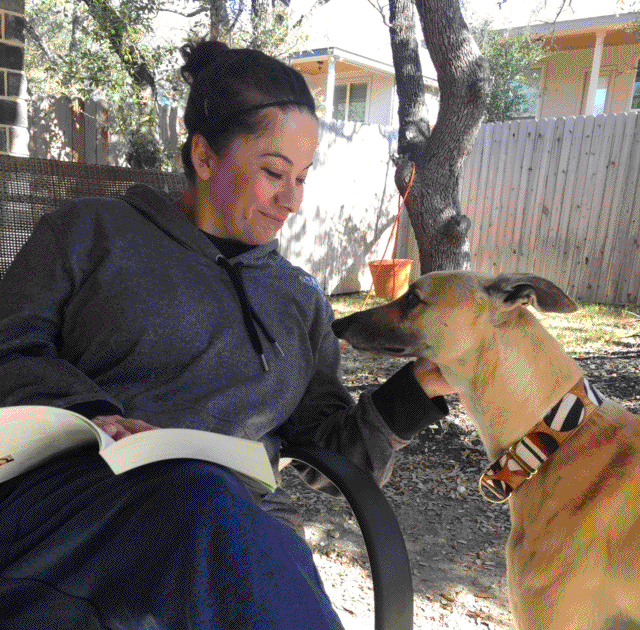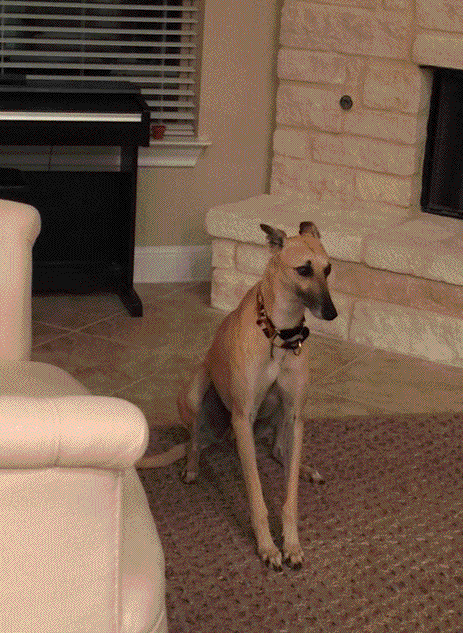 January 21, 2016 Hilo, formerly called Henry
Sherry: I hope this finds you and all your dogs doing well. Attached are some pics of Hilo. We moved up to Reno from Las Vegas this summer. Hilo loves the snow as well as the couch. He is such a sweet boy- not a mean bone in his body that's for sure.
All the best to you. -Stephanie Charter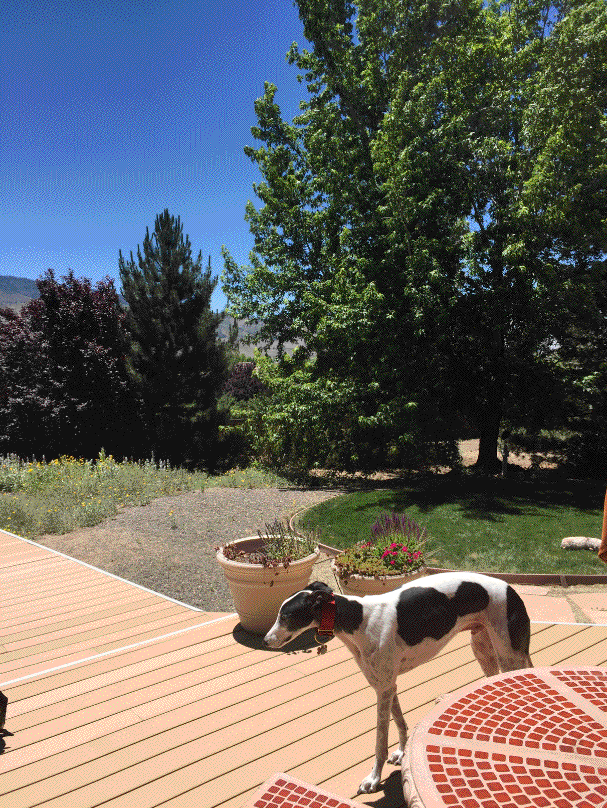 Hilo's paw prints in the snow.
Back in the house getting warm and toasty.
January 18, 2016
Leon has a family of his own. He has been at Bexata a while until he found a family he chose and would call his own.
This is the Davis family and friends. This is truly a match made in heaven.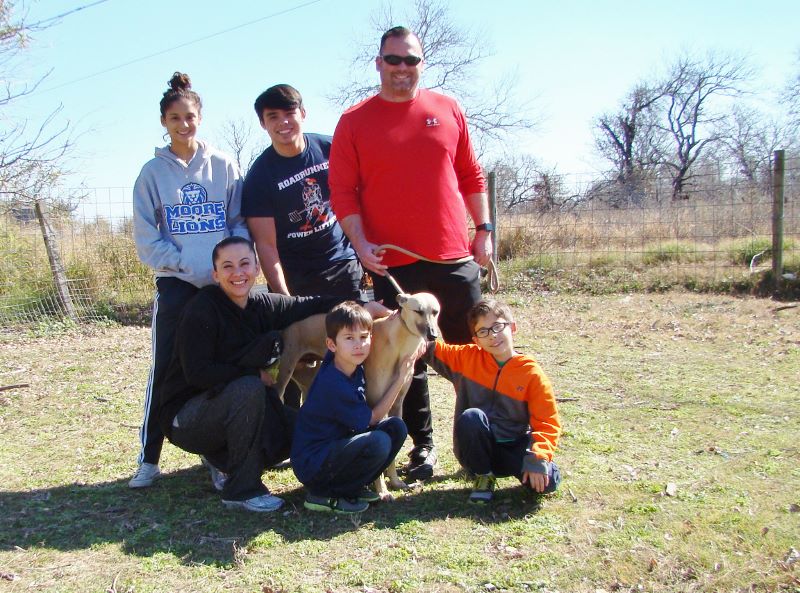 Leon July 2015 at Bexata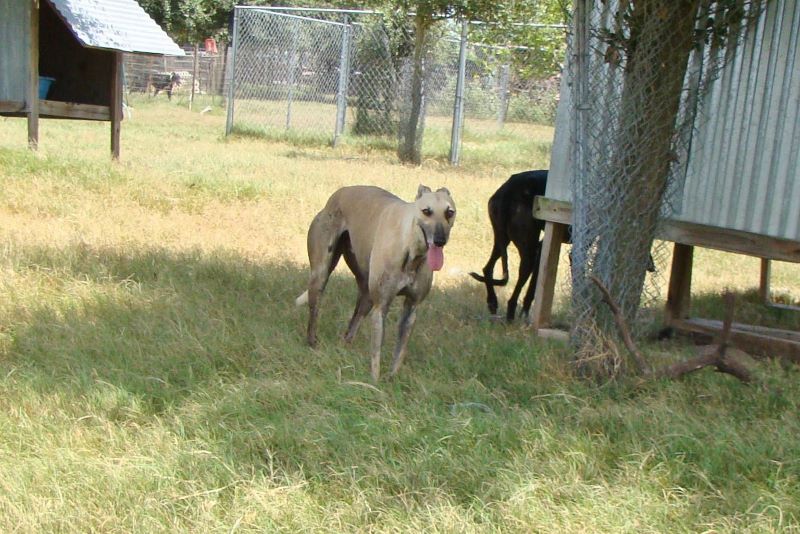 December 31, 2015 formerly Bexata rescue Greyhound girls adopted by the Hanzelka family.
Left to right - Luna, Rosie, Foxie and Willow.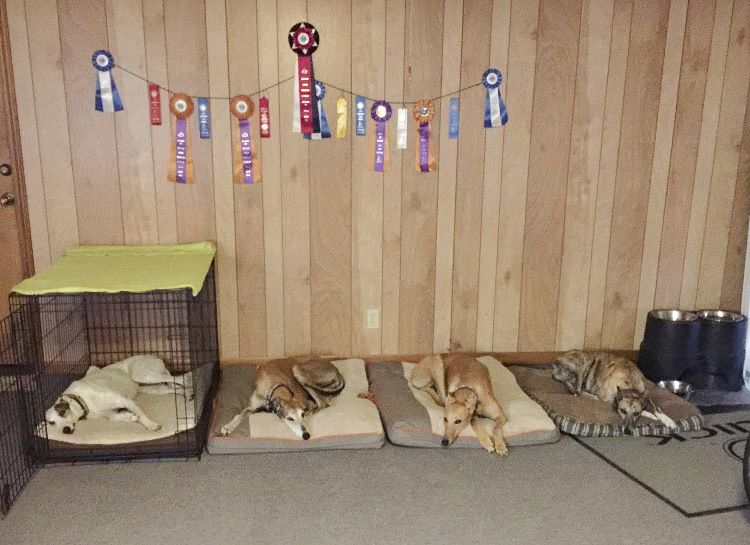 December 30, 2015 Gear and his girl napping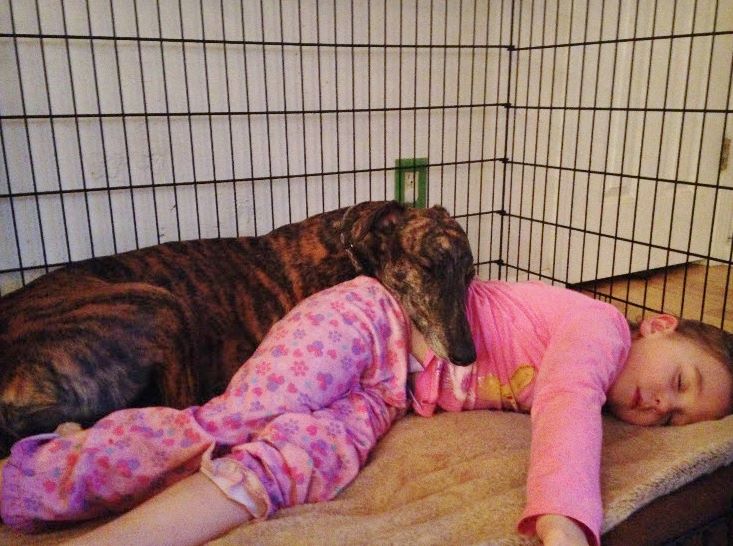 December 28, 2015
Hi Sherry!
We have taken to calling him Frank the Tank. He is soooo sweet! He spent the day yesterday moving between the couches and his bed to try and find his special spot. This morning when I got out of the shower I found him on our bed. I think he likes us!
Amy
December 27, 2015
Francis is adopted!
Pictured with his new mom Amy.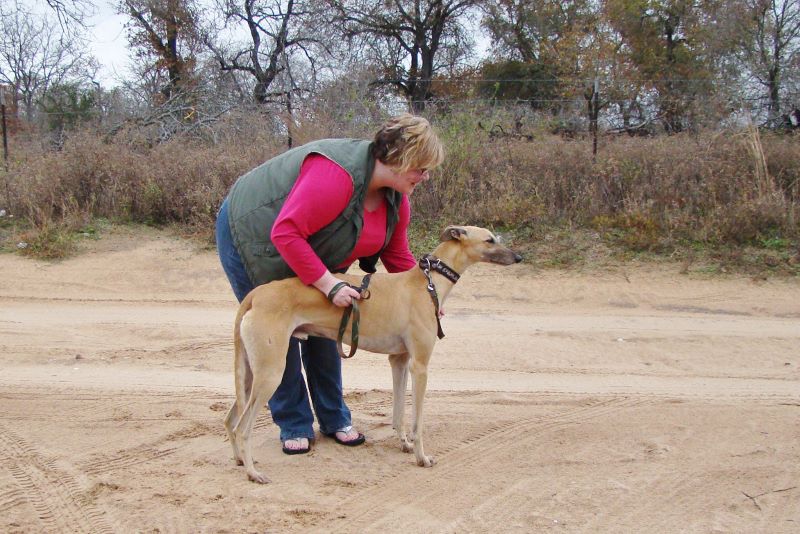 In the woods at Bexata.
Francis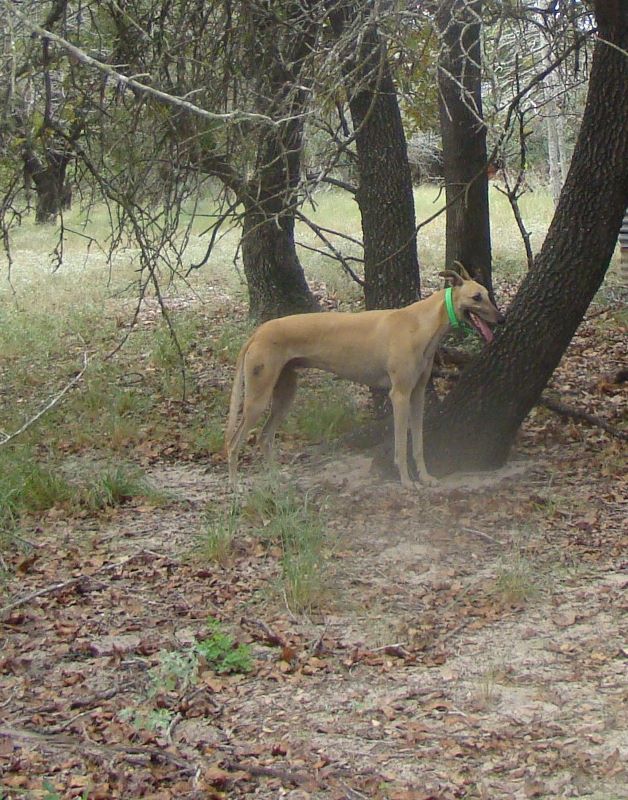 Francis enjoyed himself at the park.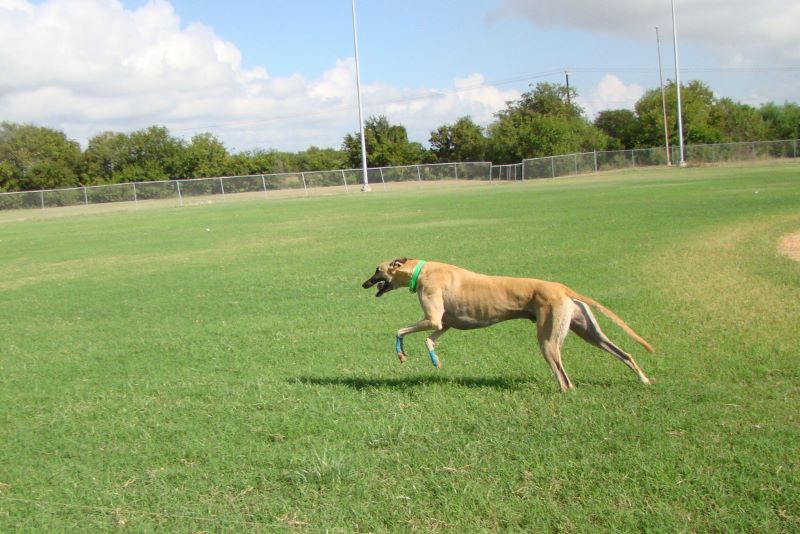 Francis is a big handsome friendly boy. He was living with a family (see picture below), until their fencing was removed and, with an autistic child and school starting, they just didn't have time for him any longer for exercise, etc., so he came back to Bexata.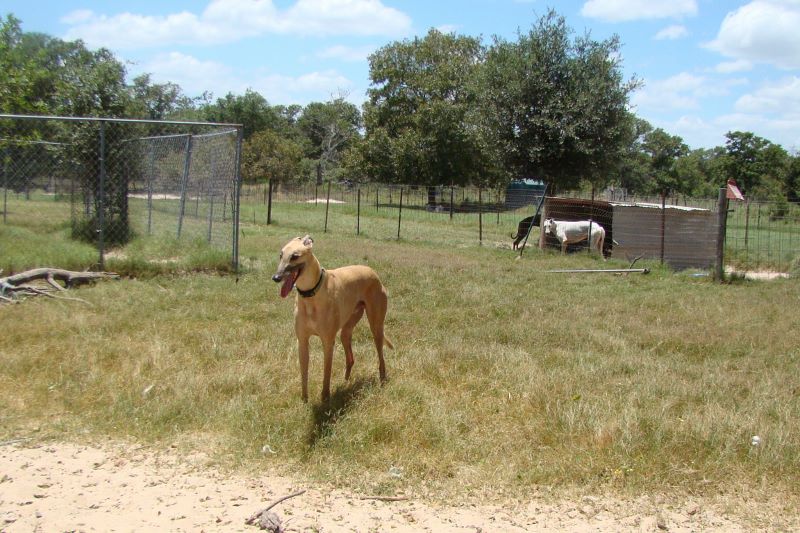 another day - what a good natured boy. He is a great dog accustomed to living with children and small dogs. He lost his home because things changed in the family's life, through no fault of his own.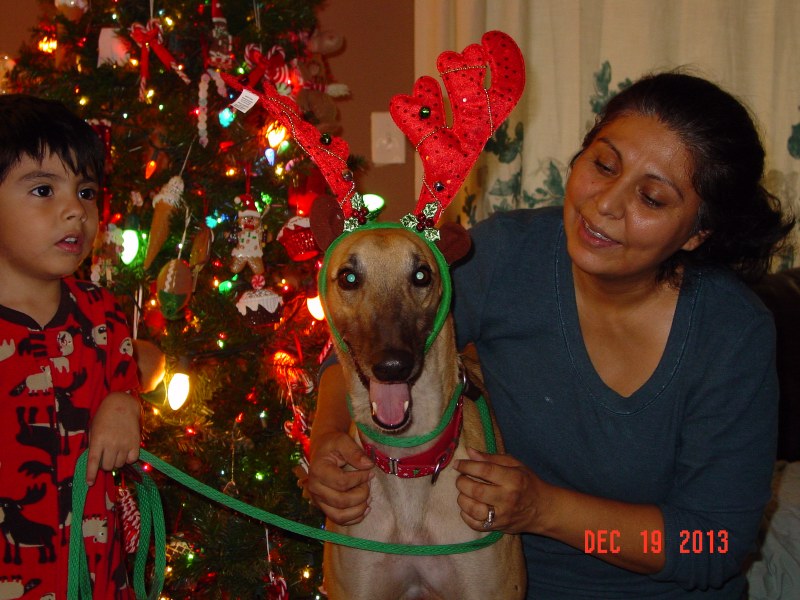 December 26, 2015 Rosie the senior Greyhound was adopted and now living with her new "sisters" Luna, Foxie and Willow.
Didn't take her long to learn the dog door and the bed. What a great day for Rosie!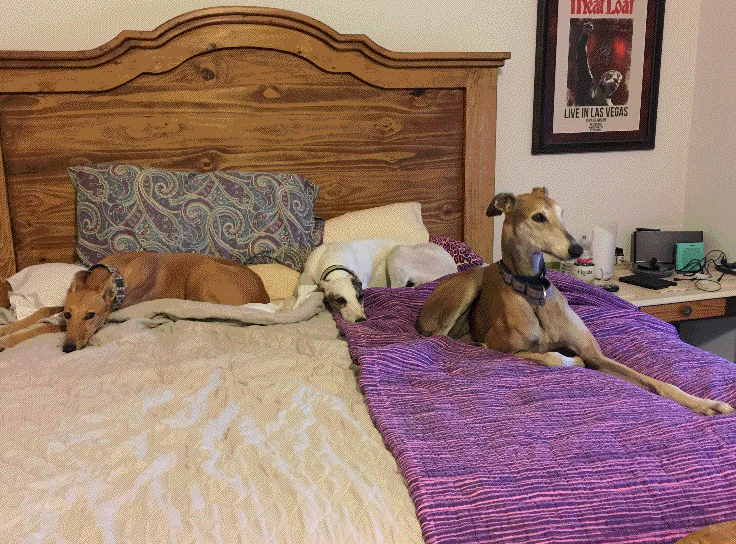 December 25, 2015 - Merry Christmas Lexi and Carrie in their Christmas collars.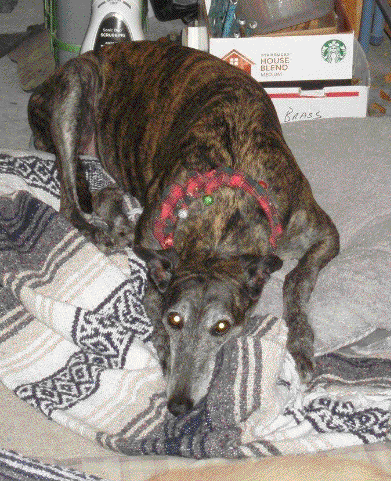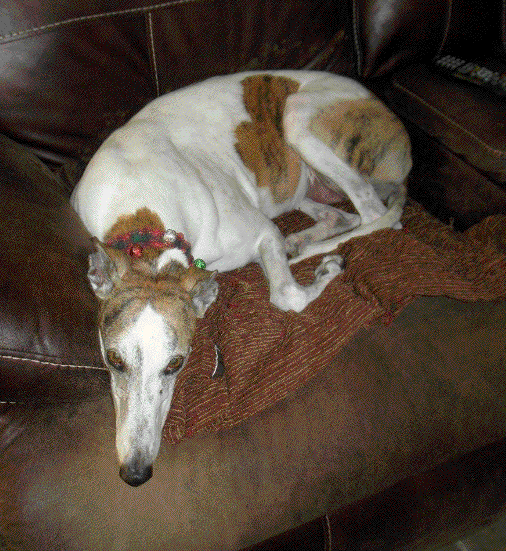 December 24, 2015 Tiger Boy Lohmeier and his best friend
December 23, 2015 Cassie leaves Bexata with her new family and her new "sister," Great Dane, Matilda Kavanagh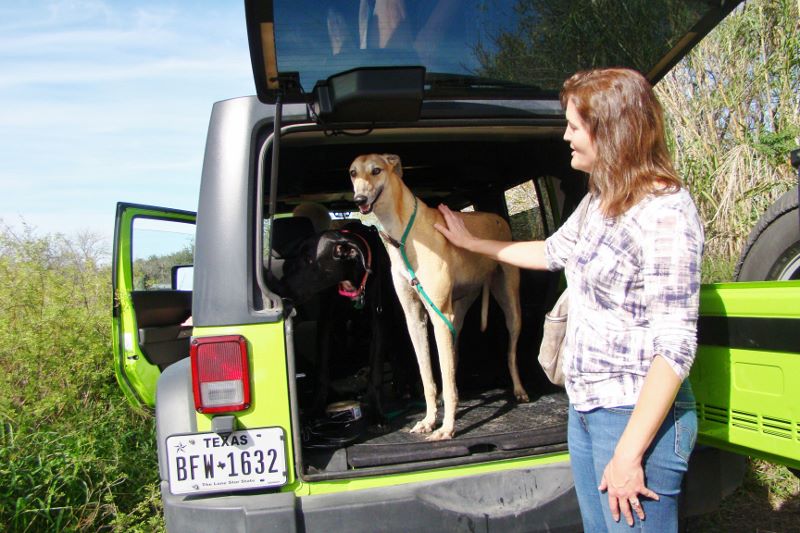 "Sisters" Matilda and Cassie Kavanagh
November 6, 2015 Cassie at the park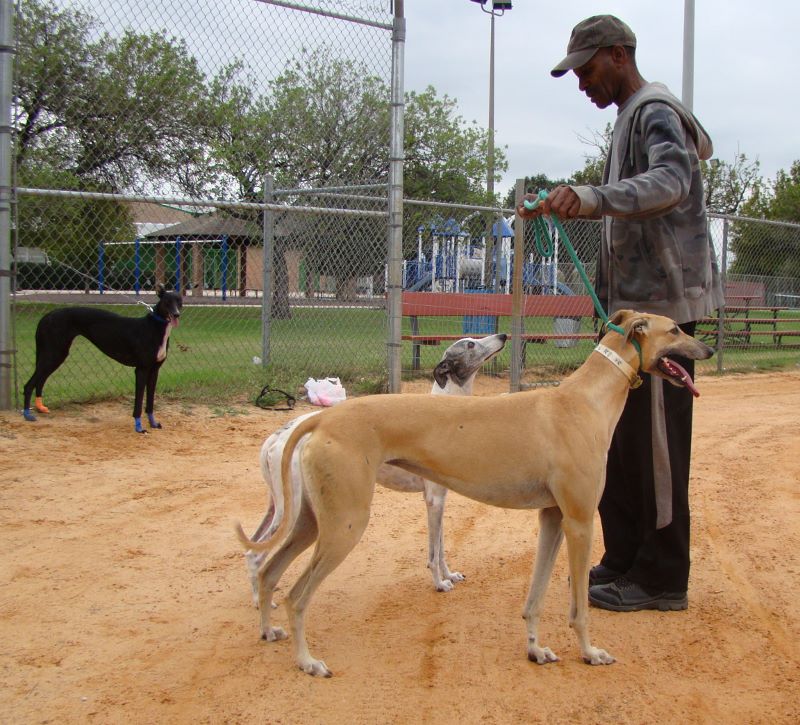 November 30, 2015
Ibis and Gear
Enjoying a rainy day Christmas movie on the couch with my four year old daughter. Thought you'd enjoy! -Savannah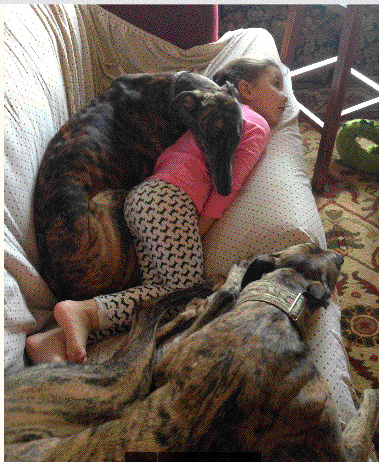 November 24, 2015 HAPPY BIRTHDAY CARRIE! (Brindle in the middle) shared her birthday ice cream with her sisters.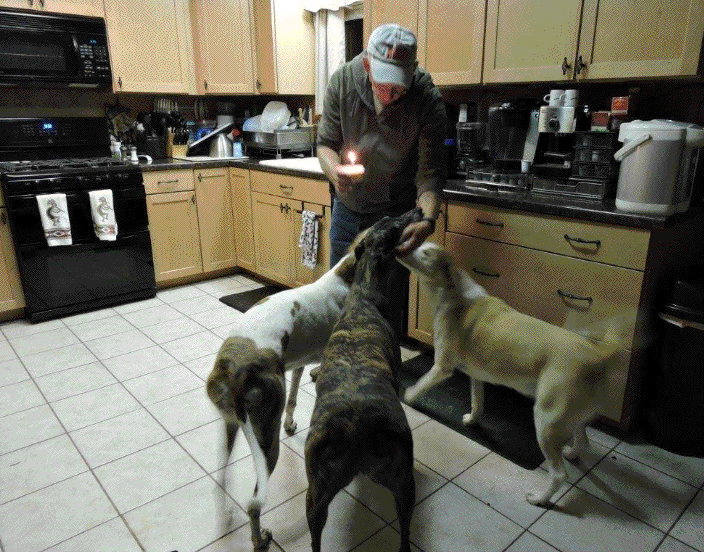 November 10, 2015 Tiger Boy and his kitty, Ellie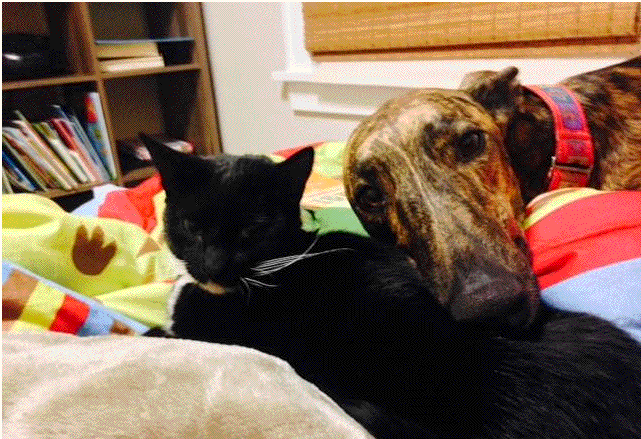 November 4, 2015, Daisy Bond (FC Bexata Daisy, SC) enjoying a cool morning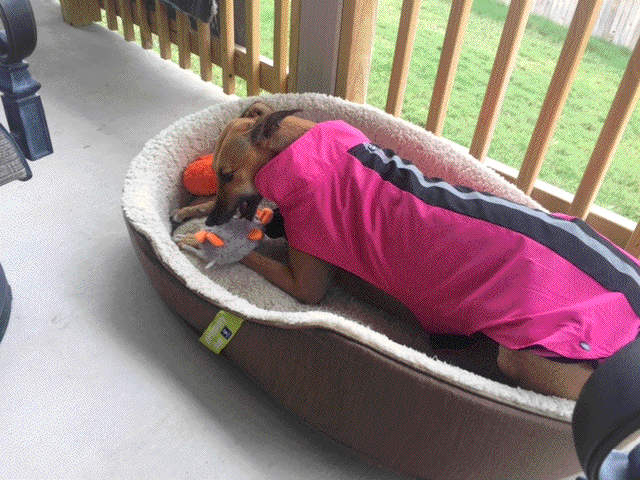 October 21, 2015
Foxie Hanzelka - Field Champion Bexata Foxie, SC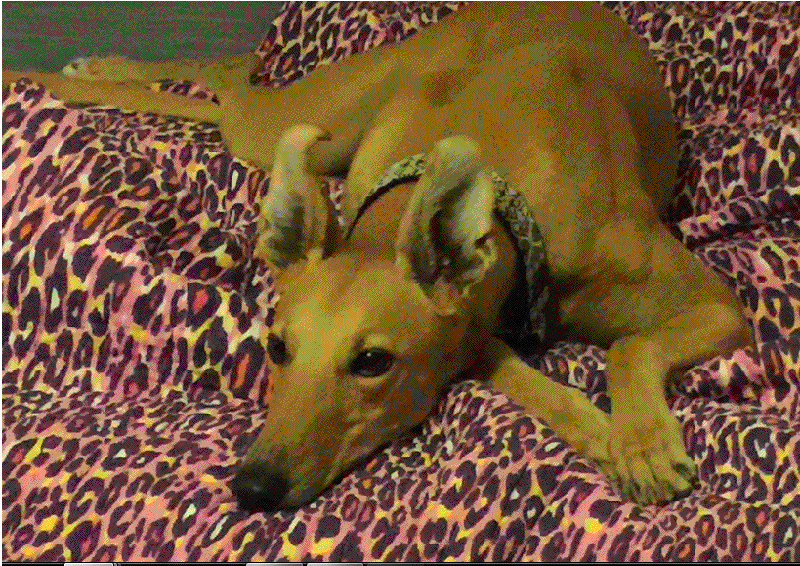 October 21, 2015 Tiger Boy and family.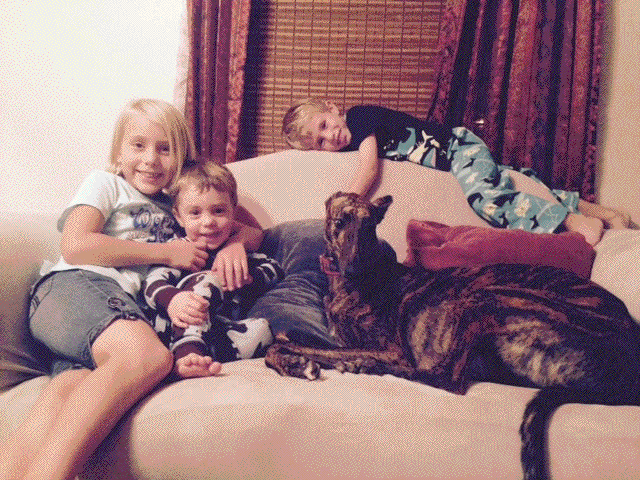 October 13, 2015
More Tiger Boy at home with family and friends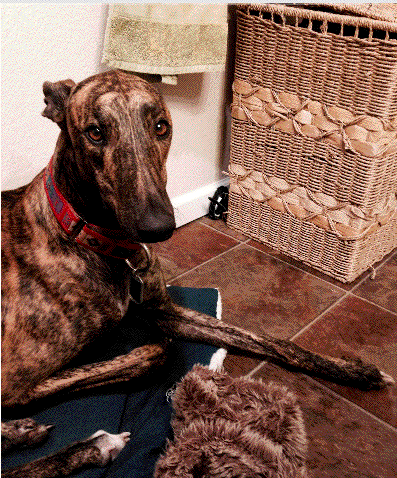 with Dad and another brother
He's great with his cats and kids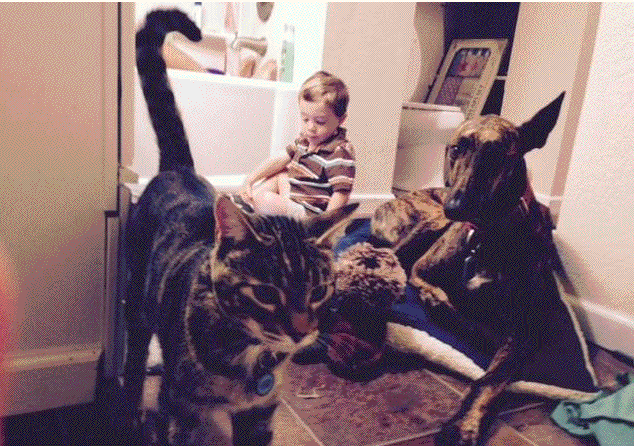 His best dog buddy is a 13-year old blind Boston Terrier.
October 6, 2015
Tiger Boy Lohmeier has made himself completely comfortable in his new home.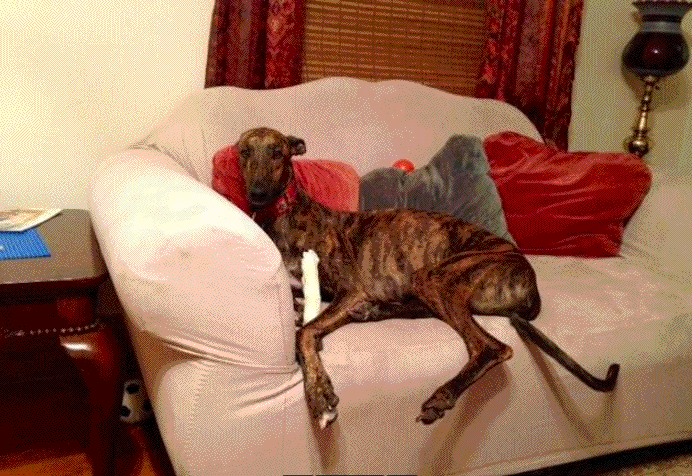 September 22, 2015
Daisy getting pets from Dad Kevin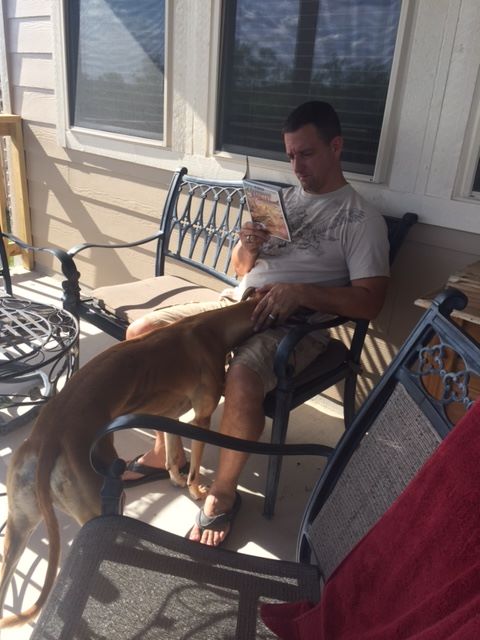 September 9, 2015 - Greyhound Tiger Boy (brindle boy on the left) has been adopted and will leave for his new home at the end of September, after his neuter and recuperation.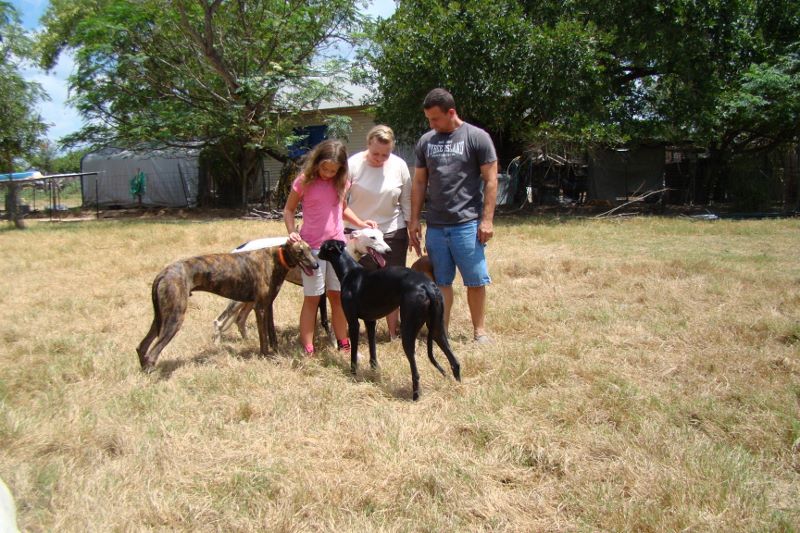 Lexi Parrigin (left) turned five, so she got the first licks of her ice cream cupcake. Carrie Parrigin (right) got to share.
September 6, 2015
HAPPY BIRTHDAY LEXI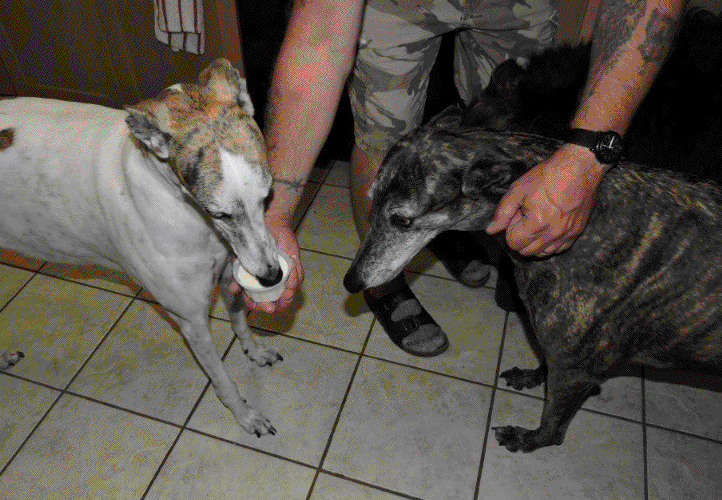 Carrie's turn
September 4, 2015, a girl and her dog (Nicole and Daisy)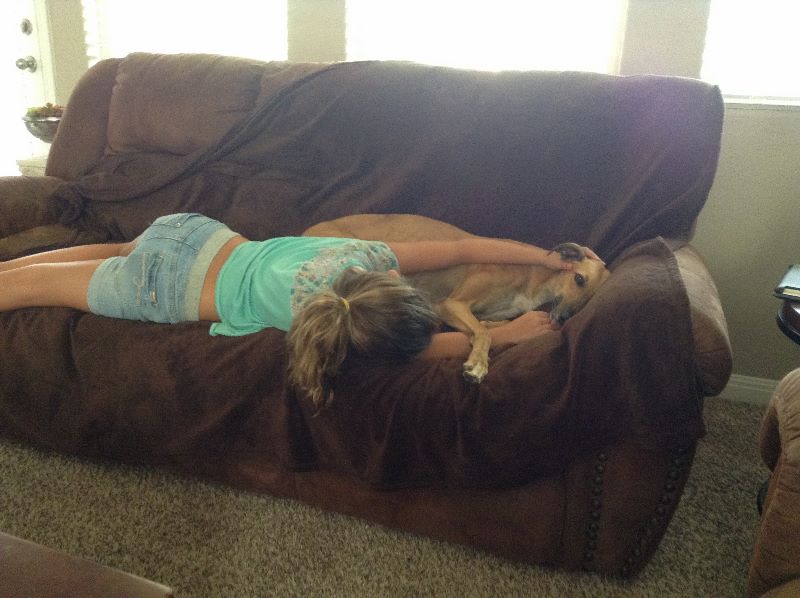 September 1, 2015 Daisy Bond has learned all about the couch!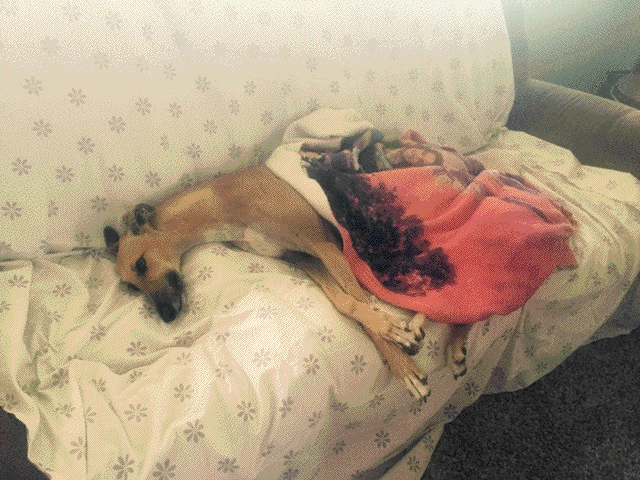 August 30, 2015 Daisy had a day with her family at the Guadalupe River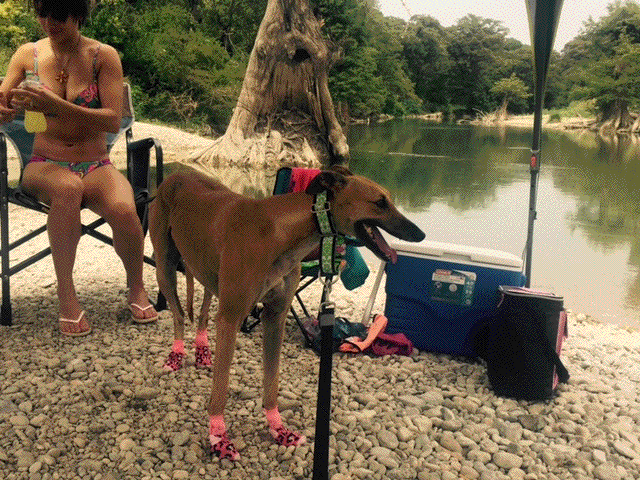 Come on in, the water's fine!
After a big adoption day, Daisy is crashed out in the back of the minivan on her new bed going to her new home August 23, 2015
Daisy in her new yard with her new little girl, Nicole.
August 23, 2015
Augusst 23, 2015
The Bond family came to meet the kids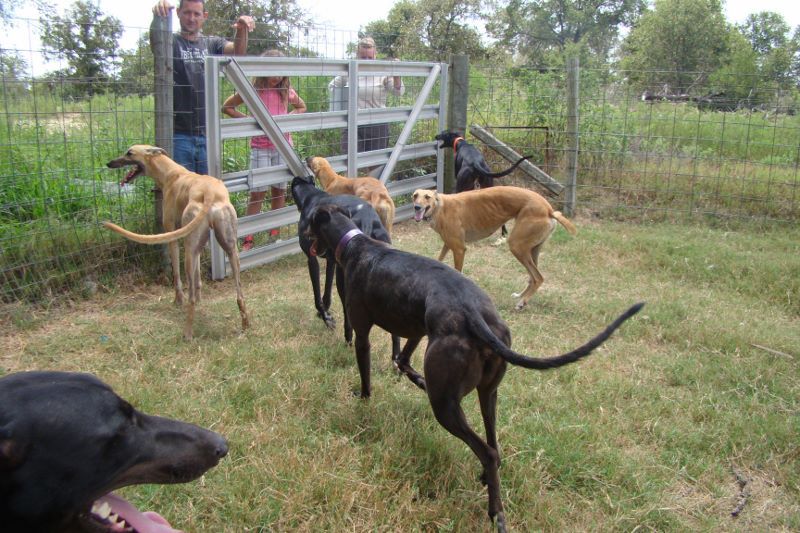 and took Daisy home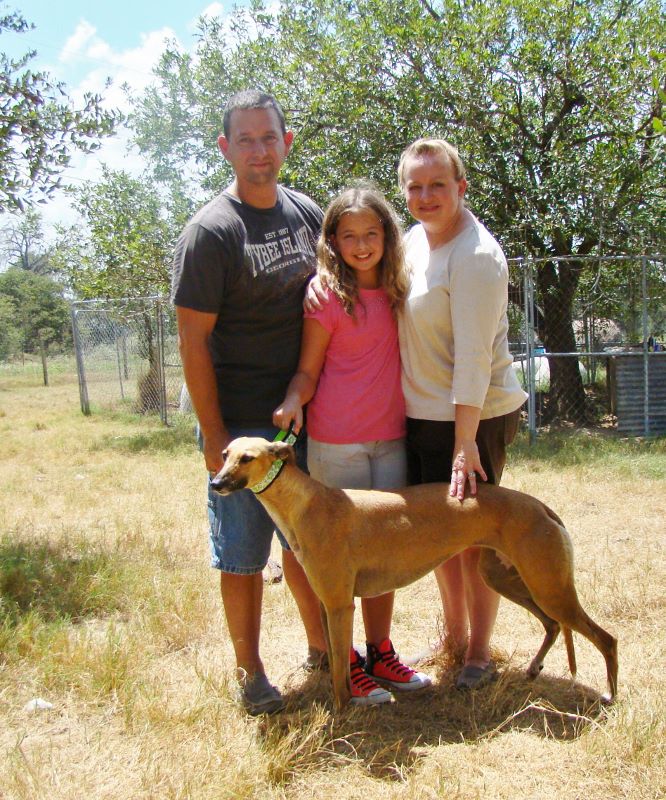 June 25, 2015 Duane's girls, Carrie and Lexi, in the baby pool after a walk. El Paso, TX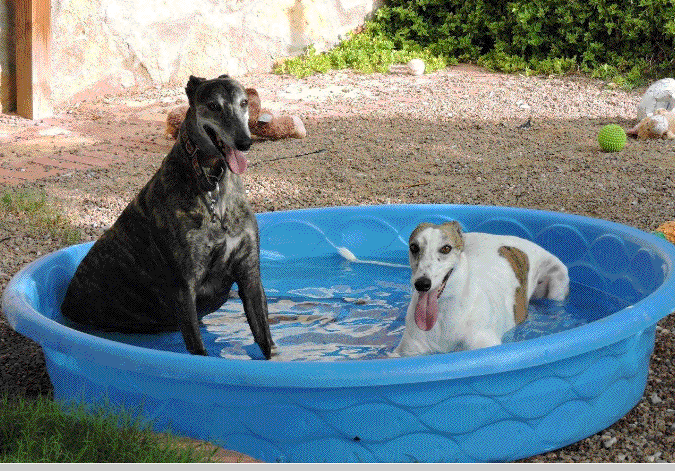 June 13, 2015 Zoe and Velvet at Kelly's in Arizona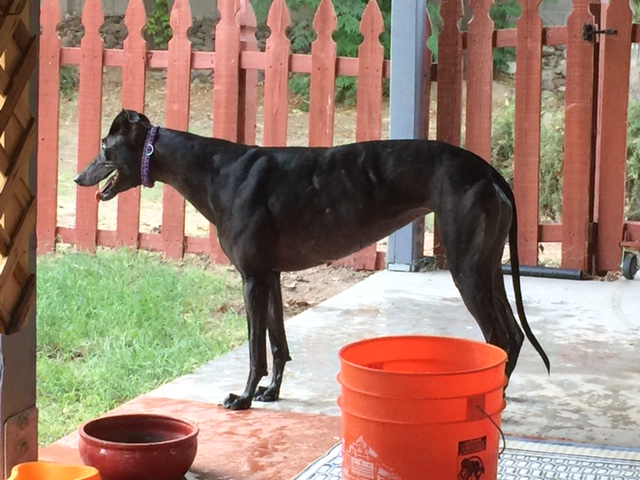 keeping cool.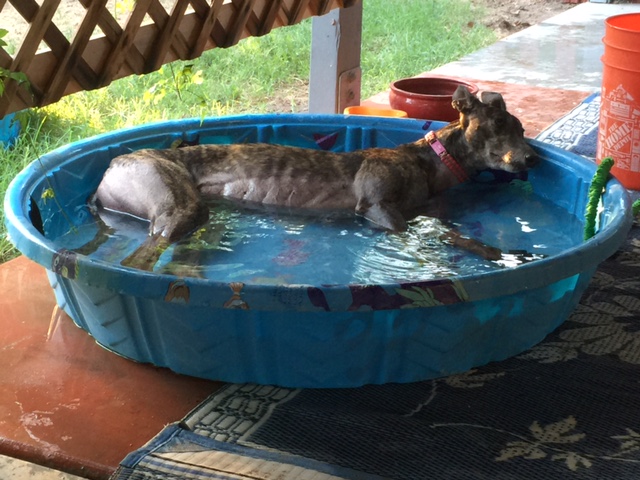 June 1, 2015
Bexata Holly and her shelter friend, Ivy3, enjoy a wonderful playground at Terri's in NY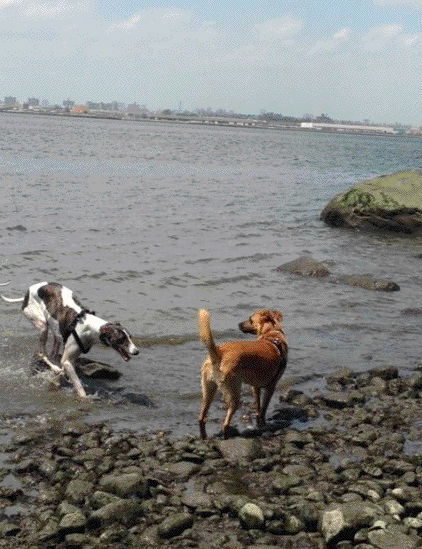 May 21, 2015 Bexata Carrie and Bexata Lexi enjoying the good life visiting grandma Parrigin's house.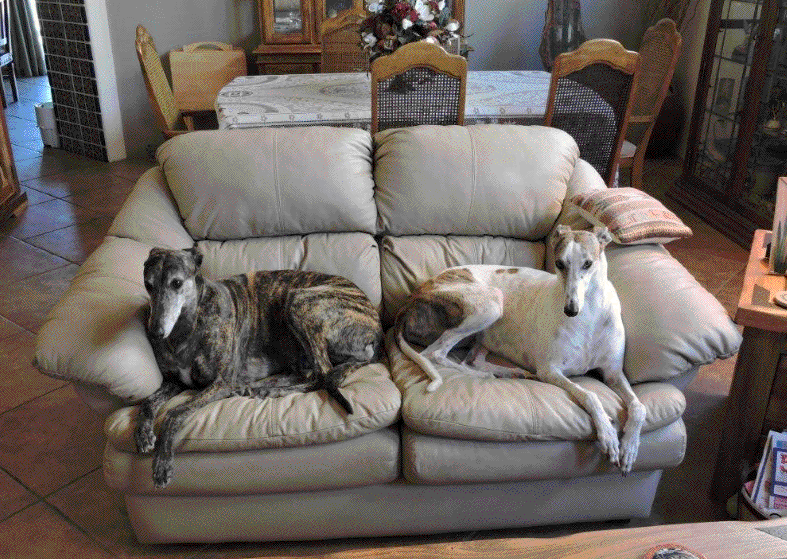 Lola lives there, so she always has the good life!
April 15, 2015
Carrie and Lexi with their new pool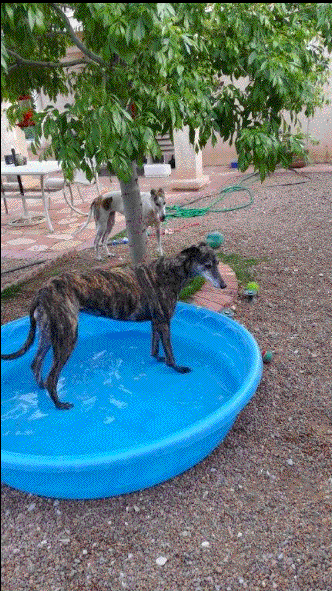 April 14, 2015 - Lola and Mom - selfie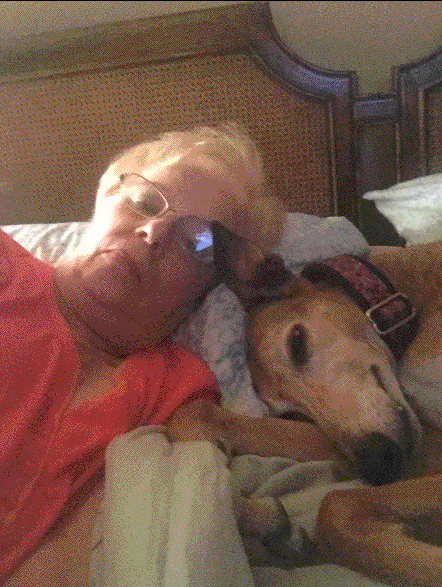 April 12, 2015 Dalphina at Kelly's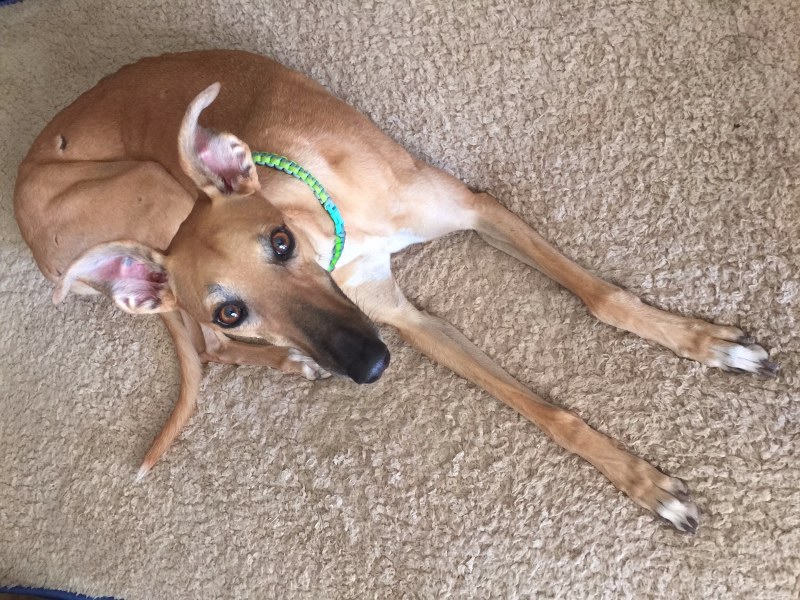 April 3, 2015 Brian came by to pick up his adopted Greyhounds, Pepsi and Trace. Pepsi is from Bexata. They were visiting while Brian was out of town, which I do for my adopters, and pictured after Pepsi and Trace had a good run in the pasture.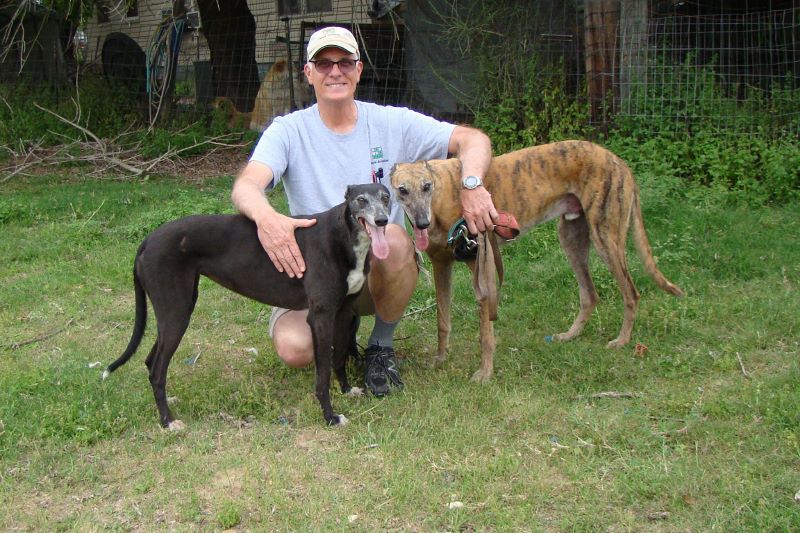 April 2, 2015 - Mom, Lara, with Frannie and JD (Happy).
Frannie was spayed and recuperating at Bexata until she could go home today.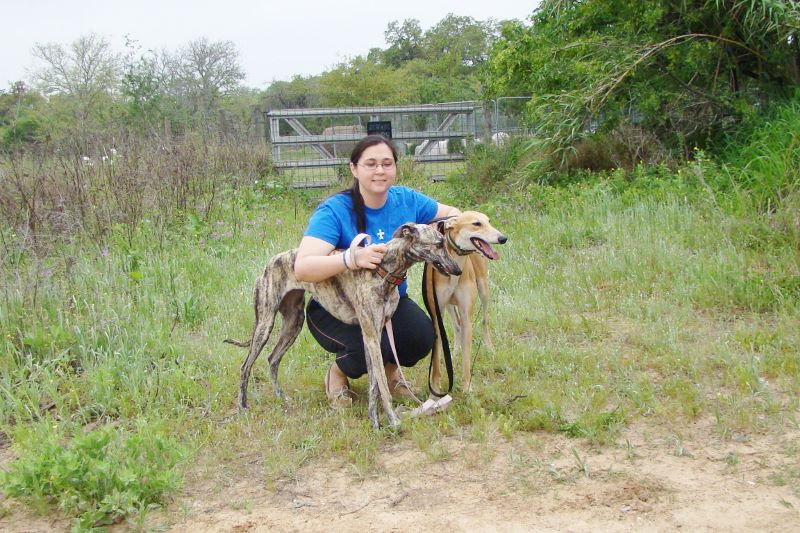 March 26, 2015 Foxie Hanzelka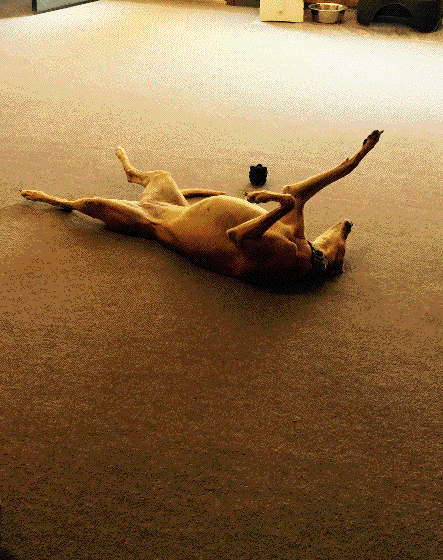 March 25, 2015
Lola enjoys ice cream with her adopted family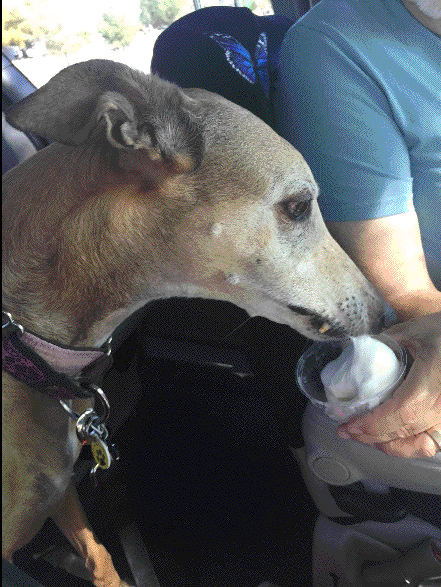 March 9, 2015 JD and Frannie are visiting Bexata while Andrew and Lara are finding a new home in Boston
The kids will be going north sometime toward the end of April.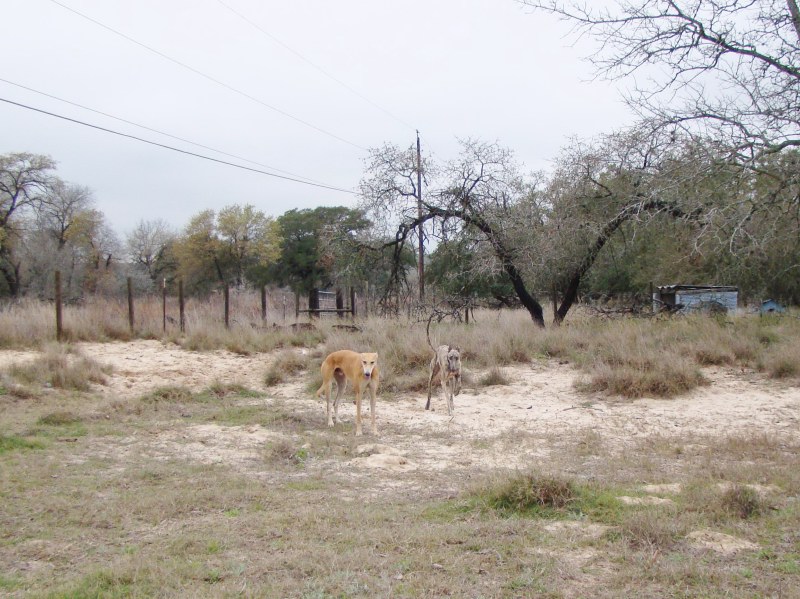 Frannie likes playing frisbee.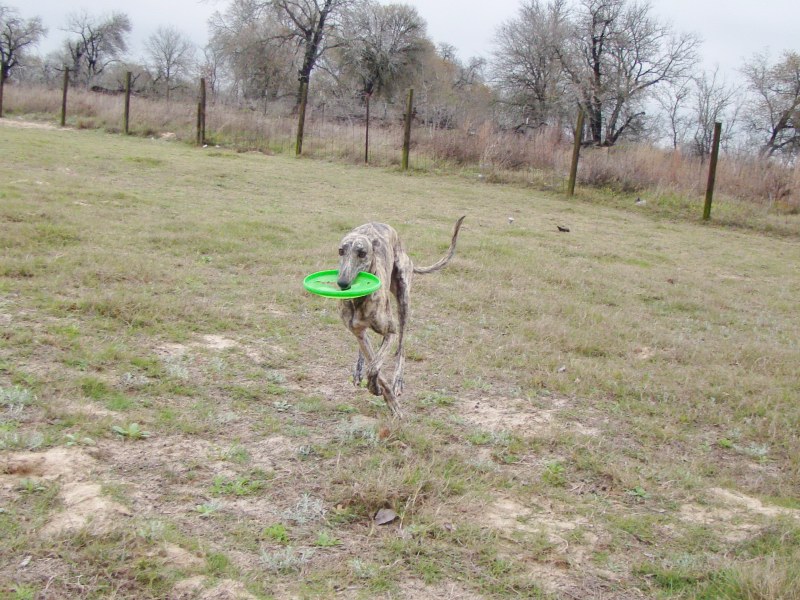 February 26, 2015 Carrie and Lexi hanging out in the garage while Dad fixes a ceiling fan.
It was chilly, but they had to be near him. They're Duane's girls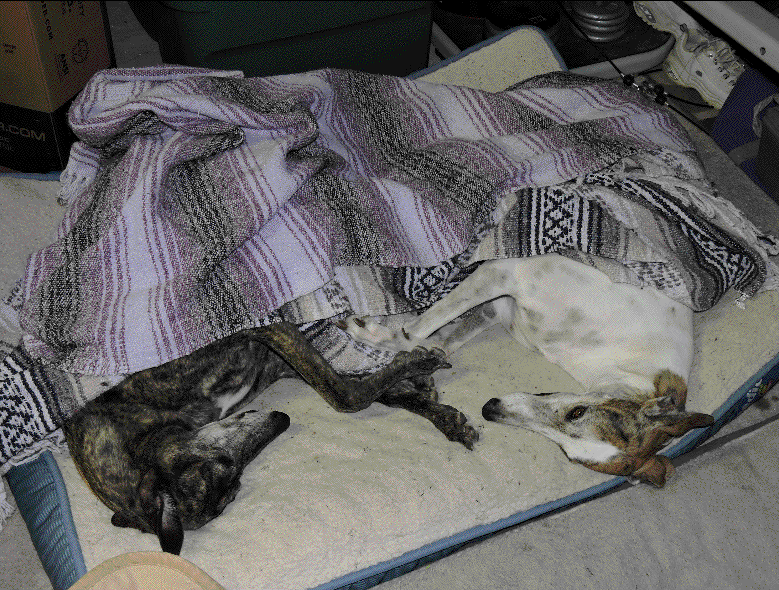 February 25, 2015 - Laura's beautfiul girl, Dancy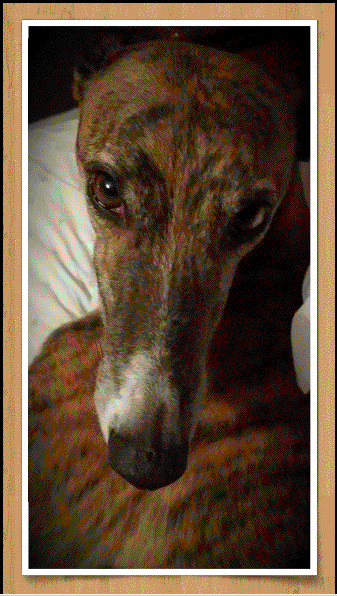 February 24, 2015 Luna
February 24, 2015 Foxie and Willow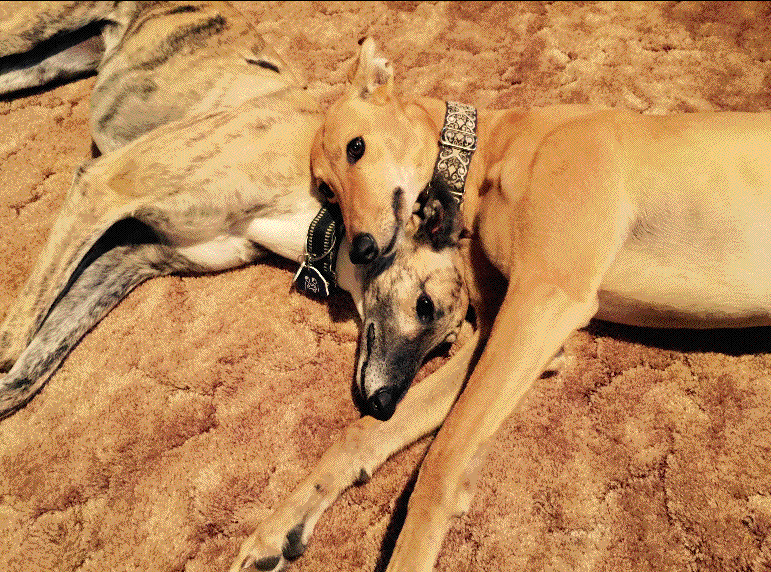 February 20, 2015 - Adopted Bexata Greyhounds, Willow, Luna and Foxie
waiting for mom to give them their morning hard boiled eggs.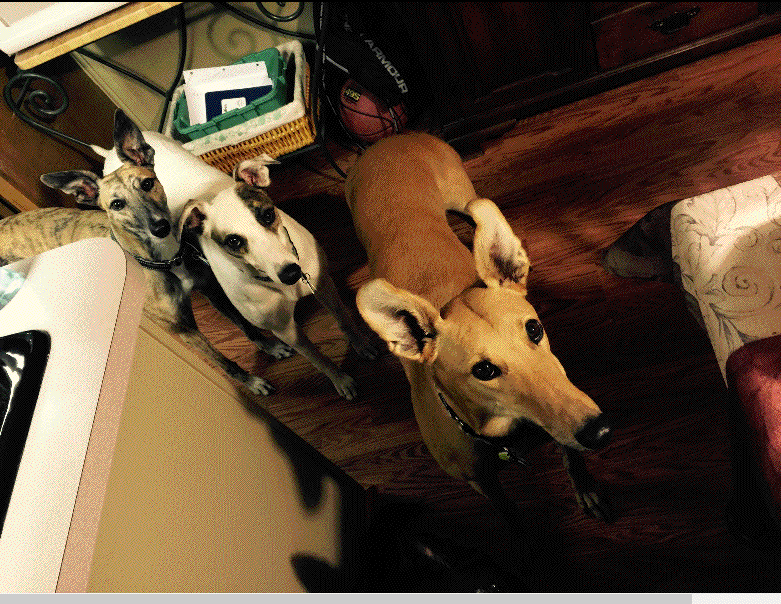 February 19, 2015, Brian brought his Bexata adopted girl, Pepsi, and his old Greyhound boy,Trace,
for lure coursing practice. A good time was had by all.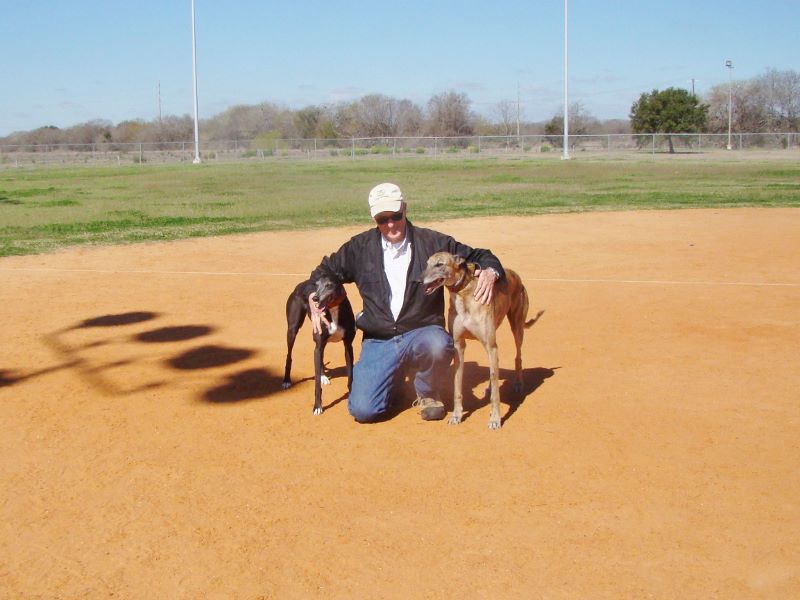 Pepsi in front and Trace behind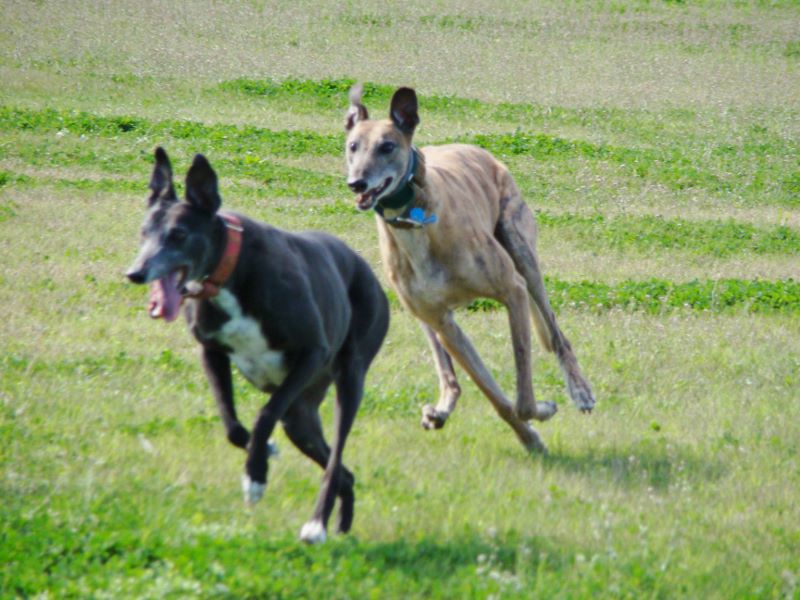 February 12, 2015 Willow relaxing at home.
This seems to be a favorite Greyhound pose.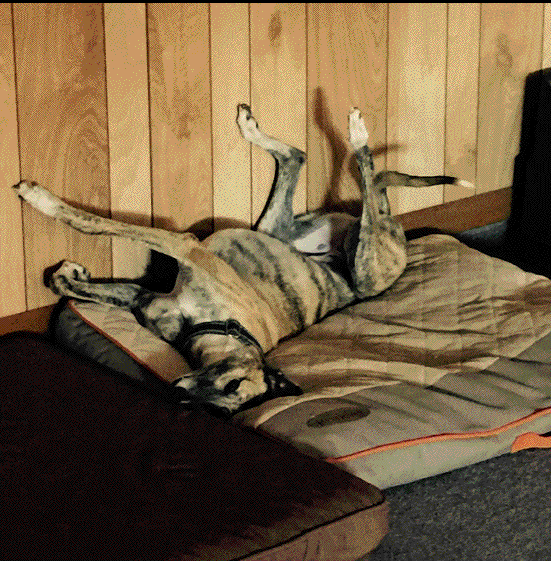 February 11, 2015, Pork Chops in Michael's SUV.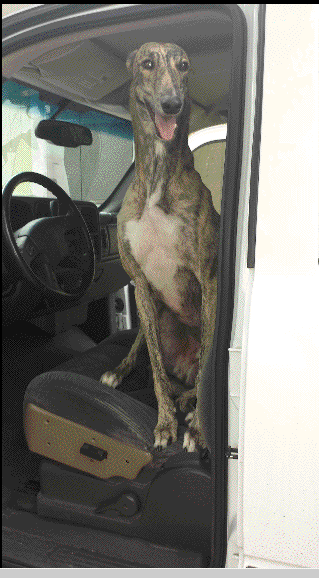 February 10, 2015
Angel's Bori in Mexico in his favorite sleeping position!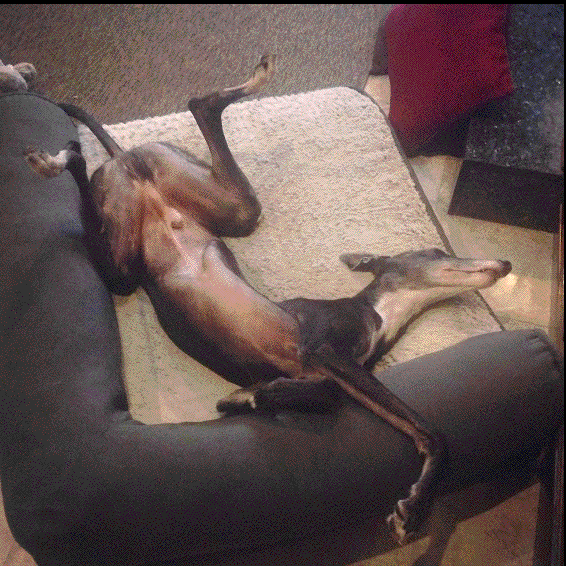 February 9, 2015
Holly loves the shore in Queens, NY.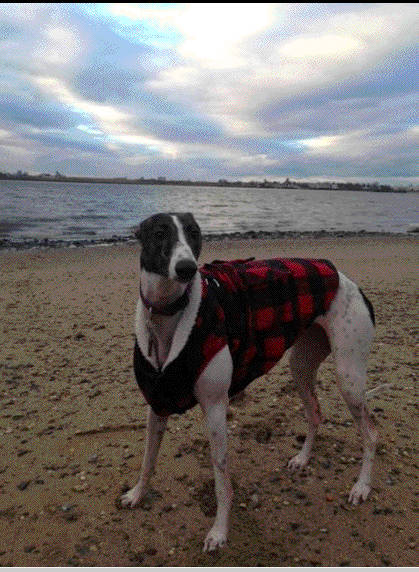 But when she's home and can't go out, she gets cabin fever.
February 9, 2015 - Holly at her best. Thanks Mom Terri!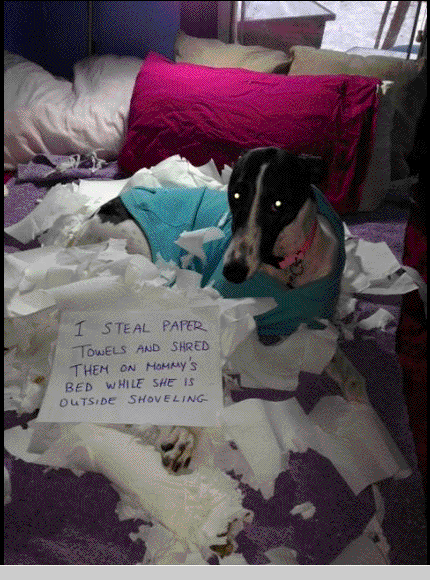 February 4, 2015 Sable in her Christmas jammies at mom Cat's house.
February 2, 2015 Luna is enjoying the good life at Laurie's.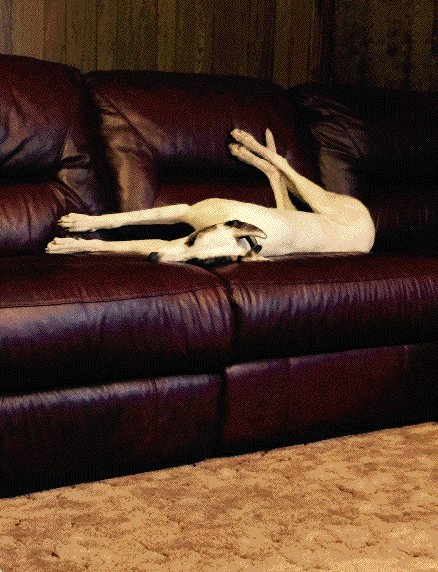 Pepsi is adopted as of January 28, 2015
Pepsi met Brian and his wonderful retired racer boy, Trace. It was friendship right away and Pepsi went home with them.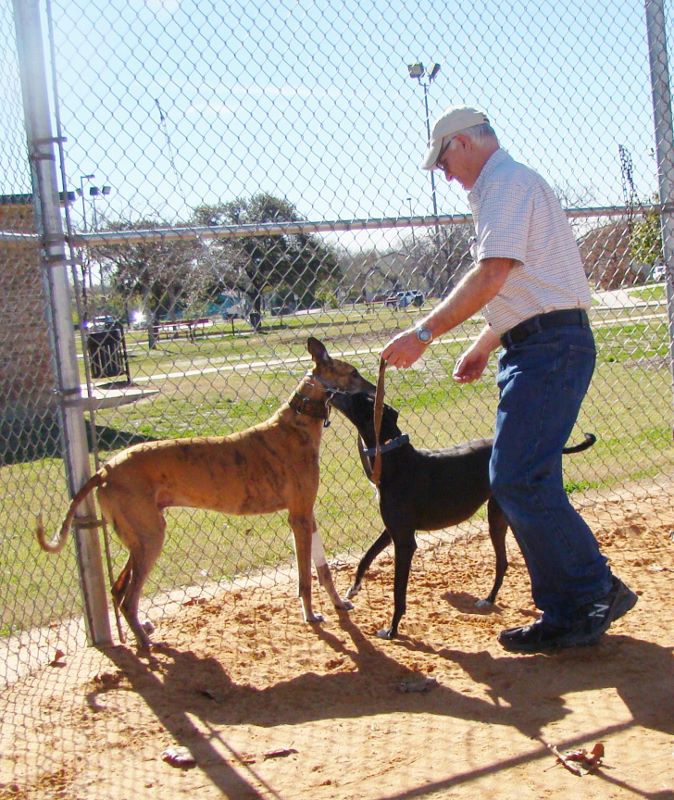 Here she is with her new Dad, Brian, and her new Greyhound friend, Trace. We were all at lure coursing practice where Trace and Pepsi both took a lap around the course. It was great to see the two seniors having fun.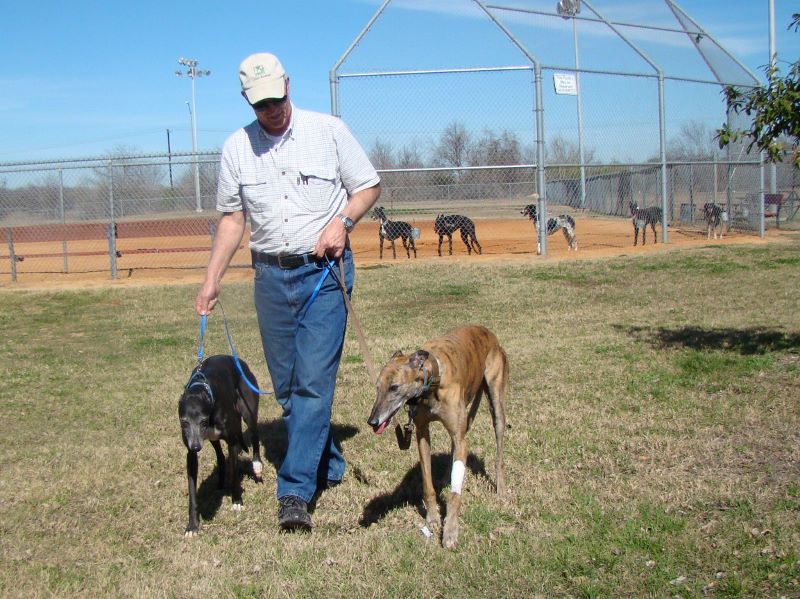 Leaving for her new home with Trace and Brian.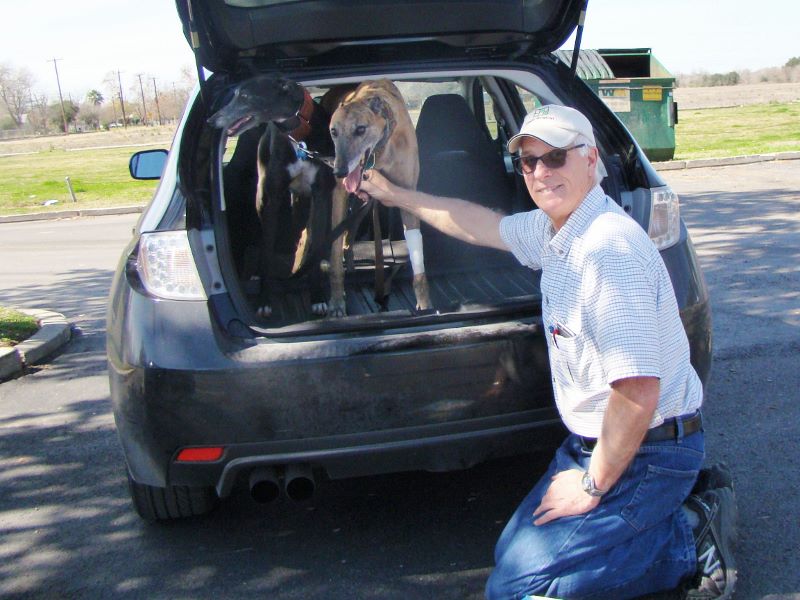 Pepsi at the gate watching Laurie on January 4, 2015 when Laurie came and adopted Luna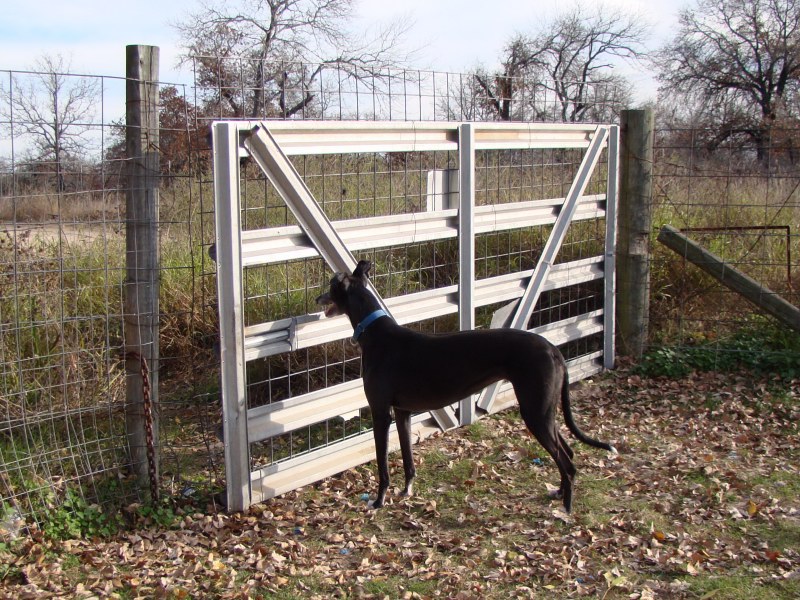 December 3, 2014 Pepsi is a senior Greyhound and was adopted.