LIVESTOCK GUARD DOGS

December 23, 2019
Dear Sherry,
This is Lori, I am the one who took the last male Great Pyrenees puppy. His name is Kota now. I wanted to show you some pictures of him and his new best friends. He is the smartest, calmest, and nicest dog we have ever had. He is best friends with a huge Mastiff and a small Yorkie puppy. He is loved dearly and is just as comfortable inside as he is outside now. Thank you.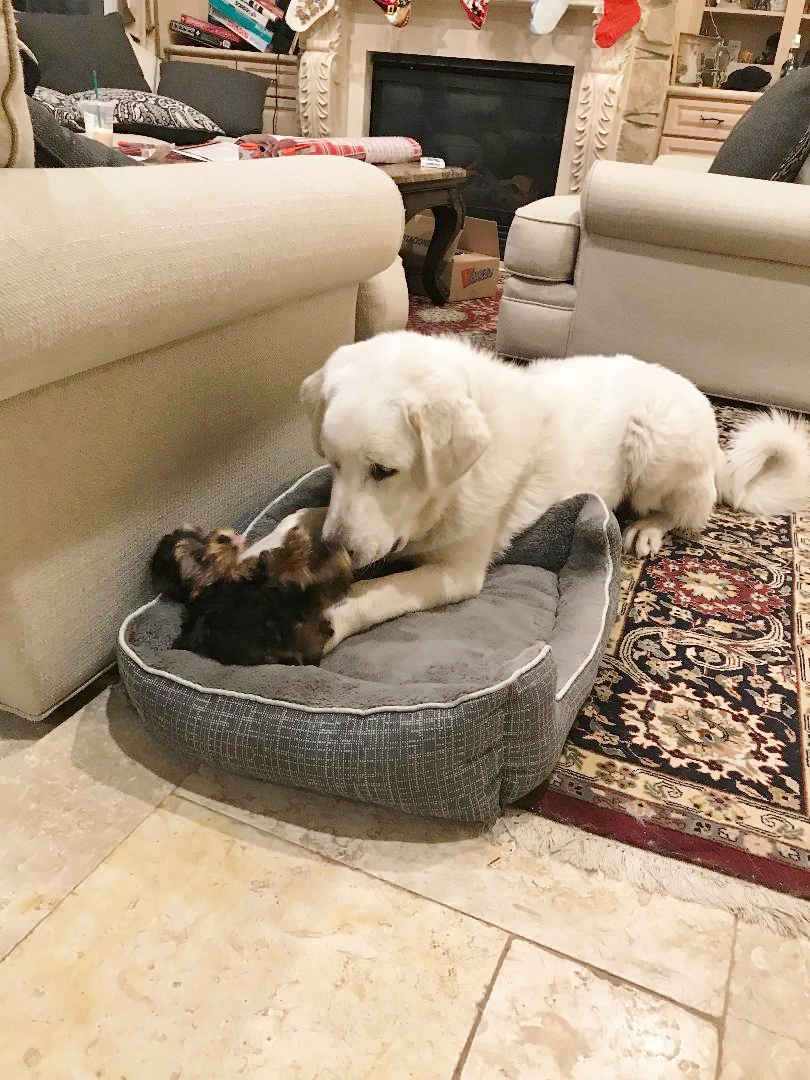 December 2018, Great Pyrenees livestock guard dog, Mac, came to our rescue when his owner was going to dump him in a kill shelter.
Mac is great with the sheep and goats and is available to a working livestock guard dog home.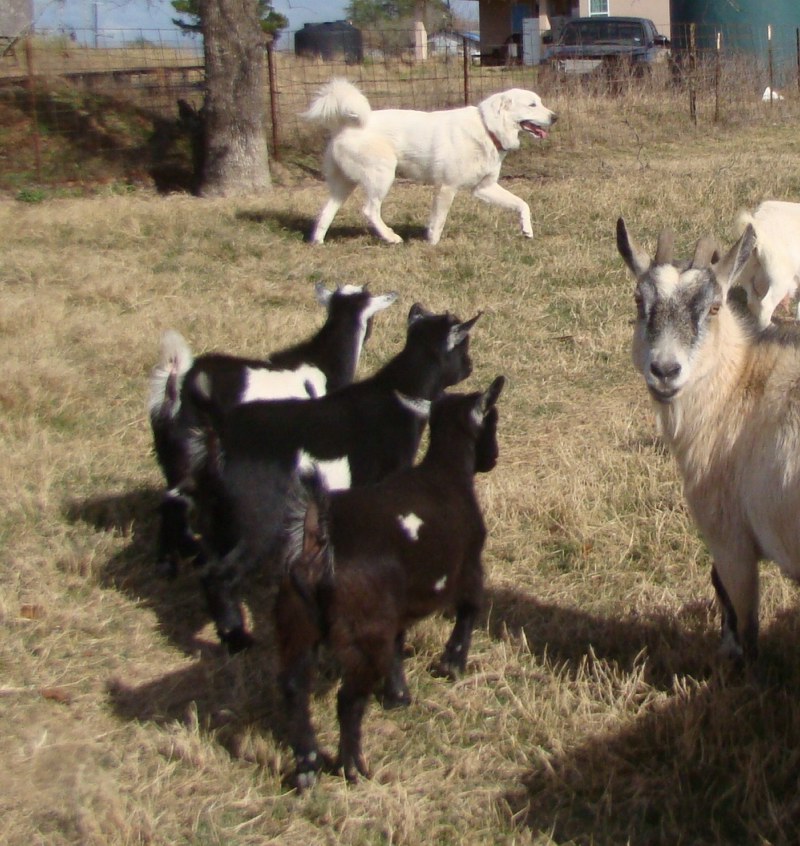 September 13, 2018 In 2005 we adopted Sophie from you and I thought you'd like to know that she's still up and running and doing great. She's lived a happy life—far out in the country, free to roam as she pleases. She visits our closest neighbor (a mile away) like a child visiting a grandfather and he keeps a bed ready for her and food and water out for whenever she shows up. She's had a Lab and a German shorthair as the best of companions. And she has always let herself in and out of the house as she pleases. In other words, she's Queen around here. Thanks for providing us with a wonderful friend.
—
Jan Jackson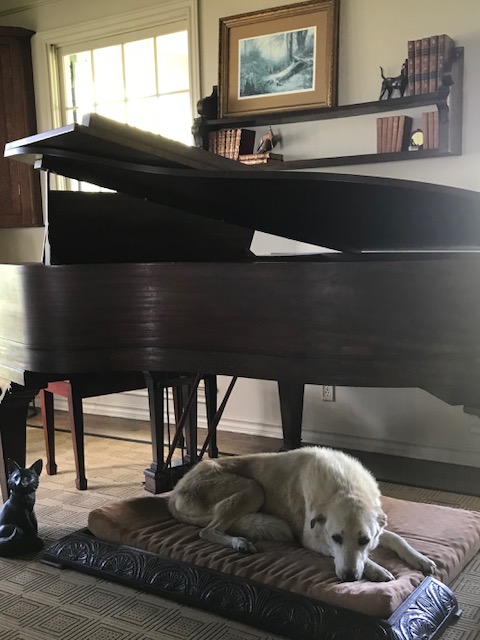 THEY HAVE ALL BEEN ADOPTED!
Pups came to the rescue and are available (with age appropriate shots, wormings, heartworm prevention, microchip, flea/tick prevention) to working livestock guard dog homes.
They are Anatolian Shepherd x Great Pyrenees which is a wonderful mix for working dogs.
There are two separate sets of pups born mid July, 2017 THE "WHITE FACE" GIRLS ARE AVAILABLE. (The fawn with black face has been adopted) THE SECOND TRIO IS AVAILABLE AS OF OCTOBER 9, 2017
Girls and boys are available. Please email sanctuaryemail@yahoo.com detailing what you need an LGD pup for, what predators you have, fencing, and type of l livestock
10/15/2017 I do not turn the youngsters out with my herd and flock because miniature goats can be very hard on livestock guard dog pups, but they in very close proximity to them. The pups and your herd or flock also need to bond with one another, n ot with my flock or herd. Just because a pup hangs out with a flock or herd belonging to someone else, and you take it home, it will not necessarily bond with yours unless the appropriate actions are taken and you are prepared to do some training. These are working livestock guard dog pups, but they are pups and do need some supervision. Can't tell you kow many people contact me that think they can just throw a pup out with a herd or flock and that's all there is to it.
There is so much more and I am happy to mentor my adopters.
AVAILABLE
Girls left and middle are available. Black face boy has been adopted.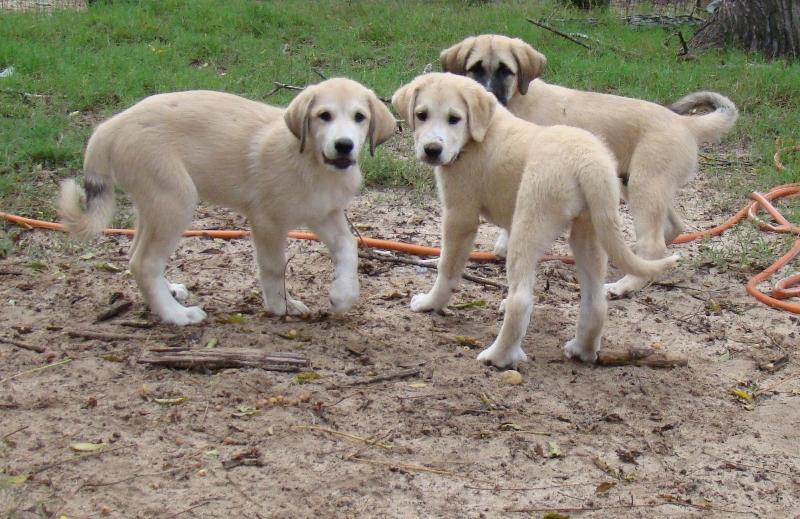 November 16, 2017, they're all adopted.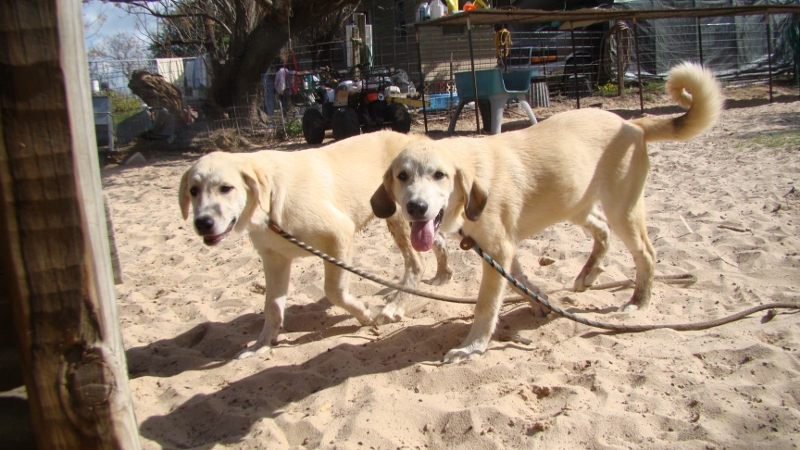 Orion has been adopted and is living with his cattle.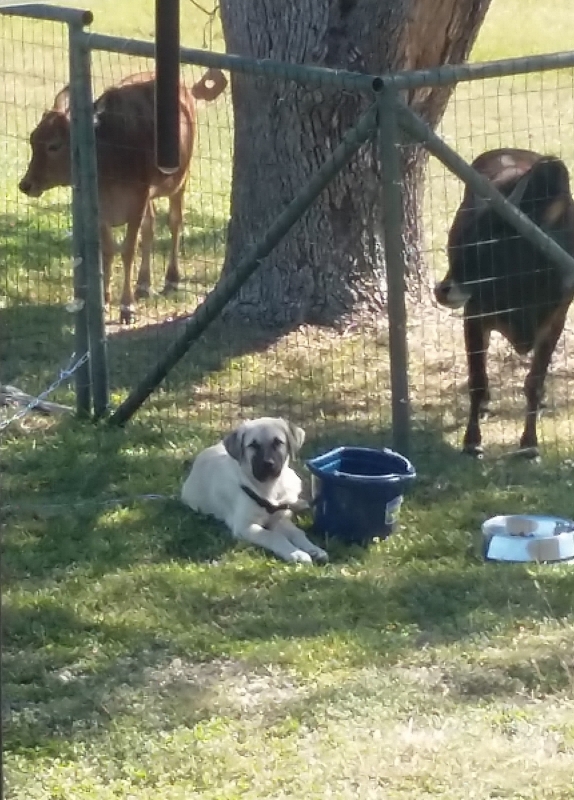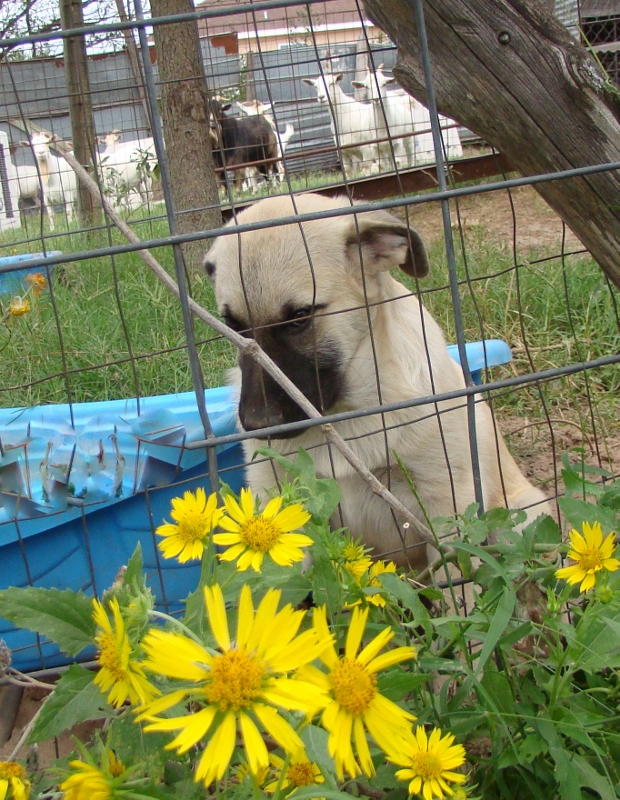 Sissy and Missy have been adopted - to New Mexico where they will guard Nigerian Dwarf goats and Alpaca - Oct. 28, 2017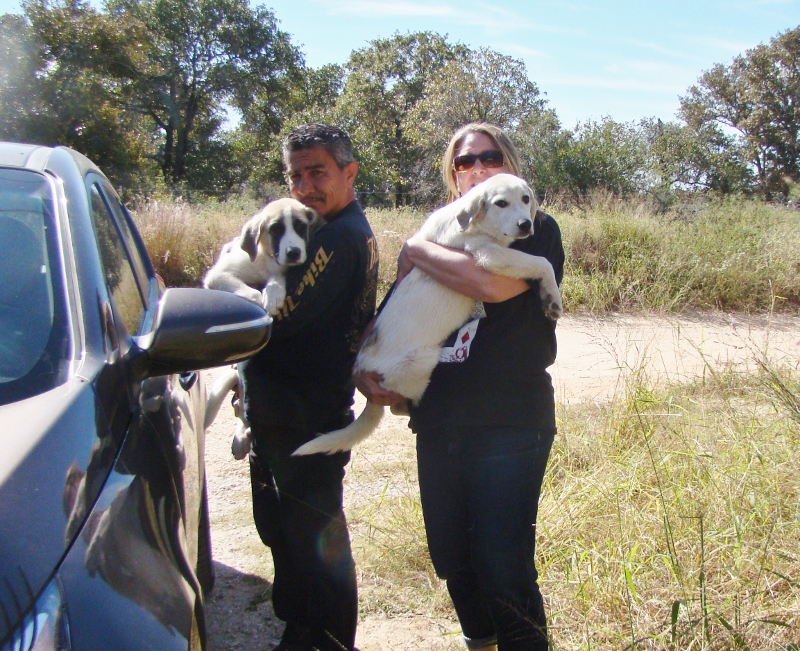 White girl goats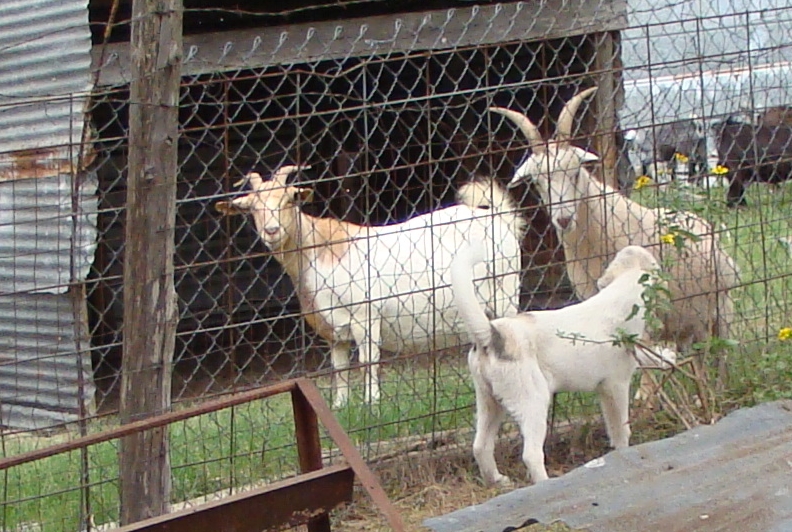 Masked girl goats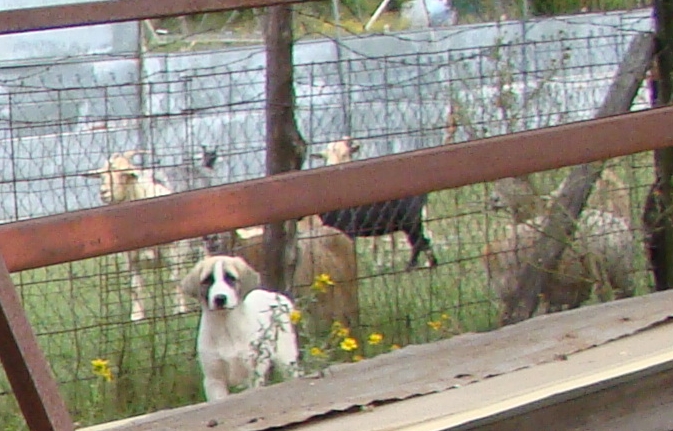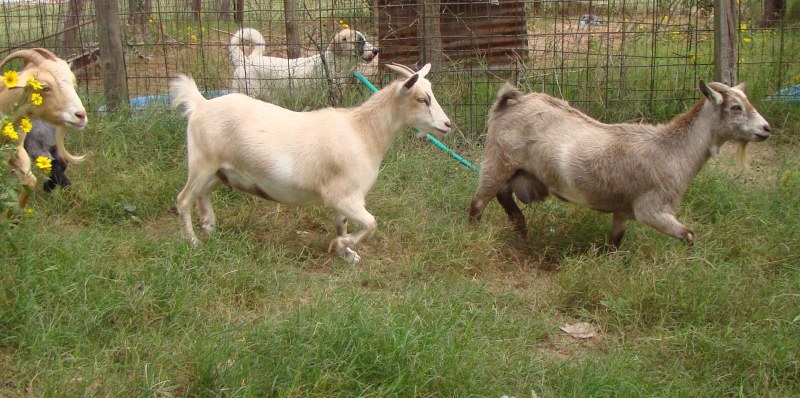 ALL THREE OF THIS TRIO ARE ADOPTED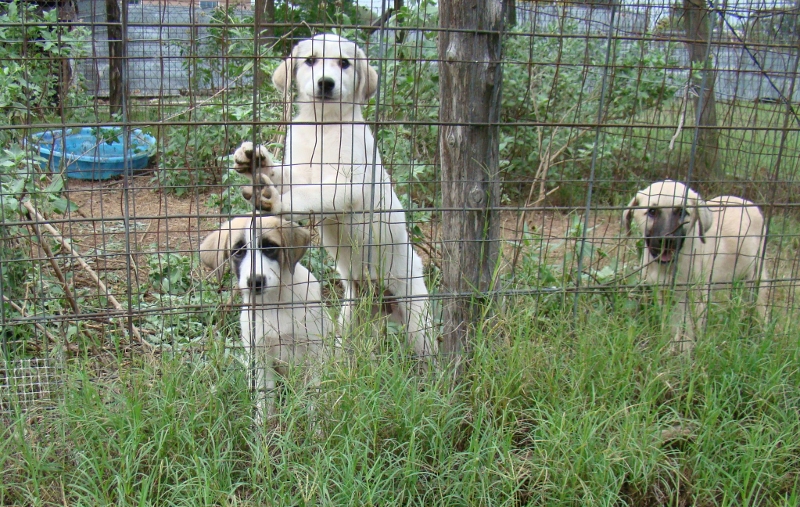 girl
girl left, boy right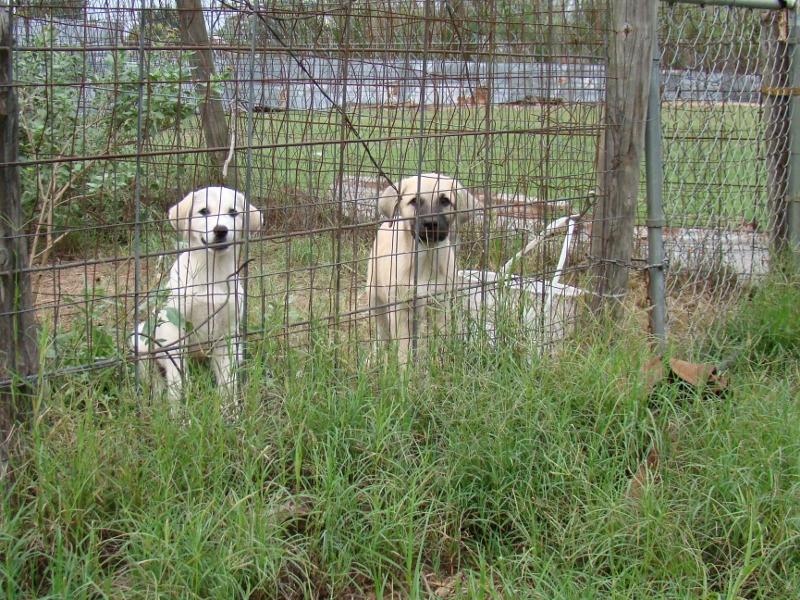 Abby was adopted and living with Great Pyrenees Winter who was previously adopted from Bexata