Adopted Greyhounds, Cont.

April 17, 2029
Lineman and friends dining at Jacob's.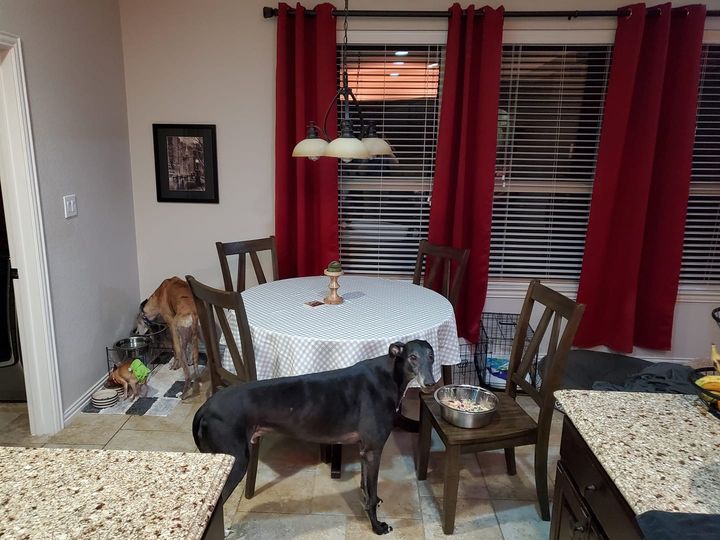 April 10, 2021 Rari was adopted today. Rari is short for Ferrari! She was very happy to meet her new family and vice versa.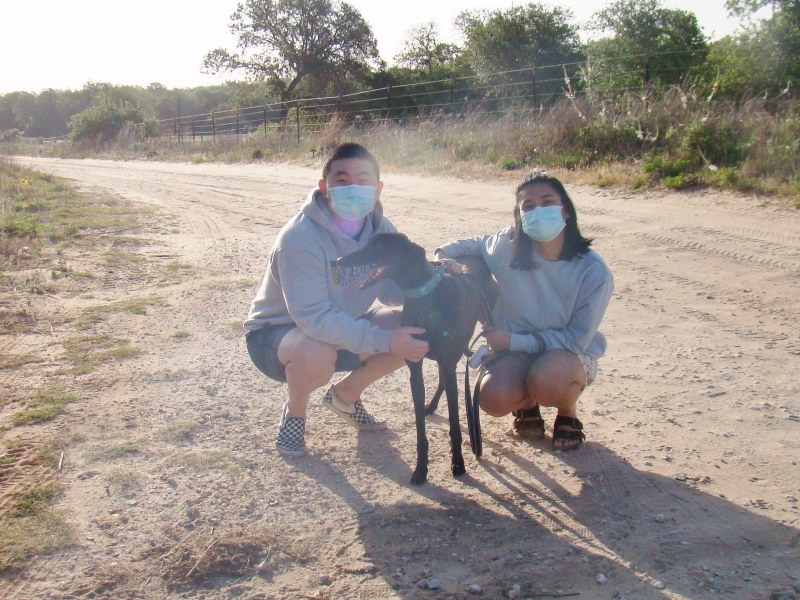 Heading home and bonding with mom while dad drives.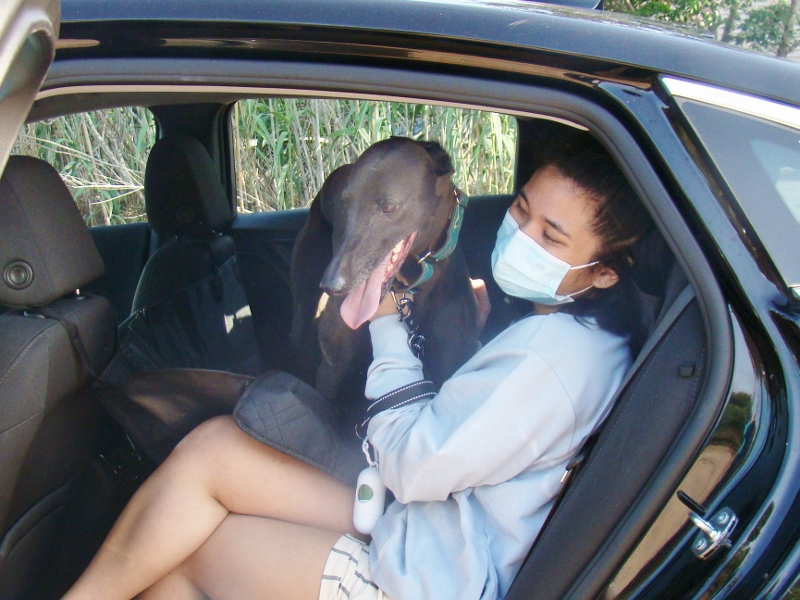 April 5, 2021
Lineman's dad went to Big Bend without him, so when he got home - NO COUCH FOR YOU!!!!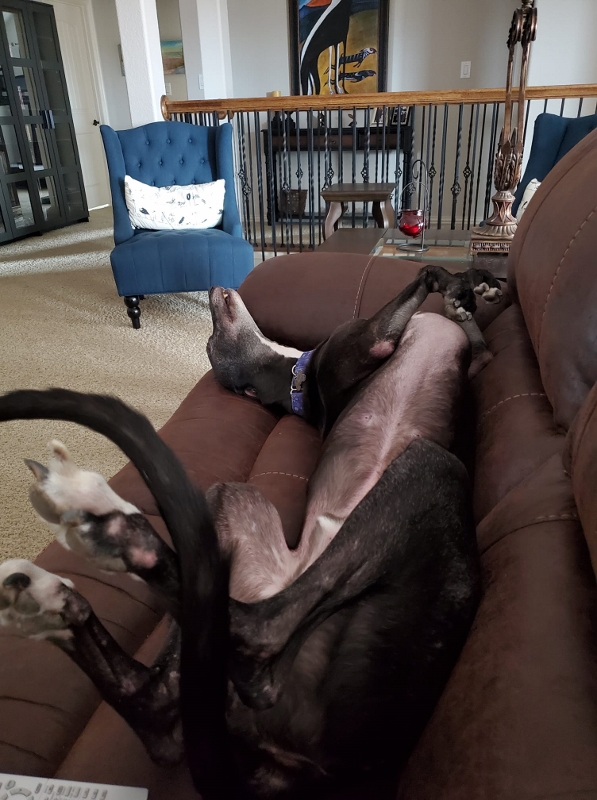 April 5, 2021
The Giusti girls enjoying "retirement."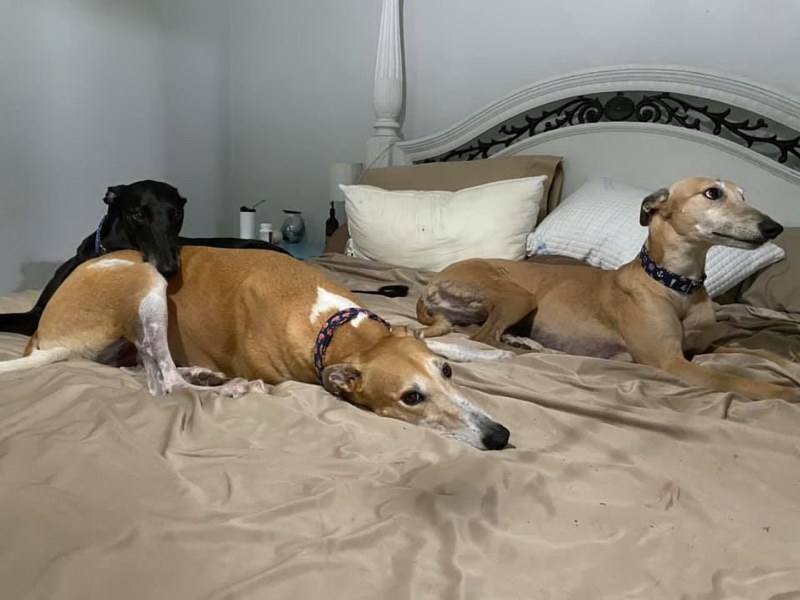 April 3, 2021 The Handsome Logan spoiled by Socorro
February 21, 2021, Bexata Greyhound girl, Sisu Steep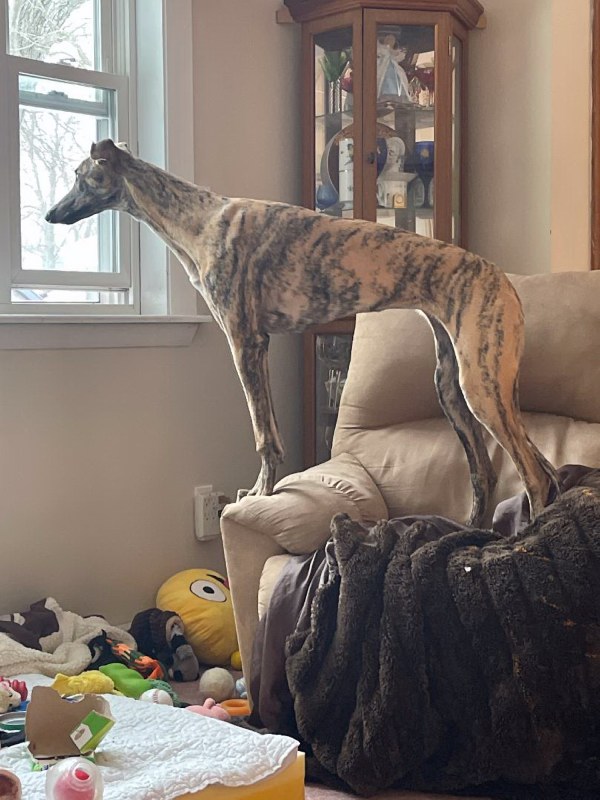 February 2021 Bexata Pepper and mom, Whitney, in California they love to go hiking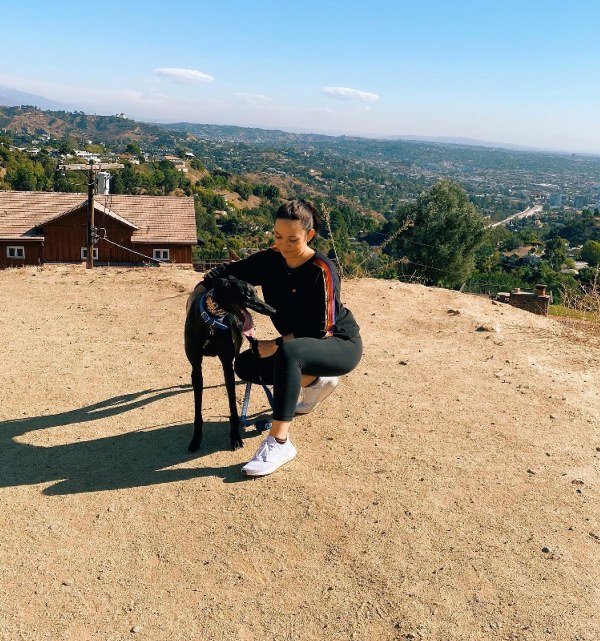 2021 Fox girls doing what they love - sleeping in mom's bed.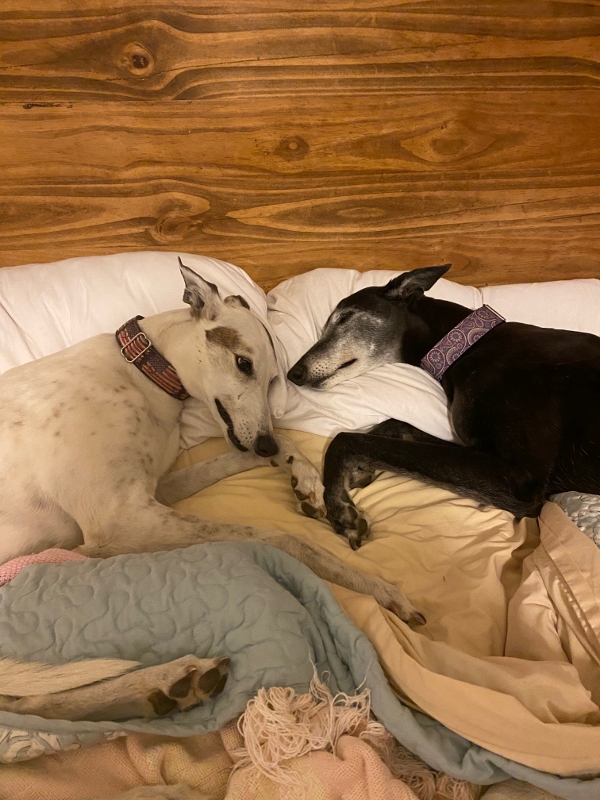 January 2021
Black Velvet, Luna, Foxie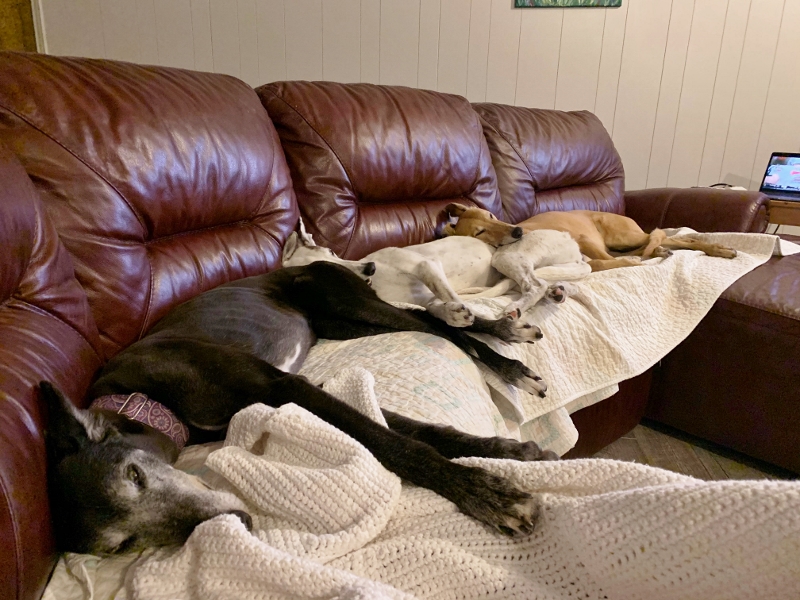 December 20, 2020 Merry Christmas from Bexata Pepper and his family in CA.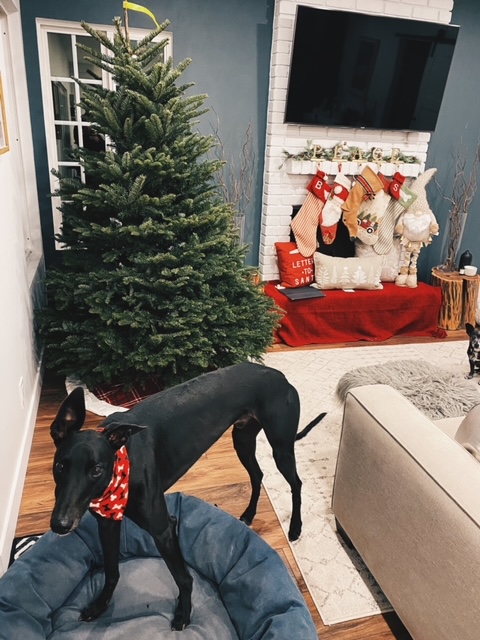 Pepper's Grandpa never let a dog in the house before. Now they love each other
and Pepper hangs out on the couch.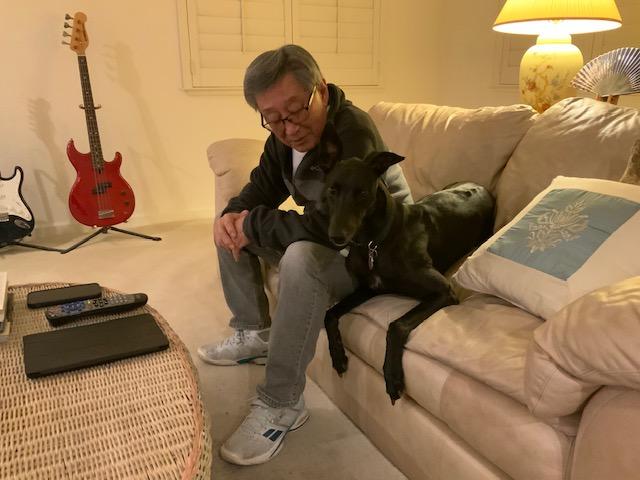 This is a perfect Greyhound sleep!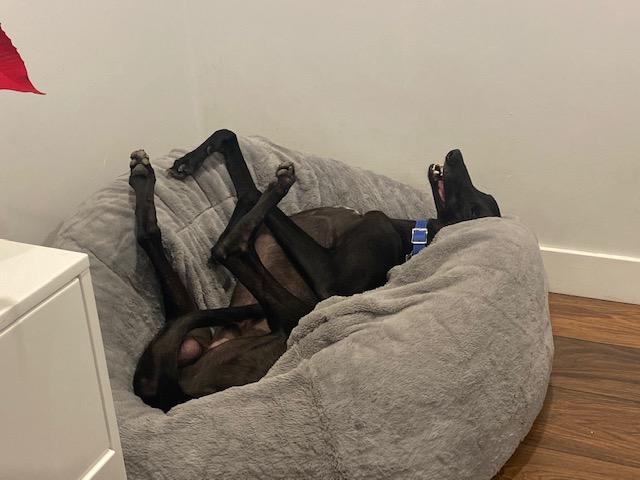 Phoebe and Emerson Dec. 28, 2020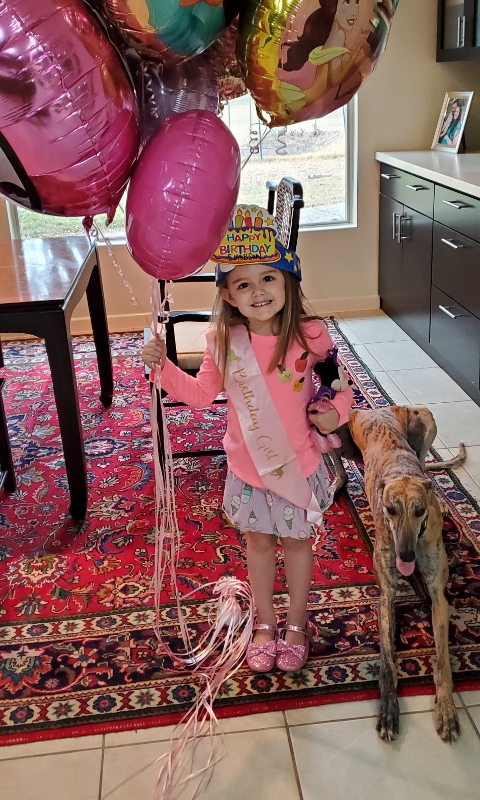 December 2020
Phoebe and Emerson
Happy Thanksgiving - Bexata Greyhound Greyson Stimmel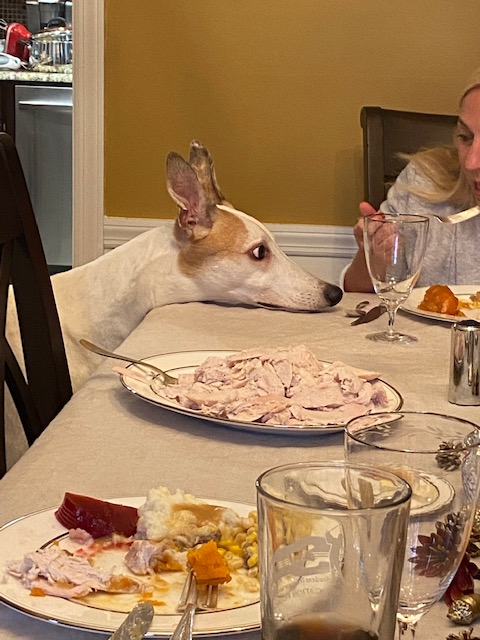 Just a beautiful boy.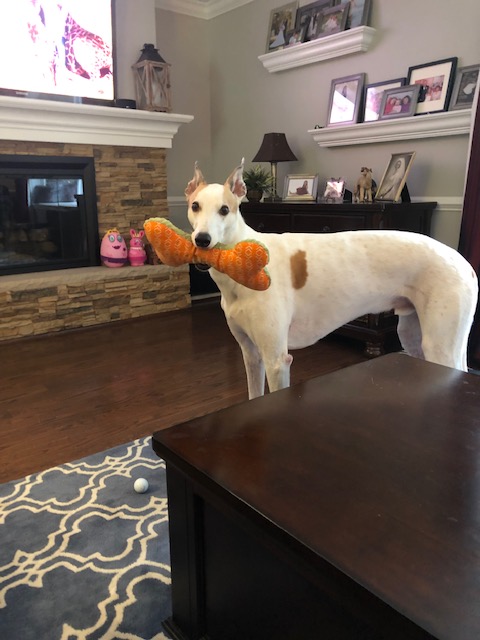 November 2020
Lineman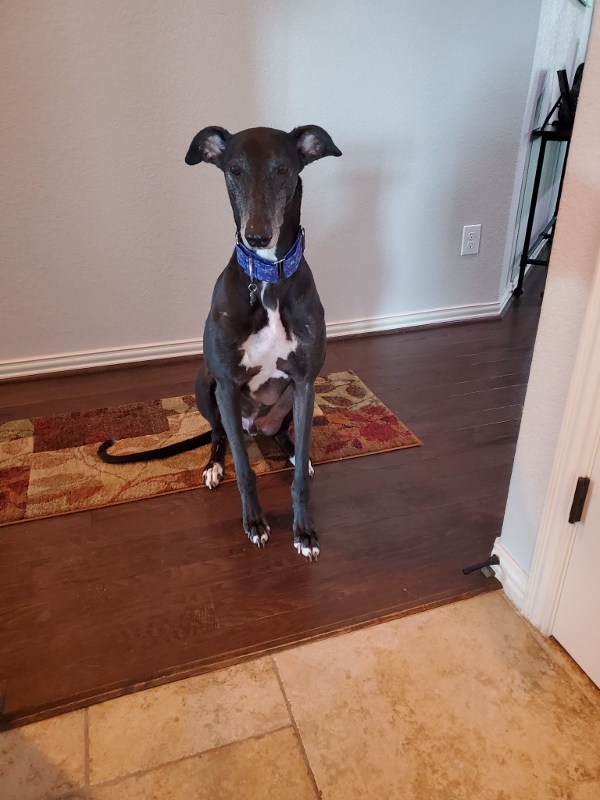 November 26, 2020
Happy Thanksgiving from Jeff and his Bexata Greyhound girl, Sisu
November 13, 2020
While we primarily receive and adopt out Greyhounds, on occasion some very special sighthouhds are surrendered to our resce.
PHAROAH HOUND BLUSH is such a surrender. I spell her name Pharoah because of American Pharoah first Kentuck Derby winner in many years.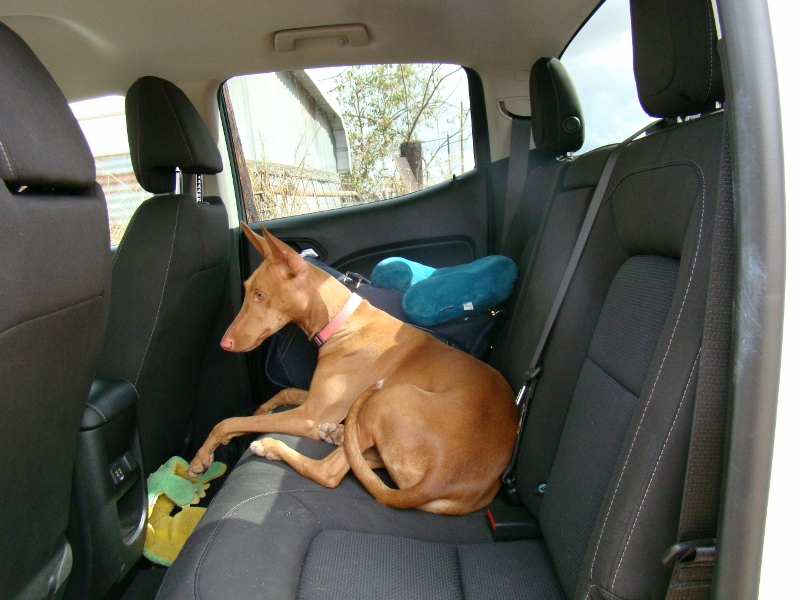 November 9, 2020 - Sisu Steep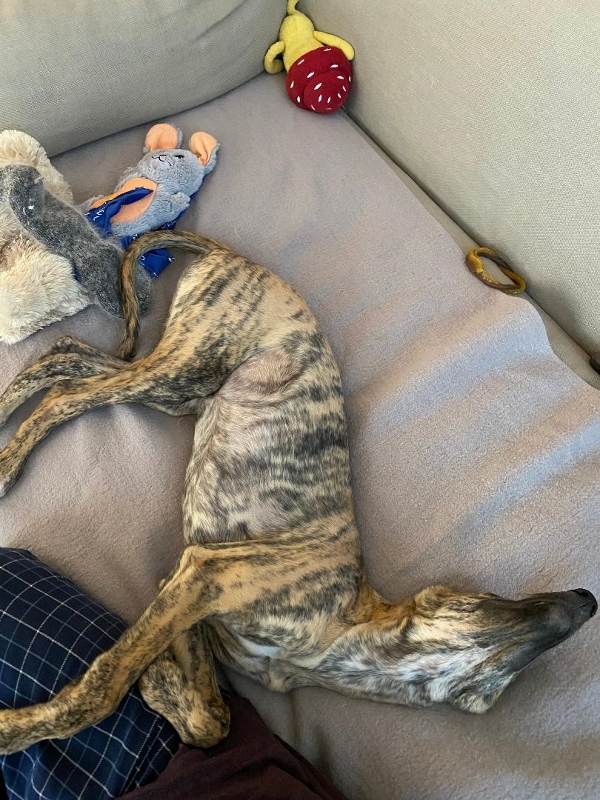 November 5, 2020
Phoebe Clark and her little girl Emerson. Phoebe gets a big hug on vaccination day.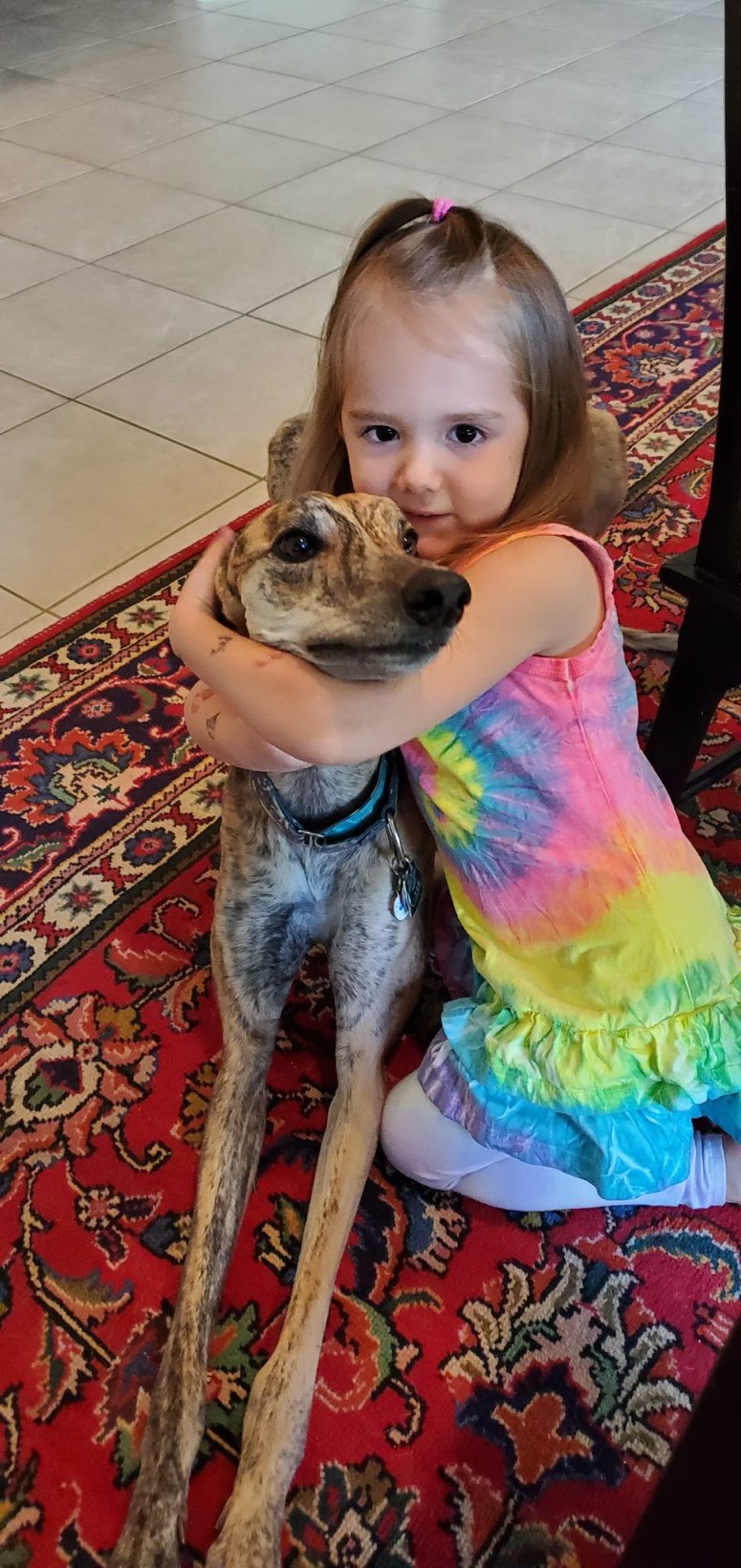 August 22, 2020
Logan is waiting for the hurricanes due to pass over Puerto Rico. He's just chilling!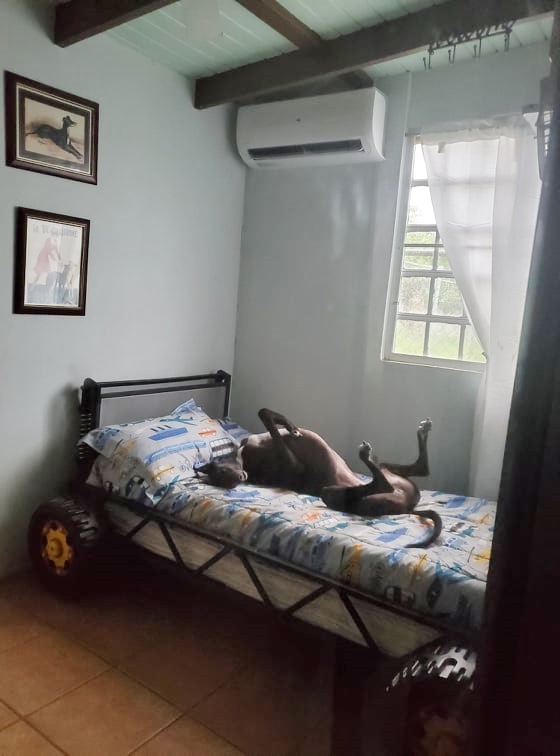 August 16, 2020
Socorro's Bexata Logan Blue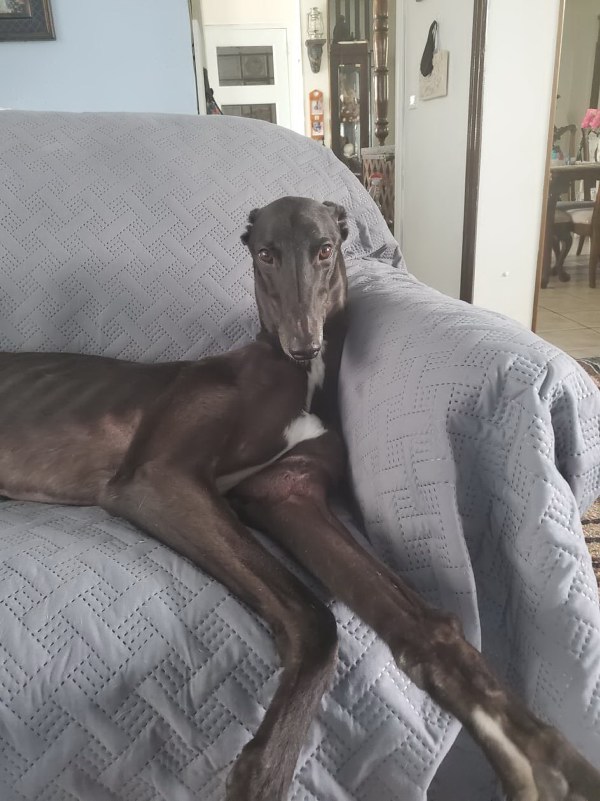 July, 29. 2020 Paul's beautiful girl, Zelda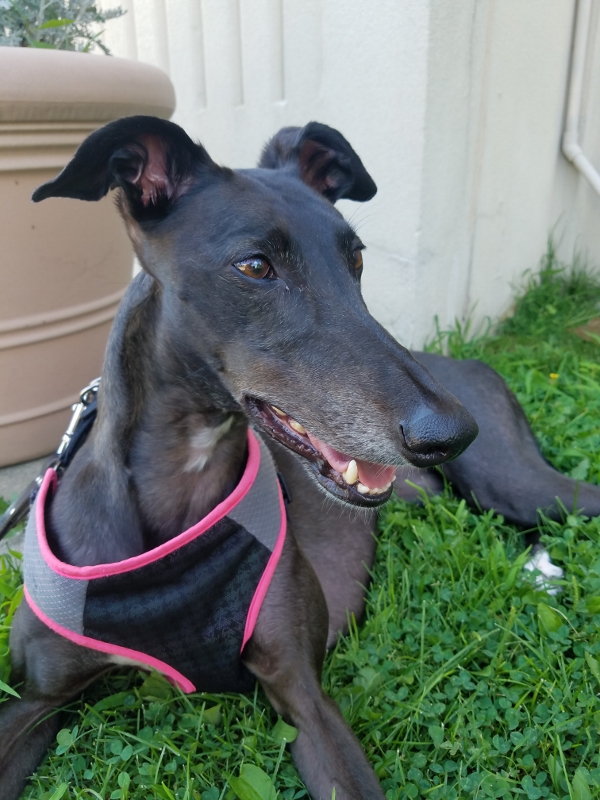 June 13, 2020
The new Normal!
Jacob and Victor came out with their GH Jax and Chihuahua Bam Bam
to meet available Greyhounds. They chose Lineman.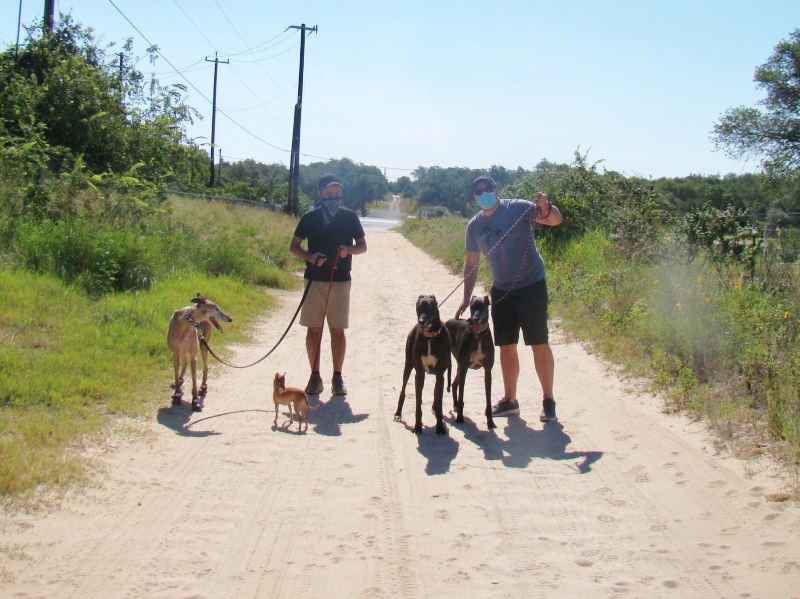 Lineman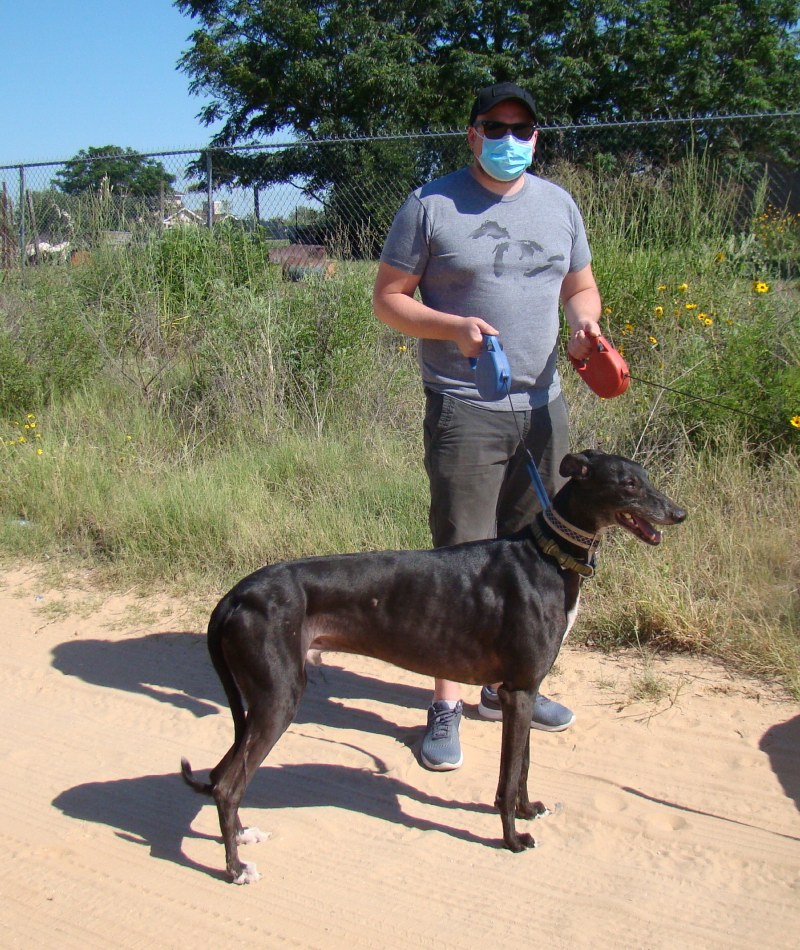 Jax is a 10 year old retired racing Greyhound that the guys have had for almost his whole life.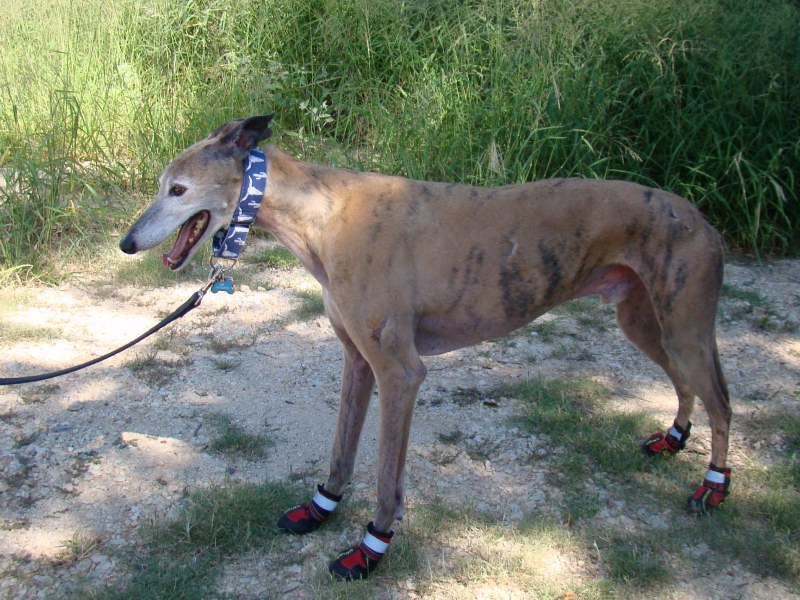 June 11, 2020
The Giusti girls livin' the life!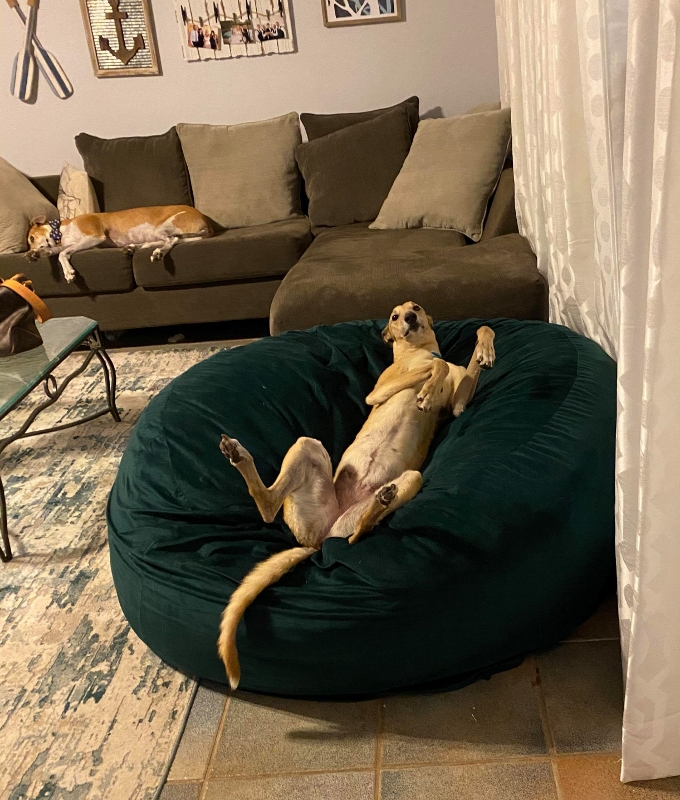 June 7, 2020
The handsome Ricky's boy Tuxedo doing what he loves to do best!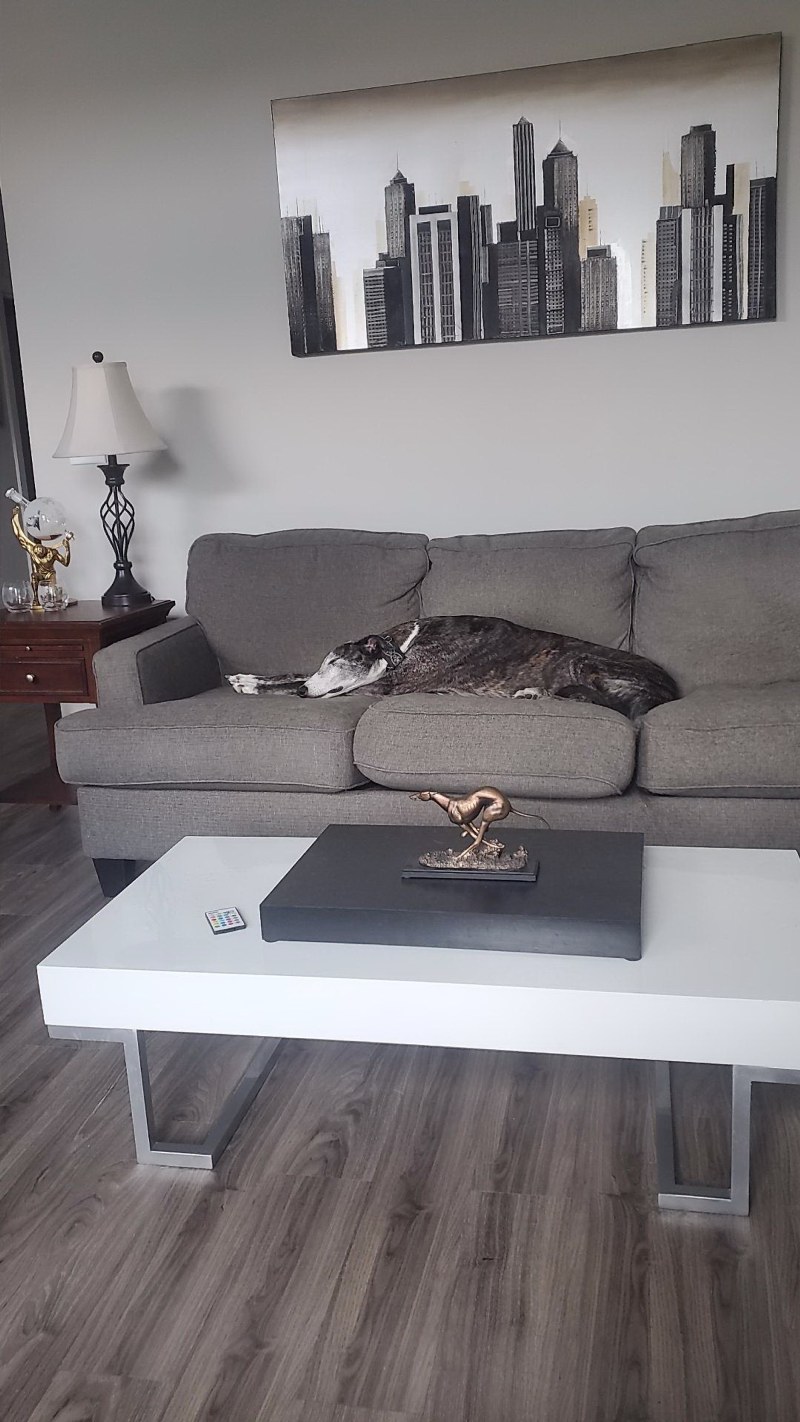 May 2020
Beautiful Bexata Greyhound Girl, Paul's Zelda holding down the fort during the pandemic.
January 27, 2019
Louella Mae aka Louie heading home with her new mom and grandma.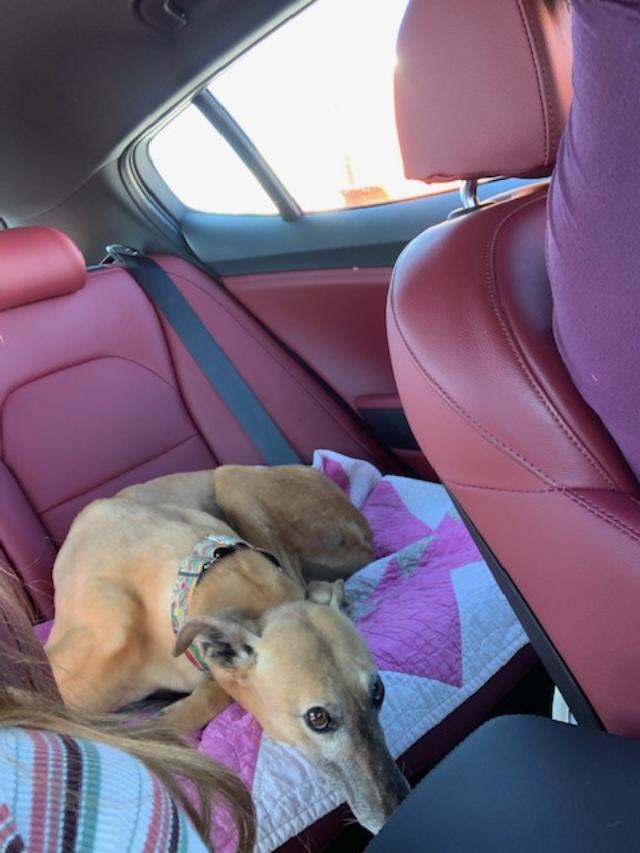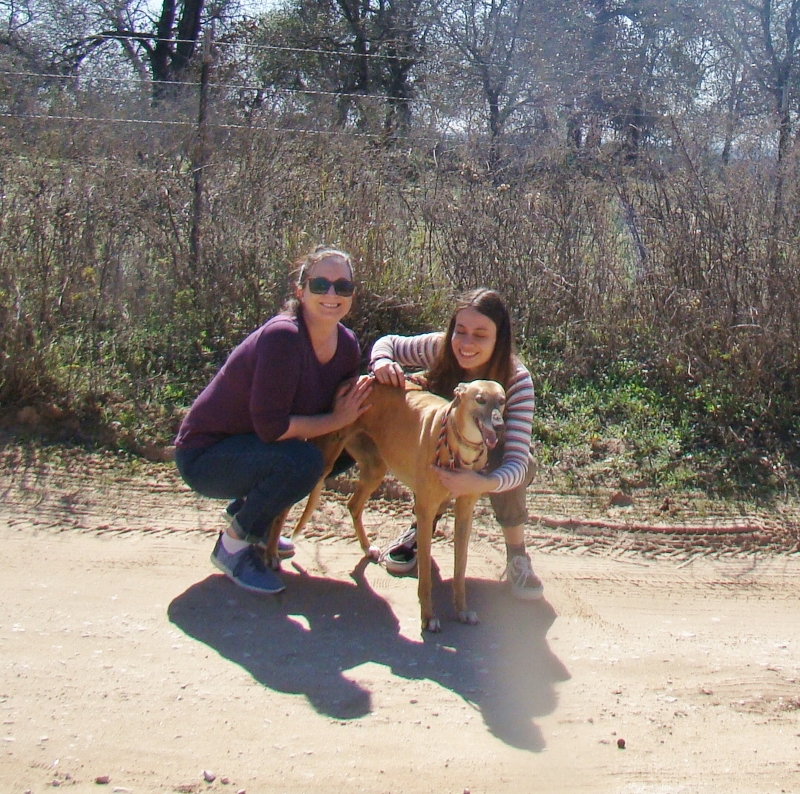 December 26, 2019
The Clark kids - Tarpley, Bodi, The Queen (aka Phoebe).
December 22, 2019 Greyson always carries a toy around in his mouth.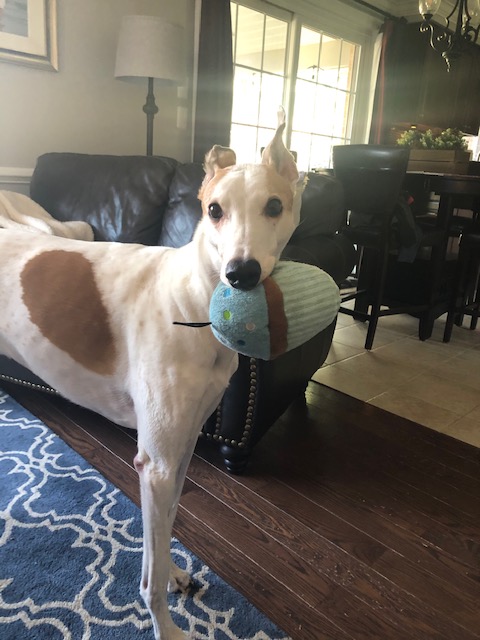 When he's not online with his girl.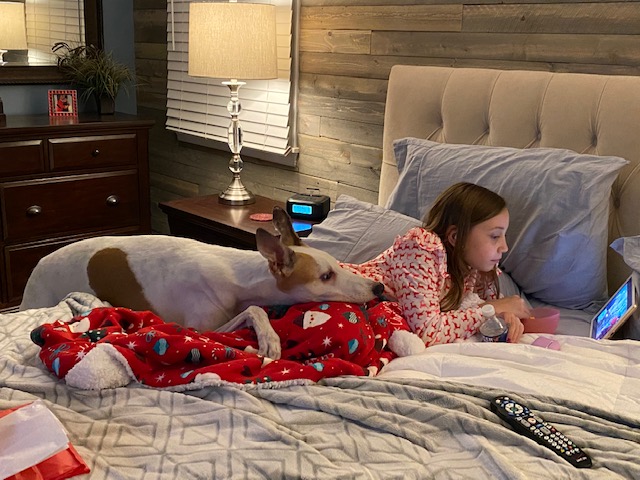 Dec. 21, 2019 Bexata Greyhound Rescue boy Pepper and his Chihuahua friends. Yes, he has a big bed of his own and shares his humans' bed
but he's gotta be with his girls.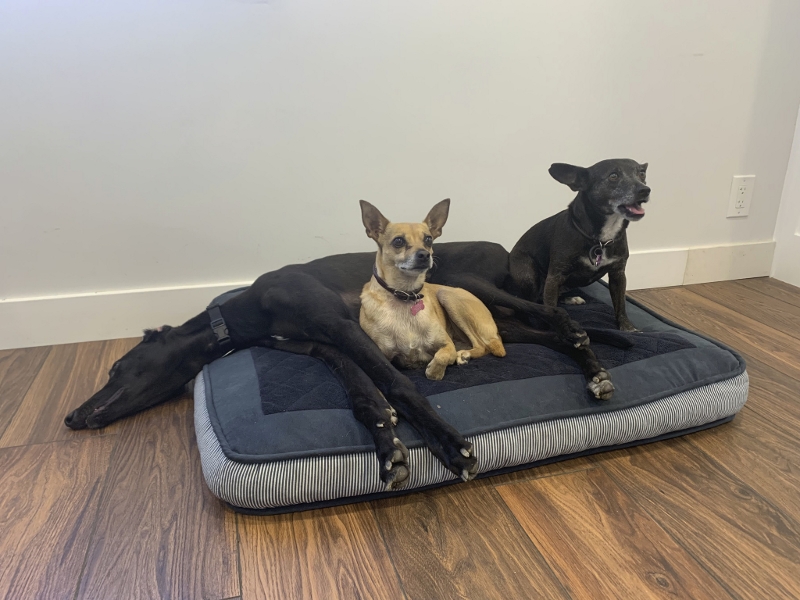 see, he does have his own bed.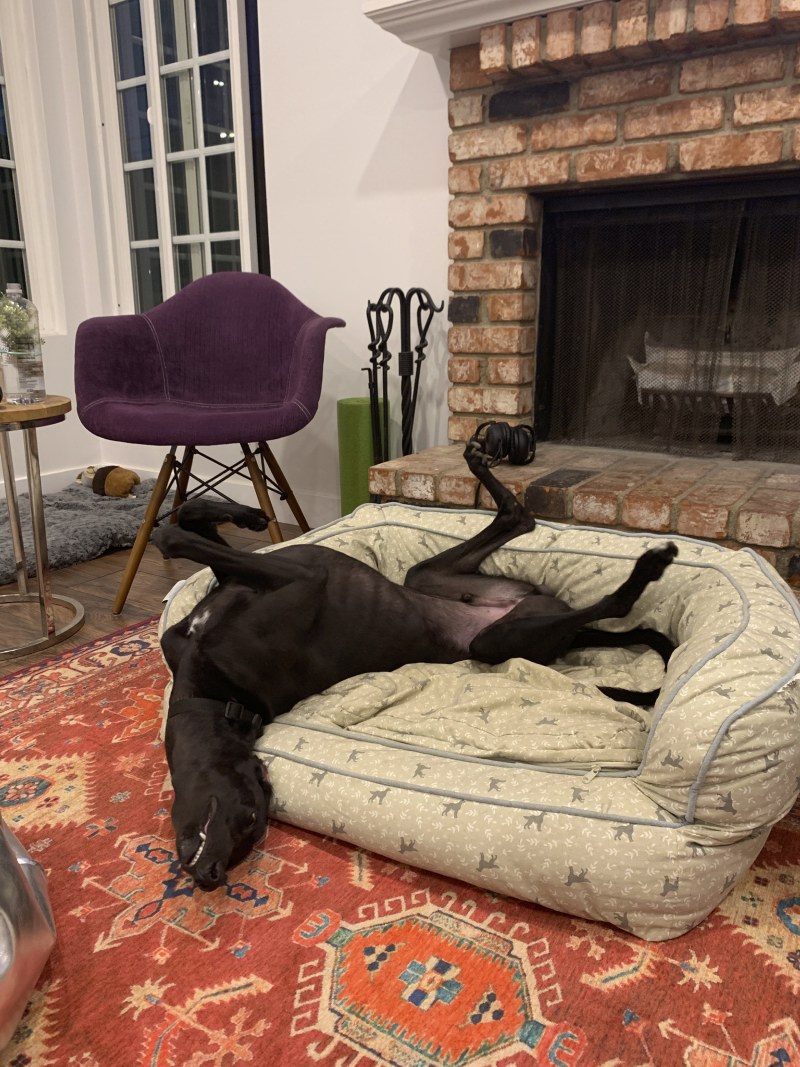 When he's not sleeping, he's outside playing with his toys.
Happy Holidays from Pele the Whippet and Hilo the Greyhound, both Bexata kids, and happy
Charter family members. December 16, 2019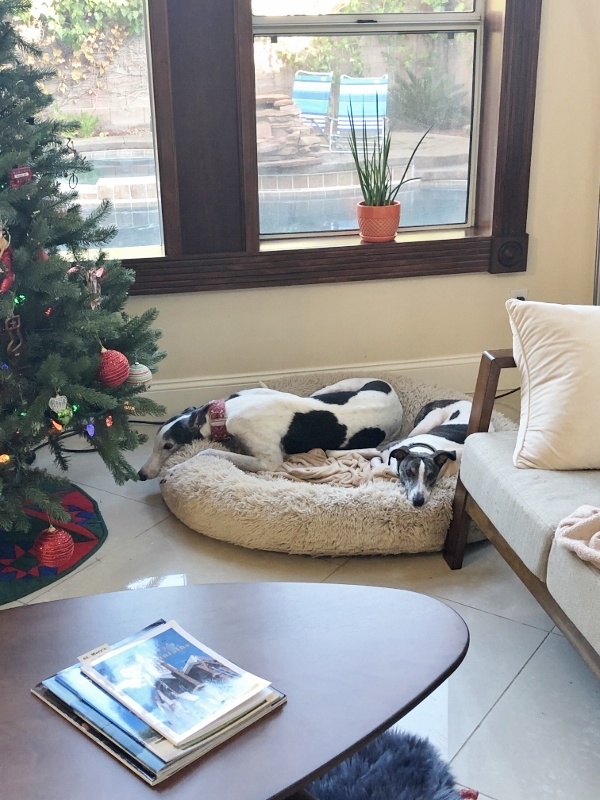 MERRY CHRISTMAS from Bexata GH girl, Zelda, and her dad, Paul dec. 4, 2019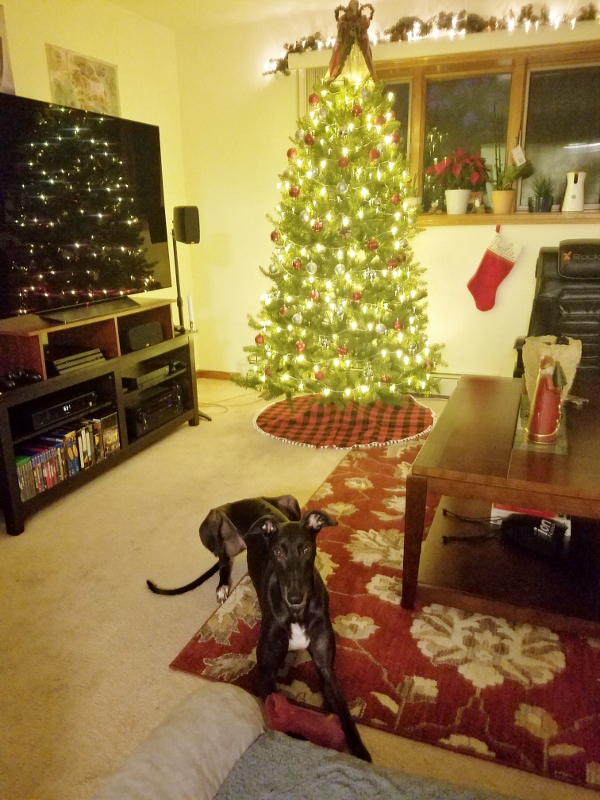 Greyhound rescue, Phoebe, and her kids watching tv. Living the life! December 1, 2019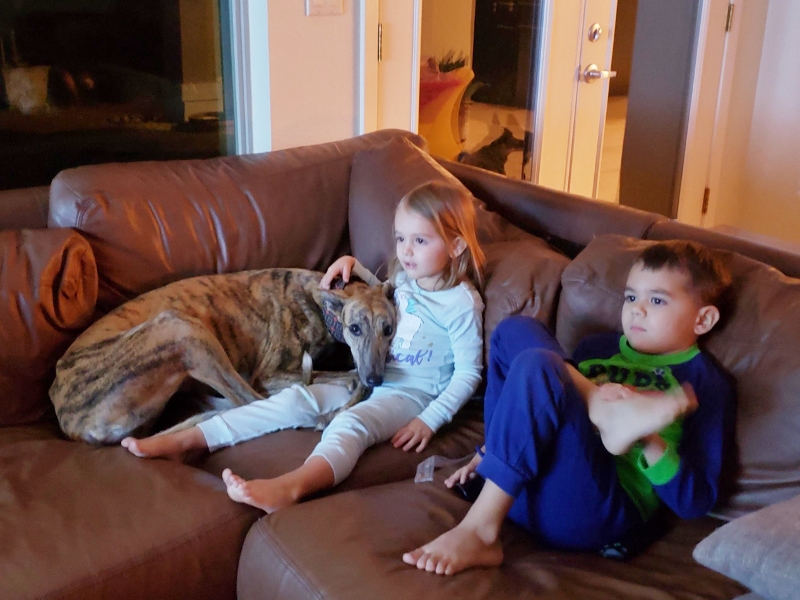 In this case, adopted Whippet, Finn, helps his kids put up the Christmas tree. He is a joy for his new family. He was "discarded" because he had one blue eye and one brown eye and came from breeders who were going to show, but didn't know any better. Finn's buddy had one testicle. There are reasons for rescue other than abuse situations, and saving them from being used for breeding is just one of them.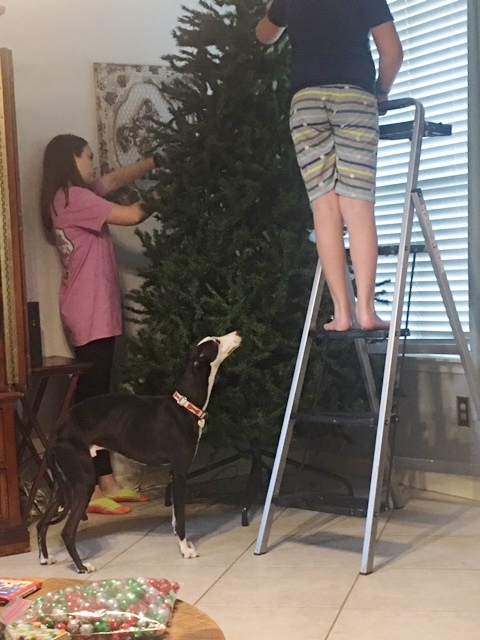 November 16, 2019 - Black Beauty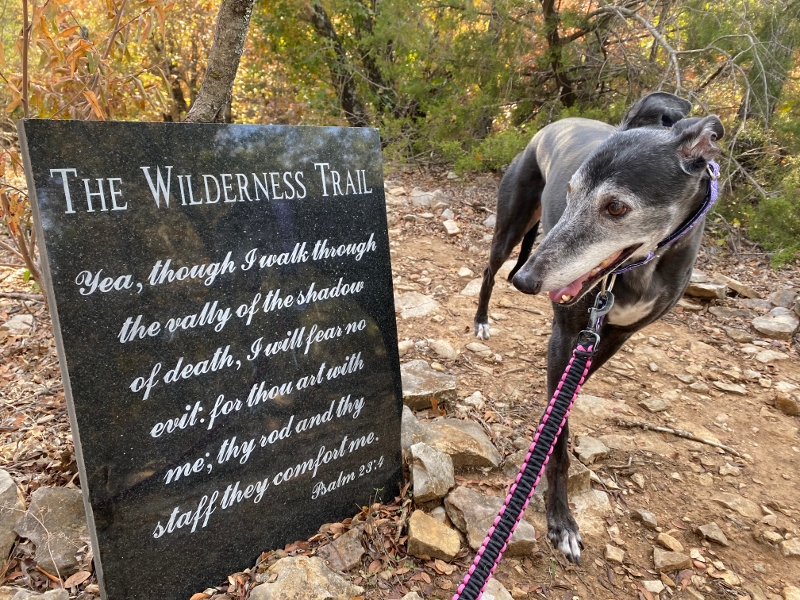 November 12. 2019 keeping warm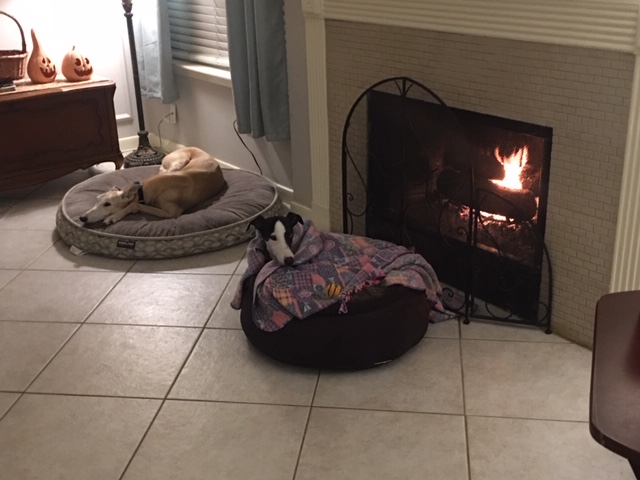 November 10, 2019
Laurie took her girl Luna to The Wilderness Trail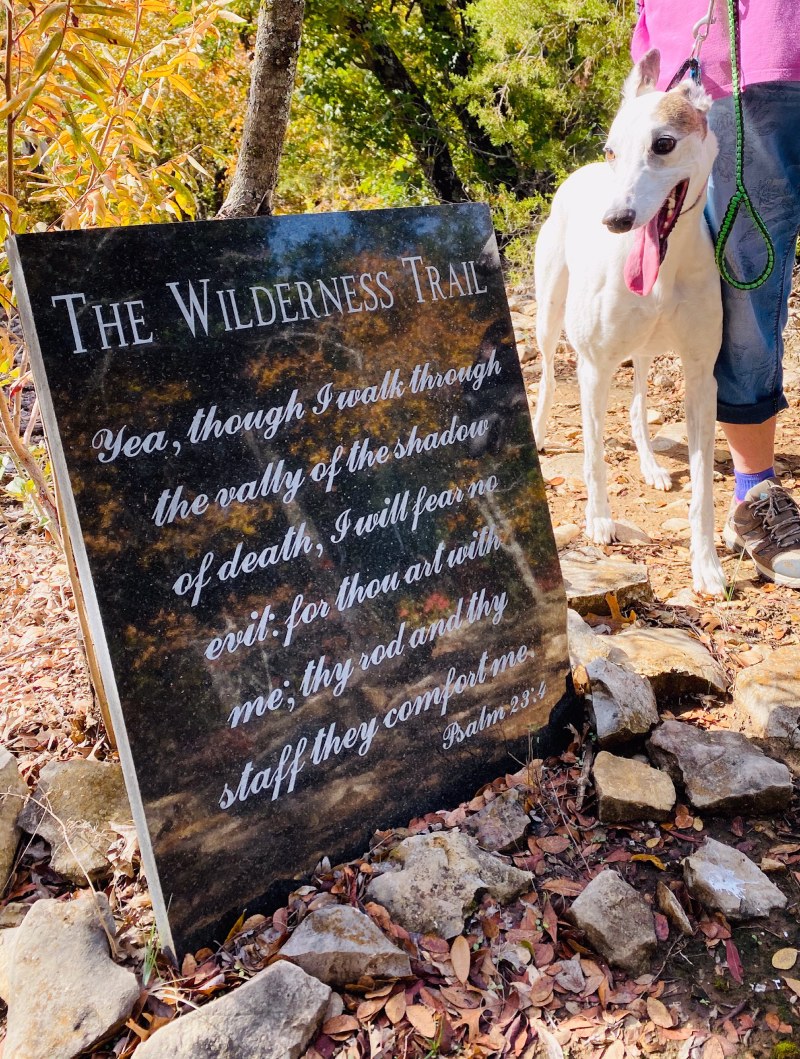 Laurie Luna and Black Beauty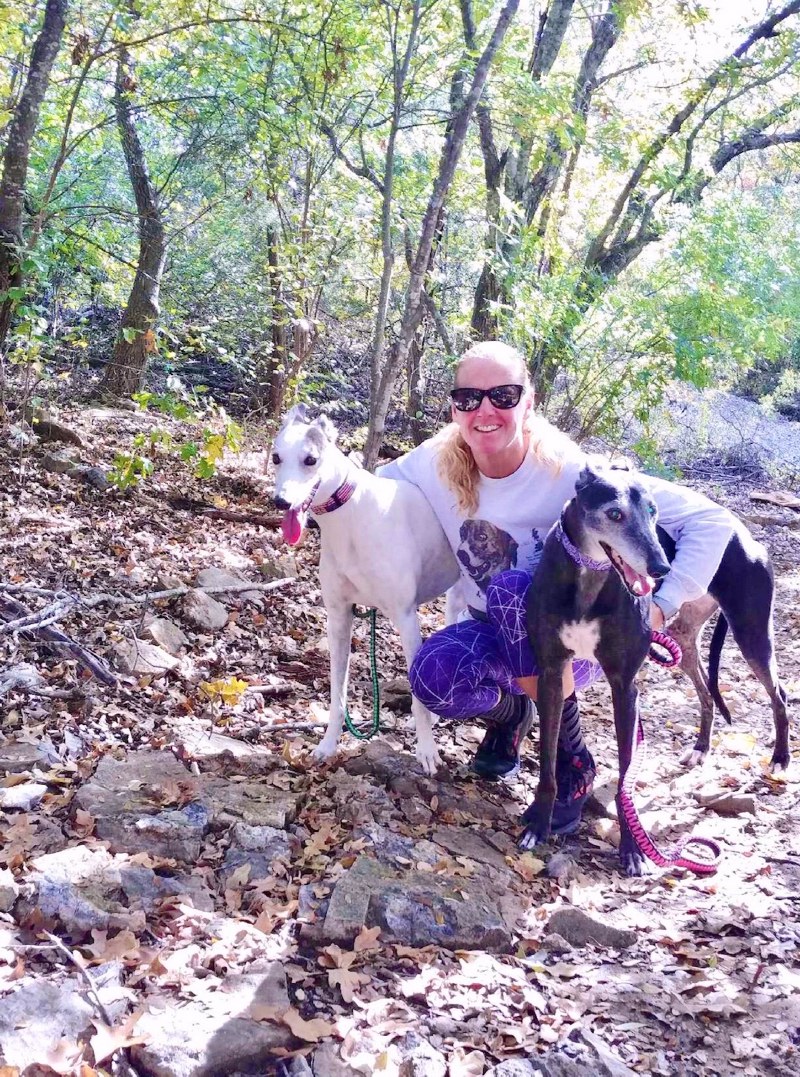 Goodnight all and hope you had a happy halloween
Zelda in her PJs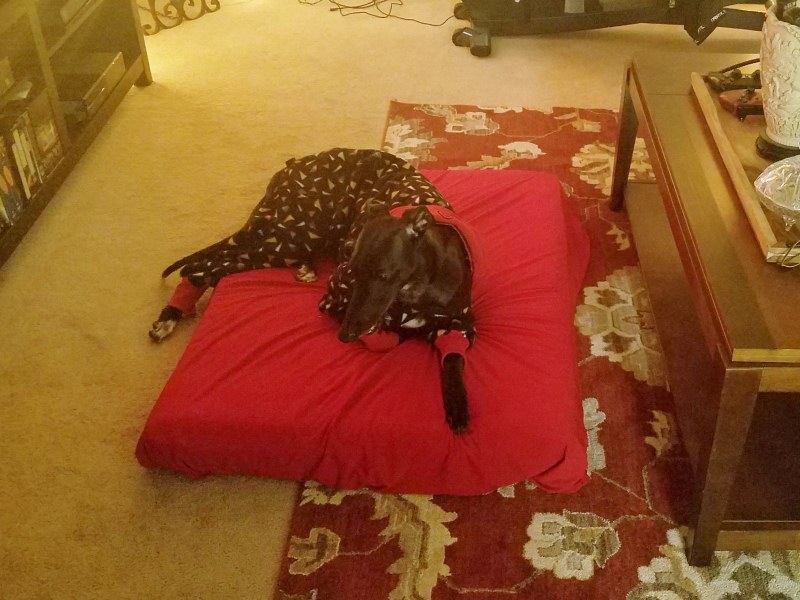 WHIPPETS HAVE BECOME A SMALL PORTION OF BEXATA SIGHTHOUND RESCUE
HERE'S FINN WATCHING HIS NEW BOY CARVING A PUMPKIN October 30, 2019
Happy Halloween from Emerson and her Bexata girl, Phoebe.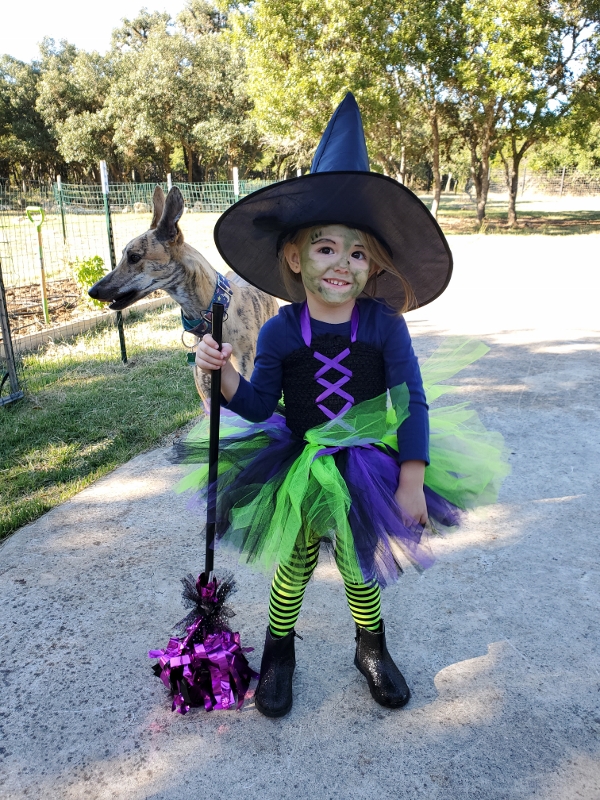 October 26, 2019
the gorgeous GREYSON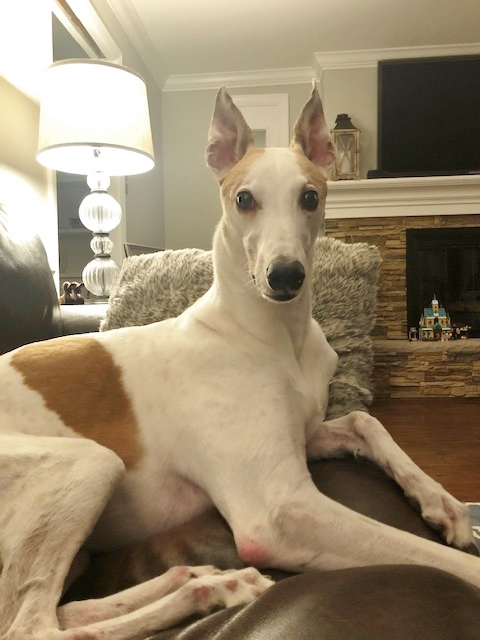 October 2019
On occasion, Bexata finds Whippets in need of rescue. We do our best to find them the best of homes.
This is Finn's boy Connor who was so happy because the family dogs always loved mom the best. Now Connor
has a dog of his own - by Finn's choice.
October 2019
Beautiful Bexata Phoebe and her girl Emerson - a year together today.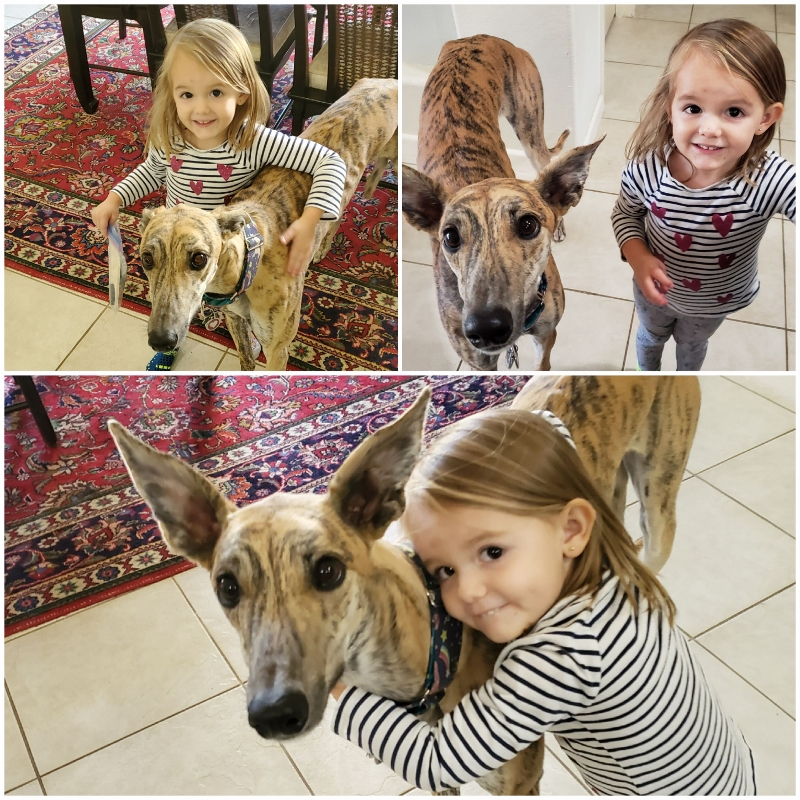 October, Paul's beautiful Bexata Greyhound girl, Zelda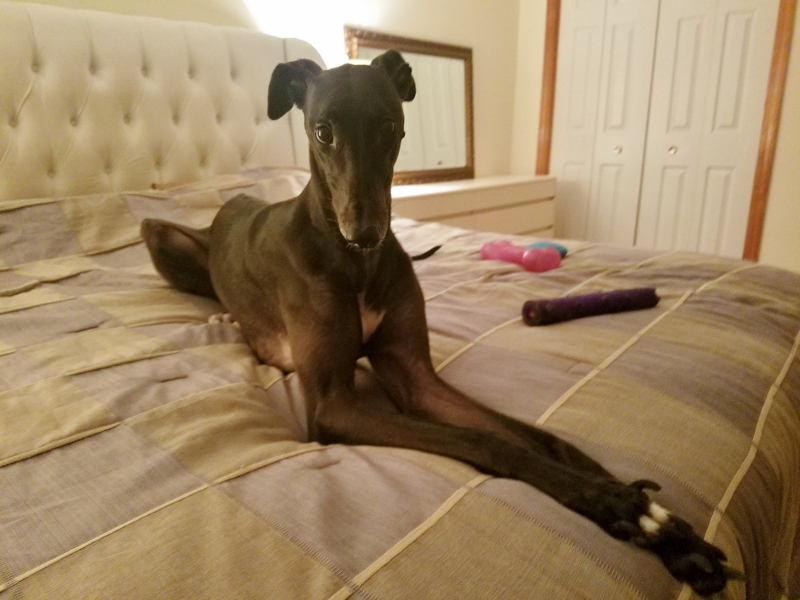 October the handsome Blue Biscuits - one of my favorite Greyhounds, wish he was still here, but if I don't adopt them out, I can't bring in any more.
September, 2019 after the summer when Ellie went to camp with all the kids. can you find the Greyhound?
So sorry it took so long to get back. The summer and start of school was a whirlwind. Ellie is doing great!! She is a part of our family. She got to experience the great outdoors this summer. She loves camping. We finished obedience classes she was top of the class. Graduated with flying colors. She follows the commands down, stay she stays standing up and she stays in the down position. She heels good too. She is so smart. We are still working on some other commands. I think her favorite thing is car rides. She loves riding in the back of the Jeep. She goes every morning with me to take Rachel to school . We found out she Definitelydoes not like the heat . So we are looking forward to the Fall . We are thinking of putting Ellie in agility courses with my daughter my daughter already has her jumping over things in the backyard. Also thinking of using Ellie has a therapy dog. She loves people and wants lovings all the time. We are so happy that Ellie is in our life!!!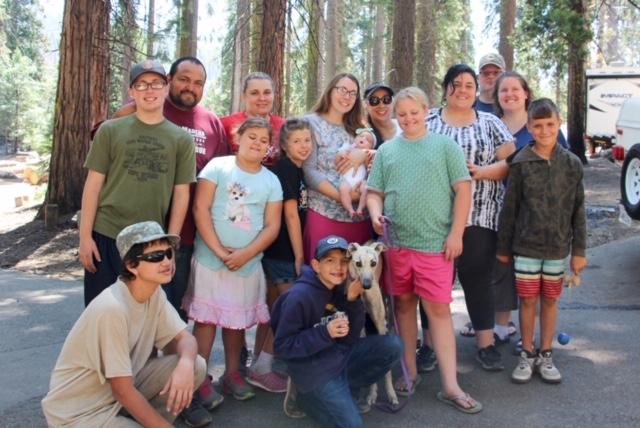 Her favorite sleeping position.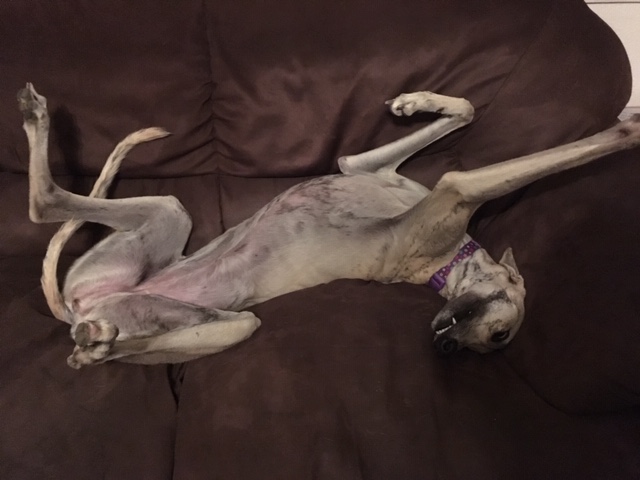 September 8, 2019
Preston and Amy returned from their cruise and came to pick up their Bexata kids Alfredo and Midnight. Jada is their adopted daughter and loves the dogs.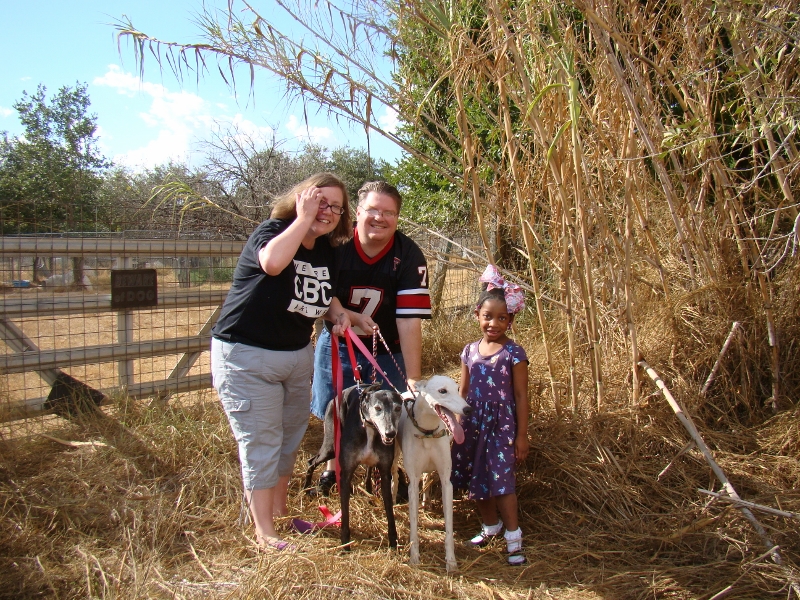 Bexata Midnight and her buddy, Alfredo, came to visit for a couple of days while parents went out of town.
It was amazing to me to see how much Midnight looks like Black Beauty - 10/12/2019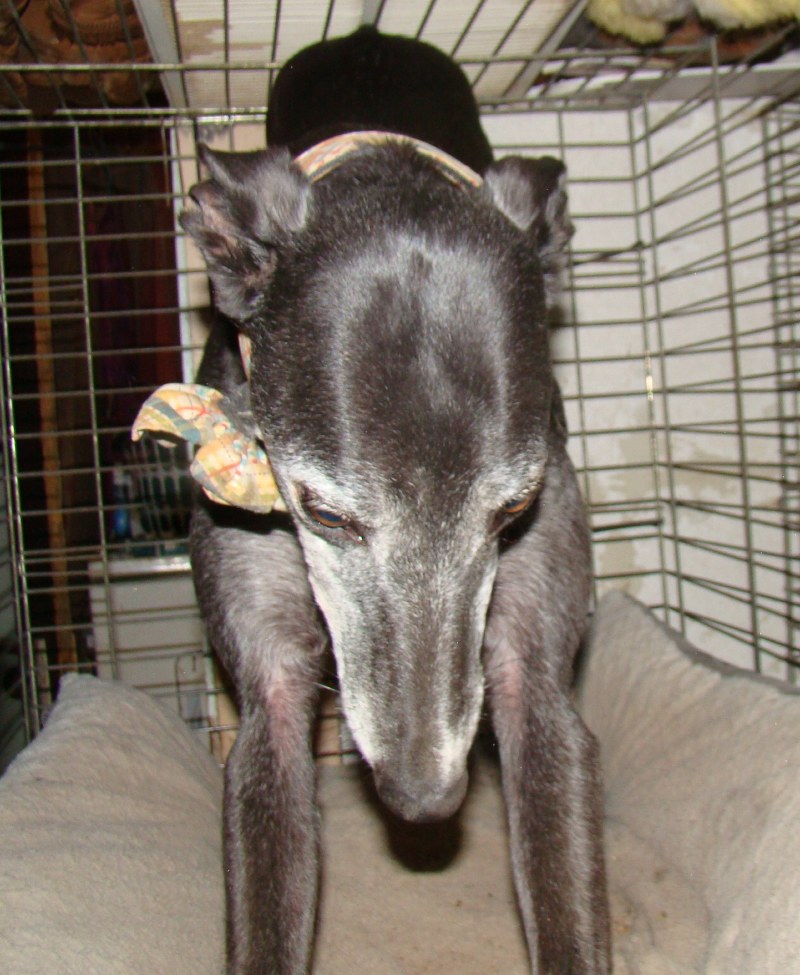 September 8, 2019 Black Beauty keeping mom Laurie company.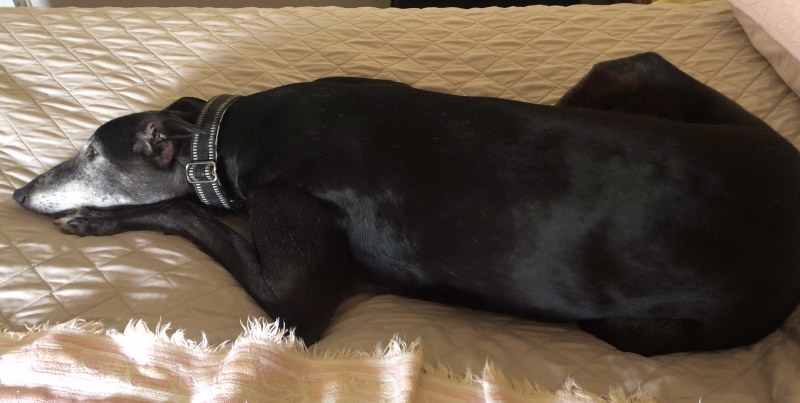 September 6, 2019 Ricky came out to meet the kids and took Blacky Girl home. She was very soft and sweet with him and vice versa. There was another Bexata girl he liked and she liked him, but she was a little "wild child" and that wouldn't have worked around Ricky's grandmother..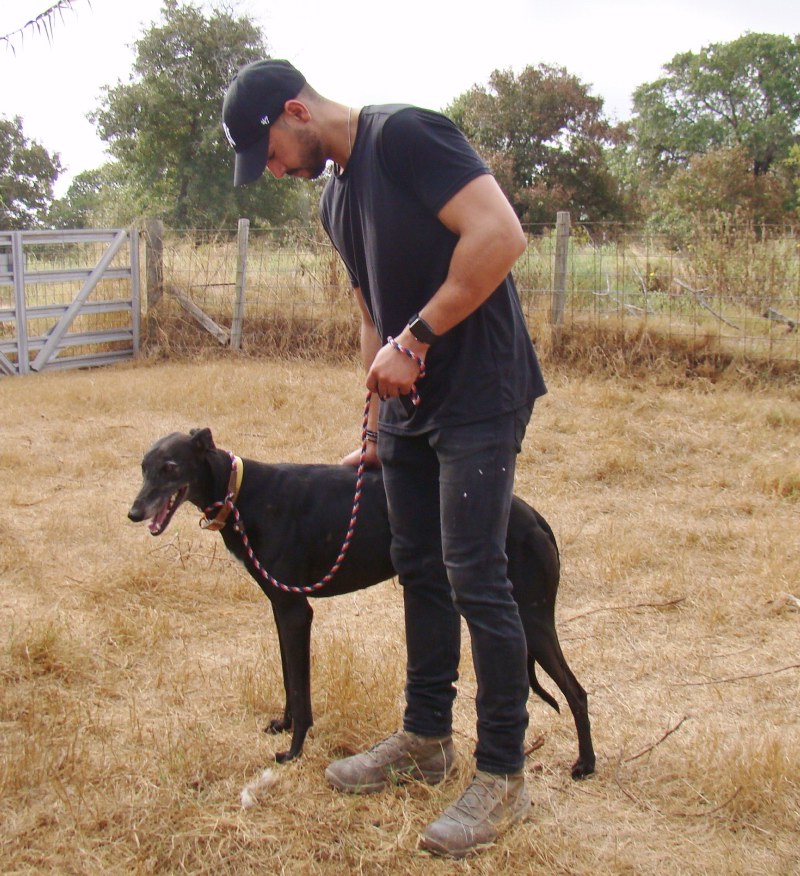 September 1, 2019, Preston brought Alfredo and Midnight to Bexata to hang out while Preston and Amy went on a vacation cruise.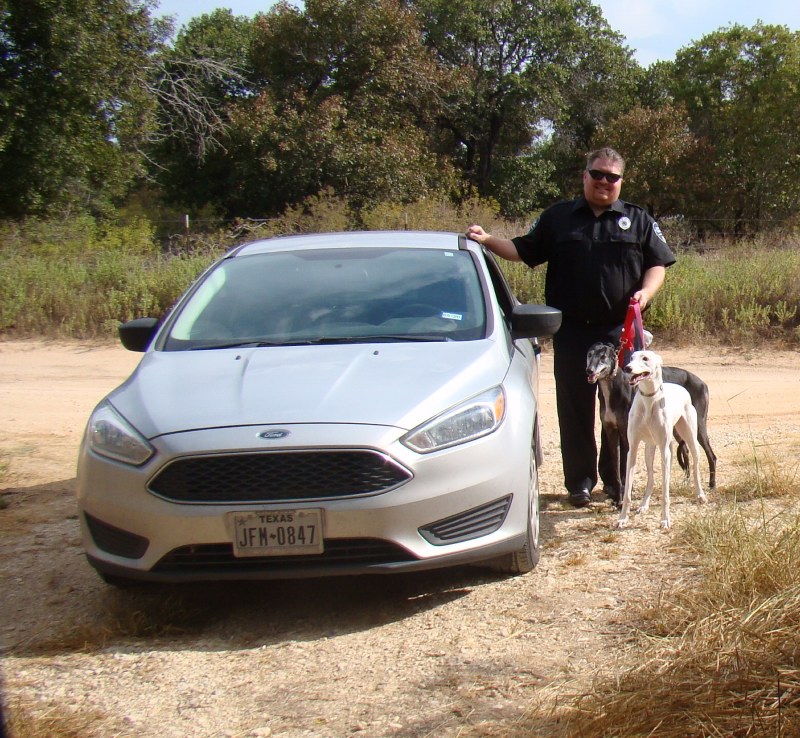 July 25, 2019 HAPPY SEVENTH B'DAY WILLOW (on left)
Tuxedo Raber as handsome as ever at five years old. Amazing how the brindles and black get so white around the muzzle.
July 25, 2019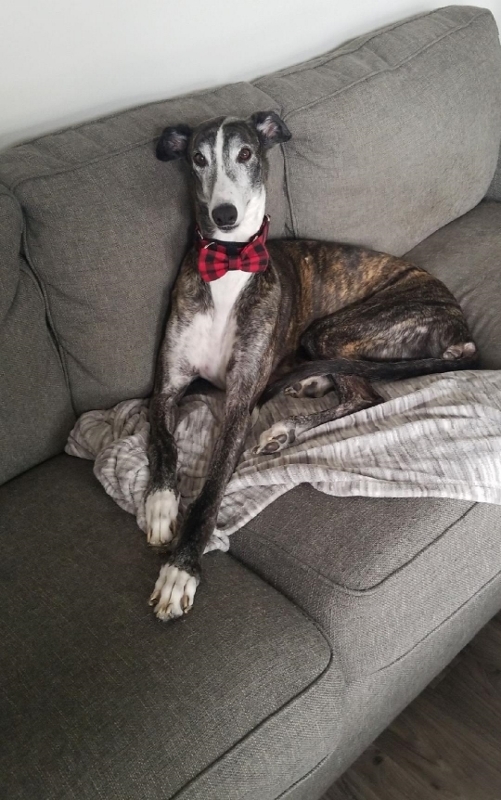 July 23, 2019 HAPPY BIRTHDAY PHOEBE - Presley's litter sister from the GH farm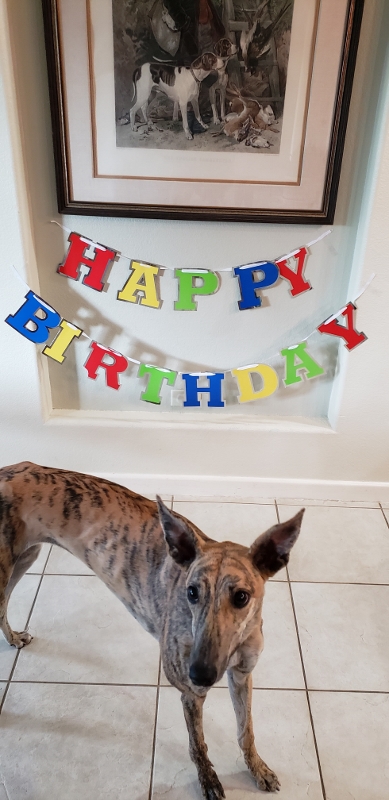 with mom and dad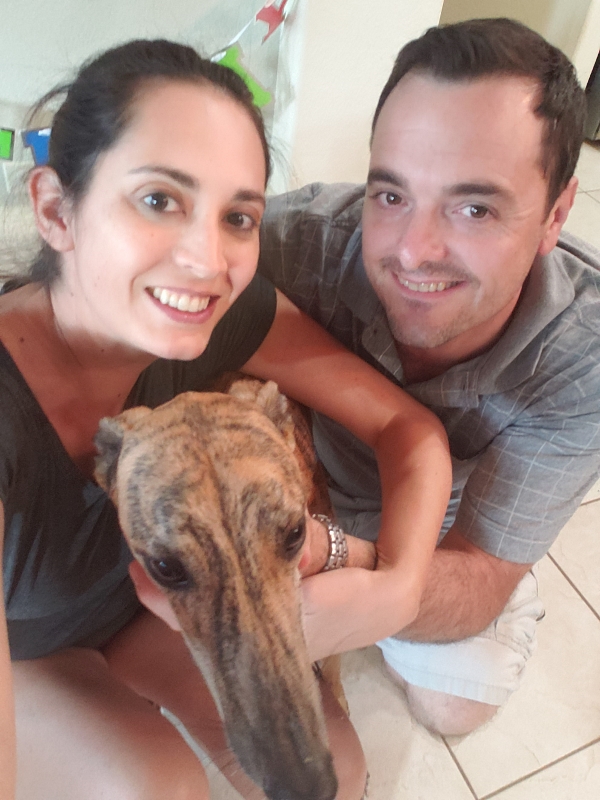 July 23, 2019
Presley and his littermates came to Bexata from a Greyhound farm. Hard to believe that was almost a year ago.
HAPPY BIRTHDAY PRESLEY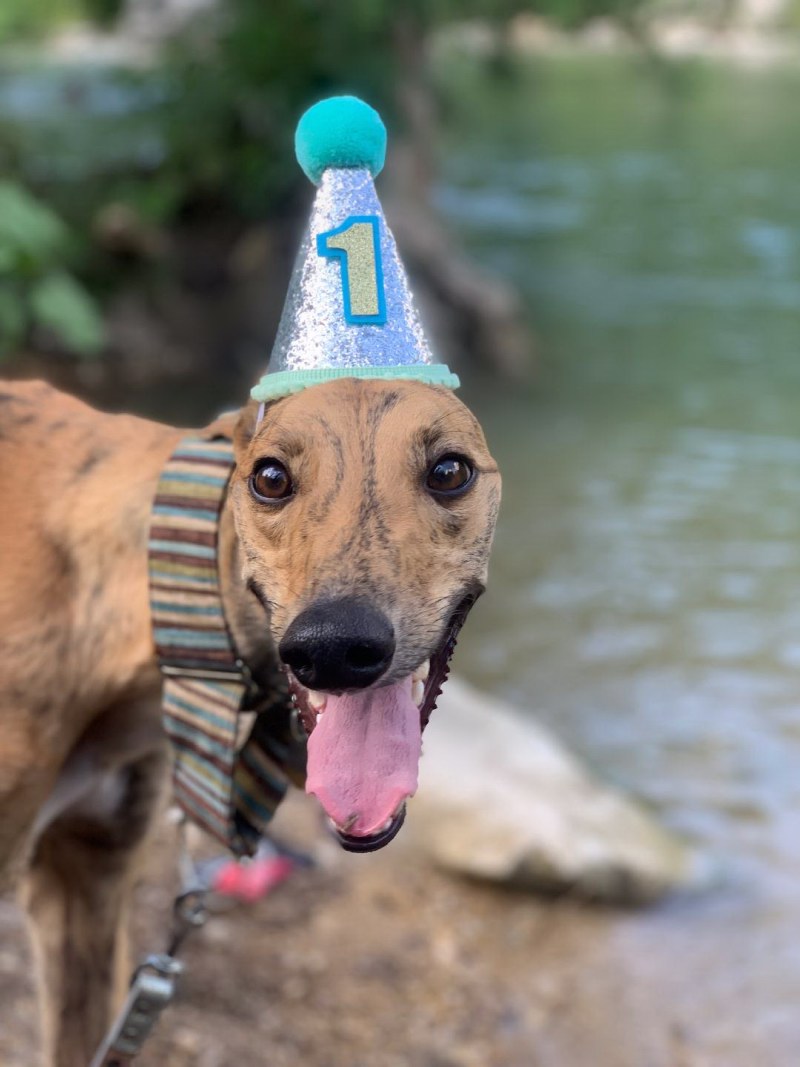 Laurie's beautiful girl, Foxie, as pretty as any show girl.
July 10, 2019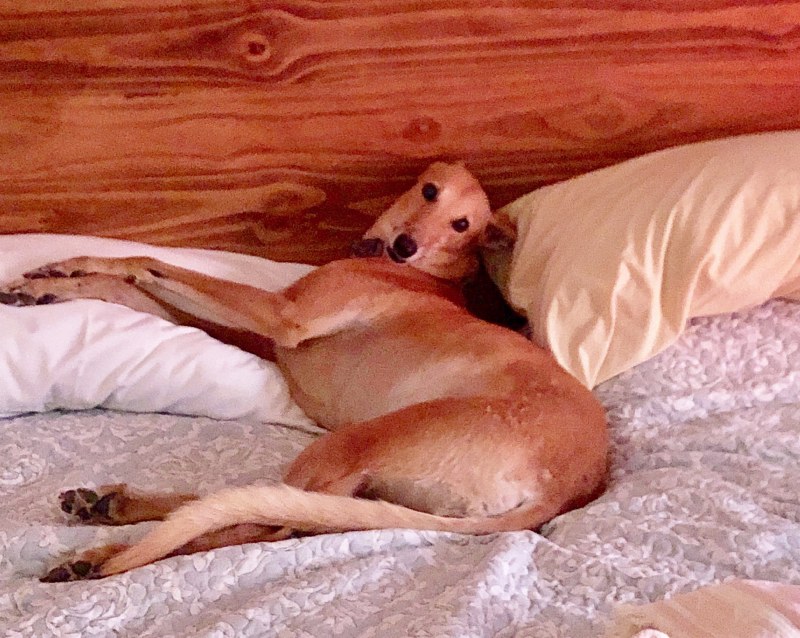 June 29, was a busy day at Bexata. Both Blacky and Donna were adopted by individual families.
DONNA AND HER FAMILY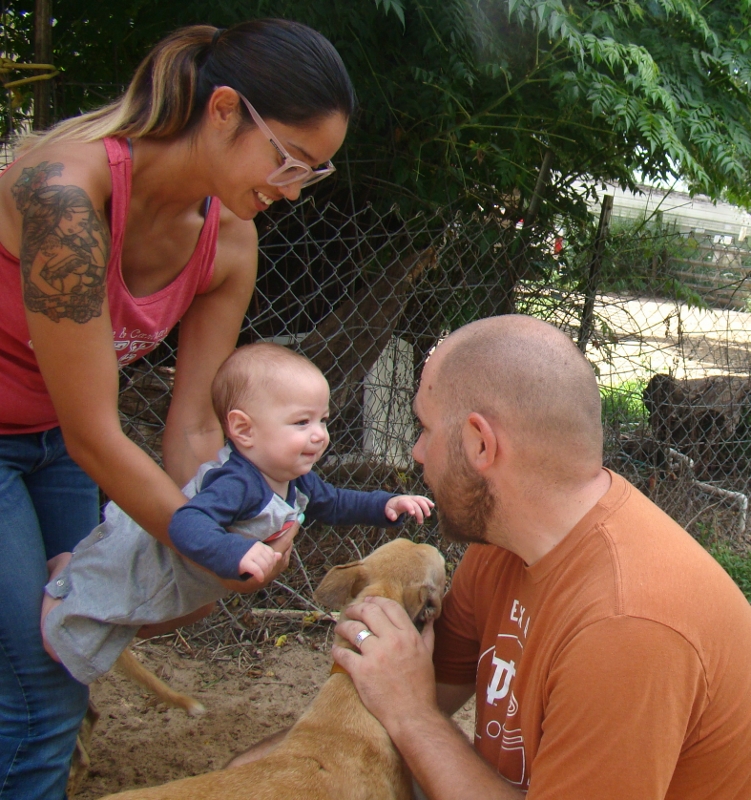 while they came out with two legged kids...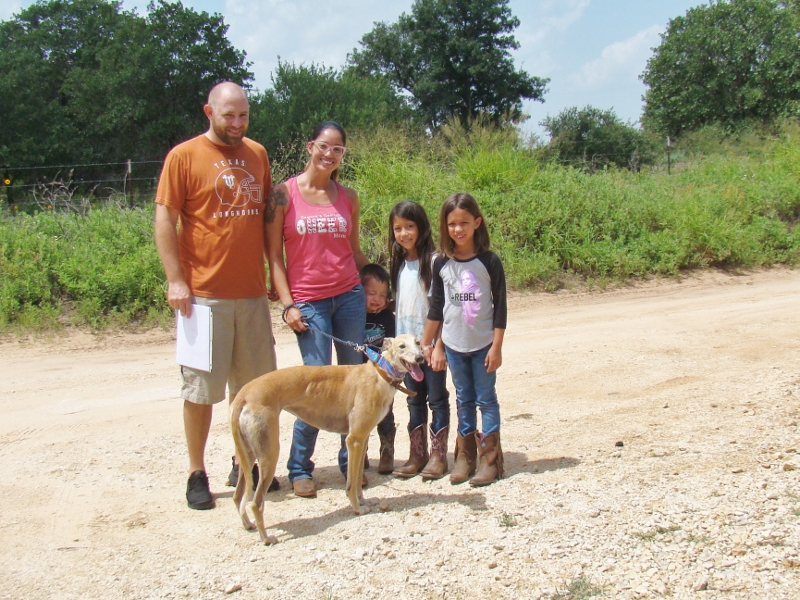 Hunter came out with his four legged kids, Hurricane and Ranger, and took Blacky home.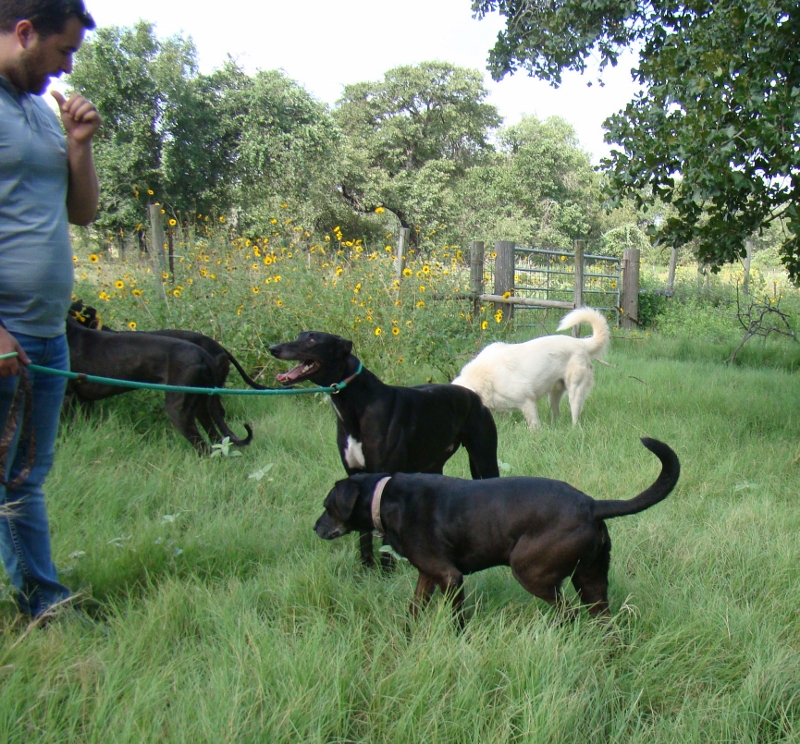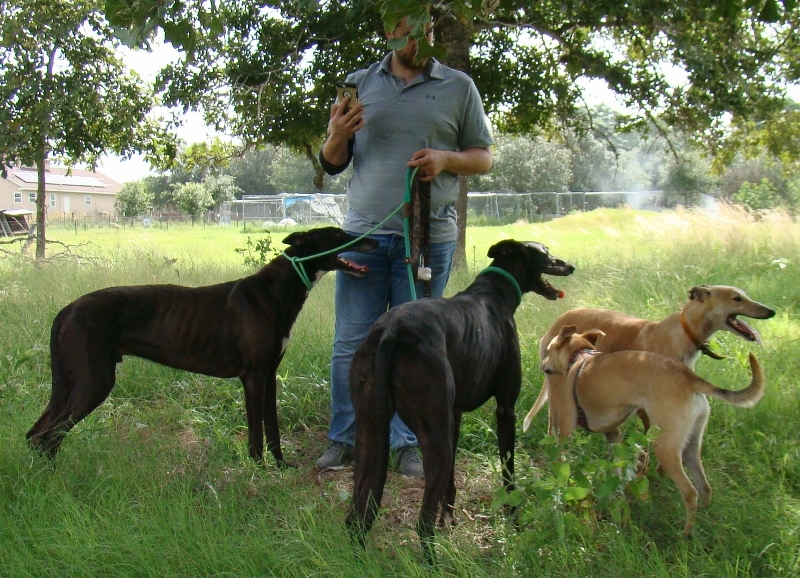 Goose Bolens enjoying the great indoors - April 2019
Phoebe Clark watching her deer in the great outdoors
April, 2019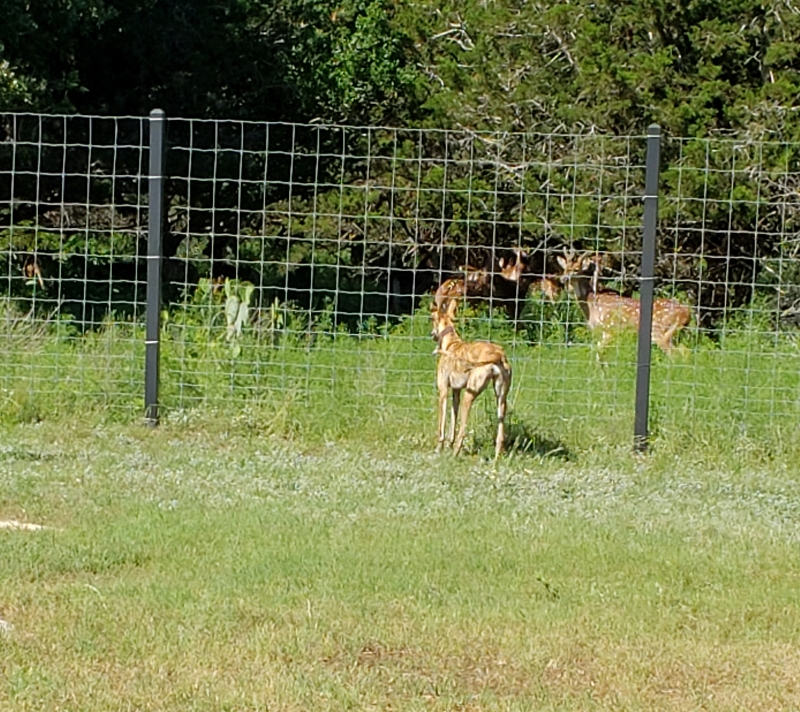 March 13, 2019
Manny and Marisa came out to adopt a Greyhound.
Here they are being greeted at the gate.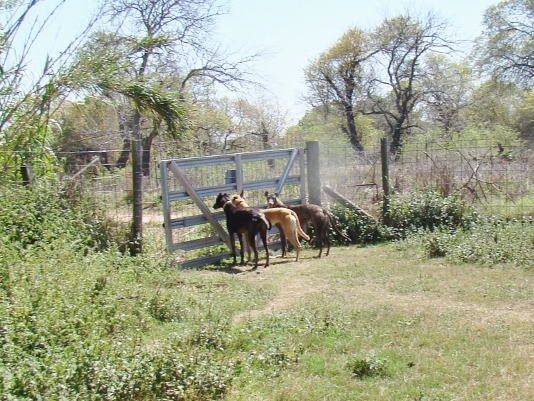 Carrie and Blacky Girl took right to them.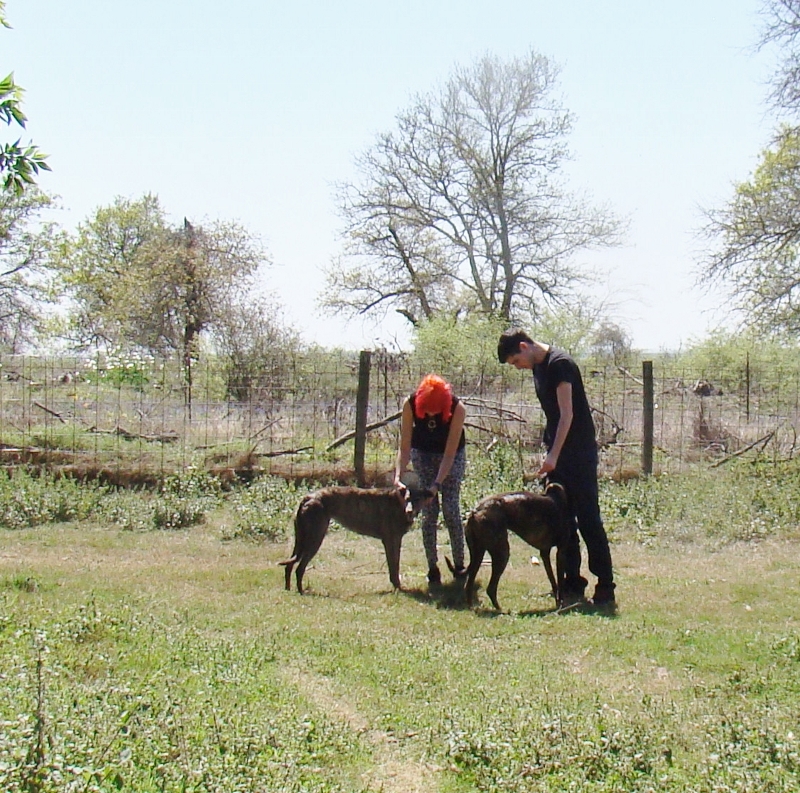 Carrie won out and Manny and Marisa took her home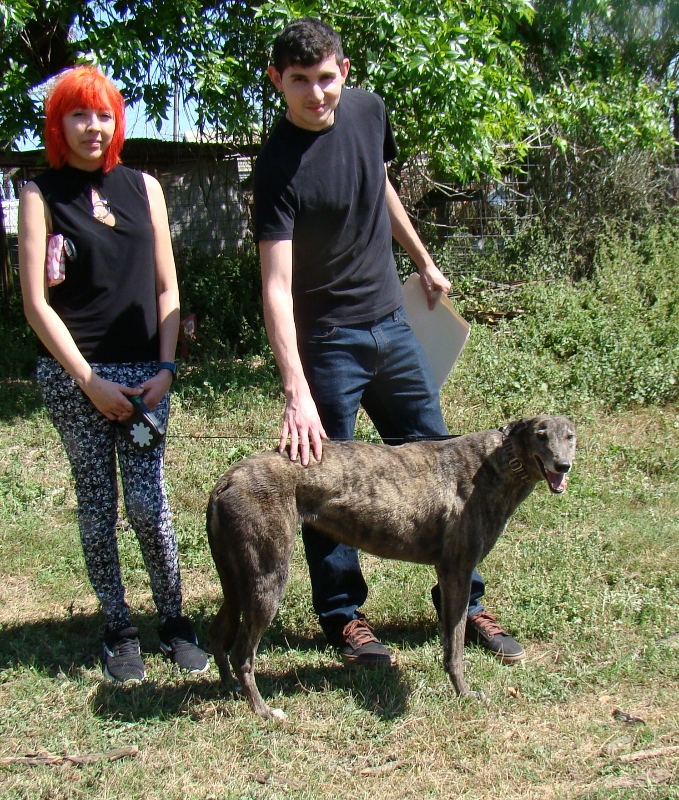 March 11, 2019
Pepper moved onto "beginners obedience" training this weekend. He absolutely loves going to puppy school and is doing fantastic, of course.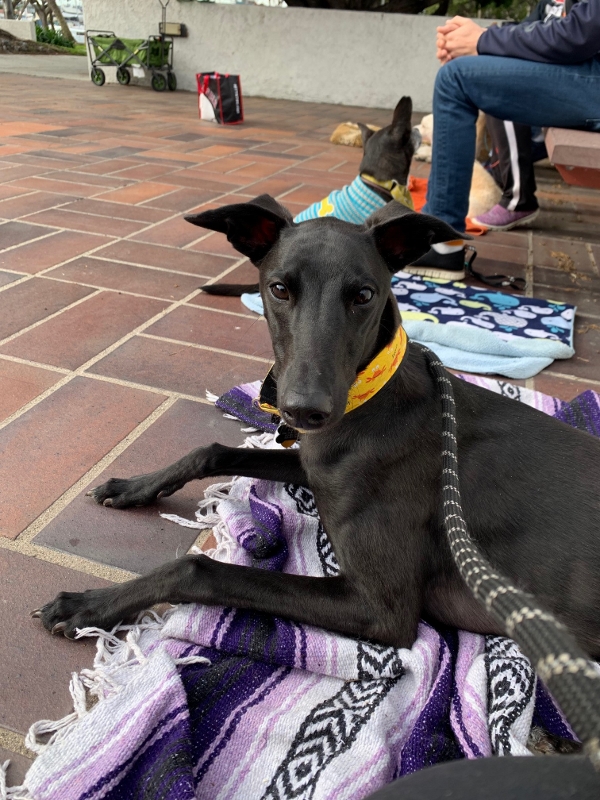 Here are some pics. One at puppy class, one of him and Samba in their new bed. So cute.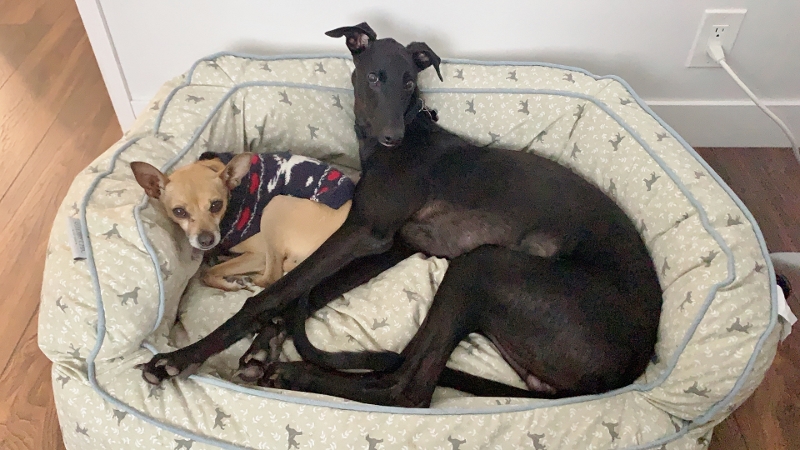 Paladin was adopted by John and family on February 28, 2019
He is now named Goose from (I think) Top Gun, and his picture was
done by John's 10-year old daughter Rei.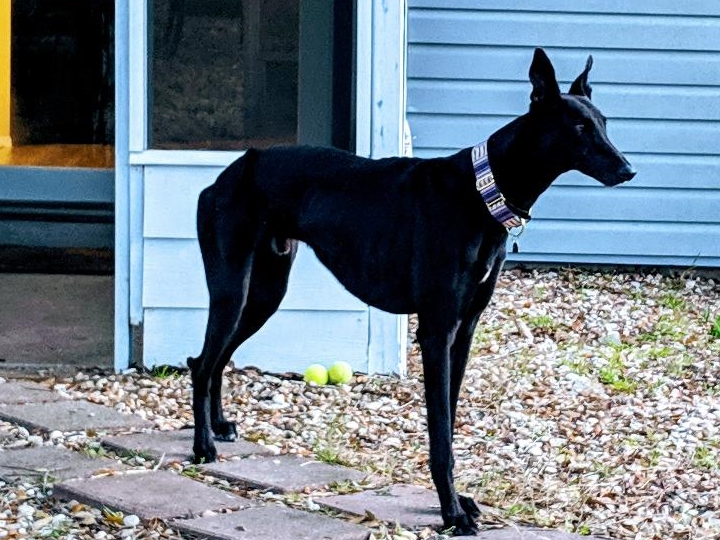 Goose's picture by Rei
March 9, 2019
Phoebe at nap time with her little girl Emerson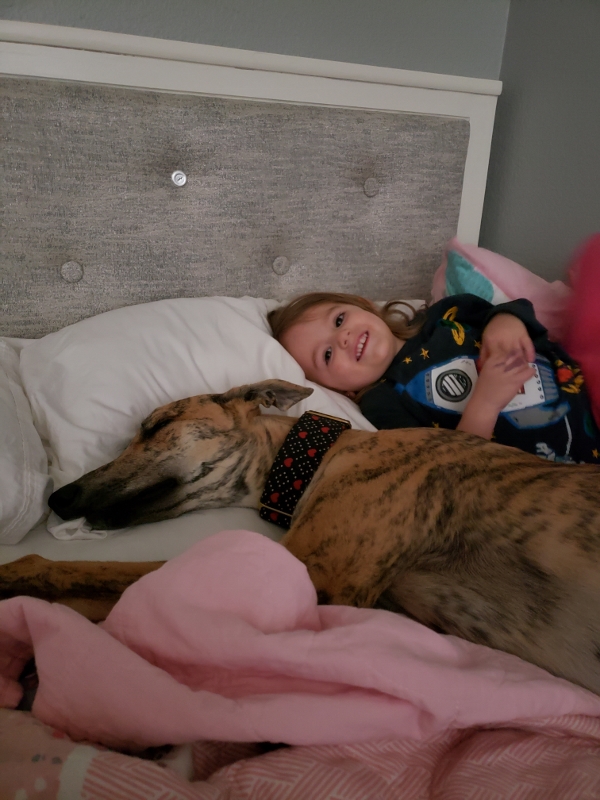 Phoebe is keeping her dad company.
Paladin's name was changed to Goose by the family - esecially 10 year old daughter, Rei, who wanted to call him potato at first.
kids say the darndest things!
February 28, 2019
John came to adopt Paladin. It was a wonderful adoption.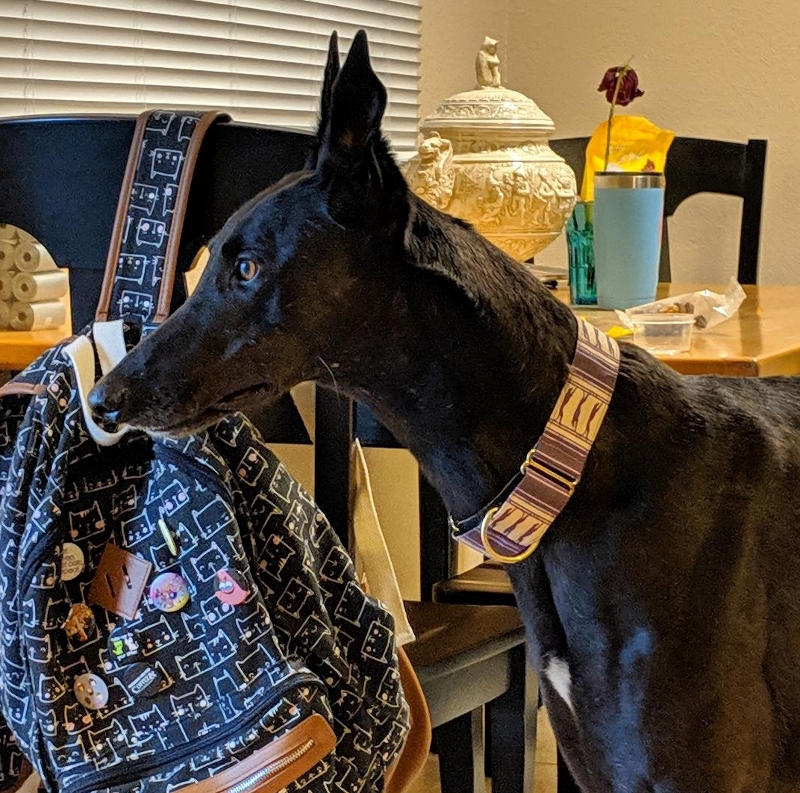 Paladin and John at home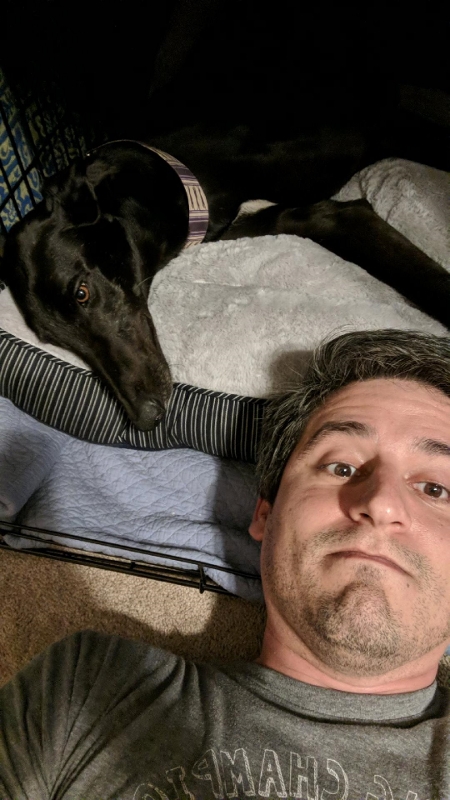 Paladin and John at Bexata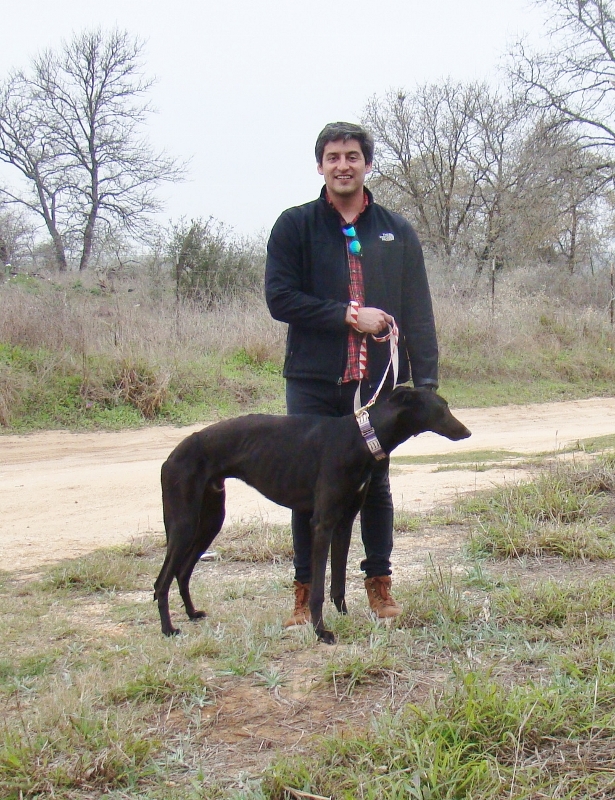 January 2019
my boy Blue Biscuits - the saddest adoption I have ever done.