Lure Coursing

Field Champions Blacky and Black Jack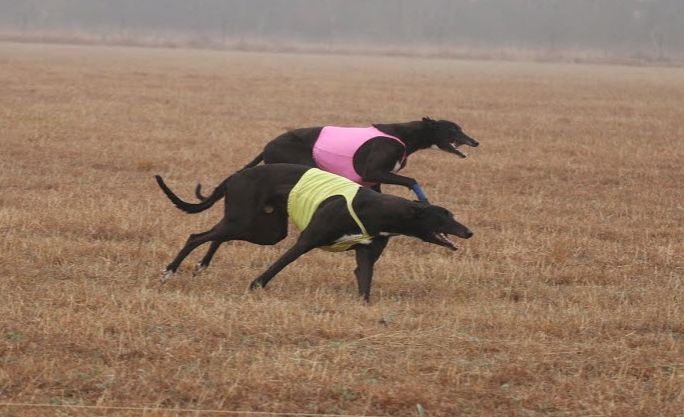 Black Velvet
No. 2 2018, No. 1 2017 No. 1 2016 AKC lure coursing champion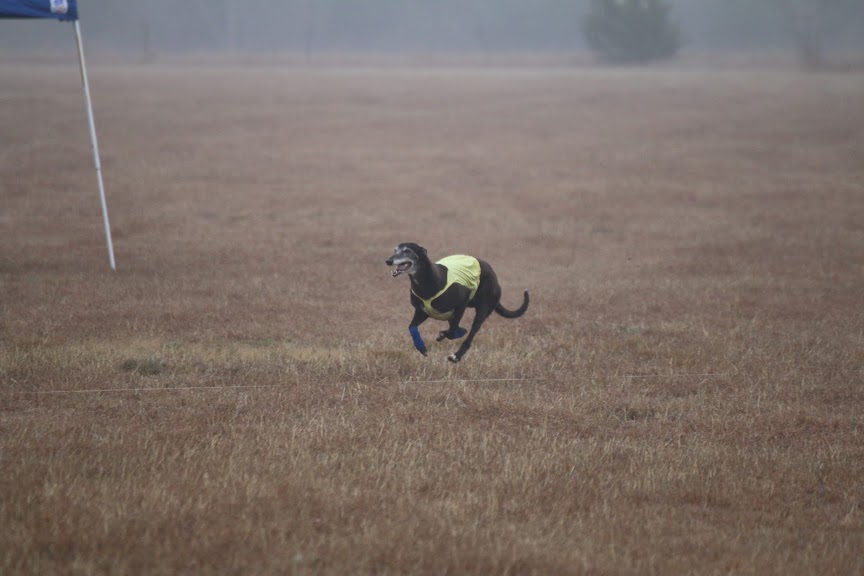 We always reply to inquiries about adopting our Greyounds.
At Bexata, we believe if the dog is sound and loves to chase, then lure coursing field trials may be the answer.
We haven't run since April due to Hurricane Harvey shutting down events and other situations that caused clubs to cancel or other weather situations. We also don't go up to McKinney any longer as the fields are just too hard on my Greyhounds' feet.
BOWEN RANKINGS 2018 END OF THE YEAR
FC BEXATA DAISY, SC IS NO. 2 LURE COURSING GREYHOUND IN THE COUNTRY - BEXATA DONNA SC FINISHED OUT THE YEAR NO. 9
WE HAD SIX OF THE TOP 15 LURE COURSING GREYHOUNDS 2018
HERE'S THE TOP THREE FOR 2018
So, here are the rankings for top lure coursers as of September 2018
Bexata Daisy, Ranger's Stripes, Bexata Donna, Blacky Girl, are available for adoption. Misty was adopted earlier in September. You can see her under adopted Greyhounds. Blackish (not ranked) was also adopted. Very proud of Bexata Greyhounds.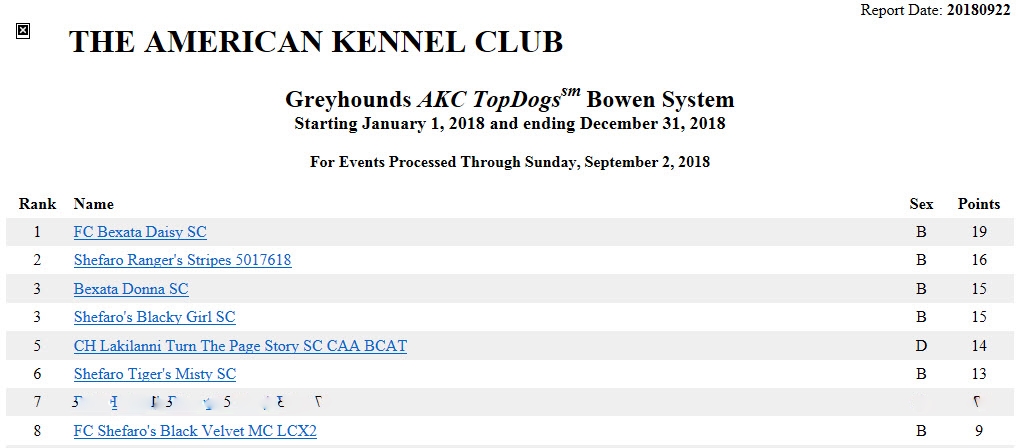 November 11, 2017 While Black Velvet was not running, we took out some new youngsters to get qualified to run in the trial. It was a blast except that the ground was hard on the Greyhounds' feet. Nothing like the sand and coastal grasses they have at home. Nevertheless, Daisy was really in her element and won the 5 point major, starting her on her Field Championship. She is available for adoption - loves the couch, too - but will be out again if she's not yet adopted.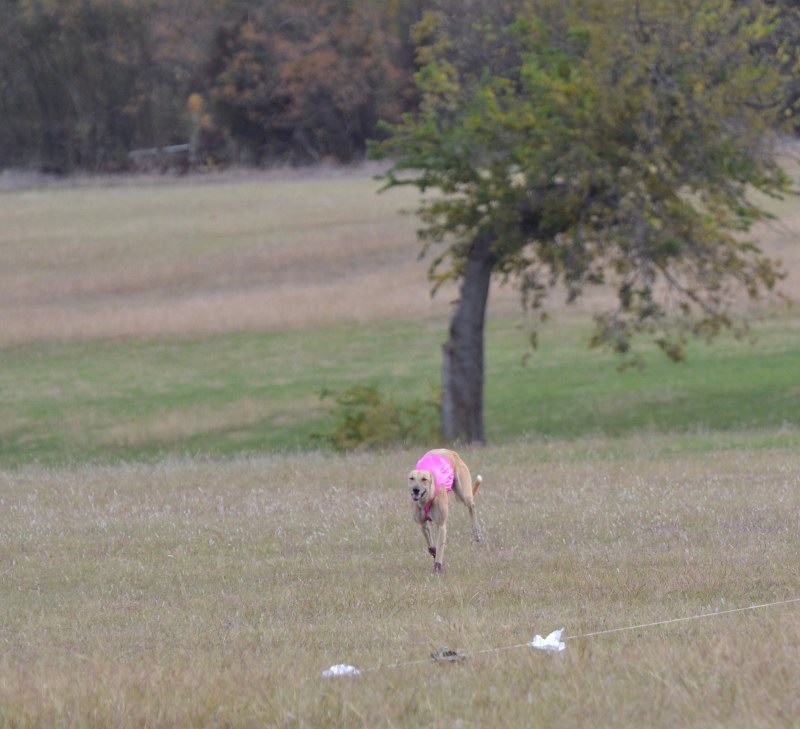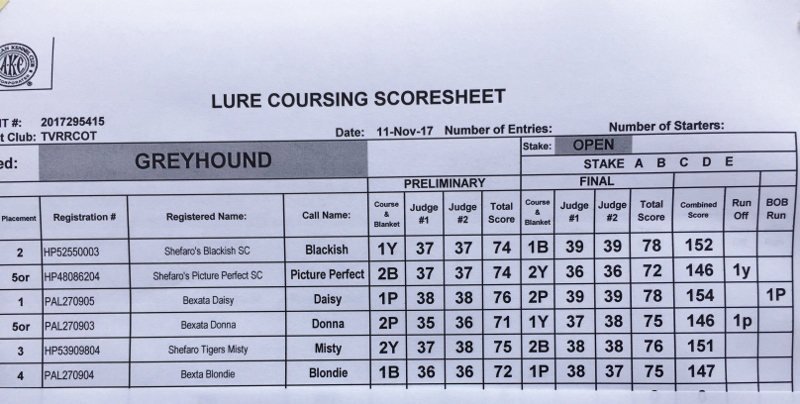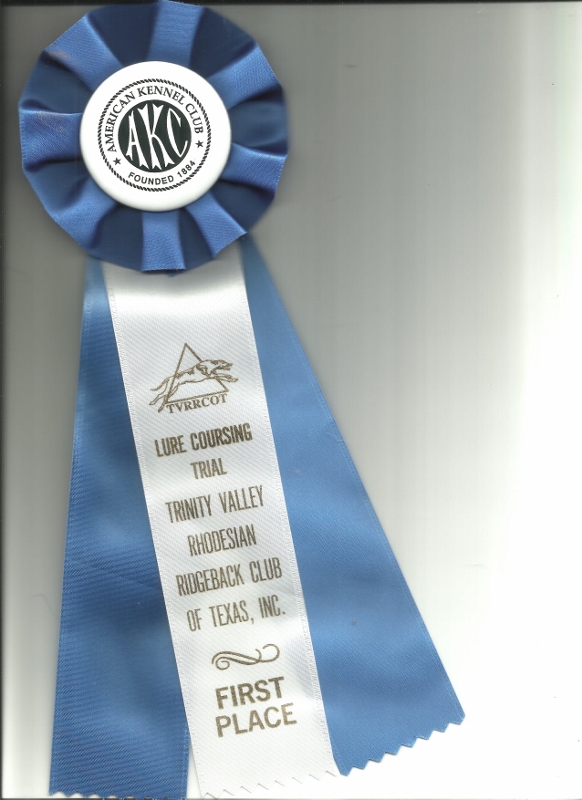 This is the last update for rankings from 2017 - the last time Black Velvet ran. In Texas, we have a short lure coursing season, and, because of Hurricane Harvey, at least one of the lure coursing events was cancelled. So, as of June 2017, Black Velvet was on her fourth year as AKC lure coursing Greyhound No. 1. So, that would be her fourth year in a row.

THE FINAL RANKINGS FOR 2016 FROM THE AMERICAN KENNEL CLUB.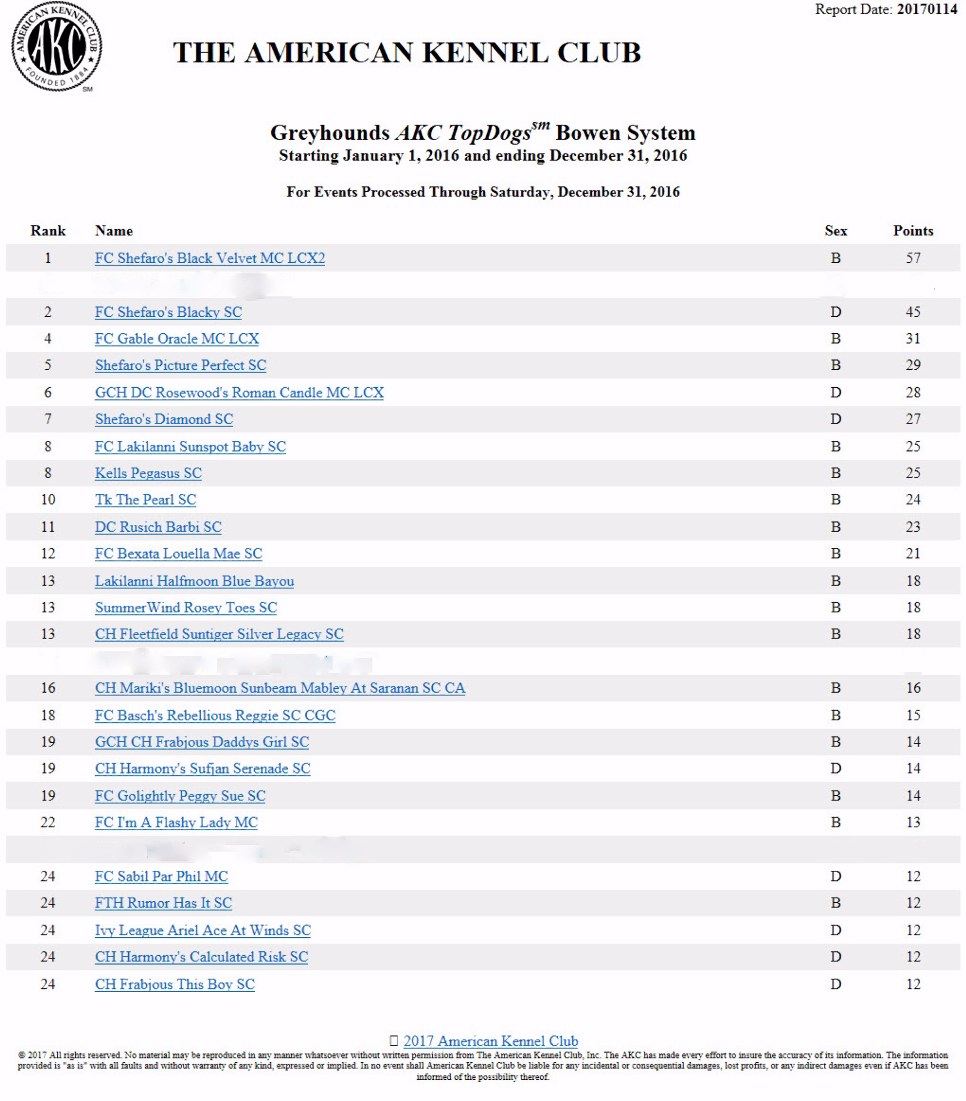 December 31, 2016
We decided to do one more event for 2016
We had California competition, Mike and Ellen brought their lovely Pearl and Delphi.
Unfortunately, Black Velvet and Louella Mae collided on the field and Blacky got a stone burn in his pad, so they were all pulled. Regardless, good runs were had and a lot of fun way to end 2016.
Here's the score sheet from the Dec. 31, 2016 Cirneco del 'etna Club lure coursing event at Waller, Tx.
Best of Breed went to Diamond
My kids and my adopter's Greyhounds have quite a collection of ribbons, but I only put up the last two events of 2016.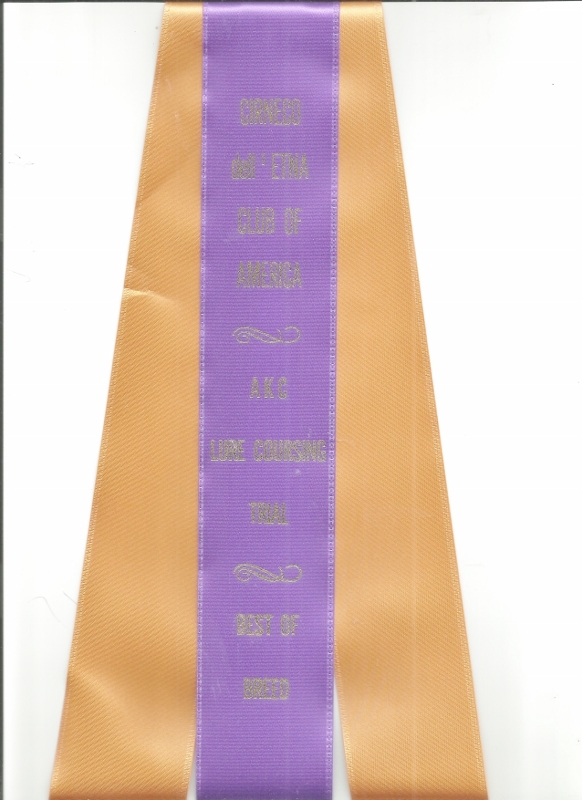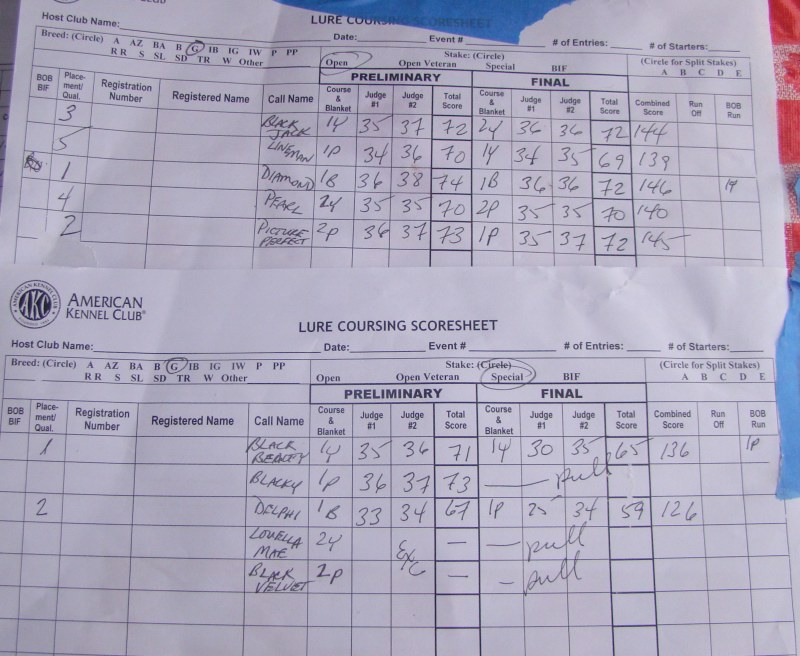 December 17-18, 2016 Houston Area Hound Association lure coursing event.
Will post scores and final year results when they are posted.
In the meantime: Bexata Louella Mae won a four point major to finish her Field Championship.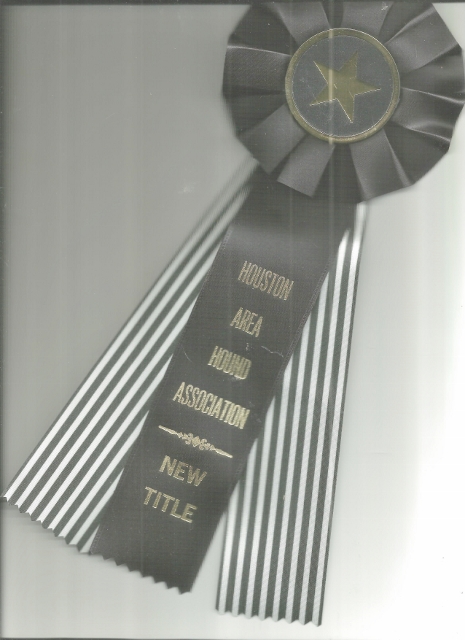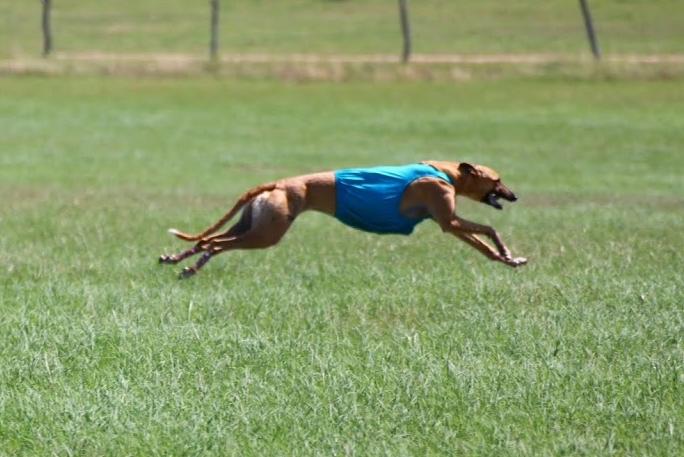 Blacky won Best of Breed Saturday (didn't fun BIF) He won BOB again on Sunday and ran for Best in Field AND - DRUM ROLL PLEASE -
BEST IN FIELD went to Field Champion Blacky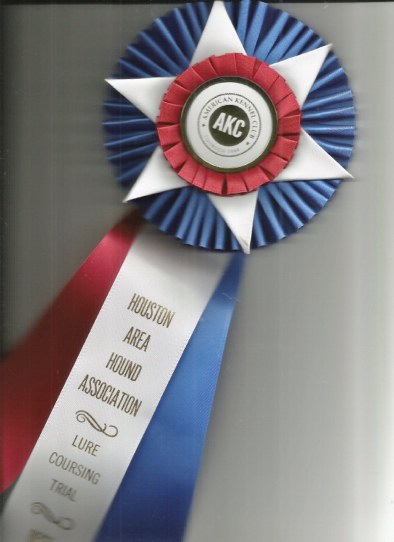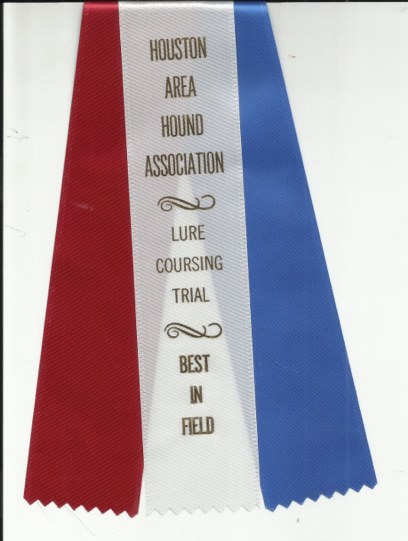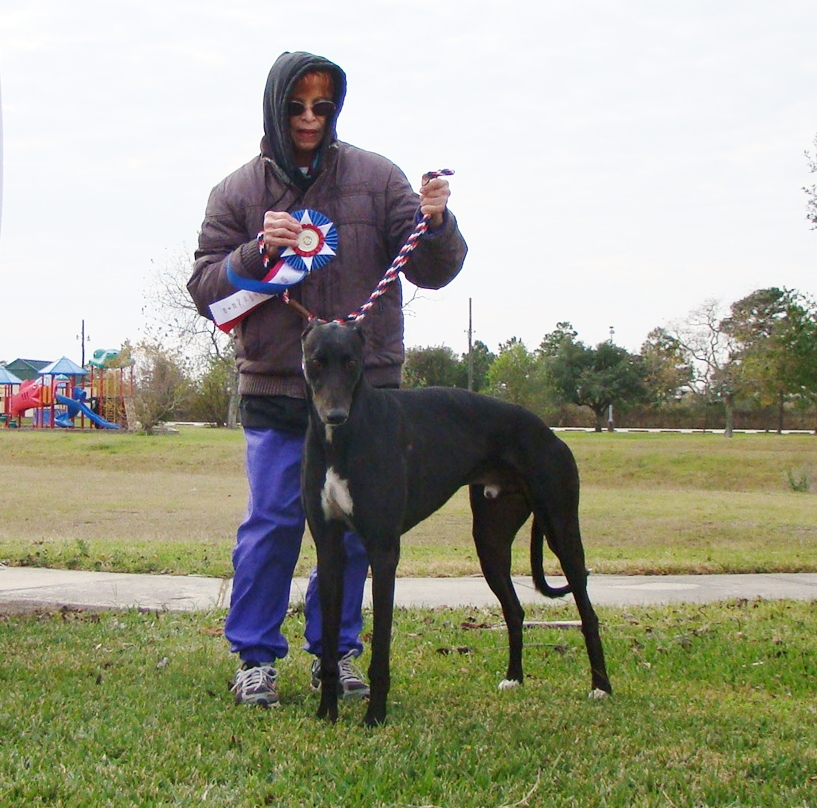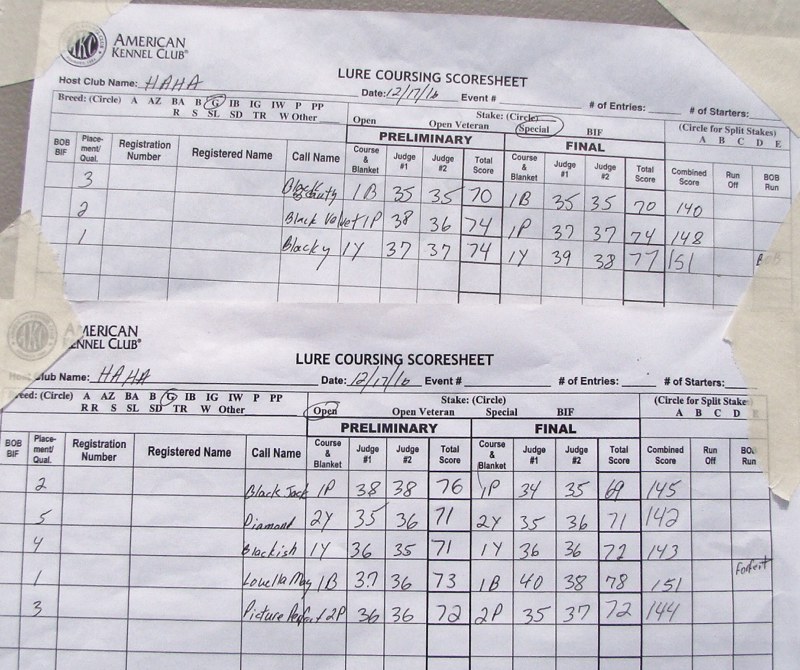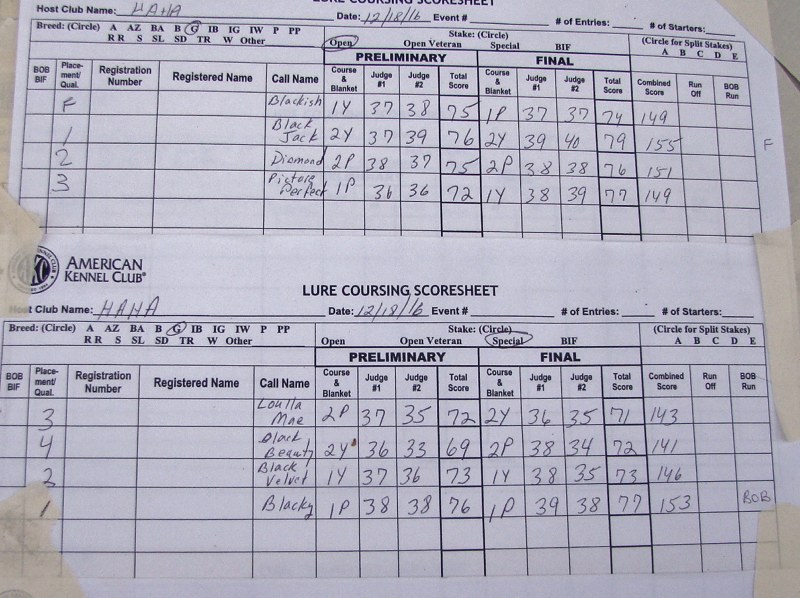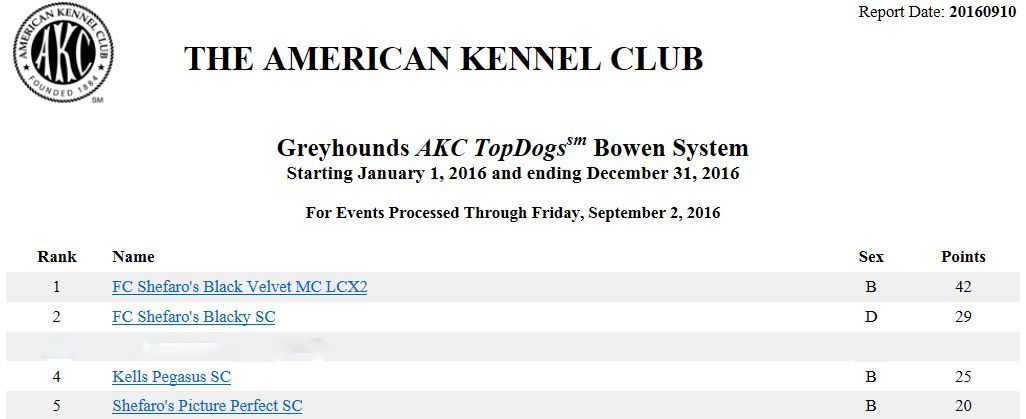 AKC BOWEN POINTS THROUGH MAY 6, 2016 BEXATA KIDS ARE IN THE TOP RANKINGS. THEY HAVE BEEN ADOPTED OUT AND SO AREN'T NECESSARILY ATTENDING EVENTS, BUT THEIR TIME ON THE FIELD SPEAKS FOR ITSELF.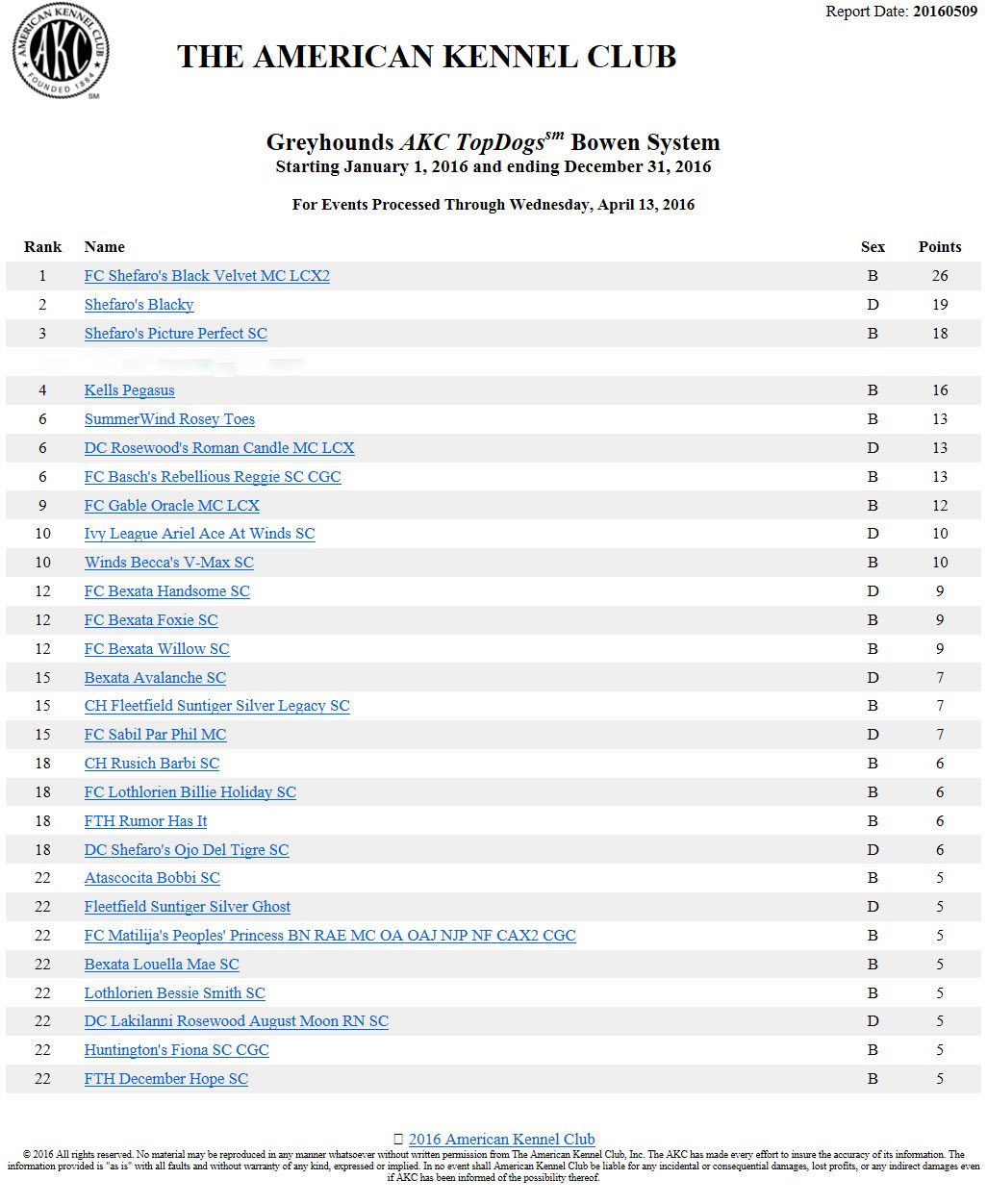 AKC BOWEN POINTS THROUGH DECEMBER 30, 3015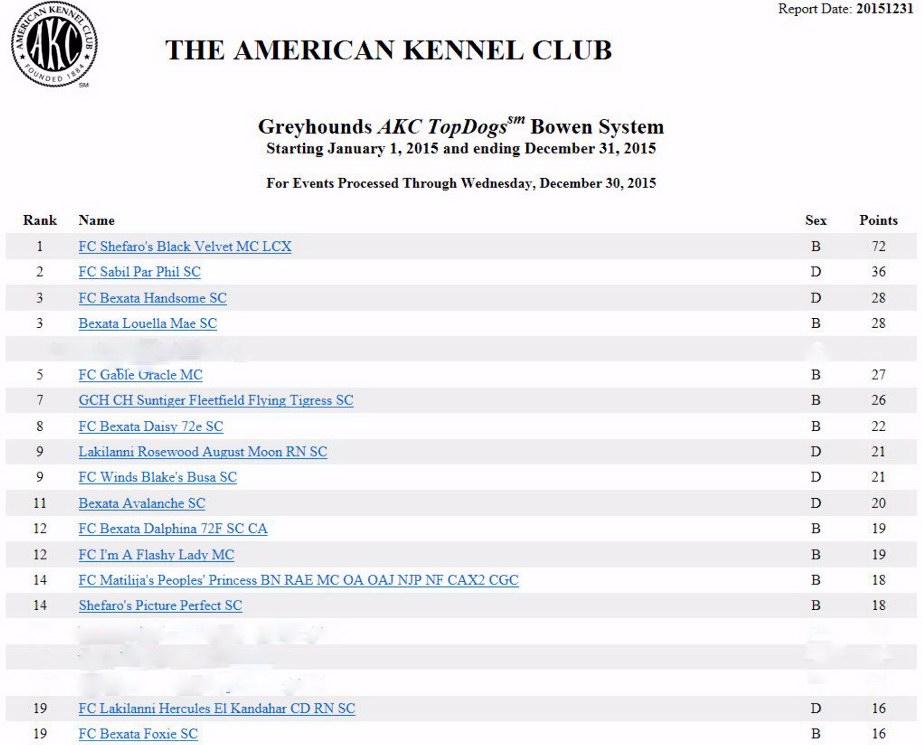 December 20-21, 2015 Last lure coursing event in S. Texas for the year.
Houston Area Hound Association
LURE COURSING WITH ADOPTERS AND FRIENDS
The weather couldn't have been better, nor could the cameraderie.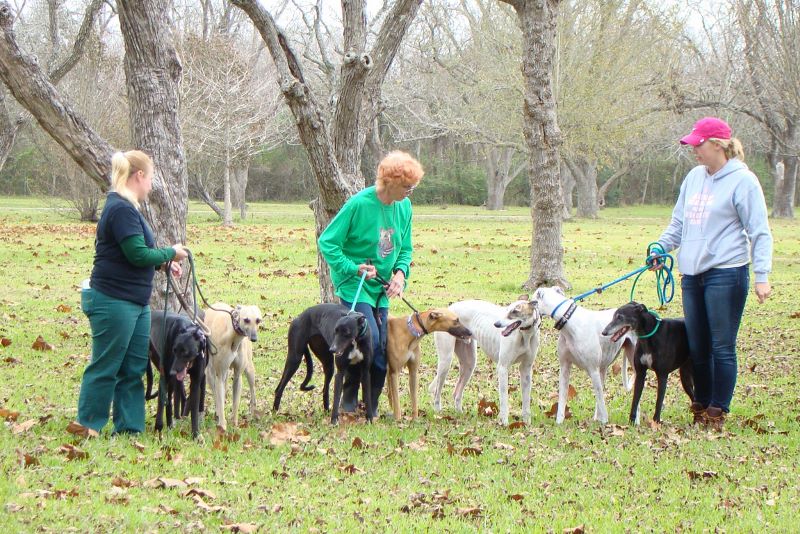 November 14 and 15, 2015 found Bexata adopters and Greyhounds at the Afghan Hound Club of Austin field trial.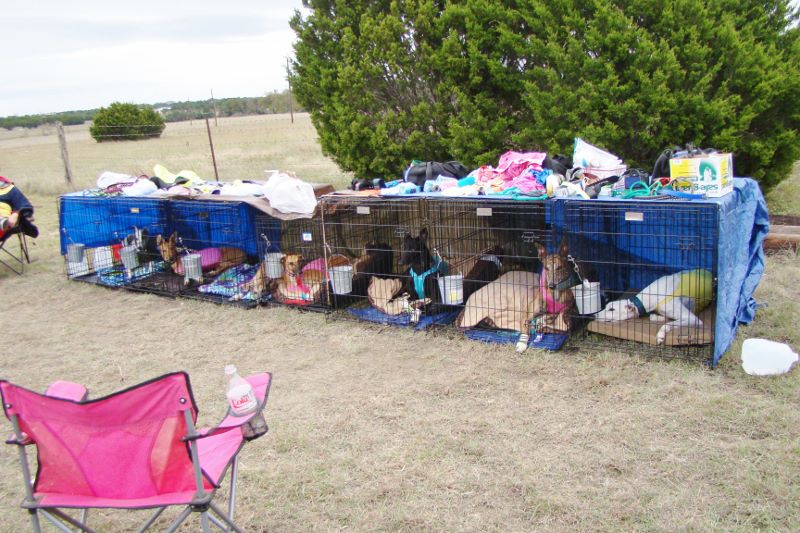 Waiting to run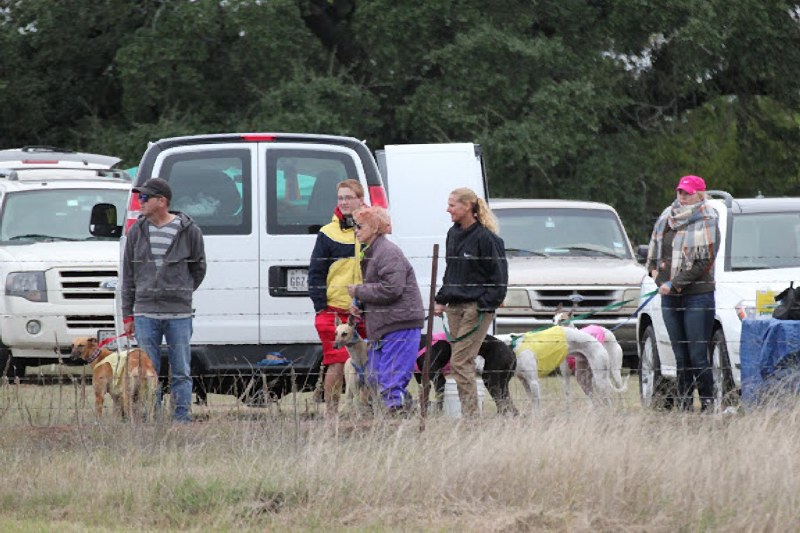 Back to front Leon, Picture Perfect (center and below), Louella Mae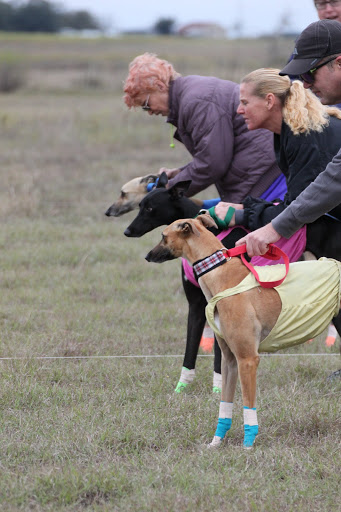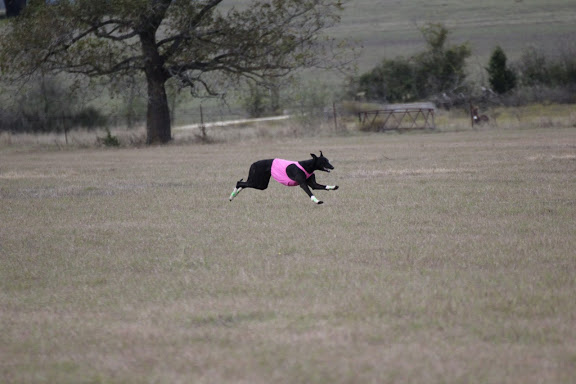 RESULTS
Lure coursing Afghan Hound Club of Austin, November 14, 2015
OPEN - 5 point major for Bexata Luna Hanzelka - 3 more points for Bexata Handsome - 1 point for Picture Perfect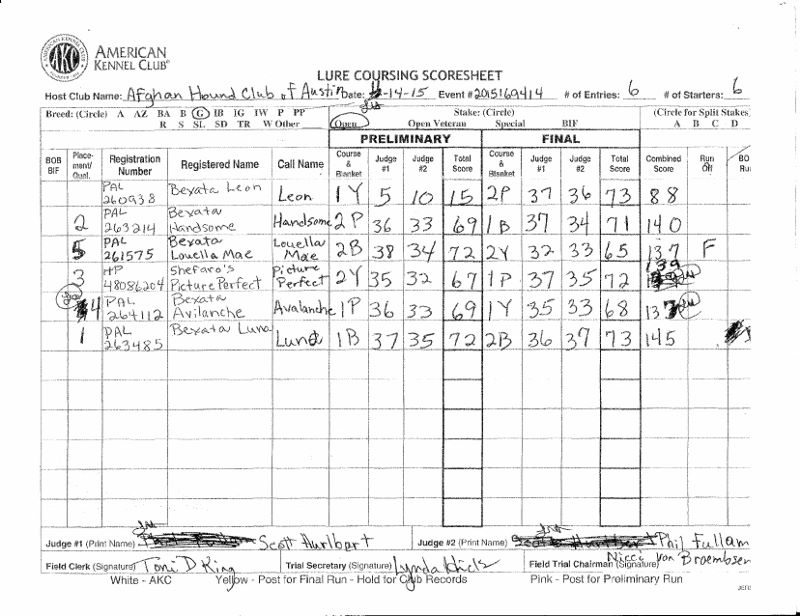 1- Bexata Luna's second lure course - a five point major.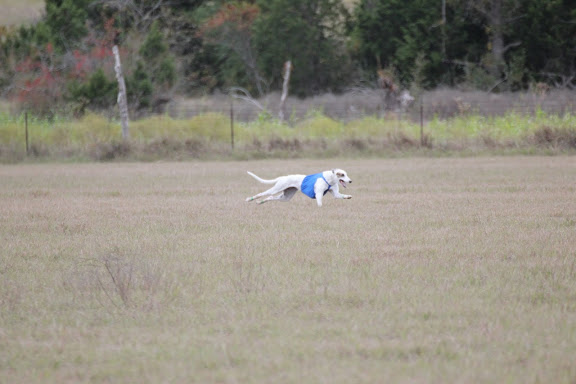 2 - Handsome - 3 - Picture Perfect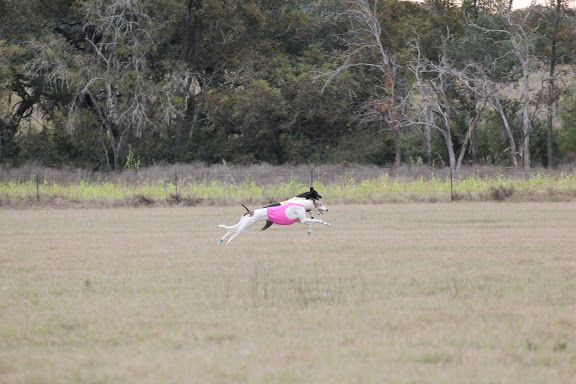 SPECIALS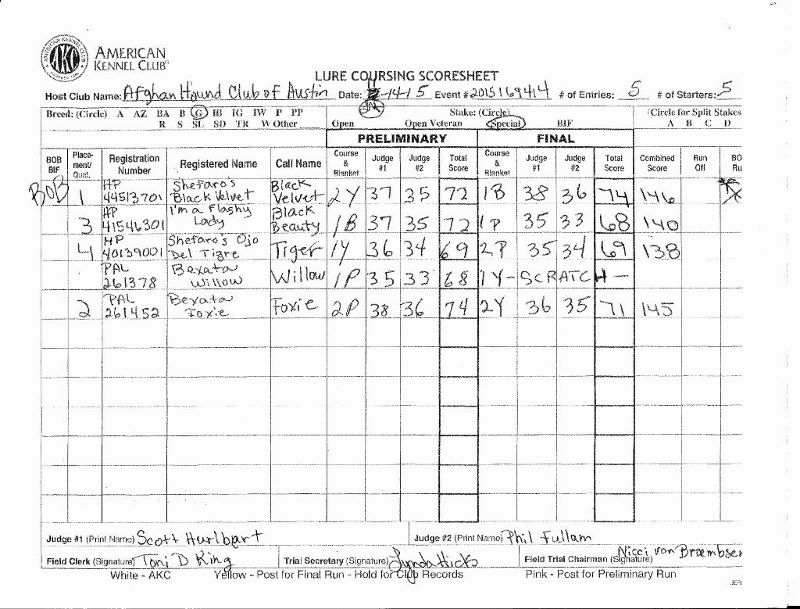 BOB Black Velvet
Tiger, Willow, Black Beauty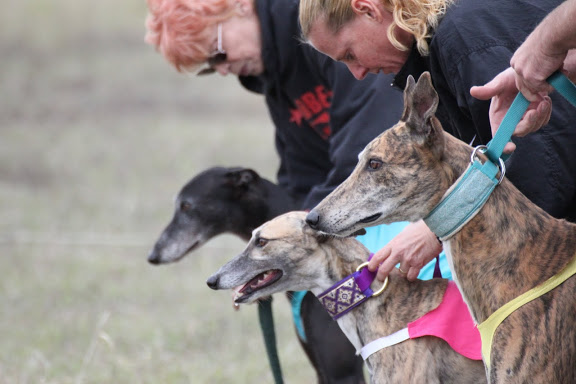 Afghan Hound Club of Austin, Sunday, November 15, 2015, lure coursing results. Bexata Handsome won his third major which gave him enough points for his Field Championship!!!!
OPEN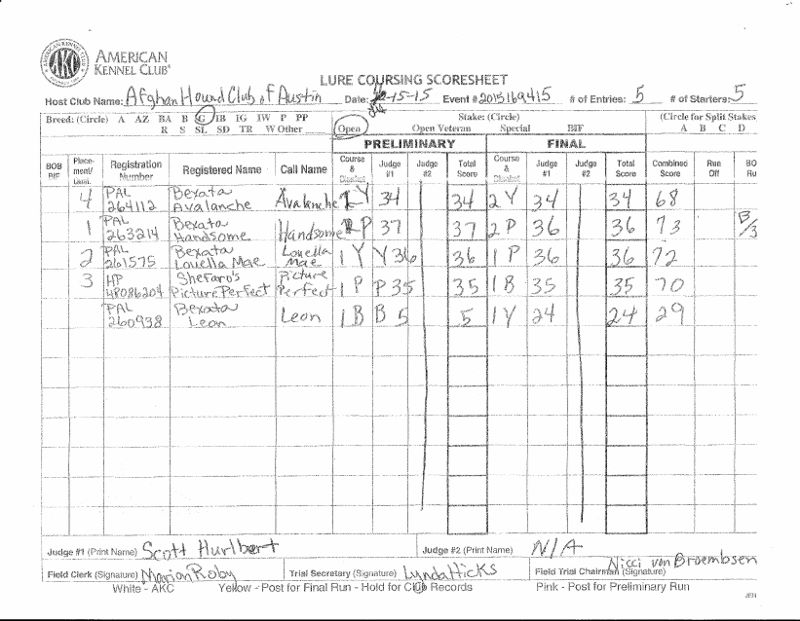 1 - Handsome - new field champion
2- Louella Mae (needs a major to finish) 3 - Picture Perfect, just starting her lure coursing career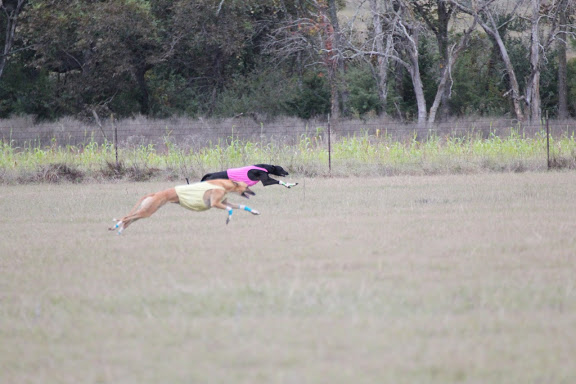 4 - Avalanche is a young boy gaining experience as he goes
5 - Leon - ran only the second half of the course and is so close to his field championship.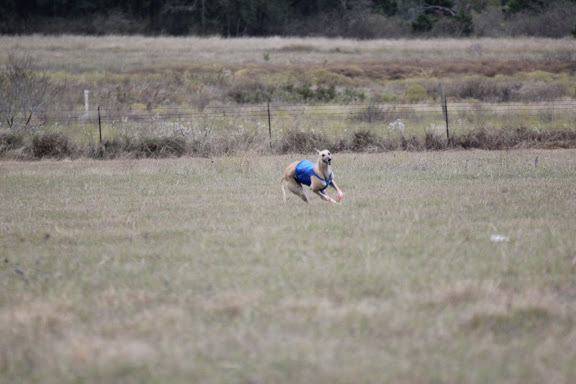 SPECIALS - Best of Breed Field Champion Bexata Foxie, Senior Courser
Foxie hasn't been out in a year and she was ready to go!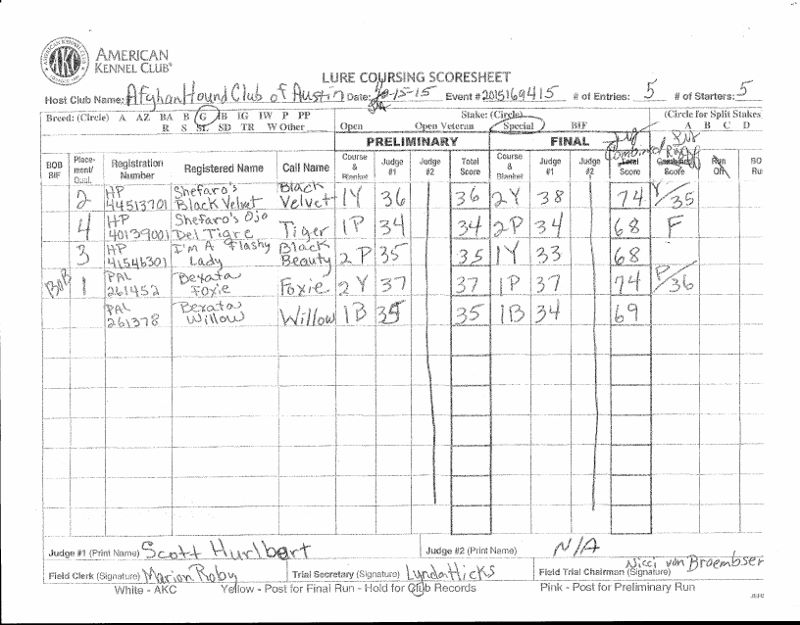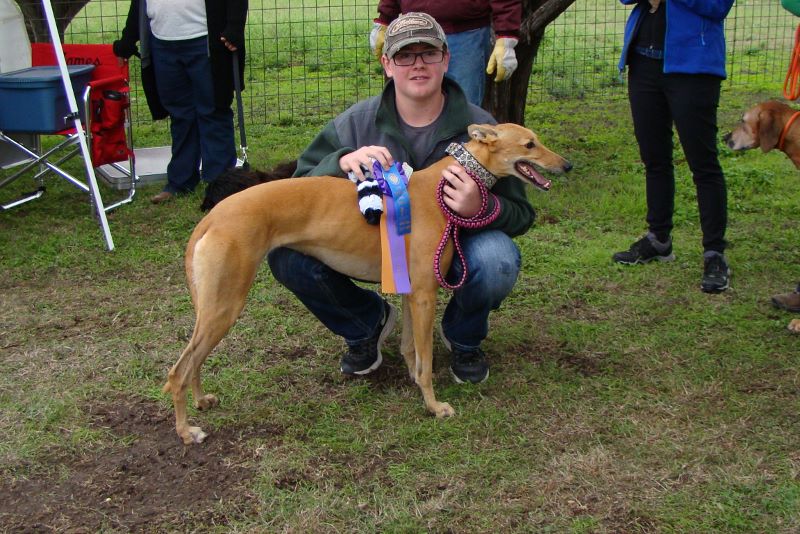 November 6, 2015 at the park lure coursing practice.
Midnight in blue wraps, Black Beauty on the right - both are available for adoption and would be happy couch potatoes, jogging partners, or going for walks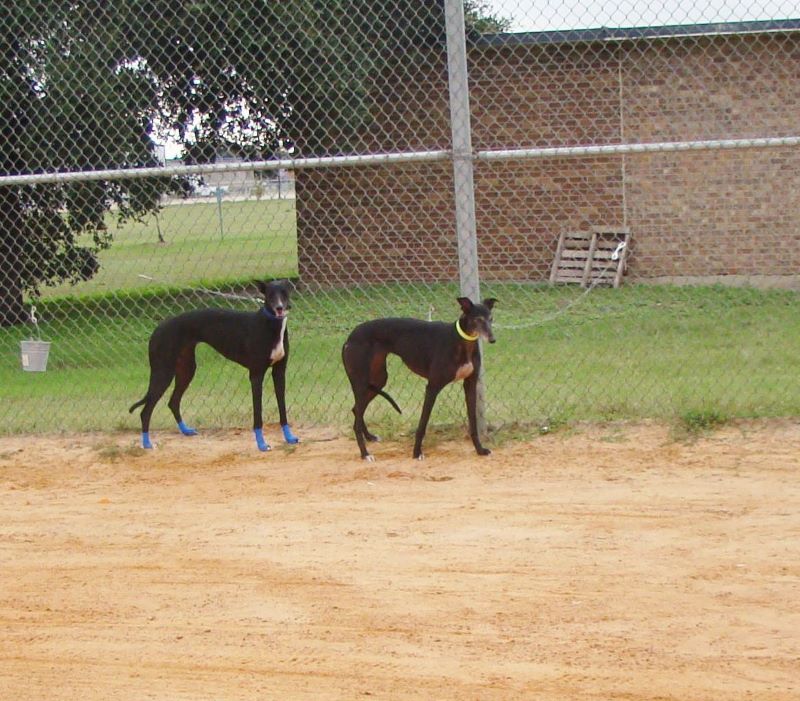 Petey the Whippet, Midnight, Black Beauty and Cassie (to the right)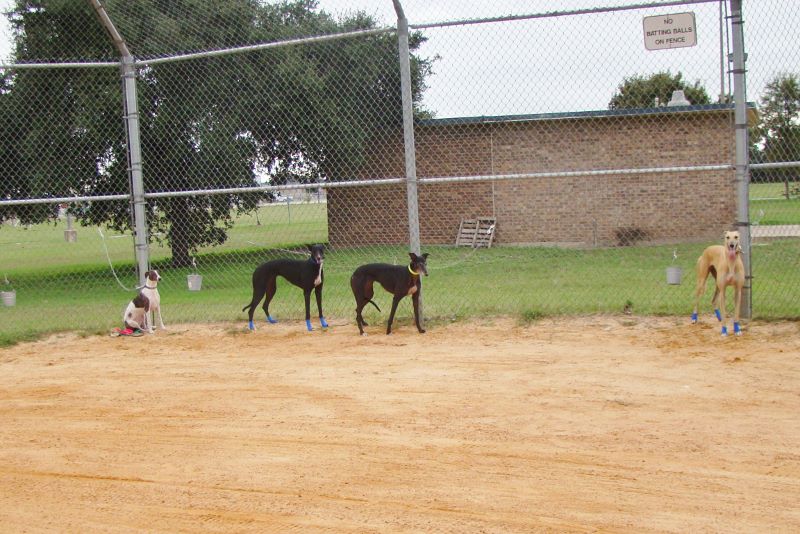 October 11 - Sunday night - crashed out after a day lure coursing.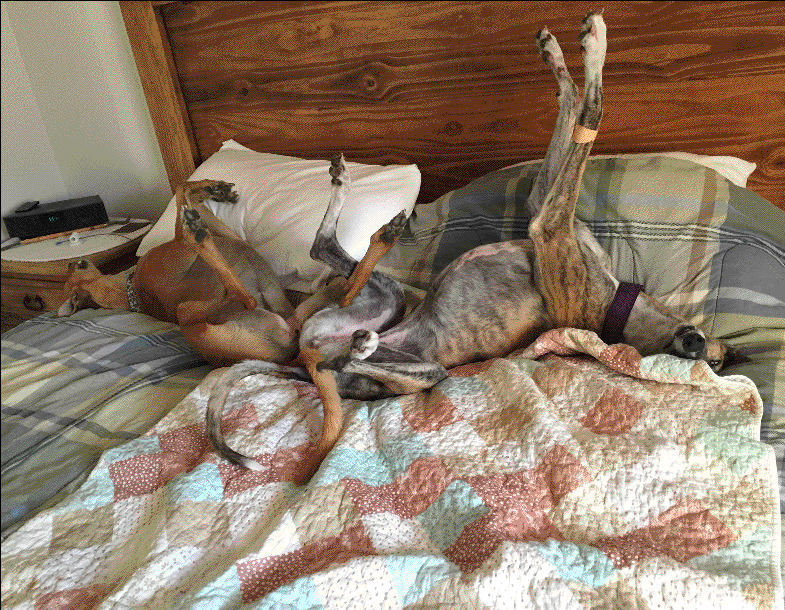 October 11, 2015 Trinity Valley Rhodesian Ridgeback Club of Texas lure coursing at Ponder, TX.
And the BEST IN FIELD goes to BIF Field Champion Bexata Willow, Senior Courser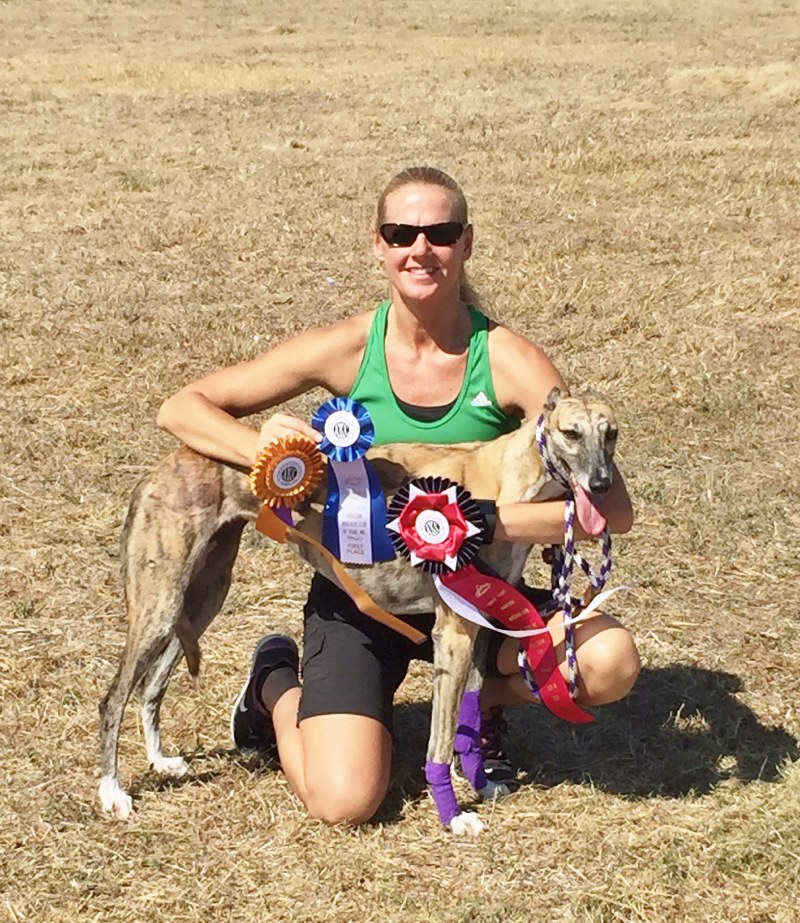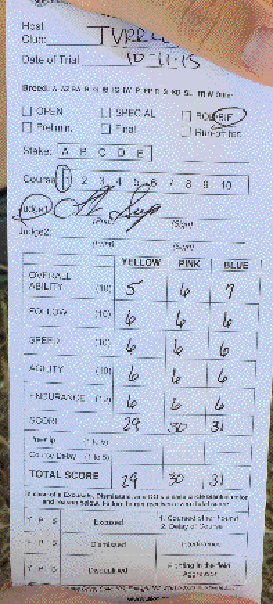 Willow and Laurie waiting to go onto the field.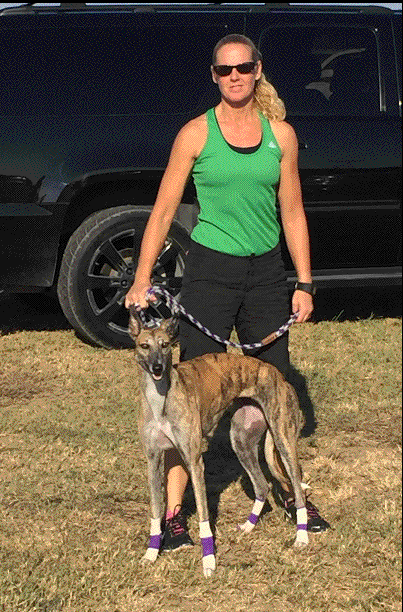 September 18, 2015 lure coursing practice at the park.
Left to right - Fawn male, Even/Francis, Louella Mae, Leon, Black Beauty, Daisy and Petey (Whippet)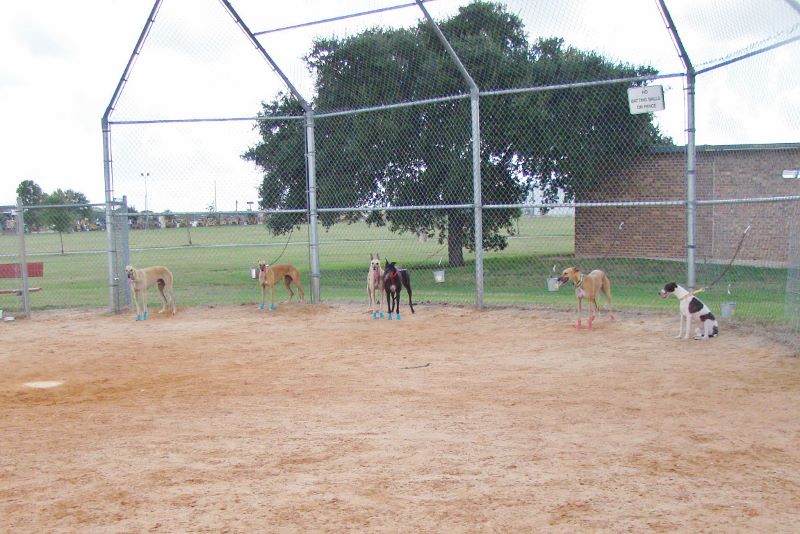 BOWEN AKC TOP 25 RANKINGS THROUGH AUGUST 7, 2015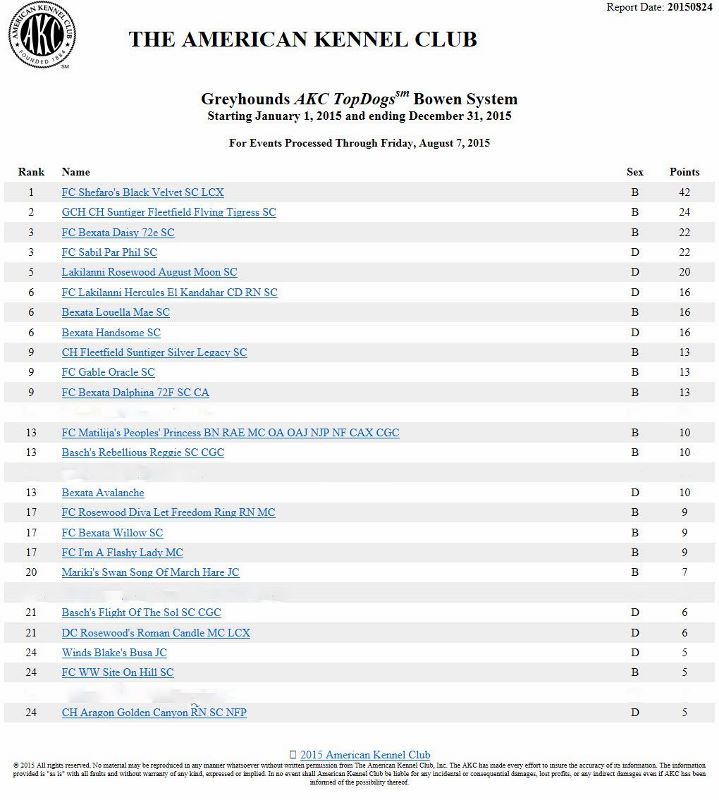 JUNE 2015 TOP AKC LURE COURSING GREYHOUNDS
GO BEXATA KIDS AND CONGRATULATIONS TO THEIR ADOPTERS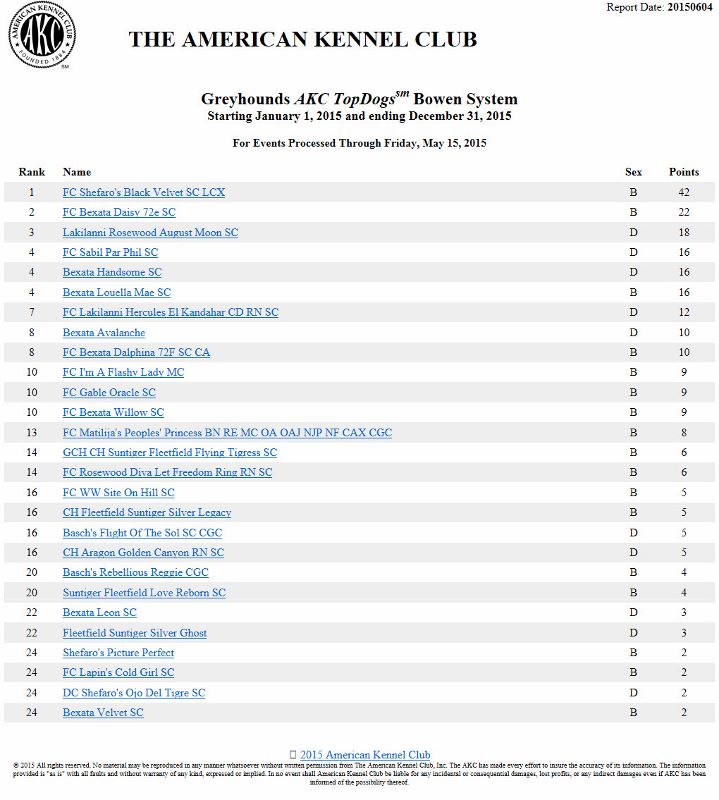 Afghan Hound Club of Austin
Florence, TX
Friends out lure coursing April 18-19, 2015
Best of Breed FC Bexata Willow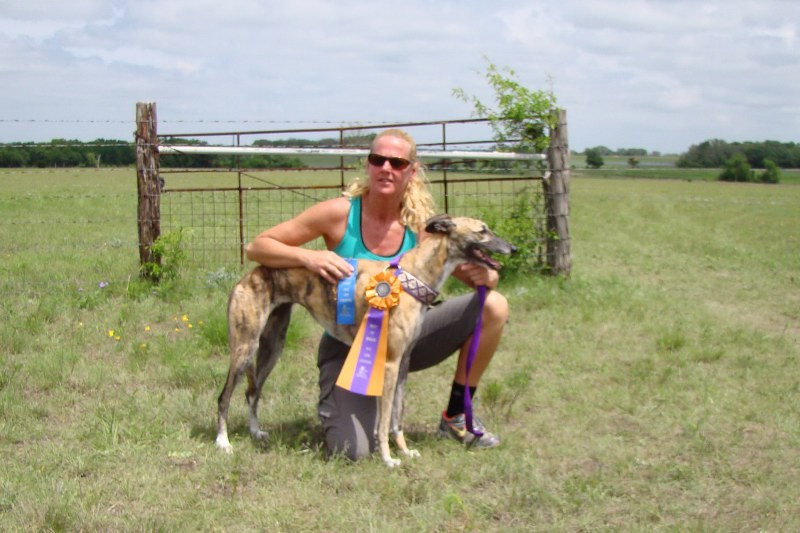 Bexata Leon, SC available for adoption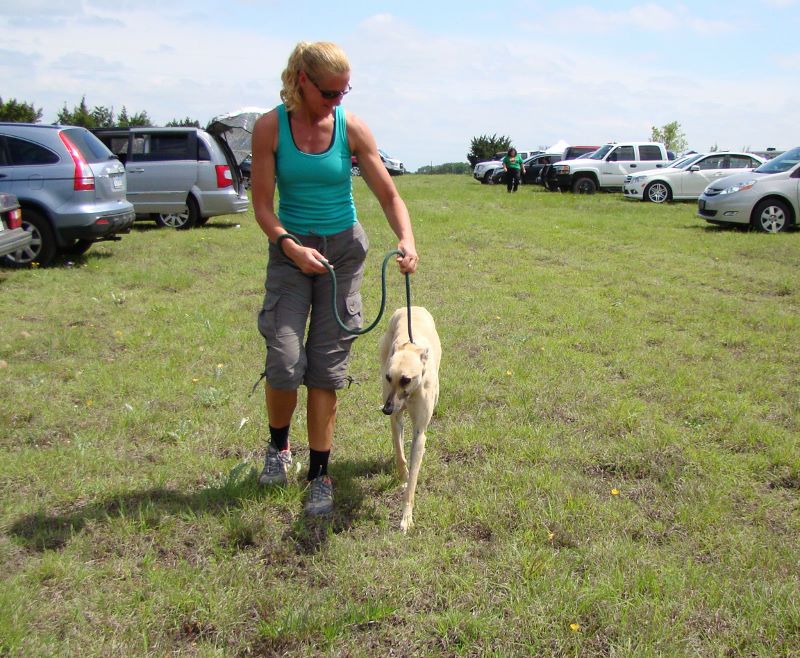 At the hotel Black Beauty and Avalanche
Avalanche and Handsome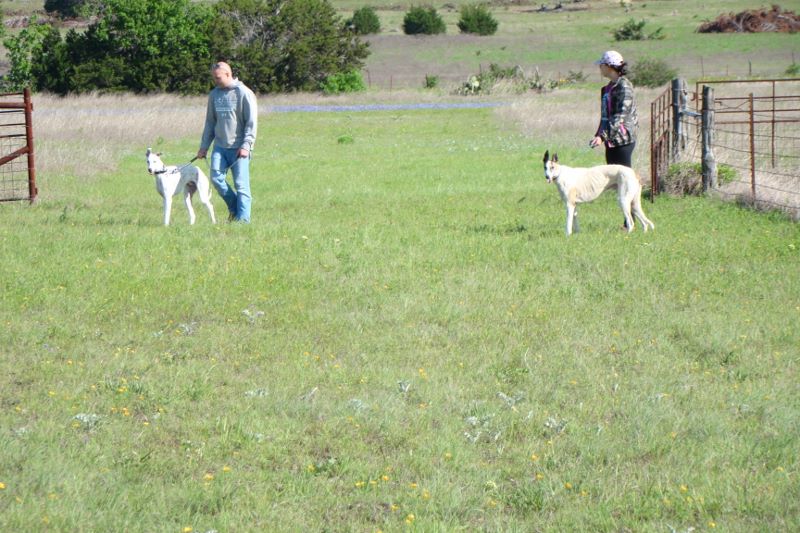 Friends and Bexata Greyhounds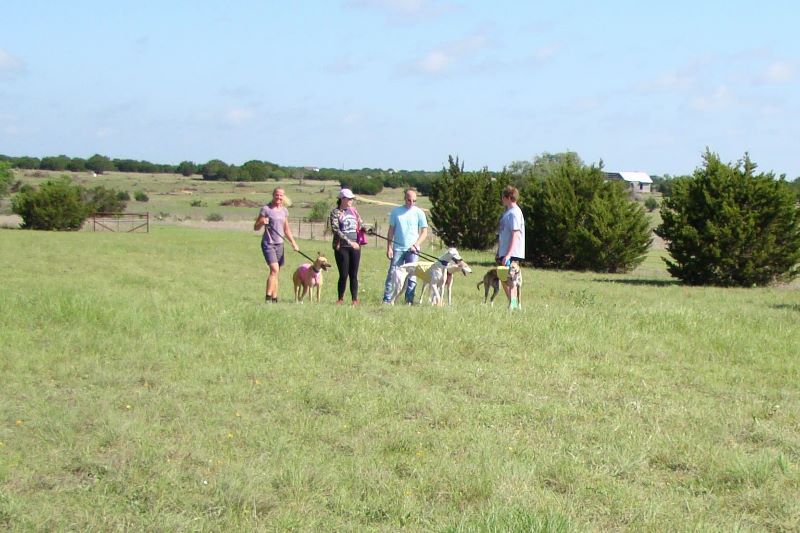 Daisy and Nate
Houston Area Hound Association - March 2015 - Daisy's a field champion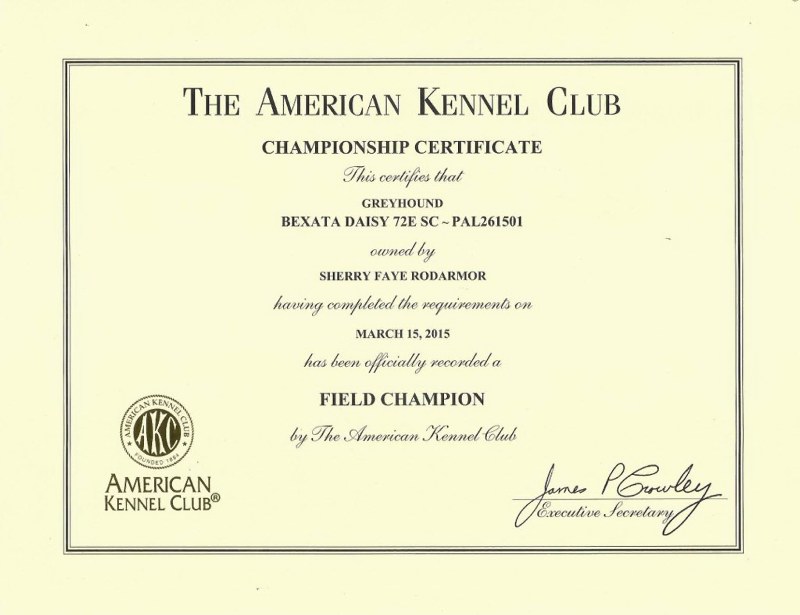 Handsome is a Senior Courser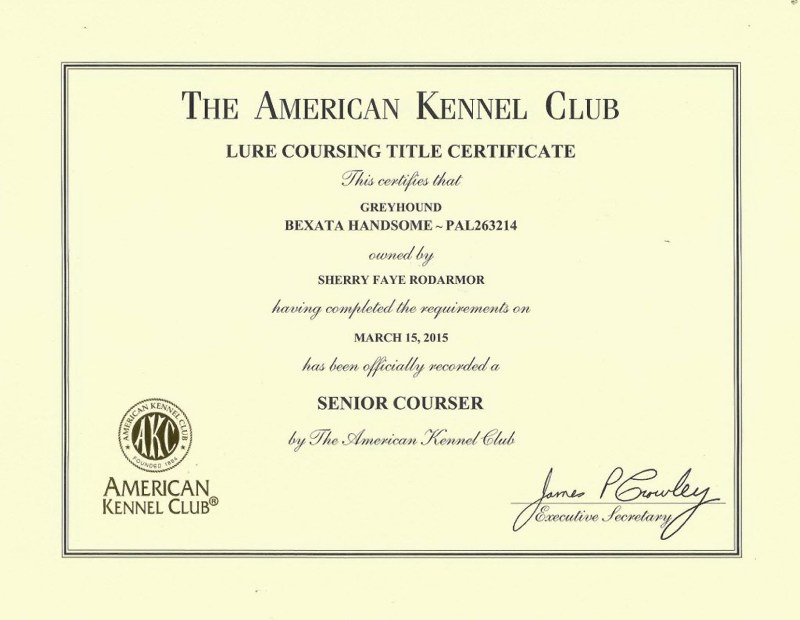 February 28, 2015, first lure coursing event of the year, Alamo Area Whippet Club, Louella Mae won the major. (on the left)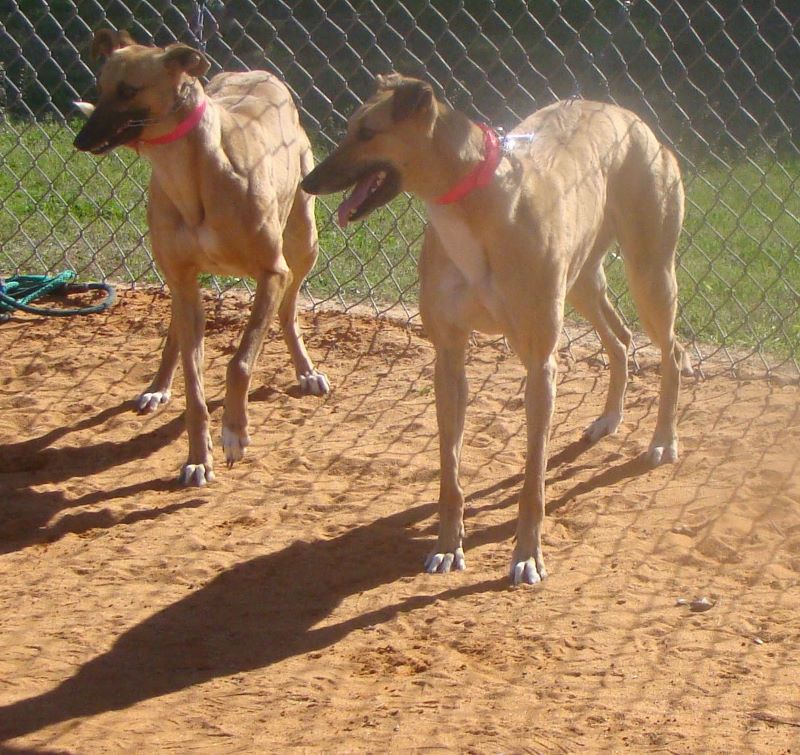 March 1, 2015, Alamo Area Whippet Club, Handsome won a four point major! He plays frisbee at home and runs beautifully out at lure coursing events. I am very proud of his progress.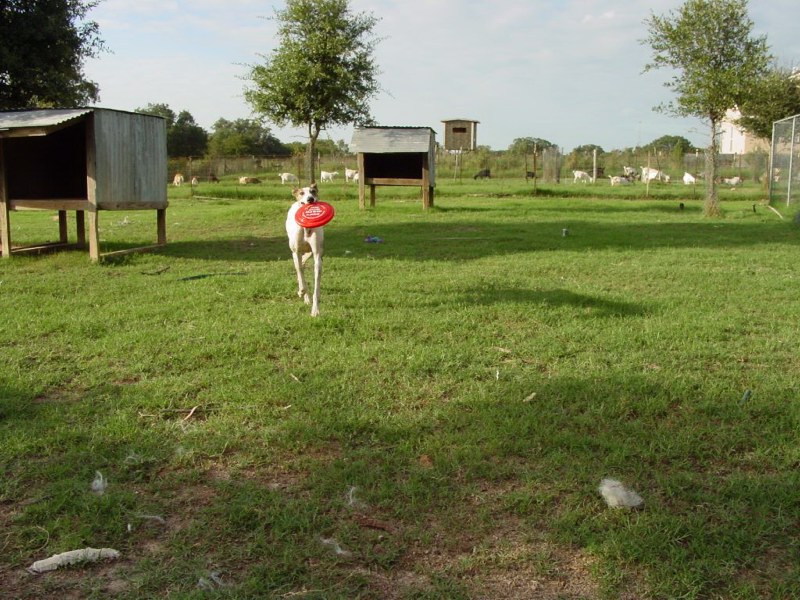 March 14, 2015, Handsome won first place and his second major toward his field championship.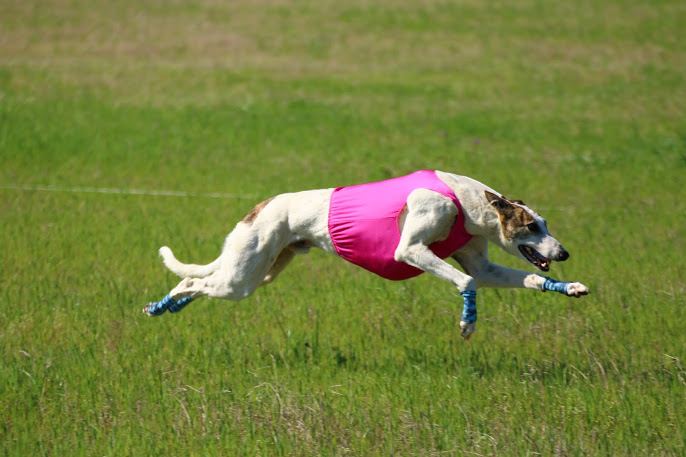 Louella Mae in Blue won second for two points and Daisy in pink ran third for one point.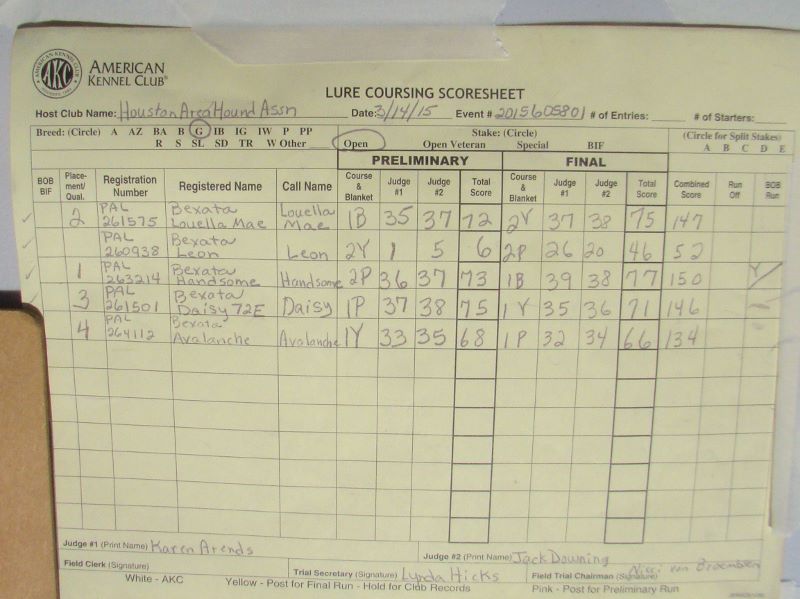 March 15, 2015 Houston Area Hound Association
New Bexata Field Champion Bexata Daisy 72E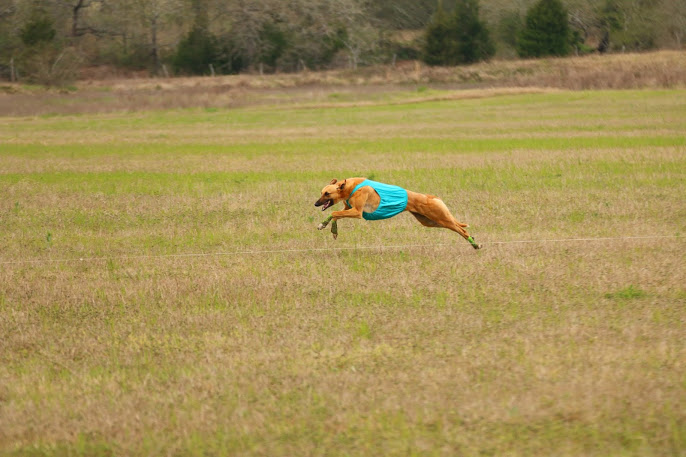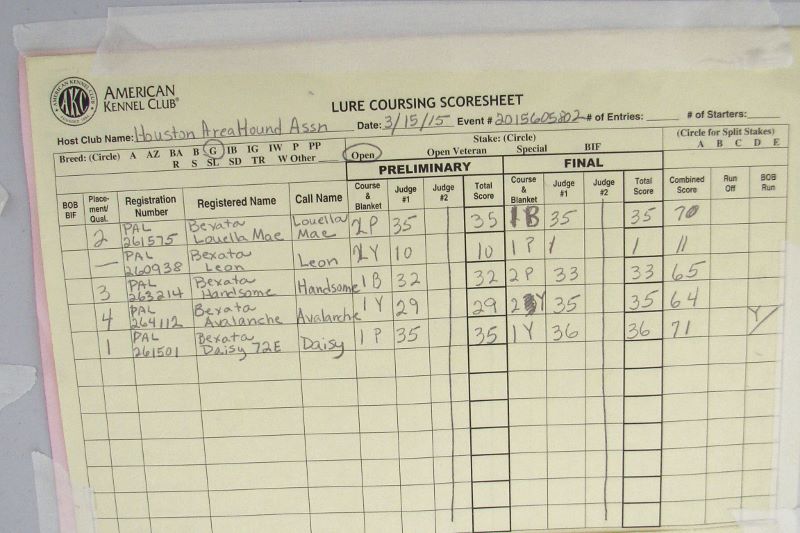 Here is how the 2014 year finished out for the Greyhounds lure coursing/field trial AKC TopDogs Bowen System final rankings. I am proud of my adopters and their Bexata kids that are the tops in the country.
Kelly and Laurie, congratulations on Dalphina, Velvet, Foxie and Willow. Leon, Daisy and Louella Mae are available to great homes whether you want to lure course or just have a great pet. Bexata Sable and Bexata Mister are no longer running. They have gone to their new homes. Check out the available greyhounds page for other available kids, too.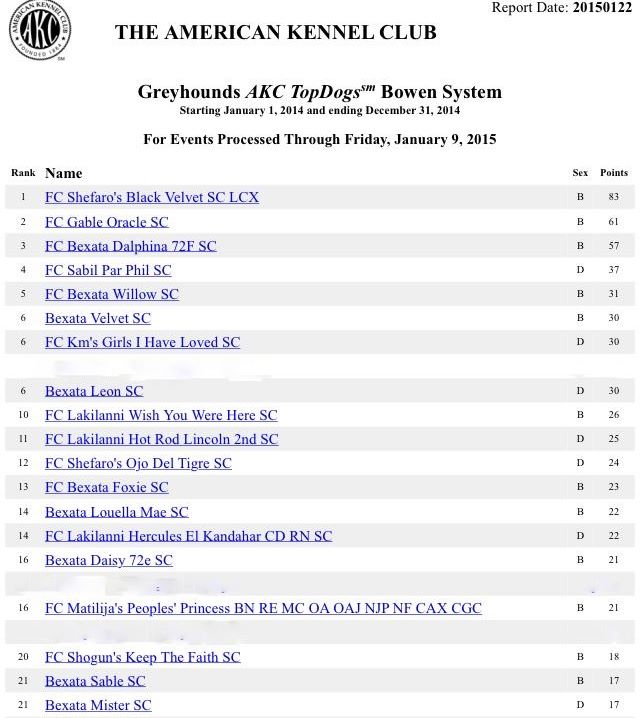 December 27-28 2014 - last lure course of the 2014 season brought us three field champions
FC Bexata Foxie, SC
FC Bexata Willow, SC
DC Shefaro's Ojo de Tigre, SC
and
No. 1 AKC lure coursing Greyhound in the country - FC Shefaro's Black Velvet, SC, LCX
You've got to have friends!!!!!
Photos by Vincent Vu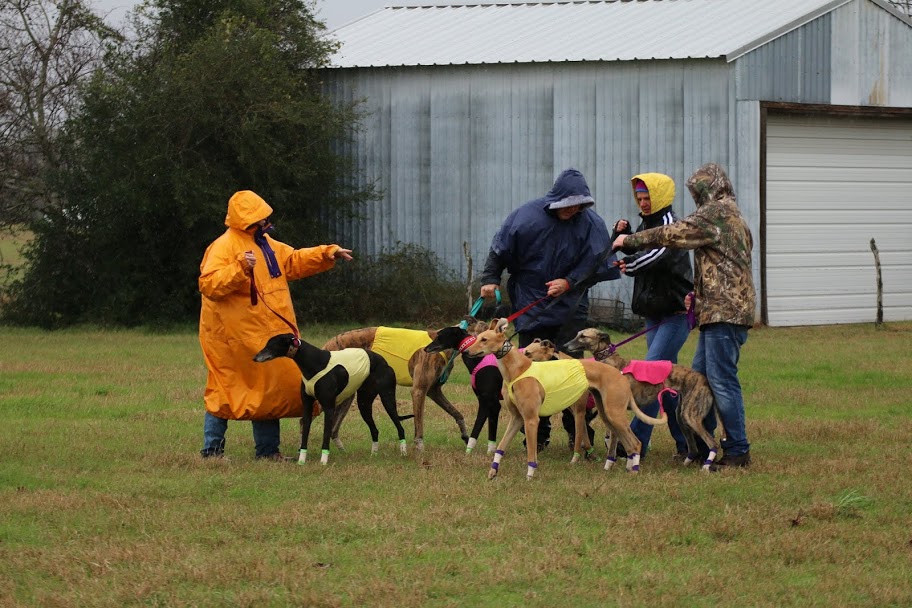 Waiting our turn to run.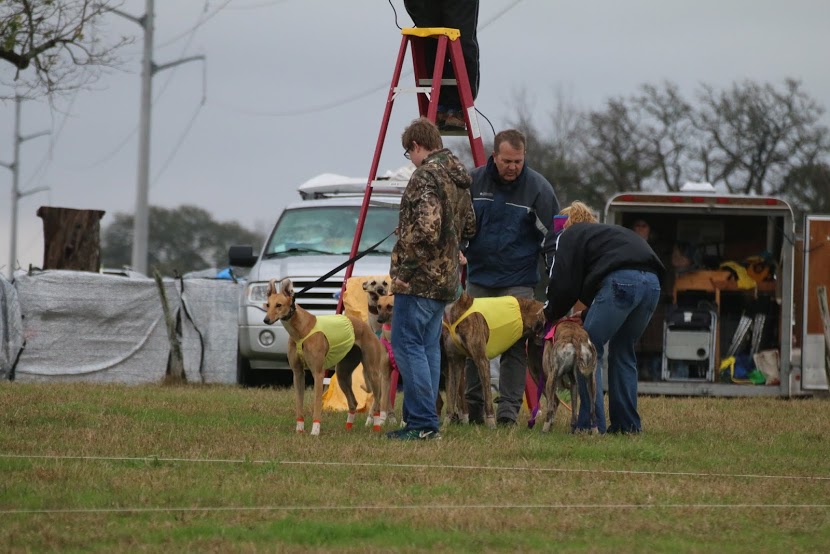 Nate's new Field Champion Bexata Foxie SC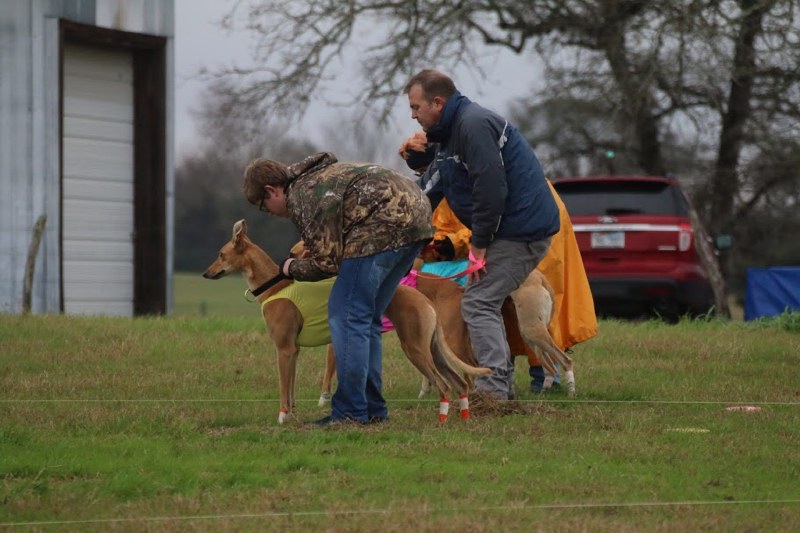 Laurie's new Field Champion Bexata Willow, SC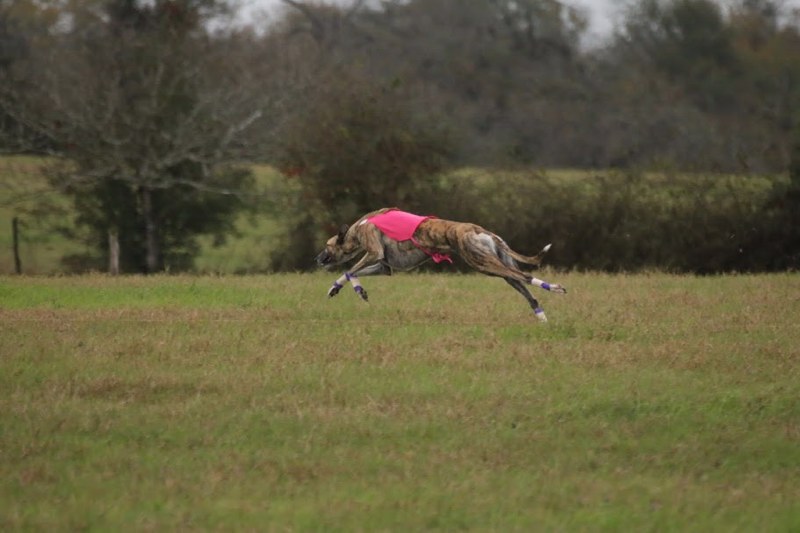 Bexata Leon, SC available for adoption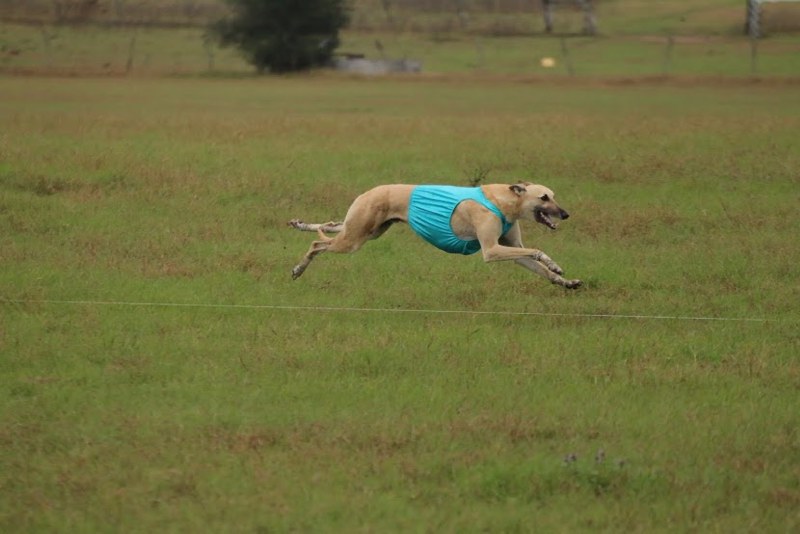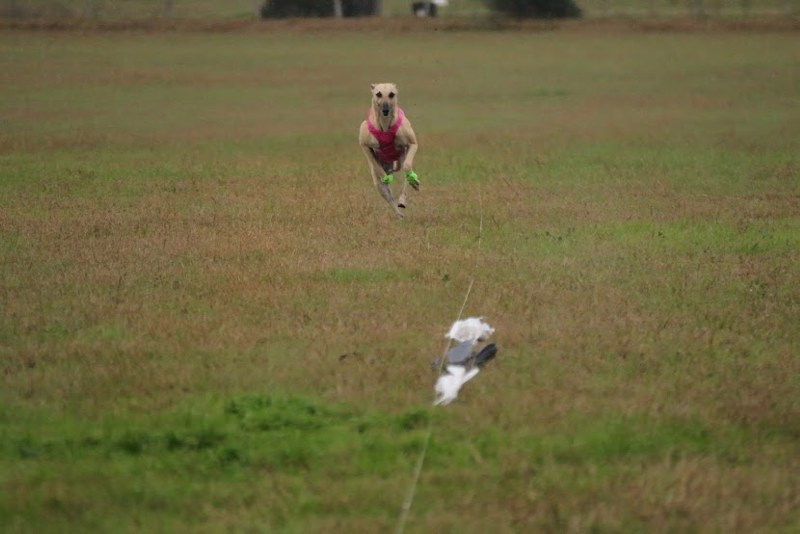 Daisy is adopted but Leon is available for adoption
Leon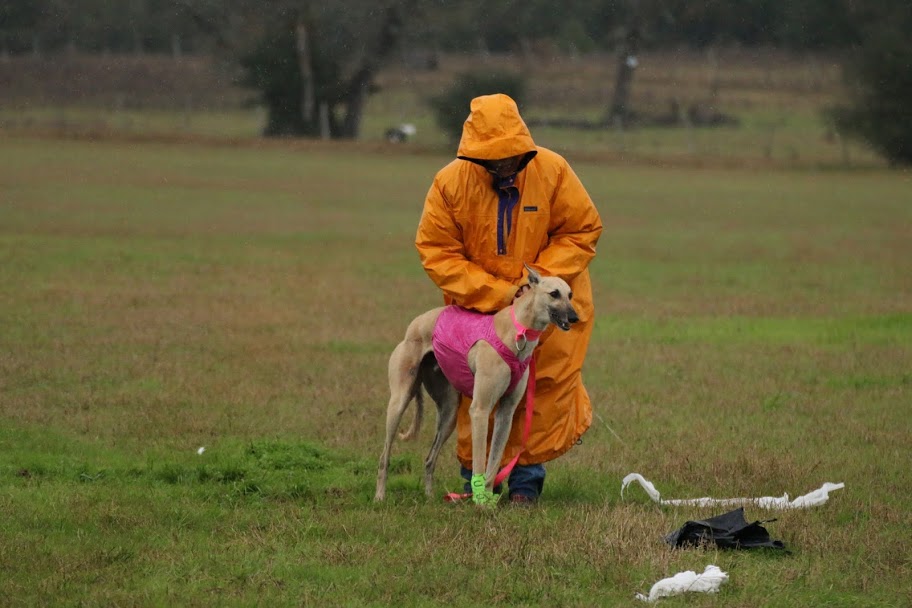 FC Black Beauty, MC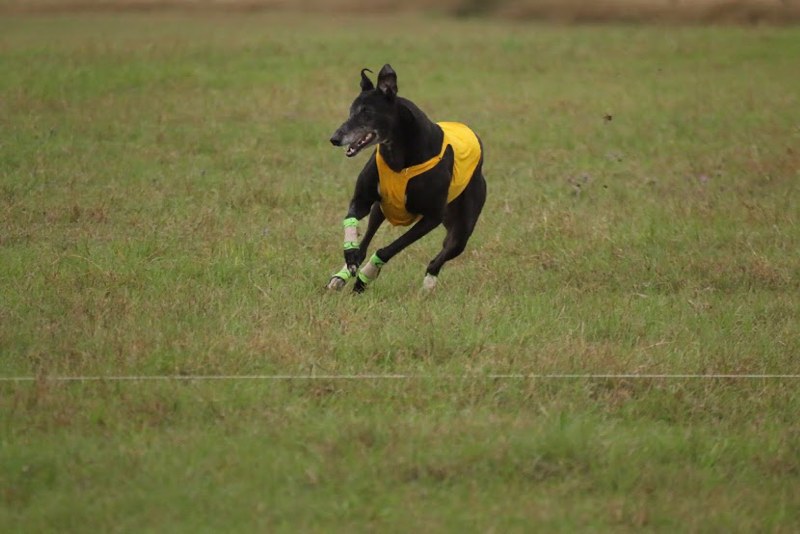 The specials class Saturday.
FC Black Velvet SC in blue, Black Beauty MC in yellow, Zeke's girl Vera in pink - Black Velvet won BOB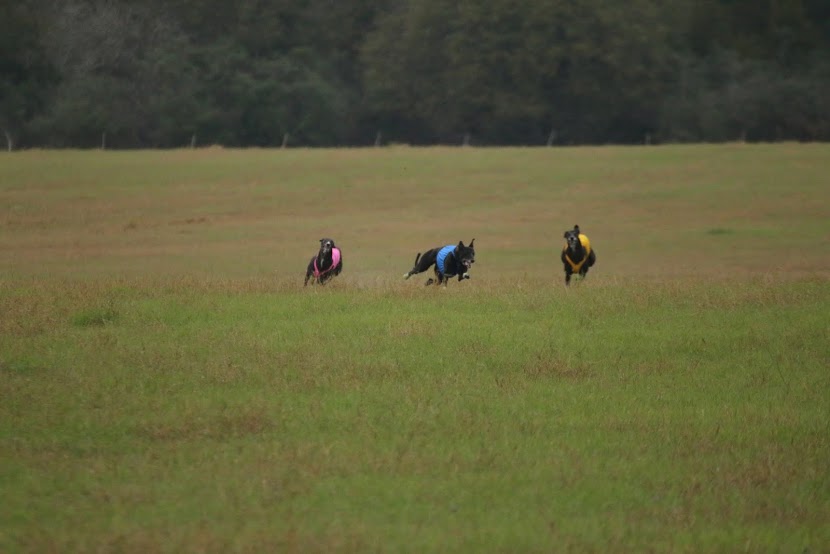 Louella Mae, SC in yellow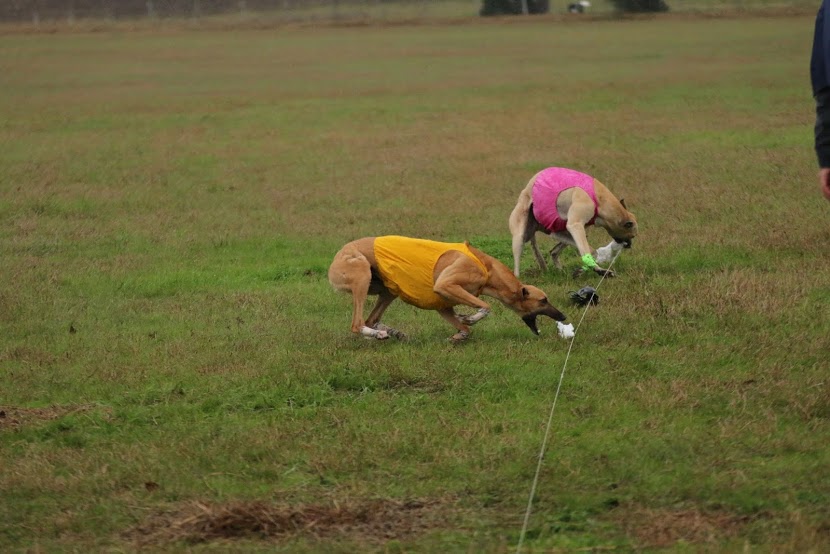 Sunday, December 28, 2014
The four field champions waiting for the open classes to finish.
Left to right - Black Beauty, Black Velvet, Willow, Foxie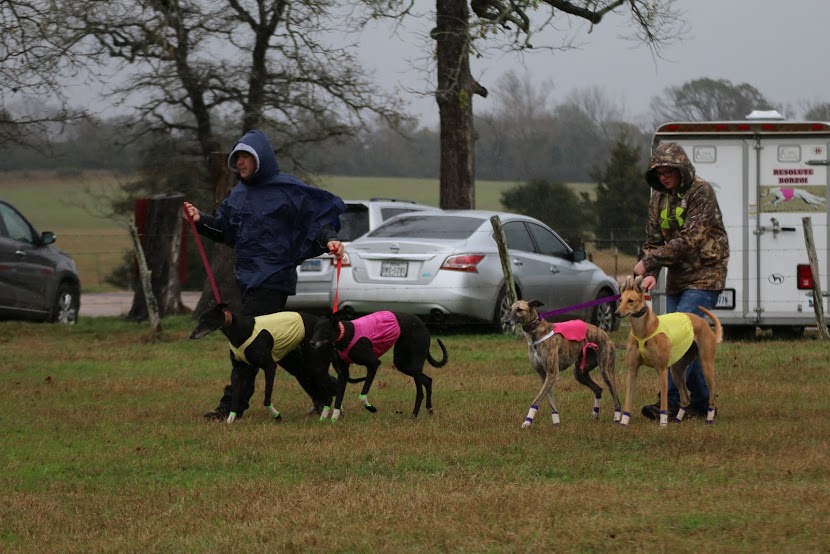 TopDogs Greyhounds AKC Bowen Rankings as of December 5, 2014. These were the last lure courses we ran until the end of December as there were five events cancelled in Texas. The scores change with each Bowen Rankings Report, but nevertheless, FC Shefaro's Black Velvet , SC has remained No. 1 and Kelly's FC Bexata Dalphina, SC has remained No. 3. With the lure courses above, the points will change again, but those results won't be out until at least late in January 2015. They will be posted. In the meantime, here are the most current AKC TopDogs Bowen Rankings for Greyhounds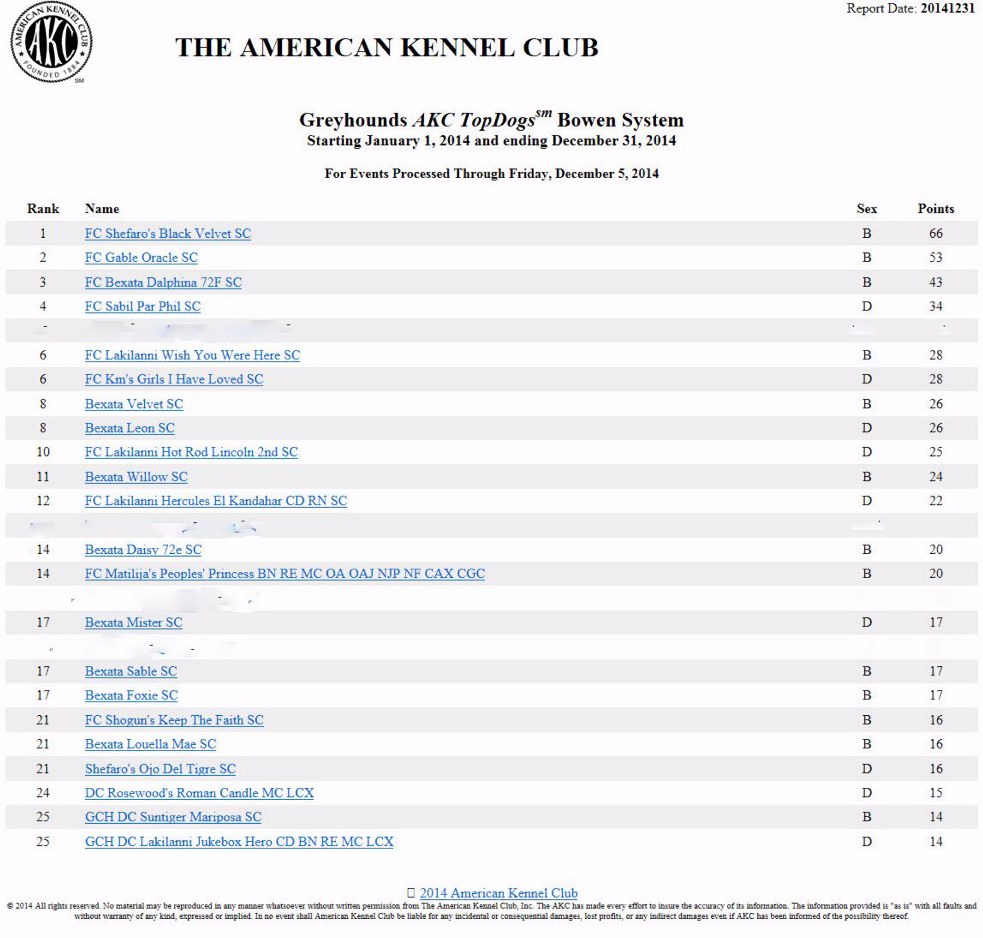 12/27/14 score sheets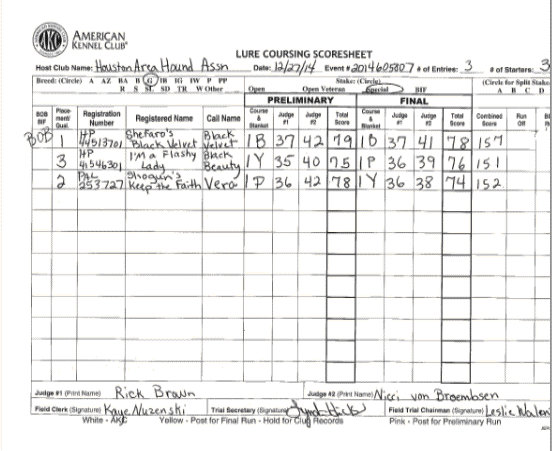 12/28/14 score sheets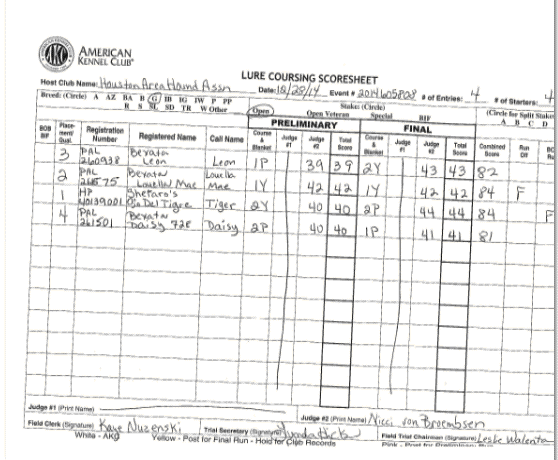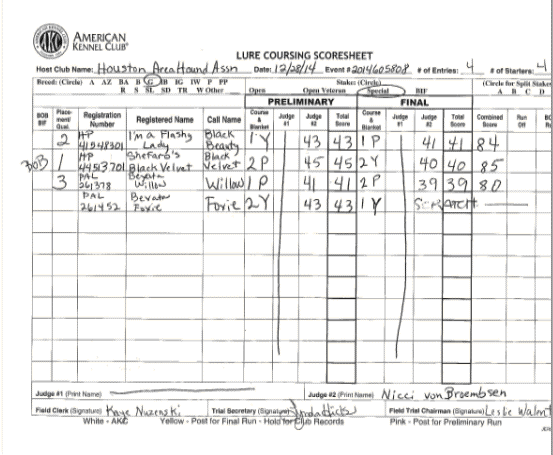 September 22, 2014 lure coursing with adopters and friends
Nate and Foxie at the field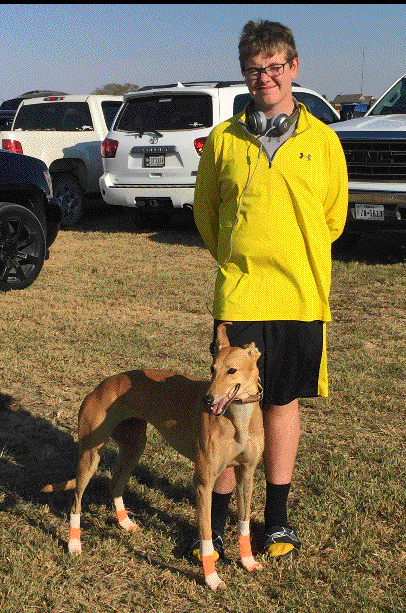 AKC rankings as of October 1, 2014 - new rankings will be posted as the points change with competitions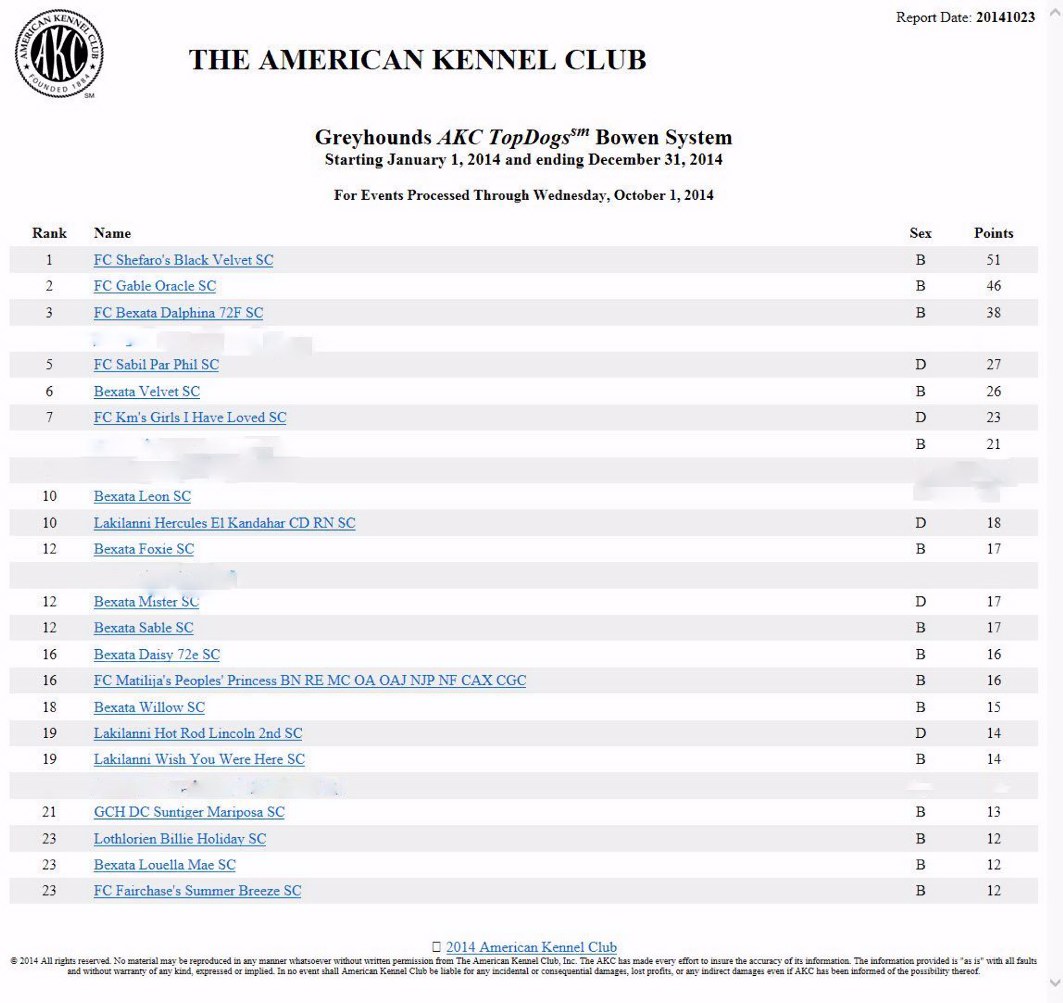 AKC rankings as of August 29, 2014
Report Date: 20140912

THE AMERICAN KENNEL CLUB

Greyhounds AKC TopDogssm Bowen System
Starting January 1, 2014 and ending December 31, 2014
For Events Processed Through Friday, August 29, 2014
| | | | |
| --- | --- | --- | --- |
| Rank | Name | Sex | Points |
| 1 | FC Shefaro's Black Velvet SC | B | 43 |
| 2 | FC Gable Oracle SC | B | 37 |
| 3 | FC Bexata Dalphina 72F SC | B | 30 |

Field trials - Alamo Area Whippet Club lure coursing event at Cat Springs, TX May 17-18, 2014
Another great weekend lure coursing with lots of friends and adopters from the Bexata family.
The lovely Dalphina finished her Field Championship. Check out this link to the Cat Spring Alamo Area Whippet Club Ray Woods Challenge Trophy weekend May 17-18, 2014. At Bexata we believe that the Greyhounds, although not track eligible, can go out and enjoy running. The ranch was beautiful, weather was perfect, and the dogs run with the joy of life they have within them. Friendship and comeraderie abounded and we all had a great time. It was a perfect way to end the lure coursing season in South Texas.
When the Greyhounds come home, they can be couch and bed warmers, but the weekend was for the pure joy of running. Click the link to see the album. Dalphina has been adopted, but many of the other Greyhounds pictured are available for adoption and we have more and individual pictures on our Available Greyhounds page.
PHOTOS BY VINCENT VU
2014 TOP LURE COURSING RANKINGS AS OF JUNE 21, 2014
I am extremely proud of the Bexata Greyhounds making the rankings, especially
those that belong to adopters.



Bexata Foxie, SC with her best boy, Nate.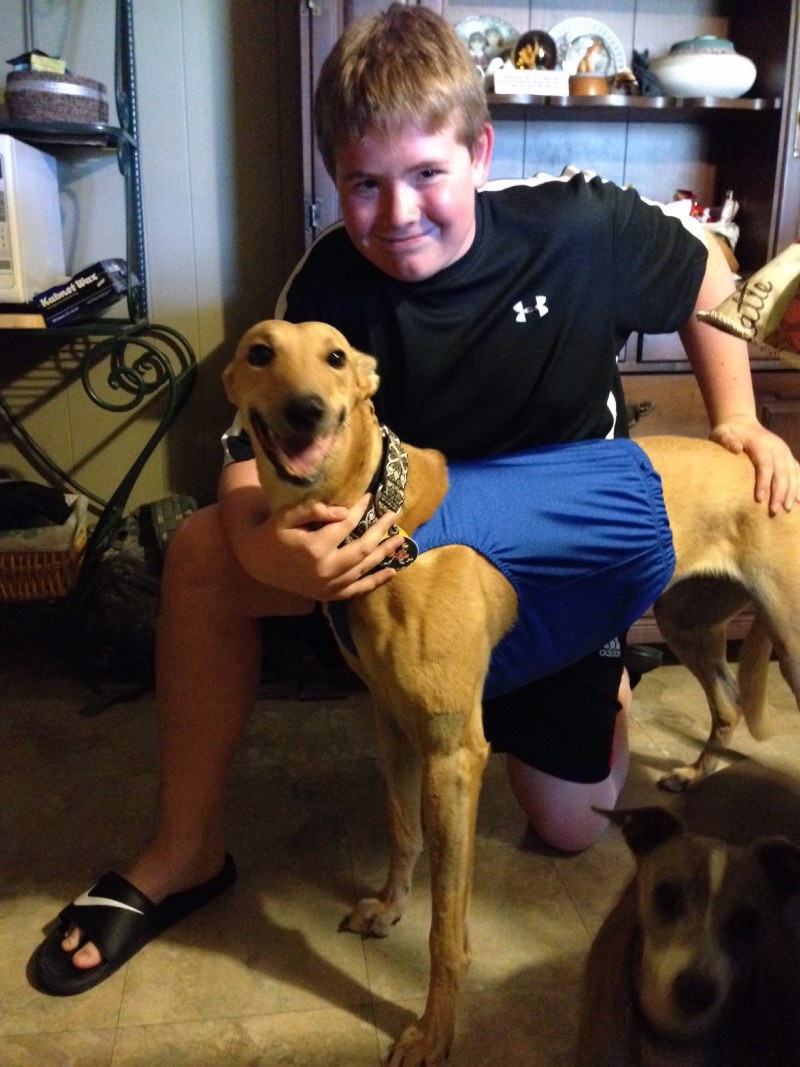 Foxie's Senior Courser certificate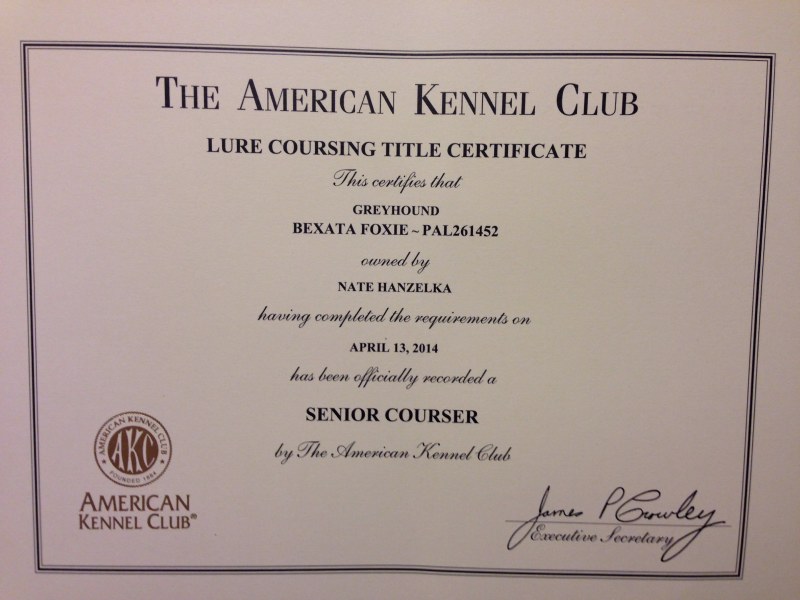 Waiting in the shade to go to the line.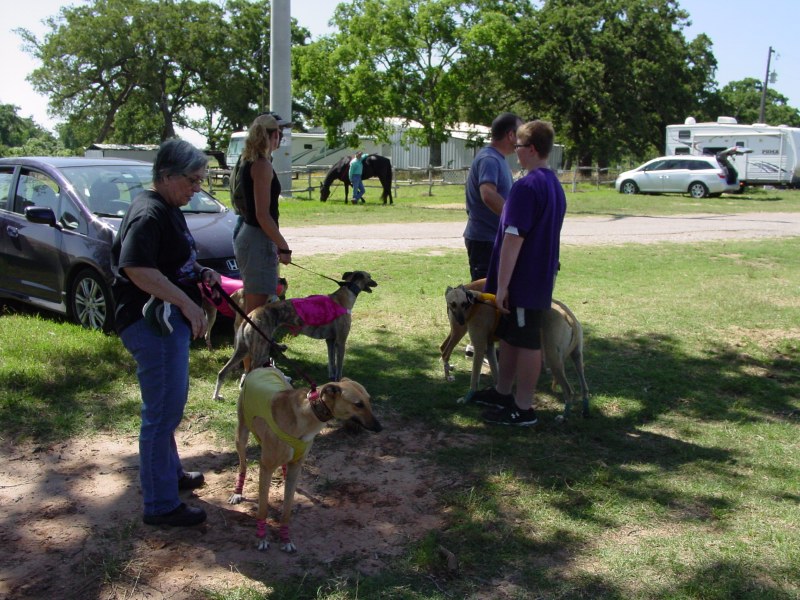 Bexata Animal Sanctuary, Inc. adopters get together for a fun lure coursing weekend at Florence, TX. March 2014
If you have a Bexata Greyhound or sighthound and would like to participate with us, please get in touch with Sherry at sanctuaryemail@yahoo.com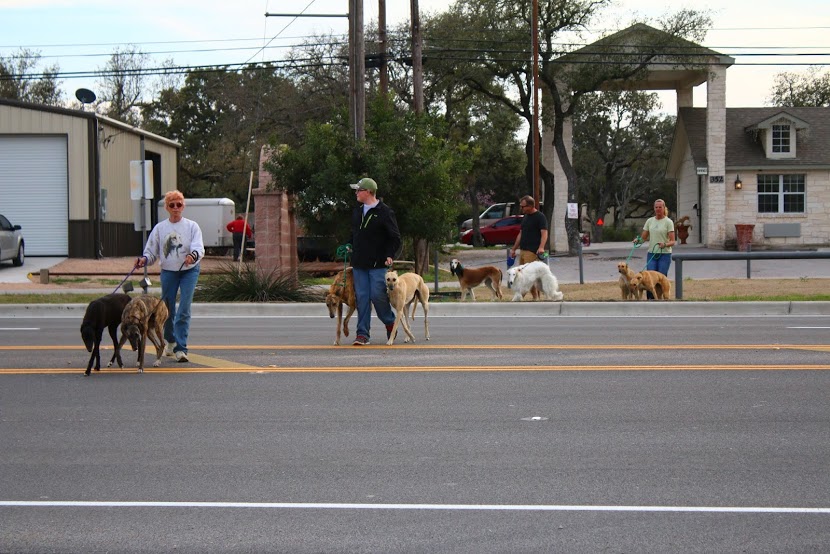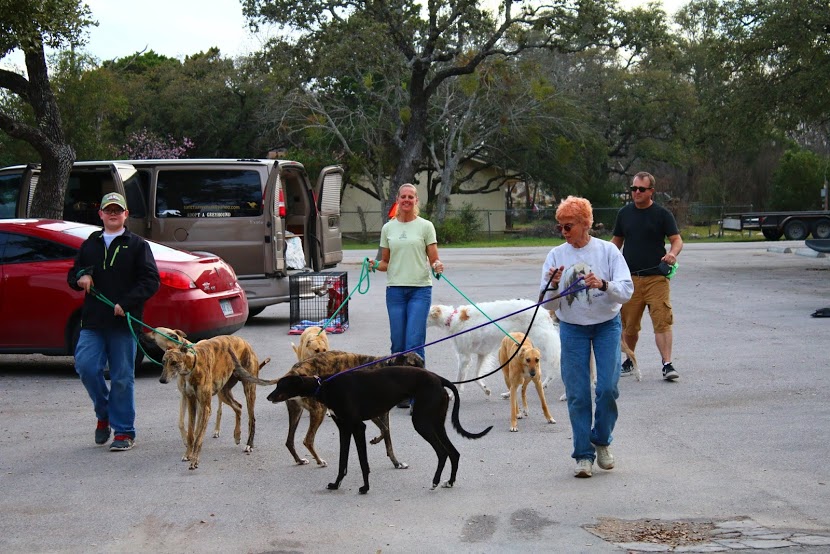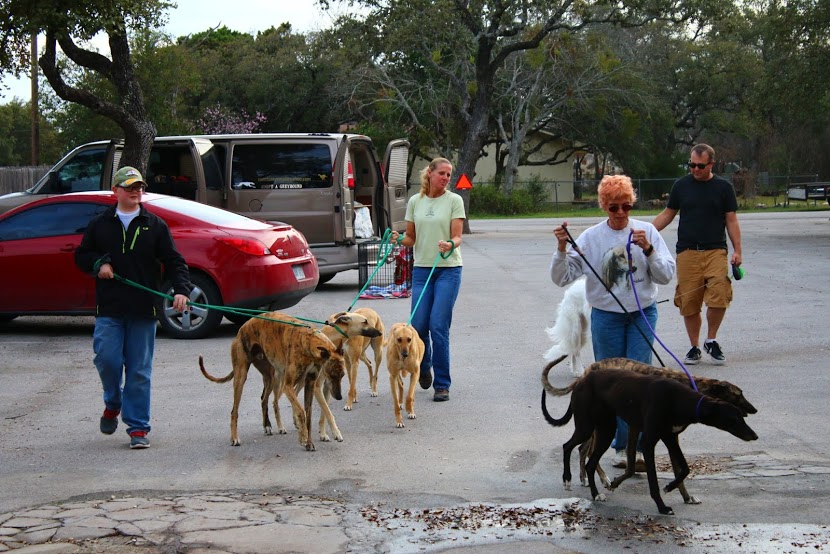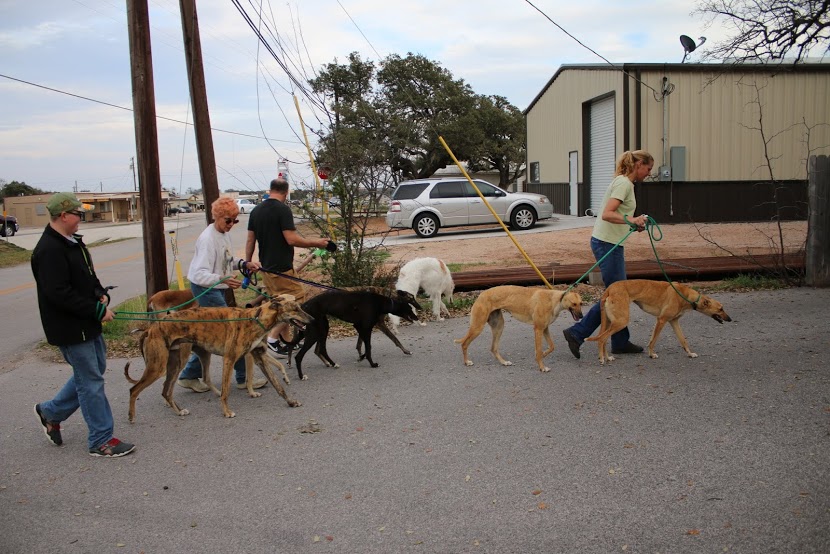 Bexata girl Daisy is adopted. Field Champion Dalphina is adopted, litter sisters, Daisy and Dalphina qualifying.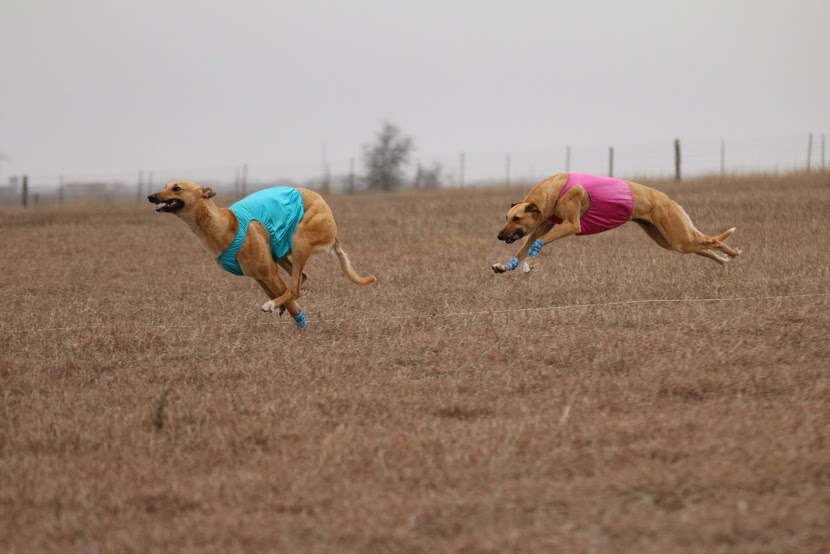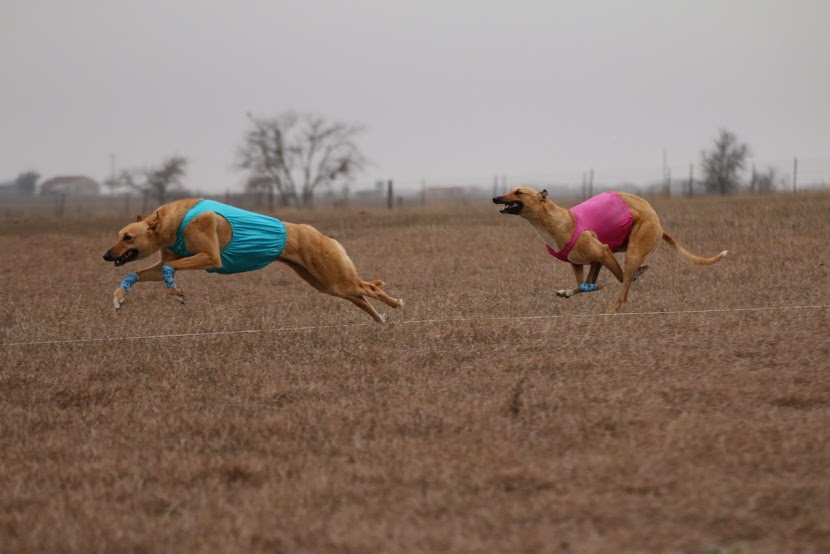 Bexata Foxie adopted, qualifying to run in the trial. Available Bexata Leon on the right helped her QC.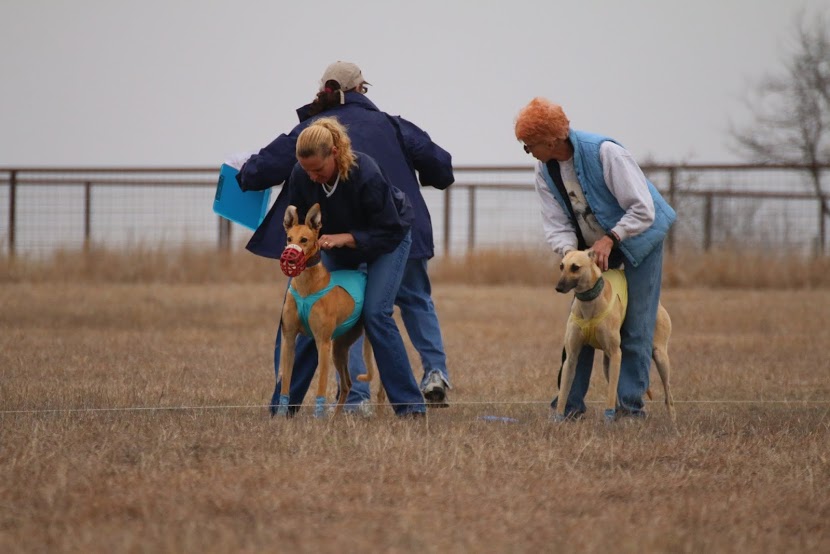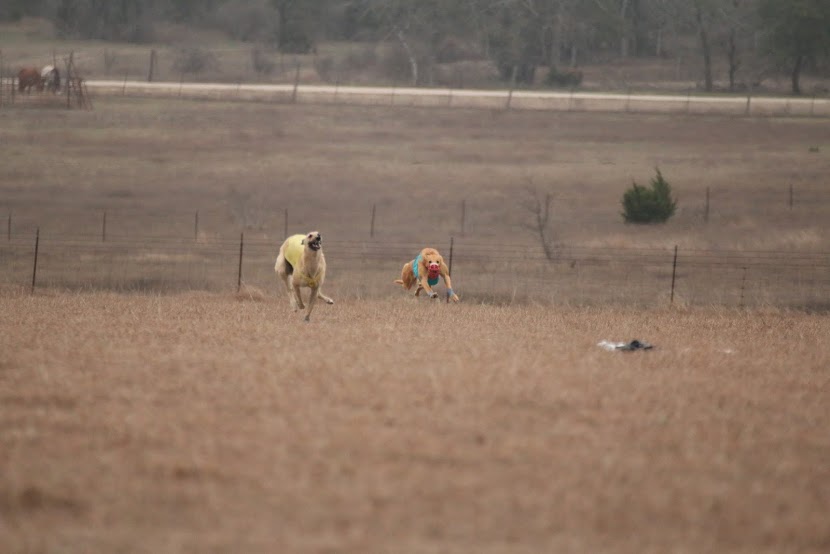 Leon's litter brother, Bexata Mister is adopted and helped adopted sister, Bexata Willow, QC.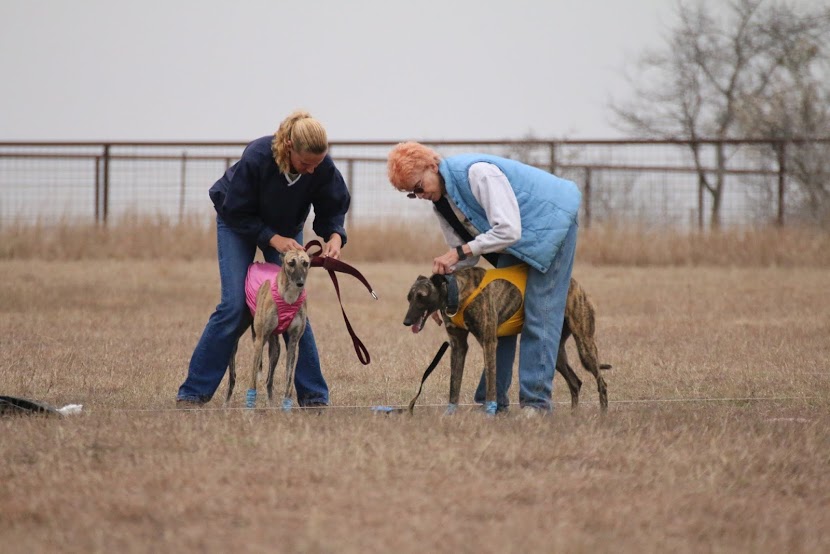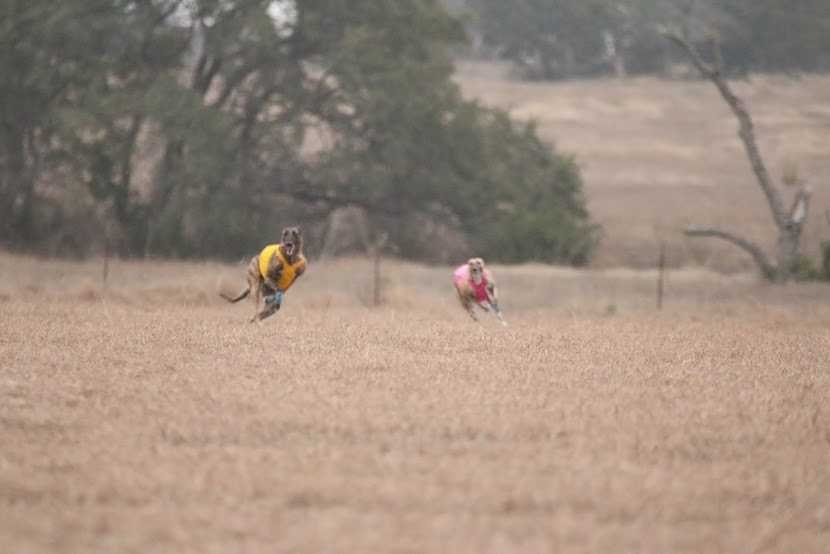 Mister and Leon lure coursing and just having fun.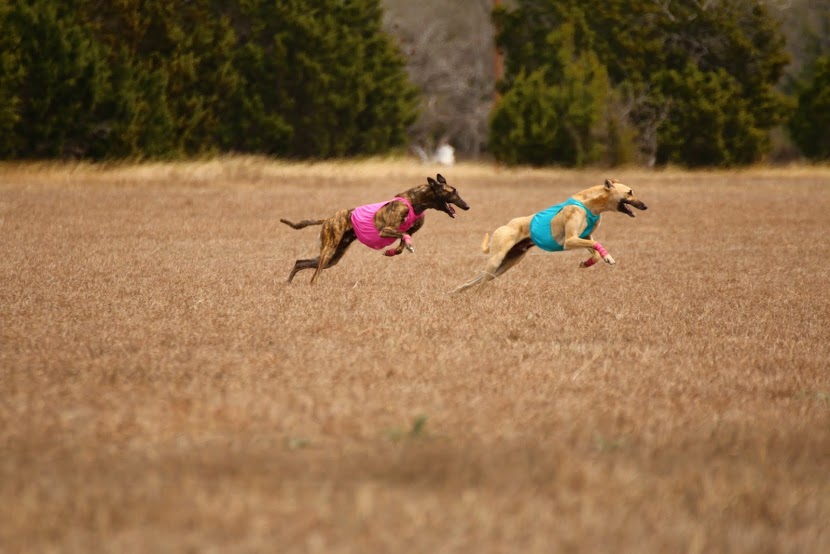 First AKC lure coursing event of 2014
Afghan Hound Club of Austin
Florence, TX
Saturday, the five point major went to Daisy (Bexata Daisy 72E), Dalphina (Bexata Dalphina 72F) won three points and Bexata Mister won two points. Daisy, Dalphina and Mister, as well as Leon are available for adoption and can be seen on the
Available Greyhounds
page. On Sunday, Daisy and Dalphina reversed their winning and Dalphina won the five point major with Daisy taking second for three points.
Dalphina won two four point majors at the Alamo Area Whippet Club Ray Woods Challenge at Cat Spring for eight more points to finish her field championship. Results will be posted.
Sunday, the major went to Dalphina (Bexata Dalphina 72F) with second to litter sister, Daisy, and third to Bexata Foxie, owned by Nate Hanzelka, Daisy won three points for her placement, while Foxie won two points. We did a runoff between Daisy and Foxie and it was very very very close.
Pictures are random showing the various runs, not necessarily how they finished according to the score sheets.
First course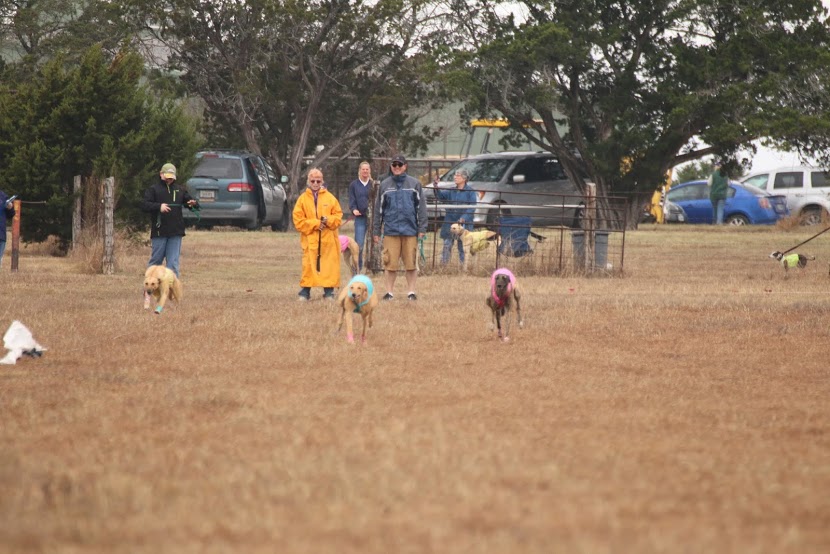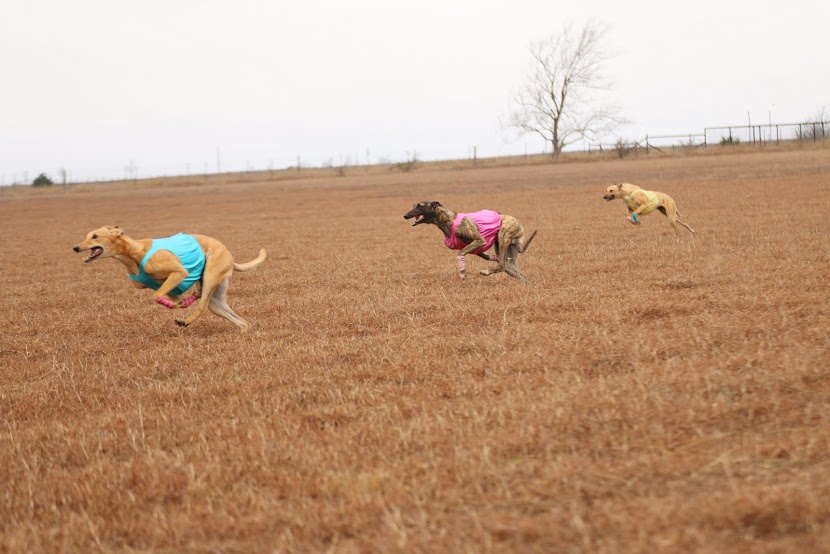 Next course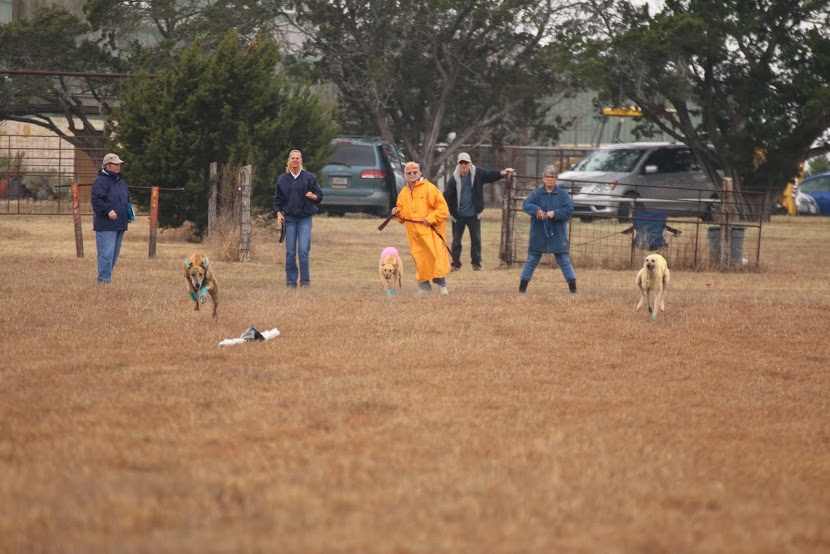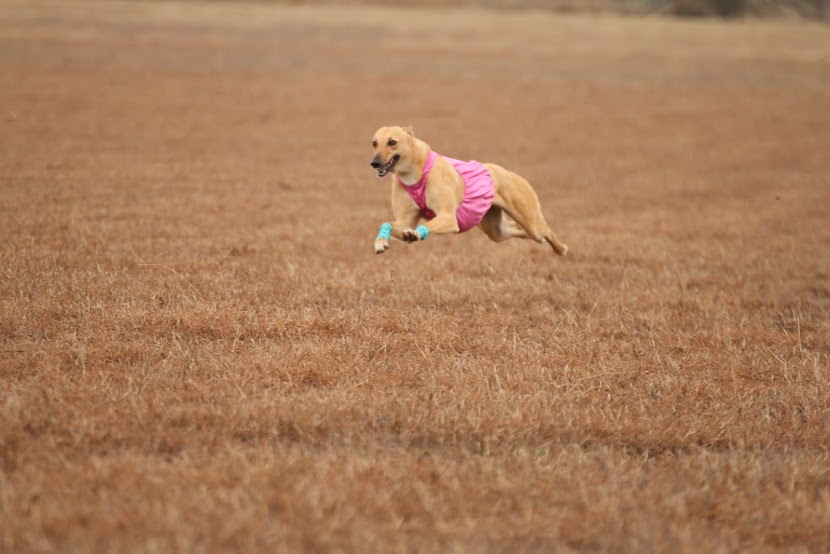 Best of Breed went to Black Velvet who was ranked No. 3 in 2013.
Field Champion Shefaro's Black Velvet in yellow running for the top ten rankings.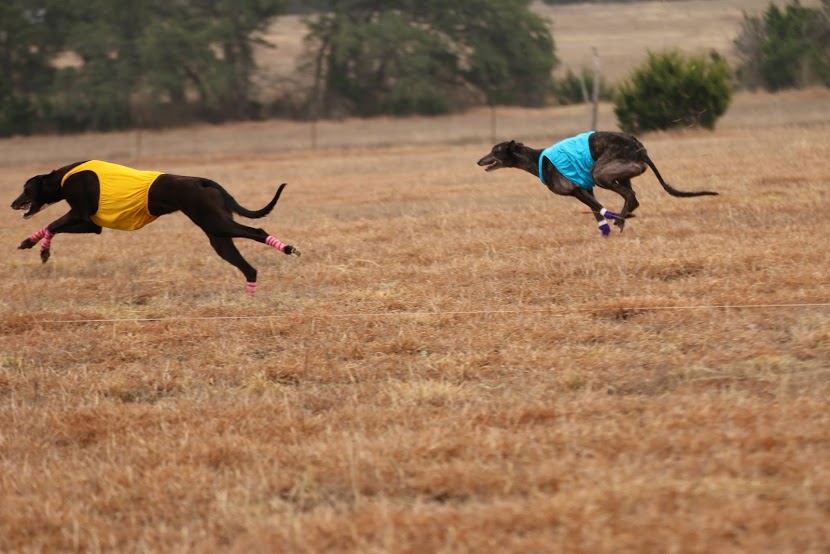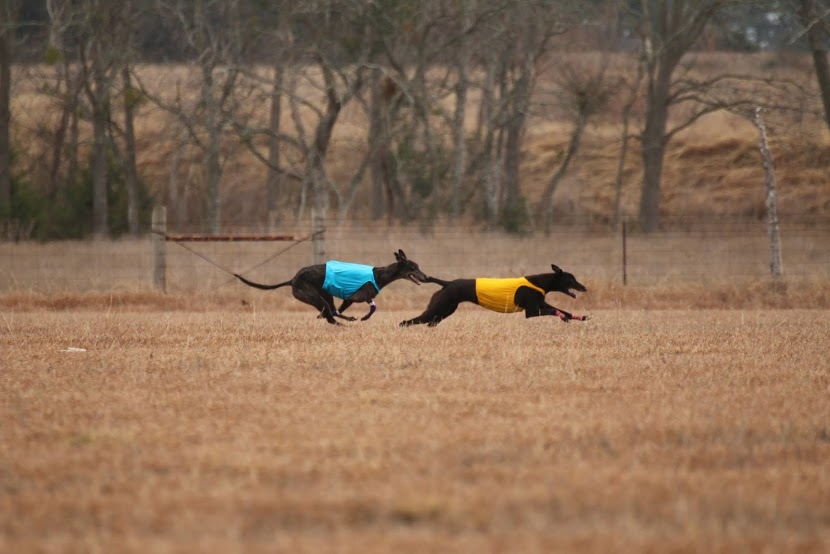 Bexata Willow running singles to get her focused on the lure.
She was amazing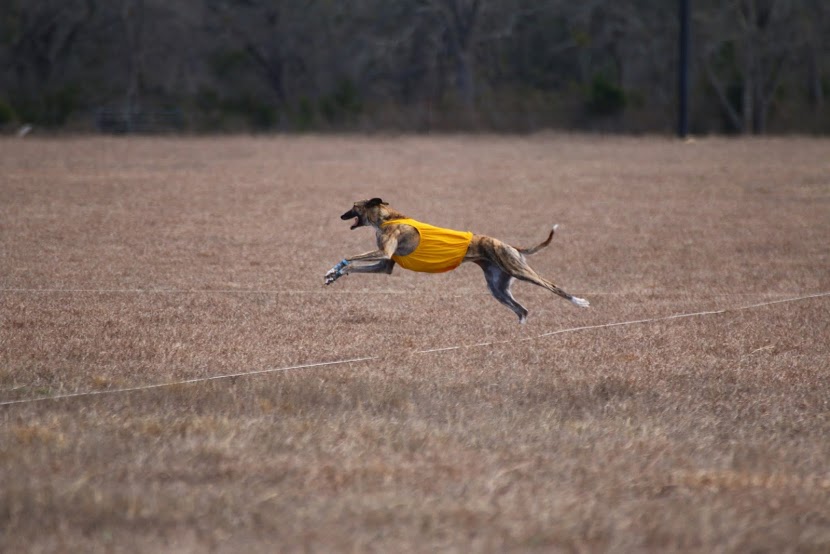 February 15 and 16, 2014, Bexata Velvet, SC and her sister Bexata Zoe, coming off the field in Chino, California where they lure course with their adopter, Kelly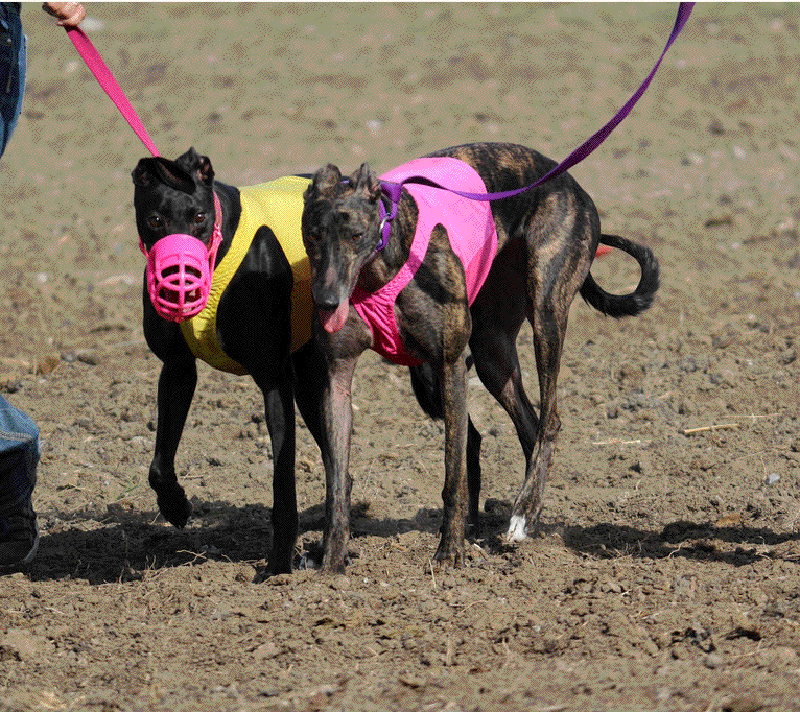 Bexata Velvet's Senior Coursing certificate.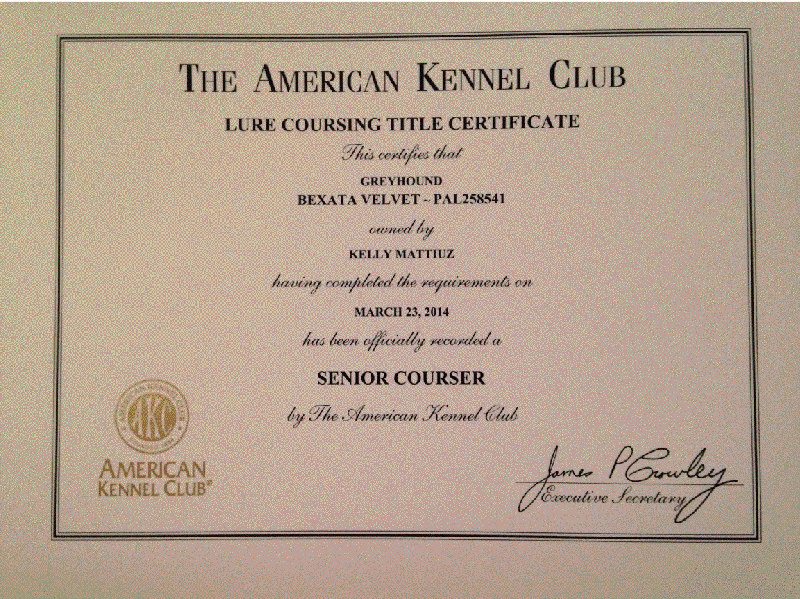 January 16, 2013 Top 25 AKC LURE COURSING results show Bexata's Lady Love, Bexata's Life is Beautiful (both of which have been adopted and are in their new homes) and Bexata Pork Chops who is currently living with a foster family, but is available to a permanent home of his own.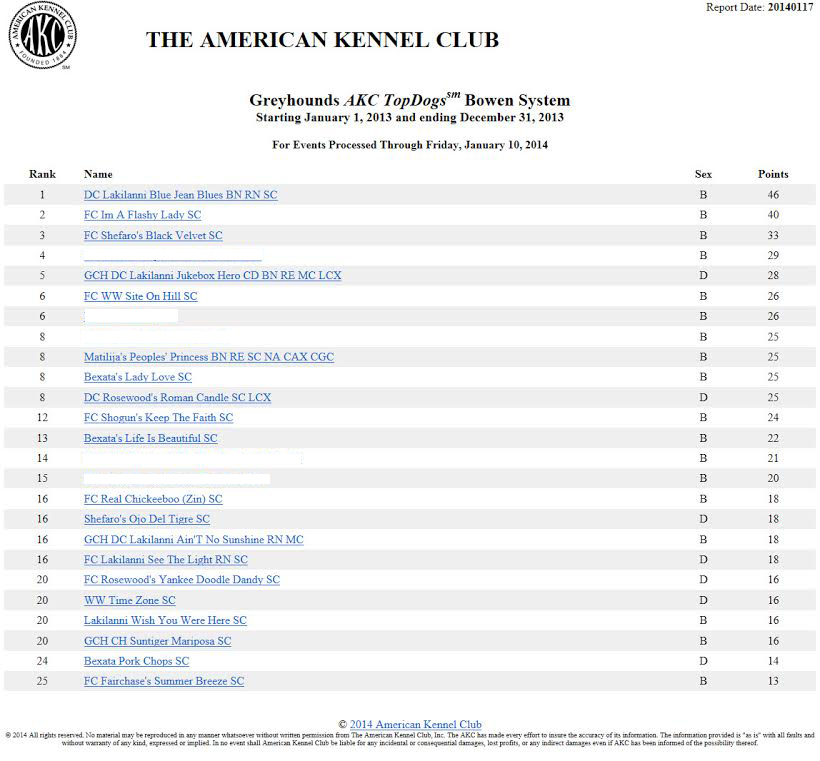 December 28, 2013 HAHA lure coursing field trial, Leon wins a point toward his field championship second to a major.
Leon and Mister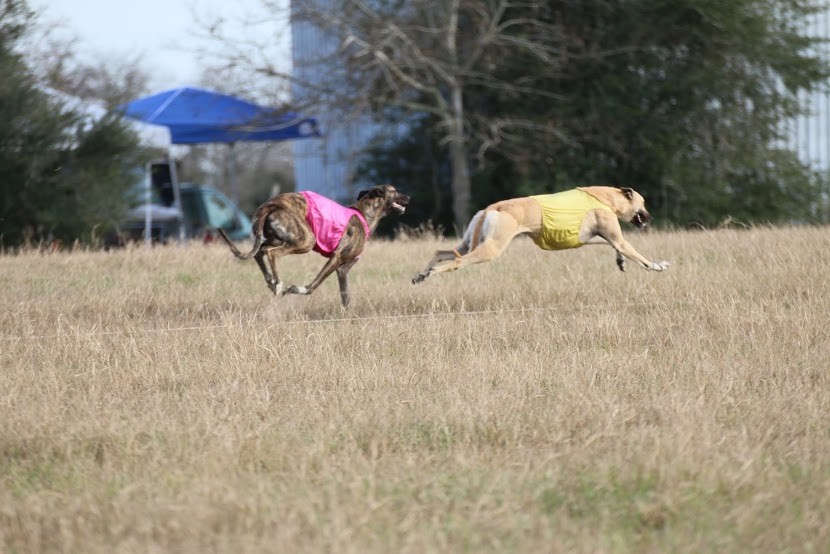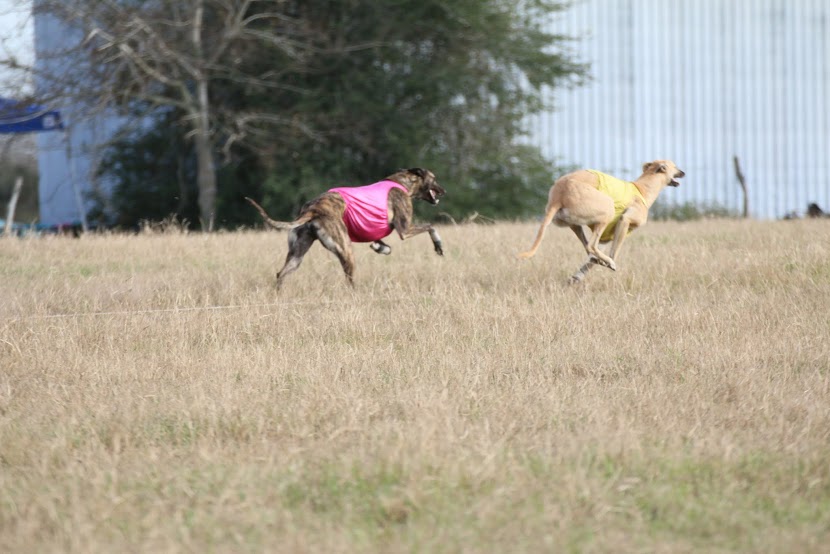 December 29, 2013, HAHA lure coursing field trial, Bexata's Lady Love, SC wins a major on the road to her field championship.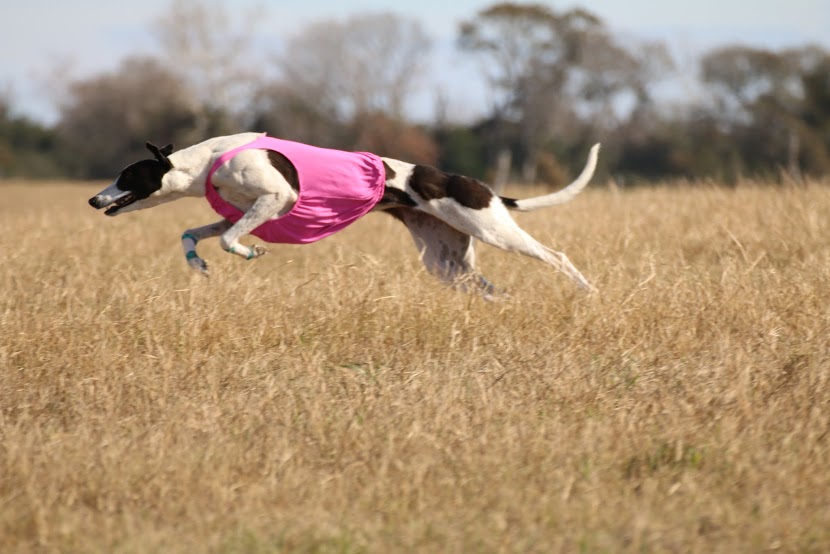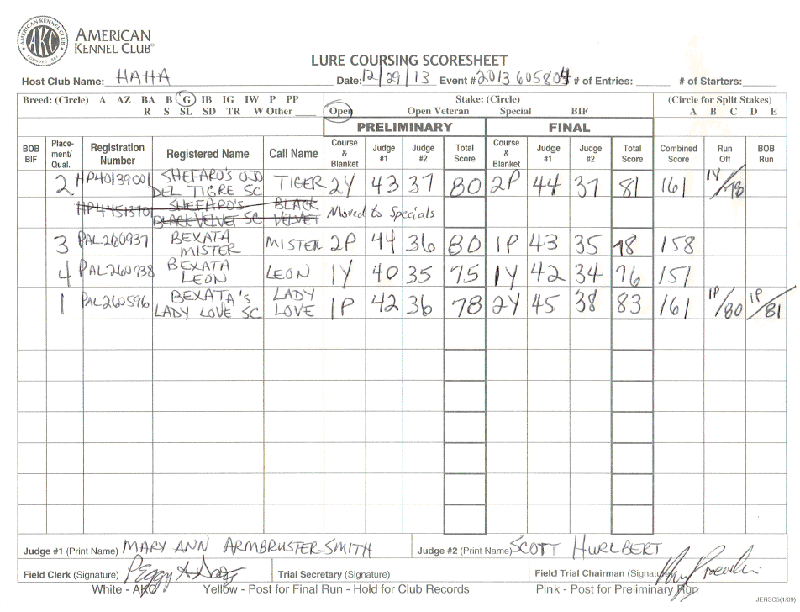 Leon and Mister are two new young boys at Bexata. They are neutered and ready for their new homes. Took them lure coursing practice today November 17, 2013 and they showed a lot of promise. Here they are enjoying the morning at practice. They are on the Available Greyhounds page and are up for adoption.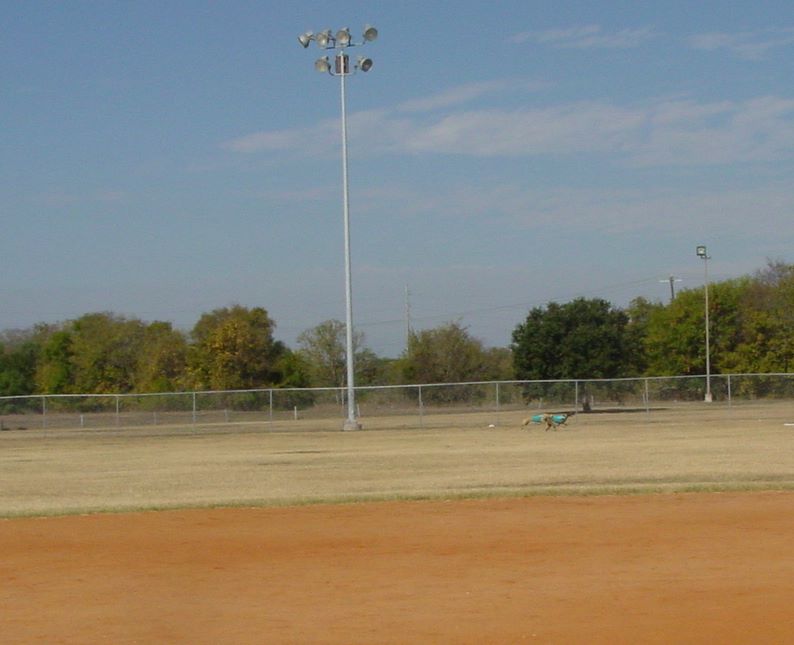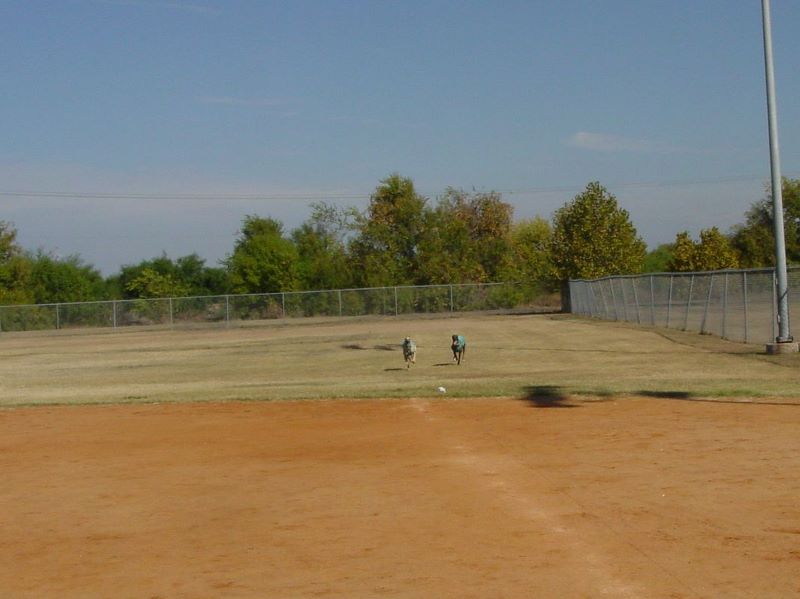 November 23 and 24, 2013 Leon and Mister QC'd (qualified) to lure course in trials. Here are the scores followed by pictures. The boys were amazing and handled everything as if they had always been lure coursing. Available for adoption - Bexata Pork Chops, Bexata Leon, Bexata Mister, Bexata Lady Love, great lure coursing enthusiasts and great friends and companions. They will run the field or grace your bed or couch. Just because they chase a lure does not mean they are so prey driven as to chase anything that moves.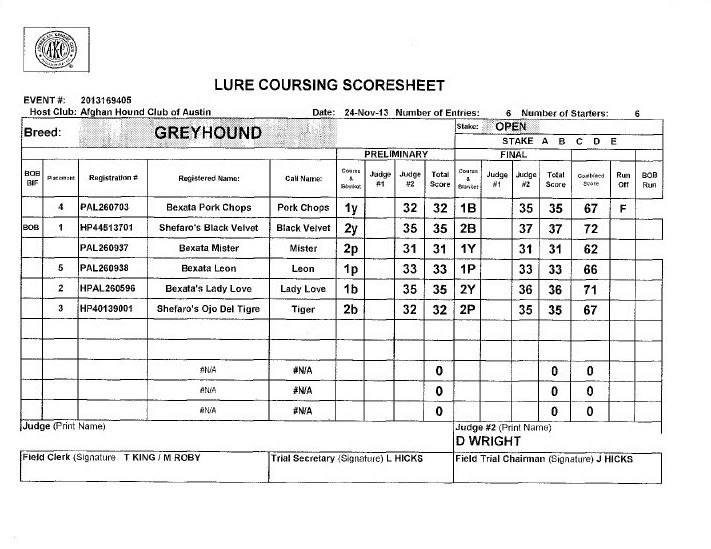 PHOTOS FROM FLORENCE BY VINCENT VU
Leon and Mister ran together to QC
They were beautiful to watch running together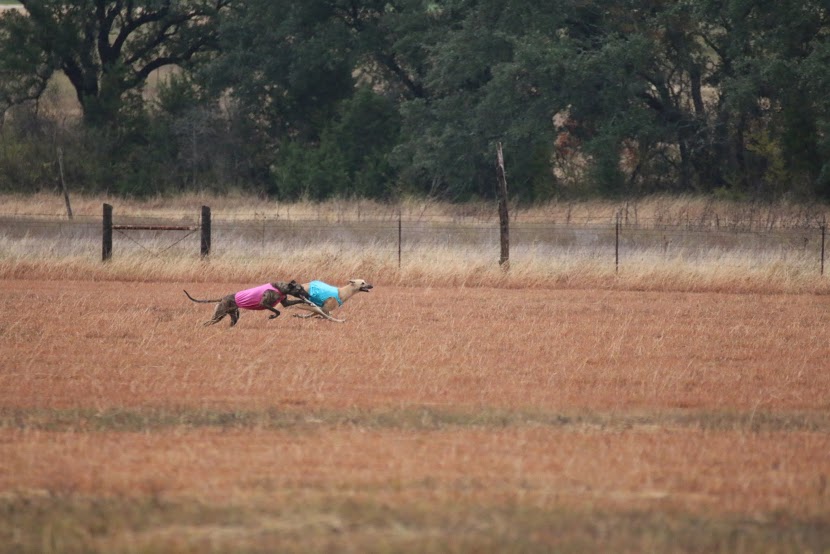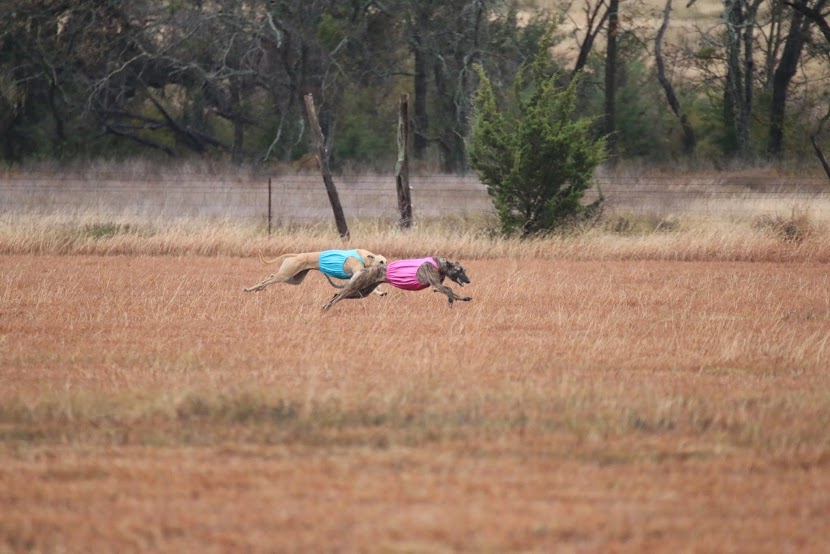 Leon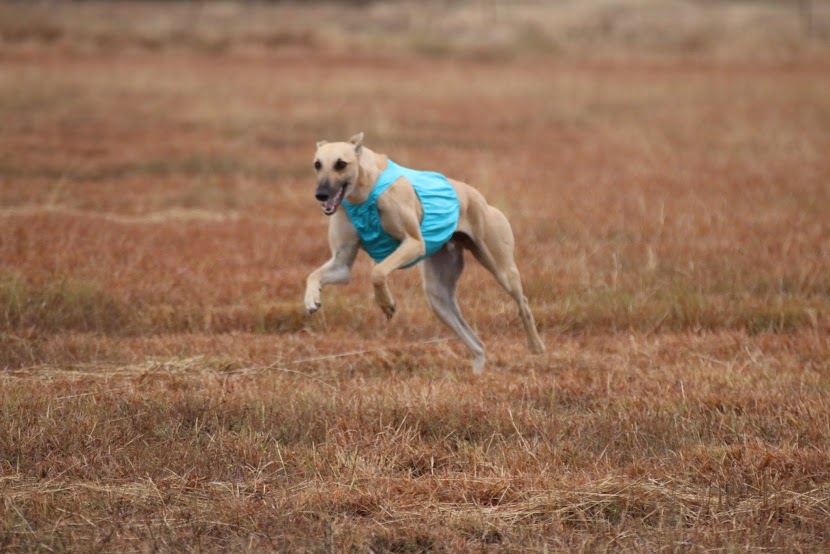 Mister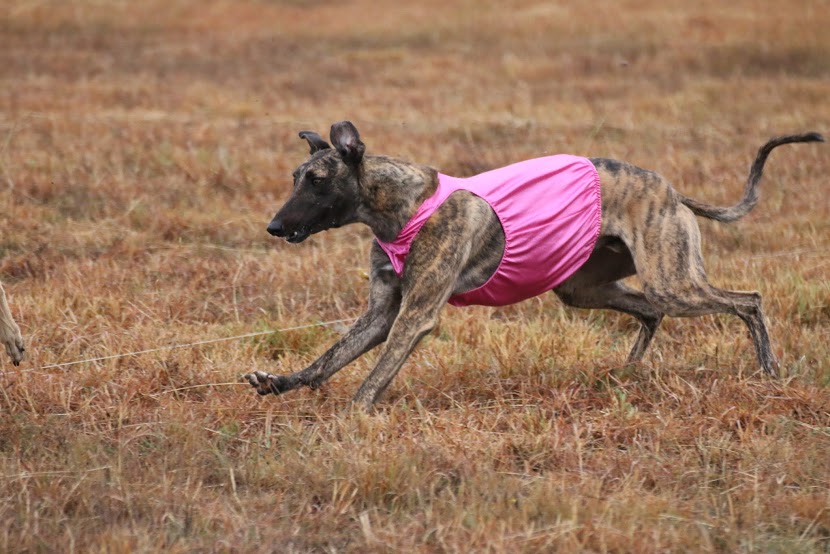 Bexata's Pork Chops loves to lure course, but in the house is a calm family pet.
In the middle in pink. He received his Senior Courser title, is retired from lure coursing and has been adopted.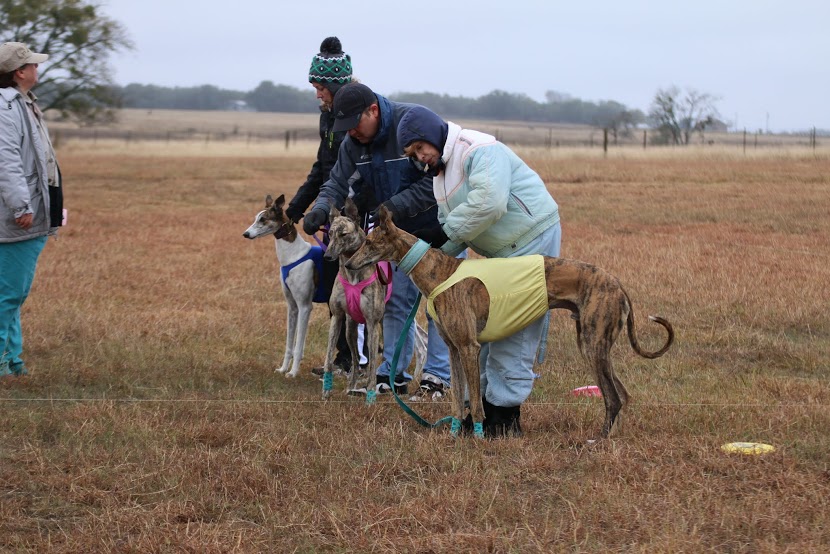 Bexata Pork Chops Senior Courser title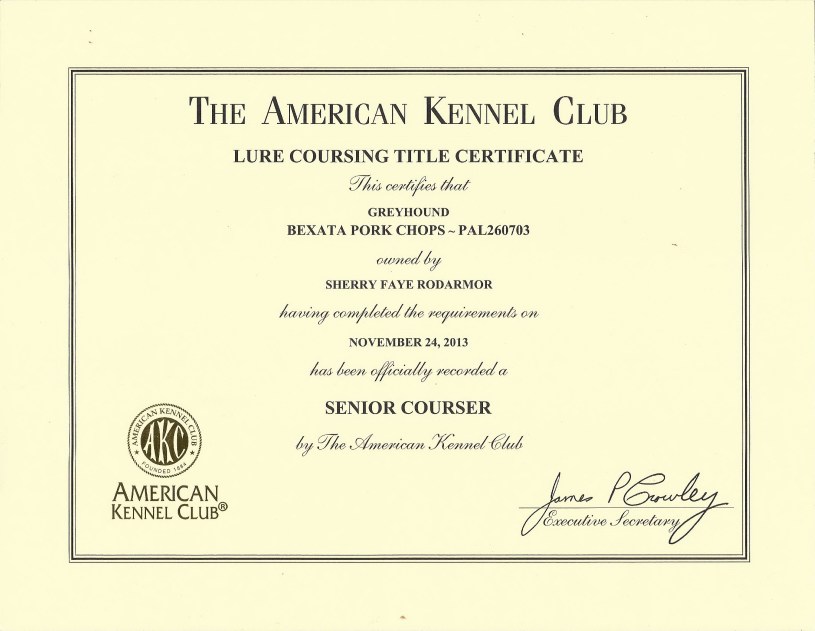 Lady Love (white/black) and Mister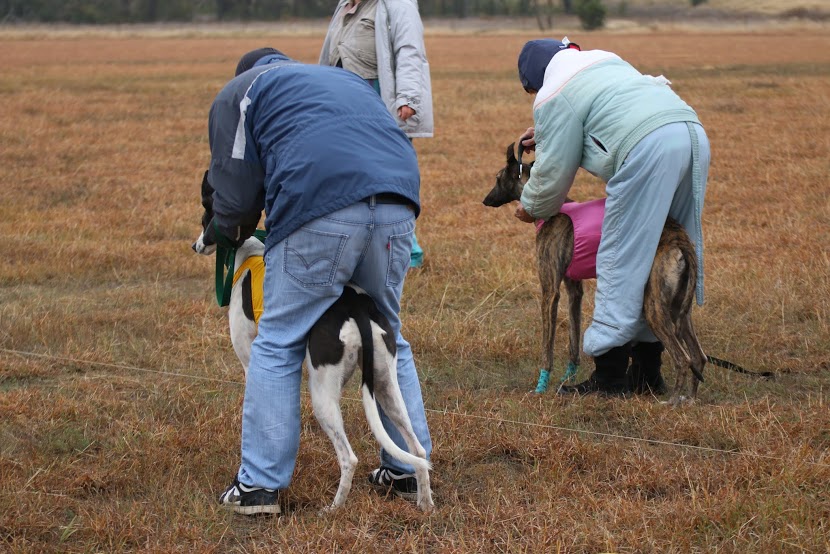 Bexata Lady Love Senior Courser certificate
Photo by Dawn Curran - Lure coursing is pretty spectacular! Bexata Henry, left. Bexata Blacky, center. Henry and Blacky have been adopted.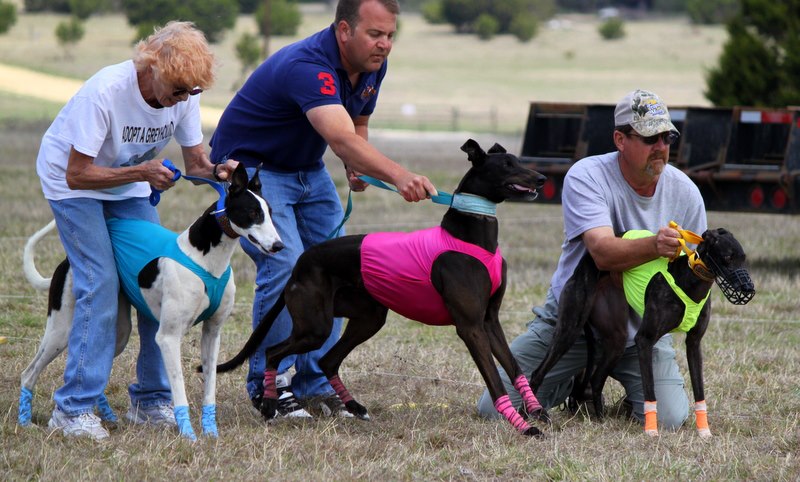 You may adopt a Greyhound to share your life. Whether you like walking, jogging, lure coursing, or just want a couch companion, Bexata has a Greyhound for you.
Of the top 25 Lure coursing Greyhounds in the country, Bexata has four in the Top eight. Please click the rankings to see available Greyhounds. Lure coursing season is over for us until Fall so there will not be any more updates until then.

Lure Coursing AKC Top 25 2013 results include four Bexata adopted Greyhounds - 1 FC I'm a Flashy Lady SC (aka Black Beauty), 2 Bexata Blacky SC, 5 Bexata's Life is Beautiful, SC (aka Zoe), 6 Bexata Henry.

Lure coursing AKC Top 25 2012 results include three Bexata adopted Greyhounds - 4 FC I'm a Flashy Lady SC (aka Black Beauty), 18 My Miss Daisy (aka Dixie), 25 Soft Hearted SC (aka Sweetie Pie) two of which are Best in Field winners.
Bexata has new Senior Coursers.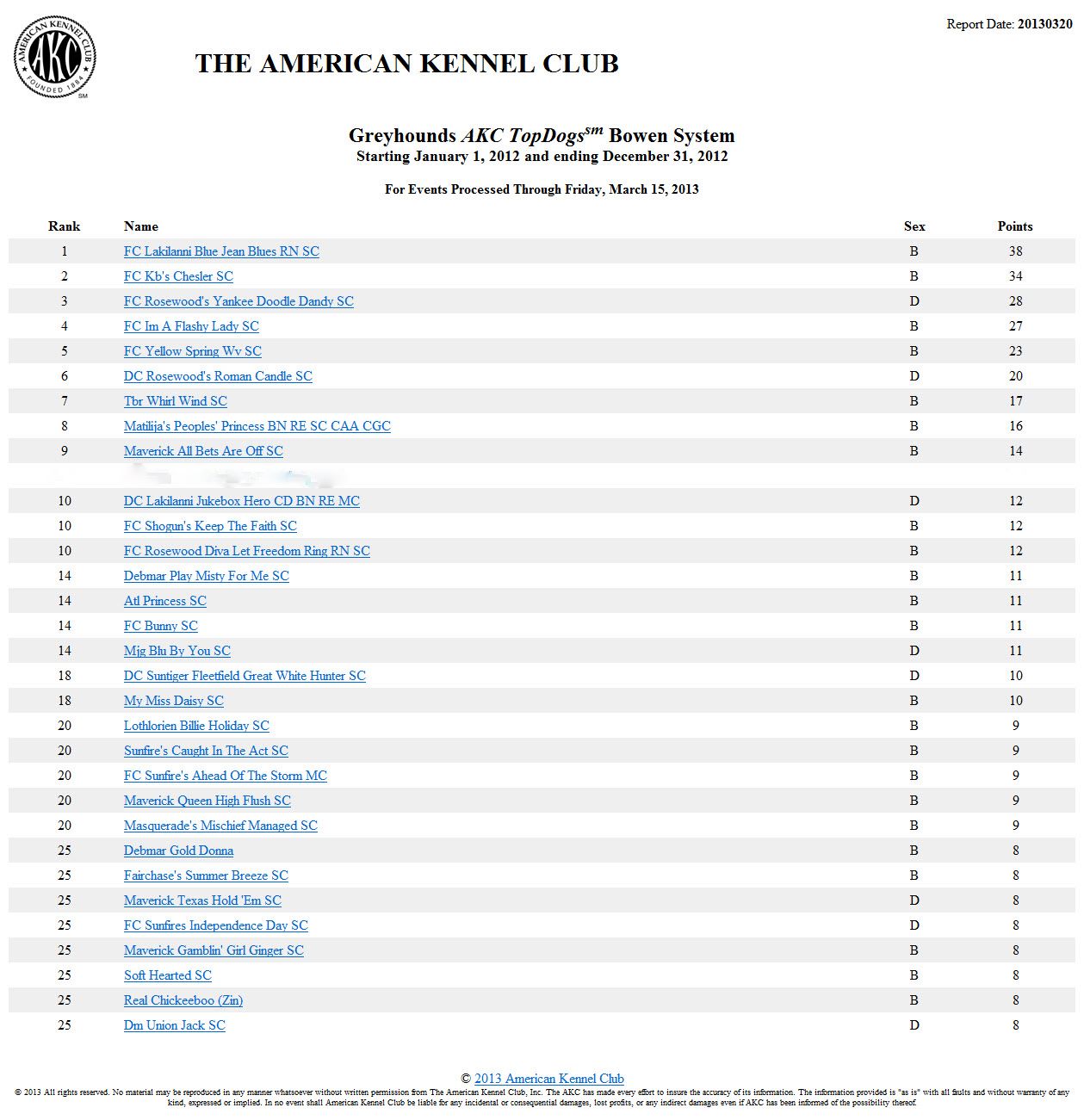 Henry left, new Bexata Senior Courser, was adopted
Bexata Blacky is now Ramses and was adopted by Nick and Jackie
Blacky in the middle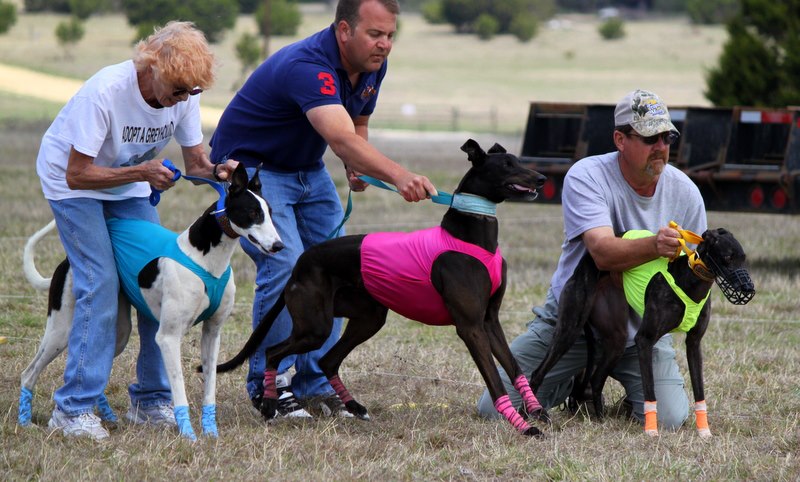 His lure coursing title certificate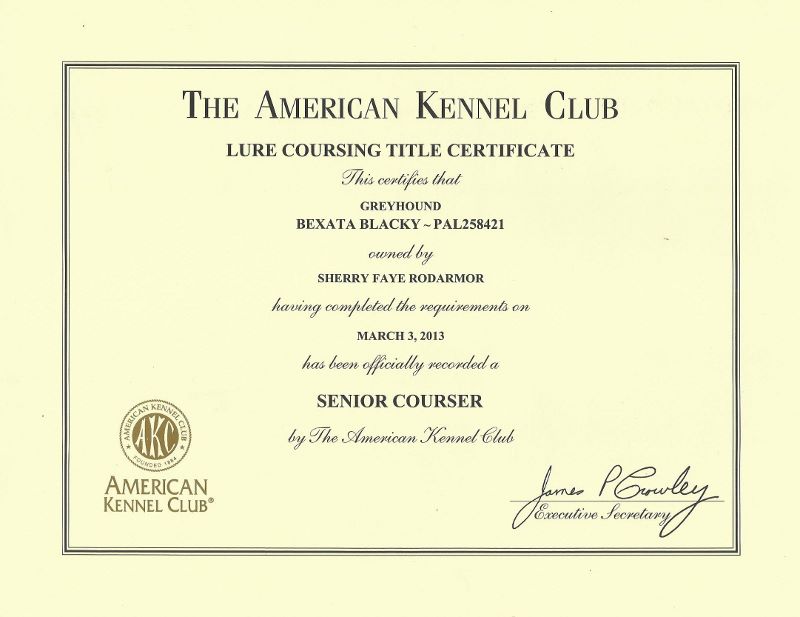 Zoe lives in Arizona and lure courses there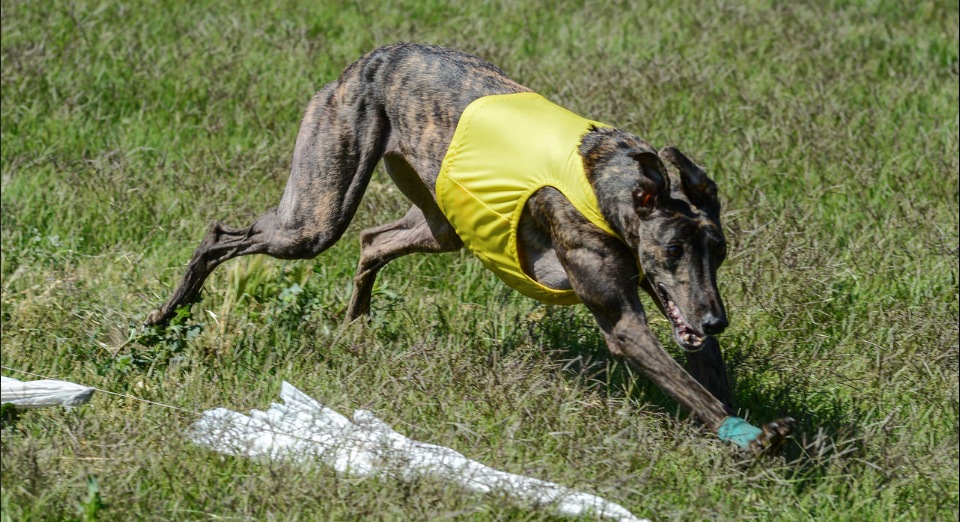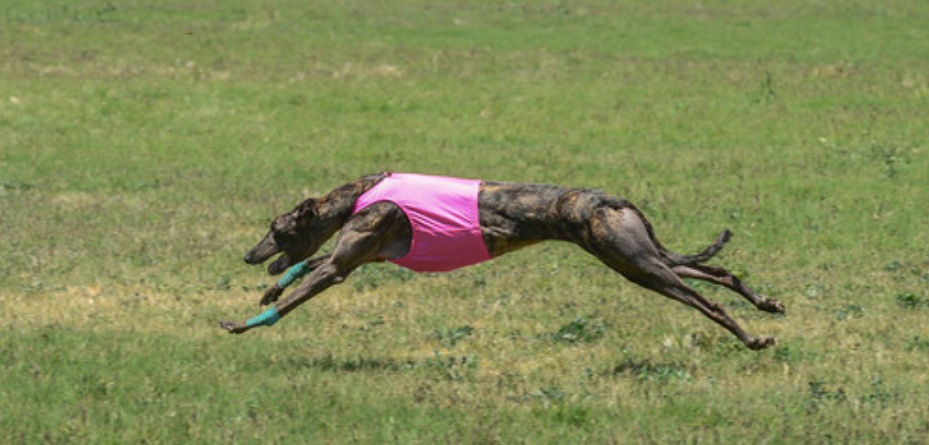 Bexata Lady Love (adopted) October 20, 2013 Alamo Area Whippet Club field trials at Hutto, Texas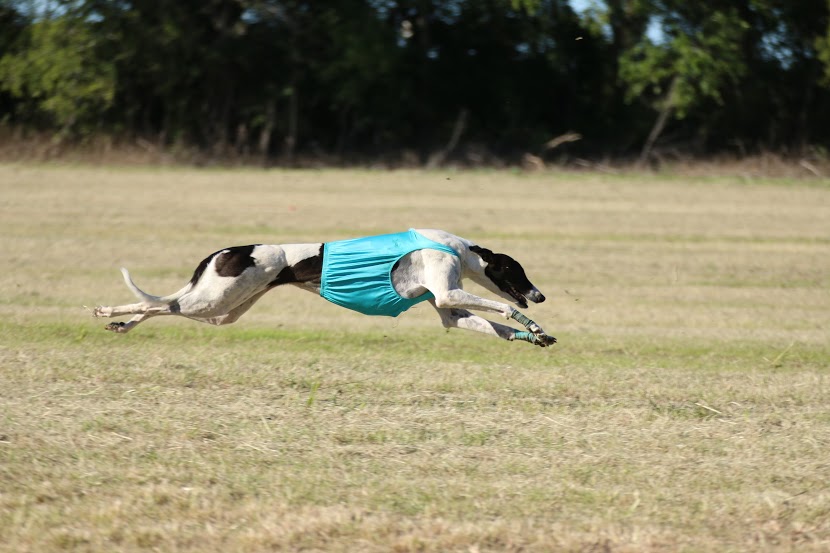 Pork Chops (far right) won a five point major.
He is adopted, but before that, he was out lure coursing.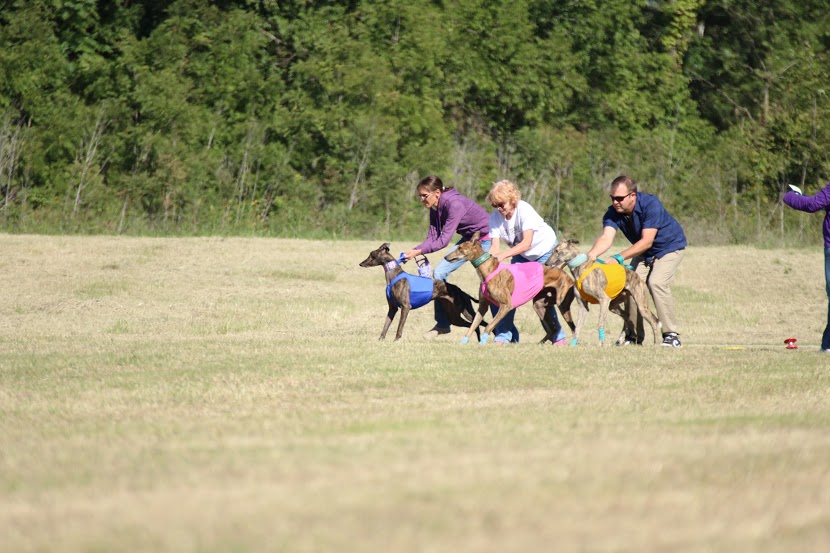 Zoe held her own
but Pork Chops made the "kill" and won the open class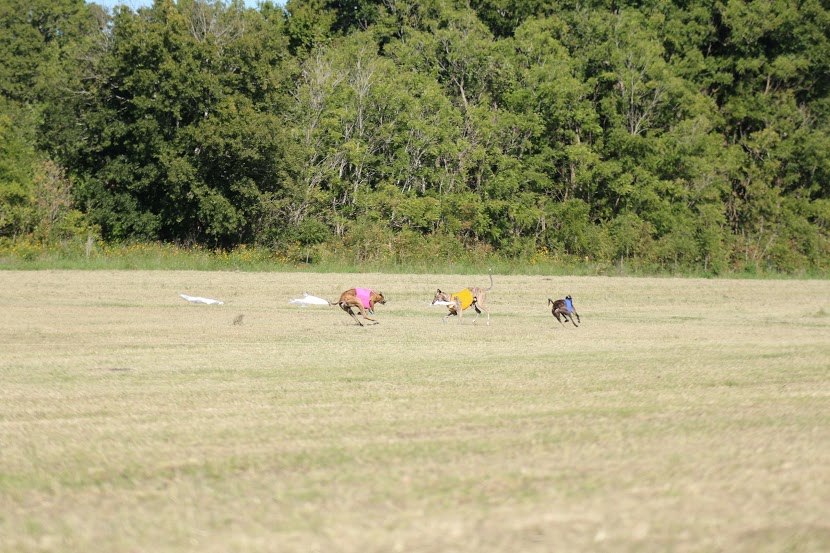 The results!
March 2, 2013 Mariano is a Senior Courser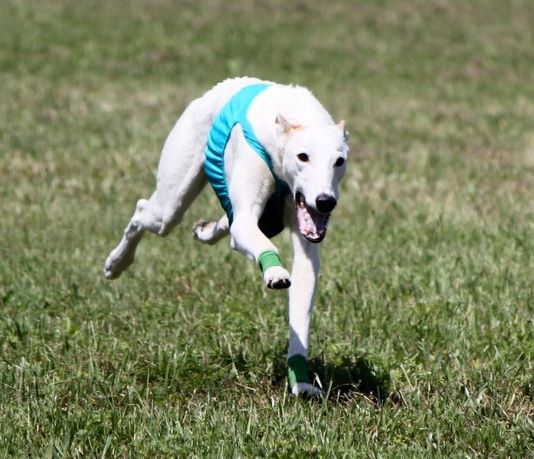 Photo by Donna Curran
Bexata Dalphina in Arizona starts out the year 2015 lure coursing Field Champion Bexata Dalphina, SC
( picture sent to Bexata by Dalphina's adopter with permisson to post.)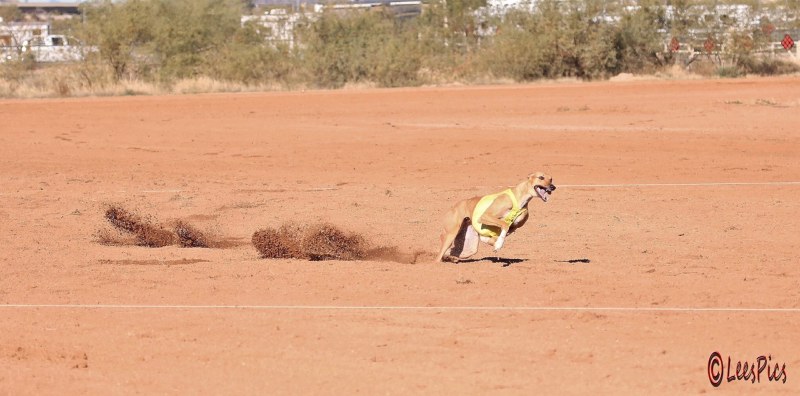 Velvet finished out the year 2014 in Cali with Bexata Velvet, SC - picture sent to Bexata by Velvet's adopter, with permission to post
LOOK AT THAT ROSETTE!
Way to go Velvet and Kelly!