THE FERALS - JOSH AND GRACIE

HELP THE FERAL GREAT PYRENEES YOUNGSTERS HAVE A NORMAL LIFE
LOOK BELOW FOR PICTURES FROM THEN AND NOW. WATCH FOR UPDATES and PLEASE DONATE.
We now have two feral six month old Great Pyrenees dogs that were dropped off at my rescue and need vetting (heartworm test, spay/neuter, training and, because they were dehydrated and underweight, subq fluids administered as needed). They were found roaming on a ranch. The rancher had no idea where they came from, but said they were living on deer protein blocks and water until he trapped them and brought them here. They are dehydrated and underweight, as well as afraid of everyone and everything. The rehabilitation and rehoming of the ferals is going to be a long and expensive road and we really need your help. My rescue relies upon the kindness of people like you donating. Please be so kind as to make a donation and contact us if you'd like to adopt. Any amount will be greatly appreciated. Thank you and God bless.
They were recently spayed and neutered and given fluids for their dehydration, rabies shots and nails trimmed. After ten days, training can begin. In the meantime, we have to get more weight on them. They are safe at Bexata, but funds are desperately needed for their ongoing care.
The pups are named!
Grace, or Gracie because she received the gift of your love and mercy.
Josh, or Joshua because of its biblical origins from Yahweh - salvation, meaning to help, which you did for him.
Gracie and Josh are having some health issues and are under veterinary care - meds at the moment, monitoring their status.
PLEASE DONATE TO THE FERAL CARE FUND. If you don't wish to donate through paypal, please email Bexata for Gracie and Josh's veterinary information and send donations directly there.
The Feral Pyrs youngsters today, December 13, 2014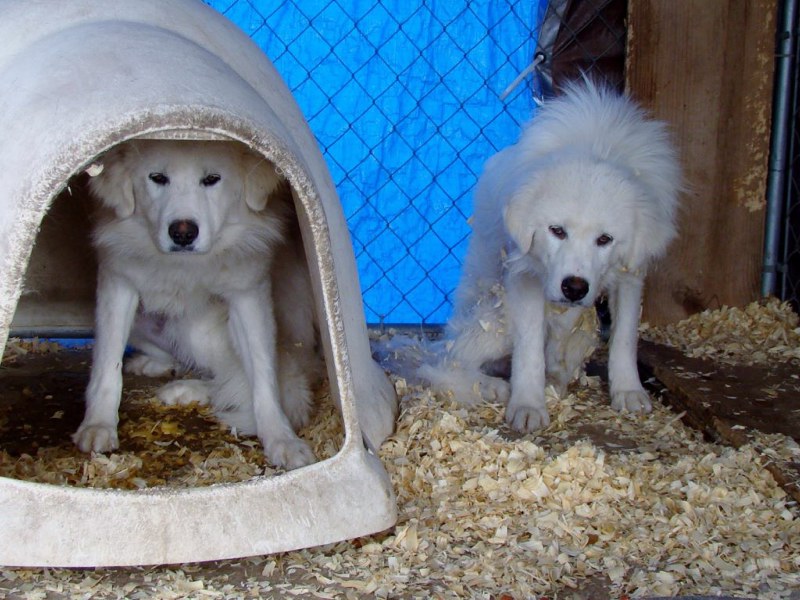 Feral girl - Gracie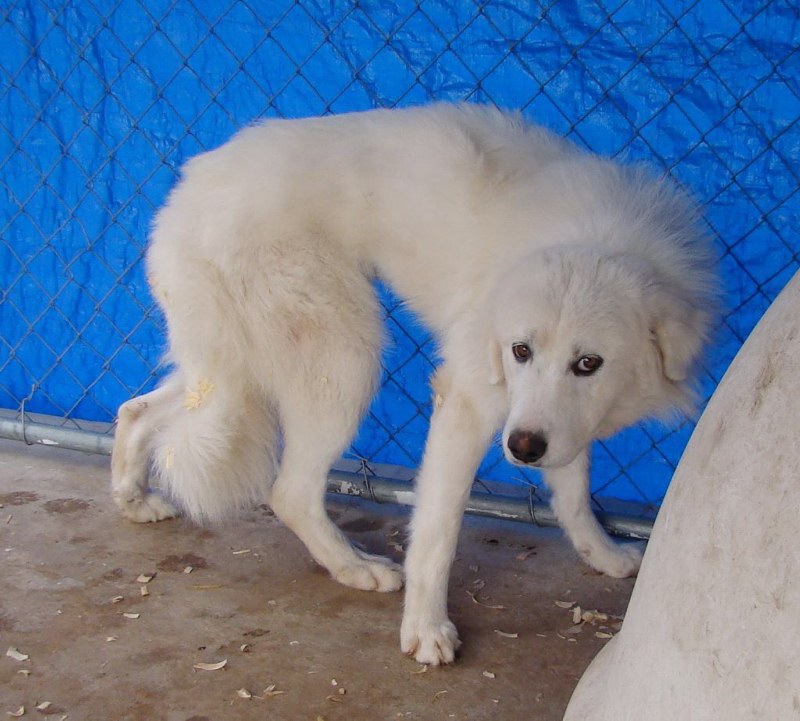 Feral boy - Josh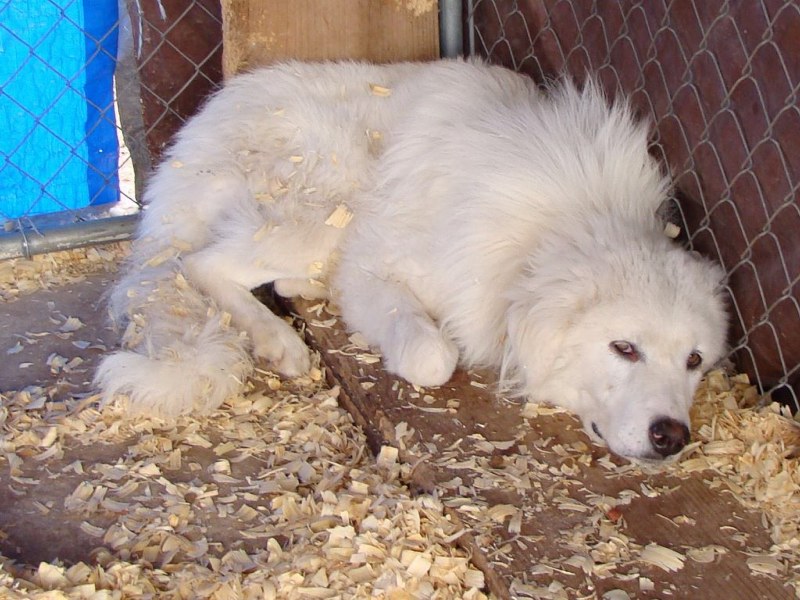 Josh and Gracie are coming out of their shell. The meds are working well and they are gaining weight and not running to the corner. I can pet them and as soon as their meds are done, they will start leash training.
JANUARY 16, 2015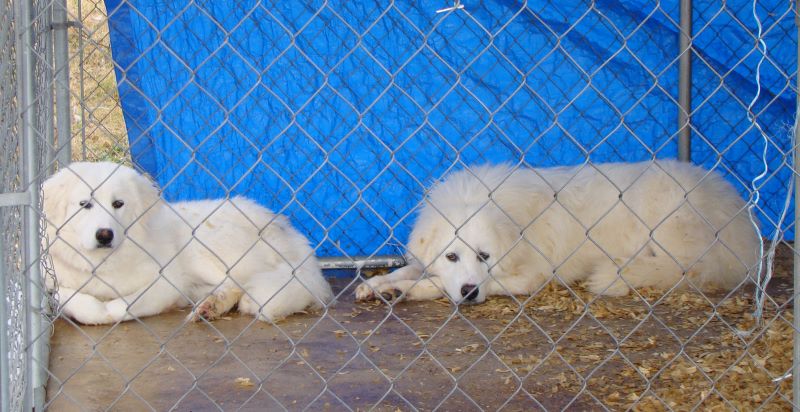 February 4, 2014 update
Trainer's assessment and new pictures
February 3 a potential trainer met Gracie and Josh. I was delighted that she was able to pet them, although they wouldn't take any treats. She suggested that I feed them twice a day, so they will be "happy" to see me. The feedings started today. Unfortunately, they didn't eat any breakfast which I picked up after an hour. I put food out for them for dinner at 430. They didn't respond to that. These are feral dogs that do not reply on humans for food. They managed to find food while in the wild. We went back to free feeding. They do let me pet them. They are not running from me, but seemed to be resigned to their fate that they will be petted and loved on by humans. Their eyes look so sad, but I feel in time they will become the soft, beautiful and happy eyes that I know from Great Pyrenees. Josh is pictured with the bone.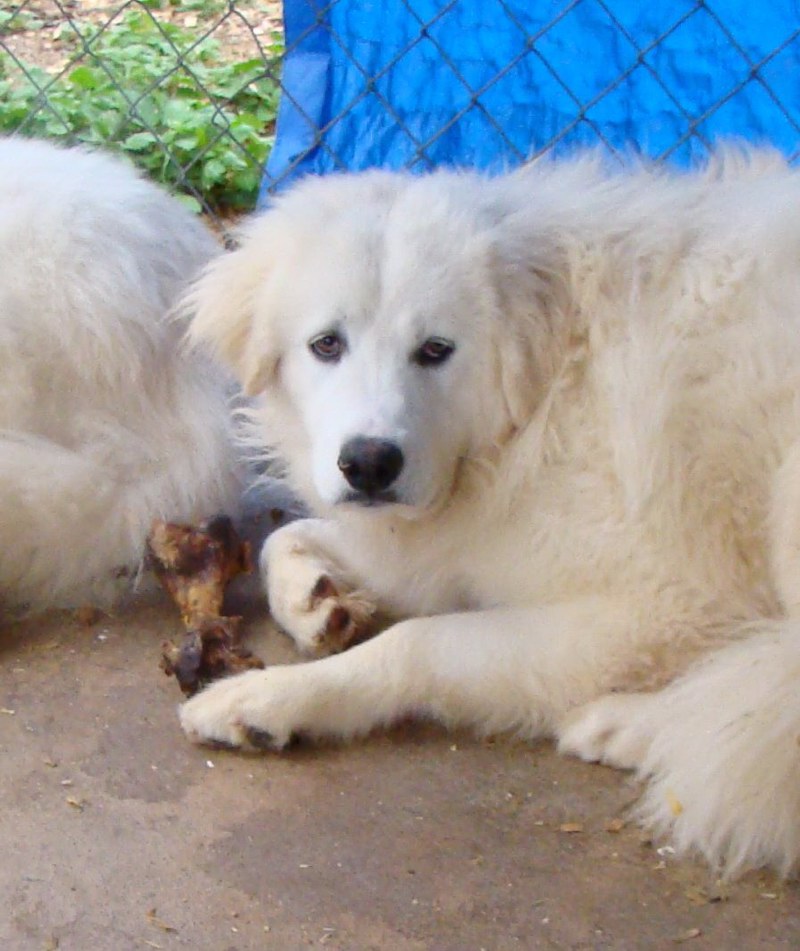 February 10, 2015 Gracie and Josh have come a long way. They are allowing a person to pet them and hang out with them without fear. Unfortunately, she never returned. So, we found another trainer.
Gracie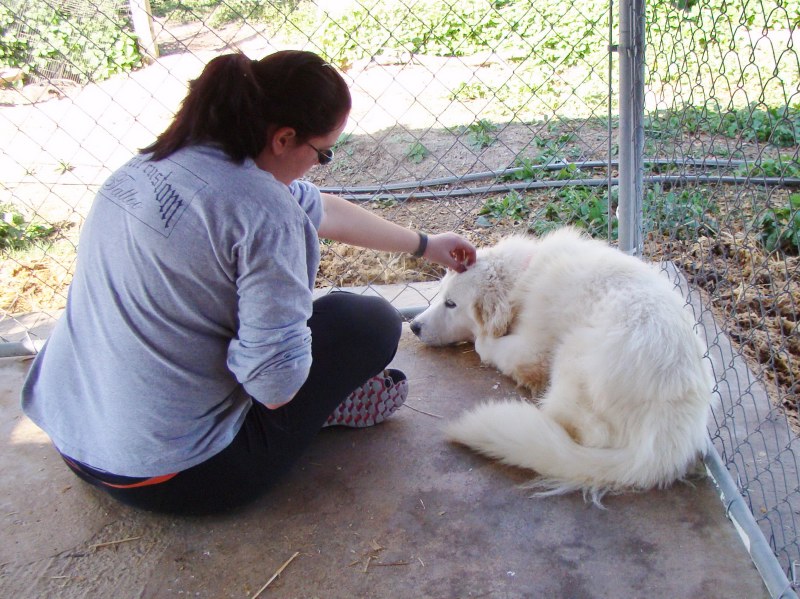 Josh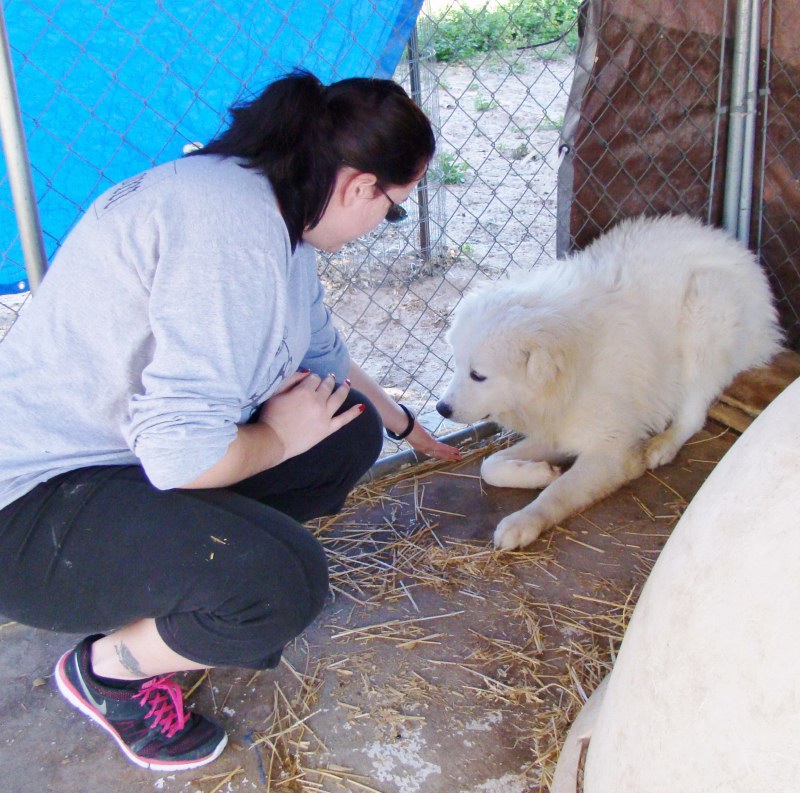 March 28, 2015, a really nice professional, certified trainer, Trish, came out and met Josh and Gracie. She is already making progress.
Here are the steps she went through.
First put a lead on Josh while Gracie looks on.
Then with tugging and coaxing, but not hard pulling, with a flat collar, she got Josh heading to the door.
After that, he took some steps and went out the door.
Outside, and away from Gracie, he became more amenable to being handled by Trish.
By the end of the session, he was up on all fours and walking for Trish.
We are grateful to Trish for her kindness and her desire to help the ferals.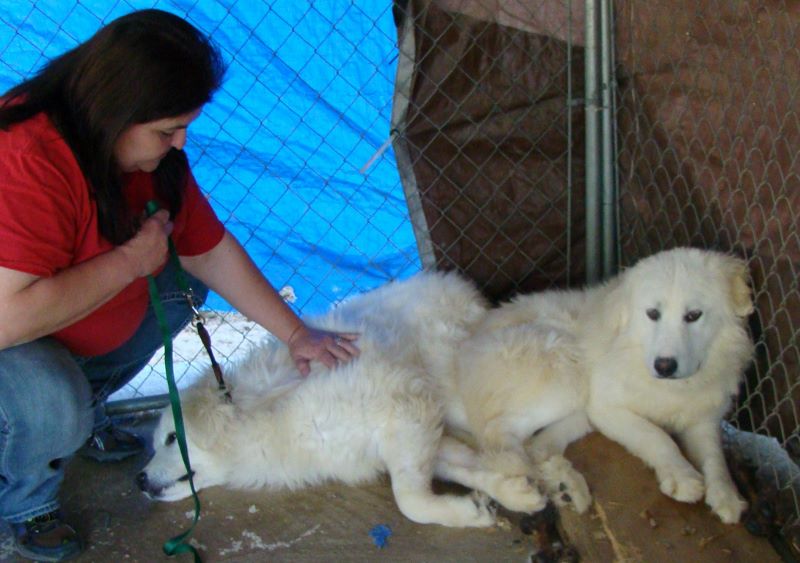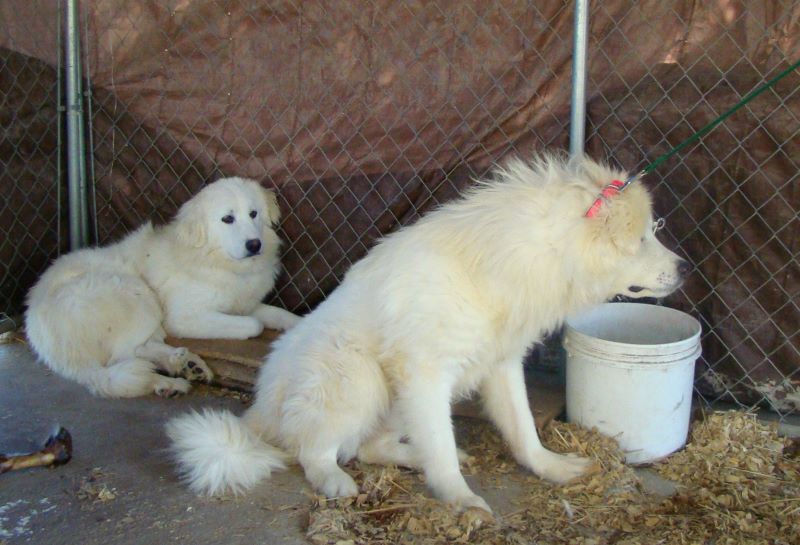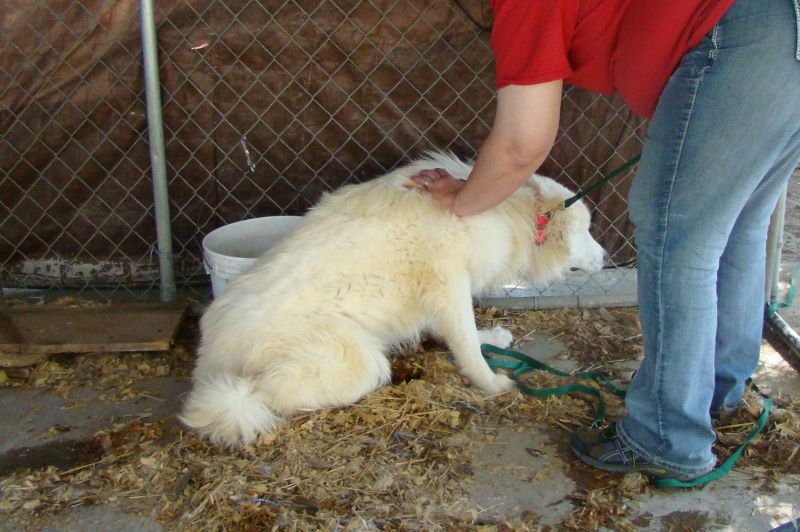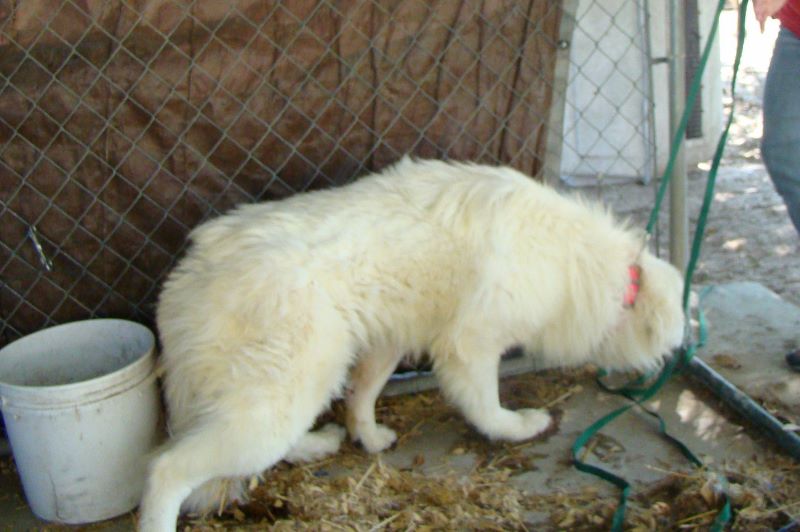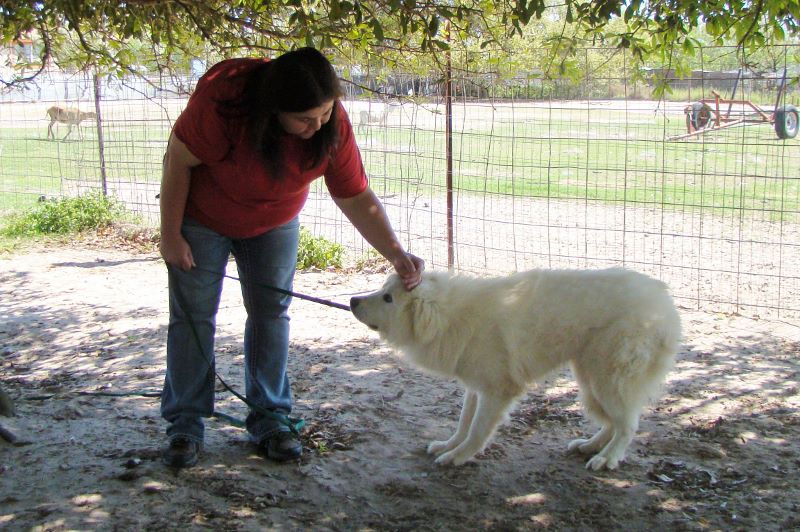 While Trish was out making headway with Josh, Gracie stayed put wondering if she was going to be next. She wasn't. We have to save something for next time and Josh is the neediest at the moment.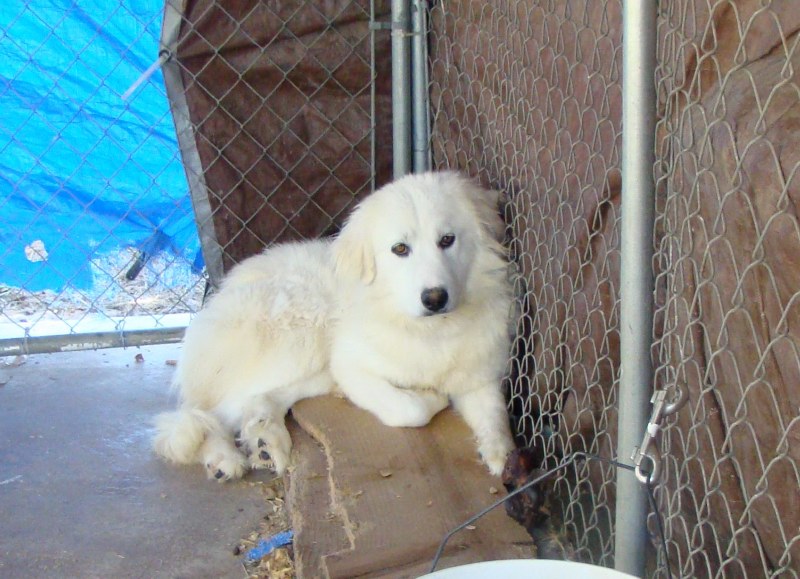 Before going back in his pen, Josh was actually walking on lead!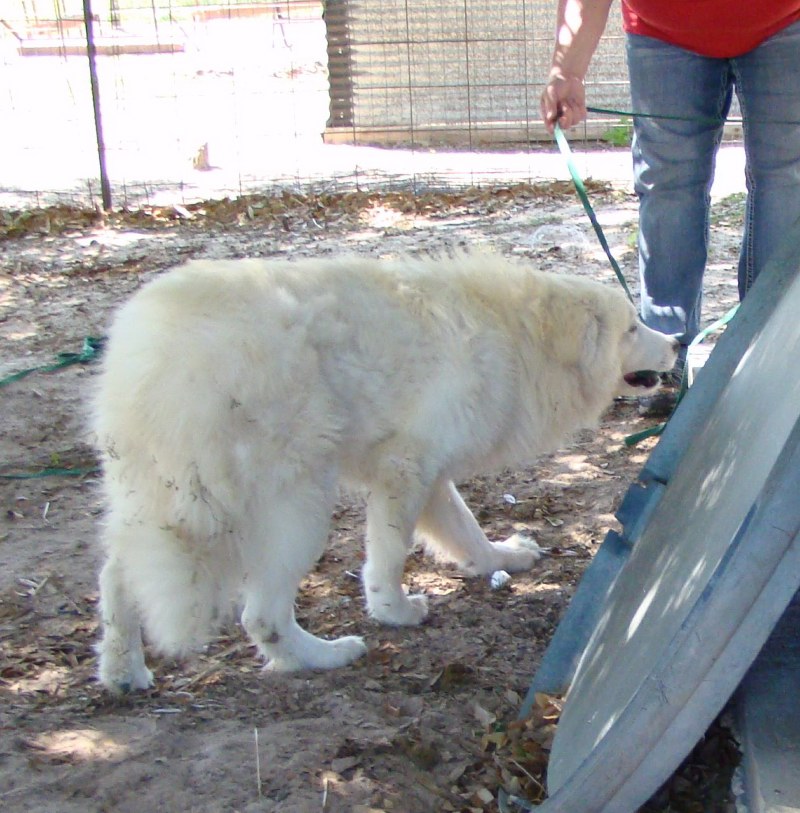 April 9, 2015 Gracie had a turn out since Josh was reluctant to work today.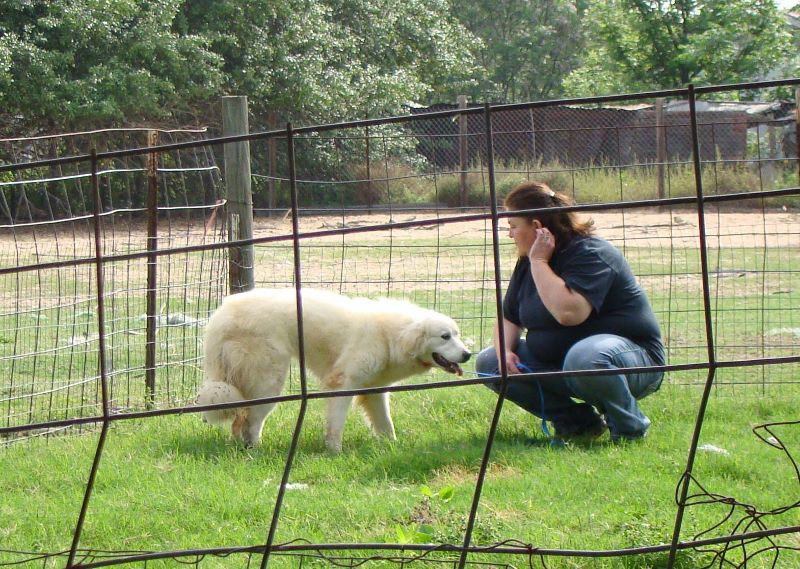 Walking on lead following Trish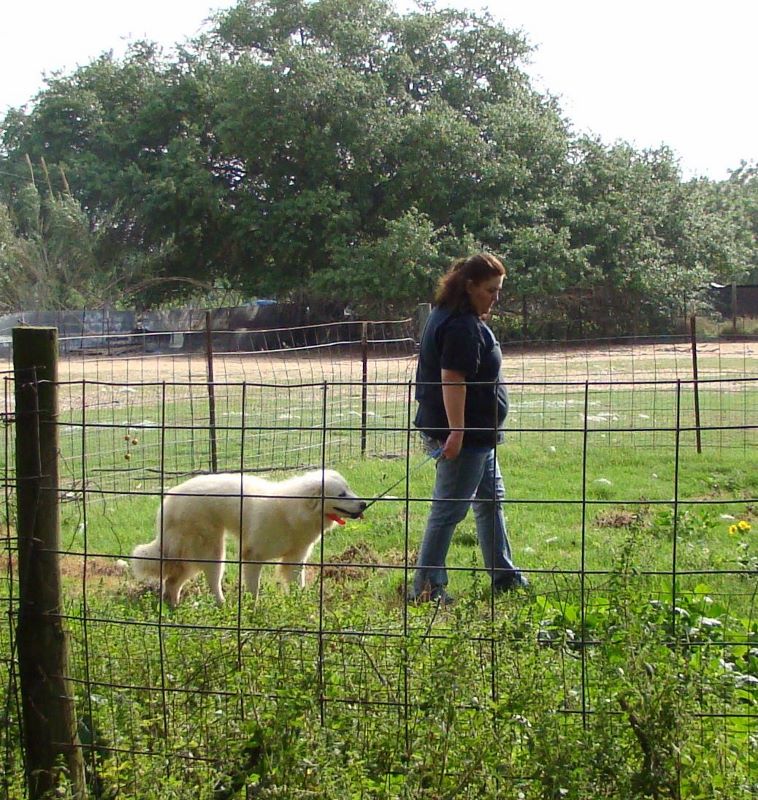 Look at her walking!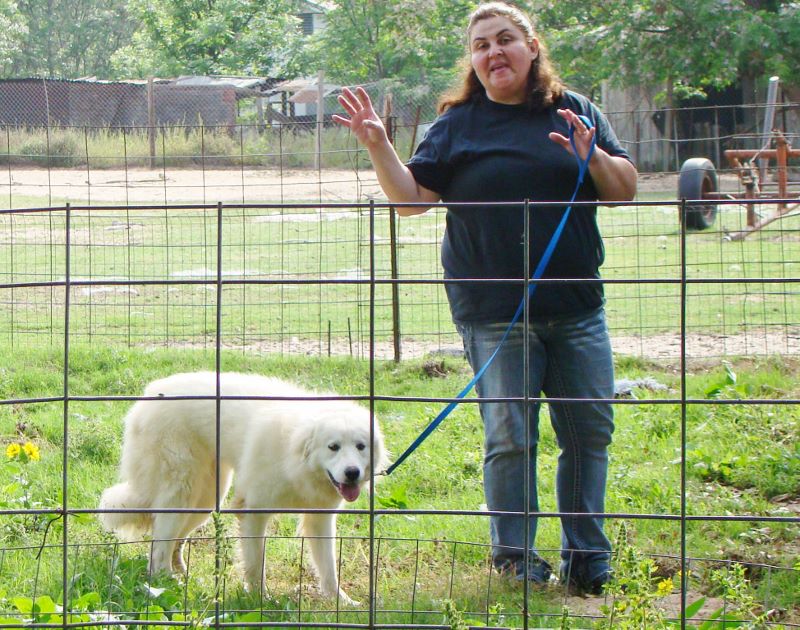 Josh was out with Trish for a little bit.
My hope for Josh and Gracie is, that if they can't find homes of their own, they can, at the very least, be released to guard my sheep and goats.
Not all animals are adoptable which is why Bexata is an Animal Sanctuary, rather than only a rescue.
Progress is being made with these kids - slowly but surely - but good things are worth waiting for.
They are so different from when they first arrived at Bexata.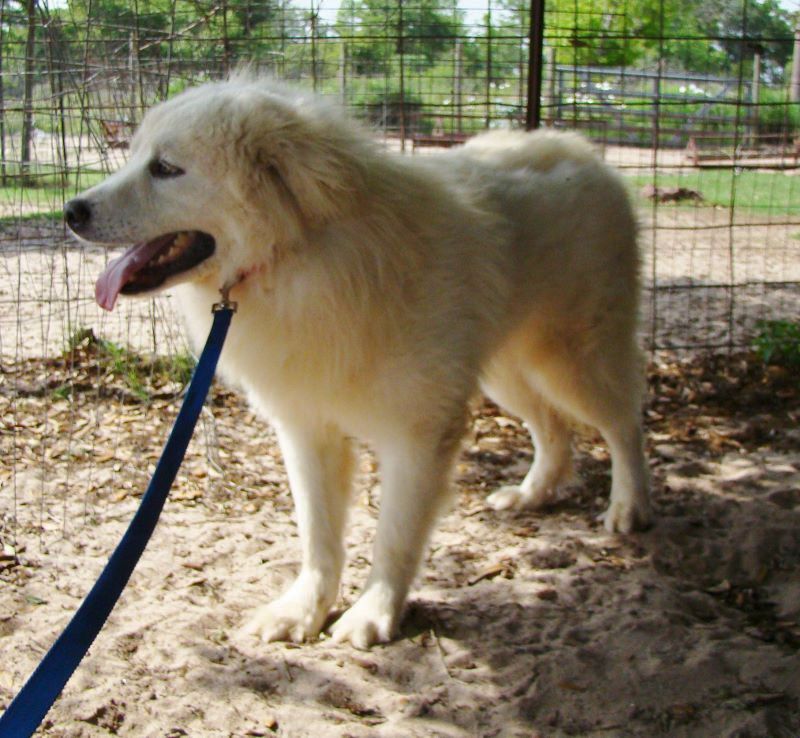 I am grateful to Trish for the hands on she did and giving me some tips on continuing their training.
They are also spending part of the day out in the grass and sunshine surrounded by four baby goats.
They are making progress and I feel confident that I can take it from here. I need Josh and Gracie to be able to eventually go out with the herd and come back in with them. I want them to do what they were originally bred to do. They have come a long way. They have a long way to go, but with God's hands on them they will make it.
April 16, 2015
Now Gracie is in her element out with her goats. She needed her freedom, she needed to learn to stay so she could be leashed and that's what she's doing. That's all she needed to learn and she got it within a couple of days of hearing the command and being petted for her action. She is approachable by me and by her goats. Josh was out earlier, but went back into shelter when it started raining. This is Gracie and her goats after the rain.
My heart is filled with joy to see Gracie like this.
April 19, 2015
Josh and Gracie love laying out where they can watch their small herd of miniature goats.
This is what they were born to do.
After heartwom testing negative, Josh and Gracie are now free (fenced pasture, of course) living with their sheep and goats and are still feral, but very happy.
They are doing what they were bred to do and are wearing Seresto collars and on proheart six month heartworm prevention. (August 27, 2016)
Due to the kindless of benefactors, they have been spayed and neutered and receive the six month prevention meds and are living a happy live doing what they were bred to do.
Thanks to everyone who has played a part in Team Ferals. They will never be available for adoption, but they are living the life God intended for them.